The best portable gas grills offer a smoke-free, simple way to cook – wherever your adventures take you. Compact, lightweight and designed to be easy to transport, portable gas grills start up in seconds and allow you to control the heat at the turn of a dial.
The main benefit of cooking with a portable gas grill is that you don't need a power outlet or bring bags of messy charcoal along for the trip. Just pack a couple of small propane cylinders and you're good to go. Gas grills heat up immediately, are easy to use and simple to clean – what's not to love?
Unsurprisingly, portable gas grills are very popular and there's a huge range of options on the market. But like any product, some models are better than others, so choosing the right one for you can be tricky.
In this guide, we have put together a list of the very best portable gas grills for camping, tailgating, RVing, or days out with your loved ones. Read on to find the perfect model for your needs.
Best Portable Gas Grills
In this section, we review eight of the best portable gas grills on the market today. We've included a wide range of models across all budgets and needs, so there's something for everyone.
Coleman RoadTrip 285 Portable Stand-Up Propane Camping Grill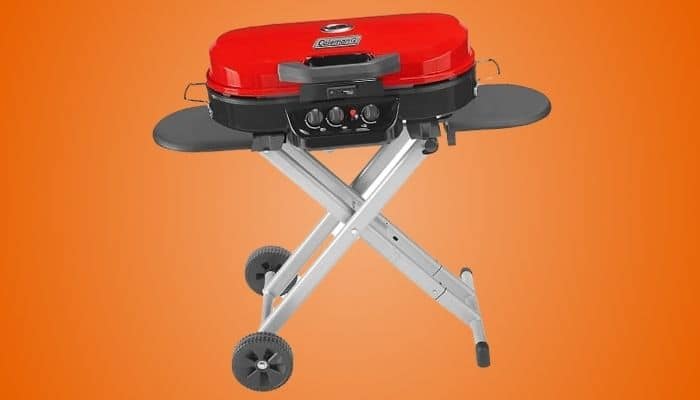 If you love heading out camping or tailgating with friends and family, then this gas grill by Coleman is worth checking out.
The Coleman RoadTrip Gas Grill offers 285 square inches of grill space, so you can cook up to 10-15 burgers at once. The freestanding design is at a comfortable height so you can tend to your food without stooping, while the folding legs, side handles and locking lid make it effortless to transport. It even has wheels and a built-in handle in the legs so you can tow it with ease.
This gas grill is great for high-heat cooking. It features built-in ignition and three burners that are independently controlled for temperature precision. When used together, this gas grill kicks out a total of 20,000 BTU for rapid heat up and fast cooking. The heat can be simply controlled via the adjustable dials on the front panel, so you can ramp up, or tone down, the temperature at a flick of your wrist.
The grill grates are made from cast iron, which is coated with porcelain for great heat retention and distribution without any hot or cold spots. These grates are very durable, so you can travel with this grill without worrying about damaging them on the journey.
The whole unit is very well made and sturdy, but yet, it's still pretty lightweight at only 50 pounds. We like that it has fold out side tables on each side for extra preparation and serving space, as well the option to use other compatible cooktops (sold separately).
All in all, it's difficult to find any fault with this model. It's well-built, easy to transport and powerful enough to cook all of your favorites.
Pros – Things we liked
285 square inches of grill space
Folding legs
20,000 BTU
Fold-out side tables
Cons – Things we didn't like
Water tray is too shallow
Weber Go-Anywhere Portable Grill
Another fantastic compact choice is the Weber Go-Anywhere Portable Gas Grill. This model measures just 12.2 x 21 x 14.5 inches, so it's perfect for packing in your trunk before hitting the road.
Incredibly lightweight and easy to carry to your chosen cooking spot, this model is great for camping, hiking, trips to the beach or days by the lake. It has fold out, plated steel legs that keep it steady, even when placed on uneven ground. The grill itself has 160 square-inches of cooking space, so it's best-suited to couples or small groups.
The Weber Go-Anywhere Portable Grill has just one burner, but at 6,500 BTU it's powerful enough to cook up burgers, chicken breasts and steaks – although it may take a little longer than models that have a higher BTU. The cooking grate is made from porcelain enamelled steel for great heat retention and distribution, so you can grill up your favorites without worrying about cold spots.
This model requires some assembly, but it's pretty easy to put together in just a few minutes. There's even an app that will walk you through the process. Once you're done, simply attach a 1-pound propane cylinder, turn on the gas and hit the built-in ignition button to get started. You can adjust the temperature via the gas valve on the side.
The entire grill is durable and able to withstand any unfortunate knocks or bumps it may receive on your adventures. The heat-proof side handles make it comfortable to carry and the locking lid keeps it secure for transport.
Overall, this compact gas grill is an excellent choice for small groups. It's easy to use, simple to store and effortless to carry to your destination. The only drawback is that the grill is a little awkward to keep clean.
Weber Q Series Grills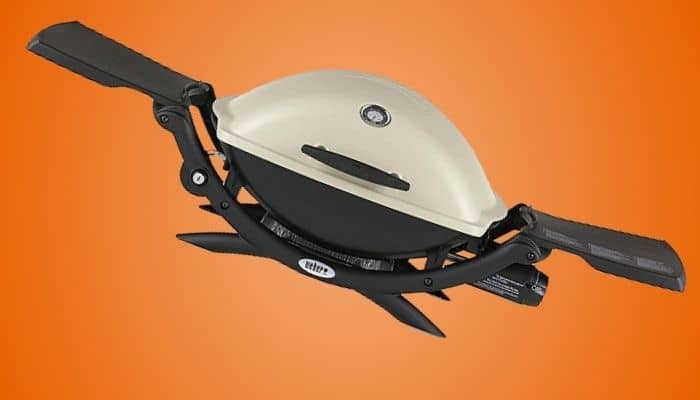 Next on our list we have the Weber Q Series. The entire series is well worth checking out, but this model, the Q2200 is a particularly great option for camping, tailgating or any other outdoor adventure.
With its sleek, compact design, this portable gas grill can be used on a tabletop or on the ground. It has a 280 square-inch grill area, which is plenty large enough to cook for 7-10 people. The 12,000 BTU single burner loops around the base of the porcelain-coated cast iron grate, for even heat without any cold or hot spots.
This model can be used with 1 pound propane cylinders, or standard-sized, 20 pound tanks with an adaptor. This versatility is great if you need to keep your cookout going for longer. It also comes with a built-in thermometer so you can achieve precise temperatures and a push-button ignition for effortless start up.
If you like to have extra space to prepare and serve all your grilled goodies, you'll welcome the addition of two fold-out, sturdy side tables. The entire grill is made from cast-aluminum for great heat retention and durability and the cleverly constructed legs ensure it stays stable, even on bumpy surfaces. We also appreciate that it has thick side handles for simple transportation.
Once you've finished your meal, this model is easy to clean and pack away, thanks to the integrated grease tray. To sum up, this little gas grill packs a punch despite its compact size and makes an excellent choice for outdoor cooking wherever your adventures take you.
Napoleon TravelQ 285 with Scissor Cart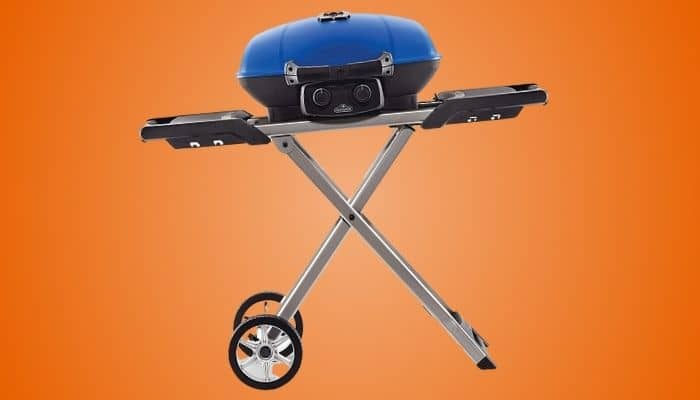 Another fantastic choice is the Napoleon TravelQ 285 with Scissor Cart. Ideal for camping, tailgating and Rving, this stylish model features a clamshell-style grill in black, or vibrant red or blue, which is sure to catch the eye.
This portable gas grill is perfect if you tend to take trips with several other companions. The 285 square-inch grill area is large enough to cook as many as 19 burgers at once, so everyone can enjoy their meal together. The heavy-duty, cast aluminum lid seals securely, too, which gives you the option of roasting a couple of chickens if you really want to impress. The dual foldable side tables are very sturdy and can easily support all your condiments and plateware.
The Napoleon TravelQ 285 features two propane burners that can be controlled independently for precise cooking. It's total output is 12,000 BTU, which is plenty hot enough to grill up all your favorites. The grill grates are made from porcelain-coated cast iron, that is non-stick, highly-durable and won't rust. They also conduct and retain heat incredibly well, to prevent any overly hot or cool spots from occurring and ruining your dinner.
Another great feature of this model is its special JETFIRE ignition. This automatic ignition is super reliable, even in windy conditions, and starts the burners up immediately so there's no waiting around. We also like that it has a built-in temperature gauge in the lid, a useful addition that ensures you get perfectly cooked results every time.
Despite all these great features, the Napoleon TravelQ 285 is lightweight at just 42 pounds and designed to be incredibly portable. The accompanying wheeled scissor cart folds down and has a built-in handle, so you can pull it along behind you to your chosen grilling spot. It's not as compact as other models on our list, and the cart may be a little bulky to store, but you can always disconnect the grill from the cart if required.
Coleman Camp Propane Grill/Stove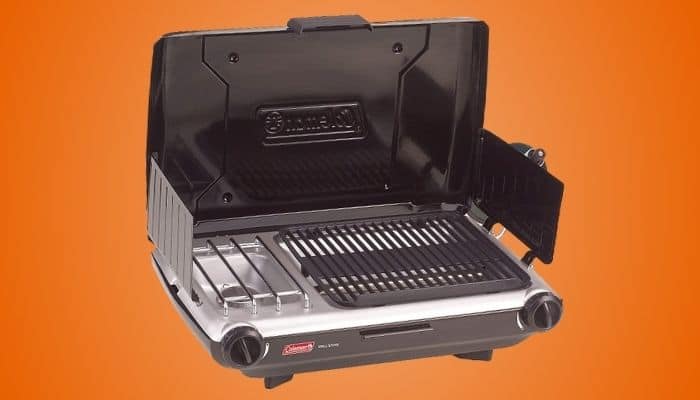 If you don't need to cook for several people, this Coleman Camp Propane Grill/Stove could be just what you're looking for. It features a combination of grill grates and a stove top, so you can cook up some bacon or burgers and fry eggs or vegetables on a pan simultaneously.
Crafted from steel and highly durable, this portable tabletop gas grill is rugged enough to cope with the challenges of outdoor adventures and wild camping. The stove offers enough space to fit a 10-inch pan, while the 130 square-inch grill area is plenty large enough to cook for 2-3 people at once. At 22,000 BTU, it's rather powerful, too. But as the stove and grill share this output, it may take marginally longer to cook if you use both at the same time.
If you like to go hiking out in the open, this grill is a great option for windy conditions. It features "PerfectFlow" pressure technology, which controls the flow of gas to keep the flames steady if a gust of wind hits. There's also built-in wind shield panels that you can fold down to use as side tables when the weather is calm.
Controlling the heat is simple, thanks to the two large dials on each side of the front panel. We also like that this model includes removable grates and an integrated grease collection tray, for mess-free clean up once dinner is over.
This portable gas grill weighs just 7.5 pounds and is so compact and slimline that you can fit it in your trunk effortlessly. The lid latches closed with a secure lock, too, so you won't need to worry about it falling open during transport.
This model doesn't come with any side handles, but honestly, it doesn't need them. The whole unit is so thin and light that you can grasp it easily without extra handles. That said, Coleman does sell carry bags for this model – so you can purchase one separately if you'd prefer.
Cuisinart CGG-240 All Foods Roll-Away Gas Grill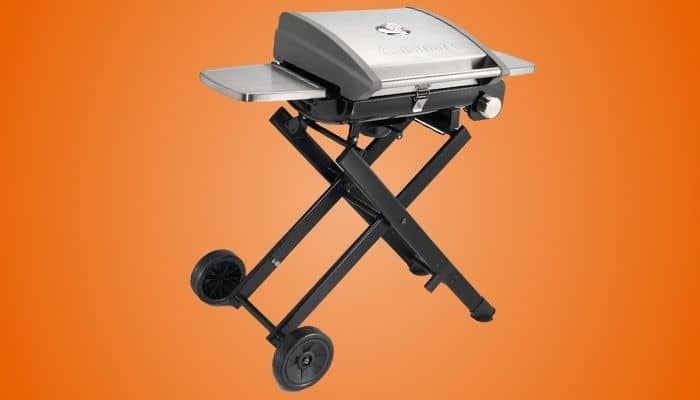 Next up, we have this roll-away model by respected brand, Cuisinart. This portable gas grill features foldable, wheeled legs for simple transport and a generous grilling surface that's suitable for bigger gatherings.
The 240 square-inch grill is made from porcelain-enameled cast iron, which is not only highly durable and resistant to rust, but it also retains heat for perfectly cooked results across the entire surface. The burner is a stainless steel loop burner that circles the base of the grill for even heat. The burner is fairly powerful at 15,000 BTU, but as there's only one, you unfortunately don't have the option to cook multiple foods at different temperatures.
Even so, we like that this gas grill is simple to start up, thanks to the built-in electric ignition. The temperature is easy to control via the large stainless-steel knob on the front panel, and it even has an integrated temperature gauge on the lid for precise cooking.
Considering its generous grill size, this model is compact and ideal for camping or beach trips, tailgating or RVing. When collapsed, it measures just 44 x 23 x 21 inches, so it will fit in your vehicle without any issues. Once opened up, it measures 41 x 23 x 36 inches, making it comfortable to use without stooping and straining your back. We also like that it has two stainless-steel, foldable side shelves that can be used for food prep or as a handy serving area.
Overall, this model is a good choice for enjoying outdoor cooking with friends and family. The single burner limits what you can cook simultaneously, but it's foldable, wheeled design, compact dimensions and high-quality grill grates make it easy to use and effortless to transport.
Cuisinart CGG-180T Portable Propane Tabletop Camping Grill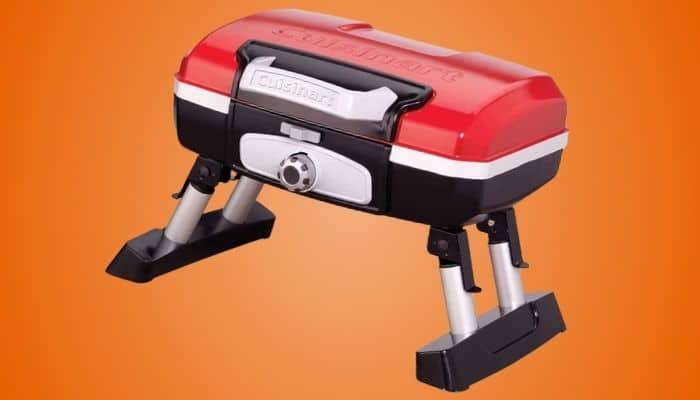 Another excellent choice is the Cuisinart CGG-180T Portable Propane Tabletop Camping Grill. With an uber compact design and sturdy legs, this tabletop grill is perfectly-suited to lightweight grilling on the go.
Its 145 square-inch cooking surface is too small for large gatherings, but it offers plenty of space to cook up some delicious burgers or steaks for 4 to 6 people. Like other models we have reviewed so far, this portable gas grill also features porcelain enameled grates for efficient heat retention and distribution – so you won't be disappointed by hot or cold spots disrupting your cooking.
The Cuisinart CGG-180T has one burner that kicks out 5,500 BTU, which is less than some other models on the market. It's still powerful enough to cook your favorites, it may just take a little longer. The built-in electric ignition means you can get it fired up in a click, and the temperature dial on the front is simple to use.
By far the best thing about this model is its portability. The legs fold in beneath, the lid locks securely, and it has a thick handle on the top for easy carrying. It's almost like a little grilling briefcase that you can take anywhere you please. It only weighs 13.5 pounds, too, so it won't wear you out if you're walking to a remote spot for dinner.
The Cuisinart CGG-180T is designed to be used with 1 pound propane cylinders, so you can pack everything without taking up a lot of space. And when it's time to move on, the built-in grease tray makes it simple to clean up after your meal.
If you prefer a tall grill, this model is also available with extendable legs so you can cook at a comfortable height. This version has all the same features but offers a slightly larger cooking area of 160 square inches. It's still incredibly lightweight, though, weighing only 17 pounds.
Char-Broil Portable 240 Liquid Propane Gas Grill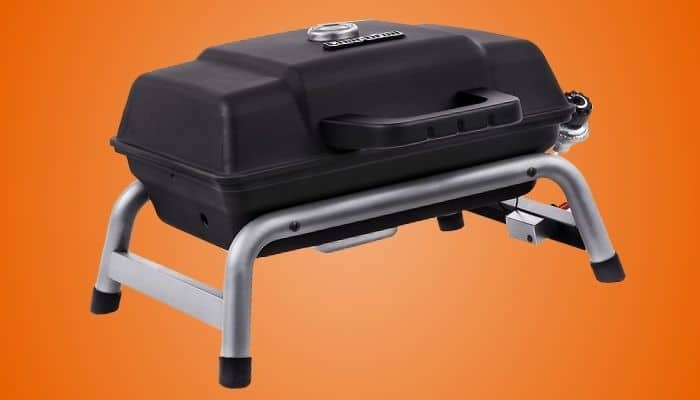 Last on our list of the best portable gas grills, we have the Char-Broil Portable 240 Liquid Propane Gas Grill. Another tabletop model, this little gas grill is a good choice for day trips, camping or tailgating with your loved ones.
Boasting a 240 square-inch grilling surface, the Char-Broil Portable offers more capacity than you would expect, considering its compact size. This is enough to grill up to 8 burgers at once, and the 9,500 BTU burner gives out plenty of heat for fast, even cooking.
The sturdy legs provide a stable surface, so you can flip your burgers confidently, but they don't fold away like some other models. This doesn't matter too much, though, as the entire unit measures just 16.20 x 24.80 x 13.30 inches. The body of this grill is made from painted porcelain for durability during transport and it's compatible with 1 pound propane tanks which also take up very little storage space.
Other great features include a built-in ignition system for rapid start up, and a mounted temperature gauge so you can be sure you're cooking at the perfect temperature.
On the downside, this model doesn't have a locking lid, which means the front handle cannot be used for single-handed carrying. Sure, you could always tie it shut with a bungee cord, but this general oversight is a little disappointing and reduces its portability.
Why Trust Us
All of our reviews are compiled with a combination of expert input, years of hands-on testing of grilling products, curating the reviews of real-life buyers in a "wisdom of the crowd" system, and of course our own expertise. All the products listed are the ones we would buy if we were looking to purchase a new portable gas grill.
Methodology Used to Pick the Best Portable Gas Grill
When picking the best portable gas grill we looked at and then rated each grill on the following criteria. Price, grill surface area, portability, temp control and range, ignition, build quality, and the number of burners.
Buyer's Guide to Buying the Best Portable Gas Grill
Still not sure which portable gas grill is best for you? Read our in-depth buying guide below to find out which features to look for.
Price
When choosing the best portable gas grill for your needs, price is likely to be one of your top considerations.
Portable gas grills are less expensive than large, backyard models, but they can vary in price quite considerably. The right option for you will depend on your intended use. Are you planning to cook for groups of people, or just yourself and your partner? Do you want to be able to cook a wide range of foods at once, or just grill up some burgers?
These questions matter, because if you're only going to use your portable grill occasionally for a couple of people, it doesn't make sense to pay out for a model packed with features you won't need.
On the other hand, if you're a frequent camper and like to entertain friends and family at the campsite, it's sensible to go for a more robust and versatile model that has enough space to cook for everyone at once.
Keep in mind, though, that the most expensive isn't always the best – and the cheapest option doesn't necessarily mean that it's no good for your needs. Pay attention to the features, build quality and read our portable gas grill reviews before settling on a particular model.
Overall, as a rough guide, you can expect good portable gas grills to cost anywhere from $70 to $350.
Cooking Surface Area
Deciding how much cooking surface area you need is crucial. Otherwise, you could find yourself in the embarrassing position of not being able to cook for all of your friends at once.
If you're planning to cook for yourself and maybe a handful of others, say, up to a max of 6 people, we recommend choosing a portable gas grill that has at least 145 square-inches of cooking space. This size of grill will still be very portable for those days where you might head out on your own, but has enough room to cook for friends and family if needed.
If you have a large family or only go camping in large groups, then you'll need a gas grill that offers more space without compromising on portability. Most gas grills designed to be portable rarely offer more space than 285 square inches. However, this is still plenty of room to grill burgers for around 18 people!
Portability Features
When shopping for a camping gas grill, it can be easy to get carried away with all the different features being shouted at you in the promotional material. However, stay focused and pay the most attention to the portability features, otherwise you may regret it later.
The best models will be lightweight, compact and have locking lids to keep everything safe and secure during transport. You should look for grills that have folding or collapsible legs that makes them easier to store, or models that offer wheeled carts so you can tow them along behind you.
Tabletop grills should have comfortable, heat-resistant side handles so you can easily carry them to and from your chosen dinner spot without any discomfort. Some models may also offer carry cases too.
Temp Range and Heat Control
Portable gas grills don't have temperature settings like electric grills, but they should have control panels that are simple to use.
Usually, these are single or dual knobs (depending on the number of burners) that you can twist to adjust the flame height. Some models may also include built-in temperature gauges so you can achieve more precise temperatures.
With regard to temperature range, the best way to check the power of a portable gas grill is to look at its BTU output. The higher the BTU (British Thermal Units) the hotter the grill can get.
Ignition
The vast majority of gas grills come with built-in ignition, but it's still worth checking first just to be sure. Otherwise, you may find yourself caught out without any matches!
Some models will have push-button or twist dial ignition, while others might include an attached striker.
Build Quality, Construction, and Material
As with any product, but especially those designed for the outdoors, you'll want to make sure your portable gas grill is well made and durable. Not least because you're unlikely to have the tools on hand to fix it if it breaks down in the middle of your remote camping spot.
As a minimum you should check that all the parts are securely fitted and nothing looks loose or vulnerable to breaking. The handles should be firmly attached to the body of the grill and feel strong enough to hold its weight while carrying.
Because portability is the most important factor, the construction should be strong, yet lightweight. This is a fine balance, but it's easy to achieve with the right materials and craftsmanship.
For the body, cast aluminum is a popular option for its durability and low weight, while porcelain-enameled cast iron is best for grill grates. This ensures great heat retention and distribution, while also resisting rust.
With regard to the burners, brass or stainless steel are good choices. These materials are hard-wearing, lightweight and resistant to corrosion over time.
WorkSpace & Shelves
Portable gas grills that have fold-out side tables are good choices, as these offer extra space for preparing and serving food. They should be sturdy enough to be able to support condiments, glassware and plates without bending.
Some standing models have shelves underneath the main grill body, which can be handy for stacking your ingredients and other essentials.
Either way, portability is the most important factor, so be sure to consider whether these additional areas will impact on your ability to store or transport the grill.
Lid
Lids are important for keeping the grill safe and secure during transportation and storage. Check that the lid is sturdily made and lockable, so it doesn't fall open on your journey.
If you're interested in roasting foods on your gas grill, you should also make sure that the lid has a good seal to keep the heat inside.
Number of Burners
The number of burners you require depends somewhat on the size of the grill, but there are some other considerations to keep in mind too.
Having just one burner can limit your cooking opportunities, as you can only cook at one temperature. This doesn't matter so much if you're only grilling bacon or burgers for everyone, but it makes life more difficult if you're grilling vegetables at the same time.
We recommend looking for a model with at least 2 independently controlled burners, as you'll be able to set one area of the grill at a lower heat for veggies or as a "keep warm" space for cooked foods.
Warranty
Lastly, we recommend checking out the warranty information on any model you're considering.
This will give you a great indication of the manufacturers' customer service outlook, as well as how confident they are in the lifespan of their products.
Top Portable Gas Grills Video
Final Thoughts
All of the portable gas grills we have reviewed in this guide are great options, but like any product the right model for you will depend on your needs and intended use.
If you tend to head out camping with large groups of friends and family, then you'll need a gas grill that's not only portable, but also has enough cooking capacity for everyone. We recommend looking at the Coleman RoadTrip 285, the Weber Q Series, or the Napoleon TravelQ 285 with Scissor Cart.
Each of these models offer a generous cooking space that has enough room to grill for at least 7 people, or as many as 19 (in the case of the Napoleon). They have great cooking power of between 12,000 and 20,000 BTU and are cleverly designed to be easy to use and transport.
On the other hand, if you are planning to cook just for yourself and a couple of guests, we suggest either the Cuisinart CGG-180T, the Coleman Camp Propane Grill/Stove, or the Weber Go-Anywhere Portable Grill.
The Coleman and Weber are sturdy tabletop models, while the Cuisinart is available in either tabletop or freestanding options. All of these grills have a smaller grilling surface of between 130 and 160 square-inches, which is more than enough for up to 6 people, and are incredibly portable. We particularly like that the Coleman Camp has both a burner and a stovetop, so you can grill, fry or boil at the same time.
Whichever type of gas grill you need for your next adventure, you're sure to find your perfect match in our best portable gas grill reviews and buying guide.