If you want to enjoy the delicious taste of 'low and slow' smoked meats around the campfire, then you need to get yourself one of the best portable smokers.
These compact models are perfect for camping, tailgating, RVing, or simply gathering with your buddies on the beach to watch the sunset. Portable smokers allow you to create juicy, perfectly-cooked meats packed with authentic flavor from wherever you please.
Lightweight and simple to use, portable smokers are cleverly designed to be easy to transport – without compromising on effectiveness. But if you're completely new to the world of smoking, deciding which model is right for you can be a little tricky.
In this guide, we have done the hard work for you. We have selected seven of the best portable smokers suitable for a range of budgets – so read on to find the perfect match for your next adventure.
Best Portable Smokers
There is a huge variety of portable smokers to choose from, but some models are better than others.
To help you find the best portable smoker for you, we've reviewed seven of the leading models on the market today. We have included a range of options, including charcoal smokers, pellet smokers, and electric smokers – so there's something to suit everyone.
Kamado Joe Jr.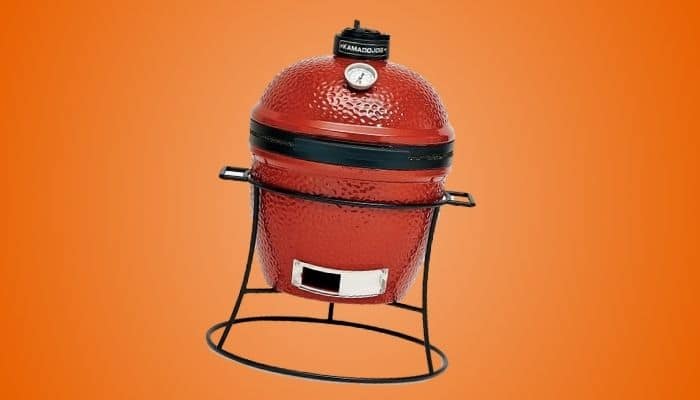 The Kamado Joe Jr is a premium choice by a highly-regarded brand. Compact yet loaded with features, this portable grill/smoker has everything you need to cook up delicious meals away from home.
This model has a 14 inch ceramic grill plate and a large, 148 square inch cooking area – so you can cook plenty of food for groups of up to 7 people. The grate is crafted from ultra-durable 304 stainless steel, so it handles high temperatures easily and won't rust or peel over time.
The heavy-duty lid creates an airtight seal, so no heat or smoke can escape. This is enhanced by the interior ceramic heat deflector, that increases heat-retention so you can cook at high temperatures. The lid also has a built-in temperature gauge, which makes it easy for you to monitor the temperature for perfectly cooked results.
Even though this model is made from ceramic, it is still relatively lightweight. It weighs just 68 pounds, so you should be able to carry it easily to your chosen beauty spot. It also has a modular design which makes it simple to transport. The body of the Kamado sits in the included cast iron stand, so it's easy to store in your car and keeps the grill safely off the ground during use.
We like that this model has a deep charcoal bin, that you can load with flavorsome woods for deliciously smoked meats and fish. And if you need to adjust the heat for low and slow cooking, you can simply adjust the air vents in the base and lid to reduce the temperature in seconds.
All in all, this premium model is an excellent pick for off-grid smoking. It's pretty expensive, but it's efficient, durable and has everything you need for on the go grilling and smoking.
Pros – Things we liked
14-inch ceramic grill plate
148 square inch cooking area
Ceramic heat deflector
Cast iron stand
Cons – Things we didn't like
Expensive
Master-Touch Premium Best Weber Charcoal Grill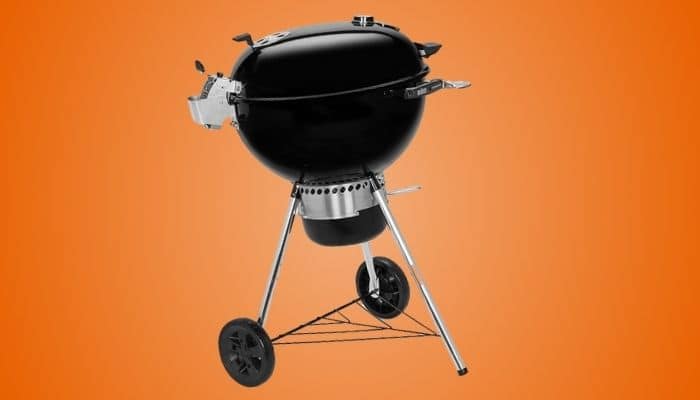 Another great choice is the Master-Touch Premium Best Weber Charcoal Grill. With its lightweight, wheeled design and close-fitting lid, this portable grill/smoker is ideal for outdoor cooking with your loved ones.
Featuring a generous 363 square-inch grill, this portable smoker has plenty of space to cook up food for 10 people or more. The grill grate itself is made from plated steel for durability and offers great heat retention so there are no cold spots. If you need to add more coals or wood, the grate is hinged for easy access to the charcoal bed.
The lid has a firm seal, which is crucial for effective smoking. We like that it is attached to the bowl by a stainless steel hinge, so you don't have to place it on the ground when grilling. The built-in temperature gauge takes away any guesswork while cooking, and the diffuser plate and upper and lower vents make controlling the heat a breeze.
This portable smoker has long legs and stands at a comfortable height, so you can access it without stooping. The two wheels make it simple to move around, and there's a built-in ash catcher in the base for easy cleaning. Another great feature is the integrated hooks on the front, which are perfectly positioned to hang all your utensils within arms reach.
Overall, it's difficult to find fault with this model. The compact, wheeled design is ideal for portability and the generous cooking space is perfect for entertaining friends and family. We like that it comes with a diffuser plate and built-in gauge for foolproof smoking, but it can also be used as a high-quality grill that's built to last.
Traeger Tailgater Portable Pellet Grills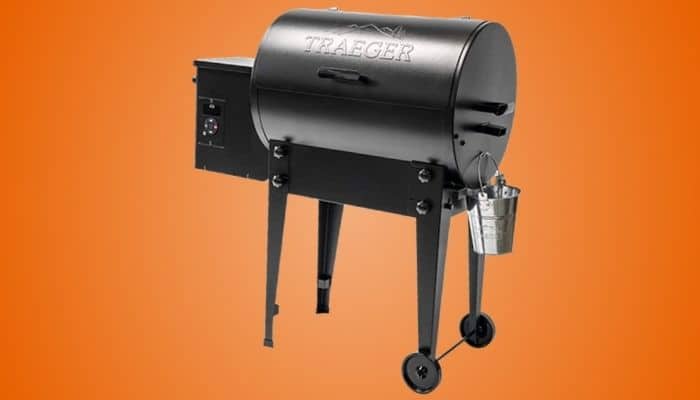 If you're looking for a portable pellet smoker, the Traeger Tailgater could be just what you need. This sturdy smoker offers plenty of cooking space, is simple to use and has a durable design that's perfect for off-road adventures.
Weighing just 62 pounds, this pellet smoker is surprisingly lightweight. It has wheeled, foldable legs that make it effortless to store and transport; whether you're hitting the beach, camping or tailgating with friends. Yet, despite its portability, this model is still large enough to cook 2 whole chickens or 3 racks of ribs at once – thanks to its 300 square-inch cooking area.
The pellet hopper holds up to 8 pounds of wood pellets, so you can smoke away for as long as 6 hours before needing to refill. The sturdy lid seals securely for delicious, flavorsome results, and it's versatile enough for grilling and roasting, too.
This model makes it easy to maintain an accurate temperature, which is the key to perfectly smoked food. It can reach high temperatures of up to 450°F, but the built-in digital arc controller allows you to set the temperature in increments of 5 degrees at the press of a button. Once your food is done, you can also make use of the keep warm function – so you and your companions can eat whenever you're ready.
The only potential drawback to this model is that it requires a power connection to fire it up. It doesn't use much electricity, though, so you can connect to a vehicle battery for use on the go.
Z Grills ZPG-7002E Wood Pellet Grill & Smoker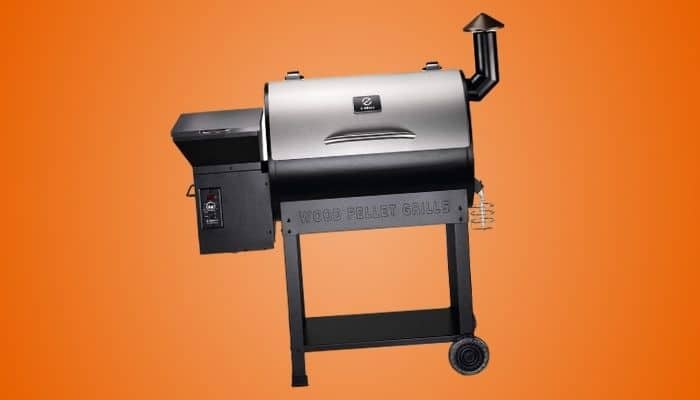 Another excellent choice of portable pellet grill smoker is the Z Grills ZPG-7002Eth a massive 694 square-inch cooking area, this model is ideal for hosting large gatherings or for camping trips with extended family.
Thanks to its large capacity, this portable smoker can hold up to 5 chickens, 6 racks of ribs. It comes with a large 20-pound wooden pellet hopper, so you can load it up and smoke all day long. We like that it has a high-quality, stainless-steel construction, too – so it can stand up to the challenges of outdoor cooking.
As this is a versatile model, you can use it as a wood-fired grill, smoker or roaster. The heavy-duty lid is easy to open and close, but it also seals tightly to hold in the woodsmoke for delicious results.
This portable smoker must be plugged into a power source, but once connected, it starts up at the push of a button. Furthermore, the digital temperature control system ensures you can get the perfect heat level without resorting to guesswork. It's so accurate, you can set the temperature and it will stay within 10-degrees, so you can relax while your food absorbs all that smokey flavor.
Although this model is pretty large, its wheeled design makes it easy to transport. The grease collection system is great for simple cleanup, so you can pack it away without spending hours wiping up grease. It also comes with a free waterproof cover to keep it looking its best season after season.
To sum up, we think this portable pellet smoker is an excellent pick if you plan to cook for large groups of friends and family. It's simple to use, highly durable and creates beautifully smoked results that are bursting with flavor.
Green Mountain Davy Crockett WiFi Control Portable Wood Pellet Grill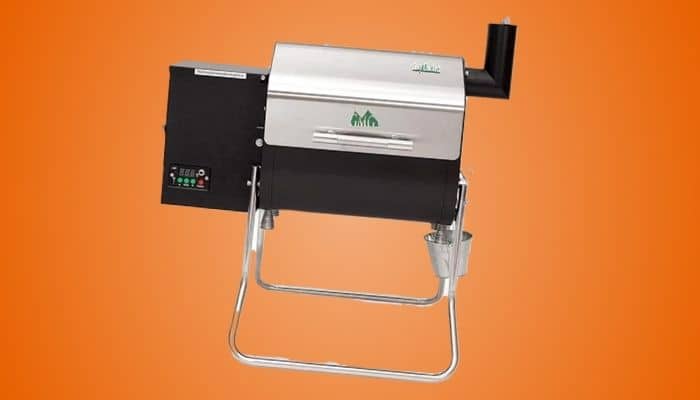 Looking for something a little more high tech? Then the Green Mountain Davy Crockett is the perfect portable smoker for you.
Sure to impress your companions, this futuristic model allows you to control the temperature to within 1-degree wirelessly via your smartphone or tablet, so you don't even have to leave your seat. If you'd rather get stuck in, though, it also features a manual control panel, that lets you set the temperature accurately in 5-degree increments.
This model requires a power connection, but you can use the included adaptors to run it from your car battery, cigarette lighter outlet or an external generator. The legs fold down for simple storage and transportation, so you can smoke wherever your journey takes you.
The Green Mountain features a 219 square-inch cooking area, so there's plenty of space to rustle up tasty smoked meats for your friends and family. The wood pellet hopper has a 9 pound capacity for low and slow cooking over several hours, but this model can also reach temperatures as high as 420°F if needed.
Featuring a strong and sturdy design, this portable smoker is incredibly durable and built to last. It can be folded up for easy transportation, but its size does make it difficult for one person to move.
However, by far the most impressive aspect of this model is the wireless connectivity and accompanying app. Aside from giving you the option to control the temperature from afar, the app also gives you alerts if something is wrong and allows you to program the smoker in advance.
For example, you could set it to cook at 220 degrees for a few hours and then increase the temperature to 250 degrees for another few hours as needed. This means you can relax and leave this smoker to do its thing while setting up camp or enjoying time with your guests.
Broil King Trailer Hitch Compatible Smoker
The Broil King is a lightweight Kamado smoker that's excellent for tailgating, camping or days out at the beach. Constructed from porcelain-lined steel, this model is strong, durable and can handle high temperatures easily.
The Broil King is versatile enough to be used as both a charcoal grill and a smoker, so you can cook up a huge variety of delicious meals for you and your companions. The cast-iron cooking grate features 280 square inches of cooking space, and there's also a 200 square inch, swing-out chrome rack for additional capacity.
This model has a deep charcoal pit and double-walled insulation for long-lasting heat and fuel efficiency. The sturdy lid features a comfortable handle for ease of use, and it seals securely to keep all the smoke, heat and flavor inside for perfectly smoked results. A built-in gauge makes it simple to monitor the temperature, while the rust-resistant dampers ensure you can adjust the heat in seconds.
Thanks to its fold-out side tables and wheeled legs, this portable smoker is simple to transport and provides plenty of preparation and cooking space. You can even purchase a trailer hitch accessory – so you can hook it up to your vehicle and show it off at tailgating parties. We also like that it has a removable ash drawer for effortless cleaning when the fun is over.
Overall, this model makes a great choice for entertaining large groups of friends and family, whether in your backyard or out on the road. It is one of the more expensive options of our list, but considering its high-quality design, capacity and versatility, we think the Broil King is worth the money.
Masterbuilt Portable Patio Smoker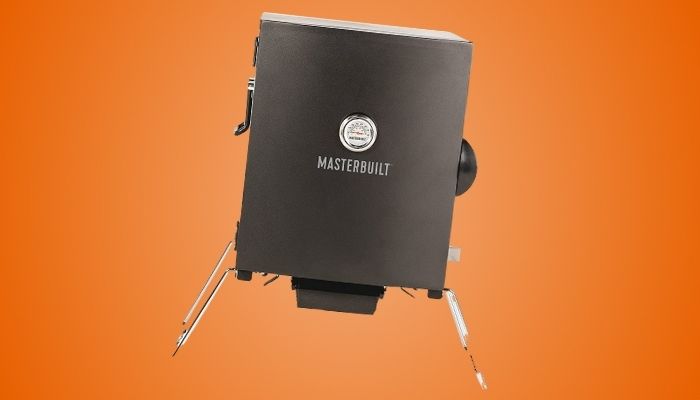 A fantastic, compact and mess-free option is the Masterbuilt Portable Patio Smoker. This model uses a 1400 watt heating element and kicks out enough heat to smoke whole chickens in as little as 5 hours.
Very compact and easy to transport, this little smoker is a great choice for camping or RV'ing. The interior has two removable chrome-coated racks to load your meat and fish, and it has enough capacity to smoke four chickens, two racks of ribs or two pork butts. The base of the smoker features twin trays – one is designed to hold your wood chips, and the other must be filled with water to keep your food moist during cooking.
The analog temperature control and built-in gauge make it simple to control the heat levels for perfectly-smoked results every time. It also has a vent in the back so you can quickly adjust the temperature if required.
Because this smoker is so compact, you'll have to check on the cooking process regularly to top up the wood chips and water. This means you can't just set this smoker going and leave it unsupervised for too long. Also, as it's an electric smoker, this model won't be suitable for wilderness camping away from a power source.
However, we love that this model has such a simple design that's suitable for beginners. Both the controls and the gauge are straightforward to read, and it's easy to get it going in a matter of minutes. The removable shelves make it effortless to clean, too – although we recommend spraying them with some non-stick spray for best results.
Overall, this model is a fantastic, affordable option if you're looking for a portable smoker that is well-suited to beginners. The compact design makes it easy to transport and it has enough capacity to serve large gatherings.
Why Trust Us
All of our reviews are compiled with a combination of expert input, years of hands-on testing of grilling products, curating the reviews of real-life buyers in a "wisdom of the crowd" system, and of course our own expertise. All the products listed are the ones we would buy if we were looking to purchase a new portable smoker.
Methodology Used to Pick the Best Portable Smoker
When picking the best portable smoker we looked at and then rated each pair on the following criteria. Price, portability, total grill area, fuel source, vents, seals, and gaskets.
Buyer's Guide to Buying the Best Portable Smoker
Deciding which is the best portable smoker for you can be difficult, especially if you're a beginner. In this section, we tell you everything you need to consider before buying.
Price
There's a huge variety of portable smokers on the market, falling across a wide range of price points. Your budget will determine what type of smoker you can afford, but thankfully, you can still find great options without breaking the bank.
It's worth considering your intended use before you buy. If you're looking for a simple beginner model that you can use to learn how to smoke, a cheaper smoker is a good choice. There's no need to opt for the most expensive one you can afford if you're not going to use all those fancy features.
On the other hand, if you're fairly experienced or looking for something you can grow into, it makes sense to go for the best portable smoker that your budget allows.
Size, Weight, & Portability
The best portable smoker shouldn't be so large or heavy that you can't easily transport it.
Pay attention to the dimensions and weight before purchasing, and be honest with yourself. Is this model too big for me to comfortably carry? Will you have helping hands on your trip if the smoker is a bit too big to manage single-handedly?
Also, when deciding on the right size for you, keep in mind that you'll need to factor in some additional space around the smoker during use, so you can be sure you don't inadvertently set fire to your campsite!
To make life easier, we recommend looking for models that have foldable legs, and a sturdy, wheeled design. These models will be less hassle to move around and take up less storage space.
Smoker or Smoker/Grill
Some portable smokers can also be used as standard grills. Whether you decide to go for a dedicated smoker or smoker/grill really depends on your intended usage.
Having a model that can multi-task is certainly useful, as you can grill up a spontaneous dinner at home, hold a cookout party or switch between grilling and smoking on your next camping trip.
Smokers can be used to cook a variety of foods, but the method takes more time than grilling and so requires a little more planning. A burger thrown on the grill can be ready in a matter of minutes, whereas a 'low and slow' smoked chicken or rack of ribs can take several hours.
If you're passionate about smoking and want to have room to grow into your hobby, it's best to go for the best portable smoker you can afford. On the other hand, if you simply enjoy outdoor cooking and want versatility – a smoker/grill combo is your best bet.
Smoking Surface Area
The best portable smokers have a cooking surface area of around 300 square inches or less. Any more than this and the smoker will become difficult to transport.
The best size for your needs depends on your lifestyle. If you're only going to be smoking for yourself and your partner, a 150 square-inch model will more than suffice. However, if you're planning to take trips with extended family or large groups of friends, you should look for a model that offers 230 square-inches at a minimum.
Fuel Source
Smokers can be used with several different fuel sources. The right one for you depends on your needs and preferences.
Pellets
Pellet smokers use compressed wood fuel pellets that are infused with natural flavors.
These types of smokers automatically feed the pellets into the combustion pit and are often thermostatically controlled, making them a good choice for beginners.
There are many different types of wood pellets available to purchase, so you can switch up your flavors quickly and easily. All you need to do is load the pellets into the hopper, switch it on and leave it to do its thing.
Charcoal
Charcoal smoked foods have the traditional and authentic 'smokey' taste that is associated with outdoor grilling. Charcoal is used in bullet smokers, kamado grills and drum smokers – sometimes in combination with some wood chips for extra flavor.
While charcoal is fairly easy to use, it's not the best method for beginners, as it requires careful temperature monitoring for best results. Once the coals are lit, you'll have to adjust the temperature manually using dampers that control the amount of oxygen inside the grill.
This requires a level of skill, and there's a risk that the coals will flare up or die down completely if you get the balance wrong.
Gas
Gas is a convenient and clean choice, but it doesn't produce smoke as it burns, so you'll also need to add wood chips to create smoke.
Gas smokers are relatively easy to use, as you can adjust the temperature at the twist of a knob. However, as smoking often takes hours, you'll need to make sure you have a plentiful supply of fuel to get the job done.
Electric
Electric smokers heat up via an electric heating element. All you need to do is plug them in, load up a pan with wood chips and water, set the temperature and you're ready to go.
The only downside to electric smokers is they're not as truly portable as other fuel types. You'll need to be close to a power source to use them, and while you could bring a portable generator along on your trip, this is just adding to all the equipment you'll need to transport.
Temp Gauge and Vents
Achieving the correct temperature is key to effective smoking. Therefore, you should make sure your portable smoker has a built-in temperature gauge, so you can set the heat level as required.
For wood and charcoal smokers, you should look for models that have easy-access vents or dampers, so you can control the temperature by moderating the oxygen supply.
Seals and Gaskets
A smoker that leaks isn't going to be very effective. Not only will you find it difficult to stabilize the temperature, but the smoke will seep out and reduce the flavor of your food.
To avoid disappointment, you should look for smokers that have high-quality, airtight seals and close-fitting gaskets to keep the heat and smoke inside where it can work its magic.
Top Portable Smokers Video
Final Thoughts
Nothing quite beats the experience of enjoying low and slow smoked meats around the campfire. All of the models featured in our best portable smoker reviews are excellent choices, but the right option for you depends on your cooking preferences and lifestyle.
If you want a versatile portable smoker that can smoke, grill and roast. We recommend going for either the Kamado Joe Jr., the Master-Touch Premium Best Weber Charcoal Grill or the Broil King Trailer Hitch Compatible Smoker.
Each of these models are fantastic charcoal smokers, but they also offer you a choice of cooking methods, so you can do everything with one unit. The Kamado Joe is very portable and best for smaller gatherings, while the Master Touch Premium has enough capacity to serve as many as 10 people. The Broil King sits somewhere in the middle, but it's hard to beat if you're a fan of tailgating.
If you're looking for something that's super simple to use, you can't go wrong with the Green Mountain Davy Crockett. This high-tech pellet smoker can be programmed and controlled via an app, so you can relax and enjoy socializing while the smoker does its thing. The temperature control is incredibly accurate to within 1-degree and it comes with a 9-pound hopper for several hours of fuel.
On the other hand, if you prefer getting back to basics, the Masterbuilt Portable Patio Smoker is a worthy choice. This no-frills electric smoker is compact, lightweight and very straightforward to use, even for complete beginners. It has enough capacity to smoke up to four whole chickens at once, and all you need to do is place some water and woodchips, set the temperature, and get on with your day.
Whatever you're looking for, we're sure you'll find your perfect match in our best portable smoker reviews.