Whether you're new to smoking and just bought yourself a shiny new smoker or you're a seasoned backyard pitmaster looking for inspiration, our list of the best smoker recipes available on the internet will have your tastebuds jumping for joy.
We've broken the article down into sections covering the best classic smoking recipes that beginners have to try. Then we have a list of smoker recipes grouped by meat, followed by sides and desserts. If you have a great article we don't have listed here please feel free to add it in the comments section.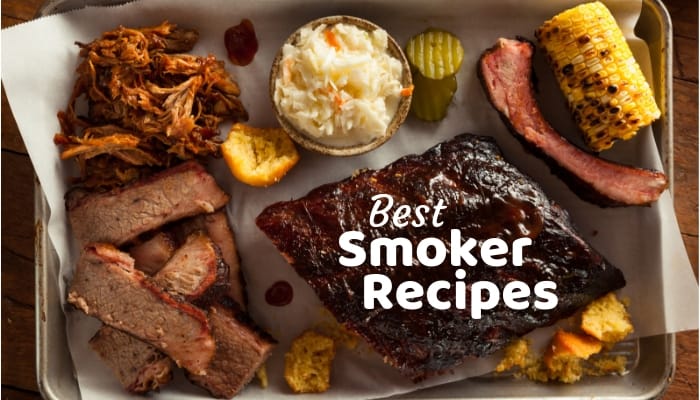 Best Smoker Recipes
Let's start with a list of what is probably the top ten most popularly smoked dishes. These classics have to be mastered by anyone that wants to call themselves a pitmaster.
Aaron Franklin Barbecue Brisket Recipe
Aaron Franklin is one of the biggest names in the BBQ world. He has a famous restaurant in Texas, some great smoking books and an amazing YouTube channel. And even with all this, he's most known for his fantastic brisket recipe.
Aaron Franklin Barbecue Brisket Recipe
Smoked Pulled Pork
Mastering pulled pork is a great stress saver if you throw plenty of BBQ parties. Smoking a pork butt means one simple dish can feed the masses, and if you make too much there are many great recipes available for leftover pulled pork.
The most common way of serving pulled pork is as a sandwich with homemade slaw and some pickles, this keeps things simple. But if you want to mix it up, a couple of amazing dishes are pulled pork poutine and pulled pork mac and cheese. If you master either of these recipes your only worry for your next BBQ party will be too many people turning up.
Smoked Pork Ribs Using the 3-2-1 method
I've never met a meat eater that doesn't enjoy getting in a saucy mess devouring BBQ ribs. At any BBQ competition, winning the prize of best ribs is one of the most sought after accolades. For backyard smokers, the 3-2-1 method of smoking ribs is the most popular.
Smoked Beef Ribs
My personal favorite, beef ribs, also known as dino ribs. These are big meaty bones that look like they could have been ripped off a dinosaur. These ribs aren't as popular as many on this best smoker recipes list, not because they aren't as tasty, but because they are much more expensive per portion. So this is a treat for special occasions.
Burnt Ends
When someone says they are making burnt ends I assume they will be making this with brisket, but it has become very popular for this to be made from pork belly. Having had both, I'd say they are both amazing, but if I was pushed to pick a winner I'd go for the brisket burnt ends. In fact, I've heard many respected pitmasters say brisket burnt ends are their favorite BBQ food.
Crispy Smoked Chicken Wings
Chicken wings are a party favorite, but a major issue I find at many people's BBQ shindigs is that when they smoke chicken wings they serve them up with rubbery skin. Smoked wings don't need to have rubbery skin. Crispy skin tastes so much better, so follow this crispy smoked chicken wings recipe.
Smoked Turkey Breast
Smoked turkey breast sandwiches are a classic at BBQ joints, and generally one of the healthiest options for those that are watching their weight. But they are also extremely tasty when done right. Generally, smoking is easy, and what makes the difference is the brining done beforehand.
Smoked Meatloaf
Next time you're making this all American dish, do it with a slight twist – smoke the meatloaf. If you're like me you've had hundreds of meatloaves that the creator claims is his signature recipe that tastes pretty much like all the others. Well, if you smoke meatloaf this will definitely not be said about your special recipe.
Hot Smoked Salmon
Salmon goes so well with being smoked I can't remember the last time I had salmon that wasn't smoked – hot or cold. It's like this fish was specially designed for grillers and smokers.
Macaroni and Cheese
Smoked mac can cheese is great as a side or a main. Along with a jacket potato, mac and cheese is the most popular side dish I see at home and restaurants. It is the perfect partner to big chunks of meat and will disappear fast at any cookout.
Smoked Macaroni and Cheese Recipe
Best Smoker Recipe Books
If you are looking for a load of great smoking recipes in one place then buying books by trusted and award-winning smokers is a no-brainer. I'll recommend my top three smoker recipe books here, but if you want more information on top quality books then read our best BBQ cookbooks article.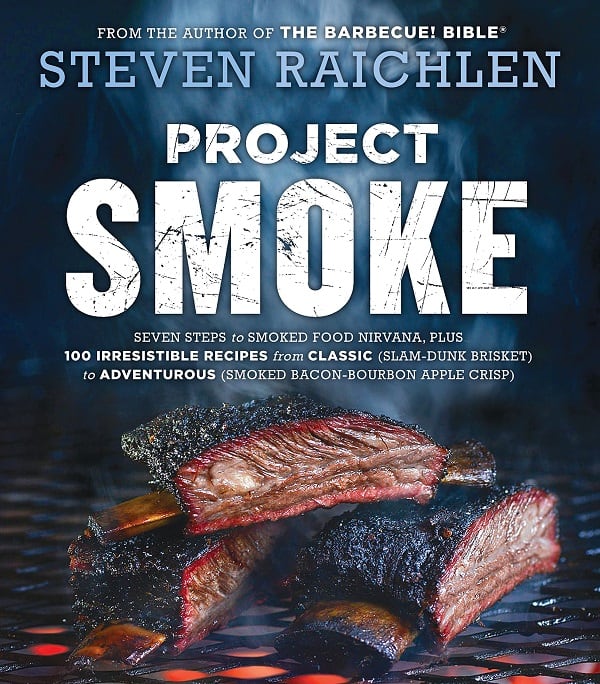 Best Beef Smoker Recipes
Beef is my favorite meat. Some cuts are a bit on the pricy side, but you get a great range with beef. Generally, the more expensive beef cuts are for hot and fast grilling, such as stakes. But the one good thing about low and slow smoking is that it's normally done with the cheaper pieces of meat. Below is a list of the best beef smoker recipes. And like all the categories in this guide, we'll add to it as we find more great recipes.
Best Pork Smoker Recipes
The most budget-friendly of cuts come from a pig. The two pitmaster favorites we have already covered in our list of best smoker recipes – pulled pork butt and ribs. But there are a few other interesting smoking recipes that you can try with pork.
Best Smoked Poultry Recipes
Poultry, and particularly chicken is such a versatile meat. It's great grilled, baked, fried and of course, smoked. Chicken also takes on all flavors with ease. My favorite is spicy rubs and sauces, but you can also have sweet, sour or salty. But don't fall into the trap of just masking chicken with herbs and spices, learn to cook poultry to perfection with these great smoking recipes.
Best Smoked Seafood Recipes
Seafood is generally one of the trickier meat groups to master. The meat from fish is less forgiving to mistakes. But as smoking is low and slow, I'm sure even novice smokers will be able to get results from these amazing recipes.
Best Smoker Recipes for Sides
Sides are where I always see the personality of a smoke-whisper. These are generally my favorite foods at a BBQ because you never really know what you are going to get. Yes, you have the classics like slaw, grilled corn, and pit beans. But most pitmasters try something a little different for people to remember them by when throwing a BBQ party, and sides are normally where this happens.
Conclusion
So there we are. I hope that we have ignited a fire within you with our suggestions for the best smoker recipes. There are so many ways for you to improve your smoking experience, whether it's plunging headfirst into a recipe book for smokers or experimenting with a new cut of meat.
Ultimately, as long as you have good food, good company, and a smoker, there's not too much that can go wrong. But building your best smoker recipes knowledge will only make your overall experience that much better. Happy grilling!