Gone are the days when outdoor cooking consists of a few brunt burgers and some undercooked chicken drumsticks. The passion, skill, and commitment that's now demonstrated by many BBQ enthusiasts mean the bar for quality food expected from a backyard cookout is now higher than it's ever been. And to meet these expectations you'll be wise to take on the advice of some of the experts that have put in the hours behind a grill and have been nice enough to share their tips. Here is my opinion on the best BBQ & grilling cookbooks written by experts in the field of outdoor cooking.
My list of the best BBQ cookbooks is going to be a little different from how other people give their lists. I'm going to give a larger-than-normal selection as I'd like to recommend books for all skill levels, novice to pitmaster, and the widest array of skill sets and techniques.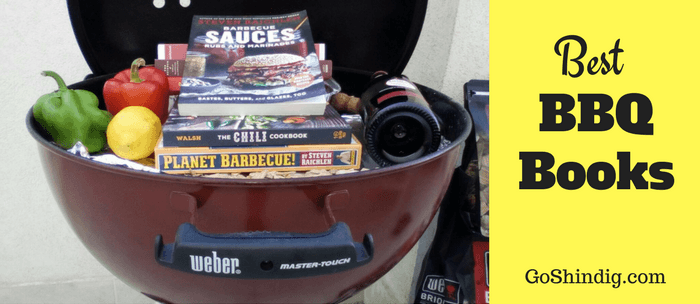 Best BBQ & Grilling Cookbooks
Before I give my list of the best barbecue cookbooks there is one quick point I'd like to express. I see many people complain or give a bad review about a book they buy, saying something silly like "there was nothing in the book I couldn't get for free on the internet". Yes, this is generally true. Fortunately, we live in an era where everything we could read in a book is available online for free. And if someone writes a book about a subject that's not covered online, then as sure as eggs is eggs, that content will soon be copied by someone and put online.
So, don't buy these books expecting them to be some sort of magic bullet. Yes, they are great books, the best written on the subject, but you will be able to find everything in them online. In fact, several of the authors started out as bloggers on their favorite subject and have converted these sites into a book (I'll give their blogs and social media accounts in the reviews where possible). So if you're hard up for money or maybe you're expecting to find a hidden secret only available in these books, you might be better off sticking to online resources. Ok, rant over, I just hate to see amazing cookbooks with skilled authors getting called out for such ridiculous reasons.
Best Barbecue Cookbooks Video
Stuck eating the same burned burgers, charred sausages, and scorched kebabs over and over again? That's not lost on me. When summertime barbecues roll around, it's easy to fall back on tired old recipes.
It's time, though, to be proud of your outdoor cooking skills. Improve your grilling skills this summer with the guidance of the greatest barbecue cookbooks.
What to Look for When Buying a BBQ & Grilling Cookbook
Finding the best BBQ cookbook for your skill level and cooking style might be challenging with so many fantastic options available. But the finest grilling cookbook should have the following characteristics.
Price
Cookbooks for grillers of good quality typically cost $20 to $30. There are some that are more affordable and some that are more expensive, but $25 is a reasonable range for a book that is well-bound, has excellent photographs, and is filled with lots of practical information.
Costs are typically much higher for larger hardback versions with better photos that also double as coffee table books. Don't let the price deter you, though; there are still lots of affordable BBQ cookbooks available.
To select a grilling cookbook that will actually change the way you BBQ, pay attention to the other factors in our buyer's guide.
What Is Included – Recipes, technical advice, and food science
You are looking for a BBQ cookbook to hone your skills? thus content is crucial. However, the many types of grilling cookbooks can differ greatly from one another. Before you purchase, if you are primarily looking for recipes, find out how many are offered.
Many smoker cookbooks written by well-known pitmasters include extensive autobiographical material, but not all readers find this to be interesting. Therefore, before making a purchase, I advise you to consider what you want from your BBQ cookbook.
If you want a simple, step-by-step tutorial on how to grill meats, don't choose an inspirational history of barbecue book that is sprinkled with some recipes. A more personal version would be preferable if you already know the fundamentals and want to delve deeper into some of the sophisticated techniques and rich history of American BBQ.
Essentially, look for a BBQ book that addresses your demands. Beginners can benefit from step-by-step instructions, but more experienced users will benefit from the complexity of BBQing that is exposed through more personal tales of failure and success along with some general advice and pointers.
Content that has been supported by science can be beneficial to all levels of learners, including specialists and the merely curious. After choosing a cookbook that satisfies your overall content needs and areas of interest, you should perform a little background research on the author.
Status of the Author
Nowadays, almost anyone can publish a book. Who is to say that the author is any good, then? You might not even be familiar with some of the big BBQing personailities if you are new to BBQing in general. Here's how to determine whether a BBQ & grilling cookbook was created by a person who is deserving of your time.
Are their website and YouTube channel of high quality? – Basically, can you find any videos or articles from the author about BBQing using a quick internet search? How helpful are they to you, if at all?
Is there an eatery that serves grilled meat with the author's name above the door? Professional cooks may not always devote much time and effort to maintaining their web profile. However, the likelihood that the author truly understands the subject at hand increases if they own a well-known restaurant that specializes in BBQed meat.
Click here to visit the BBQ Hall of Fame and see if the author is mentioned.
Lastly, have they participated in and won any competitions? Visit the Kansas City BBQ Society to see some of the largest completion winner teams and team members.
If the author of your BBQ cookbook does not meet any of the aforementioned requirements but is still a best-selling author, they may still be worth reading, but it's safer to stick to only buying books by people that meet one or more of the above requirements.
Generally won't learn much from BBQ authors who don't have a strong web presence or the credentials to support their claims, so stay away from them.
Size and Page Count of the Book
Quality, as the saying goes, is more significant than quantity. A shorter BBQ cookbook that is jam-packed with guidance, recipes, and ideas will be far more helpful than a lengthier one that contains less detailed material.
However, if you want a grilling cookbook with lots of in-depth recipes, you should get a copy that is several hundred pages long to allow for enough explanations and images, as well as general guidance and other helpful tips. In comparison to smaller formats, books with larger pages will have fewer pages.
Recipe Details & Variety
While some BBQ cookbooks include detailed cooking instructions, others only offer hazy ideas for where to start. Some will include the author's most popular or effective dishes, while others will include a variety of recipes from other regions.
By reading the summary from your smoker cookbook's back cover or sleeve, you can frequently get a better idea of the types of recipes that are contained. You may occasionally discover that some of the recipes are posted online as a sales incentive.
The Standard of the Food Photos
The majority of cookbooks for grilling & BBQ are also works of culinary art with stunning imagery. Nothing can motivate you to light up your grill like beautiful pictures of food. Images of finished dishes inspire confidence in addition to serving as a baseline for how your food should look.
A picture of how your recipe should look helps you know that it has been tried and tested. Additionally, if you like the way the results look, there is a good probability that you will like the way it tastes or at least want to try it.
Which Formats Are Offered
The majority of BBQ & grilling cookbooks are available for purchase in a variety of media, including electronic, paperback, and hardcover editions. Electronic ones are less expensive, but depending on your gadget and tastes, they may be less effective for following recipes outside.
While some people prefer a hard copy, others have a vast digital library. Hardback would probably be a suitable choice for most people if it's a huge coffee table book with eye-catching illustrations. You could discover that a digital version is simpler to retain and bookmark if it comes in smaller, more common formats. Additionally, there are no delivery delays; you may start using it right away.
Your Type of Grill
Be careful to select a cookbook that is appropriate for your type of grill before making a decision. A cookbook for wood pellet grills will provide information and recipes that are substantially dissimilar from those found in an electric grill cookbook.
Although owners of charcoal smokers are the target audience for the majority of smoker cookbooks, electric, gas, pellet, and even open-fire books are also becoming more popular. It might be preferable to look for a cookbook designed for your specific type of grill.
Is the Book Designed for Novice or Experienced Pitmasters?
Make sure the BBQ cookbook is appropriate for your smoking experience and skill level. While some cookbooks for grilling are generic in nature and offer tips and techniques that are helpful to all skill levels, beginners will feel out of their element when using a BBQ cookbook designed for seasoned pitmasters.
A step-by-step manual for operating your grill can also leave you disappointed if you have been using one for a while and are hoping for some fresh difficulties. So research what you are buying before pressing the buy now button.
Final Thoughts
There are many top-notch BBQ & grilling cookbooks available. You can be sure to discover the finest cookbook for your grill in our extensive best-selling book selections, whether you're searching for one to get started grilling or to hone your abilities.
Smokin' with Myron Mixon has plenty of tips and multiple award-winning recipes from one of the most renowned pitmasters of all time if you're grilling meat for the first time and need guidance on how to get started.
Meathead: The Science of Great Barbecue and Grilling is a great option for novice or intermediate pitmasters who want to learn more about how a smoker operates and how to create the ideal smoke ring. This BBQ cookbook includes various tried-and-true recipes with plenty of high-quality images in addition to dispelling common grilling fallacies.
Pitmaster: Recipes, Techniques, and Barbecue Wisdom is my top BBQ cookbook pick for learning about various styles and regions and is a requirement for any true BBQ enthusiast if you are interested in BBQing in general and want to discover more about how various regions have contributed to our country's rich BBQing history.