Looking for one of the fastest and easiest ways to bring out the delicious flavor of smoked food? Designed with your convenience in mind, electric smokers are quick and efficient. Cooking with an electric smoker is so easy, even a beginner can learn how to set it and forget it. Electric smokers are capable of doing all of the hard work on their own. You can read all day about the different kinds of electric smokers on the market today, but based on rigorous comparisons, we've determined some of the best electric smokers. Which one is right for you?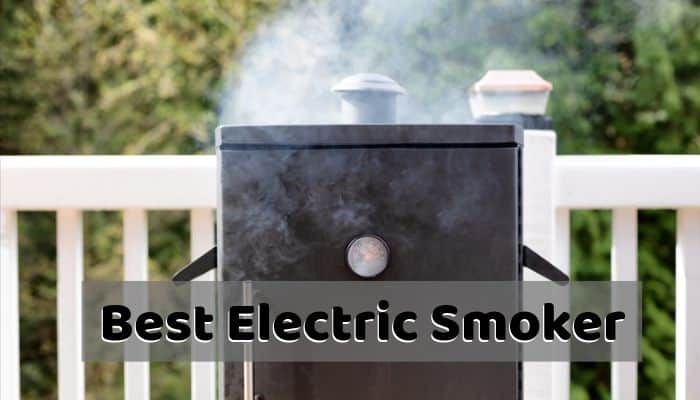 Best Electric Smoker
An electric smoker produces smoke by letting wood smolder above a heating element. This differs from other more traditional smokers, such as gas or charcoal, as it does not rely on combustion as a heat source. Electric smokers are simple to use, maintain heat efficiently, and come with the added bonus of never having to worry about fuel (unless, of course, there's a power outage).
Electric smokers have come a long way in producing flavors that rival that of charcoal and other smoking methods. We have discussed the differences between different types of smokers before, but we want to take a more comprehensive look at what many consider to be the underdog of the smoking world.
If you want the same great taste as a traditional bbq smoker but without all of the fuss, then an electric smoker is a great little investment. Considering purchasing one of these appliances for your next cookout? We've assembled some of the best options available and detailed what makes each one a winner in our book.
Best Electric Smoker
Masterbuilt Digital Electric Smoker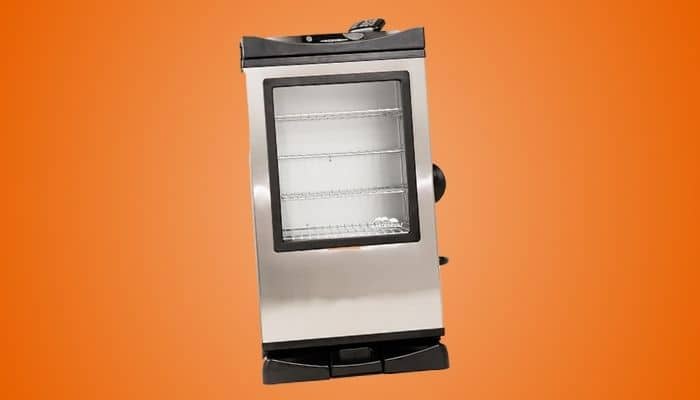 Want to jump straight to the hands-down winner? The Best Electric Smoker is the Masterbuilt Digital Electric Smoker. You will see Masterbuilt more than once on this list, and that's because this brand consistently ranks among the best of the best. Their 30-inch Digital Electric Smoker reigns supreme as the best all-around electric smoker thanks to many convenient features.
Most notably, it has 730 square inches of cooking space.  That amount of space rivals far more expensive models and includes four racks and an 800 watt heating element. The radio frequency remote adds a new level of convenience by giving you the ability to adjust your smoker's temperature with the click of a button. It also uses a built-in meat probe that keeps an eye on the temperature of your food during cooking.
The Masterbuilt Digital Electric Smoker also scores points for being easy to move thanks to its handle and rear wheels. It features a front access drip pan for quick cleanup. You may find yourself surprised at its small price tag, considering it stands up well against pricier models.
But we think you'll find this model a great entry-level smoker for anyone looking to impress friends and family with delightfully smoked meats.
Masterbuilt also has the added bonus of being one of the most customizable brands, featuring a full range of accessories. There's even a cold smoking attachment available for those who want to venture into smoking cheese or fish.
Pros – Things we liked
730 sq. in. of cooking space
Includes four racks
800 watt heating element
Front access drip pan
Cons – Things we didn't like
Can't exceed temps higher than 275
Char-Broil Deluxe Digital Electric Smoker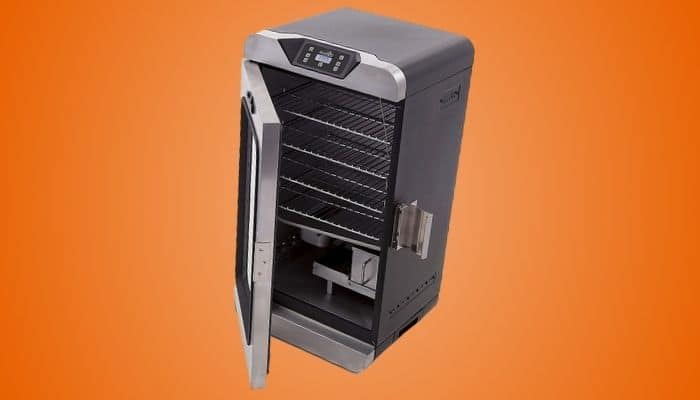 Another top competitor is the Char-Broil Deluxe Digital Electric Smoker. Comparatively, the Char-Broil Deluxe and the Masterbuilt are fairly neck and neck.
The Char-Broil is only slightly smaller, with still a generous 725 square inches of cooking space. You can easily cook for 8-10 people in this compact and convenient smoker grill. Its smokebox can burn for 4-7 hours without ever needing a refill.
We'd say the part that makes this model truly "deluxe" is its construction. The premium insulated, double-wall build locks in the smoke and heat, yielding up to ten times as much smoke as other electric smokers.
You can easily monitor and adjust the heat from the advanced control panel or the remote control. This electric smoker is fully programmable, so you can set it, forget it, and spend time with your guests while your smoker does all of the work.
Other great features of the Char-Broil Deluxe Digital Electric Smoker include a high capacity grease tray which holds up to 8.5 cups and is easy to clean. Its glass door allows you to keep an eye on your food throughout the smoking process.
When your food has finished cooking, keep it warm until its ready for serving by using the smoker's warming feature.
The Char-Broil Deluxe is everything you could need in an electric smoker, plus a few extra bells and whistles, for a rather affordable price. It makes a great entry-level electric smoker or gift for any smoking enthusiast.
Old Smokey Electric Smoker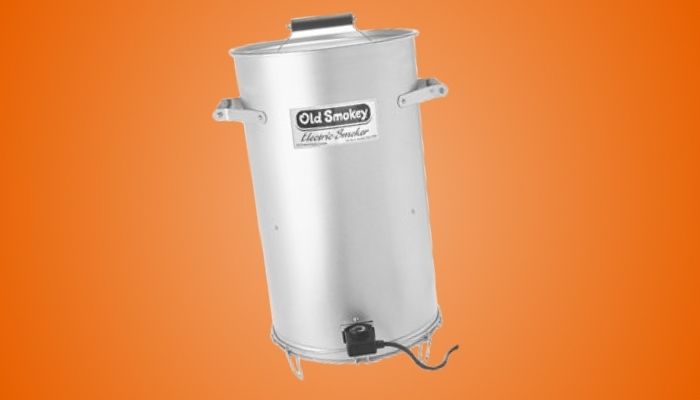 With a design that is far different than most, the Old Smokey Electric Smoker stands out in a crowd. This trashcan style smoker has a flat top, causing accumulated juices to drip back down onto the food. Don't expect fancy bells and whistles with this model. The Old Smokey is all business.
With 280 square inches of cooking space and weighing in at only 24 pounds, it is safe to say that the Old Smokey is one of our most compact models featured in this list. But don't let its size fool you. The Old Smokey gets the job done.
The heating element connects to the electric outlet at the bottom of the unit. The chip tray is above the heating element and smoke disperses to both the upper grill and lower cooking level.
The Old Smokey Electric Smoker does have a drip pan; however, there is not a water pan included. Also missing from this electric smoker is a temperature gauge, although it is available as an optional accessory.
You will want to purchase your own thermometer anyway, so the lack of one standard on this model of smoker isn't that big of a deal. For the excellent price point, we can deal with this electric smoker being the most straightforward in regards to construction.
Bradley Smoker Digital 4 Rack Smoker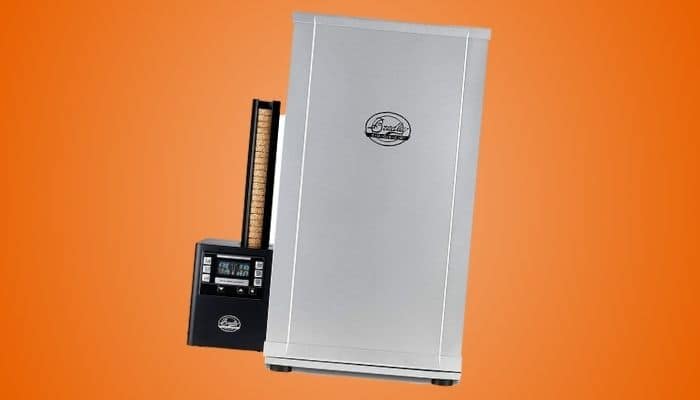 If there was a category for most interesting design, the Bradley Smoker Digital 4 Rack Smoker would win hands down. Why? It's not just because it looks so sleek.
The Bradley digital smoker is actually a combination of both an electric smoker and a pellet smoker. One look tells you that this Bradley model is high quality, solid, and a bit more advanced than your average smoker.
What makes Bradley smokers unique is that they use wood "bisquettes". They are similar to wood pellets, but they are large, round, and made from compressed sawdust. The automatic bisquette feeder allows for up to eight hours of controlled cool smoke before needing to be replenished.
With four removable racks, the Bradley model has a total of 520 square inches of cooking space. It can reach temperatures up to 320 degrees and is fully digital in its controls for time, temperature, and smoke.
Many people rave about the Bradley and its great smoky flavor. However, if we had to pick one thing about this model that we aren't totally crazy about, it would be the "briquettes". Don't get us wrong, they do seem to work well and give off a decent flavor. But we like the freedom of being able to choose our own wood chips or pellets rather than being confined to only using Bradley brand discs.
Not picky about your pellets or chips? The Bradley electric smoker is perfect for large cooking, capable of fitting two half racks of ribs or a whole chicken on each cooking rack.
Curious about pellet smokers? We take a more in-depth look at how pellet smokers work and reviewed some of the best cheap pellet smokers.
Smokin-It Model #1 Electric Smoker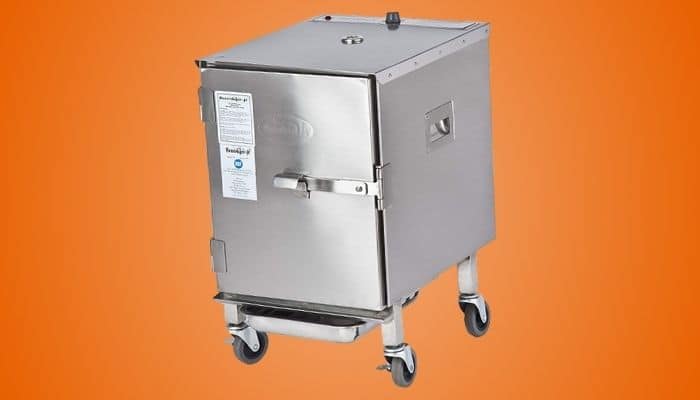 Built like a tank, the Smokin-It Model #1 Electric Smoker is a force to be reckoned with. It boasts an impressive capacity of 22 pounds of meat per load.
You won't be paying the big-ticket price of a more recognized brand, but you'll get a build quality that surpasses many of those big-name models. We like to think of this model as the best-kept secret in electric smoking, and we want to share this secret with you.
Insulation is key for the Smokin-It Model #1. With fiberglass insulation to reduce the risk of heat loss, it holds a steady temperature very well. Meaning It's also really efficient on your fuel.
You really get the most out of your wood chips with this model. We also appreciate its portability. A wheeled bottom and a 12-foot power cord are great features to have if you plan on moving your smoker around.
Almost all electric smoker reviews of the Smokin-It Model #1 are in agreement. There's really nothing much to complain about with this model. Its size and build quality make the Smokin-It Model #1 one of the best value electric smokers available.
Best Cheap Electric Smoker
Masterbuilt Digital Electric Smoker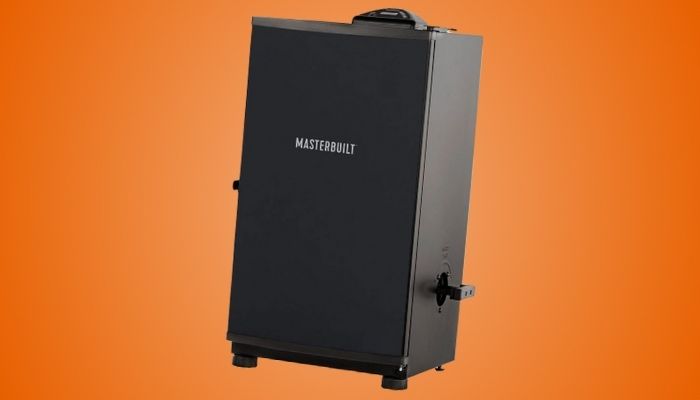 Looking for an electric smoker that delivers great flavor and still fits your budget? Our winner for the best cheap electric smoker goes to the Masterbuilt Digital Electric Smoker.
It has 721 square inches of cooking space and its simple design is perfect for both a beginner smoker or a seasoned pro. The size is convenient and compact, comparable to that of a mini-fridge, but don't let its size fool you. With four racks inside, having plenty of space isn't a problem.
One of the nicest features of this electric smoker is its wood chip loader. You can actually add more wood chips during smoking without ever opening the door. The insulation does its job well and keeps the heat locked inside and temperature steady.
But speaking of temperature, you may find that the one downside of this model. As this smoker can only heat to 275 degrees, your poultry will be deliciously smoky, but you may find the skin lacking in crispiness.
Fans of this model also report that while they love its effectiveness in heat retention, they found that this Masterbuilt didn't have quite the power they expected to tackle cooking large quantities of meat.
Best Indoor Electric Smoker
Oster Smoker Roaster Oven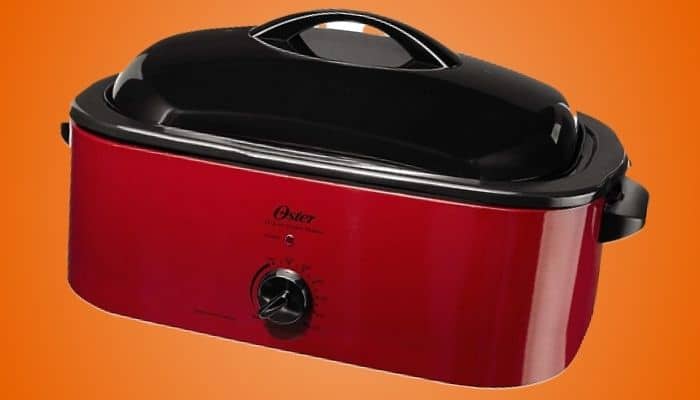 Rain or shine – you can smoke anytime with the Oster Smoker Roaster Oven. We consider it the best indoor electric smoker thanks to its great value and incredible versatility. Use it as either a smoker, roaster, or slow cooker and achieve delicious results no matter what you are cooking, even up to a 20 pound turkey.
This 16-quart roaster can reach temperatures ranging from 150-450 degrees Fahrenheit. Use it indoors as a roaster or outdoors as a smoker. The two removable pockets hold plenty of wood chips for a low and slow smoke. Once you have finished smoking, you can bring it inside and continue keeping your food warm until serving.
The cool-touch handles make transportation easy, making this smoker ideal for large parties, social gatherings, holidays, or special events.
The enamel-coated cooking pan and roasting rack are removable and dishwasher safe, making cleanup a cinch. Cook with confidence knowing that you are smoking with the #1 brand in roasters, and doing so with a smoker that doesn't break the bank.
With all that this electric smoker is capable of, you are getting a great deal and guaranteed great food.
If you like to keep your cooking compact and convenient, we also recommend checking out some of the best tabletop grills. These can be especially handy if you have limited space at home!
How do Electric Smokers Work?
You are probably used to gas or charcoal smokers and wondering how exactly an electric smoker works. Is it capable of producing the same great smoky taste that you are familiar with? The answer is YES!
Rather than firing up charcoal and wood, you are simply using a bit of technology to control a heating element. It's kind of like taking your traditional oven, setting it outside, and adding smoke.
You set the temperature gauge to your desired temperature and let the heating element heat up the wooden tray and impart all of that amazing smoky flavor to the meat.
Some electric smokers take their technology game to a whole new level, adding temperature probes that connect to digital remotes to keep you constantly in control of your smoker's temperature and cook time.
Other models are Bluetooth compatible, capable of transforming your smartphone or other devices into a smoking command center. With the more control you have over your smoker's temperature, the more you can expect incredible results.
Pros and Cons of Electric Smokers
Now that you know you can achieve the same smoky flavor as gas or charcoal smokers with an electric smoker, it is important to note that there are still some key differences. Nine times out of ten, your friends won't be able to tell a difference in the flavor. So should you make the jump to an electric smoker? Let's break it down into the pros and cons.
Pros
Convenience – Electric smokers are simple to use and perfect for the smoking enthusiast who just wants to "set it and forget it". There's also the added convenience of never running out of fuel!
Versatility – You will find that many electric smokers have a wide temperature range, meaning they can be used for a larger variety of foods. Being able to smoke at low temperatures makes them perfect for cold smoking fish, bacon, or cheese.
Environmentally Friendly – Charcoal emissions can be harmful to the environment. With an electric smoker, you can cook with confidence that you are reducing your carbon footprint.
Cons
Outlet Required – It probably goes without saying, but for an electric smoker, you are going to need access to electricity. This means you are going to want to position the smoker somewhere in close proximity to an outlet or have a weatherproof extension cord ready.
Complicated to Repair – With more technology and more parts than other more traditional smokers, electric smokers can be a bit more difficult to repair. Proper maintenance and upkeep are essential to the long lifespan of your smoker.
No Smoke Ring – Traditional barbeque enthusiasts will tell you that the way to identify "real" barbecue is by its smoke ring. The smoke ring itself doesn't actually add any flavor, but to some people, it may be a deal-breaker that electric smokers don't produce a smoke ring. For more on why that is, keep reading.
Why don't electric smokers produce smoke rings?
If you have ever noticed a dark pink ring just below the bark (or crust) of your traditionally smoked meat, then you have seen a smoke ring. This is what many smoking purists will tell you is an absolute must for "real" barbecue, although it is more for the appearance than the taste. A smoke ring does not add any flavor to the meat, it just creates the coveted visual aesthetic of traditional barbecue.
When you cook with a gas, pellet, or charcoal smoker, you rely on combustion for heat. Wood combustion releases nitrogen dioxide, which creates a chemical reaction when it touches the meat. That chemical reaction is what produces that highly sought after pink ring, but you won't find a smoke ring in foods cooked in an electric smoker.
Why? The answer is simple. In electric smokers, the wood chips smolder somewhere between 400°F and 900°F. A smoke ring requires that wood combusts at much higher temperatures.
By comparison, many of the best offset smokers available today are capable of burning woodchips at temperatures upwards of 1,600°F. You are just not going to find that kind of power in an electric smoker.
Can't live without a smoke ring? There's a solution for that, but we wouldn't call it simple. Start your meat off for the first few hours in a traditional smoker, such as a gas smoker. There are many great gas smokers available that we highly recommend.
Once the smoke ring is established, you can transfer the meat to finish cooking in the electric smoker. However, we think this method is a lot of work for very little payoff. If you truly must have a smoke ring, perhaps electric smoking is not for you.
Should I Buy an Electric Smoker?
Many people enjoy the taste of smoked food but aren't prepared for the time and effort traditional charcoal or wood smoking requires. Getting some cuts of meat cooked precisely can take up most of your day. It requires dedication and diligence to stay in control of the smoking process. For many, it is more work than what they bargain for.
An electric smoker is a great way to cut your prep time and the amount of time you would spend maintaining control over your smoker's temperature and fuel supply. If you are the type of person who likes to "set it and forget it", then an electric smoker is the way to go.
Why Trust Us
All of our reviews are compiled with a combination of expert input, years of hands-on testing of grilling products, curating the reviews of real-life buyers in a "wisdom of the crowd" system, and of course our own expertise. All the products listed are the ones we would buy if we were looking to purchase a new electric smoker.
Methodology Used to Pick the Best Electric Smoker
When picking the best electric smoker we looked at and then rated each smoker on the following criteria. Price, size, portability, temp control, build quality, maintenance, and versatility.
Best Electric smoker – Buyer's Guide
Electric smokers come in all different shapes, sizes, and price ranges. If you have never purchased one before, the variety may be a bit overwhelming. When shopping for an electric smoker, here is what you will want to consider:
Price
Depending on its features, an electric smoker can range in price anywhere from $100-500, generally speaking. A good digital electric unit will cost you somewhere in the middle of that range. And if you are a professional pit master seeking a more commercially sized unit, expect a much higher price tag.
Size
You can find a smoker in any size. If you are only cooking for a small family, you may want to consider a smaller and more portable unit.  Like smoking multiple larger items like whole birds or ribs at one time? Look for a larger capacity smoker in the 700 square inch range.
Portability
Wheels are always a plus when it comes to portability. Larger capacity electric smokers can tend to weigh on the hefty side, so if you plan on moving your smoker around much, opt for a model with a good set of wheels and handles.
Digital or Analog
How high tech do you want to go? Analog electric smokers are pretty straightforward and work on a system of manual dials. Digital electric smokers, as the name might suggest, have more digital methods of controlling the temperature and cook time. They range in technicality from just having digital screens to being fully programmable via a smart device.
Temperature Control
Once you have decided your preference between digital and analog, you should consider the amount of control you have over the unit's temperature. Many electric smokers have a range of about 100-300°F, while others have a much wider range. It is important to be aware that some very basic units only have one set smoking temperature and cannot be adjusted.
Build Quality
Insulation is key to heat retention, and heat retention is the key to even cooking. It is important to look for an electric smoker with good insulation and a door that seals properly. Each time you open the smoker door to check on your food, heat escapes, affecting the internal temperature of your smoker. This is why many smokers will have built-in windows to reduce the need to open the smoker while smoking.
Maintenance
To ensure that your electric smoker lasts for years to come, you will need to know how to properly care for and maintain your smoker. Are the cooking grates removable / dishwasher safe? Some units have removable trays for easy disposal and cleanup, while others may be a little more complicated to clean. Also, if your smoker is going to be outside and exposed to the elements, plan on purchasing a smoker cover to protect it.
Versatility
When investing in a large appliance like a smoker, many people prefer to get the most bang for their buck. They want a smoker that can do it all. Some smokers come equipped to handle smoking, grilling, and broiling. We even like to use ours for pizza! Electric smokers that can handle low temperatures are great for cold smoking fish, nuts, or cheeses. There's no point investing in a uni-tasker when you can get a really versatile electric smoker for a comparable price.
How to Season an Electric Smoker
Before you ever use your electric smoker, it is important to season it. Seasoning has many benefits such as preventing rust development and imparting better flavor to your food. Once you have assembled your smoker, you should clean it with a damp sponge and mild detergent. Rinse away the soap and allow the smoker to dry. Then, coat the inside with oil and place all trays and racks back inside.
Now, plug your smoker in and set it to 275°F for three hours, leaving the top vent completely open. After 45 minutes, add a handful of woodchips to the loader. Add another handful at the hour mark and another at around an hour and a half. You want to let the ashes build up and season the smoker with the smoke. That's all there is to it.
How to Clean an Electric Smoker
Your smoker is a bit like a cast iron pan – once you have seasoned it, you don't really want to ever scrub it. Doing so may wipe away the coating of black smoke seasoning that builds up over time and brings so much flavor to your food. If you need to wipe down the inside over your smoker, do so dabbing gently with some damp paper towels while the smoker is still warm.
Some smokers include trays and grates that are dishwasher safe, and those are removed and cleaned without much effort. Always avoid using harsh chemical cleaners on your smoker.
Electric Smoker Accessories
Electric smokers have proven themselves to be especially handy to have, but you can always take a great thing and make it better. How? With high-quality accessories. The following are a few things that you may want to consider picking up when you pick out your new electric smoker. They also make great holiday gifts for the grill master in your life, along with these other great grilling gifts.
Wood Chips
Apple, hickory, mesquite and more! BBQrs Delight has Wood Smoking Pellets in every flavor. A variety pack can last you all summer (and longer!), and give you the ability to mix and match flavors.
Whether you want sweet and fruity flavors or something more distinctively smoky, wood chips are an essential accessory for smoking. Wood smoke amps up the flavor of your food, and creating your own blends of flavors to match your meats means the options are limitless. Where should you even start? Well, try taking a look at our guide to the best meats to smoke.
Thermometer
Your electric smoker will likely come with its own thermostat, but if you have done any research at all into grills, smokers, and other outdoor cooking appliances, you probably know not to trust it. Often, they are inaccurate due to their placement in the unit. Plan on purchasing your own thermometer, such as the ThermoPro Wireless Digital Cooking Thermometer.
Temperature can vary quite a lot inside your smoker, so always having an accurate measurement is essential to proper cooking. We can't stress this enough, so we've assembled what we believe to be some of the best smoker thermometers for your consideration.
Electric Smoker Stand
Need easier access to your smoker? This Electric Smoker Stand gives smaller models a bit of a boost. The stand lifts the smoker an extra sixteen inches off of the ground.
It also has a convenient bottom storage shelf which is perfect for storing supplies such as wood chips, tools, pans, and more. It is compatible with most Masterbuilt digital electric smokers (but not Bluetooth compatible models), and could also potentially be used with other name brand smokers.
Electric Smoker Cookbook
If you have checked out our best smoker recipes and are still looking for more delicious electric smoker recipes, then we recommend the Electric Smoker Cookbook. This cookbook explores what woods to use, a variety of sauces and marinades, as well as many expertly crafted and professionally tested electric smoker recipes.
From Cinnamon Whiskey Meatballs to Succulent Salmon Nuggets to Smoked Stuffed Jalapenos, there are recipes for meat and veggie fans alike. The recipes are simple, yet delicious, and very easy to follow. We'd recommend this cookbook to anyone ready to explore smoking and all of its possibilities.
Grill Rack
Grill racks can help increase the cooking space of your smoker or ensure proper cooking of smaller, more delicate foods. If you are a big fan of chicken legs, you should definitely check out the Sorbus Chicken Leg Grill Rack. It holds up to 12 jumbo chicken legs at a time, keeping them upright to ensure even cooking and airflow. Not just for smokers, it is compatible for use inside your oven or grill as well. It is perfect for both legs and wings.
Top Electric Smokers Video
Conclusion
With electric smokers continuing to make great strides and advancements, we can confidently say that they are right on par with traditional smokers. Don't listen to anyone who hassles you about taking the "easy way out". They will be wishing they had the extra convenience of an electric smoker when they taste how deliciously smoky your food is! They likely won't even be able to tell the difference.
Electric smokers are a great choice for anyone who desires the same great flavor as charcoal or gas but without all of the added hassle. We hope our guide has helped enlighten you to how electric smokers work and what model might be right for you. No matter which one you pick, we are certain your food will always be flavorful. Good luck and get smoking!