More than just a drink, the Cosmopolitan Cocktail defines a whole era. Its stand out color and fancy glass made it a hard to miss drink in the late nineties and early noughties and brought a revolution to the drinking world. And although it's more than just a drink, it's also a drink with a beautiful flavor. The Cosmo is relatively easy to make but has the look of a cocktail that you've put loads of effort into.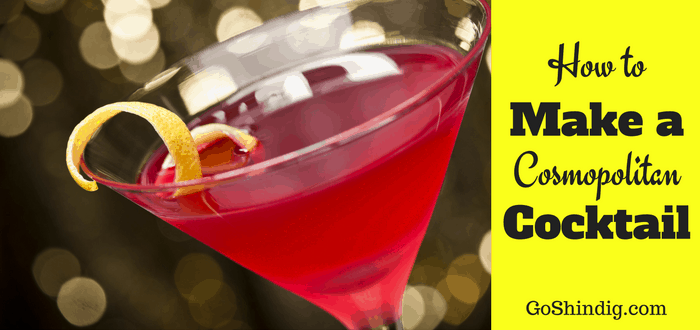 How to make a Cosmopolitan Cocktail
Cosmopolitan Recipe
40ml Vodka
15ml Tripe Sec
Cranberry Juice
Fresh Lime Juice
Cosmopolitan Cocktail Equipment
Bar Spoon
Cocktail Strainer
Making a Cosmopolitan instructions
1. Pre-chill your glass by adding ice to it.
2. Add all the ingredients and ice to your cocktail shaker, using a jigger to measure the amounts, and give a good shake.
3. Empty your glass and pour in the mixture using a strainer, and give a stir with the bar spoon.
4. The standard garnish for a Cosmopolitan is a twist of lime peel, but you can decorate as you wish.
Cosmopolitan Cocktail History
Many mixologists today credit the humble Cosmopolitan as the cocktail that brought about an incredible change in drinking habits and the acceptance of mixed drinks. And all because it was the drink of choice in the amazingly popular HBO show "Sex and the City".
The origins of the Cosmopolitan, also now known as a Cosmo, can be traced back to well before this TV show. And of course like many cocktails the exact person or time that the drink was created is a mixture of guesswork and hearsay.
It is believed the first variation of the Cosmopolitan was an advertising gimmick conjured up by the people at the cranberry drinks firm Oceans Spray. The goal was to make cranberry juice more appealing to adults and not drunk just by children. So they suggested mixing cranberry with vodka and fresh lime. Not quite the finished article as triple sec still needed to be added (and a cool name, this version was called a Harpoon).
The next step in the journey of this famous cocktail now gets a little fuzzy. Who added the triple sec? It's here that we have to refer to the expert knowledge of James Winter, the author of the fabulous book "Who Put the Beef in Wellington?: 50 culinary classics, who invented them, when and why". During his research he had two good theories as to who added this last drink to the mix. Unfortunately they are not substantiated, both could be wrong, either could be spot-on, or of course there is the small chance two people created the same drink without knowing it.
One theory, and the one that the author seems to lean towards, is that John Caine – a Miami bartender created the Cosmo in all but name. The story goes Caine started his creation while working in Provincetown, next to the biggest cranberry producing regions, before moving on to San Francisco. It was here, while working in amongst the vibrate gay social scene, that it's believed Caine's drink became a hit.
An equally believable theory is that Cheryl Cook invented the drink while working in South Beach (again, working in a gay social scene). Her clientele wanted a drink that was sweeter than a traditional martini, so using a martini glass Cook would add vodka, triple sec, cranberry and lime. The lovely pink color of the drink helping it become popular.
Moving forward, the story behind the Cosmopolitan cocktail becomes clearer, and it also gets its modern name. The year is 1987 and the location is Odeon in Manhattan, a celebrity hangout. A barman named Toby Cecchini worked behind the bar, and it is he that has been given the title of the person that invented the modern Cosmopolitan.
The drink was so popular that it spread across the city, and on a fateful night for the cocktail, it landed in Madonna's hand while she was being photographed at a Grammy after party. And that was all it needed to explode in popularity with the masses.
Inevitably the Cosmo's appeal slowly waned, and in its absence was a new thirst for beautiful looking and flavored cocktails. And mixed drinks haven't looked back since, with more concoctions available than ever before.
Cosmopolitan Mocktail Recipe
Making a virgin Cosmopolitan (mocktail) is as easy to make as the alcoholic drink. All you need to do is replace the Triple Sec with orange juice and the vodka with pink lemonade. All the steps after that are exactly the same.
Cosmopolitan Variations and Tips
The International Bartenders Association recommend you make a Cosmopolitan with Citron Vodka and for your Triple Sec you use Cointreau. These guys take making cocktails very seriously, so using these drinks is probably your best option.
Make a White Cosmopolitan by using white cranberry juice not red.
Make a Purple Cosmopolitan by using Blue Curacao instead of Triple Sec.
Make a Blue Cosmopolitan by using white cranberry and Blue Curacao.
Make a Peach Cosmopolitan by replacing Triple Sec and cranberry with peach schnapps and peach juice.
Make a Cosmocello by replacing lime juice with Lemoncello.
Great Gifts for Cosmopolitan Cocktail Drinkers
Amazon has a great selection of gifts for cocktail drinkers. Below are some they offer that will be good for people that drink Cosmopolitan cocktails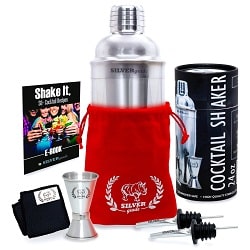 Cocktail Shaker Set. Buy from Amazon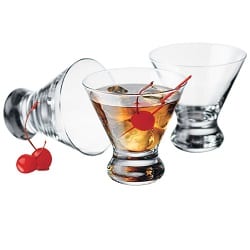 Novelty Glasses. Buy from Amazon