Fueled by charcoal, the kamado grill is an all-in-one package of a grill, smoker, and an oven. For this reason, their popularity continues to increase and more and more kamado grills are hitting the market. We should know –  we have compared quite a few of them. But this Kamado Joe review will show you why Kamado Joe is a standout name in modern kamado grills.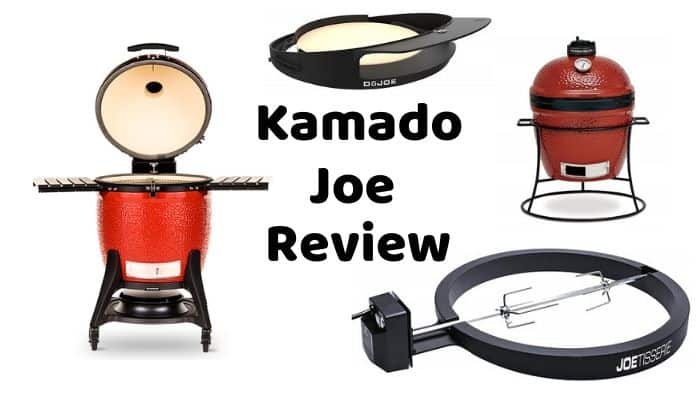 Best Kamado Joe Reviews
Regarded as the best value for your money in comparison to other kamado grills on the market, Kamado Joe has become a widely recognized brand. Kamado Joe's focus is on creating innovative designs using premium materials. This has resulted in some of the finest kamado grills available today. Some of the most popular models include:
Kamado Joe Classic II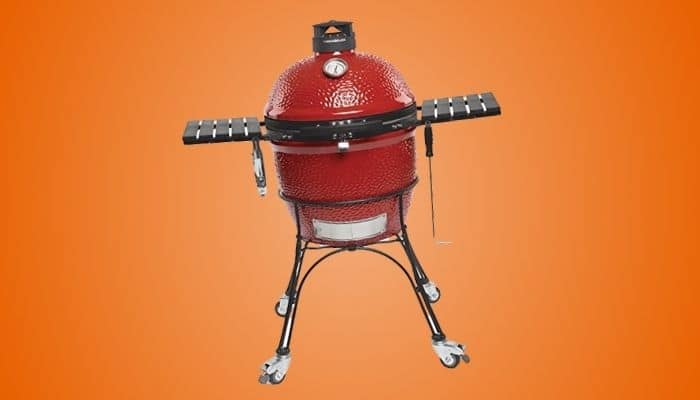 Widely regarded as the ultimate kamado grill, the Kamado Joe Classic II is extremely well made. It has a heat resistant shell with thick walls that trap in both smoke and moisture during high heat cooking. This grill reaches temperatures over 750 degrees! Whether you want to grill, smoke, slow cook, or sear, you are sure to get the perfect results with the Kamado Joe Classic II.
While the premium price might seem intimidating, Kamado Joe owners will tell you that you are getting a considerable deal. Breakthrough airlift hinge technology makes this grill easy to use by reducing the lid weight by an impressive 96%! The high-quality construction of this 18" ceramic grill leaves little to be desired. Built to last, the top vent control tower has a patented, all-aluminum, rust resistant, and rainproof design.
The main difference in the Kamado Joe models is the cooking surface area. Due to the flexible cooking system allowing for multilevel cooking, cooking space is doubled compared to other kamados. With the Classic II model, you get 256 square inches of cooking space on commercial grade 304 stainless steel.
The multilevel cooking is a clever technique, but some Classic users concede that creating two heat zones for direct and indirect cooking cannot be easily done. To achieve this in a kamado grill, an assortment of accessories may be necessary to move food closer to or further from the hot coals. Unlike some of the other Kamado Joe models, all accessories are built to fit the Classic II model.
Another perk to the Classic II model is its patented slide-out ash drawer. Ash draws are extremely convenient for a quick cleanup! They are also extremely rare on kamado grills, so Classic II owners tend to rave about this great feature.
Kamado Joe Classic III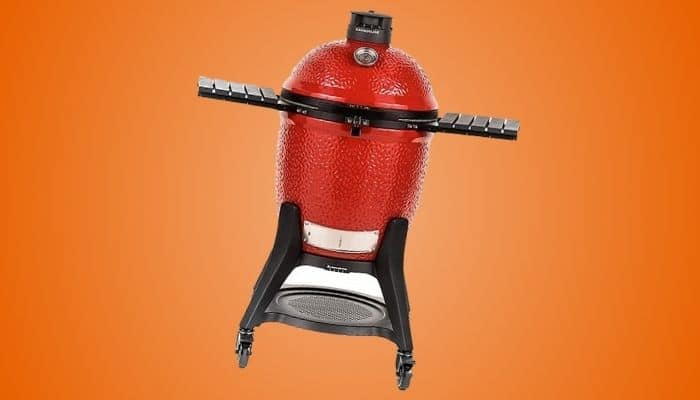 New and improved, take a step up from the Classic II model with the Kamado Joe Classic III. You still get the same solidly constructed ceramic shell and the more than adequate 18" diameter, but there are some upgrades. Most notably, the SlōRoller insert, a hyperbolic smoke chamber which maximizes smoke flavor and is perfect for low and slow cooks of up to 500 degrees. The insert is also easily replaced with the standard heat deflector plates for cooking with higher temperatures.
The Classic III also has the three-tier Divide & Conquer® Flexible Cooking System which gives you space to cook different foods at different temperatures at the same time. Cooking space is 256 square inches, but that's more than doubled if you use both sets of grill grates or a grill expander. A charcoal basket and pull out ashtray also make cleanup quick and easy. Fans of the Classic III model tend to appreciate the aluminum side shelves, which replace the plastic shelves of the Classic I & II. There's also a redesigned cart which features a handy shelf underneath.
The Classic III is the most popular of the Kamado Joe grills with all of the newest innovations. It makes finding anything to fault it for very difficult! Reviews of this kamado grill are all glowingly positive and herald it as being among the best of the best kamado grills available today.
Big Joe III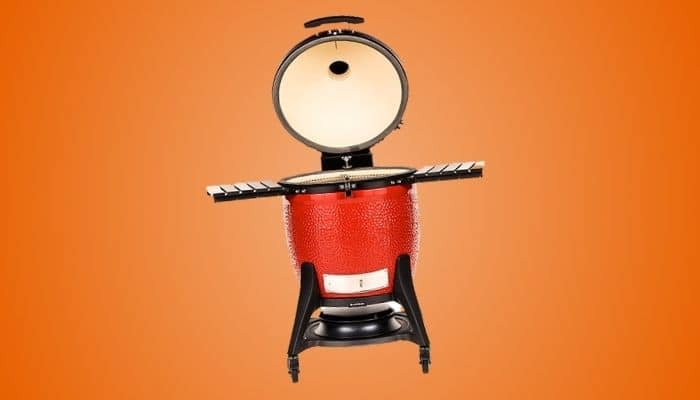 Like the Classic III but want even more cooking surface? Then the Big Joe III is the grill for you. You get the same incredible design and functionality. But this 24" diameter model bumps the cooking space up to 452 square inches. Again, that space also increases even more when you use both sets of grates or a grill expander. The Big Joe III also includes the SlōRoller Hyperbolic Smoke Chamber insert.
Big enough for three full racks of ribs, the Big Joe III is a favorite for large groups and events. However, the bigger the grill, the bigger the price tag that applies. Though many will tell you that there's no price too large for the quality you receive with a Kamado Joe. This model also features an improved steel rolling cart that makes moving this beast of an almost 500-pound grill exceptionally easy.
Stand-Alone Joe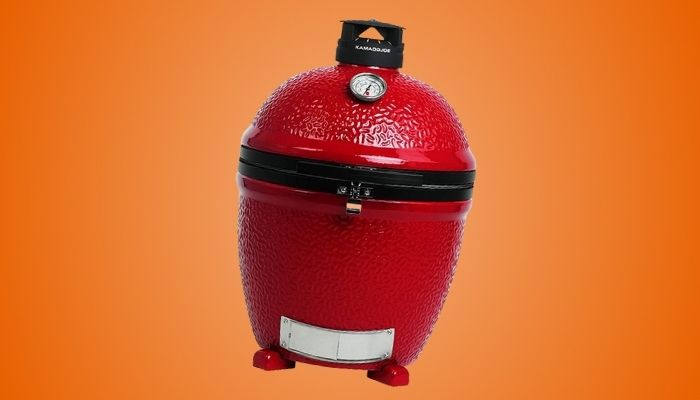 If you want a grill that's made to fit your expansive grilling setup, check out the Stand-Alone Joe. Available in both the Classic and Big Joe sizes, they include all of the same innovations but none of the stands or side shelves.
Air lift hinge? Check. Control tower top vent? Check. The patented Divide & Conquer cooking system? Check. An airtight stainless steel latch? Check. Everything you love about the other Kamado Joe models comes standard on the Stand-Alone Joe. However, it does not include the SlōRoller Hyperbolic Smoke Chamber insert. Stainless steel feet replace the stand, making this grill easy to install in your custom outdoor kitchen.
It boasts 452 square inches of cooking space and is also ideal for use with one of Kamado Joe's signature grilling tables. The Stand-Alone model is a versatile option for grilling enthusiasts who are looking for a completely custom experience.
Joe Jr.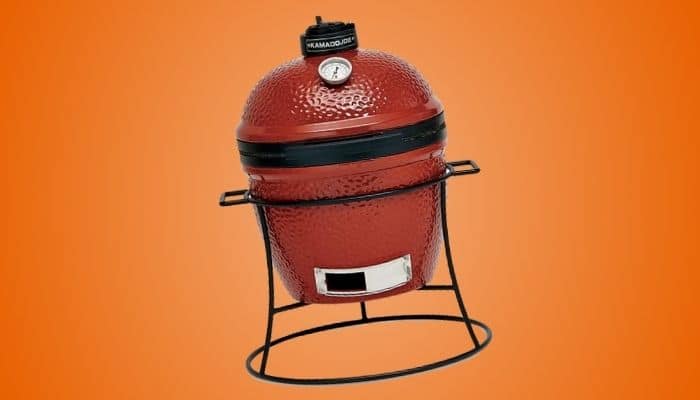 Are you a griller on the go? Love camping trips and tailgate parties? Then the Joe Jr. is a match made in heaven. Perfectly portable with most of the benefits of a full-size kamado grill, the Joe Jr weighs only 68 pounds and has 148.5 square inches of cooking space.
The Joe Jr. is perfect for grillers who are already familiar with kamado grilling and the Kamado Joe line. We can't recommend it as your very first Kamado Joe purchase though, as it does lack some of the full-size features. Missing on the Joe Jr. is the Kontrol tower, the Divide and Conquer cooking system, the Air Lift Hinge, the AMP firebox, and the convenient slide-out ash drawer.
It still has plenty of space for a full-size chicken and vegetables though, and the meat is always tender and juicy thanks to the ceramic body locking in heat and moisture. The custom stand keeps the grill securely in place and the built-in handles allow for easy transport. When it comes to portable grills, the rich, smoky flavor achieved with a Joe Jr. can't be beaten.
Kamado Joe Accessories Reviewed
A simple search for Kamado Joe accessories will yield hundreds of results. As the popularity of kamado grills and specifically the Kamado Joe line increases, so do the available accessories meant to upgrade your grill. We're here to review the ones we think best highlight what a Kamado Joe is capable of. You can change your Kamado Joe in a wide variety of ways just by adding one of these highly convenient accessories:
JoeTisserie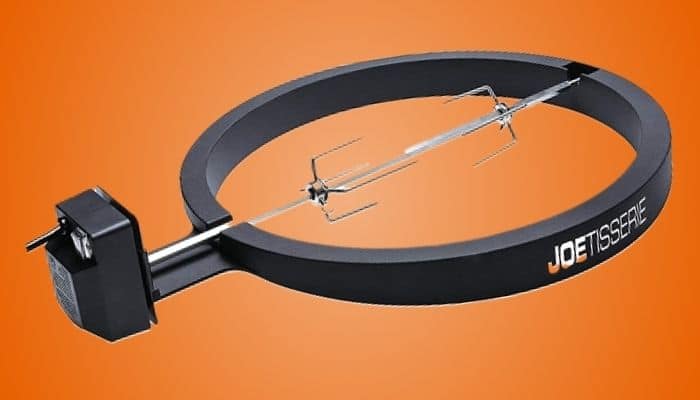 Bring the amazing, self-basting flavor of rotisserie right to your grill with the JoeTisserie Rotisserie Kit. The durable cast aluminum JoeTisserie features a distinctive wedge shape that allows the dome lid to seal tightly around the rotisserie unit. This locks in the moisture and heat, causing the meat to self-baste on the rotisserie spit. There are also a wide number of attachments such as baskets and trays which will fit on the JoeTisserie. Its great versatility and affordable price make the JoeTisserie a must have.
With a 120V motor, the JoeTisserie is capable of cooking up to 50 pounds of meat at one time. That's a lot of chicken or prime rib! With that much power, you might expect a loud motor, but the JoeTisserie is quiet and effective. Easy to install and even easier to use, the JoeTisserie is a total game changer in regards to grill rotisserie kits.
iKamand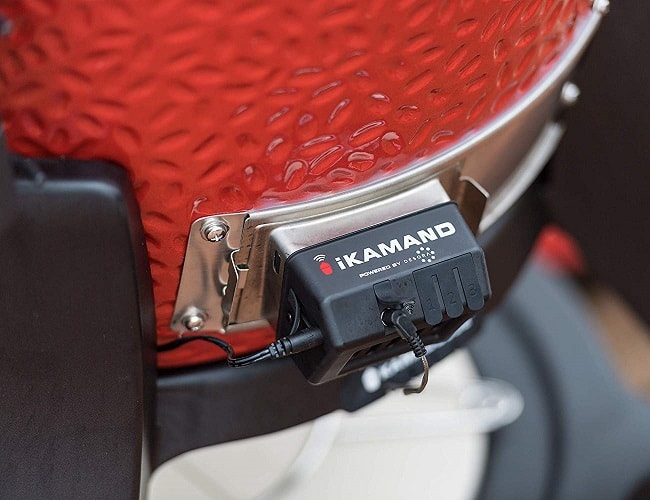 Kamado Joe is leading the way in digital innovations, particularly with the iKamand smart device. Set it and forget it is truly possible when you monitor the temperature control from the convenience of the iKamand app. This revolutionary device attaches of the bottom vent of the grill and allows you to control the heat, smoke, and target temperature with just the tap of your finger. Incredibly easy to install, the iKamand also has an easy to read LED light system to monitor its WiFi connection.
Affordably priced and well regarded for its ability to let you monitor your cook on the go, the iKamand smart device is a must-have for tech lovers. Monitor up to four different probes at one time using the app, giving you quick access to both the food and pit temperatures in the palm of your hand. This innovative accessory also gives you access to a compilation of recipes from Kamado Joe's chef, as well as tutorial videos and other BBQ related content. The iKamand app will inspire beginners and experts alike to try something new with their Kamado Joe.
DoJoe
Have you ever wanted your own pizza oven in your backyard? With one of Kamado Joe's latest innovations, the cast iron DoJoe turns your Kamado Joe into the ideal pizza oven. Whether you are new to kamado cooking or a seasoned expert, the DoJoe is easy to install and also easy to use. Capable of holding temperatures ranging from 400-700 degrees effortlessly over several hours, the DoJoe provides the ultimate pizza cooking experience.
Monitor your pizza throughout cooking thanks to the DoJoe's distinctive wedge shape. The ceramic pizza stone ensures a crispy and delicious crust cooked evenly over the Kamado Joe Heat Deflectors. Kamado Joe also has a variety of other pizza accessories available, such as a pizza cutter and wooden peel. Pizza is a family favorite in many households. Just imagine all the incredible pies you can create when you use the Kamado Joe DoJoe with your Classic I, II, or III.
SloRoller
Standard on select Classic, Big Joe, and Pro Joe models, the SloRoller hyperbolic smoke chamber is the first of its kind. This revolutionary addition to the Kamado Joe turns your grill into one of the world's best smokers, imparting an incredible smoky flavor to your food.
It works by distributing the heat and smoke in rolling waves that recirculate throughout the unit, keeping the food engulfed in clouds of flavor-enhancing smoke. Engineered for low and slow cooks under 500 degrees, the SloRoller generates up to 20 times more smoke in circulation and reduces hot spots. Airflow is also increased for a cleaner burn and more temperature accuracy inside the grill.
The SloRoller is one of the best innovations to happen to Kamado Joe grills. The smoke chamber drastically improves the smoky flavor of food and overall is one of the most desirable accessories in the Kamado Joe line.
Electric Starter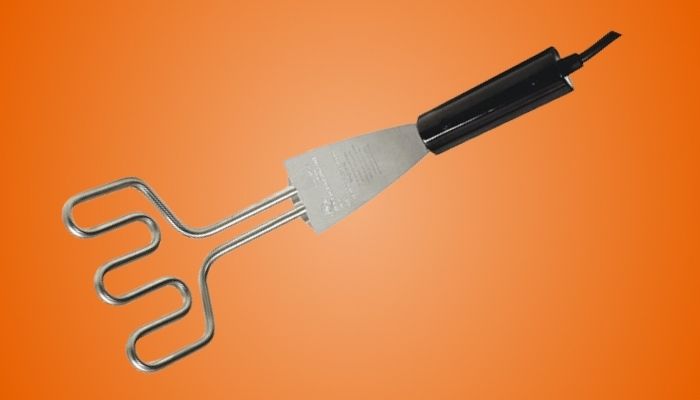 The quicker you get your charcoal lit, the quicker you can start cook. This Kamado Electric Starter features a three loop design to easily reach more charcoals in kamado style grills. With 600W of power, lighting charcoal is quick and easy, often taking less than five minutes. There are a variety of electric starters and other quick-lighting methods available for charcoal grills. Not sure where to find the best electric starters? We've compiled a list of the Best BBQ Fire lighters, Electric Starters, Charcoal Chimneys, and more.
Kamado Joe Video Review
Final Thoughts
Kamado Joe has a long line of grills that exemplify high quality craftsmanship and innovative designs. Kamado Joe is constantly striving to improve upon already great grills, so no matter which Kamado Joe you pick, you are getting a top of the line model kamado grill. Mostly, your choice is going to come down to the size of the grill you want. Kamado Joe receives wide recognition across the board for being sturdy, reliable, and offering an unbeatable quality regardless of model.
While price-wise they sit in the middle of the market, Kamado Joe's consistently rank as the top value for your money kamado grill. When you factor in all of the versatile accessories available, it is easy to see why Kamado Joe rules the market.