Summertime is the season for leisure and al fresco dining. While it is fun to host backyard BBQs, sometimes you want to head off the beaten track and picnic somewhere special. With the best picnic basket, you can enjoy a great meal anywhere your adventures take you!
Picnic baskets are the ideal way to organize, store and transport your food, drinks, and condiments. They make it easy to bring everything you need in the car and on the trail to your final destination. Avoid the disappointment of squashed sandwiches, warm coleslaw, and missing bottle openers and get a picnic basket to carry your supplies.
The best picnic basket for your family will depend on your budget, the style, and material of your basket and how much capacity you need. These baskets, backpacks, totes, and coolers come in a wide variety of styles and many even come fully accessorized.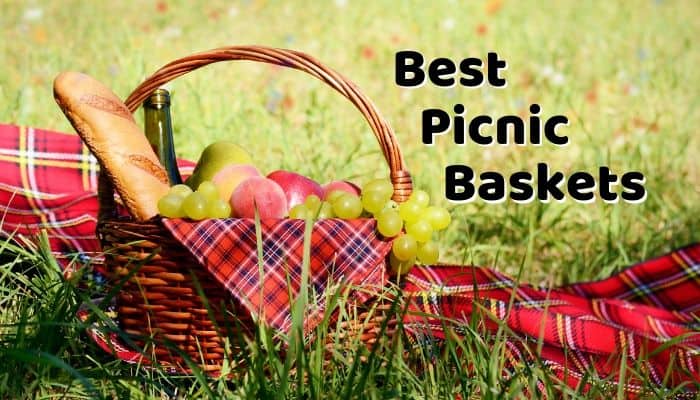 Best Picnic Basket
Enjoying a meal outdoors with friends and family at a scenic location is not a recent trend. Picnics have been going in and out of fashion for centuries. Originally an activity for the wealthy, by the turn of the 20th-century picnics were an enjoyable event for folks of all stripes.
A picnic can be a casual dining experience with some appetizers and simple mains like cold meats or pasta salad. Folks often throw a combined picnic-potlucks for large family or company BBQs. A picnic can also be a more elaborate or romantic meal with cheese plates, fine wines and fancy desserts served by candlelight.
The main point of a picnic is to enjoy a relaxed meal in a beautiful setting with the person or people you care about. While you can easily stash a snack in your pocket, to enjoy a leisurely meal outdoors is a bigger undertaking.
Having a picnic means lugging not just your food, drinks, and servingware along for the ride. You will need napkins, salt and pepper shakers, a cutting board, a bottle opener or corkscrew and of course some picnic chairs or blankets to sit on. It can be a challenge to carry all these items individually, especially if you have to hike into your location.
A picnic basket solves the transportation problem and makes it easy to organize and enjoy your meal when you get there! Picnic baskets are the essential piece of equipment you need to picnic in style on your next day trip or romantic excursion.
Picnic Time Piccadilly Willow – Best Picnic Basket for 2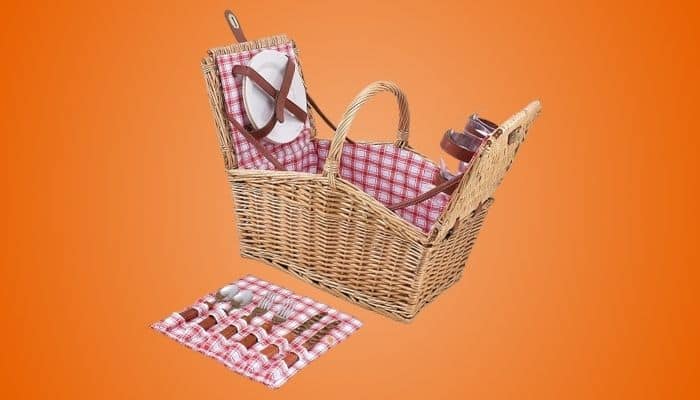 If you want a fully-stocked wicker picnic basket then check out this Picnic Time Piccadilly Willow set. It is an ideal set for a couple and would make a great wedding or anniversary gift.
This lovely willow basket has leatherette straps and accent points. It comes with everything you need for a romantic meal and even includes wine glasses!
This compact basket measures 16.5 x 11 x 9.3 inches and has a dual-lid opening for easy access. The wicker handle is wide and sturdy so it feels really comfortable in your hand and is easy to carry.
Inside the basket, there is a lining of polyester in a cheerful red-and-white checked pattern. The flatware set rolls-up in a matching fabric organizer and includes forks, spoons, knives, and a corkscrew.
The melamine plates secure to one lid with straps. The other lid holds your acrylic wine glasses. The lids open on each side so it's always easy to get to your supplies.
This is a sturdy and durable option if you want a smaller, 2-person basket that is fully accessorized. It also comes with a lifetime guarantee so you don't have to worry about replacing it anytime soon!
Nature Gear – Best Picnic Basket for 4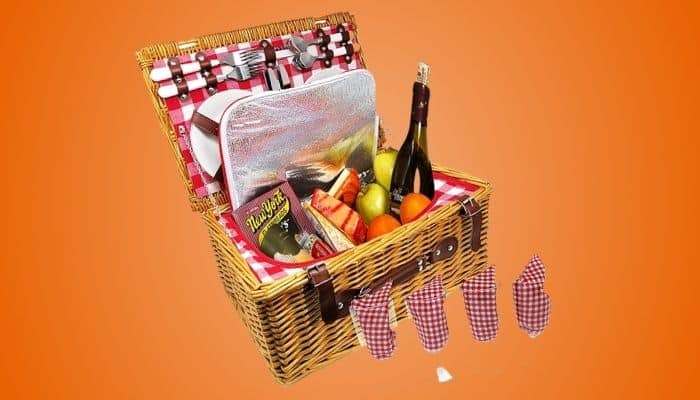 For bigger gatherings, consider this Nature Gear 4-person wicker picnic basket set. It has a unique insulated compartment perfect for storing your hot or cold items.
Made from woven rattan with leatherette straps and handle, this sturdy basket can hold a lot of supplies. It measures 17.5 x 12 x 8 inches and has a zippable insulated inner compartment.
This basket is made in the sewing machine style. You carry it like a briefcase and then lay it flat on its side to open. The lid swings up, allowing you to unzip the insulated compartment and access your food and drinks.
The set comes with small ceramic plates and matching forks, spoons and knives. It also includes wine glasses, matching napkins, and a bottle opener. Your serving ware secures to the inside of the lid by the leatherette straps and the glasses tuck inside the insulated compartment.
This premium set is very durable and comes with a 100% satisfaction guarantee. If you are not happy with it you can return the picnic basket and get a full refund.
This is an ideal set for a small family or a couple that likes to picnic with friends. It is a high-quality set that should stand up to years of picnicking.
Picnic At Ascot – Best Picnic Basket on Wheels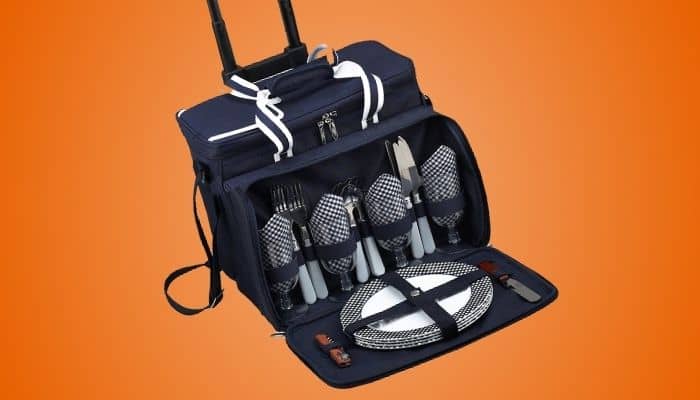 If you want a deluxe setup suitable for 4, then the Picnic at Ascot set could be the best picnic basket for you. It has some unique features like a telescoping handle, but even better, this one travels on wheels!
This high-quality picnic basket has a sturdy canvas exterior with a shoulder strap, carry handles and the telescoping handle for using your wheels. It is easy to load in your car and you can just extend the handle and roll the basket behind you when you arrive.
The Picnic at Ascot measures 14.5 x 10.5 x 12.5 inches and has a large, leak-proof cooler compartment. The subdivided cooler holds your food and drinks and has a pass-through opening in the lid to accommodate bottles.
This 4-person set comes with stainless steel flatware, 9-inch melamine plates, and acrylic wine glasses. It also contains matching napkins, a cheese knife, and a combination corkscrew/bottle opener. The wheels even pop off when you don't need them.
This is a great option for a busy family that likes to picnic at parks, zoos or entertainment centers. The wheels make it very easy to transport along with your other gear, and it compacts down for easy storage.
The Picnic at Ascot set comes in a variety of colors and is very versatile to use. It also comes with a lifetime warranty.
Picnic at Ascot – Best Collapsible Picnic Basket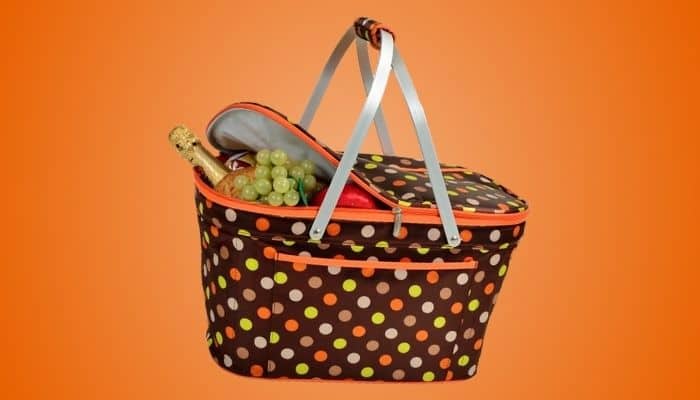 Another option from Picnic at Ascot is this large insulated picnic basket. If you need a versatile carrier with a lot of capacity then this could be the best picnic basket for your family. It even collapses flat for easy storage!
This lovely basket comes in a wide variety of colors and patterns. It measures 18.5 x 11.5 x 11.5 inches and has two rigid handles that fold down. It also has an easy-access pocket on the front of the basket.
Unlike lower-quality collapsible baskets, the Picnic at Ascot has an internal aluminum frame to support the sides. Once you snap the frame into place, this basket will stay upright on its own. The zippered lid keeps the hot or cold air locked inside and prevents dust or insects from getting to your food.
This picnic basket is well insulated and can keep your food hot or cold for hours. The inner lining is waterproof so you don't have to worry about leaks. It is easy to wipe clean and doesn't require a lot of maintenance.
This sturdy basket is ideal for day trips and picnics but it's also a great choice for transporting groceries in your car. It can hold up to 65 pounds of supplies and since there are no internal dividers you can pack it however you like.
If you need a lot of capacity, are short of storage space and don't need additional picnic accessories then the Picnic at Ascot could be the one for you. The lifetime warranty is a nice bonus too!
Sprucebay Insulated Picnic Basket- Best Cheap Picnic Basket
If you like a good deal then this Sprucebay picnic basket could be the one for you. This basket is incredibly versatile and can be useful for so many activities. It's insulated, collapsible and it typically costs less than $20!
The Sprucebay measures 18 x 10 x 10 inches and can hold up to 65 pounds of supplies. You could easily fit a standard 9 x 13-inch casserole dish inside. The insulation can keep your food warm or cold depending on your preference.
The basket's aluminum frame is sturdy, lightweight and collapses down to save storage space. The aluminum handles have a soft-grip and swivel down for easy access. The lid zips in place and the interior is completely waterproof.
This is an ideal multipurpose basket for picnics and BBQs and would make a great option for car trips or transporting your groceries. It is really easy to maintain and wipes clean when you're done.
While it only comes with a 90-day satisfaction guarantee, at this price that should be no problem. Even if the kids eventually trash it you will still get your money's worth out of this picnic basket.
Picnic Time – Best Traditional Picnic Basket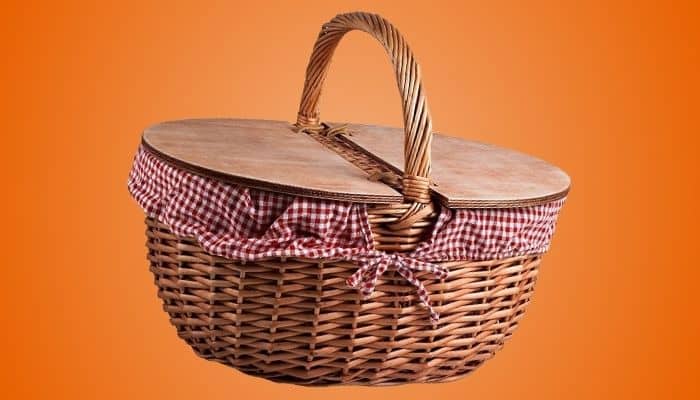 If you want a quaint, traditional carrier then it doesn't get much better than this classic Picnic Time wicker basket. With the red-checked fabric liner and woven willow frame, this basket looks like it popped right out of a children's story.
The Picnic Time basket measures 17.25 x 13.5 x 8.25 inches and is oval-shaped. Its rigid, woven handle extends up to 14.25 inches tall. The two lids tie-on at the center of the basket and swing up for access.
The dual-lid design makes it easy to get to your supplies. The flat wooden lids also make a great platform to set your drink or plate on.
The basket has no compartments and you can pack it any way you choose. It is a bit narrower at the bottom and widens towards the top. You can remove the liner and wash it in your machine if it gets dirty.
The Picnic Time traditional picnic basket is ideal for anyone that prefers the classic style over a more modern tote. It is also an excellent option for a little kid who likes to throw backyard tea parties or wants to pretend they are Peter Rabbit.
This may not come with a lot of fancy extras, but it is very high quality and you can accessorize the basket any way you choose. It comes with a lifetime warranty so feel free to let the kids play with it!
Vintiquewise Rectangular Basket – Best Vintage Style Picnic Basket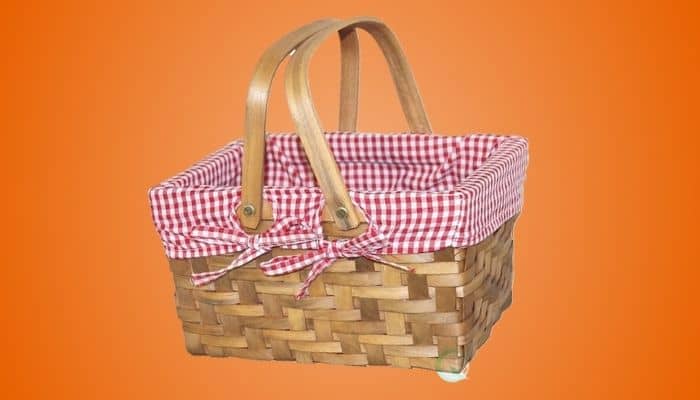 If you want a simple, inexpensive basket in a vintage style then the Vintiquewise might be the best picnic basket for you. This adorable basket looks like it came Over the Rainbow from the land of Oz.
This rectangular woven wood chip basket is surprisingly sturdy and durable. It measures 10.2 x 7.7 x 5.5 and has a removable red gingham lining that is machine-washable. It has two swiveling wooden hoop handles.
The Vintiquewise doesn't have a lot of capacity and is more of a 1 or 2-person picnic basket or lunch tote. It would also look great as a home organizer for toys, magazines or pantry supplies.
The best thing about this basket is that it is such a great value for the price. This budget picnic basket won't break the bank and you can even buy them in bulk for events!
Consider buying this basket for a country-themed party, Halloween costume or other special event and repurpose it as you choose. This is an especially good option if you want to buy a picnic basket for each of your kids and don't want to spend a lot of money.
Kitchen Supreme Picnic Backpack – Best Picnic Backpack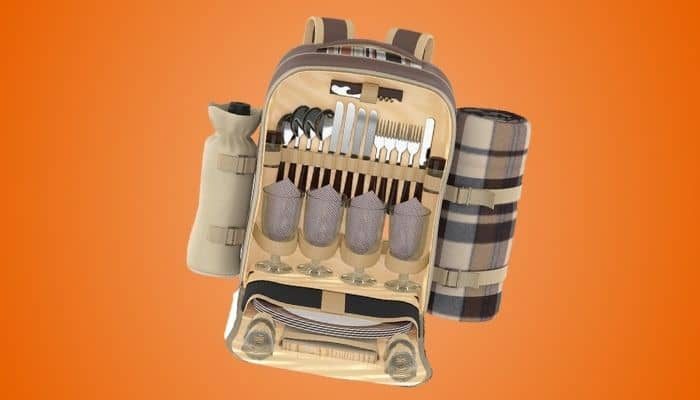 For a premium picnic experience consider this 2 to 4-person picnic backpack from Kitchen Supreme. This impressive carrier packs just about everything you need for a fine outdoor dining experience.
The large-capacity backpack measures 12.6 x 8.3 x 16.5 inches and has a waterproof exterior that is very easy to clean. The reinforced seams, zippers, padded handle, and shoulder straps are incredibly rugged and are of the highest quality.
This backpack has some unique features and allows you a lot of versatility in how you use it. It has a removable, insulated wine holder and 2 insulated inner compartments for your food and drinks. A separate front compartment holds all of your accessories and zips for quick access.
This fully-equipped backpack comes with everything but the kitchen sink- and it almost has one of those since it comes with a bag for storing your dirty dishes!
The accessories include 8-inch dinner plates, complete flatware set for 4, matching napkins, shatterproof wine glasses, a bamboo cutting board with a cheese/butter knife, egg holders, salt and pepper shakers and a bottle opener/corkscrew.
The Kitchen Supreme is the ultimate backpack for picnicking. It even comes with a large waterproof blanket! The lifetime warranty also guarantees you won't have to buy another picnic basket for a long time to come.
HappyPicnic – Best Picnic Tote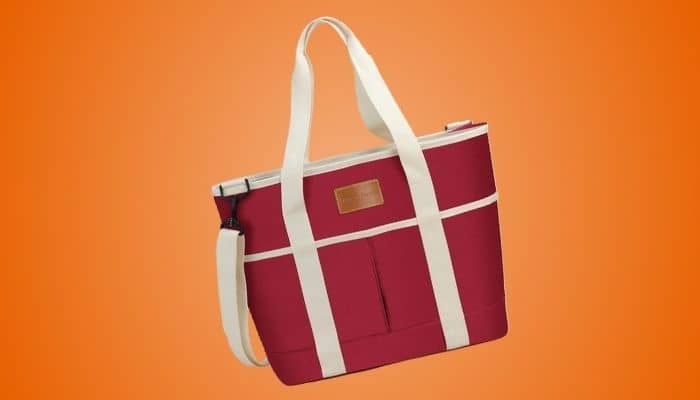 If you want an insulated carrier with a lot of style then this HappyPicnic tote has got you covered. It looks more like a fashionable handbag than a basket or cooler but it really is an ideal tote for picnicking and day trips.
The HappyPicnic tote measures 17 x 6 x 13 inches and has a lot of capacity for its size. Crafted entirely from food-safe, eco-friendly materials this basket is 100% leakproof to boot. The insulated lining can maintain your bag's desired temperature for hours.
This lightweight tote has a removable padded shoulder strap and two long side handles so it is easy to transport. It zips closed to seal in the hot or cold air and can hold up to 25 cans of beer. You can even fill it with ice if you want!
The HappyPicnic is easy to clean and maintain and it collapses down for storage. This compact tote could easily live in your car or in a cabinet when you are not using it. It would also be a great option for storing temperature-sensitive foods or medications between the store and home.
This tote is ideal for picnics, BBQs and day trips of all kinds and would be a nice addition on your next camping trip too. If you prefer a fashionable tote then the HappyPicnic might be the best picnic basket for you.
Types of Picnic Baskets
I don't know about you, but when I hear the words "picnic basket" I immediately think of Yogi Bear and his crazy adventures in Jellystone Park. It seems like every episode featured a traditional covered wicker picnic basket filled with good eats. It's no wonder that Yogi and Boo Boo were so obsessed by these things!
Every type of picnic basket has its benefits and there really isn't any single style or product I can point to and say "here is the best picnic basket." It really depends on your preferences and how you plan to use it. For more information about the features to look for in a picnic basket check out our Buyer's Guide below.
One quick thing to note about picnic basket types. Many baskets combine the features of more than one type. It is not unusual to see a basket that is collapsible and insulated, for instance, since these are not hard-and-fast categories.
Picnic baskets have come a long way from the days when folks repurposed their old working baskets into picnic baskets. Most of us nowadays buy a basket or hamper especially for picnicking. While you can still get traditional baskets woven from willow or wood chips, you also have a lot of very modern styles to choose from.
Traditional
What makes a basket a traditional picnic basket? Generally speaking, people consider a basket in the traditional style if it is made from woven fibers like willow, rattan or wood chips. Some traditional-style baskets are made from synthetic materials that look and feel like natural wicker.
These baskets and hampers often have lids that tie-on to keep out the dirt and dust. They may have a rigid hoop handle made out of wood or one woven from similar wicker-like fibers. It is very common to see these types of baskets with a brightly-colored removable liner.
A traditional wicker picnic basket is a thing of simplicity. Inside, the basket has no subdividers and you can arrange it any way you want. You can add in your favorite picnic plates and tailor your accessories exactly to your needs.
Typically, traditional picnic baskets do not come with internal dividers or additional accessories like glasses or salt and pepper shakers. They can be more challenging to clean than other types because spilled food and dirt gets stuck in the wicker.
This type of basket is available in a variety of sizes, from small two-person carriers all the way up to large hampers suitable for a crowd. Their rigid sides protect the contents from getting squished in transport, and they are lightweight and easy to carry.
This is the ideal type if you already have plenty of picnicware and like the look and feel of a traditional wicker basket.
Insulated
While you can certainly use an ice pack in any picnic basket, for longer trips you may prefer to use an insulated carrier. They combine the insulation-power of a cooler with the lightweight and easy-carry features of a picnic basket. These insulated baskets can keep your food cool or warm for much longer than an uninsulated one.
Insulated baskets and picnic coolers are a newer trend that has become very popular in the last 10 years. There are a few ways that they go about insulating a picnic basket.
The simplest way is to make the entire carrier from an insulating material. Add in a waterproof liner and colorful exterior and you have a great bag for all kinds of day trips. These picnic baskets usually collapse down for easy storage and wipe clean when soiled.
Some divided picnic baskets come with an insulated compartment. You can use it to create a hot or cold area inside your basket. You typically see this kind of design in baskets made with compartments for drinks or ones designed to carry hot foods.
Finally, there are also traditional picnic baskets that come with insulating options. These baskets may hide the insulation behind the wicker frame or use a zip-on cover to enclose the entire basket. This is a feature seen on the higher-end picnic baskets and tends to increase the cost.
The advantage of using an insulated picnic basket is being able to easily maintain your food and drinks at the right temperature while traveling.
This can also be a safety issue. You don't want your perishable foods to enter the temperature Danger Zone while you travel. If you like to bring mayonnaise or meat-based dishes on your trips then an insulated picnic basket could be ideal for you.
Collapsible
One downside to a traditional wicker picnic basket is how difficult they can be to store. Their rigid wicker construction prevents them from folding or squishing down. It can be tough to make room for one in a cabinet during the off-season.
If you live in a small home then consider a collapsible picnic basket. These baskets are most commonly made with an insulating, waterproof liner that zips closed. The best collapsible picnic baskets will have an internal frame to support the sides when it is in use.
Look for collapsible picnic baskets that are sturdy enough to stand up on their own when assembled. Some of these types have a very minimal internal frame. They may fall over or collapse down as you remove the contents.
Vintage
A vintage picnic basket differs from an antique or traditional basket in a couple of ways. A vintage-style basket replicates the features and designs popular from a specific era in the last 100 years.
If you want a picnic basket based on, say, the 1940's-style tin picnic box then you would be looking for a vintage basket.
An antique basket, on the other hand, is at least 100 years old or based on a design from an era more than 100 years ago. Traditional picnic baskets may also be antique or vintage-types depending on their design.
Feeling confused yet? It doesn't help that manufacturers often use antique, vintage and traditional interchangeably. Don't worry too much about the wording unless you need a genuine antique or vintage picnic basket and just pick the one you prefer.
Backpack
My first picnic basket was a backpack tote and I thought it was the coolest basket I had ever seen. Backpack picnic carriers remain very popular and it's no surprise. They are highly convenient and are ideal for hosting picnics for 2 to 6 friends.
These specially designed backpacks are the ultimate picnic basket for folks who like to really get off the beaten path. They allow you to carry your picnic supplies on your back, leaving your hands free.
These backpacks have different pouches, straps and compartments to secure your supplies neatly inside. Backpack sets usually include accessories like plates, flatware, a bottle opener, cups or wine glasses, napkins and containers for condiments and seasonings. Some sets have a special pouch to hold a wine bottle and many come with a matching blanket.
If you like to hike into your picnic spots and want a fully-equipped set-up with all the extras then a backpack carrier could be the best picnic basket for you.
Tote
A picnic tote is basically a lunchbox for adults. These smaller picnic baskets are perfect for carrying a small amount of food or drinks or for transporting a couple of bottles of wine. When you don't need a full-size basket use a picnic tote instead.
Most picnic totes have insulation and fold or collapse down for easy storage. Larger totes often have compartments inside or an extra external pocket or two. Totes may have handles or a shoulder strap and they usually fold or zip closed to seal in the cool air.
Totes are ideal for potlucks, BBQs and other outdoor gatherings when you don't need the capacity of a larger basket. They are especially useful for heading places like a park or zoo because you can pack them away once empty. Picnic totes are the perfect solution when you need a simple but attractive food or drink carrier.
Why Trust Us
All of our reviews are compiled with a combination of expert input, years of hands-on testing of grilling products, curating the reviews of real-life buyers in a "wisdom of the crowd" system, and of course our own expertise. All the products listed are the ones we would buy if we were looking to purchase a new picnic basket.
Methodology Used to Pick the Best Picnic Basket
When picking the best picnic basket we looked at and then rated each basket on the following criteria. Price, easy to carry, materials, size, accessories, durability, and insulation.
How We Selected the Best Picnic Basket
Shopping for a picnic basket can be a challenge for sure. You have a ton of options to choose from and many baskets look alike at a casual glance.
The style and size of your basket will usually be the first things you settle on. But how do you choose the best picnic basket from a wide variety of similar baskets?
The devil is in the details, as they say. There are some subtle things to look for to help you pick the highest-quality picnic basket in your price range.
Once you have narrowed down your options, consider the following features when buying a picnic basket:
Easy to Carry
A picnic basket should be easy to transport to and from your vehicle. The handles should fit comfortably in your hand and not have any hard edges that could dig into your palms.
Look for baskets that have wide, padded handles and/or shoulder straps. For larger baskets, you may prefer having two handles to increase stability while you walk.
If you do a test-run in person before buying a picnic basket then be sure to check the handles. See how they feel in your hands as you add weight to the basket. Some handle designs are better in theory than in practice.
Material
Picnic baskets can be made from many different materials.
Traditionally, picnic baskets were made from wicker. This is a weaving technique that uses natural fibers to create a lightweight frame that is sturdy, durable and weather resistant. Traditional, antique and vintage-type picnic baskets are all likely to be made from wicker.
These baskets are typically made from willow, rattan, bamboo and even wood chips. Modern synthetic wicker baskets might use less expensive plastics or resin that replicates the texture and feel of natural wicker.
The best wicker baskets are desirable due to their lightweight and sturdy structure but wicker has some downsides as a construction material. Wicker can be difficult to clean and is not waterproof. Wicker baskets may also allow insects to get to your food when you set them on the ground.
Metallic picnic baskets or boxes are not common nowadays but they were very trendy in the mid-1900s. Vintage baskets from this era were commonly made from tin and modern replicas often use aluminum as a substitute. These baskets seal tightly and prevent dust, moisture or insects from contaminating your food.
Modern picnic baskets, backpacks, and totes can be made from nearly any material imaginable. Some common materials include cotton, wool, canvas, polyester, and other synthetic blends. These picnic baskets are usually very easy to clean and maintain and do a good job of keeping out the dirt and insects.
Size
Picnic baskets and hampers come in all sizes. They can be as small as a lunch box or as large as a footlocker. Most picnic baskets are small enough that one person can easily carry them. The size of your basket will influence how easy it is to maneuver and how much capacity it has.
The capacity of your picnic basket determines how much food you can fit inside. The easiest way to calculate your capacity requirements is to add up the number of people eating out of your basket. It is really common to see baskets specifically designed to accommodate 2, 4 or 6 people.
Also, consider the weight limits of your basket if you plan to bring a lot of heavier items along for the picnic. You wouldn't want to break a handle or burst a seam by overloading your basket!
Shape
Along with the size, the shape of your basket will also influence the capacity. Obviously, you can't fit something that is 12-inches wide in a basket that is only 10-inches across itself.
Make sure the basket you choose has sections, compartments, and pouches big enough to hold your supplies. If you have a favorite picnic accessory you like to keep on hand be sure that it will fit in your basket of choice.
One advantage of traditional picnic baskets over the modern ones is that they are not typically subdivided inside. This gives you a lot of extra space to fit awkward or bulky items inside. Some folks prefer the flexibility of this design over the highly-compartmented modern versions.
Accessories
The list of possible picnic accessories and supplies is quite extensive and includes extras like tents and portable BBQs. Many picnic basket sets come complete with all the basic supplies you need to enjoy a meal outdoors. Empty traditional baskets will need accessorizing after you get them.
Premium picnic baskets usually have higher-quality accessories made from more durable materials. Some of the common accessories found in picnic basket sets include:
Flatware – Forks, spoons and rounded knives are typically included. In premium sets, you usually get stainless steel while plastic, melamine, and aluminum are more common in less-expensive sets. The flatware may fold for easier storage or have short handles to fit into a compartment. For the highest quality, look for sets made entirely from stainless steel and without plastic or composite handles.
Plates – Sets usually come with 8 to 11-inch diameter dinner plates and some sets even include smaller appetizer or desserts plates. Typically these plates are made from lightweight plastic or melamine, although some premium sets include ceramic plates. Ceramic is nearly indistinguishable from melamine but is more fragile. Melamine is very durable and nearly shatter-proof but it can also be a potential contaminant when heated above 160°F. At those temperatures, melamine can release toxins that can leach into your foods. The FDA considers melamine safe for use in plates and flatware as long as you don't heat them in the microwave.
Cups or Wine Glasses – Some picnic basket sets include plastic, acrylic or polypropylene cups or wine glasses. In compact picnic sets, the glasses may break down into two pieces for easier storage.
Cutting Board – Many picnic baskets come with a small wooden or plastic cutting board and some sets include a sharp knife as well. You can use the board for slicing things, of course, but it is also a nice way to display some fruit, cheese or other nibbles.
Bottle Opener and Corkscrew – Picnic sets often include a foldable bottle opener and corkscrew for opening soda, beer, and wine containers. Some sets will even have a wine stopper to recap a partially-consumed bottle of wine!
Napkins and Tablecloths – Coordinating fabric napkins, and sometimes even tablecloths, are commonly seen in the larger picnic sets. These are usually machine washable and you can reuse them for years.
Picnic Blanket – Many sets will include a matching cotton, fleece or wool blanket you can sit on while picnicking. Often the blanket fits into its own pouch or has a special strap and cover to hold it during transport. The best picnic basket sets have a blanket with a waterproof lining. Then you won't have to worry about sitting on the ground if it is a bit wet.
Seasoning Containers – Most picnic sets will include a couple of small containers for seasonings like salt and pepper. You can fill them with any seasoning you prefer. One of the fanciest sets I've seen even included a tiny pepper mill!
Of course, there is really no limit to what accessories a set could contain. Specialty sets might also include containers for condiments like ketchup or mustard, coffee flasks, and mugs, wine glass holders, egg holders, a thermos, internal containers for storing your foods, an extra bag for dirty dishes or garbage, and even larger spoons for serving your picnic foods.
Durability
The durability of your picnic basket will depend primarily on the construction quality and materials used to make it. It is better to invest in a more durable and high-quality picnic basket than to have to constantly replace it.
The better you maintain your basket, the longer it will last. Always clean your basket after a picnic and make sure that you don't store it away until it is completely dry. Don't leave anything behind that could rot inside the basket or attract pests.
It is best to store your picnic basket in a location that is dry and not too dusty. I once left a wicker basket in an outdoor shed all winter and was not happy with the damage the humidity and rodents caused.
Insulation
An insulated picnic basket, or a basket with an insulated compartment, is a great thing to have. I cover this type in greater detail above.
An insulated picnic basket offers you more versatility than an uninsulated basket. You can use the insulated basket or compartment to transport hot foods like a casserole or warm salad. Or you can make a cold-zone for drinks and other perishable items.
Even if your basket doesn't have an insulated compartment or cover, you can still cobble together one on the fly.
I have used insulated totes inside larger picnic baskets for this purpose. In a traditional basket, you can even use some scrap styrofoam to create a little warm or cold compartment.
Conclusion
If you are looking for the best picnic basket for your family then you have landed on the right page! Our guide has all the necessary, detailed information about picnic basket styles and a breakdown of the typical accessories.
Whether you prefer a wicker basket for 2 or a backpack filled with extras we have something on our list to suit your needs. Picnic baskets come in a wide range of styles, features, and designs so you can be sure to find the perfect option for your family.
Picnicking is a great way to enjoy a leisurely meal outdoors with the people you care about. Once you have your basket in hand you can get out and enjoy the sunny weather knowing that a great meal awaits!