Just as the styles of BBQ vary from region to region, so do the different styles of BBQ sauce. There are endless flavors to explore – from Carolina to Kansas City, St. Louis to Texas, and don't forget about that Alabama white sauce. Everyone knows the secret to a good BBQ is all in the sauce.
But what sauce reigns supreme? Opinions on that are sure to vary, but we have the rundown on all different types and styles of BBQ sauce. Plus, we will take a look at what most consider to be the best brands in BBQ. Get ready to baste, because this guide is sure to leave your mouth watering for a taste of saucy, delicious BBQ!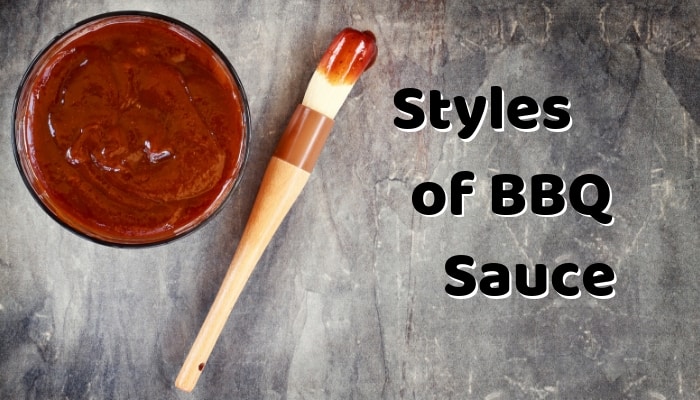 BBQ Sauce Base Categories
The three most popular sauce bases in BBQ are tomato, vinegar, and mustard. These are the three ingredients that have helped to define regional BBQ in America. Just as you might call marinara or alfredo the mother sauces of Italian cooking – tomato sauces, vinegar sauces, and mustard sauces are the mother sauces of BBQ.
Tomato
Tomato based styles of BBQ sauce are perhaps the most widely consumed of the three. Many of the sauces you see commercially bottled at the store are tomato based. It's also what typically comes in takeout condiments.
When it comes to tomato-based sauces, we can break this category down even further into either tomato and vinegar based sauces or tomato and sugar based sauces. Comparatively, the tomato and vinegar sauces are thinner and often used as a basting liquid. Brush this style of sauce on throughout the cooking process. It is also especially delicious when poured on pulled pork.
Tomato and sugar sauces are thicker and sweeter. They are typically sweetened with brown sugar or molasses and reserved for finishing the meat. Sauces with a high sugar content burn very easily and are best when basted on in the last few minutes of cooking. These sauces are popular for finishing ribs or chicken.
Vinegar
Vinegar is an ingredient that plays well with others, especially when it comes to the various styles of BBQ sauces. Some vinegar sauces may mix in some tomato, others mustard, or even just simply vinegar and pepper flakes. Still, others may contain flavors you would never expect in BBQ. Vinegar has a lot of versatility in the kitchen.
The acidity of vinegar is pretty powerful stuff, so you should keep that in mind when pairing it with certain meats. It is best when used with pork. Vinegar based sauces help to break down especially fatty cuts like pork shoulder, which is why they are so tasty mixed in with pulled pork.
Mustard
Mustard based sauces often include vinegar, Worcestershire sauce, or other seasoning mixed in with yellow mustard. This especially tangy sauce originated in South Carolina, often found served on the side of a spit-roasted hog.
Mustard based sauces don't require any cooking, but if you are mixing up your own, be sure to let it rest overnight. This helps the flavors to build. Mustard based sauces are typically used as finishing sauces for pork or chicken and basted on at the very end of cooking.
Popular Styles of BBQ Sauce
BBQ enthusiasts take their sauces seriously. Different regions across the USA hold allegiances to different styles of BBQ sauce. There are six main regional types of BBQ sauce. However, the sauces in each region can vary greatly in their flavor profiles.
Carolina BBQ Sauces
Carolina BBQ sauces are as diverse from each other as they are from all other regions combined. Carolinians live for barbecuing ribs, pork butts, and whole hogs. Their sauces have either a vinegar or mustard base.
In North Carolina, there are two distinct styles of sauces: Eastern North Carolina and Western North Carolina. Eastern North Carolina styles of BBQ sauce are thin, vinegar-based sauce. They typically only contain vinegar and spices, particularly cayenne pepper. Crazy hot and delicious, we enjoy this recipe for Eastern North Carolina BBQ sauce from allrecipes.
Western North Carolina BBQ sauce is a vinegar based sauce that uses varying amounts of tomato to achieve its tangy flavor. A small amount of ketchup can really sweeten the sauce, resulting in excellent BBQ. You might also hear it referred to as Lexington BBQ after Lexington, NC, where the sauce style originated. This Lexington Style BBQ Sauce from Fine Cooking is so good, it will have you licking your fingers.
South Carolina BBQ sauce has its own distinct flavor. South Carolina is where the yellow sauce known as "Carolina Gold" originated. It's a sweet and tangy sauce made from yellow mustard, brown sugar, vinegar, and spices. Looking for a delicious way to top pulled pork? Try this recipe for Carolina Gold BBQ sauce. Sweet, tangy, and spicy, it has everything you are looking for.
Kansas City BBQ Sauce
Kansas City BBQ sauce originated in Kansas City, Missouri in the early 1900s. It is now the most widely distributed style of sauce in the country. The packets of BBQ sauce from chain restaurants? Kansas City BBQ Sauce. The most popular style of bottled sauces in the supermarket? Kansas City BBQ Sauce. It's a thick, tangy, and sweet sauce that we all know and love.
Kansas City BBQ sauce is a tomato based sauce that contains a lot of spices. Often, recipes will include brown sugar, soy sauce, Worcestershire, or liquid smoke to help develop the flavors of the sauce. Kansas City barbecue is known for using a wide variety of meats, so it would stand to reason that the sauces developed there would also vary in flavors.
KC sauces range from sweet and tangy to downright spicy. Some even pack in the vinegar flavor. Big Al's Kansas City BBQ Sauce recipe that he uses in his restaurants is a delicate balance between smoky, sweet, and a hint of spice.
St. Louis BBQ Sauce
Thinner and tangier than Kansas City styles of BBQ sauce, St. Louis BBQ sauce also has a distinctly sweeter flavor. St. Louis and Kansas City have other similarities, such as both being tomato-based. However, St. Louis BBQ sauce recipes do not add the liquid smoke that many Kansas City sauces rely on for a smoky flavor.
St. Louis consumes more BBQ sauce per capita than any other city in the USA, so they must be doing something right! The BBQ sauce can be sweet, tart, and spicy.
Steven Raichlen, author of The Barbecue! Bible, has developed a recipe for St. Louis Style BBQ Sauce based off the well known St. Louis sauce, Maull's. Like most St. Louis BBQ sauce recipes, it requires a larger number of ingredients, such as Tabasco sauce, orange juice concentrate, molasses, soy sauce, and more.
Texas BBQ Sauce
Big and Bold: Two words that describe both Texas and its BBQ Sauce. We could also say It is different than most, as Texans tend to prefer the terms "mop sauce" or "basting sauce".
You apply the sauce throughout the cooking process using a mop brush. Texas sauces can be broken down further into the regional flavors of East Texas, West Texas, South Texas, and Central Texas.
Generally speaking, Texas BBQ sauce is tomato based and slightly sweet. Often Texas style BBQ sauce will incorporate a number of deliciously spicy Mexican peppers.
One such recipe, a fan favorite on Epicurious, calls for chipotle peppers packed in adobo, a spicy tomato sauce made with dried and smoked jalapenos. It is easily found at most supermarkets, and it can really pack a spicy punch in any sauce.
Prefer the thinner sauces of Central Texas that are more for basting rather than serving at the table? We recommend the Spruce Eats recipe for Texas BBQ sauce, which uses beef bouillon to up that beefy flavor in the sauce. Sauces such as this use bouillon or stock to thin the sauce into more of a "mop" to baste the meat during cooking and keep it juicy.
It is traditionally eaten without additional sauce being added at the end or served at the table. However, popular BBQ restaurants in Texas have broken with tradition and provide their customers with an assortment of sauces to try at the table.
Memphis BBQ Sauce
Served poured over pulled pork or on the side of dry rubbed ribs, Memphis BBQ sauce has a distinct flavor that sets it apart from the other styles. Memphis BBQ sauce is traditionally a mix of tomato and vinegar with plenty of spices stirred in. It is a thin sauce that is typically tangy and a little sweet.
Memphis BBQ sauce often gets compared to that of St. Louis because they both have a prominent vinegar flavor. However, Memphis is more known for being a serving sauce.
Ribs are the most popular accompaniment, with sauce served on the side for dipping. Barefeet in the Kitchen has a recipe for Tangy Memphis BBQ Sauce that is ready in fifteen minutes or less. Dry rub and smoke a rack of ribs for serving with this incredible sauce to experience real Memphis BBQ flavor.
Alabama White BBQ Sauce
There is an easy way to identify Alabama style BBQ sauce – it is white! A mixture of mayonnaise, vinegar, and pepper, both the color and the flavor of this sauce is distinctive.
Often thick and creamy, it makes a perfect dipping sauce for your meat, fries, and…well, we think you could eat it on just about anything.
White BBQ sauce was made famous by the Alabama restaurant Big Bob Gibson's, where it was invented by the restaurant's namesake. Bob Gibson pioneered the entirely new style of sauce back in 1925 and it is still winning world championships today.
Baste the Alabama white sauce onto the meat at the very end of cooking or serve it on the side for dipping. We guarantee you will want to try this Zesty Alabama White Sauce on everything you can get your hands on.
Honorable Mention – Florida BBQ sauce
While Florida isn't usually recognized for its BBQ, we thought it deserved an honorable mention. Just like most things in Florida, it is a little different. It combines American south and Caribbean flavors to create a unique BBQ sauce.
Often vinegar or mustard based, Florida BBQ sauce uses juicy citrus fruits to make a sweet and tangy flavor.
Use Florida BBQ sauce with any kind of meat, but smoked fish is a Florida favorite. We loved the taste of Florida grapefruit in this recipe for Spicy Citrus BBQ Sauce. It is extra tasty on chicken!
Best Barbecue Sauce Brands
Take a walk down the barbecue sauce aisle of any supermarket, and the bottled BBQ sauce selection is a bit overwhelming. With so many different styles of sauce, you might not even know where to begin.
We went on a search for the best barbecue sauce brands and compiled this list of ones we think rank among the best of the best. These brands represent the great variety in flavors and styles from across the nation.
Trader Joe's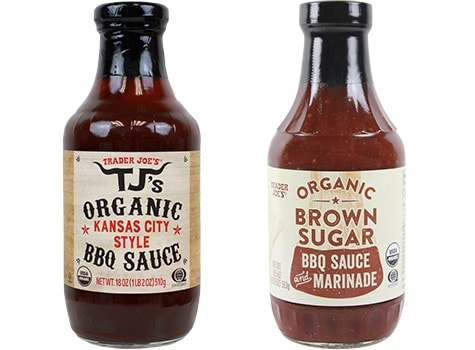 You may be more likely to associate Trader Joe's with their famous Cookie Butter than with BBQ sauce. However, if you have never tried a Trader Joe's brand BBQ sauce, then you are seriously missing out. Their sauces often reign supreme as the standout favorites in blind taste tests among several commercial brands.
Perhaps the most popular of the Trader Joe's line of sauces is their Organic Kansas City Style BBQ Sauce. The sweetness is a balanced mix of a tomato base with brown sugar and molasses. The sauce gets its smokiness from hickory smoke, paprika, and chipotle powder. Onion and garlic powder help to round out the savory elements, resulting in an irresistibly tangy flavor.
Another Trader Joe's sauce that comes highly recommended is the Organic Brown Sugar BBQ Sauce & Marinade. While the mix of a tomato base, brown sugar, and molasses might sound like your typical BBQ sauce, Trader Joe's takes this sauce to the next level.
They add in pineapple juice, orange peel, and chili pepper, resulting in a sauce that hits every mark in regard to being sweet, spicy, and smoky.
For fans of Carolina style BBQ, Trader Joe's makes an incredible Carolina Gold BBQ sauce. It was originally developed as a limited-time only offering back in 2013, but due to popular demand, it is still gracing the shelves of your local Trader Joe's. It's no wonder it was such a success though, as its sweet and smoky flavor makes it the perfect accompaniment not just for BBQ, but also for burgers, sandwiches, veggies, or fries. It's so good you could eat it on a shoe (though we recommend a good BBQ instead).
These are only a few of our favorites from Trader Joe's, as their list of sauces is ever-expanding. You can also find specialty flavors such as Mango Chipotle BBQ Sauce and Sriracha and Roasted Garlic BBQ sauce at your local Trader Joe's.
Sweet Baby Ray's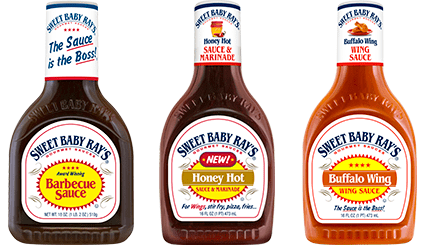 With over 30 years of developing award-winning BBQ sauces, Sweet Baby Ray's is one of the most widely recognized names in BBQ sauce. The ever-popular Original flavor comes from Chicago native, Chef Larry's, own recipe which won the country's largest rib cook-off back in 1985. Relatively unknown at the time, Sweet Baby Ray's beat out over 700 other entrants and has since gone on to develop an incredible line of BBQ sauces.
While the Original sauce is always a good choice and packed full of flavor, we also highly recommend their other sauces. Whether you are looking for a spicy, sweet, or smoky sauce, Sweet Baby Ray's will have a sauce to tempt your taste buds.
The Sweet 'n Spicy sauce gives the Original a run for its money in regards to popularity. We also enjoyed Sweet Baby Ray's take on the Carolina Gold sauce with their Sweet Golden Mustard BBQ Sauce.
Other incredible flavors include Hawaiian, Maple, Honey BBQ, Sweet Vidalia Onion, Hickory and Brown Sugar, and a Honey Chipotle BBQ sauce.
Stubb's BBQ
C.B. Stubblefield (aka "Stubb") started making BBQ in Texas over 50 years ago, and you can bring home a taste of Texas with Stubb's BBQ Sauce. The bottles are no longer corked with a jalapeno the way Stubb did when he was bottling the sauces by hand, but the great flavor of the original sauce is still the same.
Stubb has also added a few more flavors to his repertoire, making this line of BBQ sauces a well-loved favorite of BBQ enthusiasts everywhere.
The Original Stubb's BBQ sauce is a tomato base with vinegar, molasses, and black pepper. Perfect for adding that bold Texas flavor to chicken, beef, or pork, it's one sauce you will want to have on hand at all times.
Stubb's also serves up other delicious sauce flavors, such as Sweet Honey and Spice, Dr. Pepper, Hickory Bourbon, Sticky Sweet, and many more.
Jack Daniel's BBQ Sauces
What could be better than a little booze with your BBQ? If you want to kick your sauce up a notch, try one of the six different varieties of Jack Daniel's BBQ sauce. All of the sauces are made with either Jack Daniel's Tennessee Whiskey or Jack Daniel's Tennessee Honey.
The Original No. 7 Recipe BBQ sauce is a tomato based sauce with a sweet and spicy sauce. All of the sauces in this line are very robust and full flavored, perfect for basting on in the last few minutes of cooking or served on the side. Jack Daniel's also produces a line of glazes, marinades, and steak sauces worth checking out for your next cookout.
Bull's-Eye BBQ Sauces
If you ever get a hankering for that Kansas City style sauce you find in chain restaurants, give Bull's-Eye BBQ sauce a try. The Original flavor blends of hickory, smoke flavor, molasses, and spices. Many people say it has that familiar flavor they have come to know and love.
Bull's-Eye has a few unique flavors such as Guinness Draught Beer Blend BBQ sauce and an extra smoky Hickory Smoke BBQ sauce. They have also developed four new flavors that are bold takes on Kansas City, Memphis, Texas, and Carolina BBQ sauces. Sample them all and take a barbecue trip around the country without ever leaving your patio.
Final Thoughts
Whether you prefer tomato, vinegar, or mustard based sauces (or even the tangy mayo sauce of Alabama), one thing is certain. Barbecue is an American staple, a melting pot of flavors as diverse and distinctive as each region. You may swear by one sauce over another, but with such a wide array to choose from, the possibilities for your next backyard barbecue are endless. Whether store-bought or homemade, get adventurous and try new styles of BBQ sauce today to explore all of the unique flavors of America.