You don't have to invest in a smoker to get delicious wood smoke flavor. A gas grill is great for direct and indirect cooking, but did you know it can also smoke your food? With a little help from the best wood chip smoker box for gas grills, you can be enjoying delicious smoky food in no time at all. All from the convenience of your gas grill!
Best Wood Chip Smoker Box
You likely spent some time researching and deciding which gas grill best suited your needs. So it's no wonder you would want to do the same when trying to select the best wood chip smoker box. We have saved you the time and effort, though, and outlined the smoker boxes we found to be the best performers.
Char-Broil Cast Iron Smoker Box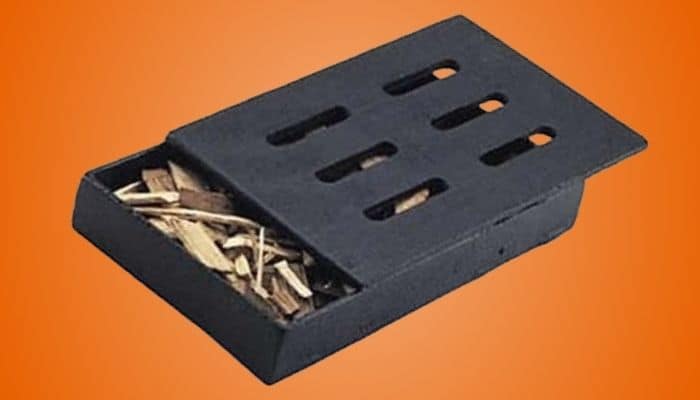 Many experienced cooks prefer to cook with cast iron due to its durability and versatility. The Char-Broil Cast Iron Smoker Box brings that durability and versatility to the world of smoking. You can rely on the Char-Broil smoker box to add delicious, smoky, wood flavor through its vented, removable lid. It is safe to use, won't warp, and the cast iron body prevents the wood from being completely consumed by flame.
This smoker box comes at a very affordable price, especially for cast iron. But one thing to remember is that, just like other cast iron cooking utensils, you should be sure to properly season it before use. Proper seasoning will prevent rust and ensure the longevity of your smoker box. The Char-Broil cast iron smoker box is compatible with gas, charcoal, and electric grills for plenty of flavor and no mess.
Cave Tools Smoker Box for BBQ Grill Wood Chips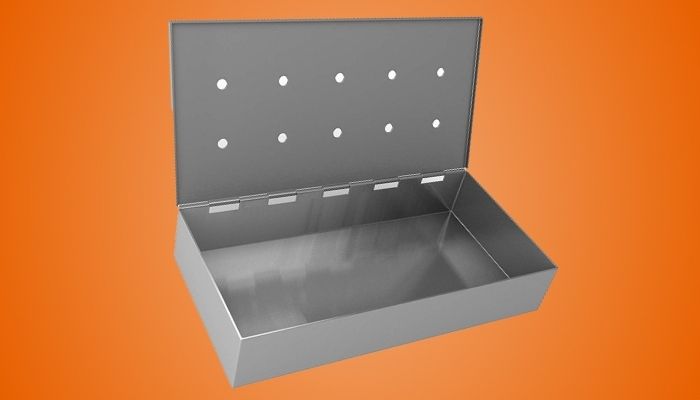 Another smoker box known for its durability is the Cave Tools Smoker Box. It is made from 25% thicker stainless steel and made to withstand warping. Having a large wood chip capacity of over two cups makes this a great box for longer smoking times.
But perhaps the biggest selling point of a Cave Tools Smoker box is its lifetime guarantee! They are serious about customer service and guarantee that you can return your smoker box at any time if you are unhappy with it.
No worries about where to place a hot lid when you need to refuel. Add woodchips easily with the hinged lid for easy access. A nifty bonus to this moderately priced model is the free BBQ Smoking & Cooking Journal app downloaded that is included in your purchase. This gains you access to professional barbecue recipes with detailed instructions and tutorial videos.
The app also includes a log book for smoking and cooking, a social BBQ recipes community, three timers, and guidelines for smoking different meats. This impressively solid smoker box has all the bells and whistles you might expect from higher priced boxes packed into one box that won't dent your wallet.
Mockins Stainless Steel BBQ Smoker Box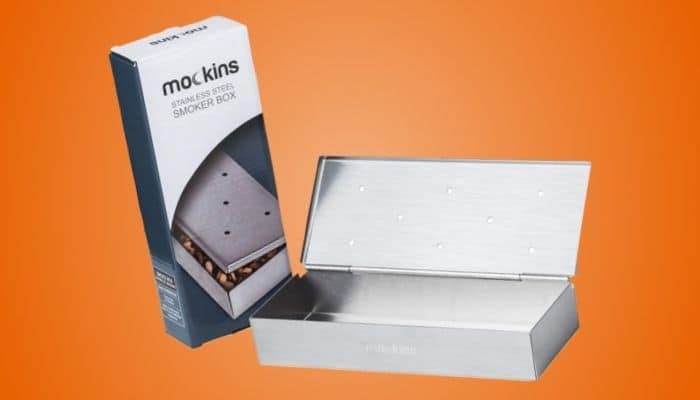 Many gas grill users are raving about the Mockins Stainless Steel BBQ Smoker Box. This heavy gauge stainless steel is made to last and comes at a shockingly low price. The box has a vented top and bottom that delivers a lot of smoky flavor to your food.
Mockins is so confident in the performance of their smoker box that its purchase comes with a lifetime replacement or refund warranty. With a satisfaction guarantee like that, what's not to love?
This durable design has a hinged lid for easy access to the wood chips during grilling. It makes a great gift for any grilling enthusiast, and it fits both gas and charcoal grills.
After repeatedly demonstrating how well this smoker box holds up under high heat, it Is clear to see that Mockins truly cares about the quality of their product. We think this smoker box is one of the best of the best.
Cave Tools Pellet Tube Wood Smoker Box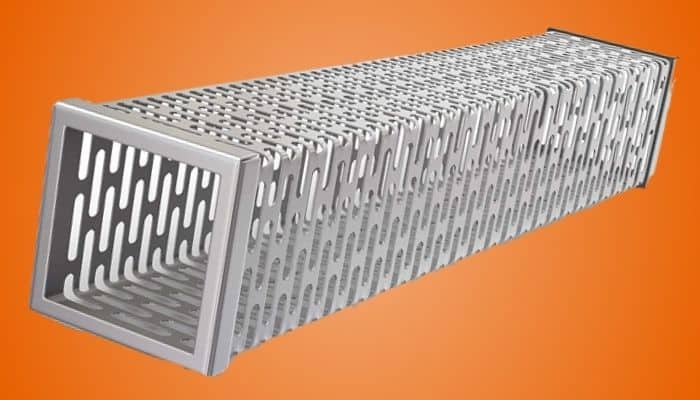 Cave Tools makes this list more than once and for good reasons! The Cave Tools Pellet Tube Wood Smoker Box may look a little different from other smoker boxes on this list. That's because the design is specifically for pellet smoking, though you can also use it with wood chips if desired.
At maximum pellet capacity, this smoker box can last for up to an eight-hour smoke without refilling. It is made from heavy gauge 304 stainless steel and rather sturdy. You can use this smoker box for both hot and cold smoking – so get your favorite meats, fish, and cheeses ready!
The horizontal holes that line this smoker box lend themselves to evenly distributing the smoke as it moves up the chamber. It is rust resistant and affordably priced. Especially when you consider all of the extras included in the purchase of a Cave Tools smoker box.
This model also includes the lifetime satisfaction guarantee and access to the BBQ Smoking & Cooking Journal app. While it should fit most all grills, we encourage you to check the dimensions to be sure it will fit yours properly.
Grillaholics Smoker Box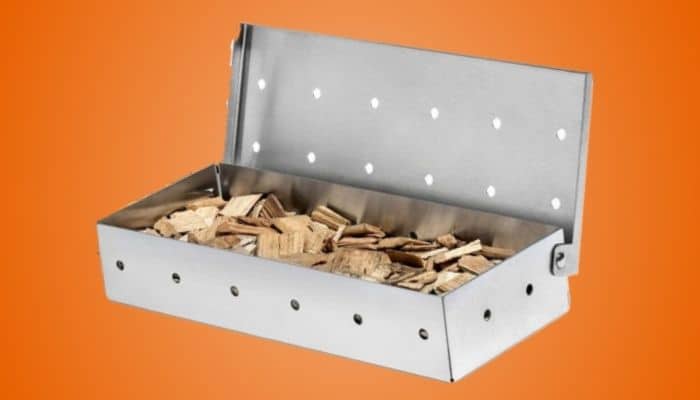 The impressive performance of the Grillaholics Smoker Box also cannot be ignored. Made from heavy duty stainless steel, this smoker box boasts an extra large capacity of up to three cups of wood chips. The hinged and vented lid provides easy access for adding and removing chips and results in perfectly smoked meats. It is perfect for longer smoke times.
The extra thick stainless steel stands up against the high heat, so you won't experience warping like with cheaper smoker boxes. It fits grills of all shapes and sizes, whether it's charcoal, gas, or Big Green Egg. Grillaholics guarantees you will be happy with the delicious flavor their smoker box delivers to your meal.
They are a small, family-owned business with customer satisfaction at their heart, so you can return your smoker box at any point for a full refund or replacement.
Mr. Bar-B-Q 40161 Non-Stick Wood Chip Smoker Box With Lid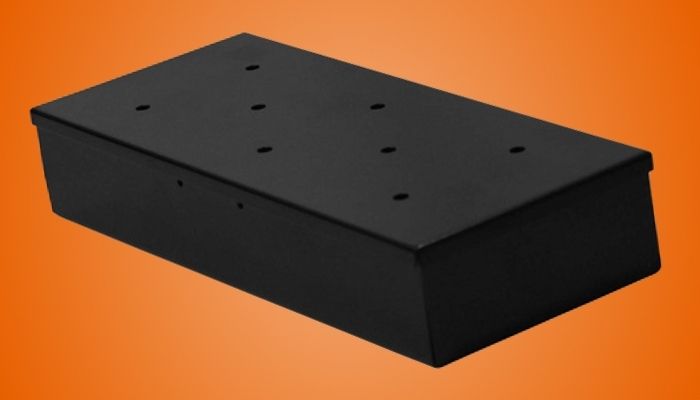 Normally you should be wary of getting what you pay for when it comes to smoker boxes. But the Mr. Bar-B-Q Non-Stick Wood Chip Smoker Box is a high-quality smoker box with an exceptionally low price. Its nonstick steel construction is well made and built to be compatible with gas, charcoal, and electric grills. The top and bottom have vents and the lid can be completely removed.
One difference from the other smoker boxes that we have discussed is that Mr. Bar-B-Q recommends that you soak your wood chips prior to using them in this smoker box, just like you would in a full smoker unit. Other smoker boxes caution against presoaking and tend to work better with dry wood chips.
Another difference is that it lacks a lifetime guarantee. However, it is a very durable smoker box that generally costs two to three times less than other smoker boxes.
One last thing to keep in mind is the bottom ventilation. Though the nonstick material makes for easy cleanup, the holes in the bottom of the smoker box will allow ash to escape to the bottom of your grill.  Having an ash vacuum on hand could be advisable.
Charcoal Companion Stainless Steel V-Shape Smoker Box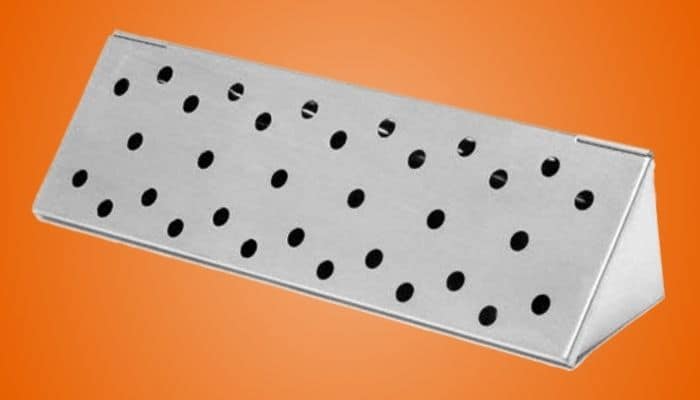 Sleek and shiny, the Charcoal Companion Stainless Steel V-Shape Smoker Box is a standout. It has a distinctly different shape, opting for the V-shape to fit between the flame deflector bars of most gas grills.
This unit is made from sturdy stainless steel and has a hinged lid that keeps the ashes trapped inside for easy cleanup. In regards to length, it is one of the longer smoker boxes that we have tried, measuring 13 ¾ inches long.
Unlike most of the other smoker boxes we have discussed, the Charcoal Companion smoker box does not come with a lifetime warranty. But it does fall on the lower end of the price scale and is an excellent value.
Due to its unique shape and positioning just below the food grate, this smoker box provides a really intense, smoky flavor to food.
Pellet Tube Smoker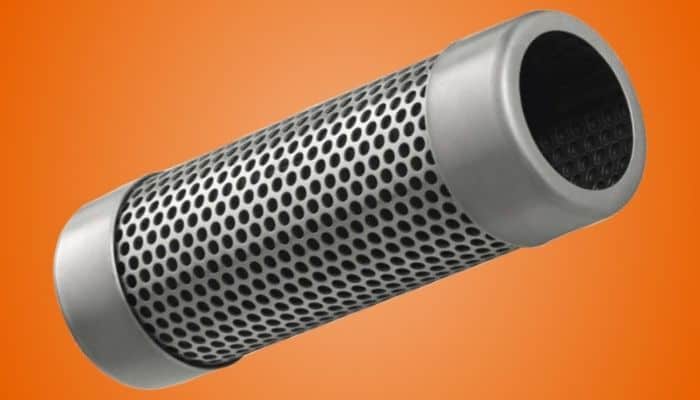 Small but mighty, the A-MAZE-N Pellet Tube Smoker measures only six inches and is perfect for cold and hot smoking. Its compact size makes it the perfect companion to your tailgating, camping, or backyard barbecue grilling setup. At higher temps, it burns the pellets and supplements smoke.
Many people rave about the portability of this tube smoker and especially love using it to cold smoke cheeses. But it can also smoke a wide variety of meats, fish, nuts, and so much more.
If smoking pellets, you can expect smoke for up to two hours. You can also use wood chips but expect a much shorter smoke time.
The stainless steel construction is durable and very resistant to rust. Not to mention it also happens to be very affordable! If you're new to cold smoking, this is a great little tube smoker to get you started.
Weber Universal Stainless Steel Smoker Box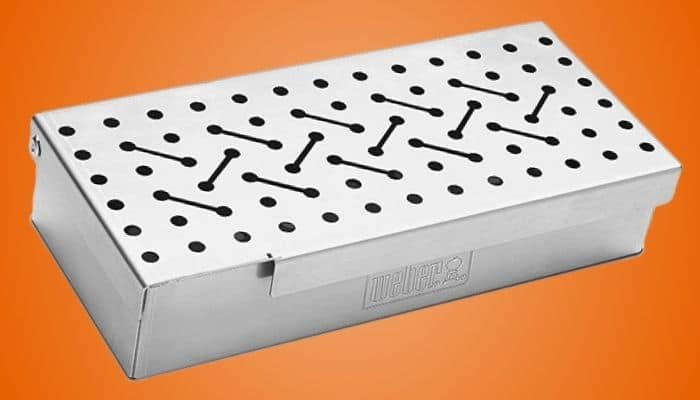 From one of the most trusted names in grilling comes the Weber Universal Stainless Steel Smoker Box. Add delicious smoke flavor to any meal with this heavy duty smoker box.
Perfect for use with larger grills, the Weber model fits directly on top of your cooking grates. Many customers rate it among the best smoker boxes and say it is well worth its price.
This smoker box has a hinged and vented lid. You can easily add or remove wood chips throughout the smoking process. Have no fear of rust or warping.
The smoker box has the same high-quality construction that we have all come to expect from Weber. The bottom of the box is vented like the top. So if you want to contain the ashes from the wood chips, be sure to line the box with aluminum foil before using.
Cuisinart Wood Chip Smoker Box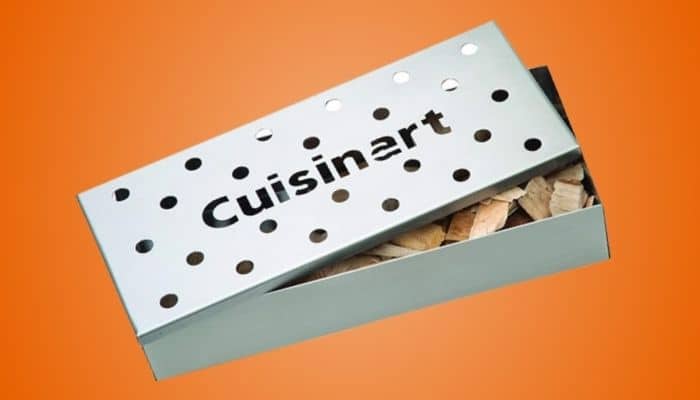 Get outstanding smoky flavor when you use the Cuisinart Smoker Box. Cuisinart is another big name in cooking, and this wood chip smoker box lives up to the Cuisinart reputation.
It is sturdy, compact, and made from very durable stainless steel. Completely portable, it is perfect for both larger grills and your grill-on-the-go for tailgating and camping.
Cleanup is easy and so is removing the lid to replenish wood chips. Be aware – Cuisinart does recommend presoaking wood chips before use in this smoker box.
It works on both gas and charcoal grills, and the price really can't be beaten. The superior quality and expert performance make this smoker box a real winner in our book.
Why Trust Us
All of our reviews are compiled with a combination of expert input, years of hands-on testing of grilling products, curating the reviews of real-life buyers in a "wisdom of the crowd" system, and of course our own expertise. All the products listed are the ones we would buy if we were looking to purchase a new smoker box.
Methodology Used to Pick the Best Smoker Box
When picking the best smoker box for gas grills we looked at and then rated each box on the following criteria. Price, non-stick coating, materials, thickness, and the lid.
How We Selected the Best Smoker Box
While most smoker boxes may look similar in appearance, they often differ in a variety of ways. While you might save a few bucks going for a cheaper smoker box, you will soon be purchasing a replacement if you do not consider the following:
Non-Stick Coating
If your smoker box is intended for use below the cooking grates, you run the risk of juice and drippings getting stuck to the box. This makes a non-stick coating a necessity! Otherwise, cleanup can be a hassle. Work smarter, not harder and opt for a non-stick coating if your smoker box will come into direct contact with food splatters.
Material
Ideally, your smoker box should be constructed from a thick, durable metal such as cast iron or stainless steel. Poor quality materials will lead to warping, rusting, and you wasting your money. Purchase a well-made smoker box, and you should expect it to last for several years without needing replacing.
Thickness
Whether you choose stainless steel or cast iron, arguably the most important characteristic to a good smoker box is its thickness. Long exposure to high heat can cause some smoker boxes to warp.
The thicker the metal, the better your smoker box will withstand warping over time. Don't sacrifice thickness to save a buck, otherwise, you may end up with a smoker box that barely lasts a single use.
Lid
Generally, a smoker box lid is either hinged or entirely removable. While one is not necessarily better than the other, you should be sure that the lid can open easily while in use.
Due to the high heat during smoking, you should only touch your smoker box lid using tongs or other safe handling equipment. During longer smokes, it may be necessary to add more wood chips, so be sure that you can replenish with ease.
Should You Soak your Wood Chips before placing them in the Smoker Box?
Ask anyone with a smoker, and they will tell you that your wood chips should soak in water for several hours before use. It is a common belief that this results in a longer smoke time and more consistent temperatures. In reality, soaking your wood chips isn't actually necessary.
Wood chips will take on more water than wood chunks due to more surface area. But if you do choose to soak them, they really only need an hour or two.
However, soaking does not equal a longer smoking time. When the soak wood chips are first exposed to the heat source, that is steam escaping, not smoke. Soaked wood chips simply take longer to come up to smoking temperature.
Another argument for using dry wood is that blue smoke (considered by most professionals to be the best tasting smoke flavor) can only be produced using dry wood and a very hot fire.
To soak or not to soak is a debate that has raged for ages, but in our opinion, it simply isn't necessary. Sometimes it can also affect both the temperature and smoke flavor, so we opt for dry wood chip smoking in a smoker box.
Make your own Smoker Box
Can't decide on a smoker box but still want smoky flavor when cooking on a gas grill? There are a few workarounds that are worth trying. What's really great is that you can construct all of them using common items found around your home.
Foil Packet
The most common DIY smoker box is a foil packet, also known as a smoke bomb or foil pouch. All you need is extra thick, durable aluminum foil and your wood chips. Fold the foil into what resembles a bag and pour the woodchips inside. Be sure the pouch seals tightly on every side.
Once you have sealed the packet, all you have to do is puncture a small hole in the center of the top side of the packet. Your foil packet will sit directly over the burner on top of the cooking grates and you should start with the grill at high heat. Once you see smoke coming out of the hole, you can lower the heat.
A foil packet is not a reusable method and longer smoking times may require more than one packet. Expect one packet to last for about 25-35 minutes of smoking.
Tin Can
If you happen to be handy with a hammer, you can make your own smoker box using an empty tin can. Using a hammer and nail, puncture a hole in the side of the can near the bottom. Fill the can halfway up with dry chips and then cover the top with aluminum foil.
This method is especially popular with cold smoking enthusiasts. A great way to ignite your wood chips for a short cold smoke is to use a small soldering iron applied directly to the chips until smoke first starts to form. While the tin can method will last for longer smokes than a foil packet, it also is only good for one use.
Aluminum Trays
Those aluminum trays you use for baking when you would rather not dirty a large dish have another great use. You can turn them into a smoker box by using two trays put together. Metal clips are a great way to keep the lids securely together during smoking. Be sure to cut a ventilation hole in both the top and bottom tray to allow air and smoke to flow through your DIY smoker box.
Final Thoughts
Owning and using a smoker box with your gas grill has its advantages. Namely, you don't have to purchase a large piece of outdoor cooking equipment just to get that delicious smoky flavor.
Smoker boxes are convenient, easy to use and deliver great flavor. Most smoker boxes are compatible with both gas and charcoal grills. Plus, the cost is minimal!
Across the board, the smoker boxes we have detailed are among the best of the best. So if you want something more out of your gas grill and are looking to experiment with smoking, a smoker box will have you enjoying delicious, smoked food in no time flat.