For many BBQ enthusiasts, the arrival of Spring is the signal to dust off the grill. Sure, some of us die-hard pitmasters don't mind cooking in the snow. But there is no question that summertime is the ideal season for outdoor cooking. With the best tabletop grill, you can BBQ on your patio all summer long!
Tabletop grills are ideal for folks who live in apartments or lack the outdoor space for using a full-sized BBQ. The best tabletop grills are compact, easy to store and are perfect for seasonal and year-round cooking. Most tabletop grills are portable as well.
Don't let space-limitations limit your cooking-style! We have researched the best tabletop grills on the market and put together all of the information you need to pick the perfect one for your family.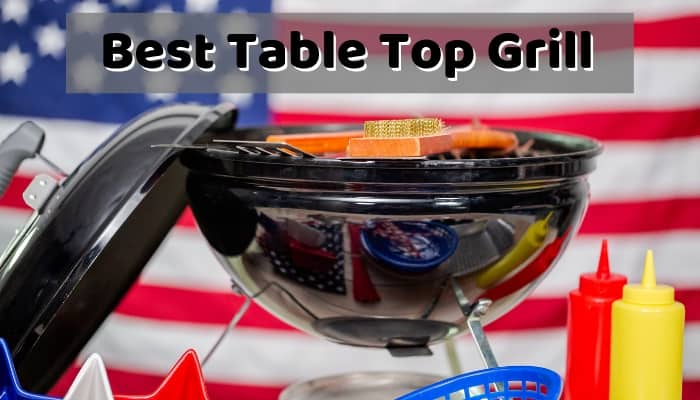 At a Glance: Our Top 10 Best Tabletop Grills
Best Tabletop Grill
Tabletop grills don't get nearly the attention their full-sized cousins get and that's a shame. Tabletop grills are incredibly popular and extremely versatile cookers. A tabletop grill can do anything that a larger grill can do. They just have a smaller capacity.
I think part of the problem is that we often use the terms "tabletop" and "portable" grill interchangeably. This can lead to confusion because not every tabletop grill is truly portable. So what is a tabletop grill?
Tabletop grills are the smallest grills available on the market. They are compact and designed for use on a table, stand, tailgate or other elevated surfaces. They often have features that make them especially easy to move and store.
Many tabletop grills are portable but it depends on the fuel source (see the Buyer's Guide below for more information). If you want a portable tabletop grill then look for one that runs on charcoal or liquid propane. For more information about portable grills, you can check out our handy guide here.
Tabletop grills are ideal for folks who have limited outdoor space for grilling. They are also perfect if you don't need the capacity of a full-sized BBQ. Some electric models can even work indoors, like these raclette party grills.
The best tabletop grill for your family will depend primarily on your price-range, the capacity of the grill and the fuel-source you prefer.
Weber Go-Anywhere Best Tabletop Grill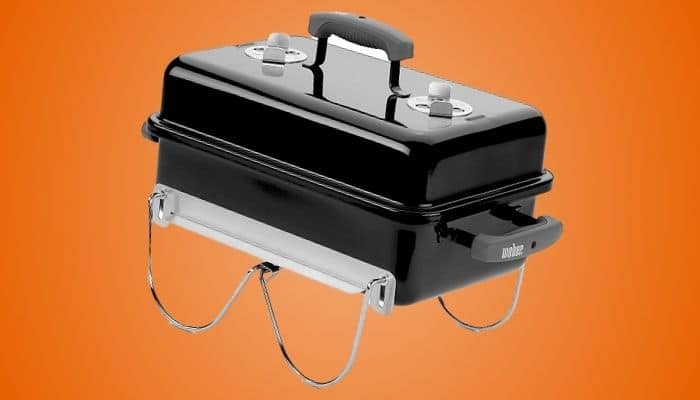 It's no surprise that we start our best tabletop grill reviews with the Weber Go-Anywhere. As you know, I am a huge fan of Weber products in general and this grill in particular. It was a featured product in my Best Small BBQ Grills post and it does not disappoint.
The Go-Anywhere is a portable charcoal grill ideal for campouts, tailgating, and picnics. The compact box-design is perfect for tucking in the trunk of your car or in a cabinet for storage.
The folding legs double as a lid-lock and you can easily carry it with one hand. It measures 12.2 x 21 x 14.5 inches and weighs 14.1 pounds. The box locks together so you can bring your hot coals home for safe disposal.
The sturdy porcelain-enameled lid and base do an excellent job of retaining heat and are rust-resistant. Since the cooking box is made from a single piece of metal there are no screws or bolts to get in the way. There are assist handles on the side of the grill so you can easily move it around.
The Go-Anywhere has dampers for temperature-control and comes fully assembled. It has a rectangular plated-steel cooking grate that measures 10 x 16 inches and offers 160 square inches of cooking capacity. That's enough room to make 6 hamburgers or 4 steaks at a time.
The Go-Anywhere is ideal for anyone who needs a compact portable charcoal grill. You can use it on your patio table or take it with you to the park. Weber's generous 10-year warranty will ensure you will be grilling with your Go-Anywhere for years to come.
Weber Jumbo Joe Charcoal Tabletop Grill
If you are a fan of the classic kettle grill then you may like the Weber Jumbo Joe. This tabletop charcoal kettle grill works just like the full-sized version and is portable to boot!
The Jumbo Joe is a bit bigger than the Go-Anywhere and its legs are stationary. It measures 19.8 x 20.5 x 19.8 inches and weighs 18 pounds. There is some assembly required for this grill but it isn't very difficult.
The Jumbo Joe is made from porcelain-enameled steel and is very sturdy and rust-resistant. The grill has a looping wire handle that doubles as a lid holder. You can easily pick this grill up to relocate it.
The kettle-lid handle has a heat shield and a large damper for temperature control. The Jumbo Joe also has a lower vent and aluminum ash collector to help you manage your charcoal debris.
The plated steel cooking grate is 18-inches across and offers about 250 square inches of cooking capacity. You could grill up to 8 hamburgers or 6 steaks at a time on the Jumbo Joe. There is plenty of room here to set up zones for indirect cooking too.
The Jumbo Joe is a great option if you want a smaller, more portable version of your Weber kettle grill. It comes with Weber's fantastic 10-year warranty as well.
Weber Q 2400 Tabletop Electric Grill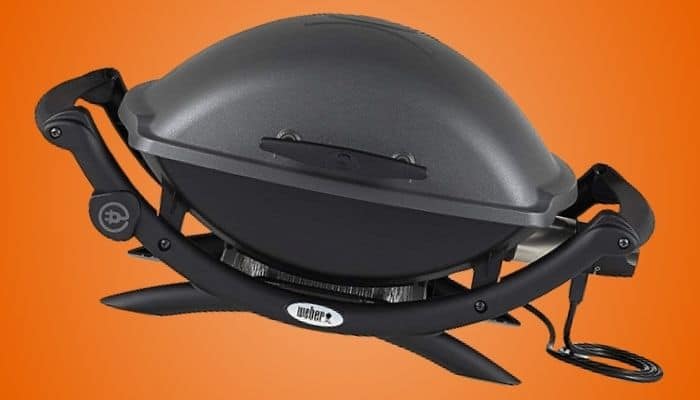 If you want the best tabletop grill fueled by electricity, consider the Weber Q 2400. This premium electric grill offers you all the quality of a classic Weber in a modern and compact package.
If you live in a condo or apartment complex that bans the use of "open flame" grills then the Weber 2400 could be a real lifesaver. This grill has a 6-foot power cord so you can plug it into any grounded outlet. It is ideal for grilling on a patio, deck or under a carport.
The Q 2400 comes fully assembled and ready-to-use right out of the box. The 1560-watt heating element can be precisely adjusted so you can gently grill vegetables or sear a steak with ease.
The two-part rectangular cooking grate measures 20 x 14 inches and is made from enameled cast iron. It offers about 280 square inches of capacity. You could grill up to 12 hamburgers or 8 steaks easily on this grill.
The Q 2400 is well-insulated and preheats in about 15-20 minutes. The cast aluminum body and lid are sturdy yet lightweight. The entire grill measures 25.1 x 31.5 x 26 inches and weighs 42 pounds.
This grill is technically portable as long as you have access to a grounded outlet but it is not suitable for indoor use. Weber makes some nice accessories for this grill and backs it with their 5-year warranty.
Cuisinart Portable Tabletop Gas Grill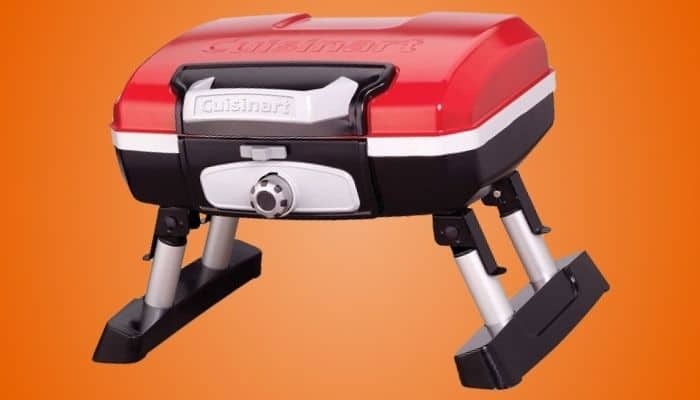 You may associate Cuisinart with kitchen appliances but they are expanding into the BBQ market as well. Check out this Cuisinart gas grill with the "VersaStand." It is a colorful and portable tabletop grill that works off of disposable cans of liquid propane.
The Cuisinart grill has an interesting design with telescoping aluminum feet that snap into place. You carry this grill just like you would a briefcase. The handle is on the front and snaps closed to secure the lid. It just takes a second to lock the feet open and get the grill fired up.
The Cuisinart grill measures 16 x 16.5 x 13 inches and weighs 13.5 pounds. It comes fully assembled and ready-to-use. You can also opt to upgrade the tubing and hook directly into a larger stationary propane tank if you prefer.
This grill comes with a ceramic-coated cooking grate that offers 145 square inches of cooking capacity. It can accommodate up to 8 hamburgers, 6 steaks or 6 to 10 chicken breasts at a time.
The powerful 5,500 BTU stainless steel burner ensures that your meat is always savory and well-seared. This grill does well at high temperatures but offers less control at lower temperatures.
The Cuisinart is an attractive tabletop gas grill and offers a lot of versatility in a compact package. It would be ideal for any small family that wants a reasonably-priced portable tabletop gas grill. It comes with a 3-year warranty and extended warranties are available online.
Weber Q 1000 Tabletop Liquid Propane Grill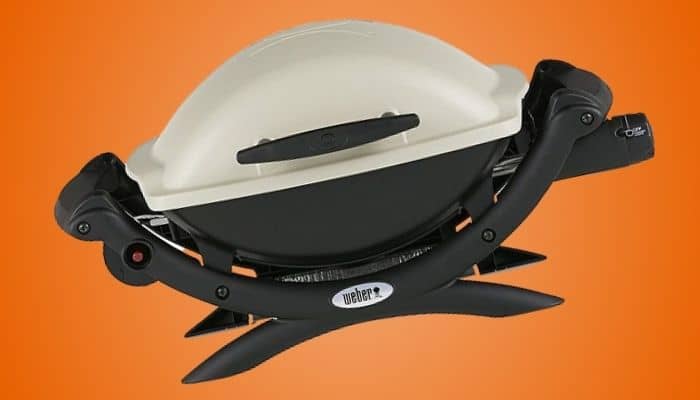 A final Weber to consider if you want the best tabletop grill for your family is the Q 1000. This powerful portable gas grill is ready to use right out of the box. Just connect it to a small tank of liquid propane or convert it to run on your stationary tank.
The Weber Q 1000 resembles the Q 2400 and has a sleek and modern appearance. It has handles on both sides of the cooking box so it is easy to move. The cast aluminum box and lid are lightweight, durable and easy to wipe clean.
There are several features that really make this premium grill stand out from the pack. The push-button ignition makes this grill a breeze to light. The infinite control valve easily adjusts your flame and gives you a lot of control over your cooking.
The two-part porcelain-enameled cast iron cooking grate offers you 189 square inches of capacity. You could cook up to 6 hamburgers or 4 steaks at a time on this grill. It also has a removable catch pan to collect any drippings.
The Q 1000 measures 14.5 x 27 x 16.5 inches and weighs 28.5 pounds. The stainless steel burner produces 8500 BTU per hour. This is one of the more powerful tabletop grills in our review!
The Q 1000 would be an ideal grill for a family that wants the convenience and power of a full-sized gas grill in a miniature package. Weber makes a lot of great accessories for it too, like a griddle insert and a portable stand. It comes with Weber's superior 5-year warranty.
Char-Griller Table Top Charcoal Grill and Side Fire Box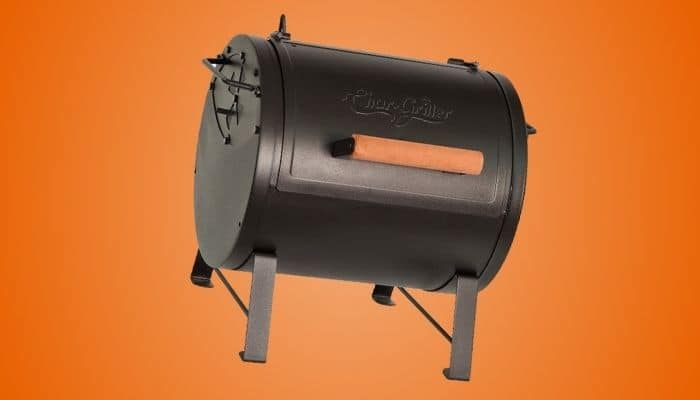 Would you like a rustic portable grill that matches your Texas-style smoker? Then this Char-Griller model could be the best tabletop grill for your family. It is a miniature version of the classic barrel-smokers so popular with pitmasters.
This charcoal grill works on its own or you can attach as a side-box to your full-sized Char-Griller. It is a sturdy grill constructed from heavy steel with riveted handles for easy maneuverability. The legs allow this grill to stand on the ground or on tabletops during use.
The Char-Griller may not look fancy but it has some really nice features. The slide-out drawer gives you easy access to your coals and allows you to dump the ashes while cooking. The lid has a wooden stay-cool handle and there are two large dampers for fire control.
The cooking grate is made from cast iron and measures 9.5 x 14 inches. This grill has about 250 square inches of capacity and can easily accommodate 8 hamburgers or 6 steaks at a time.
The Char-Griller measures 18.5 x 17 x 16 inches and weighs 38 pounds. It comes with a 5-year warranty on the firebox and a 1-year warranty on the rest of the parts. You will need a screwdriver and a wrench to assemble it.
This is an ideal portable grill for any family that prefers to cook over charcoal and wants a classic barrel-style model. It is a fully-functional charcoal grill that can be set-up to cook in zones and can even be used as a smoker.
Cuisinart Chef's Style Stainless Tabletop Grill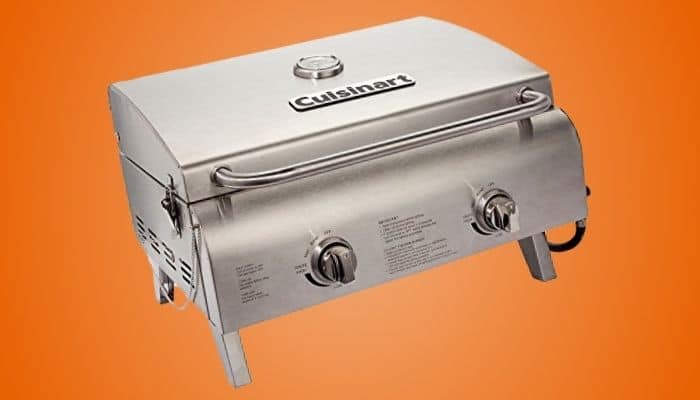 Another attractive option from Cuisinart is this stainless steel gas grill. Designed for portability, the Cuisinart Chef's Style grill would be right at home in any modern kitchen.
The Chef's Style is a premium tabletop grill that packs a lot of functions into a small package. It runs on disposable cans of propane but can convert to work with your stationary tank.
This grill really stands out for its two powerful stainless steel burners. The twist-start ignition is reliable and the burners each produce 10,000 BTU per hour. You will have no problem setting up cooking zones on this grill.
It has an integrated thermometer in the lid. The stainless steel cooking grate measures 15 x 10.5 inches and gives you about 276 square inches of capacity. You can fit 6 burgers or 4 steaks easily on the Chef's Style.
The Chef's Style's all-stainless steel construction renders it very lightweight. It only weighs 22 pounds so it's highly portable. The lid locks and the legs fold down for easy transport and storage.
The Chef's Style is the best tabletop grill for any family that wants the power and control of cooking with two burners. It is the only gas grill in our review to feature two burners instead of one. Cuisinart covers this grill for 3 years under warranty and there are many accessories available online.
Smoke Hollow Stainless Steel Table Top Propane Gas Grill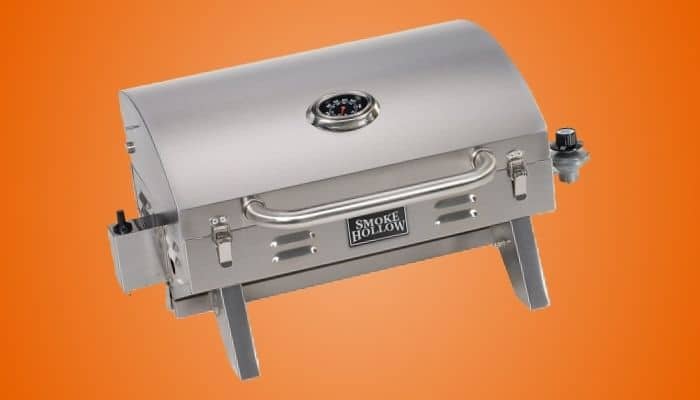 If you prefer a stainless steel model why not consider the Smoke Hollow Table Top gas grill? This sleek and sturdy portable grill offers a lot of bang for your bucks and comes packed with useful features.
The Smoke Hollow is unique on our list because it has a warming rack. The main stainless steel cooking grate measures 18 x 12 inches and offers about 205 square inches of capacity.
But it also has a chrome-plated warming rack that gives you another 105 square inches of space! You will have room on this grill to cook 5-6 burgers or 4 steaks and can warm your buns at the same time.
The Smoke Hollow has a push-button ignition and built-in temperature gauge. The single U-shaped burner helps it heat evenly and produces 10,000 BTU per hour. Once assembled it measures 27 x 17 x 12 inches and weighs about 20 pounds.
Some other features I really like are the stainless steel drip tray and the foldable legs. This grill has a wide handle so it is easy to transport and the lid locks securely closed. The handle is large enough that it doesn't get hot while the grill is fired-up.
Like the other gas grills in our review, the Smoke Hollow comes set-up to use disposable cans of propane. You can convert it to run off your stationary propane tank. It comes with with a 1-year warranty against defects.
Blackstone Tabletop Gas Griddle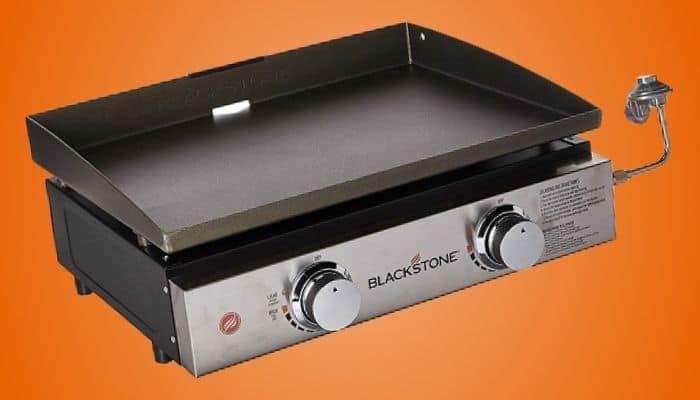 Forget about using griddle inserts! If you want to griddle on-the-go then this Blackstone model could be the best tabletop grill for you. Hook it up to a small can of propane and you can be flipping hot cakes, burgers, and eggs at your next tailgater.
This griddle features two independently-controlled H-burners that allow you superior control over your cooking temperatures. It is easy to sear a burger on one side while gently caramelizing onions on the other.
The cooking surface measures 22 x 19 inches and is made from durable cold-rolled steel. While it won't retain heat as well as a cast iron griddle the Blackstone will cool off faster and is easier to transport.
This griddle has 330 square inches of capacity and can make about 15 hamburgers or 12 steaks at a time. It has a grease channel to move drippings away from your food and collects it in the rear for easy cleanup.
The Blackstone is portable or you may convert it to run off of a stationary propane tank. It doesn't have handles but is easy to move by just picking up the base. You can purchase a carrying case separately.
This griddle does require a fair amount of assembly but there are videos available to help you out. Blackstone backs the griddle for 90 days under warranty.
Kamado Joe Jr Tabletop Smoker Grill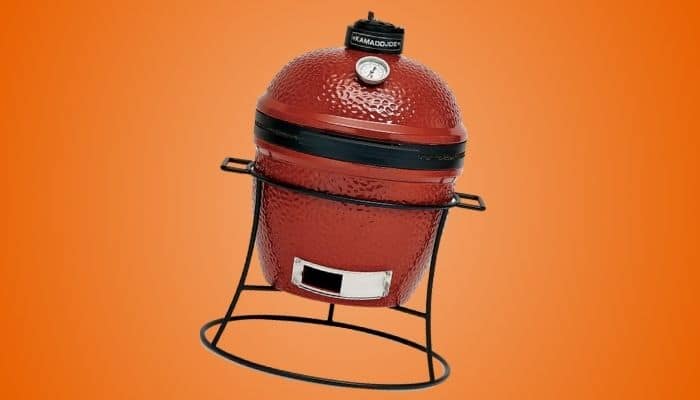 I couldn't finish a post on the best tabletop grills without mentioning one of my all-time favorites. If you want the ultimate portable smoker grill then the Kamado Joe Jr was made with you in mind. No other tabletop grill has a heat range of 225-750°F!
The Kamado Joe Jr is a miniature version of the egg-shaped ceramic Kamado smoker that has become so popular in the BBQ world. I wrote a whole article on the excellence of the Kamado system and you can read it here if you still need some convincing.
The Kamado Jr measures 16 x 22 inches and has a diameter of 20.75 inches. It comes with a powder-coated cast iron stand that holds the grill securely in place. The thick ceramic lid and base are sturdy and durable. The grill weighs 68 pounds and is easily moved using the handles on the stand.
The lid hinges up to allow access into the inner chamber. The stainless steel cooking grate sits in a depression at the top and is removable so you can access your coals. It measures 13.5 inches and provides about 149 square inches of capacity.
You can use this as a portable charcoal grill or you can burn hardwood chips and turn it into a smoker. The heavy ceramic construction seals in the heat and moisture to produce mouthwatering results.
Sure, the Kamado Joe Jr is a bit more expensive than other tabletop grills but it is well worth the cost. Kamado has a great limited lifetime warranty and these grills are incredibly tough. This is the best tabletop grill for any family that wants a sturdy portable smoker grill.
Why Trust Us
All of our reviews are compiled with a combination of expert input, years of hands-on testing of grilling products, curating the reviews of real-life buyers in a "wisdom of the crowd" system, and of course our own expertise. All the products listed are the ones we would buy if we were looking to purchase a new tabletop grill.
Methodology Used to Pick the Best Tabletop Grill
When picking the best tabletop grill we looked at and then rated each grill on the following criteria. Price, style, total grilling surface area, fuel source, max temperature, temp control, legs, and portability.
How We Selected the Best Tabletop Grills
Choosing the best tabletop grill can be a challenge these days since many of us do our shopping online instead of in-person. It can be tricky to compare models across brands or get a feel for a grill without laying hands on it.
The good news is that choosing a tabletop grill is very similar to picking out a portable grill. I would start by defining your budget and then focus on how you plan to use your tabletop grill.
Will it be primarily for home-use or will you frequently be taking it on trips? How many people will you usually be feeding with your grill? What kind of fuel source do you prefer? The answers will help you identify the features most useful to your family.
Once you have nailed down your budget and desired features it should be easy to quickly identify the best tabletop grill for your family.
Price
Tabletop grills are available in a wide range of prices and you can find one suitable for nearly any budget. The price should reflect the construction materials, features, and overall quality. While you can often find some good deals online you usually get what you pay for in a tabletop grill.
A grill made with plastic parts will likely be less expensive than one made from steel or aluminum, for instance. These grills are also less durable and more prone to breakage.
Pay attention to the warranties as well as the initial cost of the grill. It might be cost-effective to spend more on a grill with an extended warranty than to get a less expensive model with a skimpier one.
Grilling Surface Area
Tabletop grills are the smallest grills on the market and are ideal for making a meal for 2 to 4 folks at a time. Most tabletop grills have between 130 and 300 square inches of primary cooking capacity. This number is the most useful way to compare the capacity of different grills.
Manufacturers often claim their grill can hold so many burgers or steaks at a time but they tend to be a little over enthusiastic with these numbers. As you know, you need to leave some space between your food as it grills. The number of burgers you can fit on your grill will depend on how big they are and how closely you cook them.
When comparing capacity between tabletop models it also helps to consider the shape of the grill grate. It may be easier to slow-cook a pork butt on a round grill versus a rectangular one depending on their dimensions.
Some tabletop grills may have an additional warming rack but this is not a common feature and should not count towards the cooking capacity of your grill. They can be a nice bonus though!
Fuel Source
Every grill needs a fuel source and the best tabletop grill for your family should accommodate the source you prefer. Tabletop grills are available for use with charcoal, liquid propane, natural gas, and electric fuel sources.
For portable tabletop grills, look for models that run on charcoal or disposable cans of propane. You can always convert your disposable-propane grill to work with your full-size propane tank if you only use it at home.
Electric tabletop grills are very efficient but they have some limits. To power them you need to be close to a grounded outlet. Be careful if you use an extension cord to power your electric grill.
While there are a few tabletop grills that run on natural gas they are uncommon and not terribly popular. You see this feature more with built-in and full-size grills.
Heat Output
You measure the heat output of a grill in units called BTUs. This stands for British thermal units. It is the amount of energy it takes to raise a pound of water by one degree Fahrenheit. You rate a grill by how many BTUs their burners produce per hour.
Obviously, you want a grill that has as high of a BTU as you can find if you like seared steaks and crispy roast chicken. Tabletop grills tend to have a lower output than full-size grills. It is common to see ratings of 5,500-8,500 BTUs in a tabletop grill while some can even go as high as 10,000 BTUs.
While BTUs are important the number of burners your grill has matters as well. A gas or electric grill with multiple burners not only produces more heat but they allow you more control over your cooking. You can create zones for indirect cooking or cook different foods simultaneously at two temperatures.
Temperature Control
Heat and temperature control should go hand-in-hand. But one downside to many tabletop grills is in their temperature control. These grills often do a great job at high-heat cooking but struggle to maintain lower temperatures.
If precise temperature control is a must-have feature for your family then a tabletop charcoal grill might be your best option. They are the easiest to manage and you can always remove some coals if it gets too hot.
If you don't want to deal with charcoal you still have some options. Choosing a two-burner gas or electric grill would also give you more control than using a single-burner model. Otherwise, you may just need to monitor your food closely to ensure it doesn't burn.
Folding Legs
One feature of the best tabletop grills is their ability to compact down for easy storage. Look for models with folding or retractable legs. These grills are ideal for seasonal cooking and can be put away in the wintertime. Or you can tuck them in your car or RV and cook on the go!
Transportation Features
Along with the folding legs mentioned above, there are other features that make your tabletop grill easier to transport. Many grills have easy-lifting handles and lockable lids that hold the grill closed.
A tabletop grill should also have side handles so you can move it while it is operating. You can transport most grills while they are still warm from cooking but check your instruction manual for details.
Some grills even have optional carrying cases you can buy to make the transporting as easy as possible.
Maintenance and Cleaning
Maintaining and cleaning your tabletop grill is essential if you want to avoid flare-ups or other problems with its performance. Luckily, the process is very similar to cleaning the full-size versions. The main difference is that ash, drippings and other debris tend to collect faster in the smaller tabletop grills than in their big cousins.
You will need to use a grill brush to keep the cooking grate clean and prevent your food from sticking to it. There are some great tricks in this post for cleaning cast iron grates if you need some tips. You can also find a lot of information on grill brushes and other cleaners here.
Style
Tabletop grills are available in every style imaginable. You can opt for a tabletop grill that matches your big BBQ or smoker. Or you can branch out and try a new style.
If you like the look of a classic Texas smoker you could opt for a miniature tabletop drum grill. There are kettle-style grills and the fantastic ceramic Kamado-style eggs that come with a table stand. Many tabletop grills come in the briefcase-design that is so easily portable.
Really, the sky's the limit when it comes to the best tabletop grill. Pick the style you like the best or are most familiar with. If portability is an important feature for your family then focus on styles that make transportation easier.
Final Thoughts
Tabletop grills have come a long way from the days when they were primarily designed for camping. These grills can do everything that their big cousins do and can do it just as well too! The best tabletop grill for your family will depend on your budget, the fuel source and the style of grill that you want.
Tabletop grills are ideal for families that lack the space for outdoor cooking or who don't need a grill with a lot of capacity. These grills are great for travel and they compact down for easy storage. You can even use some of them as portable smokers. Check out our reviews to find the best tabletop grill for your family and start grilling today!