The ideal size for cooking up a wide variety of food types, whether you regularly have large get-togethers or just love trying out new recipes, the best 4 burner gas grill has got your name on it.
More affordable than a 6 burner gas grill and much more versatile and spacious than a 3 burner model, if you're in the market for a 4 burner gas grill, you're sure to find your ideal grill right here with our excellent selection of reviews and comprehensive buyer's guide.
A Quick Comparision of the Best 4-Burner Gas Grills
Here's a quick summary of your options with more info on each grill in the best 4 burner grills section.
Best 4 Burner Gas Grills
Find your ideal 4 burner gas grill with our top-rated reviews, covering a wide range of budgets, brands, and additional features.
Best Overall 4 Burner Gas Grill
Weber Summit E-470 4-Burner Gas Grill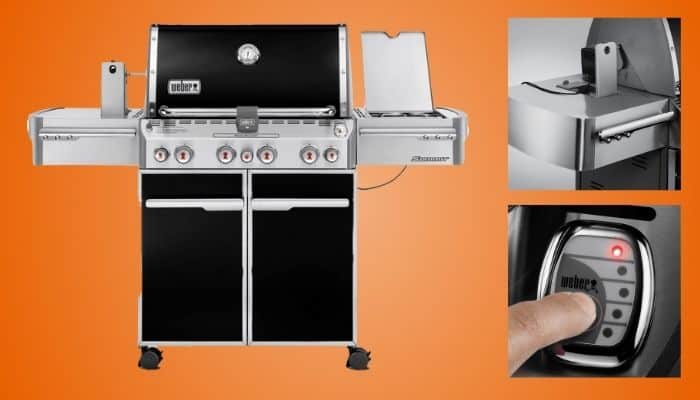 It's hard to find a better 4 burner gas grill than the E-470 from Weber's top-of-the-range Summit Series.
Available in both propane and natural gas versions, the impressive E-470 is feature-packed enabling you to cook just about anything that you wish. The four main stainless steel burners put out a combined 48,800 BTU with a 468 square inch primary cooking area complete with stainless steel grates and Weber's renowned Flavorizer bars.
For added versatility and functionality, the E-470 also has four additional burners – a 12,000 BTU side burner for your sauces, a 10,600 BTU Sear Station burner for your steaks, a 6,800 BTU smoker box burner for flavorsome smoky joints, and a 10,600 BTU rear-mounted rotisserie burner. Note that you will need a power outlet to utilize the included Tuck-Away rotisserie system to power its flip-up motor.
The lid is porcelain-enameled for easy cleaning and improved heat retention, while LP models also benefit from a handy LED fuel gauge. The enclosed cart features two stainless steel work areas, tool hooks, and a grill light. While the heavy-duty casters make it easy to move this grill around on a flat surface, their anti-tip design makes it very difficult to move it over uneven patios and it will rip up your lawn.
Complete with a 10-year warranty and Weber's excellent customer service, if you are looking for a new 4 burner gas grill, the Summit E-470 should definitely be at the top of your list.
Pros – Things we liked
48,800 BTU main 4 burners
468 sq inch primary cooking area
Includes sear station, rotisserie, smoker box, & side burners
LED fuel gauge
Enclosed cart with 2 side tables
Cons – Things we didn't like
Power outlet required for rotisserie
Casters are only suitable for hard flat surfaces
Best Mid-Range 4 Burner Gas Grill
Weber Genesis II E-435 4-Burner Liquid Propane Grill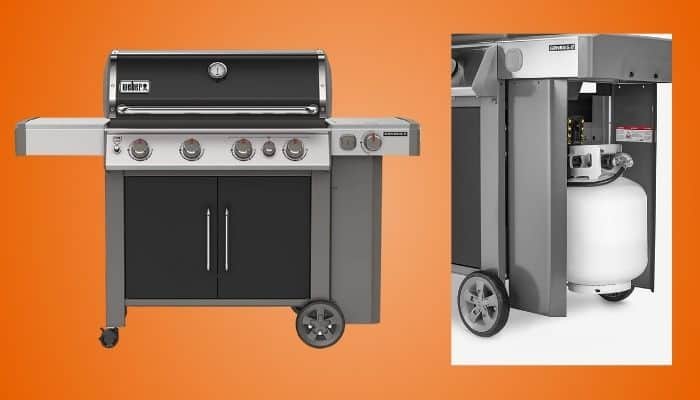 Weber's Genesis II E-435 is our top mid-range 4 burner gas grill pick. If you are looking for a more affordable alternative to the Summit, but don't want to sacrifice quality and durability, then the E-435 is the gas grill for you.
Available in either a propane or natural gas version, this model benefits from a 10-year warranty on all grill parts, plus as it's a Weber you can count on their customer service department.
The four main burners have a combined 48,000 BTU output with a 646 square in primary cooking area, plus you also get a handy 198 square inch tuck-away warming rack. In addition to your main burners, this grill also has 9,000 BTU Sear Station burner, plus a 12,000 BTU side burner, making it a versatile model that can cook much more than just hamburgers.
The E-435 also comes complete with easy-to-clean porcelain-enameled cast iron grates, Weber's trademark stainless steel Flavorizer bars, plus a grease management system. While this unit is equipped with Weber's highly reliable Infinity Ignition, there is no crossover ignition system. However, this is unlikely to be a real issue.
The main drawback to this otherwise well-designed 4 burner gas grill is that there is no internal propane storage despite the enclosed cart.
Pros – Things we liked
Main burners: 48,000 BTU output
646 square inch primary cooking area
Sear station and side burners
Porcelain-enameled cast iron grates
198 square inch tuck-away warming rack
Cons – Things we didn't like
No crossover ignition
No internal propane storage
Best Value 4 Burner Gas Grill
Char-Broil Signature TRU-Infrared 525 4-Burner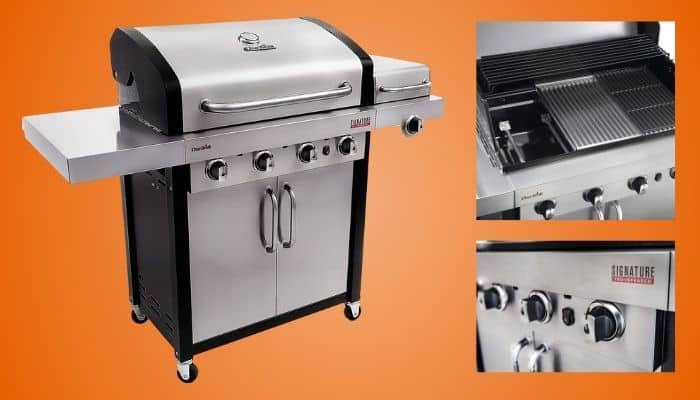 If you are looking for a good value 4 burner gas grill, the Char-Broil Signature TRU-Infrared 525 with its improved porcelain-enameled cast iron grates gets you a lot of grill for the money.
Its four stainless steel tube burners put out up to 32,000 BTUs, while the lidded side burner for your sides and sauces is rated 13,000 BTUs, so you'll have plenty of grilling power.
The primary cooking area measures a generous 525 square inches, plus the porcelain-coated warming rack gives you an extra 200 square inches of space. This grill features specially designed TRU-Infrared grates to deliver even heat while preventing flare-ups. However, the design of these grates does mean that you'll need to clean your grill quite a bit more than with other styles.
The enclosed cart has caster wheels for easy relocation plus folding side tables, making this a good model for storing in small spaces. The Surefire ignition system is reliable and easy to use, plus you can also purchase an additional kit to convert this grill to natural gas.
On the downside, assembly is fairly long with a lot of small components to unpack and put together.
Pros – Things we liked
32,000 BTU output over main burners
525 square inch primary cooking area
13,000 BTU side burner
Surefire ignition system
Enclosed cart with casters & folding side shelves
Cons – Things we didn't like
Needs intensive cleaning
Time-consuming assembly
Best 4 Burner Gas Griddle
Blackstone 4 Burner Flat Top Gas Grill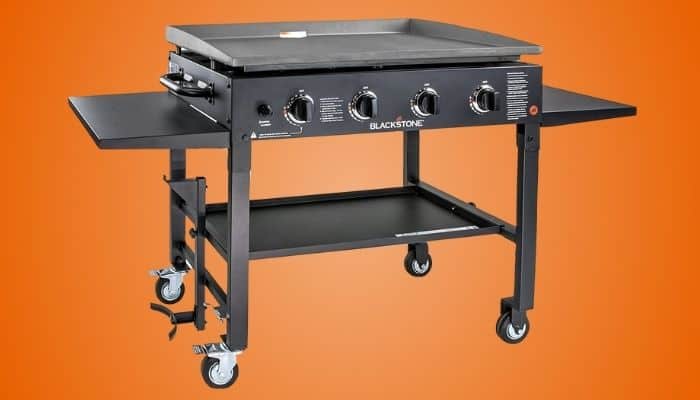 Looking for an easier way to grill? Check out the Blackstone 4 Burner Flat Top Gas Griddle and say goodbye to flare-ups.
This griddle can be used to cook pretty much anything you'd stick on your average gas grill and it makes excellent smash burgers. Aside from steaks and chicken, you can also use it to cook breakfast pancakes, bacon, and stir fry. Plus thanks to its huge 720 square inch cooking area, it can fit 28 burgers or 16 steaks!
With four individually controlled burners with a total output of 60,000 BTUs, this griddle gets really hot for beautifully seared meat and vegetables. The new rear grease management system has addressed issues in older models and now drains correctly into the pan. Unlike most other 4 burner gas grills, this model is very easy to put together for a rapid assembly.
Bear in mind that the cart is not enclosed, although you do still get side shelves and a tray for storage, it just doesn't look as neat and tidy as models with doors. If you are looking to store your griddle outdoors, you'll need to invest in a Blackstone griddle lid, which is an additional extra compared to most 4 burner gas grills that have a lid as standard.
All in all, the 36-inch griddle by Blackstone makes an excellent choice if you are looking for a highly versatile alternative to a standard 4 burner gas grill.
Pros – Things we liked
60,000 BTU output
720 square inch cooking surface
Rear grease management system
Easy assembly
Side shelves and storage tray
Cons – Things we didn't like
Cart is not enclosed
Lid is an additional purchase
Best Upgrade 4 Burner Gas Grill
Broil King Baron S490 4-Burner Gas Grill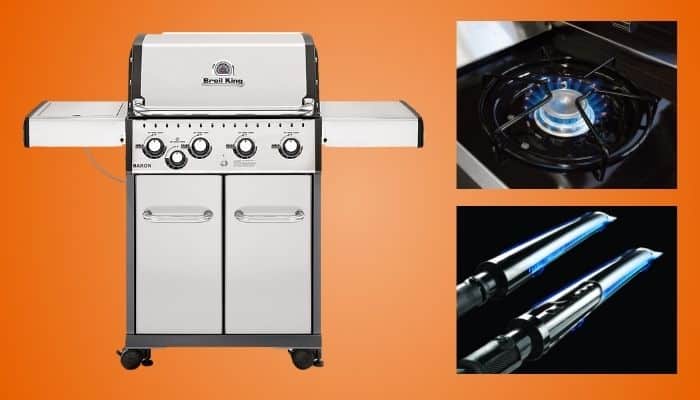 If you are looking to upgrade your old gas grill for a high-quality American-made model, take a look at the Baron S490 4 burner gas grill by Broil King.
With its innovative Flav-R-Wave cooking system and stainless steel Dual-Tube burners, you get powerful heat levels and an even sear, providing up to 40,000 BTUs main burner output.
In addition to the 460 square inch cooking area, the Baron S490 also comes with a lidded 10,000 BTU side burner for your sauces and sides, plus a rear 15,000 BTU rotisserie burner with a full rotisserie kit. The heavy-duty cast iron grates are reversible featuring a one-sided V-shaped design, while the stainless steel Flav-R-Wave cooking system instantly vaporizes drippings for extra flavor.
Complete with an illuminated control panel, linear-flow valves, and an electronic ignition, the Baron S490 is very easy to use, however, it does tend to run hot so you'll need a certain period of adjustment to get used to grilling with it. The enclosed cart comes with foldable side tables and locking caster wheels for easy winter storage.
The main drawback to this 4 burner gas grill is that it is difficult to put together. The assembly illustrations do not provide adequate detail – written guidance would make the task much easier.
Pros – Things we liked
Main burners: 40,000 BTU output
10,000 BTU side burner & 15,000 BTU rotisserie burner
460 square inch primary cooking area
Illuminated control panel
Flav-R-Wave cooking system
Cons – Things we didn't like
Inadequate assembly images
Cooks very hot
Best Budget 4 Burner Grill
Royal Gourmet GA4400T Stainless Steel 4-Burner BBQ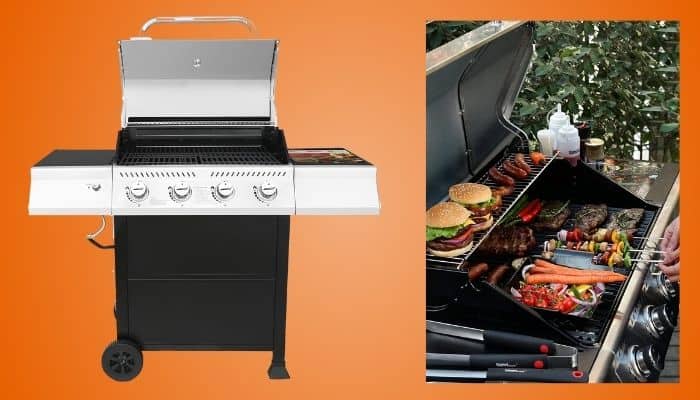 Royal Gourmet's GA4400T Stainless Steel Four Burner BBQ is our top budget choice as one of the most affordable 4 burner gas grills. It has four 10,000 BTU durable stainless steel burners complete with stainless steel flame tamers that help to improve heat distribution and reduce flare-ups.
The 471 square inch primary cooking area has easy-to-clean porcelain-enameled cast iron grates and is complemented by a 169 square inch warming rack. The grease management system has a tray and removable grease cup for easy cleaning. Use the double-layer lid to maintain heat and cook your large joints of meat quickly and evenly through.
As you would expect for this unit's low purchase price, the cart is not fully enclosed. However, you do get two sturdy side tables for meal preparation and serving. While this is a good choice for the money, bear in mind that this model does not have a side burner, which may or may not be a deal-breaker for you depending on what type of meals you want to cook outdoors.
Pros – Things we liked
4 x 10,000 BTU stainless steel burners
471 square inch primary cooking area
Porcelain-enameled cast iron grates
Stainless steel flame tamers
Cart with 2 side tables & 2 large wheels
Cons – Things we didn't like
Cart is not fully enclosed
No side burner
Best Budget 4 Burner Gas Grill With Side Burner
Dyna-Glo Premier 4 Burner Propane Gas Grill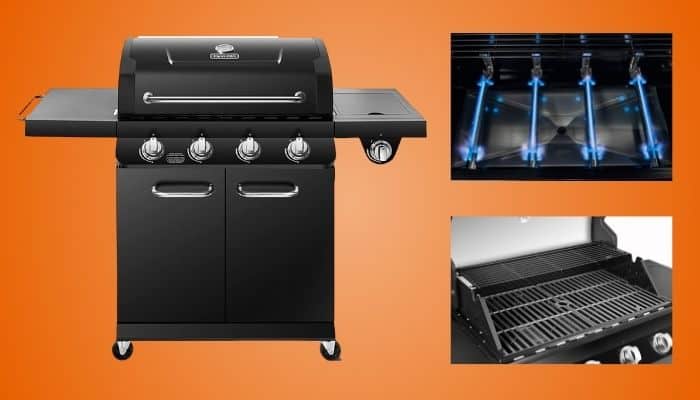 If you are shopping for a 4 burner gas grill on a budget but really don't want to rule out a side burner, the Dyna-Glo Premier Four Burner Propane Gas Grill is well worth paying a little extra for.
The four main stainless steel burners have a combined maximum heat output of 48,000 BTUs over the 483 square inch primary cooking area, plus you also have a 190 square inch warming rack.
The side burner puts out up to 12,000 BTU for sautéing, simmering, and pan frying your sides or appetizers. As the side burner comes with a flush-mounted cover, you can make full use of both side tables for food preparation, while the tool hooks and towel holder will help you to stay organized. While this unit does come with an enclosed cabinet, note that there is no shelving in it which would provide more storage.
Thanks to the quick-start integrated ignition, it's very easy to get this 4 burner gas grill fired up and ready to cook. It is also easy to wheel into your garage for convenient storage thanks to its four caster wheels, two of which lock for extra security. The main drawback to this excellent value grill is its cast iron grates.
While cast iron is a popular choice for good heat retention and sear marks, they do require a lot of regular upkeep to prevent corrosion, so bear this in mind before making your choice.
Pros – Things we liked
4 primary burners: 48,000 BTU output
483 square inch primary cooking area
12,000 BTU side burner with flush-mounted cover
Quick-start integrated ignition
4 easy-roll caster cart wheels with 2 locking
Cons – Things we didn't like
No internal shelving
Cast iron grates require a lot of upkeep
Why Trust Us
All of our reviews are compiled with a combination of expert input, years of hands-on testing of grilling products, curating the reviews of real-life buyers in a "wisdom of the crowd" system, and of course our own expertise. All the products listed are the ones we would buy if we were looking to purchase a new 4-burner gas grill.
Methodology Used to Pick the Best 4-Burner Grill
When picking the best 4-burner gas grill we looked at the intended use of the grills and then rated them on the following criteria. Price, BTU, max grilling space, quality of the grill grate, how well the grill is constructed, how easy it's to control the max and min temps, lid & vents, types of burners, portability features such as wheels, how easy the grill was to put together and finally we judged the grills on extra features.
Buyer's Guide to Buying the Best 4 Burner Gas Grill
Wondering how to choose the best 4 burner gas grill? As not everyone has exactly the same ideals or needs, we've addressed all of the main features you'll need to consider when choosing your new gas grill.
Take a read through and pick out your priorities for an easier way to choose your perfect 4 burner gas grill.
Price
You tend to get what you pay for in terms of quality and durability when it comes down to purchasing a new BBQ. However, if you really want a new four burner gas grill, that doesn't mean you have to pay top dollar. On the other hand, you will need to be realistic with your expectations.
Budget 4 burner gas grills are priced below $500. In this range, you may find some models with an additional burner or possibly two. We recommend focusing on the quality of your four main burners, rather than purchasing a cheap 4 burner grill that comes with a side burner or a rotisserie at the expense of all-around quality. Carts are often not fully enclosed at this price point and you may find that cheaper materials are used for panels, doors, and other non-essential parts.
Mid-range 4 burner gas grills can vary enormously depending on the brand. They come in over a wide budget, typically between $500-$1500, although some of the more expensive options are arguably getting into premium territory.
Mid-range models will have more features than lower priced versions, including more extra burners – side, rotisserie, and sear stations, plus their general construction will be better and you should have a decent warranty period of five years plus.
Premium 4 burner gas grills start at around $1,500, with most being priced over $2,000. Expect a high-quality construction with a lot of premium stainless steel, plenty of extras, and a design that is visually appealing as well as highly functional.
Warranties should be for 10 years and over when you're paying out big money for a grill, although five years is an acceptable minimum.
BTU
Four burner gas grills typically have a BTU output between 32,000-60,000 for their main burners. While a higher BTU output is generally an indication of greater heating power, it also means more fuel is being burned. An energy-efficient model could reach the same high temperatures using less fuel and would, therefore, have a lower BTU output.
Aside from checking your grill's maximum temperature, it is also recommended that you divide its maximum BTU per hour output by its primary grilling area. This will give you a good idea of how powerful it is compared to other models. If your grill has a large grilling area but a low BTU rating, then you're less likely to be able to sear steaks on it.
Figures in the mid 80s are indicators of grills with good performance levels. For example, 60,000 BTUs divided by a grilling area of 720 square inches gives you a heat flux of 83.
Grilling Area & Warming Racks
Make sure that your 4 burner gas grill has enough grilling space for your needs. Manufacturers often give a total grilling area which also includes any warming racks.
While you can use your warming rack for indirect cooking, it's important to focus on the figure for your primary cooking area. Cooking food on your warming rack will certainly work, but you won't get any flavor from browning or sear lines, so it's best reserved as a secondary cooking area.
Consider what you usually stick on your grill to get a better idea of how much space you really need. Allow around half an inch extra space between items, if you overcrowd your grill you won't get good results.
Grill manufacturers are often overly generous with their estimations, so take any figures involving how many steaks and burgers you can fit on with a pinch of salt, especially if you make your own burgers.
Grill Grates Material
Stainless steel is considered to be the best option for grill grates, being easy to clean and corrosion-resistant. While you will find stainless steel grates on premium models as standard, they're often offered as an optional upgrade for mid-range models.
Porcelain-enameled cast iron is a very popular type of grill grate. Cast iron retains heat for excellent searing, while the porcelain enamel protects the iron from corroding and makes it non-stick and easy to clean. However, with time your porcelain finish can crack or wear away, leaving the iron exposed and liable to rust.
Cast iron grates will need very regular cleaning and oiling to protect them from rusting. This can be fairly time-consuming and you may find that your food tends to stick a lot more to an uncoated cast iron grate.
Temp Range and Heat Control
Gas grills have excellent heat control, allowing you to raise or lower your grilling temperature at the turn of a dial. Most gas grills have a temperature range from around 250 up to 500 degrees F.
If you are looking to grill at high temperatures, you'll need to drop the lid on your gas grill. Only thin, fast cooking items should be grilled with the lid up. Otherwise, everything else, especially large, thick joints of meat, will benefit from being grilled with the lid down.
Build Quality, Construction, and Material
Stainless steel is the best choice for your 4 burner gas grill construction, although cast aluminum is a popular alternative.
Some manufacturers use a combination of stainless steel for the firebox and painted steel for the cart. Unfortunately, if your painted steel components become chipped, they are likely to rust if exposed to the elements.
Build quality tends to improve with price, although the correlation isn't always as clear cut as it should be when you're paying a premium. Pay close attention to the details and do not make assumptions. If you are uncertain about a particular aspect, reach out and contact the manufacturer.
After all, a 4 burner gas grill is quite a substantial investment, so best to find out if those side tables really are stainless steel and what grade if it is not explicitly stated.
Lid
Almost all 4 burner gas grills come complete with a lid. Lids are essential for cooking with a gas grill for all but very quick cooking ingredients and thin strips of meat.
Lids are usually domed to accommodate large joints or whole birds if you have a rotisserie. Double layers or lined lids will retain heat better, using less gas and helping to keep temperatures high.
Types of Burners
Highly durable and corrosion-resistant, stainless steel burners are considered to be the best type. However, not all stainless steel is equal. While cast iron burners require more cleaning and upkeep to prolong their lifespan, they can be much more durable than cheap, low-quality stainless steel burners.
Your burners' shape is also important. U and H-shaped burners are used to cover wider cooking areas for a more even heat distribution, while long tube burners both the front and back of your grill are the same temperature.
If your burners are past their best, you can simply replace them. If they are covered under your grill's warranty, contact your grill manufacturer to have new ones sent out.
Wheels
Wheels are essential for moving your heavy, bulky 4 burner gas grill around your patio or deck. Most models will have four caster wheels with at least two that lock with brakes.
If you have uneven flooring on your patio or are looking for a grill that you can easily move to another part of your backyard, consider models with larger wheels that are more suited to uneven terrain, decking, and slight inclines.
Ease of Assembly
While most 4 burner gas grills are not particularly challenging to put together, they can be confusing and the vast majority are often pretty time consuming. Depending on how clear the instructions are and how many pieces your grill is in, you may need the best part of an afternoon to get your 4 burner gas grill completed.
Find out what tools you will need and if a second pair of hands is necessary by checking out the manufacturer's building instructions before you buy. If it sounds overly complex or you just don't have the spare time, consider booking a professional to assemble your gas grill for you.
Ease of Cleaning
You'll need to clean your gas grill after every use to keep it hygienically clean and prolong its life span.
Every month or so, depending on how often you grill, you'll also want to give your grill a complete clean, including the burners which may involve partially dismantling your grill.
Cleaning your grill will be much easier with an effective grease management system to ensure that grease does not coat the inner workings of your grill. Look out for removable grease pans that can be easily washed out.
While cast iron grates need more regular attention to ensure they stay rust-free, they are fairly easy to brush clean before oiling. Porcelain-enameled grates and fireboxes wipe easily clean, while stainless steel surfaces should come up nice and shiny with minimal effort.
Extras & Features
Four burner gas grills can come with numerous extra features depending on your chosen model.
Avoid lower priced grills with a lot of extras. Likelihood is if they have a surprising amount of additional features, they will have had to have made sacrifices elsewhere to be able to offer so much at a low price.
While there are other more important criteria to bear in mind when choosing your new 4 burner gas grill, most people will have at least one or two of the following extras as must-haves, then maybe a handful more as ideal but not deal-breakers.
Infrared Burners
Infrared burners get hotter than standard ones and give you more flavor through enhanced browning. As infrared burners heat your food directly rather than the air around it, your food is more moist and tender when cooked.
Infrared burners also tend to have a plate near to your food that catches any drippings and vaporizes them immediately for extra cookies in flavor and fewer flare-ups. Infrared burners are a popular choice for rotisserie burners and highly recommended.
Side Burners
If you are going to treat yourself to a full-on 4 burner gas grill, it would be a shame to go for a model without a side burner. While you don't need a side burner to successfully grill, they are useful for preparing other parts of your menu.
Otherwise, you may find yourself running back and forth between your grill and a pan on your kitchen stovetop instead of simply stirring through your home-made BBQ sauce on your side burner while you chat with your family about the advantages of your new grill.
Thermometers
A good digital thermometer is an absolute must as any grill master knows. Not only do they give you highly accurate readings, you place the probe down at the grate level where your meat is actually cooking, rather than up in the lid whether the built-in thermometer is located.
Still, a traditional thermometer in the lid will add to your grill's charm although you won't want to rely upon it for your cooking temperatures.
Rotisserie
A lot of 4 burner gas grills have a dedicated rotisserie burner and kit included. If not, you often have the option to purchase a rotisserie kit if it's not sold with the unit as standard.
If you really enjoy roast chicken and other whole birds, it's well worth going for a model with a dedicated burner. Otherwise, for occasional use, a rotisserie kit will more than suffice on your average four burner model.
Propane storage
When you spend a lot of money on a 4 burner gas grill you want it to look as good as it performs. No matter how big and shiny your gas grill is, if you've got an ugly propane tank standing next to it, it's just not going to look the part.
For large 4 burner units make sure that you have adequate enclosed propane tank storage. If you are going to be moving your grill around, double-check that a back panel is included with your grill cart, or your potential grilling locations will be limited to being against a wall.
Tool hooks
Your grill side table will probably have a couple of grill hooks at one or both ends. Make sure that they are a decent size for you to comfortably hang up your essential BBQ accessories so they're ready to hand when you need them.
Lights
From light up control knobs to grilling lights, 4 burner gas grills often have some kind of light feature. If you regularly grill after hours, this can make a nice extra to have, although you could always install an aftermarket BBQ grill light or extra patio lighting.
Ignition
There are two main types of ignition commonly found on gas grills, Piezo and electronic.
Electronic ignition systems use a battery, normally a regular AA battery. Piezo lighting systems work by creating a spark from friction caused by either pushing a button or turning a dial.
Some models have individual ignition systems for each burner, although a crossover ignition system is also useful as when you turn on your other burners they will light automatically from the first one you lit.
Warranty
When you invest in a good 4 burner gas grill, it's important to check out its warranty before you buy. Premium models should have warranties that last for at least five years. Double check what exactly is covered and the timescale for different parts.
Propane vs Natural Gas
As 4 burner gas grills go through a lot of gas, you may want to install a natural gas model in your backyard so you can forget about refills and changing over tanks.
Bear in mind that if you don't already have a natural gas outlet in your backyard, you'll need to pay a professional to come out and install one for you. Once your grill is attached to your natural gas line you won't be able to change its location, so plan carefully before you get your line put in.
Propane gas grills can be moved around as needed, including indoors for storage. Move your grill round to the other side of your house to benefit from low spring sunshine, then over into the shade in summer, or shelter on your veranda in fall.
While you will need to purchase and transport refill tanks, propane is a popular, readily available grilling fuel with plenty of suitable grills to choose from.
Intended Use – Do you Need a 4 Burner Gas Grill?
Opt for a 4 burner gas grill if you tend to cook regularly for a crowd.
Four burner models also give you more versatility to cook more types of food simultaneously, as you can set up four different temperature zones over your main cooking area, plus they often have more extras than 3 burner gas grills do.
For smaller groups or standard basic steak and burger cookouts, a 3 burner will do, for varied menus or a capacity to cook for large numbers, a 4 burner is the better choice.
Top 4-Burner Gas Grills Video
Final Thoughts
Choosing the best 4 burner gas grill requires some serious deliberation. Before you rush in and order what looks just like your ideal model, take time to think over your needs and go back over our buyer's guide to check that it really is the right model for you.
Looking for the best overall 4 burner gas grill? You won't find a better model than the Weber Summit E-470, our top all-around pick. Not only do you get 48,800 BTU off your main burners over a 468 square inch primary cooking area, you also get a sear station burner, a rotisserie burner, a smoker box burner, and a side burner, putting this highly versatile gas grill well ahead of most people's kitchen in terms of versatility and functionality. Complete with an LED fuel gauge and an enclosed cart with two side tables, this Weber gas grill is without a doubt the very best on the market.
Alternatively, if you are on a budget but still want to get yourself the best 4 burner gas grill for the money, take another look at Royal Gourmet's GA4400T Stainless Steel 4-Burner BBQ. It has a 471 square inch primary cooking area with a total of 40,000 BTUs.
The porcelain-enameled cast iron grates are complemented by stainless steel flame tamers, while the included grill cart has two side tables and two large wheels for extra mobility. All in all, it's a good grill at a highly affordable price.