Do you enjoy grilling for small groups of family and friends? Looking to try out some new dishes to take your grilling skills to the next level? A 3 burner gas grill makes an ideal choice for cooking various different foods over three heat zones with enough space to feed your nearest and dearest. Here's how to choose the best 3 burner gas grill from the huge multitude of models out there.
A Quick Comparision of the Best 3-Burner Gas Grills
Here's a quick summary of your options with more info on each grill in the best 3 burner grill section.
Best 3 Burner Gas Grills
Looking for help finding the best 3 burner gas grill? Save your precious time researching and check out the very best models below in our top-rated 3 burner gas grill reviews.
Best Overall 3 Burner Gas Grill
Weber Genesis II SX-335 Smart 3-Burner Gas Grill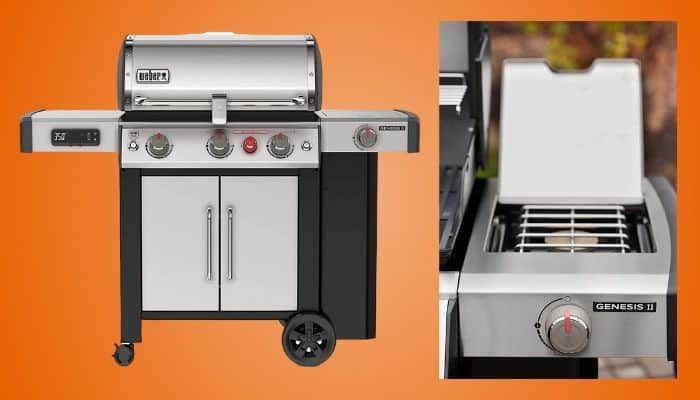 An updated smart version of Weber's popular Genesis II S-335, the Genesis II SX-335 combines Wi-Fi connectivity with a high-quality construction and multi-purpose design.
With RealTime Food Doneness monitoring, Food Readiness Countdown Timer with alerts, plus Step-by-Step Grilling Assistance, this grill allows you to keep track of everything on your smartphone, so you can relax and socialize, safe in the knowledge you'll never overcook dinner again
Aside from the grill's three main burners with a powerful 39,000 BTU output, the S-335 also comes with a 13,000 BTU side burner for your sides and sauces, plus a 9,000 BTU sear burner. This gives you plenty of options to cook much more than with your basic 3 burner gas grill. The 513 square inch primary grilling area is generously large – with plenty of space for setting up two cooking zones, plus you also have the tuck-away 156-inch warming rack for indirect cooking.
The premium solid 7mm stainless steel rod grates are easy to clean and incredibly durable. Lighting is easy with Weber's electronic ignition, while the enclosed grill cabinet has plenty of storage space, plus you have two side tables to work on.
On the downside, assembly is very time-consuming, and given the purchase price, the knobs and wheels could be of better quality.
Pros – Things we liked
Main burners: 39,000 BTU output
13,000 BTU side burner & 9,000 BTU sear burner
513 square inch primary cooking area
WiFi connected smart grill
Solid 7mm stainless steel rod grates
Cons – Things we didn't like
Knobs and wheels could be of better quality
Time-consuming assembly
Best Smart 3 Burner Gas Grill
Weber Spirit SX-315 Smart 3 Burner Grill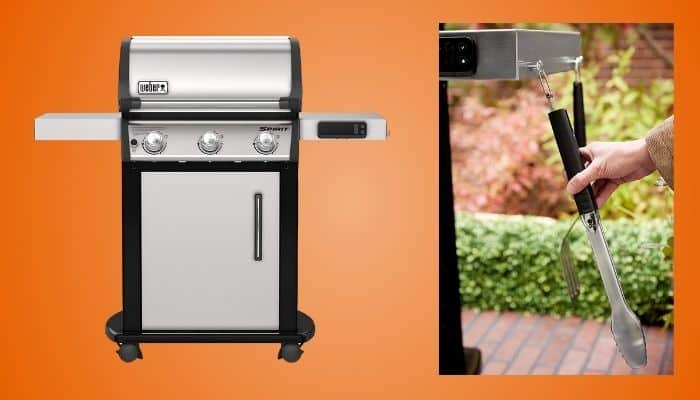 Weber's Spirit SX-315 is an updated smart version of the Spirit S-315. If you like the connectivity of the Genesis II S-335 but don't need the extra space and burners, the SX-315 is the model for you.
Thanks to its WiFi connectivity and Smart technology, you can keep an eye on your cooking from your smartphone, allowing you to prep in your kitchen or keep your guests entertained without overcooking your meal.
Fuel level monitoring, countdown readiness, and alerts, step-by-step assistance, this smart grill makes grilling easier than ever before. Thanks to its 32,000 BTU output over three stainless steel burners you get great performance. The primary cooking area is 424 square inches, plenty enough for 15 burgers, while you also get an additional 105 square inch warming rack.
The porcelain-enameled cast iron grates are easy to clean, while the enclosed cart comes with two side tables plus tool hooks. As this grill is a fairly compact option, the cart doesn't have much internal storage space, although it does keep your propane tank out of sight and secure. Just be sure to check your drip tray edges before removing it for the first time as they can be a little sharp.
All in all, a great grill for the money and a must if you want to try out the new generation of smart grills without paying out big bucks.
Pros – Things we liked
32,000 BTU output
424 square inch primary cooking area
WiFi connected Smart grill
Easy-clean porcelain-enameled cast iron grates
Enclosed cart with 2 side tables & tool hooks
Cons – Things we didn't like
Sharp drip tray edges
Compact cabinet
Best Portable 3 Burner Gas Grill
Coleman RoadTrip 285 Portable 3 Burner Gas Grill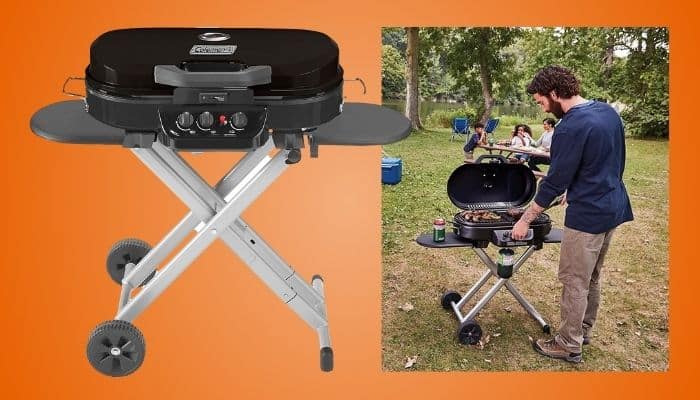 If you enjoy tailgating, camping, or grilling at picnics, the Coleman RoadTrip 285 is the best 3 burner gas grill for you.
Thanks to its innovative design, you can quickly and easily fold it away and wheel it to your desired grilling location. The large wheels and frame handle make it easy to pull along behind you, whether you're in your backyard or out in the great outdoors.
Thanks to its 20,000 BTU heat output over a 285 square inch grilling area, this portable gas grill heats up fast. You can independently adjust all three burners – ideal for creating dual heat zones. The Insta-Start push-button ignition makes it easy to light and you can swap out the grates for additional cooktops.
While the pull-out side tables are really useful, they are flimsy, so be careful what you put on them or they could break. Also, the lid lock could do with a redesign, so if you are taking this gas grill traveling with you, make sure that you stick a bungee cord or other kind of tie around it to ensure it stays shut.
While it's not the best choice for regular home grilling, if you need a portable grill, the RoadTrip 285 by Coleman is one of the best ones out there and very easy to set up and use.
Pros – Things we liked
20,000 total BTUs
285 square inch grilling area
Highly portable – quick-fold legs and wheels
Insta-Start push-button ignition
Independently adjustable burners
Cons – Things we didn't like
Flimsy pull-out side trays
Lid lock needs redesigning
Best Mid-Range 3 Burner Gas Grill
Napoleon Rogue 425 3-Burner Gas Grill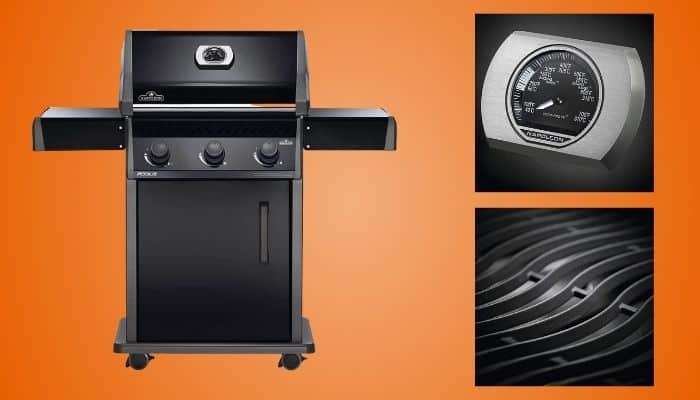 The Napoleon Rogue 425 3 Burner Gas Grill is an excellent gas grill complete with a 15-year long bumper-to-bumper warranty – rare for a mid-range model. Its durable black porcelain enamel lid and doors with black powdered coated control panel and side shelves stand up to the elements and won't get steaky requiring endless polishing unlike shiny silver models.
With an impressive 42,000 BTU output over 425 square inches, this grill also benefits from dual-level stainless steel sear plates and reversible cast iron porcelain-enameled grates. The iconic wave shape grates help to prevent small items from slipping through, as well as providing even heat transfer. Lighting is simple, thanks to its JetFire ignition system, plus the linked burners have crossover lighting which is really useful in windy areas.
Despite its generously sized cooking area, this grill is suitable for small patios or even balconies as the side shelves fold down for easy storage. While the caster wheels work well on smooth, flat surfaces, they are fairly small and can easily get stuck on uneven ground, plus this grill is heavy at 122 pounds, so it's not that easy to get unstuck.
Powerful, durable, and well designed, if you are looking for a 3 burner gas grill that cooks as good as it looks without an extra high price tag, you cannot beat the Rogue 425.
Pros – Things we liked
42,000 BTU output
425 square inch cooking area
Dual-level stainless steel sear plates
Reversible porcelain-coated cast iron grids
Folding side shelves
Cons – Things we didn't like
Small casters get stuck on uneven surfaces
Heavy – 122lbs
Best Budget 3 Burner Gas Grill
Char-Broil Classic 360 3-Burner Liquid Propane Gas Grill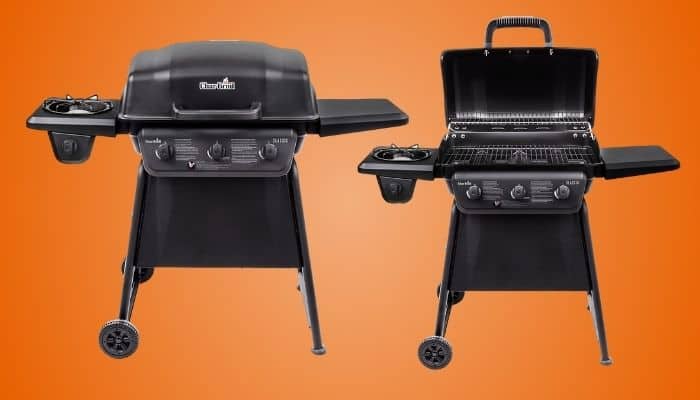 In the market for a budget-priced 3 burner gas grill? Not only is the Char-Broil Classic 360 available at a low price, it also comes with a handy 8,000 side burner making it our top budget pick. The three main stainless steel in-line burners put out 30,000 BTUs over 360 square inches, plus you also get a 170 square inch swing-away warming rack.
Obviously, at a fraction of the price of most mid-range and premium models, you can't expect too much from this budget-priced 3 burner gas grill. It does, however, benefit from porcelain-enameled grates, lid, and firebox for extra durability and easier cleaning. The two metal shelves can be used for serving or food preparation, while the two six-inch wheels make this grill easy to move around your patio, even if it's a little uneven.
Unfortunately, the heat destruction is fairly uneven with the model with the center running a lot hotter, although you can work around this. You may also find that the lighting system is fairly temperamental and can suddenly stop working altogether, so make sure that you have a long backup lighter or matches – just in case.
On the whole, for the money, this is a fairly good 3 burner grill complete with an additional side burner. While it can't compete with higher-priced versions, if you are after a low price grill that will get the job done, this could be your ideal match.
Pros – Things we liked
30,000 BTUs over 3 main burners
8,000 BTU side burner
360 square inch main cooking area
Porcelain-coated grates, firebox & lid
Two metal side shelves
Cons – Things we didn't like
Uneven heat distribution
Temperamental lighting system
Best 3 Burner Gas Grill Griddle
Royal Gourmet 3-Burner Portable Tabletop Gas Grill Griddle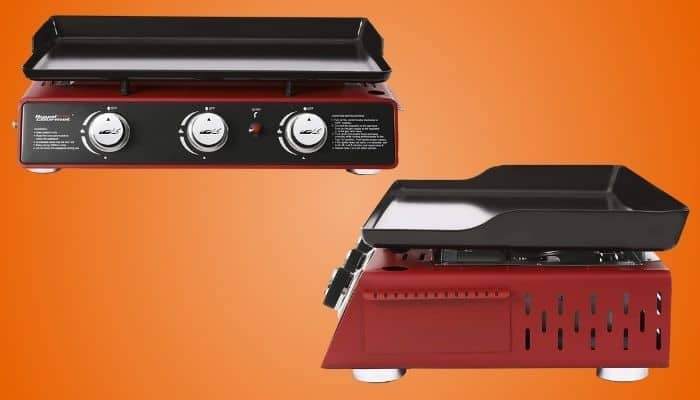 Want to try out a 3 burner gas griddle rather than a grill? Check out this tabletop version by Royal Gourmet.
Perfect if you're short on outdoor space or are looking for a model you can easily take camping or tailgating, griddles are a great all-around choice for cooking various dishes, from steaks to smash burgers and stir-fries to breakfast pancakes.
Three separately controlled burners allow you to create different heat zones, with a combined total of up to 25,500 BTUs over a 316 square inch cooking area. Just be aware that this unit does not have a very even heat distribution, especially in windy conditions, so you may have to play about adjusting each burner, or move around your food more.
It is really fast to put together unlike your average 3 burner gas grill and the griddle top can be easily detached for easy cleaning. The slide-out drip cup is also handy, however, this model has a very small drip hole that is easily misaligned with the drip cup, so you may have some grease dripping down the side or out of the back of the unit if you're not on a level surface.
For the money, this isn't a bad griddle and it's easily packed up for traveling. However, if you are looking for a more permanent installation for home use, you may be better off with another model.
Pros – Things we liked
25,500 total BTUs
316 square inch cooktop
Rapid assembly
Slide-out grease cup
Detachable griddle top for easy cleaning
Cons – Things we didn't like
Grease hole is not easily lined up
Uneven heat distribution
Best Value 3 Burner Gas Grill
Dyna-Glo DGP397SNP-D Premier 3 Burner Propane Gas Grill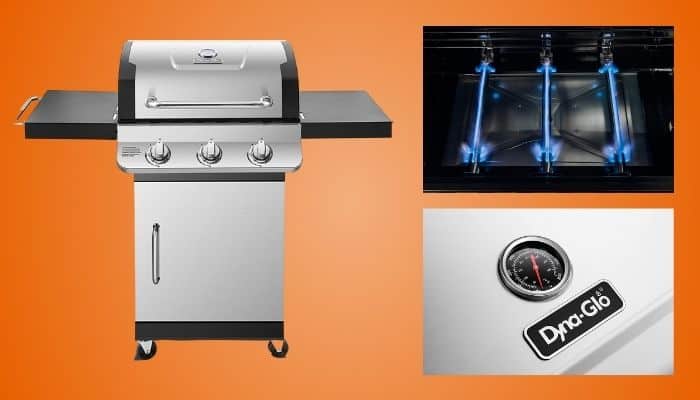 The DGP397SNP-D Premier 3 Burner Propane Gas Grill by Dyna-Glo makes a good value choice with its three stainless steel tube burners putting out a maximum of 36,000 BTUs. The 396 square inch primary cooking area is complemented by a 154 square inch warming rack for a total of 550 square inches to cook over.
The cast iron grates retain heat well and will give you impressive-looking sear marks, but like all cast iron will require regular oiling and upkeep to ensure that they do not corrode. The integrated ignition system makes this 3 burner gas grill easy to light and the enclosed cart gives you convenient propane tank storage. Thanks to its four caster wheels, two of which lock, this grill is easy to move around your deck or patio area.
With its two folding side tables, you can easily store this 3 burner gas grill without it taking up too much space over winter in your garage. Unfolded, they are useful for light food preparation and getting your meal ready to serve.
With its good styling and compact size, this 3 burner gas grill is a good model for anyone looking for a good 3 gas burner grill without spending a lot of cash. You will, however, have to pick up a gas regulator as this unit does not come with one included.
Pros – Things we liked
Total of 36,000 BTU output
396 square inch cooking area
Integrated ignition system
Enclosed cart with foldable side tables
4 castor wheels with 2 brakes
Cons – Things we didn't like
Cast iron grates require regular upkeep
No regulator supplied
Why Trust Us
All of our reviews are compiled with a combination of expert input, years of hands-on testing of grilling products, curating the reviews of real-life buyers in a "wisdom of the crowd" system, and of course our own expertise. All the products listed are the ones we would buy if we were looking to purchase a new 3-burner gas grill.
Methodology Used to Pick the Best 3-Burner Gas Grill
When picking the best 3-burner gas grill we looked at the intended use of the grill and then rated it on the following criteria. Price, British thermal unit, the total grilling area, materials used in construction and grill grate, max and min temp ranges and ease of control, did it have a useful lid, types of burners, how easy it was to assemble and then keep clean and finally and extra features it comes with.
Buyer's Guide to Buying the Best 3 Burner Gas Grill
Struggling to choose the best 3 burner gas grill for your needs? Find out just what you need to focus on when making your decision with our 3 burner gas grill buyer's guide.
Price
There are a lot of reasonably priced 3 burner gas grills on the market.
Entry-level models are priced under $500, with mid-range ones coming in between $500-$1,000 and premium 3 burner gas grills priced over $1,000. Paying more will get you better quality and a longer warranty, plus some really useful features, especially if you are looking for a smart gas grill.
For regular grillers, it's probably going to be worth spending a bit more and choosing a mid-range model to ensure better longevity. However there are bargains to be had and if you don't want to spend a lot of cash, there are plenty of models under $500 that perform very well, albeit without the same standards of finish or additional extras that you tend to get on the more expensive models.
BTU
Your average 3 burner gas grill will have a BTU output of around 30,000 BTUs, with some models as low as 20,000 BTUs and others over 40,000.
While BTU output is a good indicator of how much gas your grill will get through, it doesn't always reliably indicate how much heat your grill will generate. While grills with a higher BTU output can in theory run at higher temperatures, models that are more energy efficient can have a lower BTU rating but produce higher temperatures.
It is also important to consider the area over which your grill's energy output will be spread. This is done by dividing the total main burners' BTU output by the number of square inches of your primary grilling area. This figure should be around 80 upwards for a good gas grill.
For example, 36,000 BTU divided over a grilling area of 396 square inches will give you a good rating of 90.9 BTU per square inch. You can use this calculation to compare different grills.
Grilling Area & Warming Racks
Pay close attention to the grilling area figures given by your grill's manufacturer.
Often the total area will be given, which will then be broken down into the primary grilling area and the secondary area or warming rack. You will need enough space over your primary area to brown your food before transferring to your warming rack if you want to cook at a lower temperature.
When calculating how much space you need, don't forget to allow around half an inch extra around each item, so your average burger will realistically take around 20 square inches. Otherwise, you will risk overcrowding your grill.
Manufacturers often give estimates of how many burgers you can fit, however, these estimates often involve smaller-than-average burgers, so be aware you probably won't get the full amount advertised on your grate.
Grill Grates Material
The most popular grill grate materials are cast iron, porcelain-coated cast iron, and stainless steel.
Cast iron grates
Retain heat well.
Give good sear marks.
Are heavy-duty
Need a lot of upkeep to prevent rusting.
Can be hard to clean.
Porcelain-enameled cast iron grates
Retain heat well.
Are easy to clean.
Are fairly inexpensive.
Can crack leading to rusting.
Are not as durable as cast iron or stainless steel versions.
Stainless steel grates
Are more expensive.
Are long lasting.
Less likely to corrode.
Easier to brush clean.
While stainless steel grates are generally considered to be the best option, a lot of people prefer using porcelain-enameled cast iron grates with their shiny easy-to-clean surface.
Temp Range and Heat Control
Temperature control is much easier to control on a gas grill than with a charcoal grill. All you have to do is turn the valves and your grill will heat up. Most gas grills have a temperature range between 250-500 degrees F.
For high-temperature grilling, you will want to lower the lid to cook via convection as well as direct heat. This will allow you to cook your food without risking burning one side while the center remains raw.
Build Quality, Construction, and Material
As the saying goes, you tend to get what you pay for. More expensive models tend to have better designs and higher build qualities with more durable, premium materials.
While most premium models are made with stainless steel, a lot of models also use aluminum or painted steel for less important components that will not be exposed to your grill's flames, such as the cart or side tables.
Bear in mind that there are many different types of stainless steel, some much more corrosion-resistant than others. Some units have a protective film that eventually wears through exposing your cart to the elements and rusting.
While plastic isn't really a good look when you're aiming for a shiny solid grill, it can be extremely robust and weather-resistant when used for the cart and any areas where it won't come into contact with the heat from your grill.
Lid
Unless you've decided to go for a three-burner gas griddle, you'll want to make sure that your gas grill comes with a lid.
Lids are essential when you're cooking with gas, allowing you to achieve and maintain high temperatures to cook through thick cuts of meat and whole joints.
Domed lids are necessary to accommodate such items and often feature fold-away warming racks that slide out when you lift up the lid.
Types of Burners
The most popular types of burners for 3 burner gas grills are cast iron or stainless steel ones. While cast iron is heavy-duty and durable, it is also prone to rusting and needs regular maintenance. Stainless steel does not retain heat as well, but it is highly durable and corrosion resistant. However, as not all stainless steel is of the same quality, make sure that you are getting a good heavy-duty stainless steel burner and not a stamped metal one.
Tube burners are popular, giving you even heat distribution from the front to the back of your grill. Other styles include H or S-shaped burners that help to improve heat distribution over large primary grilling areas.
Wheels
If you have chosen a propane 3 burner gas grill, then you'll want to make sure that your grill cart has either one or two pairs of wheels to enable you to move in around your patio or inside for winter storage.
While small caster wheels will get the job done if you have a smooth, level patio, they can be an issue on unlevel flooring and decking. If you are looking for a grill that you can move around your backyard at will, a model with a pair of large wheels will be a better choice.
Ease of Assembly
Ease of assembly can vary considerably from one model to the next even if they are both by the same brand.
Some units are not very complicated but assembly becomes a problem due to the lack of clarity in some solely pictorial instructions designed for the international market. Others are not particularly difficult to put together but come in a vast array of multiple small pieces that take a long time to build up.
Our tip: check out the assembly instructions on the manufacturer's website before ordering. Even if your heart is set on that particular grill, it is best to know what you are letting yourself in for.
Plus you can always hire a local professional to build your grill for you if it looks like it's going to be overly complicated or you just don't have the time.
Ease of Cleaning
While stainless steel makes for easy cleaning, cast iron is much more difficult and needs regular oiling to ensure that it remains protected from corrosion.
Your grill will be much easier to clean if it has a good grease management system that channels food drippings and excess grease into a drip pan where you can safely dispose of it.
Porcelain-coated fireboxes and lids don't only add an extra layer of insulation, but also make your grill easier to wipe clean after use.
Extras & Features
While extras and features aren't as important as your grill's BTU output, size, or construction, they can make a huge difference to your grill's versatility and how much you enjoy using it
Infrared Burners
Infrared burners use a special surface next to the flame that absorbs the heat and transfers it directly to your food. This makes them extra efficient and capable of reaching higher temperatures than your standard gas burners.
As infrared burners heat your food rather than the air which then heats your food, your meat is less likely to dry out as it cooks, plus with the higher heat you get better browning for more flavor and your food's moisture is locked inside.
Side Burners
Side burners are a popular feature on all sized gas grills, giving you an easy way to heat through sauces or cook your BBQ sides without having to rush back and forth to your kitchen stovetop. If you are looking for a 3 burner gas grill to cook extensive meals and varied menus, you'll definitely want a model with a side burner.
Thermometers
Traditional thermometers in your grill's lid are not the most accurate and only serve to measure the heat up of the air up inside the lid.
Regardless of what your grill thermometer is reading, make sure that you use a good digital thermometer with a probe, there are plenty available at very affordable prices.
Otherwise, if you have made the leap and gone for a smart connected grill, then you can get your accurate grate level temperature reading from the included probe directly on your smartphone or displayed on your grill's LCD.
Rotisserie
Not so common on 3 burner gas grills as standard, while you are less likely to find dedicated rotisserie burners, you can usually pick up a rotisserie kit as an extra accessory. This will include the motorized spit to keep your bird turning so it will be evenly cooked through.
Propane storage
While propane tanks can be unsightly, unfortunately, if you opt for a compact 3 burner gas grill, you may not get an enclosed cart with a concealed propane storage area.
Traditional units with a grill cart cabinet usually have this functionality, although you will lose out on storage space on units with a small footprint. Some more modern styled premium units or budget versions have visible propane storage on an open cart.
This makes it easier to move your grill to use elsewhere in your backyard rather than having to disconnect, carry, then reconnect your 20-pound propane tank.
Tool hooks
Simple yet effective, tool hooks help you to stay organized while you grill. If your grill does not have tool hooks and you would prefer that it did, you can always install aftermarket BBQ tool hooks yourself.
Lights
Lights are a nice extra for late evening or nighttime grilling.
Light-up control knobs can also be a good security feature alerting you to your grill being switched on. Grilling lights are useful if your patio lighting is more soft mood lighting than soccer stadium bright, allowing you to check on your food without ruining the ambiance.
Don't worry if your ideal grill doesn't come with lights, you can always retrofit BBQ lights on your grill after purchase.
Ignition
Nearly all 3 burner gas grills have a reliable ignition system. Most are either Piezo-style lighting systems that rely on a spark generated by pushing a button or turning a dial, or electronic ignition systems that rely on battery power.
Crossover ignition systems use the flame from an already lit burner to light up the others as you switch them on.
Warranty
If you are looking for a good quality grill to last you for the foreseeable future, rather than just a cheap one just to get you through summer, make sure that you opt for a model with a good warranty from a reputable brand.
Good models will have at least a five-year warranty, however, this may not cover all parts, so read through the small print and find out just exactly what is included and for how long.
Propane vs Natural Gas
If you have natural gas at home you may be wondering if it's worth purchasing a natural gas 3 burner grill. Here are some of the main advantages of propane and natural gas grills.
Propane grills
Propane grills can be moved around your backyard as needed.
Your propane gas can be used at your friend's house or on vacation, size permitting easy transport.
You will need to refill your tank when it runs empty.
Plus keep at least one spare full tank to hand or risk running out and delaying dinner.
Driving to the store on propane runs adds up and takes time, although propane is readily available and fairly inexpensive.
Natural gas grills
Require a gas line to be installed by a professional.
Once installed you cannot easily relocate your grill – you need to pay for a pro to come out and install a new gas line if you want to change around your patio layout.
On the upside, you won't risk running out of gas.
Plus, natural gas is inexpensive and your grilling costs will be on your main gas bill, rather than having to pay out separately for your propane usage.
Intended Use – Do you Need a 3 Burner Gas Grill?
Is a 3 burner gas grill the right model for your needs? Combining a manageable size with enough space to cook for the family plus a couple of friends from time to time, a 3 burner gas grill also allows you to cook a variety of different food types simultaneously thanks to its three separate burners for up to three distinct heat zones.
If you rarely cook different types of food in one sitting and rarely cook for more than five, then you may be better off with a cheaper 2 burner gas grill. For large parties and lots of extra functionality, a 4 burner gas grill would be a better option.
Don't forget to also consider your available outdoor space, as well as how many people you typically grill for.
Top 3-Burner Gas Grills Video
Final Thoughts
With so many high quality 3 burner grills to choose from, you may be struggling to make your final decision. Provided you bear in mind all that we have discussed in our buyer's guide and take another look over our top-rated 3 burner grill reviews, you're sure to find your ideal model.
If you are looking for the very best 3 burner gas grill with plenty of extra features and smart WiFi connectivity, you won't find a better model than the Weber Genesis II SX-335. With its 39,000 BTU main burners' output, plus a 13,000 BTU side burner and a 9,000 BTU sear burner, this grill is an excellent choice for all of your BBQ main and side dishes. It also benefits from a 513 square inch primary cooking area, numerous cooking alerts and notifications directly to your smartphone, plus premium solid 7mm stainless steel rod grates.
Alternatively, if you are looking for a good value for money 3 burner gas grill, take another look at the Dyna-Glo DGP397SNP-D Premier 3 Burner Propane Gas Grill. This basic model has a good 36,000 total BTU output over 396 square inches. The integrated ignition system is reliable and easy to use, while the enclosed cart with two foldable side tables makes it easy to store and a suitable choice for even small outdoor spaces.