With so many models to choose from, all with highly competitive feature sets and must-have extras – choosing the best 6 burner gas grill is no easy task. So just how do you choose the best model for your needs?
We've reviewed six of the very best 6 burner gas grills to get you started, as well as putting together a comprehensive buyer's guide so you can choose your new 6 burner gas grill with confidence. Here's everything you need to know before placing your order.
A Quick Comparision of the Best 6-Burner Gas Grills
Here's a quick summary of your options with more info on each grill in the best 6 burner grill section.
Best 6 Burner Gas Grill
Buying a 6 burner grill is a pretty large investment. Before you go ahead, make sure that you've definitely found the right model by checking out our top-rated 6 burner grill reviews.
Best Overall 6 Burner Grill
Weber Summit E-670 6-Burner Gas Grill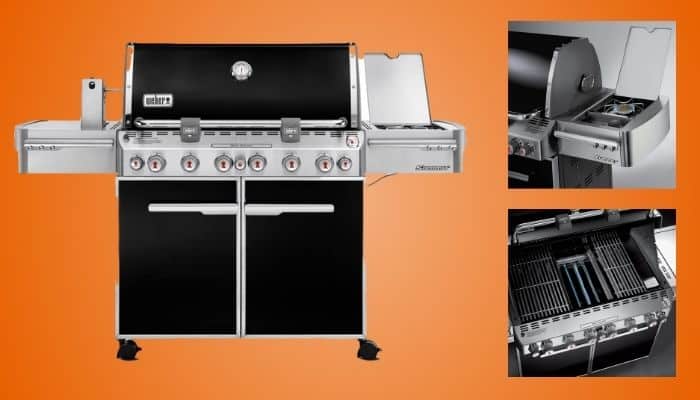 The Weber Summit E-670 is our best overall 6 burner gas grill pick. Available in propane and natural gas versions, this model has it all. The six main stainless steel burners put out 60,000 BTUs per hour over a 624-inch primary cooking area with stainless steel grates and Weber's famous Flavorizer bars.
In addition, you also get a 145-square inch warming rack, a 10,600 BTU Sear Station burner, a 6,800 BTU smoker burner, plus a 12,000 BTU side burner, and a 10,600 BTU rear-mounted rotisserie burner. Basically, whatever you want to cook, from smoked brisket to prime cuts of seared Wagyu steak, anything is possible with the E-670.
The enclosed cart complete with a porcelain-enameled shroud and thermometer also has two stainless steel work stations, ideal for your BBQ meal prep. Complete with two Grill Out lights and an LED tank display if you've opted for propane, this is one of the very best, most comprehensive 6 burner grills on the market.
On the downside, there are just two areas where some minor improvements could be made: the caster wheels that catch on every slight difference in your patio paving and the lighted control knobs which tend to come on and off at random.
Aside from these two minor quibbles, the E-670 is one of the best 6 burner grills on the market, in fact, it's even backed up by a five-year warranty.
Pros – Things we liked
60,000 BTU main burners output
624 sq inch primary cooking area
4 additional burners: smoker, sear station, rotisserie & side
Stainless steel grates and Flavorizer bars
Enclosed cart with 2 stainless steel work areas
Cons – Things we didn't like
Sub-standard caster wheels
Issues with lighting on control knobs
Best Budget 6 Burner Gas Grill
Char-Broil Performance 6-Burner Cart Style Gas Grill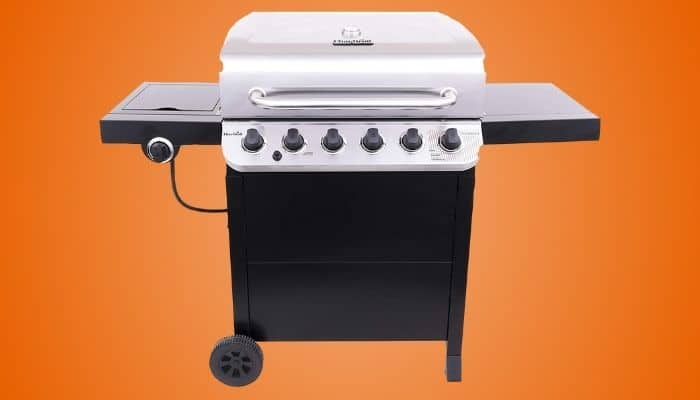 The Char-Broil Performance Series 6 Burner Gas Grill is our top budget pick. If you are looking to upgrade to a 6 burner without spending big bucks, this could well be the best model for you.
It has 45,000 BTUs over its six main stainless steel burners, which includes a dedicated 15,000 BTU sear burner. You also get a 10,000 BTU lidded side burner for your BBQ sides and extra cooking tasks.
Thanks to its large 550 square inch primary cooking area, around enough space for 30 burgers, this 6 burner grill can serve up enough to feed a crowd. Both the cast-iron grates and grease pan are porcelain-coated for durability and easy cleaning. The Push-to-Start electronic ignition is highly reliable, while the two seven-inch wheels make it very easy to move this large 6-burner grill around.
As you would expect, given this grill's low price, there are a couple of potential downsides. Firstly, the cart is not enclosed and merely consists of a black front panel that does not do the grill itself justice visually. Performance-wise, the burner lineup is all at the front, meaning you have to reach over the hottest part of the grill to use the majority of the main grilling area.
However, for its very reasonable price, if you are looking for a large 6 burner grill on a budget, this Performance Series model by Char-Broil is hard to beat.
Pros – Things we liked
45,000 BTU main burners output
550 sq inch primary cooking area
10,000 BTU lidded side burner
Porcelain-coated grates & grease pan
Push-to start electronic ignition
Cons – Things we didn't like
Cart is not enclosed
Hottest part of the grill is at the very front
Best Luxury 6 Burner Grill
Napoleon Prestige PRO 500 RSIB Propane Gas Grill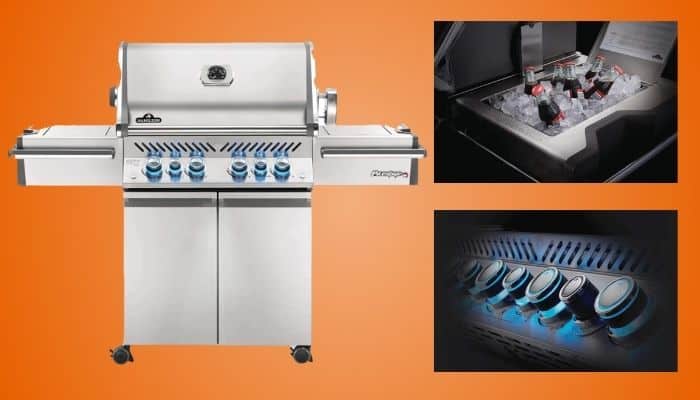 The Canadian-built Prestige PRO 500 RSIB Propane Gas Grill by Napoleon is our best luxury 6 burner grill pick. It has four main stainless steel burners with a total output of 80,000 BTUs plus a side burner and rear rotisserie burner for a total of six.
Thanks to its 9.5mm stainless steel iconic Napoleon wave shaped cooking grids, you get a more even heat transfer and small items are less likely to fall through. For searing steaks, the infrared side burner has a specialized sizzle zone. By forcing ignited gas through tiny holes in the ceramic plate you get temperatures up to 1800 degrees F in just seconds for extra high heat searing.
With a generous 500 square inches of primary cooking space plus 400 more for a total of 900 square inches, the PRO 500 is a great choice for cooking for a crowd. It also features double doors with internal storage, easy-roll locking casters, and Napoleon's famous standout LED Spectrum night light control knobs plus the proximity lighting display.
As impressive as this luxury 6 burner grill is, unfortunately, the assembly instructions are very poor, although assembly itself is not that complicated. Also, the primary ignition system is not up to the same high standards although the secondary cross-lighting burner system cannot be faulted.
All in all, an excellent choice to impress friends and family, as well as being a really enjoyable grill to use.
Pros – Things we liked
80,000 BTUs over 4 main burners
Infrared side burner & rear rotisserie burner
900 square inch total cooking area
Interior storage with soft-close doors
LED Spectrum Night Light control knobs
Cons – Things we didn't like
Poor assembly instructions
Intermittent primary ignition system
Best Entry-Level 6 Burner Grill
Royal Gourmet Cabinet Propane Gas Grill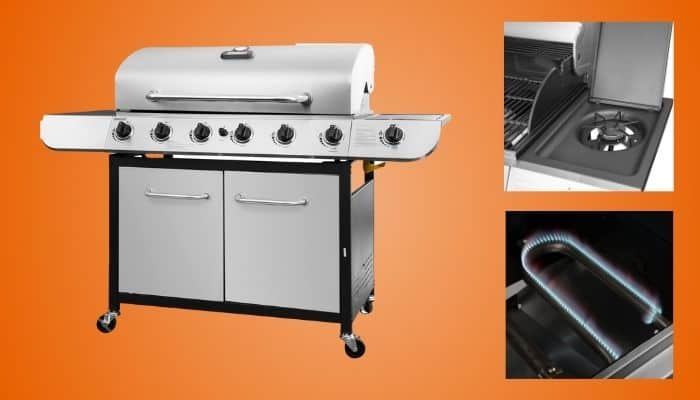 The Cabinet Propane Gas Grill by Royal Gourmet is a good entry-level 6 burner grill. If you've not been grilling for that long and want to see how you get on with a basic yet spacious 6 burner model before splashing out on a premium version, this inexpensive propane 6 burner gas grill could be just what you are looking for.
It has a total heat output of 71,000 BTUs, including five stainless steel tube burners, a U-shaped 12,000 BTU sear burner, and a 9,000 BTU lidded side burner for your BBQ side dishes. With a generous 598 square inches of primary cooking space, accompanied by a further 199 square inch secondary cooking area, you'll certainly be able to feed a crowd. The porcelain-enameled grates help to ensure even heat distribution and an easy clean up, plus this grill also features a grease tray and cup.
The stainless steel double-layer lid has an in-built thermometer and the side tables are really useful for holding your meat on standby or resting it, as well as general meal prep work. While the casters make it easy to use, unfortunately, the stainless steel cabinet doors and storage are a little redundant seeing as there is no cabinet back panel. So, you won't want to place this grill in a freestanding position.
Also, the packaging could be significantly improved as a lot of these units seem to suffer from minor damage on arrival.
Pros – Things we liked
Total BTUs: 71,000
598 sq inch primary cooking area
Porcelain-enameled cooking grates
Lidded side burner
Side tables and cabinet storage
Cons – Things we didn't like
Poor packaging
No cabinet back panel
Best Extra-Large 6 Burner Grill
Broil King Regal S 690 Pro Infrared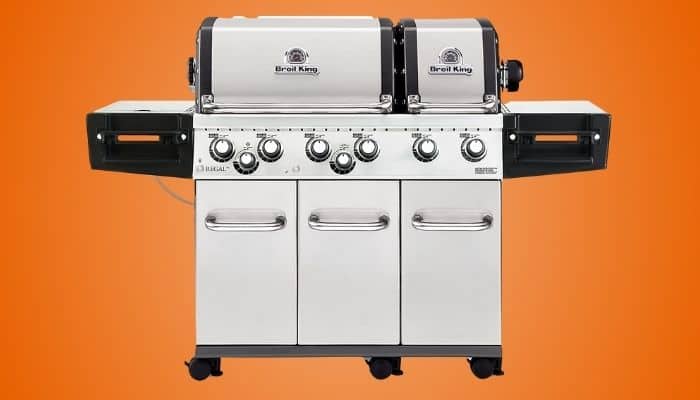 The Regal S 690 Pro Infrared by Broil King features two completely separate cookboxes providing a huge primary cooking surface area, ideal if you are looking for an extra-large 6 burner grill.
In addition to its six main burners with a total 60,000 BTU output, it also has a 10,000 BTU infrared burner and a 15,000 BTU stainless steel rotisserie burner that includes a premium rotisserie kit.
Designed for use with either 20-pound propane tanks or natural gas, this model boasts a total of 1,030 square inches total cooking space, including 750 square inches for the large cook box and 250 square inches for the small one. Grill on the solid 9mm stainless steel Flav-R-Wav grids in the large cookbox or opt for the heavy-duty cast iron grids in the small one.
Controlling your grilling temperature is easy thanks to the LInear-Flow valves with 180-degree SensiTouch control, plus there are also two Deluxe Accu-Temp thermometers, one in each cookbox lid. The stainless steel side shelves feature cast aluminum condiment bins, while the Sure-Lite electronic ignition system gets your flame going every time.
Unfortunately, given its pretty high price tag, the heat distribution could be more even. Also, be prepared for several hours of assembly if you decide to order this model.
Pros – Things we liked
85,000 total BTU output
1,030 sq inch total cooking area
Infrared and rotisserie burners with full rotisserie kit
Sure-Lite electronic ignition system
Two completely separate cook boxes
Cons – Things we didn't like
Heat distribution is not very even
Time-consuming assembly
Best Value 6 Burner Grill
Royal Gourmet MG6001-R 6-Burner Gas Grill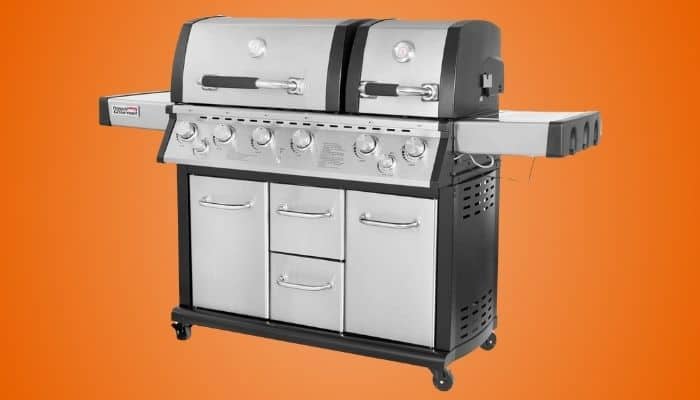 Everyone loves a bargain and the MG6001-R 6 Burner Gas Grill by Royal Gourmet certainly gives you a lot of bang for your buck.
For starters, it has two completely separated porcelain-enameled fire boxes, each with its own lid, making this an ideal model for cooking a variety of different dishes simultaneously.
With 700 square inches of primary cooking area, plus 263 square inches on the warming racks, this 6 burner grill is a great option for extended family get-togethers without spending thousands of dollars.
Thanks to its sloping porcelain-coated cast iron cooking grates, you get good even heat distribution from this grill's total of 96,000 BTU heat output. This includes six stainless steel tube burners, an infrared rear burner, plus a lidded brass side burner for your BBQ side dish prep.
Unlike basic entry-level models, this unit has a completely enclosed cart and an improved electric ignition system. The durable stainless steel side table has enough space for your essential tools on the integrated hangers, plus room for condiments and food preparation. The four braking casters make moving this 6 burner grill nice and easy, although you should be aware that the whole unit is rather complicated to assemble.
On the whole, you get a lot of grill for your money, making this reasonably priced 6 burner gas grill an excellent buy if you're looking for a large gas grill without the high price tag.
Pros – Things we liked
Total 96,000 BTU output
700 sq inch primary cooking area
Full cart with stainless steel doors & casters
6 tube burners plus brass side burner & infrared rear burner
Two separate porcelain-enameled fire boxes with heavy-duty lids
Cons – Things we didn't like
Difficult to assemble
Why Trust Us
All of our reviews are compiled with a combination of expert input, years of hands-on testing of grilling products, curating the reviews of real-life buyers in a "wisdom of the crowd" system, and of course our own expertise. All the products listed are the ones we would buy if we were looking to purchase a new 6-burner gas grill.
Methodology Used to Pick the Best 6-Burner Grill
When picking the best 6-burner gas grills we first looked at the intended use of the grills and then ranked them on the following criteria. Price & warranty, the amount of grill space, the grilling power (BTU), the range and control of heat, build quality and ease of assembly, the lid, burner types, was the grill easy to clean, and did the grill come with any extras.
Buyer's Guide to Buying the Best 6 Burner Gas Grill
Stuck deciding which is the best 6 burner gas grill to go for? There's an awful lot to consider, so make sure that you take your time and read through our buyer's guide to buying the best 6 burner gas grill.
We'll cover all of the essential features, so you can easily decide whether you want to order your current favorite, or if there's a better model out there for your needs.
Price
More often than not, purchasing a 6 burner gas grill is a considerable investment. Unless you get lucky with a bargain or sale item, expect it to cost over $500, with premium versions easily costing in excess of $2,500.
When you stop to think about it, given their large size and multiple burners, with a large amount of premium materials and engineering, you can see why 6 burner gas grills tend to come in with a pretty hefty price tag.
If you are playing keeping up with the Joneses, then yes, you will want a statement 6 burner gas grill. Otherwise, there are plenty of reasonably priced models with the capacity to grill large numbers of servings simultaneously.
While premium models, undoubtedly, look and grill better, if you have other more important home items to purchase, you can still get good use out of a budget-priced model for around $500.
BTU
BTU stands for British Thermal Unit. One BTU is a measurement of how much energy is needed to raise one imperial pint of water by one degree Fahrenheit. While gas grills with a higher BTU output are generally considered to be more powerful, a better way to measure performance is to check out your grill's temperature range.
Well designed, energy-efficient grills will have a lower BTU output but will still be capable of reaching higher temperatures using less gas. This will save you gas and money, plus time refilling if you're on propane.
So, use BTUs as a guide but don't obsess too much about your grill's total BTU output provided it is around 60,000 and above for a six burner model.
Grilling Area & Warming Racks
Large by definition, 6 burner grills are designed to be used to cook for a crowd. Most manufacturers will give you three figures, the total cooking surface area, the primary, and the secondary which more often than not will be your warming rack.
Warming racks are not only useful for toasting buns, they can also be used to keep cooked food warm while it rests to help you to coordinate your meals. Most 6 burner gas grills will have a primary cooking space of around 500 square inches, which is plenty large enough to cook for a crowd.
Grill Grates Material
Stainless steel and porcelain-coated cast iron are both popular grate materials.
Stainless steel is highly durable and easier to clean than porcelain-coated cast iron, plus it can also be used to create rod or hexagon style grates for improved sear lines. Porcelain-coated cast iron is more fragile and less likely to withstand being dropped. The porcelain coating also tends to chip and stain with time.
On the other hand, porcelain-coated grates are generally more affordable than stainless steel versions, plus they have better non-stick properties. For regularly searing steaks, we recommend investing in stainless steel grates.
If you tend to spend more time cooking at lower temperatures, cooking a lot of vegetables or fish, a porcelain-coated cast iron grate may be the best choice for your grill.
Temp Range and Heat Control
Most gas grills have a temperature range between 200-550 degrees F. Heat control is very easy, simply turn the control valve on the front of your grill to increase or decrease the temperature.
Budget-priced models with higher maximum BTU outputs but the same top temperature will require more gas to reach high temperatures compared to more expensive, energy-efficient models with a better design.
Build Quality, Construction, and Material
Stainless steel is the best material for your 6 burner gas grill being heat and corrosion-resistant, strong, and extremely hard-wearing. Some models may also be made out of lighter-weight cast aluminum.
Build construction quality is usually dictated by price, so don't expect the world for under $500. While cheaper gas grills are inspired by more expensive models' designs and feature sets, as the saying goes, quality costs. For a more durable 6 burner gas grill with a good build quality, we recommend spending a minimum of $1000.
Lid
Your gas grill's lid will allow you to cook a wider variety of dishes. Closing your lid transforms your grill into a convection cooker similar to your home oven and causes the temperature to rise quickly.
Indirect cooking of large items, such as meat joints is best done with the gas lid down, allowing your meat to cook more quickly as all of the surrounding air heats up your meat, rather than just the small part that is in direct contact with the grill.
Your lid will spend most of its time closed when your grill is not in use, making it a main focal point. Lids usually have an integrated thermometer, a handle, and some company branding. Double layer or lined lids will work more effectively than single layer ones which will allow a lot more heat to escape.
Types of Burners
Here are the main types of gas burners that you'll come across on 6 burner gas grills.
Cast stainless steel – highly durable, these burners are made from solid stainless steel. As they are thicker than other types they provide better heat distribution.
Stainless tube – made from a stainless steel tube, these burners can either be straight or bent into a U-shape to increase the surface area for better heat coverage.
Stamped steel – to avoid. This type of burner takes two pieces of steel that are stamped together. They are not very durable and tend to weather poorly.
Infrared – infrared burners heat up fast and cook your food evenly. They are a good choice for sear stations and rotisserie burners, helping to keep your food moist by heating your food directly rather than the air around it.
Cast iron – heavy duty, cast iron can rust over time. Some manufacturers use a porcelain coating to protect their cast iron burners from the elements and moisture from food and cleaning.
Wheels
Free-standing 6 burner gas grills that run off propane generally have between two to four wheels. This makes moving your grill around your deck, depending on the sun's angle and whether you are looking for sun or shade, a lot easier.
If you have a smooth patio, small caster wheels should work fine for you. However, if your deck is pretty uneven, you'll want to look at models with larger wheels if you intend on regularly moving your grill around.
Ease of Assembly
Unfortunately, 6 burner gas grills tend to be a little complex to put together for anyone lacking in DIY experience.
While most models are not actually that difficult to assemble in themselves, unless you get lucky with very clear instructions and have a knack for this type of work, expect to spend the best part of an afternoon putting your 6 burner gas grill together.
Don't despair if you don't feel up to assembling your model, there are plenty of professionals who specialize in this type of project who can also make sure that you have all the correct parts and hardware, as well as making sure that the little details, such as hanging the cabinet doors straight, are taken care of.
Ease of Cleaning
Stainless steel gas grills are very easy to wipe clean with excellent corrosion-resistant properties. Stainless steel grates can take quite a bit of scrubbing after a heavy grilling session, however, being so resistant you'll be able to get them completely clean.
Your grill's grease management system will often dictate just how easy your grill is to clean after use. Ideally, you will want to look out for a model with a good-sized removable grease tray that you can simply drain out and wash clean.
Your grill grates will need to have a slight slope to make sure that hot sticky grease flows into the grease pan, rather than completely covering your grill in a thick layer of cooking residue.
Extras & Features
While you won't want to base your purchase decision exclusively on extras and features alone, a lot depends on your needs and expectations.
What might be optional for one person could be a deal-breaker for another. Take a closer look at some of the most popular 6 burner grill features and decide which ones are priorities for you.
Infrared Burners
Infrared burners are an excellent addition to any gas grill. They provide even heat right across the grilling surface and as they heat your food directly, not from the surrounding air, they won't dry it out. Rotisserie burners, in particular, often use infrared technology to ensure that your roast chicken turns out tasty and tender without drying out.
Side Burners
Need to boil some pasta for your side dish? How about whipping up a quick steak sauce?
Whatever side dishes or extras you want to serve up with your main courses, if you don't want to keep on running in and out of your kitchen to use the stovetop, you'll need a side burner. Easily underestimated, side burners can really help to turn your 6 burner grill into a full-on cooking station.
Thermometers
Thermometers are always a nice extra, even though you will definitely want to invest in a digital model to check your temps are accurate at the grate level where your food is actually cooking and not up in the lid where thermometers tend to be traditionally located.
Rotisserie
If you are going to splurge and treat yourself and your family to a 6 burner gas grill, then opting for a model with a built-in rotisserie burner will make it a lot more useful.
Ready-to-eat store-bought rotisserie birds cost a lot more than simply picking up a ready-to-roast one. Selecting a model with a rotisserie burner and kit will allow you to enjoy succulent roast chicken with virtually no effort required.
Propane storage
If you've decided on a propane model, don't forget to factor in storage for your propane tank. Most 6 burner gas grills come with an enclosed cart that has been designed to keep your unsightly propane tank out of view.
Storing your propane Inside the cart also makes it easier to move your grill around. You should, however, check that your grill's cart is fully enclosed as some cheap models do not come with a back panel which will look unsightly if you decide to move your grill away from your wall.
Tool hooks
Tool hooks can always be added at a later date, but it's nice to have a fully integrated set to accommodate your most used grill tools and accessories. That way you'll always have your tongs and spatula to hand when needed.
Lights
Lights are often viewed as a bit of a quirky gimmick. While some color changing ones may be more style than substance, integrated grill lights make it much easier to cook your food later on in the evening when temperatures are more comfortable.
Of course, you can add on an external grill light, but if you're going to invest in a stylish new 6 burner grill, an internal light makes a nice extra feature.
Ignition
Pretty much all gas grills nowadays come with either an electronic or Piezo-style ignition. As 6 burner grills are primarily designed for cooking for large numbers, some models also have a secondary ignition system via connected burners. This allows you to light another burner directly from a pre-lit one.
Warranty
As investing in a 6 burner gas grill involves a substantial financial commitment, you'll want to make sure that your grill is backed by a good warranty.
A good model should last you at least several years, so you'll want to look out for warranties that last for five years and over. Obviously, cheap 6 burner grills are unlikely to provide such extensive warranties, but some higher-end 6 burner grills have five, 10, or even lifetime warranties.
Bear in mind that warranties seldom protect you against wear and tear. They do, however, protect you against any manufacturing defects that could have occurred.
Propane vs Natural Gas
The vast majority of 6 burner grills are built to run off 20 pound tanks of propane. However, some units are also available for use with natural gas and several are even compatible with both propane and natural gas with varying installation processes.
If you are looking for a propane 6 burner gas grill, you'll have a larger selection to choose from. While propane is fairly inexpensive, if you use your grill a lot, you will also need to frequently refill your propane tank. Also, bear in mind that a 20-pound tank takes up quite a bit of storage space inside your grill cart.
Alternatively, if your home has a natural gas supply, you could look into investing in a 6 burner gas grill that connects up to it. If you don't already have an outlet outdoors from a previous grill, you will need to pay for a technician to come out and install one.
Once installed, you won't need to worry about picking up gas refills, although you will not be able to change location. For this reason, a lot of people with a natural gas supply in their backyard tend to opt for a built-in gas grill.
Intended Use – Do you Need a 6 Burner Gas Grill?
While there is no denying that 6 burner gas grills are highly impressive, consider how much use your grill is actually going to get.
If you regularly cook for just two, then a large 6 burner gas grill is going to be a bit much and you'll probably find yourself using an older smaller grill or wishing you'd gone for a three or four burner model.
If you regularly have a lot of friends over for dinner, plus larger family get-togethers, then a six burner grill could be your perfect model, allowing you to cook for everyone in one go, rather than spending all afternoon slaving over your grill to get everyone fed.
Some people purchase 6 burner gas grills on looks alone, as status symbols. If you feel that your backyard needs a six burner in it to look the part, then this is also a valid reason for you to purchase an extra large freestanding gas grill. However, you may find that you could make better use of a smaller model.
Top 6-Burner Gas Grills Video
Final Thoughts
There are plenty of excellent 6 burner gas grills to choose from, with more highly affordable options available than ever before. Take your time to carefully think through your intended usage, needs, and expectations before investing a large amount of money in a 6 burner gas grill.
Our overall favorite is, without a doubt, the ever-popular Weber Summit E-670. With its large 624 square inch primary grilling area and six main burners, plus a side burner, rotisserie burner, sear station burner, and smoke station burner, this truly is the most comprehensive grill on the market, suitable for cooking just about everything. Plus, as it's a Weber, you get excellent customer support and a five-year warranty.
Alternatively, if you are looking for a good value for money 6 burner grill and don't want to have to spend big bucks, take a second look at the Royal Gourmet MG6001-R. This 6 burner gas grill has premium features at a relatively low price, including two separate cookboxes, six tube burners, a side burner, and an infrared rear burner.
Complete with a fully enclosed cart and a large 700 square inch primary cooking area, you won't find a better grill for the money.