Set it and forget it. Five words that perfectly encapsulate all that is good about using a pellet smoker and five words that have become synonymous with the ease of use that these grills offer within the pellet smoker's community.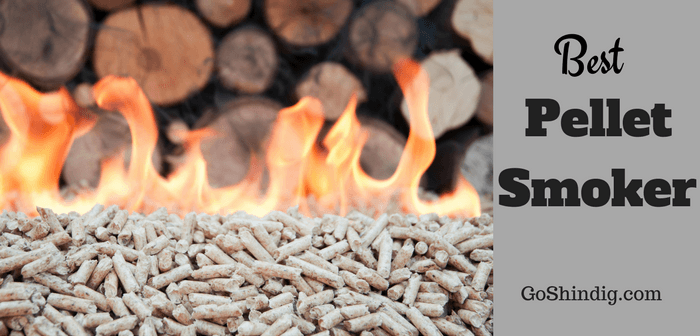 Introduction
We have a long tradition of smoking our food but there has been a noticeable increase of people turning to this particular method of cooking over the last decade or so. There are many reasons for this I think, such as the whole inception of "food porn". We live in a time now that caters to ever-increasing numbers of food channels, all with their own celebrity chefs who bombard us with visually stunning masterpieces which we want to go and create ourselves to varying degrees of success.
Add to this the rise and rise of the internet where information, recipes and tips and tricks are so prevalent, we find ourselves gorging on so much information that, in our minds, we are basically experts before we have even attempted any actual smoking ourselves.
This is why pellets seem to be the smoker grill of choice for many novices. Set it and forget it, it's just a bit too self-explanatory don't you think? Smoking food used to make people a bit wary. They would be put off by not knowing how much fuel to add, how long the smoke should take, how to know if they were achieving steady temperatures, the list would be endless. With modern pellet smokers however, all of the guesswork is taken out of the equation for you. Fuel is fed automatically into the fire pit for a steady flow of constant temperature which is regulated by internal sensors. All you need to know is how long the cook is, what temperature you need to achieve, press a couple of buttons and hey presto!
Don't be fooled into thinking that just because a pellet grill is a breeze to use that it will somehow suffer in terms of quality of flavor produced. Many Pitmasters have been winning national competitions using pellet smokers, with teams like Pellet Envy having some truly great results. The legitimacy of using them in competition may be contested by some (mainly bad losers) due to the automation of most of their parts but, for now, they are legitimate pieces of equipment and have been storming the scene for quite some time now.
5 Best Cheap Pellet Smokers Under $1000
Let's be honest, smokers can be pretty darned expensive if you let yourself get carried away. Competition smokers can run into the thousands of dollars and if that's what you want to spend your money on then that's up to you but I'm guessing you don't need our advice to do that.
For us mere mortals whose purse strings are a little tighter, I offer a few cheaper options for you to start your pellet smoking journey. These are all good quality smokers that will give you a great taste of barbecue without breaking the bank.
Camp Chef SmokePro DLX Pellet Grill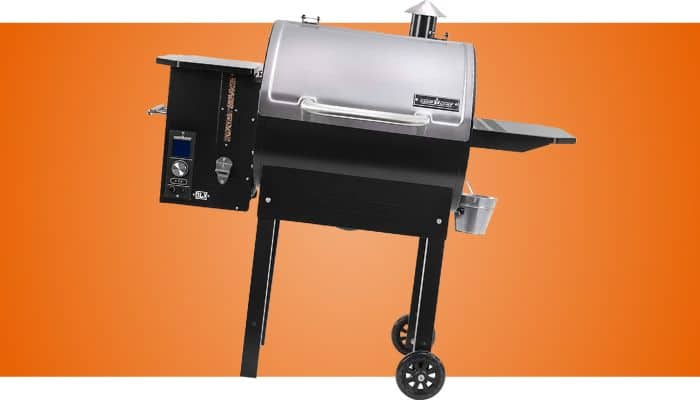 Camp Chef isn't one of the top names that spring to mind when you think of pellet smokers but with the DLX they are making a lot of noise that seems to be resonating with experts and consumers alike. The reason that this is the case is because it is a hugely versatile piece of equipment, jam packed with features yet undeniably simple to use. The icing on the cherry is the price. With all the features it has you would be expecting to pay at least double what you actually have to.
Like so many of the newer models that have been introduced to the market recently, the DLX is a grill smoker combo that allows you to cook in almost any fashion you want. As well as smoking you can grill, bake, baste, braise etc to your hearts content but, of course, the star of the show is the smoker. It features:
A huge cooking area. Boasting an area of 573 square inches split between the main rack (429 square inches) and a secondary rack (144 square inches). This is more than enough room for 2 turkeys and a load of extras.

Awesome temperature control. Achieving correct temperatures and maintaining them is what makes the difference between an amazingly succulent piece of meat and a bang average piece. The DLX has a built in thermostat with a digital thermometer, giving you the ability to set it and forget it. Just how it should be.

Internal meat temperature probe. This allows you to see what exactly is going on with your meat in the cooking process. The accurate probe lets you know when your meat has reached optimal temperatures without you having to fiddle with it or guesstimate by touch.

Trap door for easy cleaning. No more having to wade through the grease and ash because the trap door makes it so much easier to clean the fire pot after every cook. This is a feature that can be found on other smokers but the catch is that they cost around double the price of the DLX.

Power outage bypass. If you're unlucky enough to experience a power outage, this feature will allow you to bypass the relight feature that will ultimately save your hot rod from wear and tear.
Pit Boss 71700FB Pellet Grill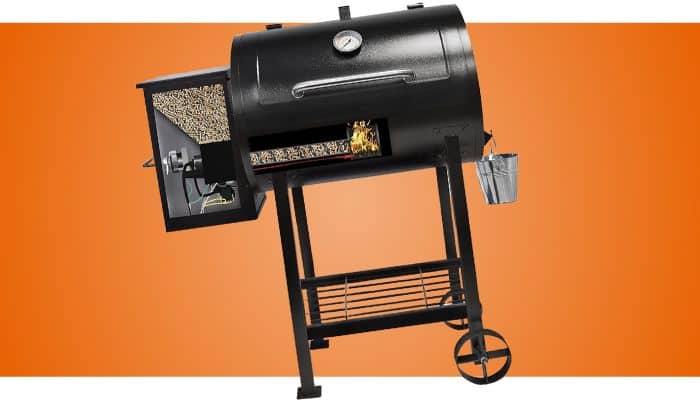 The Pit Boss pellet grill is a great performing pellet smoker that comes at a truly bargain price. It might not have the fancy extras that the PG24 comes with but it's cheaper and a lot bigger.
In fact, the Pit Boss weighs in with a massive 700 square inch cooking surface. Without wanting to seem just a little hyperbolic, you might as well invite the whole neighborhood round when you fire this bad boy up!
What we can also find on this grill is as follows:
Higher cooking temperature than Traeger. The Pit Boss will achieve temperatures of up to 500 degrees. This is 100 degrees higher than the Traeger, which although is a nice point scoring win on behalf of the Pit Boss, is not to be seen as reflective of the quality of food that can be produced. 400 degrees is hot enough to cook most of your food stuffs but as mentioned in the Traeger review, these pieces of equipment come into their own at lower temperatures.

Digitally controlled burn system. This kind of ties in with the first point and is pretty much the norm now on pellet smokers. The burn system reacts to your temperature settings by pushing smoker pellets through the auger into the fire pit to maintain steady all round temperature.

Porcelain grids. In fact, to be wholly accurate, cast iron grids that are coated in porcelain. Whichever way you look at it, this is a great feature to have on a grill that costs as little as the Pit Boss does.
One thing that I would urge you to note with this grill is that it does have a few negative comments in the reviews. Dig a little deeper though and you can see most are over the way the item was received. It seems there are some suppliers or freight companies who have been throwing some of these smokers around and leaving customers with dented and misshapen pieces of equipment. Our advice is to either see if Amazon can package it for you or to do a little research on the supplier's feedback. From what I can see, the 2 cheapest options actually have great feedback so I would perhaps not worry too much about these.
Green Mountain Grills Davy Crockett Pellet Grill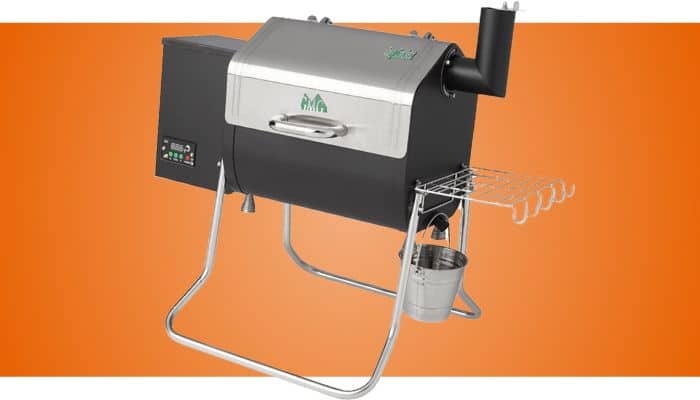 You know we love a portable grill here at GoShindig and Green Mountain Grills provide us with a fantastic portable pellet grill. This grill can be used on camping trips or for tailgating and can easily take on some of the smaller cooks that you want to take on at home.
Despite its small size the Davy Crockett pellet grill packs in some rather surprising features that you simply don't see in home grills that can cost three times as much. These include meat probes and wifi capabilities which you can read about below along with some other features such as
216 square inch cooking surface. If using this for tailgating then this is more than enough to get through a few dogs and some burgers.

Meat probe. A feature not often included in some of the budget pellet smokers, the meat probe will tell you when the internal temperature of your meat is hot enough to safely eat. No more accidental cases of food poisoning.

Digital wifi controller. Green Mountain Grills have an app that allows you to set temperatures through the magic of wifi. Ignoring the fact that this is not perhaps the most practical thing to include on a portable pellet smoker when you are bound to be close to the grill at all times, it sure is a pretty cool thing for you to show off to your friends.

Multiple power options. The grill will run on 110v or 12v power source, depending on the situation, and comes with an adaptor which will let you run it through 3 different power options.

PID temperature control. This enables you to keep the temperature a lot more stable without any wild variance.
Temperature range. The Davy Crockett pellet grill achieves temperatures up to 550 degrees which is more than almost all budget grills.
Z GRILLS ZPG-450A Wood Pellet Grill & Smoker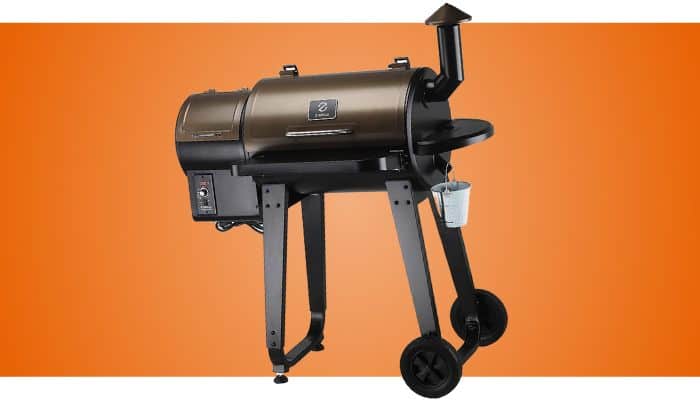 Z Grills upgraded the ZPG-450A pellet grill, making it ideal for someone who is new to grilling. Improvements were made to the temperature control and pellet feed systems, among other things. Additionally, a computerized control board that offers temperatures between 180 and 450 degrees Fahrenheit and now the ignition system immediately lights the grill.
The LED screen makes it easy to verify the temperature, and the automatic feed adds pellets as needed to maintain the desired temperature. The cast iron grates have a total cooking surface area of 452 square inches and are porcelain-coated. With a 15-pound hopper capacity, this can cook for up to 15 hours straight without needing to replenish.
This grill was utilized in my backyard test kitchen to cook brisket, pulled pork, steak, and hamburgers. I was impressed by the flavor of the meat and the grill's capacity to hold the temperature steady, even after a protracted smoking session. The supplied grill cover is an added benefit that will aid in protecting your investment. Although it takes a while to heat up and won't get hot enough to sear food, I still think this grill is an incredible deal.
Traeger Grills Tailgater 20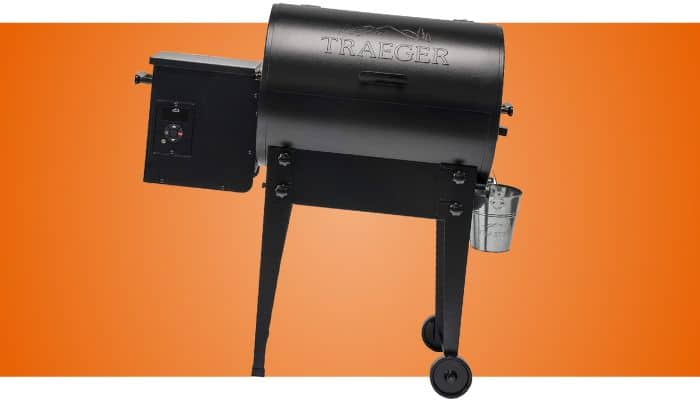 The Traeger Tailgater is a great option for grilled cuisine on the go. This grill has a small footprint and foldable wheeled legs for simple mobility. It can be used either with the legs extended or folded up. This makes it particularly suitable for tailgating events.
With 300 square inches of grill capacity, the Traeger Tailgater has enough room to simultaneously cook 12 burgers, 3 racks of ribs, or 2 full chickens. With the 8-pound hopper, you may cook for 2.5 to 5 hours, depending on the temperature you choose.
The temperature controls are extremely accurate because of the "digital arc" controller, letting you regulate the heat in 5-degree increments up to 450°F for flawlessly cooked barbecue food. Even if you're a newbie, this model is quite easy to operate. Simply set-it-and-forget-it for a few hours, and you and your guests will be able to savor tender meats with a mild smoked flavor.
I appreciate that this model features a keep-warm setting so your food doesn't go cold if you're not yet ready to eat, as well as the built-in meat probe, which is useful if you're not sure your meat is sufficiently cooked.
This portable pellet grill is strong and simple to clean because of the porcelain coating on the grill surface. All you need to do to clean the grill after cooking is tip the grease management bucket out as fat drippings flow through the grill grates and into it.
This model's only flaw is that despite its small size, it is quite hefty. Although it's not a deal-breaker, this indicates you won't likely be able to handle it by yourself.
Overall, this grill is excellent for cooking outside with loved ones. It is well-made, easy to use, and has folding legs that are smartly constructed to make transporting it simple.
Great Affordable Pellet Grills
The best cheap pellet grill is changing every couple of years. So instead of deleting one of the grills I have reviewed every time a better grill hits the market, I have decided to add a new section where I'll add the pellet grills that have just been knocked off my list of amazing pellet smokers. I've called this section "great affordable pellet grills". These grills are still great bits of kit and if you come across a second-hand version or one with a deal on then you will be getting a great deal on these grills.
Table Comparing Great Cheap Pellet Smokers
Traeger Texas Elite 34 Pellet Grill
Buy on Traeger

Traeger TFB65LZBC Texas Elite 34 Series Wood Pellet Grill

Now, if we're talking about big names in the smoking world then they don't get any bigger than Traeger. I'll delve into their history a bit later but suffice to say without Traeger grills we would still be in the dark ages.

The Traeger TFB65LZBC is a proper big boy in every sense of the word. The dimensions are 22 x 54 x 49 inches which allows space for a 646 square-inch grilling area. This is sufficient for roughly 20 racks of ribs, 40 burgers or half a dozen turkeys.

Also featured in this entry-level Traeger are:

"Digital Elite Controller with LED display maintains precise temperature, just like your oven". Their words, not mine. There is an admission of a +/- 20 degree variance although you can read of variance up to 40 degrees. I've never heard of such feedback from anyone I know who has one.

Porcelain grills. What an absolute joy it is whenever you read those two words. You instantly know the grill is going to be made of great quality and you also don't have any nightmares of scrubbing down the grates for hours afterwards.

Digital temperature capability. Set it and forget it, or you know, set it and have a few poke arounds. The temperature will reach 400 degrees which isn't as high as some other grills but all the best features of this Traeger grill are at the lower smoking temperatures, not the high searing ones.

Electronic auto start. It could not be easier to fire up this Trager grill. Make sure there are wood pellets in the hopper, and switch a button to ignite.

Although strictly the Traeger may not be seen as a budget option it is still an entry-level grill for under $1000. For this you get the best name in the business along with a huge grill which is made from some of the best materials. If you are truly interested in investing time and effort into pellet smoking then you won't go far wrong with the Traeger Elite series.

REC TEC Wood Pellet Grill
Buy on Amazon

REC TEC Wood Pellet Grill

Note: Since writing this mini-review, Rec Tec has rebranded and changed its name to Recteq. They also made some changes to the Rec Tec RT-700 Wood Pellet Smoker Grill and it's now over $1000 and that's why it's no longer on my best cheap pellet grill list.

Like the Traeger, the REC TEC can't really be thought of as a budget product even though it is still a pellet grill for under $1000. However, REC TEC can be identified as one of the new wave of companies that are bringing pellet smokers slap bang up to date with a host of innovations and designs.

These are features that you would normally find on commercial smokers and they include but are not limited to:

PID temperature control. Proportional integrated derivative temperature control is the best form there is for keeping constant temperatures. Whereas other grills may show variance of +/- 30 or 40 degrees, the PID sensors will keep temperatures at almost exact desired levels with variance of around +/- 5 degrees maximum.

Stainless steel everywhere. fire pots, handles, grills, deflector shield, drip pan – you name it, it's probably stainless steel. This makes for awesome longevity.
40lb hopper. This is probably double, or in many cases more than double all other hoppers that are around this price range or below. This means if you are cooking low and slow you get so much more time to get that awesome smoky flavor onto your meat.

6 year warranty. This blows most warranties out of the water. As well as this the owners of the company suggest that with every purchase you receive their personal cell number which you can contact them on if something has gone amiss.

702 square inch cooking area. That's a whole lot of grilling right there.
A Brief History of Pellet Smokers
In the 70's we were experiencing higher and higher prices to keep ourselves warm through the winter months, mainly down to the fact that there was a bit of an oil crisis going on. Joe Traeger and Jerry Whitfield began experimenting with wood pellets made from compacted sawdust from the mills and burning them in stoves to see if they were a viable, cheaper option to provide heating.
Suffice to say that they proved to be a great success and both men went on to varying degrees of success with their wood pellet stoves. Whitfield sold nationally and would eventually own the company that produced the most wood pellet stoves in the world whilst Traeger mostly sold locally.
Traeger was good at thinking outside the box though. The vast majority of his sales were made in the winter months so come summertime he started experimenting with wood pellet grills. He came up with the idea of fitting an auger which would feed the pellets and figured out that he needed a blower to help keep them burning.
Over the years, and with the aid of technology and fierce competition the wood pellet smoker has evolved into an entirely different beast altogether. Almost everything has been automated or digitized and a competition smoker will have thousands of times more processing power than was available to the first shuttle missions to the moon.
How Do Pellet Smokers Work?
Pellet smokers are incredibly easy to operate. The whole industry is based around the set it and forget it slogan and it is of great comfort to most owners knowing that their time can be spent on things other than babysitting their meat. However, a fair few clever innovations have made the humble pellet smoker such a joy to work with and knowing and understanding how these things work in unison will only benefit us all in the long run.
Digital Controller – The brain of the whole operation. From this control you can set your desired temperatures and keep an eye on everything that's going on during your cook. There will be an LED display showing you current temperature inside the chamber, and on some models that have a probe, the internal temperature of your meat. There will also be ignition switches on the digital controller.
Wood Pellets – The fuel for your smoker. Wood pellets for smokers are made from compressed hard wood sawdust. They are formed into pellet shapes that are generally around an inch long by a quarter inch wide. They can be made from different types of wood, each giving off distinct flavor notes and each complimenting some food better than others.
Hopper – The hopper is the storage point for the wood pellets. Hoppers come in various sizes with the larger sizes obviously accommodating a more set it and forget it experience as the longer smoking sessions will not require a refill. Hoppers are generally covered which will keep the wood pellets dry in most reasonable conditions.
Auger – The auger is the fuel delivery system. Normally described as a corkscrew like piece of apparatus, I prefer to think of them as the spirals in vending machines that deliver just the right amount of snacks to you that you have paid for. The auger fills up with pellets from the hopper and is told by the digital controller when to deliver more fuel to the fire to enable a steady temperature.
Fire Pot – The fire pot sits at the end of the auger and collects all deposits of wood pellets from it. Also housed in the fire pot is an ignitor rod which will burn red hot when the switch on the digital controller is flicked. This will ignite the wood pellets which enables them to do their thing and start imparting their smoky flavors upon the food.
Blower – The blower's job is to keep the heat source continuing. It will detect when there are changes in temperature and whether the pellets need to be fanned more or less. The blower will directly take over from the ignitor rod so when it shuts down because the pellets are alight, the blower will jump right into action.
There are a few more pieces included on your grill such as the drip tray and the grill itself but the above parts are the most important working parts that you will find and need to know about.
What to Consider When Purchasing an Affordable Pellet Grill
Although not all smokers are created equal, there are a few common aspects to check for to make sure you purchase a device that will work effectively for you over time. Pay attention to these details to ensure that you get the appropriate cooker for your grilling and smoking setup.
The majority of shoppers value a good deal. However, you should pay particular attention to the unit's general design and longevity when purchasing a large appliance like a pellet barbecue.
Steel with a powder finish and a heavy gauge should be used for the grill's body. The materials used to make the hopper component are occasionally advertised by the manufacturer as well. Try to invest in a business that is honest about how its product is made.
Verify whether the grilling grates are constructed of cast iron or steel. If the latter, opt for stainless steel of grade 304. These cooking grates ought to endure for a very long period with regular maintenance because this grade is corrosion-resistant and suitable for restaurants.
The grates will likely have a porcelain covering if they are composed of cast iron. Cleaning is simpler, but the porcelain is more prone to chipping and flaking. The ability of the grates to transfer heat will be negatively impacted by this deterioration. Obtaining quality sear marks on a porcelain-enameled surface is equally challenging.
What other features should you look for in a pellet grill besides build quality? Here is a list of the most significant ones.
Price
Price is a constant consideration. We all desire things that are reasonably priced, but purchasing a cheap, poor-quality smoker may require you to spend more money down the road. An affordable grill with good features will last longer and get more use from you because you'll be happy with your purchase.
Pellet Control System
Controls for pellet smokers typically take one of three shapes: 3-Place, Multi-Position, or PID Controls.
There are just three temperature settings on 3-Place Controls:
Low – 225°F
Medium – 325°F
High – 425°F
The advantage of this is that you only often require these three temperature ranges. For most meat smoking, for instance, 225°F is considered the typical cooking temperature.
The disadvantage of this approach is that it leaves little room for more subtle smoking techniques. Additionally, there is no opportunity to sear meat.
On the other hand, multi-position controls let you gradually change the heat level. These controls provide significantly greater flexibility, but because of their rigorous feeding cycle, they can only provide an additional 20°F at a time. Although it can be a little laborious to use, this gives you a lot more options for how you want to approach smoking pellets.
The best pellet controls are generally regarded as PID Controls. These predict and regulate cooking temperatures with an accuracy of only a few degrees thanks to a built-in algorithm. PID Controls change the auger feed continuously to keep temperatures almost exactly constant.
Range of Temperatures
The temperature range is a crucial element. Depending on the type of cuisine you wish to accomplish, you'll need different things. Top pellet grills reach temperatures between 180 to 425 degrees Fahrenheit, which are suitable for grilling, smoking, roasting, and baking. But you require a temperature of between 500 and 550 F to sear meat. A good grill thermometer is a necessity. For you to be sure that you are cooking your meat at the proper temperature, you will need a precise and accurate reading.
Wi-Fi Functionality
Modern pellet smokers have done a terrific job of utilizing WiFi capabilities to make their devices simpler to operate from a distance.
This means you can use a phone app to monitor your food instead of continually checking on it. You can also set alerts to warn you when your meat is done cooking or when your hopper needs additional pellets.
Hopper Size
Your pellets are kept in the hopper until they are burned. Of course, a hopper's capacity determines how many pounds of pellets it can contain. As a result, your grill may cook for longer periods of time without needing to be topped off.
In a sense, the hopper of your smoker serves as the grill's fuel tank.
Avoid undervaluing your time by purchasing a unit with a small hopper. At typical smoking temperatures, a 40lb hopper can often offer 40 hours of cooking time. Just keep in mind that bigger hoppers do not necessarily indicate more power.
To increase the capacity of your hopper, you can purchase hopper extensions, although these are frequently brand-specific. Make sure the one you choose is compatible with the brand and model you have.
Capacity
Just 300 square inches to well over 1,000 square inches are the size limits for pellet grills. The general rule of thumb when determining the capacity that will best suit your needs is to give roughly 70 square inches of cooking space per person. Accordingly, a family of four would require a minimum of 280 square inches. While it's necessary to get a grill that meets your needs, it's equally crucial to avoid purchasing a grill that is too large because you'll wind up wasting fuel.
All of the grills on my list are appropriate for regularly serving four to six people because my list focuses on affordable pellet grills. You'll need to boost your budget if you want something bigger.
Portability
Some people may routinely bring their pellet barbecues to friends' houses or tailgate gatherings. Look for versions that are less in weight or designed expressly for tailgating if that applies to you. Even if you never travel by car with your pellet grill, you might want to transfer it while you're hosting a party from one side of the yard to the other or when you need to store it. If so, choosing a model with sturdy wheels will make the job much simpler. Check my guide to portable pellet grills if this is something that interests you.
Care & Maintenance
Before using your pellet grill for the first time, you should burn off any oils and/or season it. According to your grill's manufacturer, you may just need to run it for 30 to 60 minutes to cure the paint or burn off any oil or dust. Similar to seasoning cast-iron cookware, seasoning your grates or other elements simply requires a small coating of vegetable oil prior to curing.
For the finest results after you've started grilling and smoking, your grill will require routine maintenance. In order to prevent poor airflow and other problems, ash and grime may accumulate in the cooking chamber and need to be removed. Additionally, I advise using a moist grill brush to clean your grill grates while they are still heated. Grease and debris will be lifted off your grates by the steam that is produced.
Construction
Pellet grills appear to be sturdy devices that can withstand the environment, but there are variations in their construction. Because stainless steel resists corrosion better than carbon steel and powdered steel, it lasts longer. Stainless steel is also the best material for grill parts if durability is a concern, from grates to grease trays to fire burn pots.
Features
From electronic starters to WiFi connectivity to a seamless transition from direct flame grilling to offset smoking, pellet grills can have a wide range of functions. A grease management system, an ash collector, and a hopper that opens to discharge pellets are more fundamental features.
Investigate the features that best suit the type of cooking you want to do on the grill. If you tend to smoke more, you might want to pay attention to features that let you easily regulate temperature and the flow of smoke. If you want to grill, you might want to look into aspects like the simplicity with which indirect cooking zones can be created. Both can benefit greatly from connectivity options that let you check the temperature using your phone.
Warranty
Look for a manufacturer who provides a parts warranty for at least three years beyond the purchase date. This shows that the business believes in the quality of its goods and guarantees that you may get a replacement if something goes wrong.
Benefits of Smoker Pellets
Smoker pellets differ from normal wood pellets in the fact that they are food grade products. This means that there are no extra additives introduced to them which may give off smoke that is unpleasant when eaten.
Because the wood pellets used for smoking are basically 100% wood it means that they burn highly efficiently and combust with almost zero by product. This means no ash and anyone who has used something like charcoal before can attest to how much of a difference this makes at the cleaning up stage of your meal.
Types of Wood Pellets
What are the best wood pellets for smoking? Well, as with most things it's down to personal choice. There are numerous different types of woods used in smoking and each will give off a different flavor tone. When paired with different meats these can become more or less pronounced and, with experimentation, you will come to learn what flavors you enjoy the most.
However, in the interests of a bit of time saving, I have given you a rough guide to flavor notes and meat pairings you might like to consider.
Pros and Cons of Pellet Smokers
It seems that for the whole article I have been waxing lyrical about pellet smokers and it's true, I think they're great pieces of equipment. However, they are not perfect and there are some things that might detract from your grilling experience if you were to purchase one.
At the end of the day it's up to you whether, when weighing up all the pros and cons, a pellet smoker is the smoker for you. Below are a few key points into the good and the bad involved in selecting a pellet smoker.
PROS :

Set it and forget it. Pellet smokers allow you to focus your attention elsewhere whilst it quietly goes about its business of producing quality smoked food.

All round even cooking. Because the pellet smoker produces convection heat you are ensured even temperatures all over the chamber and theoretically no hot spots. There's no need for things like rotisseries as the heat is constant throughout the whole grill.

Virtually no flare ups. Because of their design, pellet smokers will not allow any flare ups even when grilling. Trying to battle flames whilst trying to maintain temperature is not a fun grilling experience.

Full Temperature control. Want to change from 200 to 400 degrees for that specific piece of meat? This is an absolute breeze with pellet smokers as the digital controls can take you through all the range of temperatures eliminating guesswork.

Easy clean up. The drip tray will deposit most grease into the exterior pail and the wood chips produce close to zero amounts of ash. It could not be simpler to clean the major components of a pellet smoker.

Extremely fuel efficient. When set to smoking temperatures, pellet smokers will burn through around half a pound of fuel an hour. When set to highest temperatures this will run to about a pound and a quarter.
Cons :

Pellet smokers aren't really fully fledged grills. If you love your deep sear marks and flash cooking then you probably should look elsewhere.

Require electricity. You need to be able to hook your smoker up to an electrical point and ensure that all health and safety issues that are associated with this are adhered to.

Expensive. We tried to give you a few budget options in this article because of this. The intermediate/advanced pellet smokers can make a serious dent in your bank balance.

Smoke production. Although the set it and forget nature of pellet smokers is a massive draw for some it comes with a pay-off. Electronic pellet smokers do not produce as much smoke as other smokers, hence the flavors may not be as pronounced. The flavor is still good but if you're all about that lip smacking smoke there are better alternatives.

Maintenance. There are electrical components in pellet smokers and they are bound to fail at some point. Make sure there is a good warranty or a good history of customer service with the smoker you buy.
Which Pellet Grill Brands are the Best?
The following are a few of the more well-known brands of pellet grills, though there are many different ones you may purchase.
Traeger – The wood pellet grill, an outdoor cooking device that ignites all-natural hardwoods to grill, smoke, bake, roast, and barbecue, was invented by Traeger, the market leader in its category. Their grills are versatile and simple to use, enabling cooks of all skill levels to produce delectable dishes with a wood-fired flavor that cannot be matched by grills that use gas, charcoal, or electricity.
Masterbuilt – The most cutting-edge items in the BBQ market must meet Masterbuilt's high standards for excellence in design and construction. Masterbuilt makes an effort to foster a work environment that encourages the development of long-term employees who are driven and committed to producing high-quality pellet grills at a fair market price. Their commitment is to always offer amiable, considerate service because the customer is their most valuable asset. Their goal is to earn the right to establish lasting partnerships by cultivating happy and devoted customers.
Oklahoma Joe – For flavor, Oklahoma Joe always goes the extra mile. Joe Davidson understood that in order to be successful, he would need to create smokers that were considerably superior to expectations. He put his heart and soul into the twelve meat smokers he designed and made after saving up $2,000. The outcome? At the Oklahoma State Fair in 1987, all twelve were purchased, and Joe thereafter received orders for almost 100 more. As soon as he started traveling, the smokers became popular everywhere he went. The flame that eventually became Oklahoma Joe's was born from this spark.
Green Mountain – Popular wood pellet grill producer Green Mountain Grills is based in Reno, Nevada. The business was established in 2006 as soon as Traeger Grills' patent on its ground-breaking three-position controller, which popularized wood pellet grills, expired. Green Mountain pellet smokers are renowned for being inexpensive pellet burners that don't sacrifice quality.
Chef Camp – Ty Measom, the company's creator, was both dissatisfied and inspired by the quantity and caliber of outdoor cooking equipment on the market in 1990. He set out to develop a tool that was both light and potent. After endless hours of discussion and experimentation, the Pro60 was created, along with a business that would lead the outdoor-cooking sector. Since then, they've added pellet grills, various cast iron parts, griddles, and grill box attachments.
Final Thoughts
You can easily enjoy excellent barbecue food at home with a cheap pellet grill. Therefore, there is a smoker on my list for everyone, whether you're a skilled chef or just an amateur trying to impress friends and family with your cooking abilities.
In the end, it all comes down to your demands and budget. Pellet smokers are ideal whether you want a barbecue for occasional cooking or if you want to cook every day with a great product that will last for years. It's time to go out there and see what works best for you, and I hope this article has helped you understand some of the advantages and disadvantages of cooking with a pellet smoker.
Any grill fan would be wise to invest in a pellet grill. They are simple to operate, generate delicious meals, and can handle any kind of cuisine. Making the choice of the best grill for you can be challenging given the wide range of alternatives available. I've assembled my top 5 best pellet grills and buying recommendations for that reason. I'll assist you in locating the ideal grill for your requirements so you can start cooking delicious meals that your loved ones and guests will adore.
It's time to prepare and consume the finest food imaginable. You can use this information to determine the best kind of pellet grill for your requirements, finances, culinary preferences, or interest in smoking. I hope that after reading this post, you are a little more prepared to choose the best smoker for your setup. If not, don't be alarmed! Feel free to get in touch with me in the comments section if you have any queries or issues.