The holidays are on their way. That means it's time to start looking for some great gifts for the people you love. But what if you've got someone in your family who loves to spend some time at the smoker? What do you get for the person who lives for fire, smoke, and tender meat? Believe it or not, there are some really great smoker gifts out there that will really put a smile on their face.
There are plenty of options for smoker gifts available online. No matter what kind of item you may be looking for. If it's an apron, a knife, wood chips, or a meat thermometer, you can bet you'll be able to find it.
A great smoker gift keeps on giving, too! It keeps the smoke master in your family happy, and it keeps them providing you with delicious meals for years to come.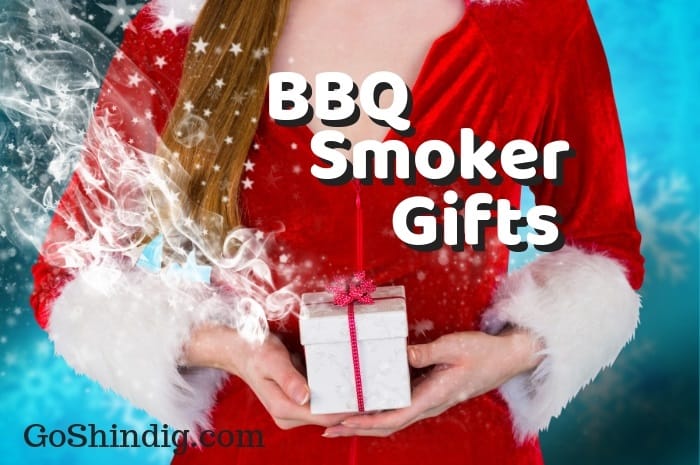 BBQ Apparel Gifts
What does the designated smoke master in your house wear when they are tending to their meat? Are they well protected against the heat and juices? Are they sporting apparel that lets everyone know how much they love to cook over burning coals?
If not, then one of these smoker gifts would be perfect. Whether its an apron, a new hat, t-shirt, or maybe some really amazing heat resistant gloves, your favorite pitmaster is sure to love them.
Not only do they look really sharp, but they also come in handy for a long day outside, tending to the coals.
Heat Resistant Gloves
When looking after a hot smoker, it's important to keep your hands protected. Burns can happen easily and can get bad pretty quickly. So the best thing to do is keep your most important tools protected with a good pair of heat resistant gloves.
These heat resistant gloves, in particular, would make a great smoker gift for dad or anyone who spends a lot of time around heat. They are crafted with a highly heat-resistant material known as aramid.
These can withstand temperatures up to 932oF. The size of these gloves, along with the individual fingers, gives anyone greater control over what they're cooking. Meaning they can focus on making a perfect meal instead of keeping their hands out of the fire. These gloves are durable, comfortable, and perfect for indoor or outdoor use.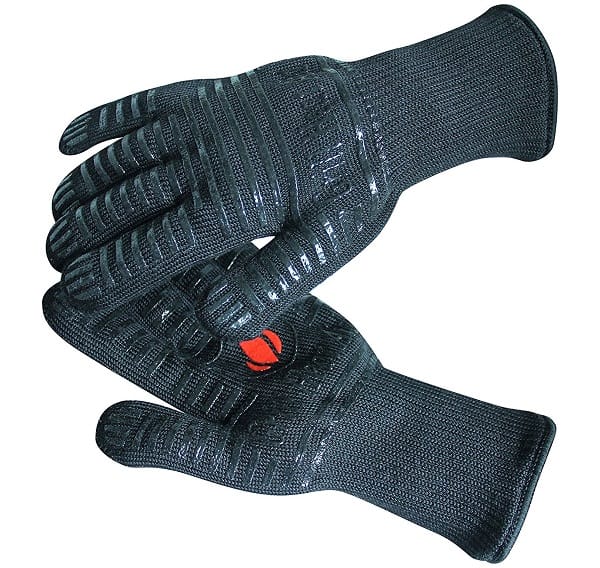 Aprons
Nothing makes a person look more ready for a day of grilling than a good, solid, durable apron. While some may scoff at the idea of wearing an apron to cook, the fact of the matter is that cooking can be messy. Unless the chef wants to keep a change of clothes ready to go for when everyone sits down to eat, an apron is really the best option.
Any cook worth their salt would appreciate an apron as good as this model from Weber Style. Not only is this black and grey apron sleek and professional looking, it includes a lot of great features. It's made from cotton with suede accents and even features a built-in bottle opener. That's handy for those hot days of cooking when you can't be running around looking for one. Overall, this apron would make any pitmaster happy.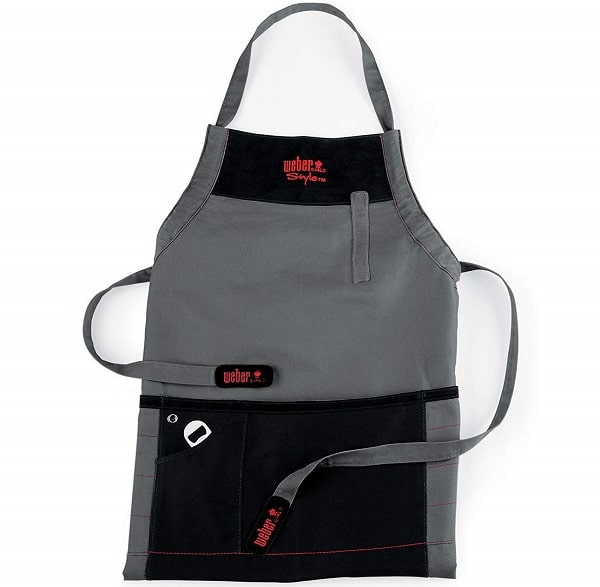 Branded Hats and Tees
Anyone who is passionate about smoking meat wants to look good doing it, right? You'd never see a true pitmaster outside in a ratty old t-shirt and jean shorts. Unless that's what they're comfortable in, no judgment! So why not pick them up some great apparel from any of these companies?
Traeger not only makes great grills, smokers, and grilling equipment, they also have a line of apparel. Any pitmaster would love one of these hats, t-shirts or hoodies to show off their favorite brand of smoker.
Then, of course, there's Weber, the world-renowned grill company. On top of all their other fantastic merchandise, you can get the pitmaster in your family a stylish Weber cap, t-shirt, or golf shirt! They're sure to please anyone who is picky not just about their meat, but what they want to wear while cooking.
Big Poppa Smokers also has a great line of apparel for anyone who loves a good smoking session and has a sense of humor. Their collection of t-shirts, hats, hoodies, and aprons, provide a great selection of grill wear for even the most discerning tastes.
If you're buying for the kind of smoker who doesn't discriminate about meats but never holds back from adding generous amounts of sauce, then you've got to pick up some apparel from Kansas City BBQ. Their line of shirts and hats will let any pitmaster show their hometown pride while cooking up something delicious.
Finally, there is the great apparel available from BBQ Pit Boys. The down-home YouTube stars who spend their time cooking up any kind of meat they can get their hands on have an extensive line of merchandise. It includes hats, aprons, and t-shirts. You can even get a BBQ Pit Boys cowboy hat, to let people know who the sheriff of the backyard is.
Smoker Gifts Stocking Stuffers
What kind of small smoker gifts do you get for the pitmaster who has everything? The answer is obvious. Any of these items would be a perfect stocking stuffer for even the most seasoned of pitmasters.
If there's one thing everyone loves, it's opening those small, but entirely useful gifts found in the stockings hanging by the fireplace. There's something for everyone here, and all of these items that can fit in a stocking may be small, but they'll make a big impact on the barbecue chef in your family.
Mini Thermometer
Is the cook in your house the kind of person who obsesses over food perfection? If so, then they should probably have the right tool with them at all times to measure food temperature quickly and accurately. This "fun-size" thermometer from Thermoworks is the perfect tool for measuring food temperatures anywhere at any time.
It can switch between Celsius and Fahrenheit and is accurate to within three degrees. It may not be quite as good as the full-size thermometers available from Thermoworks, but it would definitely come in handy in a pinch when the cook is out of their own kitchen or possibly out on a camping trip.
Hot Sauce
Everyone knows that to make anything taste better instantly, you add hot sauce to it. Not just any hot sauce, though. You need to add the king of all hot sauces, Sriracha.
However, there isn't always Sriracha available when you need it. That can be a real drag, but when you have these Sriracha keychains, there's no need to worry about missing out on the heat ever again. Each bottle can hold 1 to 1.7 ounces of sauce, just enough to solve any bland food emergency. These bottles are small enough to pass the TSA and they are also BPA free.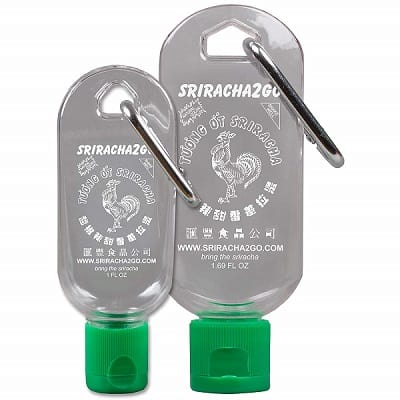 Bottle Opener
Everyone knows that you can't just spend hours tending to your smoked meats without a cool drink in your hand to stay refreshed. Of course, sometimes that cool drink requires a bottle opener.
And in some cases there's just not one handy, meaning you have to abandon your post and go hunting for one. Weber has that situation covered with this grill themed bottle opener.
It can stay outside as the designated opener for the smoker, and makes a great stocking stuffer for the smoker enthusiast in any household.
Thermometers
One of the best smoker gifts you can get for anyone is also an essential kitchen tool – a thermometer. Why is a thermometer so important? Because nobody wants to serve undercooked or overcooked meat.
A thermometer is the fastest and most accurate way to ensure that anything on the smoker has reached the perfect temperature. That way, the pitmaster in your family will always serve the juiciest, tastiest, and most tender meat anyone has ever tasted.
Instant Read Thermometer
Which thermometer is best for a serious pitmaster? At the recommendation of chefs from all corners of the globe, it has to be the Thermapen Mk4 by Thermoworks.
This thermometer is fast, accurate, and easy to use. It provides a reading accurate to within 0.7 degrees Fahrenheit in under three seconds. It is waterproof, has a 10,000 hour battery life, and is available in a wide variety of colors. The temperature display also rotates automatically, allowing the user to read it from any angle.
Dual Probe Thermometer
If the cook in your family likes to keep an eye on the temperature of their meat without having to get up and check it constantly, then a dual probe thermometer might just be the right fit for them. Beyond that, a probe thermometer that accurately measures internal temperatures and has a smoke thermometer would be a great bet.
This probe thermometer from Thermapen even has wireless temperature monitoring so the cook can keep an eye on things from a distance.
Smoking Meat Books
No matter how experienced someone is at smoking and grilling meat, there are always new techniques and facts to learn along the way. That's why one of the great smoker gifts you can give to someone is a new book on smoking techniques and recipes.
There are plenty of great books out there on the subject. The key is finding the right one for your home's pitmaster. Each one is filled with great information and can help to improve anyone's smoking game.
Knowledge is power, and when it comes to smoking, that power translates to flavor.
Project Smoke
Anyone looking to up their smoking game should read this great book by Steven Raichlen. Project Smoke is full of great tips and tricks to improve anyone's skills with a smoker.
It also contains 100 recipes that will impress even the most discerning tastes. There are some amazing new things to try within the pages of this book, including smoking with hay and tea.
That's something that might sound crazy to even a seasoned pitmaster, but with the right tools, materials, and know how, it can turn a regular dish into something truly special.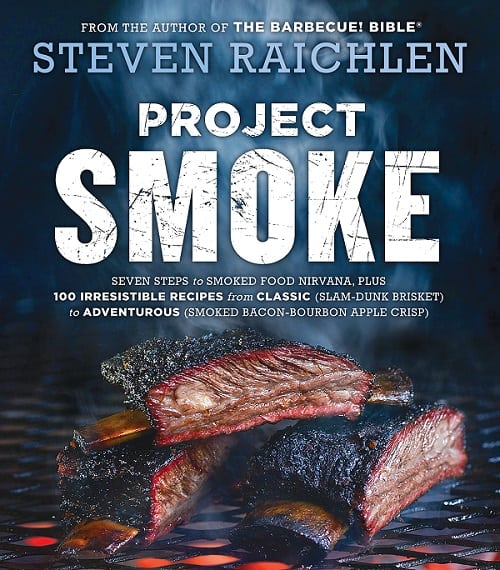 Meathead
Some people might be offended if you called them a meathead. That's not the case with Meathead Goldwyn, one of the authors of Meathead: The Science of Great Barbecue and Grilling. 
This book, co-authored by physicist and food scientist Professor Greg Blonder, goes beyond the basics of cooking. Meathead and Blonder dive into the science of grilling and smoking. And bust a few myths along the way.
This easy to read guide to the science of grilling is the perfect smoker gift for grillers and smokers who not only wants to up their smoking game, but also learn a few things about the science of why food can taste so good.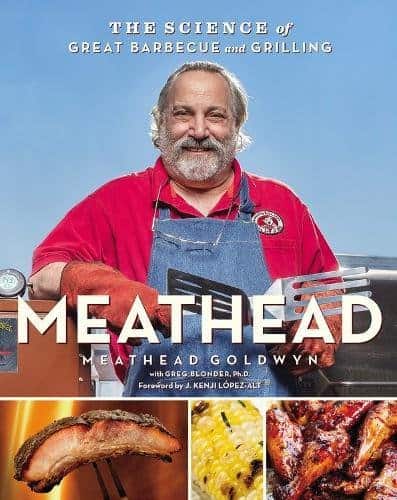 Cool smoker gift ideas
There are plenty of items available online that can make anyone who is passionate about smoking meat get even more excited about cooking.
Some people just stop at the store bought sauces and dry rub recipes culled from the internet. But there are so many useful tools out there that can make anyone's meat a hundred times tastier, juicier, and more satisfying.
So what is the best smoker gift for the pitmaster in your family who seems like they have it all figured out? Check out any of these items that would feel right at home in any great pitmaster's arsenal.
Meat Injector Kit
Every meat master knows that if you want to get some extra flavor in every bite then a food injector is the way to go. However, if you're going to give one of these items as a gift, then why not go with one of the best ones on the market?
This injector, made by Premiala is the top of the line. Each injector kit comes with three different needles that are perfect for any type of internal marinating a cook may want to do.
The injector is easy to clean using the included brushes, and even comes in a decorative gift box. This is the perfect smoker gift for anyone looking to add a bit more flavor to their cooking.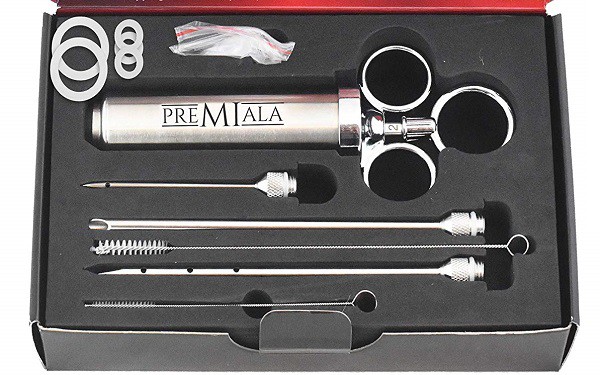 Meat Tenderizer
One thing everyone wants meat to be is tender. And the best tool for that job is, obviously, a meat tenderizer.
However, with so many options out there, how can anyone be sure what the best one is? There are plenty of the traditional hammer type tenderizers for sale. But these can be a bit heavy and can actually end up ruining a good cut of meat if used incorrectly.
That's why a great smoker gift for anyone who is passionate about cooking tender, delicious meat is the Jaccard Supertendermatic 48-Blade Tenderizer. This great, easy to use tool utilizes 48 thin blades to pierce through the meat, allowing shorter cook times and greater marinade penetration. It's the perfect item to have on hand when working with tough and unwieldy cuts of meat.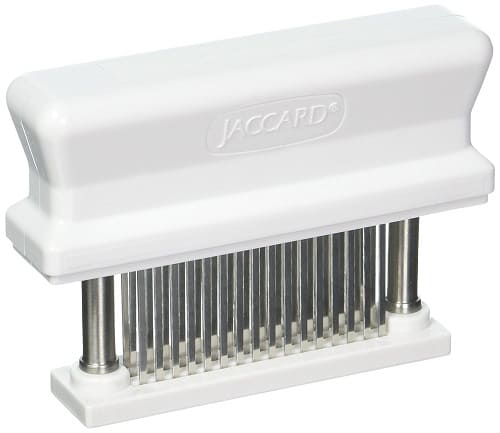 Cooler
A day of smoking meat is not complete without a heavy-duty cooler to hold some refreshing drinks for any dinner guests (and the chef, as well).
When looking for a new cooler as a gift, it's best to go with the top of the line. This Roadie 20 Cooler from Yeti is perfect for any backyard, beach, or campground hangout.
This durable cooler can hold up to 14 cans and is virtually indestructible. That means it can go anywhere you can. The 3 inches of PermaFrost Insulation and extra thick FatWall construction has also been certified bear-resistant, so you know this is one tough cooler.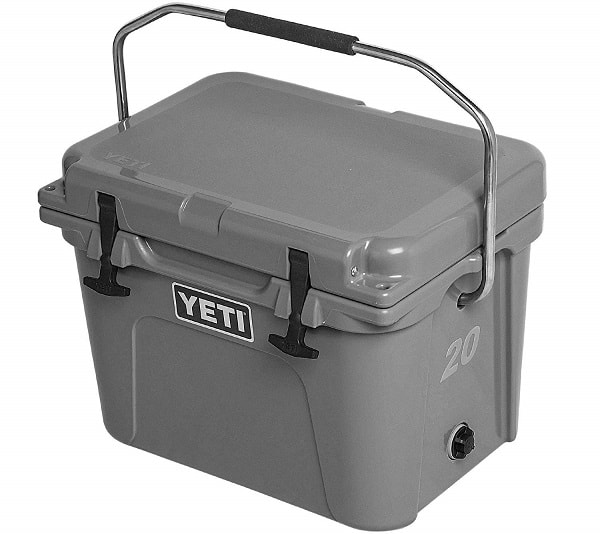 Bug Killer
One thing that's not so great about the great outdoors is the presence of bugs. It's not something that can be completely avoided. But there's no reason that anyone has to just put up with the buzzing, annoying little creatures.
There are plenty of great pest control options on the market, but one of the most effective (and fun to use) is the Bug-A-Salt 2.0. This beautiful pest control weapon fires a shotgun blast of regular table salt that obliterates almost any insect on direct contact.
It's not only more effective than a flyswatter or a rolled up newspaper, it's also guaranteed to be a lot more fun.
Utensils
Obviously no grill master can be found without his trusty tools at hand. Every cook who is working at the grill needs to have their fork, spatula, and a pair of tongs for any job that requires them.
That's why this three-piece set from Weber is a great smoker gift for any seasoned cook. These stainless steel utensils are the perfect compact size for traveling.
They also feature comfortable soft grips. On top of all of that, they are dishwasher safe, which means easy cleanup. What more could you want from a set of utensils? Plus, Weber certainly knows what they are doing in the grilling department. So you know these tools are trustworthy.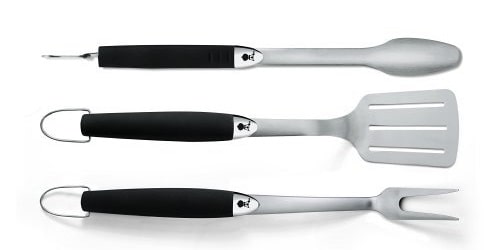 Himalayan Salt BBQ Plank
An important part of grilling and smoking is not just keeping the temperature in just the right spot, but making sure your meat is seasoned perfectly.
However, a lot of experts will say that when it comes to dry rubs, you shouldn't be using salt. So how do you up the flavor of your meat and really bring out the flavor of those spices?
By cooking on one of these Himalayan Pink Salt Slabs. These durable and reusable slabs of mineral-rich salt can be placed directly on the grill to infuse more flavor into your meat. They can also be chilled and used to serve cold appetizers like fish and shrimp.
Each slab is FDA approved and naturally resists bacterial growth.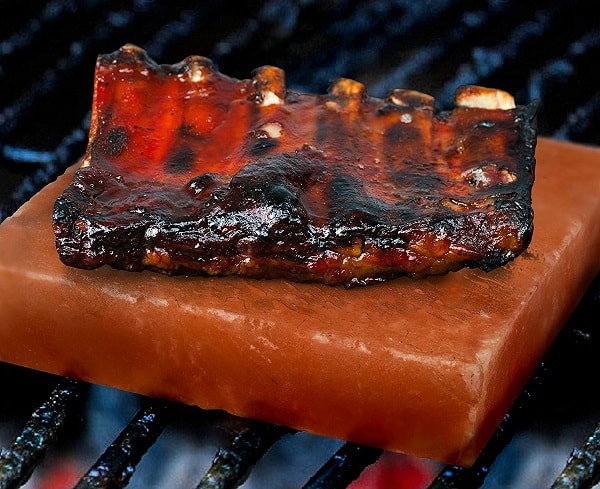 Sauce Making Kit
Any cook worth their salt should know how to do everything from scratch. That includes cooking up a homemade sauce to pair perfectly with whatever meat is cooking slowly on the smoker.
There are some store bought sauces that are great. But many of them have extra ingredients that you may not want on your food.
Why not control the flavor of your dinner with this Artisan DIY BBQ Sauce Making Kit? It includes everything you need to make three delicious sauces in your own kitchen. Including ingredients, glass bottles, and even customizable labels.
This kit could get anyone started down the road of making their own sauce regularly. They may never go back to store bought again!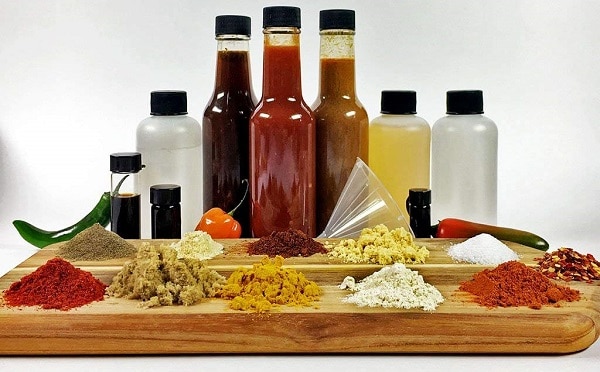 Hot Sauce Making Kit
Why stop at just making barbecue sauce, though? Any pitmaster who truly wants to spice things up will always reach for a bottle of their favorite hot sauce to make things more exciting.
They may have a favorite brand, but if they're the kind of person who always wants to try new things and go even hotter than before, then why not give them the gift of this Hot Sauce Kit?
Each kit comes with everything a home cook needs to make their own scorchingly hot sauce in their own kitchen. That includes glass bottles, Chipotle, Habanero, and Ghost peppers grown by a fifth generation pepper farmer. And of course a pair of gloves.
There's no way anyone should be touching this stuff with their bare hands!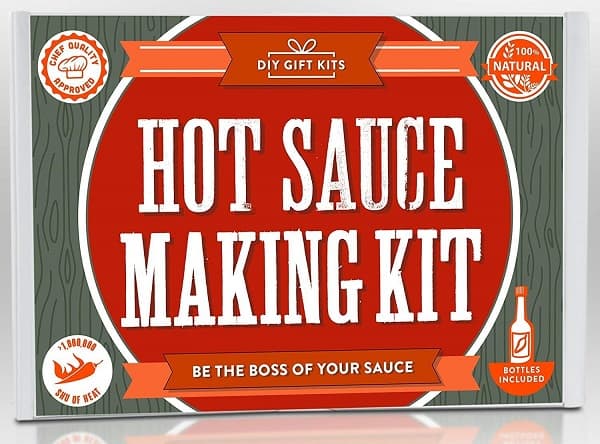 Rubs Gift Set
Any great pitmaster knows the importance of a good spice rub. It's the seasoning that can make or break the flavor of the meat.
If you have an obsessive spice nut in your house, who is constantly looking for the right blend of flavors, they'll love this set of three rubs from BBQ Bros.
Each rub represents a different region, and brings a unique flavor to any meat. These delicious rubs are each a regional award-winning recipe, and on top of that they contain no MSG and are certified gluten-free.
The set of three rubs even comes with a bonus bottle opener. You can never have too many of those on hand!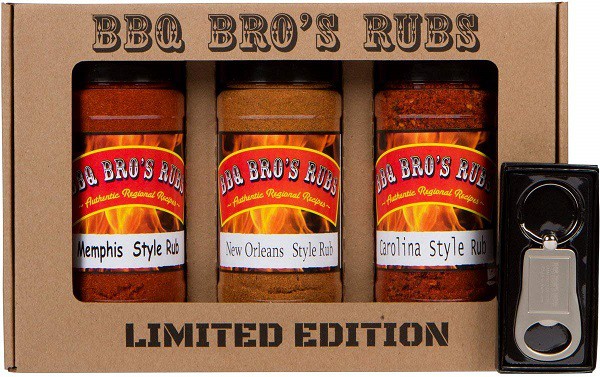 Cedar Planks
If there's someone in your family who might just be starting their journey into smoking, or loves to do a quick smoke on different dishes, then this set of cedar planks is perfect. Each pack comes with 12 single-use Cedar planks that are perfect for adding that delicious Cedar smoke flavor to anything you cook on it.
These are perfect for cedar plank salmon or any other type of fish, but could also be used to add a nice smoke flavor to steaks, chops, or chicken.
Beer Can Chicken Rack
Nothing makes a summer get together around the smoker complete quite like a whole smoked beer can chicken. Allowing the chicken to steam from the inside and pick up all that good flavor makes a delicious meal even better.
But sometimes fussing with just a regular beer can and stand can be difficult. Luckily, this ceramic chicken stand makes the job that much easier.
Your pitmaster can fill the base with beer, or any other seasonings and juices. The steam ports at the top port will evenly distribute flavor throughout the bird. This product is also dishwasher safe which makes for easy cleanup.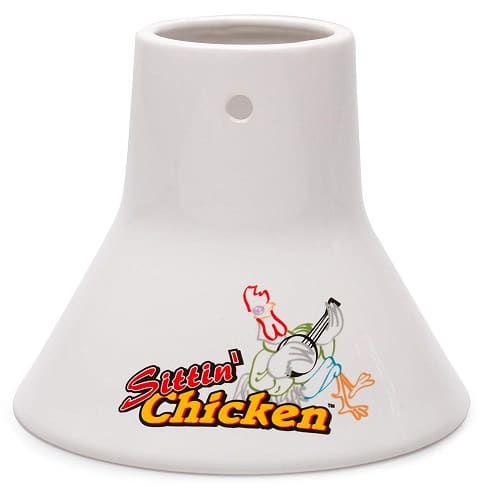 Smoker Box
If you have a cook in your family who loves smoking meat, but doesn't have access to a smoker, then this stainless steel smoker box is the perfect smoker gift idea.
This durable smoker box can turn any gas or charcoal grill into a lean, mean, smoking machine. The hinged lid allows for easy access if more wood chips need to be added.
In addition, the size of this smoker box means that it can hold a generous amount of wood chips while also fitting comfortably between grill grates or right on top of coals.
No holes in the bottom mean the wood chips will smolder instead of burning, providing a nice, evenly heated smoke throughout the grill. This smoker box also comes with a book of recipes.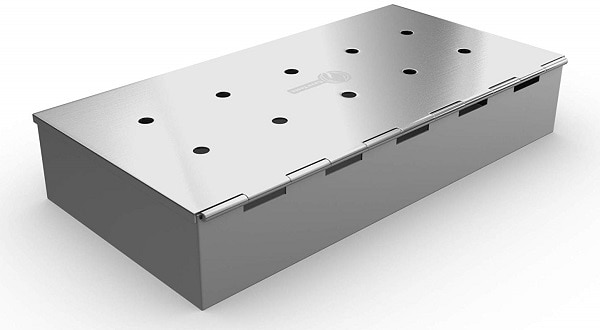 Flavored Wood Chips
No day of smoking is complete without the wood chips. Luckily, no matter what meat your pitmaster is preparing, they can find the flavored wood chips they need from Weber.
These wood chips provide a depth of flavor to any cut of meat, and there are several varieties to choose from. There's apple wood for cuts of pork, cherry for poultry, and even pecan chips that are perfect for anything.
These bags of wood chips are reasonably priced, so buying more than one type is a great option for the avid smoker.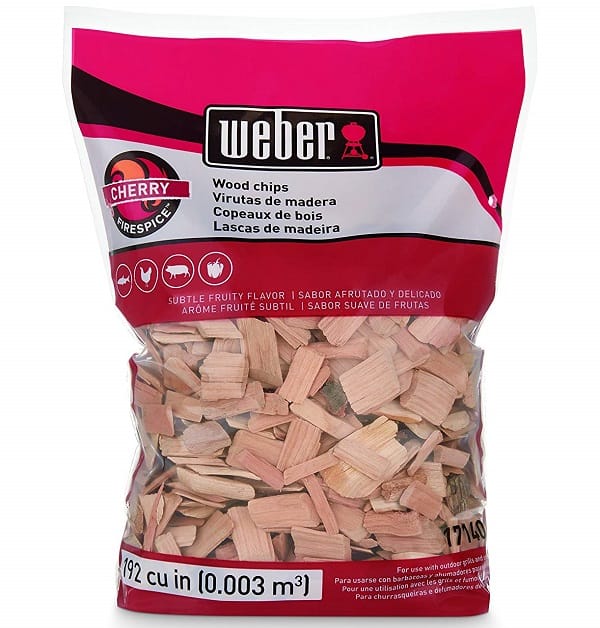 Skewer Set
It's time to stop messing around with disposable wood skewers that have to soak and can splinter into your food. These stainless steel skewers are the perfect tool for kabobs.
At 17 inches long, they provide plenty of room for meat and vegetables. The included triangular rack allows the kabobs to sit above the grill to prevent sticking. And the skewers can be easily rotated 360 degrees for full heat coverage and even cooking.
The skewers are easy to clean and come with a canvas bag for storage.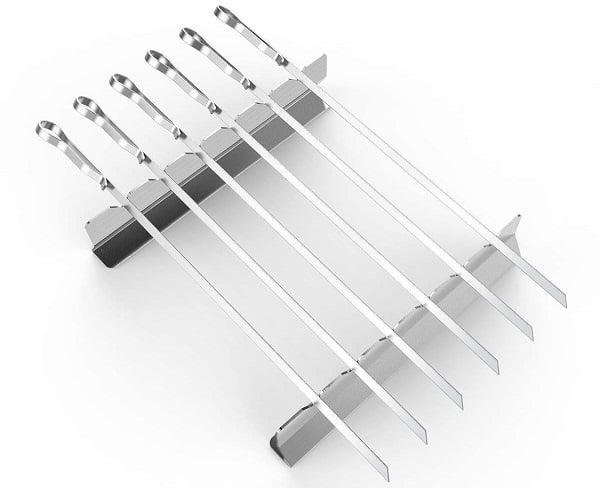 Jalapeno Grill Rack
Every session of grilling or smoking needs some delicious appetizers before the main course. And what better appetizer is there than some deliciously grilled jalapeno poppers?
For anyone who loves their spicy, delicious flavor, this jalapeno grill rack is the perfect smoker gift. The rack holds 24 peppers and comes with an included handy pepper coring tool to hollow out your peppers before filling them with anything you want.
The rack is also perfect for chicken drumsticks and includes 25 barbecue recipes. This jalapeno pepper rack is perfect for the grill, smoker, or conventional oven.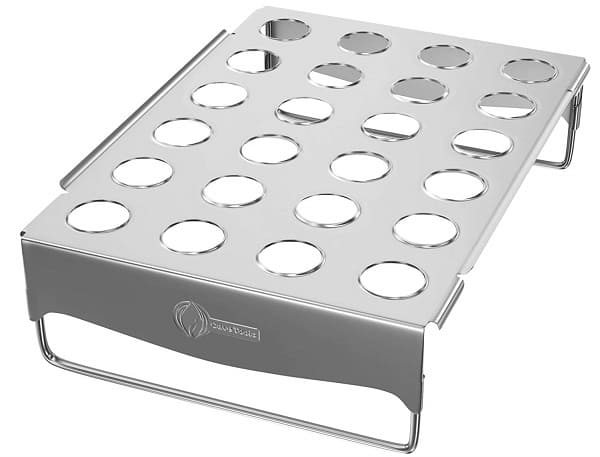 Vegetable Grill Basket
Anyone who has spent a lot of time operating a grill knows how important a great grill basket can be. Whether you're grilling vegetables, shrimp, or any other small food items, a food basket keeps everything in place and prevents any food from falling through the grill.
A great option for a grill basket is this round grill wok. The copper non-stick finish ensures that no food will stick to the inside of it. And the design ensures even heat distribution throughout. This is perfect for grilling vegetables as a side dish or preparing a mix for a grilled stir-fry.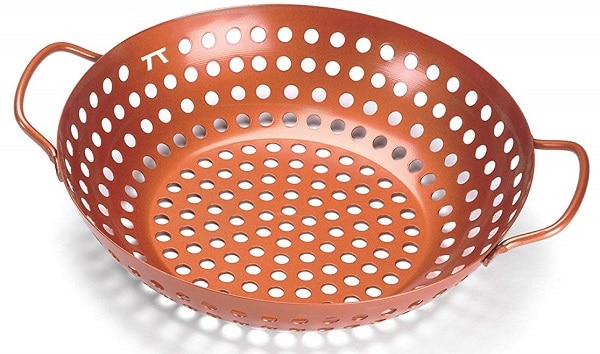 Rib Rack
Ribs are always a crowdpleaser. But if you have to make a lot of them all at once, they can take up a lot of space in your smoker or on your grill.
This Weber rib rack eliminates that problem by allowing you to smoke or grill your ribs vertically. This allows you to save space and cook more ribs at a time. The rack keeps the ribs off the grill grate and is dishwasher safe so cleanup is a breeze.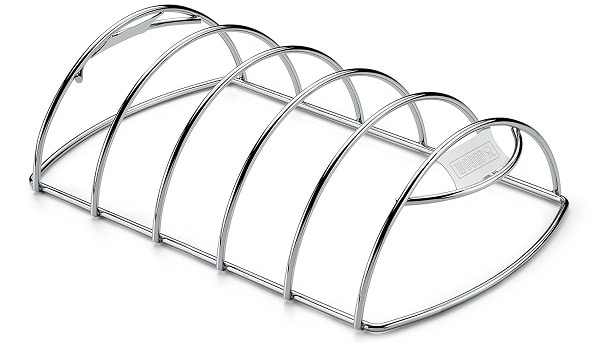 Burger Press
There's nothing that brings people together like a big batch of perfectly shaped burgers.
Making those patties by hand can get pretty exhausting, though, and eventually the patties start to lose their shape. A great tool to have handy, especially for those who love to make a lot of burgers, is a burger press.
A great smoker gift for any burger lover is the Weston double hamburger press, which can make two patties at a time. This press is perfect for making burgers, but can also be used for sausage patties and crab cakes.
The press makes four and a half inch patties that can range from 1/4 pound to 3/4 pounds (4 to 12 ounces).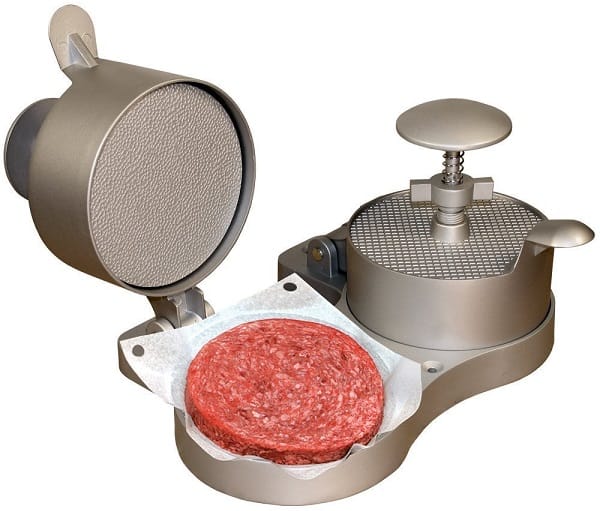 Chimney Starter
When cooking over coals, the most important tool in any home cook's inventory is the charcoal chimney starter.
Being able to get those coals hot in a short amount of time is tantamount to great grilling and smoking. That's why one of the greatest smoker gifts you can give anyone is a good chimney starter.
This Rapidfire model from Weber is perfect for people who love to cook almost exclusively with coals. The design of this model helps to heat coals quickly and evenly without the use of lighter fluid. And the handle is designed to stay cool to the touch.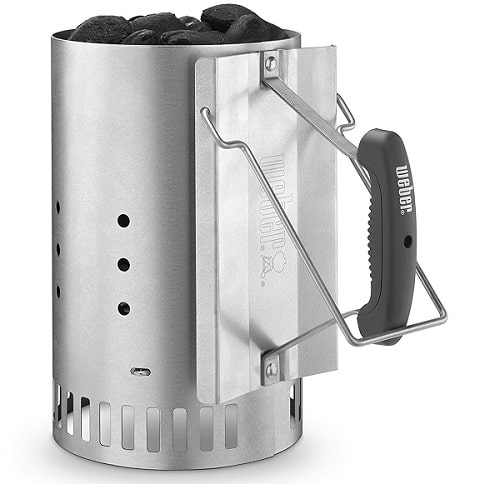 Looftlighter Starter
Any backyard chef knows that getting the coals hot in a grill is definitely the most important step to cooking a good meal. If there's no heat, you get bad meat.
So what kind of BBQ fire lighter is going to get those coals as hot as they need to be as quickly as possible? In the absence of a chimney, this Looftlighter Charcoal Starter does a great job.
The design of this starter provides a direct source of heat to your coals, blowing hot air at 1,256 degrees Fahrenheit! The Looftlighter starter gets your coals going fast and eliminates the need for lighter fluid or other accelerants.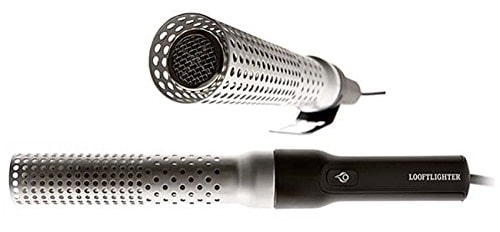 Smoker Light
Anyone who's spent the day in front of the smoker knows that sometimes you have to keep going into the evening. That means you need to have a good grill light on hand to keep on eye on things.
The Zeust #1 Barbecue Grill Light is a great addition to any smoker. The 10 LED lights in each model keep the grill illuminated, and its adjustable clamp can fit the handle of just about any smoker or grill.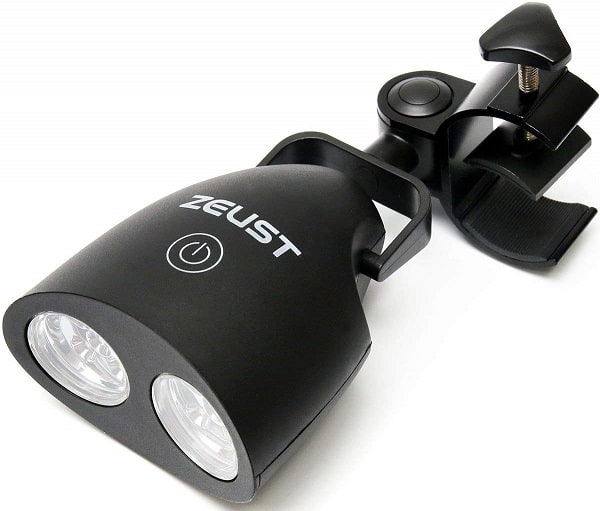 Prep Station
Getting a great meal together is a lot of work. But it can be a little less work when you have all the right tools for the job.
That includes a handy prep station, a place where you can keep all the extra little things you need when grilling.
This BBQ storage table from Keter is the perfect addition to any smoking or grilling spot in the backyard. It has plenty of storage space and is made with a weather resistant resin. The table top is stainless steel, and it includes hooks, sidebars, a spice rack, and a bottle opener.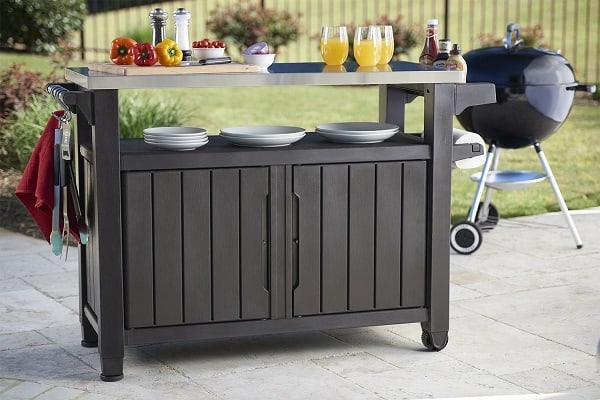 Knives
There is probably no tool more important to cooking than a good knife. Anyone who spends a lot of time cooking, especially with meat, knows that a high quality, sharp knife with a strong blade can make a world of difference in the final product.
That means that any home cook would be happy to receive a new knife for the holidays. Whether it's something heavy duty, like a great chef's knife, or something more specific to a single task like a paring or boning knife. There's just nothing that is going to be more useful in everyday cooking than good, sharp steel.
Chef's Knife
A good chef's knife is the foundation of any dish. It has to be sharp, strong, and well-balanced. Those are the qualities you can find in the Dalstrong Shogun Series X Chef's Knife.
This absolutely gorgeous and high-quality chef's knife is made with 67 layers of steel and honed to a scalpel-sharp edge.
It comes with a lifetime guarantee against defect and is highly recommended by professional chefs. Dalstrong's award-winning design creates a chef's knife that slices perfectly each time and feels natural in anyone's hands.
Each knife comes with its own sheath, ensuring that the blade maintains its incredibly sharp edge. For any serious home cooks, this is the knife that should be found in the kitchen.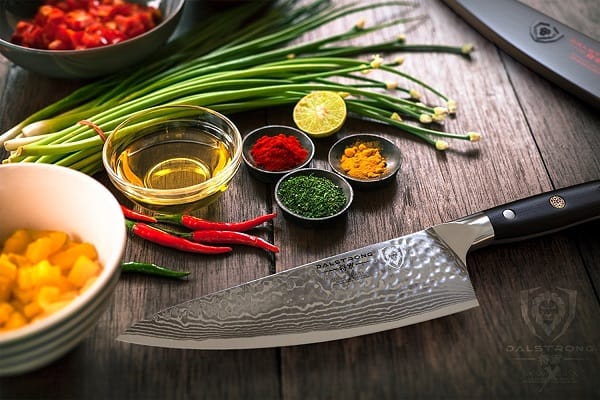 Paring Knife
While a chef's knife is great for cutting almost anything in the kitchen, there are some jobs that require a lighter touch.
A sharp paring knife is absolutely essential to any kitchen. The Wusthof Classic 3-1/2-Inch Paring Knife is a great addition to any chef's arsenal.
The pointed blade makes it great for any small and precise cutting jobs. It is also great for peeling vegetables. The high carbon stainless steel blade is honed to perfection and makes short work of any job. This knife is dishwasher safe and comes with a lifetime guarantee.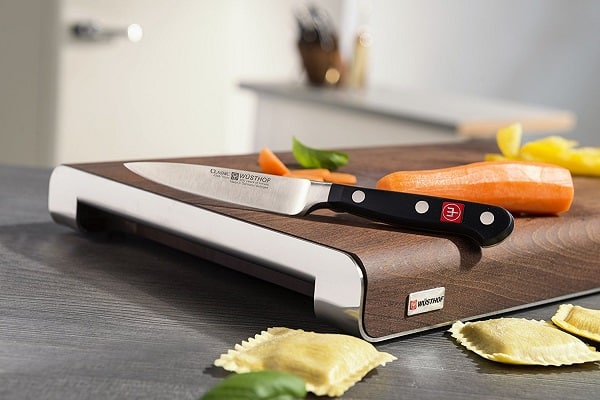 Boning Knife
Another specialty knife that should be in every pitmasters arsenal is a solid boning knife.
The Wusthof Classic-5″ Boning Knife is a great tool to have handy when working with large cuts of meat on the bone. The tapered and pointed blade makes it great for cutting meat away from the bone or cutting through joints, such as on a whole chicken.
This knife is also great for fish. The slim blade is perfect for taking filets off of a whole fish and removing skin. This is definitely the right knife for someone who is an avid hunter or fisher.

Slicing Knife
When it comes time to serve that perfectly smoked brisket, or even a roasted chicken, there's nothing that compares to a great slicing knife.
For a knife that works perfectly on meat, as well as anything else that needs to be perfectly sliced and served, there's no better model than the Victorinox 12 Inch Fibrox Pro Slicing Knife with Granton Blade.
This knife is not only great for cutting something hearty like beef, pork, or poultry, but also works great for cakes or fresh loaves of bread.
The Granton blade is designed with ridges that create air pockets to prevent food from sticking. This knife also comes with a lifetime guarantee against defects. This is definitely something that anyone who enjoys feeding large groups should have on hand.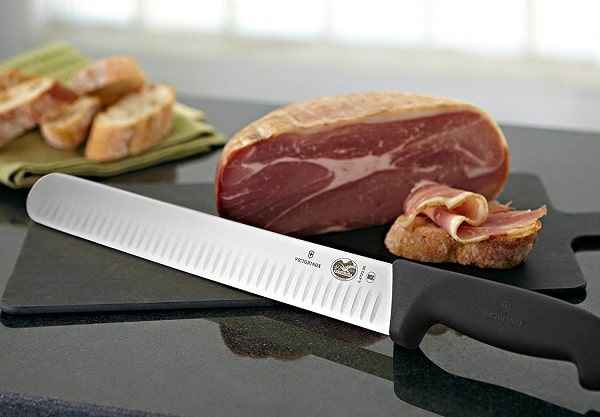 Knife Sharpener
Having good knives is important, but they won't be any good if there's nothing on hand to keep them sharp. That's where the PriorityChef Knife Sharpener comes in.
This handheld tool is essential for any home cook. It features a two-stage sharpening system that works for both straight edge and serrated blades.
The double bevel design puts an angled edge on both sides of the blade, creating a thinner edge for more precise slicing and cutting. This sharpener is designed with safety in mind. With its non-slip grip on the bottom and an ergonomic handle, you're able to sharpen any knife with ease and peace of mind.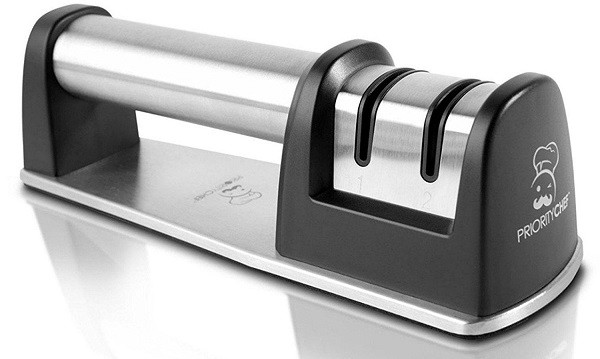 Smoker Cleaning Equipment
Every good pitmaster knows that you have to keep your smoker clean. That's not always an easy task though, and no one looks forward to it.
After a long day of smoking, there can be a lot of build up that needs to be removed from the grates and other parts of the smoker. This means that it can be a pretty big job to take on after a fun evening in the backyard.
Therefore, a tool that makes the job easier would be one of the best smoker gifts anyone could give. Any of these cleaning tools would be the perfect addition to any home cook's collection.
Grate Cleaner
With a bristled grill brush, there is a high risk of bristles sticking to the grate. That creates the risk of having sharp metal objects sticking to your food and causing big problems.
This Kona Safe/Clean Grill Brush is completely bristle free and totally rust resistant. Its unique design is guaranteed to last five times longer than the average grill brush. And it is safe to use on almost any grilling surface including ceramic, porcelain, and infrared.
The long handle also allows you to keep your hands away from the heat while cleaning. The brush can also be dipped into water for quick and easy steam cleaning on the grill.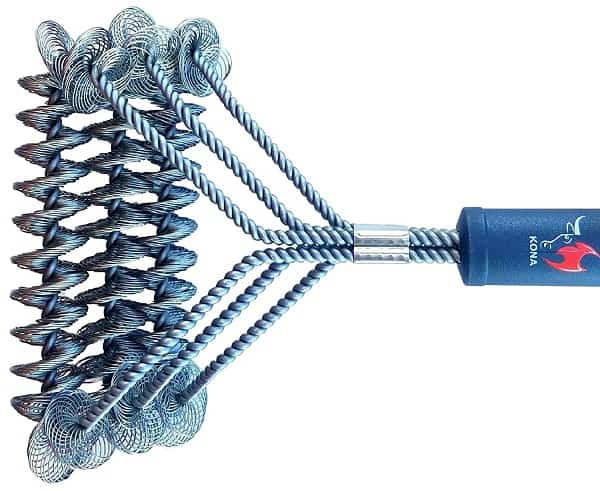 Scraper Cleaner
Maybe the home cook in your life is tired of brushes because they can never quite seem to get the job done. If they're looking for something different to clean their grill, then this stainless steel grate cleaner is a great smoker gift idea.
This cleaner features four slots to fit grills of any size and is designed to scrape off any mess left behind. It is compatible with round and V-shaped grates.
This cleaner is designed to fit almost any model of grill from Kamado to Weber. It also includes a hook and chain for hanging it on your grill. This means any time you need to reach for it, you know exactly where it is.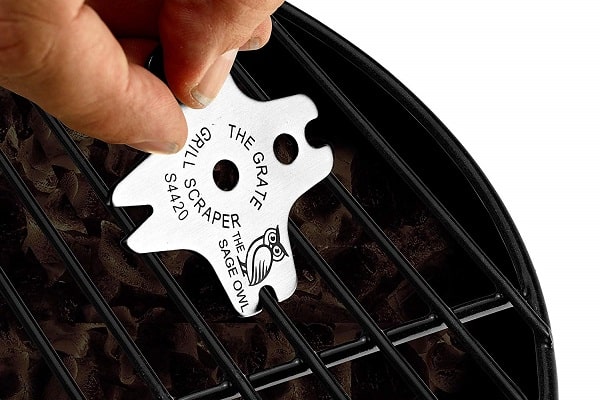 Cleaning Block
For the ultimate cleaning solution that doesn't include bristles, look no further than this innovative cleaning block.
This porous stone cleans a grate more quickly and efficiently than a standard grill brush. It is safe for any grill surface, and unlike a brush, the naturally antibacterial block will not hold onto any leftover food particles.
The block works on both hot and cold grill surfaces and is 100% chemical free. It is also made from 95% recycled material, making this an eco-friendly choice for cleaning the grill.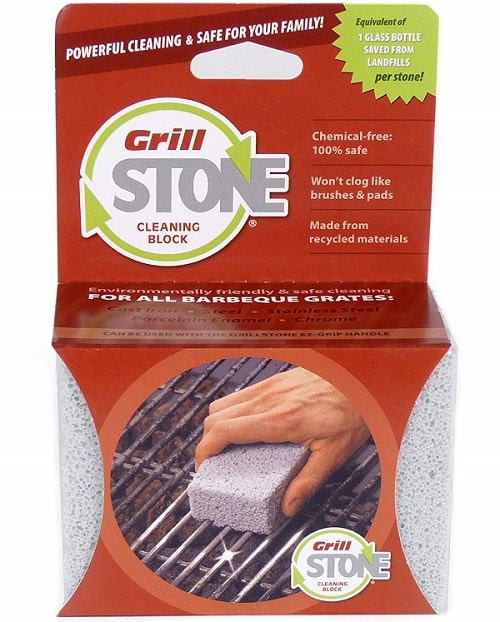 Grillbot Cleaning Brush
What if you want to clean your grill while sitting and enjoying your meal? That's impossible, right?
Not with the Grillbot Automatic Grill Scrubber and Cleaner. This innovative and futuristic tool is designed to clean a grill while you relax.
The Grillbot can be programmed for 10, 20, or 30 minute cleaning cycles. And its heavy duty brushes are removable and dishwasher safe. The Grillbot is perfect for any sized grill and contains a rechargeable lithium-ion battery.
In addition, the Grillbot comes with a handy carrying case for easy transport and safe storage. The Grillbot's built-in sensors allow it to change direction and speed, meaning you never have to keep an eye on it while it does the job. Just press one button, and you're all set.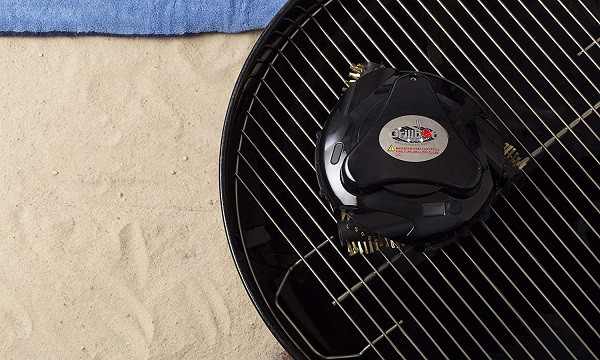 Weber Cleaning Kit
As mentioned before, one of the most trustworthy names in the grilling game is Weber. When your grill needs a heavy duty cleaning, there's no better option than this fully stocked Weber Grill Cleaning Kit.
Each kit includes two spray bottles of exterior stainless steel cleaner and grate cleaner. It also includes a stubborn stain remover that comes with two cleaning pads, as well as a grate grill scrubber that comes with 25 cleaning pads.
If anyone knows how tough it can be to clean a grill properly, it's the folks at Weber. Whatever the job requires, this cleaning kit has you covered.