Using the best portable pellet grill is a fantastic way to cook delicious, flavorful foods away from home.
These grills do all the hard work for you – simply load your chosen wood pellets into the hopper, switch it on and you're good to go. The pellets are automatically moved along the auger to a firebox, where they're ignited to create heat and flavor-laden smoke.
Perfect for beginners, pellet grills also feature digital controls that keep the temperature consistent, so you can enjoy socializing without worrying about burning your dinner and disappointing your hungry campmates.
In this article, we have reviewed six of the leading models on the market and compiled an in-depth buying guide to help you find the perfect portable pellet grill for your next adventure.
Best Portable Pellet Grill
There's a huge variety of portable pellet grills on the market, so picking the right match for you can be difficult.
In our portable pellet grill reviews, we have chosen a range of options with different features and price points – so you're sure to find your ideal model.
Traeger Tailgater Portable Pellet Grills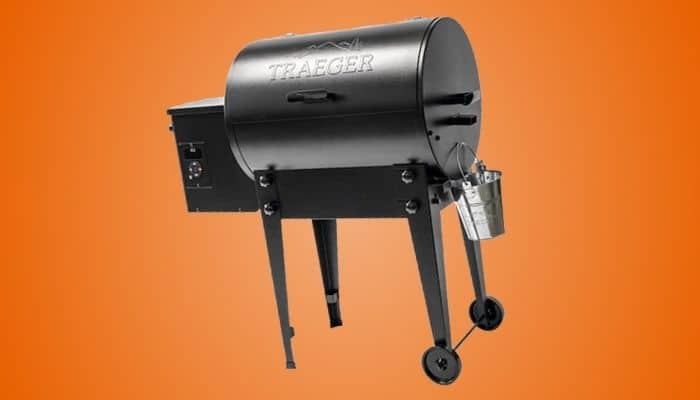 For deliciously grilled food on the go, the Traeger Tailgater is well worth a look. This model features a compact design with collapsible, wheeled legs for easy portability. You can use it with the legs extended, or while they're folded up. This makes it especially good for tailgating parties.
The Traeger Tailgater offers 300 square-inches of grill space, so there's plenty of room to cook 12 burgers, 3 racks of ribs or 2 whole chickens at once. The 8-pound hopper provides enough capacity to cook for between 2.5-5 hours, depending on the temperature you set it at.
Thanks to the "digital arc" controller, the temperature controls are very precise, allowing you to set the heat in 5-degree increments up to 450℉ for perfectly cooked results. This model is very simple to use, even if you're a beginner. All you need to do is set in and forget it, and in a few hours you and your companions can enjoy succulent meats with a gentle smoked flavor.
There's a built-in meat probe that comes in handy if you're unsure your meat is cooked thoroughly, and we also like that this model has a keep warm setting, so your food doesn't go cold if you're not ready to eat yet.
As the grill surface is porcelain-coated, this portable pellet grill is durable and easy to clean. Any excess fat drains through the grill grates and into the grease management bucket beneath, so all you have to do is tip it out and wipe the grill when you're done.
The only drawback to this model is that it's pretty heavy despite its compact dimensions. This isn't a dealbreaker, but it means you'll be unlikely to manage it single-handed.
Overall, this model is a great choice for outdoor cooking with loved ones. It's well-built, simple to use and the cleverly-designed folding legs make it easy to transport.
Pros – Things we liked
Collapsible, wheeled legs
300 square inches of grill space
Digital Arc temperature controller
Built-in meat probe
Cons – Things we didn't like
On the heavy side of portable pellet grills
Z Grills ZPG-7002E Wood Pellet Grill & Smoker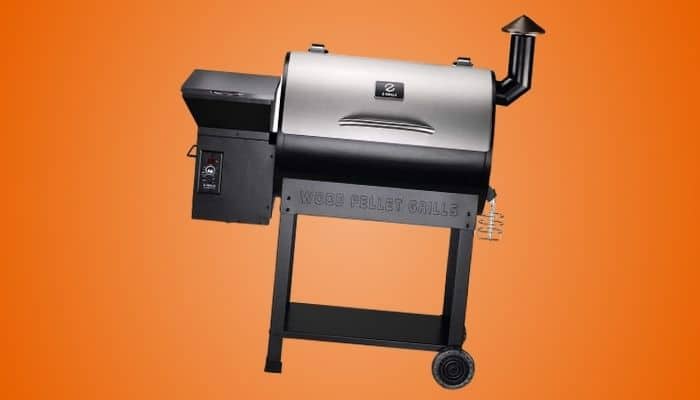 Another excellent choice for your next trip is the Z Grills ZPG-7002E Wood Pellet Grill & Smoker. Featuring a versatile design, this model can smoke, grill, bake, roast, barbecue and braise all in one.
Ideal for the biggest gatherings, the Z Grills ZPG-7002E Wood Pellet Grill & Smoker boasts a huge grilling surface area of 700 square-inches. Of course, as it has such a large capacity, this model is a little less portable than others on our list, but it does have wheeled legs so you can move it around unhindered.
Due to its size, this model can cook up to 6 racks of ribs and 5 whole chickens at once. The wooden pellet hopper has a generous 20 pound capacity, which is enough to keep the heat going all day long without any refills, so you can grill, smoke or roast for as long as you want. The heavy-duty lid has a great seal, too, so the heat stays in when closed.
Thanks to its stainless-steel construction, the Z Grills ZPG-7002E is very durable and will easily withstand the rigors of transport and outdoor cooking. It starts up at the push of a button, and the digital temperature controls allow you to set the heat level to between 160 and 450 ℉ and forget about it. As it cooks, this pellet grill will monitor the temperature and ensure it stays within 10-degrees of your desired setting, so you won't have to check on it every few minutes.
Once you've enjoyed your meal, the integrated grease collection system makes it easy to clean up afterward. And if you don't have anywhere sheltered to store this pellet grill out of season, the free waterproof cover will ensure it stays well protected during bad weather.
Green Mountain Davy Crockett WiFi Control Portable Wood Pellet Grill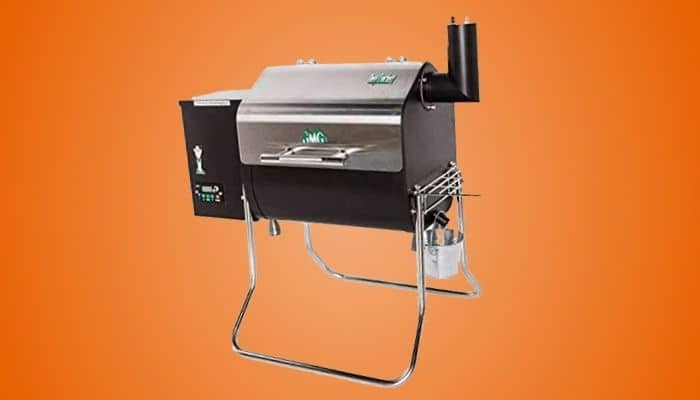 If you like your smart gadgets, then this wifi enabled model from Green Mountain Grills could be your perfect match. The Davy Crockett WiFi Control Portable Wood Pellet Grill is packed with hi-tech features that make grilling on the go a breeze.
The stand out feature of this model is its wireless temperature controls. Without leaving your seat, you can preset or adjust the cooking temperature to within 1-degree using your smartphone or tablet. This means you can sit and enjoy a drink with your camping companions and not have to check on the grill temp every few minutes. That said, if you prefer the old-fashioned way of doing things, you can make use of the manual control panel – which allows you to set the temperature in 5-degree increments.
Great for camping, tailgating or RVing, this portable pellet grill can be powered from a car battery, external generator or cigarette outlet with the included power adaptors. It features a good-sized 219 square-inch grilling area and has a 9 pound pellet hopper that can fuel the grill for several hours. It has a temperature range of between 160 and 550℉, so you can cook all of your favorites and more.
We like that this model comes with additional useful features, such as a built-in meat probe and a handy tray with hooks to hand your grilling tools within easy reach. There's also a grease collection bucket underneath the base for simple cleanup.
The Green Mountain Davy Crockett weighs just 68 pounds, which is pretty lightweight for a pellet grill packed with features. The legs also fold down for easy transportation and storage, so you can bring it along in your trunk on your next trip.
Overall, this model is a fantastic choice for hands-off grilling at the tap of a screen. The Wifi controls are intuitive to use and sure to be the envy of your grilling friends, but if your cell phone runs out of charge, you can still get stuck in and use the range manual controls, too.
Camp Chef Pursuit Portable Pellet Grill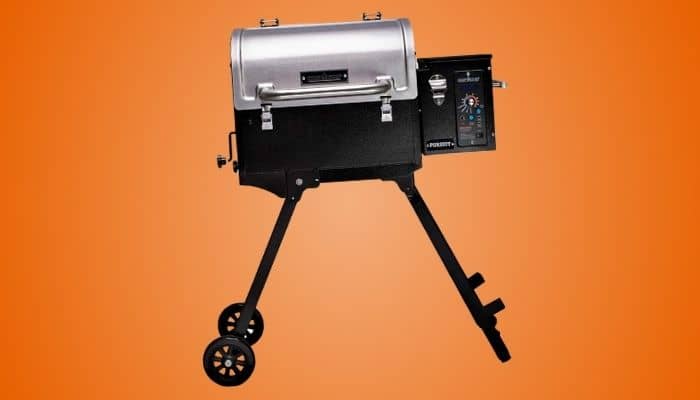 Next up on our list of the best portable pellet grills, we have the Camp Chef Pursuit Portable Pellet Grill. This popular model boasts an impressive 501 square-inches of cooking space, all packed into a compact and portable design.
One of the best features of this pellet grill PID digital controller. This ensures consistent temperatures throughout your cooking time for perfect results. There's also adjustable smoke settings so you can tweak the intensity of smokey flavor and a built-in meat probe to prevent any guesswork.
The cooking temperature range of between 160 and 500⁰F gives you flexibility in your meal options. You can choose to cook low and slow for tender meats that fall off the bone, or use the "Slide and Grill" direct flame technology for a fast and hot sear at 650⁰F.
The pellet hopper has a capacity of 10 pounds, which for a portable pellet grill, is plenty large enough to keep you cooking for hours. The grill body is made from stainless-steel for a durable, relatively lightweight finish that won't rust over time.
In terms of portability, this pellet grill features collapsible, folding legs (which double as a handle) and wheels – so you can easily take it with you on your adventures. The hopper lid also locks securely to keep the contents safe during transport. Cleaning up is a breeze, too – thanks to the integrated ash clean-out and grease collection system.
To sum up, it's difficult to find fault with this model. If you're looking for a versatile pellet grill that offers plenty of cooking space, has an impressive temperature range and is easy to transport, the Camp Chef Pursuit has everything you need.
PIT BOSS Portable Wood Pellet Grill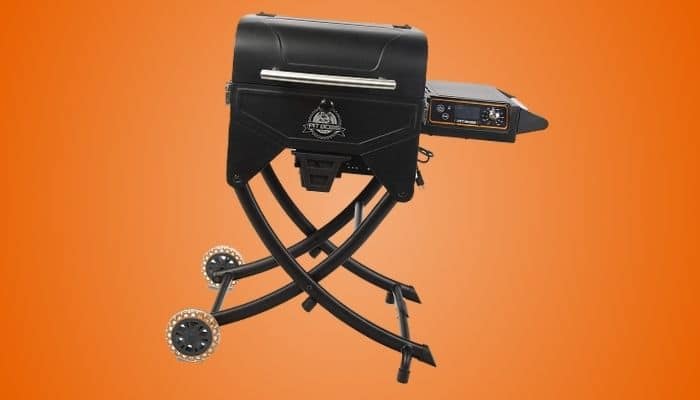 Another worthy choice is the PIT BOSS Portable Wood Pellet Grill. This model features a 387 square-inch cooking area and versatile temperature range, all packed into a compact and portable design.
The PIT BOSS grill grate is made from cast iron with a porcelain coating, so you can be sure that it's durable, resistant to rust and your food won't get stuck. It can cook at temperatures between 180°F and 500°F  and features digital controls for ease of use. There's even a built-in meat probe, so you can be certain that your meat is thoroughly cooked through before serving.
The 19 pound pellet hopper offers enough capacity to keep the heat going for hours, so there's plenty of time to cook for everyone without needing to refill. Food is cooked evenly and efficiently, thanks to the fan convection technology and you can opt for direct or indirect heat as desired. We also like that the latching hood seals securely to keep the heat and smoke inside for optimum flavor.
The exterior of this portable pellet grill is crafted from lightweight, premium gauge stainless-steel for toughness without weighing you down. The foldable legs with attached wheels and side handle make the entire unit simple to transport, and it will easily fit in your car trunk, RV or even aboard an ATV to your chosen grilling spot in the fresh air.
All in all, this model is an excellent option for outdoor cooking with groups of friends and family. The grill space is large enough to cater to several people, and the hard-wearing construction, generous hopper capacity, temperature range and portability features make it a worthy choice for any passionate grillmaster.
REC TEC WiFi Enabled Portable Wood Pellet Grill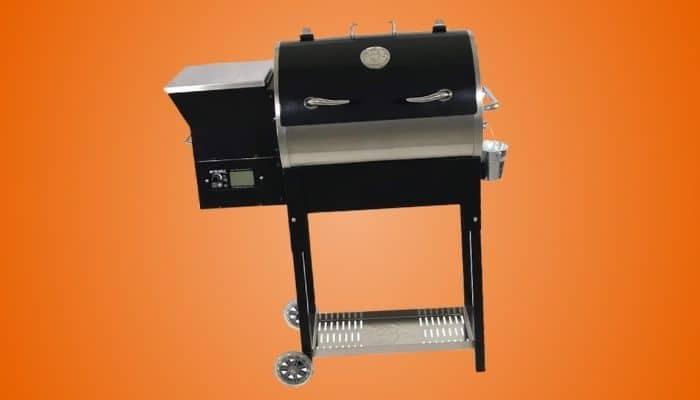 Last on our list we have the REC TEC WiFi Enabled Portable Wood Pellet Grill. Another hi-tech option, this model boasts WIFI capabilities for hands-off temperature controls and convenience cooking.
This model has a cooking area of 340 square-inches, so you have enough space to fit up to 3 racks of ribs for yourself and plenty of guests. The main body and cooking grates are crafted from top-quality, 304-grade stainless steel, which keeps the overall weight down without compromising on durability.
With a temperature range of between 200°F and 500°F, this portable pellet grill is powerful enough to cook whatever you wish. The temperature can be set in precise, 5-degree increments, either remotely or directly for accurate cooking, and the WIFI technology enables you to adjust the heat from your seat by the campfire. It also comes with two built-in meat probes, so you can be absolutely certain your food is cooked before handing it to your campmates.
The pellet hopper can hold 20 pounds, which is an impressive amount for a portable grill. We also like that the lid of the hopper is a flat surface, so you can opt to use it as a handy side shelf for food preparation and utensils.
This portable pellet grill has foldable legs that sit flush with the base of the grill when folded to save storage space. The wheels are well-built and tough enough to handle bumpy ground, and the built-in side handle makes it easy to tow this model along behind you to your destination.
As an added bonus, the REC TEC WiFi Enabled Portable Wood Pellet Grill is also available as a starter pack that includes two mesh grilling mats, pellets and a high-quality grill cover, so you have almost everything you need to get started.
Why Trust Us
All of our reviews are compiled with a combination of expert input, years of hands-on testing of grilling products, curating the reviews of real-life buyers in a "wisdom of the crowd" system, and of course our own expertise. All the products listed are the ones we would buy if we were looking to purchase a new portable pellet grill.
Methodology Used to Pick the Best Portable Pellet Grill
When picking the best portable pellet grill we looked at and then rated each pair on the following criteria. Price, portability, grill surface area, the thickness of chamber metal, hopper size, temp range, and any extras.
Buyer's Guide to Buying the Best Portable Pellet Grill
Still unsure which portable pellet grill is best? In this section, we give you the lowdown on what to look out for before buying.
Price
Portable pellet grills are usually cheaper than backyard versions, but they can vary in price quite significantly.
Of course, the right portable pellet grill for you will depend on what your budget is. You can find great budget options for around $300, with higher-end models priced at up to $600 or more.
Rather than focusing on the price alone, we recommend you pay attention to the features and whether or not they meet your needs. The cheapest or most expensive option in your price range may not necessarily be the best one for you – so be sure to consider price as just one aspect of your decision.
Size, Weight, and Portability
The size, weight and general portability of your pellet grill are clearly important features if you're planning to bring it with you on your adventures.
The right size for you will depend on where you plan to use it, store it and how many people you expect to cook for at any one time. After all, there's no sense in buying the largest option you can afford, if you're only going to cook for yourself.
It's true that pellet grills, even portable versions, are not the most lightweight outdoor grilling options on the market. However, the models we have reviewed are at the lighter end of the scale considering their capacity and functionality.
When deciding which model to buy, look closely at the portability features and consider your intended use before purchasing. Portable pellet grills that have collapsible or foldable legs, built-in wheels, locking lids and sturdy, attached handles are the best choices.
Grill Surface Area
It is important that you choose a portable pellet grill that has a suitable amount of grilling space for your needs. This can be made up of a main grill grate and additional racks.
If you're planning to grill for yourself and a couple of friends or family, a model that has around 230 square-inches of cooking space should be sufficient. On the other hand, for larger groups or big gatherings you should look for a model that has a grilling area of at least 350 square-inches.
Larger models, like the Z Grills ZPG-7002E, offer a very generous grilling area of 700 square-inches. These types of portable pellet smokers are great for tailgate parties, but may be overkill for occasional camping trips with family.
Thickness of Grill Metal
Grill grates should be made from high-quality materials such as cast iron or stainless-steel, ideally porcelain-enameled.
They should have a decent thickness, so they will be durable during transport and able to retain high heat levels without weakening. Keep in mind that the thicker the grill grate, the heavier it will be, so this is essentially a balancing act between durability and overall weight.
Hopper Size
The size of the pellet hopper will determine how long you can cook for before needing to refill.
The burning time depends on a number of factors, including the temperature you have set the grill at, and the external temperature (as this impacts how much fuel is required to heat the grill to begin with.)
If you're planning all day grilling sessions or would like to use your pellet grill as a smoker too, it's best to go for a model that has a large hopper but is still portable enough to transport easily.
In general terms, a pellet grill will burn between 1-3 pounds of pellets per hour in good conditions. If you live in a cold climate and will be cooking in the depths of winter, you can expect to get through pellets a little more quickly.
Temp Range
Having a wide temperature range will allow you to cook a versatile range of meals by a variety of methods.
For example, to cook low and slow, you'll need a portable pellet grill that can be set to between 95°F to 200°F – depending on what you're cooking. On the other hand, to get a good, authentic sear on steaks, you'll need a much higher temperature of about 400°F to 450°F.
We recommend looking for a portable pellet grill that has a wide temperature range of between 160°F and 550°F, so even if you're not interested in a certain type of cooking now, you have the option to try it later as you gain more experience.
WiFi Enabled
WiFi connectivity isn't a necessary feature, but it's certainly convenient (and fun!) to have.
Being able to control your portable pellet grill from an app on your tablet or smartphone means you can enjoy socializing around the campfire without having to keep getting up and checking on the temperature.
Some models also allow you to create cooking profiles, so you can have your grill ready to go at the tap of a screen.
Extras
Aside from these central considerations, there are a number of other extra features which are worth looking out for.
Thermometers and probes -Built-in thermometers and temperature probes are useful for ensuring your grill is running at the correct temperature and your food is thoroughly cooked before serving.
Wheels – Wheels dramatically increase portability and make it easier for you to transport your portable pellet grill by towing it behind you. Wheels should be made from rugged, heavy-duty materials so that they can withstand rough or bumpy ground without becoming damaged.
Carts – Some portable pellet grills can be used with compatible carts for simple transportation.
Automatic temperature controls – Some models feature smart temperature sensors that will automatically adjust the heat level to your desired setting, so the temperature remains consistent.
Ash pans and grease trays – Built-in ash and grease collection systems make cleaning up after your meal much less hassle.
Top Portable Pellet Grills Video
Final Thoughts
Any of the portable pellet grill reviews we have seen would make excellent choices, but the perfect model for you depends on your individual needs.
If you often cook for large groups of people or love a good tailgating party, then you'll need a portable pellet grill that has enough space to accommodate food for all of your guests.
In this case, we recommend going for either the Z Grills ZPG-7002E Wood Pellet Grill & Smoker or the Camp Chef Pursuit Portable Pellet Grill.
These models feature a range of user-friendly settings, have big hoppers and the largest grilling areas of any of the options on our list, with 700 square-inches or 501 square-inches respectively. Despite this, both models are still highly portable with wheeled legs and the Camp Chef Pursuit Portable Pellet Grill even features collapsible legs for easier storage and transportation.
For families or smaller gatherings, your best bet is either the Traeger Tailgater or the PIT BOSS Portable Wood Pellet Grill. These models offer a more conservative grilling area for greater portability, but still have plenty of space to cook for several people at once.
Lastly, if you love your tech gadgets and want to impress your campmates, we recommend going for the Green Mountain Davy Crockett WiFi Control Portable Wood Pellet Grill or the REC TEC WiFi Enabled Portable Wood Pellet Grill. As the names suggest, both of these models offer WiFi connectivity, so you can lounge around the campfire and accurately control your cooking with your smartphone or tablet.
Whichever type of portable pellet grill you're looking for, we're confident you'll find an ideal match in our best portable pellet grill reviews.