For flavorsome and tender home-smoked food, you need to get yourself the best charcoal smoker. From whole chicken and turkey to brisket, tri-tip, and ribs, smoking is one of the best ways to rustle up mouthwatering meals that the whole family will love.
If you're new to the world of smoking and don't know where to start, you're in the right place. In this guide, we've reviewed six of the leading models money can buy, so you can find the perfect charcoal smoker for your needs and experience.
Best Charcoal Smokers
If you're looking for a charcoal smoker, then be sure to read through our top-rated smoker reviews. We've selected six of the very best charcoal smokers on the market – so you can save yourself the time and hassle of endless online research.
Kamado Joe Classic III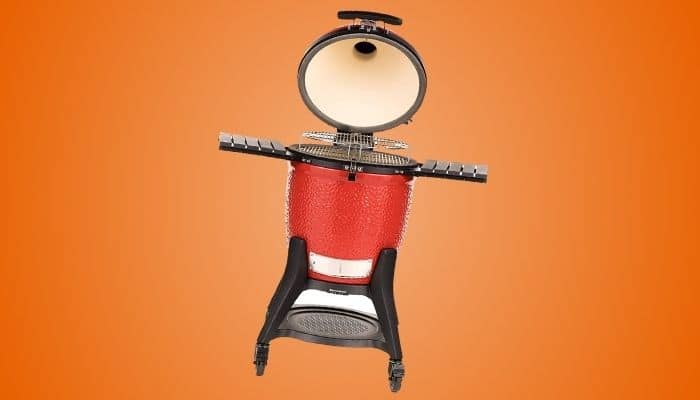 Kamado Joe's latest and most advanced ceramic charcoal grill, if you are looking for a high-performance smoker that also serves as an exceptional multi-purpose grill and cooker, then the Classic III is made for you.
As with the Classic II, this model also features Kamado Joe's renowned thick, heat-resistant ceramic walls and tight seals that lock in smoke and moisture for superior results. What sets this model apart (and helps justify its pretty steep price tag) is the inclusion of Kamado Joe's new revolutionary patent-pending SlōRoller Hyperbolic Smoke Chamber.
Utilizing Harvard science, the SlōRoller distributes heat and smoke in rolling waves at a maximum of 500 degrees F. Not only does this ensure an effective reduction in hot spots, for evenly cooked, tender meat, it also surrounds your food in highly flavorsome smoke for extra taste.
Complete with an 18" diameter, giving you 510 square inches cooking surface when you swap out the smoking insert for the three-tier Divide and Conquer split grate, the Classic III also benefits from other Kamado Joe must-have features.
The Kontrol Tower Top Vent and Patented Air Hinge give you ease of use and exceptional results every time, while the whole unit is securely installed in a heavy-duty galvanized steel rolling cart complete with side tables.
This premium multi-purpose smoker comes complete with a limited lifetime warranty on ceramic parts and five years on metal parts. If you are looking for a superior smoking and grilling experience, then the Classic III is definitely one to consider.
Pros – Things we liked
Thick, heat-resistant ceramic walls
Patent-pending SlōRoller
510 square inches cooking surface
Divide and Conquer split grate
Patented Air Hinge
Cons – Things we didn't like
Expensive
Weber Smokey Mountain Charcoal Smoker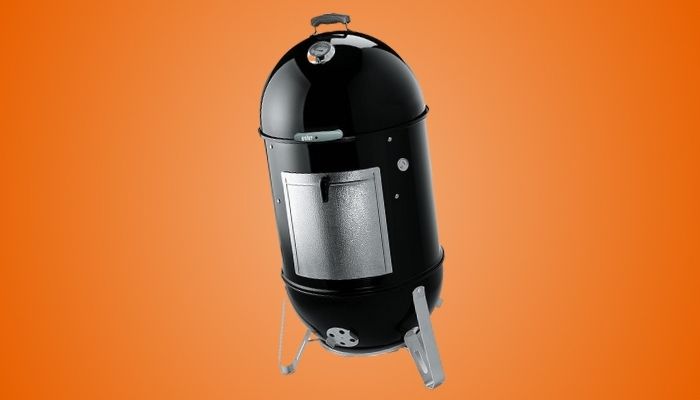 Investing in an 18" Weber Smokey Mountain is a great way to achieve a genuine smokehouse flavor from the comfort of your backyard.
Synonymous with high-quality home smoking, the bullet-shaped Smokey Mountain has a cult following and it's easy to see why. Affordable, easy to use, and highly durable, whether you're a newbie or a pro, it's a fail-safe way to fantastically tender low-and-slow smokes.
Made with porcelain-enameled steel, you get two plated steel cooking grates, giving you a total cooking area of 481 square inches, enough to feed the family or a crowd.
Smoke multiple items in one go, the 18-inch WSM can easily accommodate a whole turkey and an entire ham at the same time.
This charcoal smoker can hold a steady temperature for hours, making it one of the easier models to use. Thanks to its four aluminum dampers, it's very simple to control your smoking temperature and the side door allows you to access coal and water as needed. However, note that the door is not always as snug-fitting as you'd expect and you may have to bend it slightly to get a better fit.
Complete with sturdy, rust-resistant legs and a heat shield, while it doesn't have wheels, it does weigh under 40lbs. The heat-resistant nylon handle on the lid is a nice touch and while the in-built thermometer really looks the part, you'll want to take advantage of the silicone temperature grommet to add your own digital BBQ thermometer.
A great value-for-money classic that's extremely durable and a pleasure to smoke on.
Pit Barrel Classic Smoker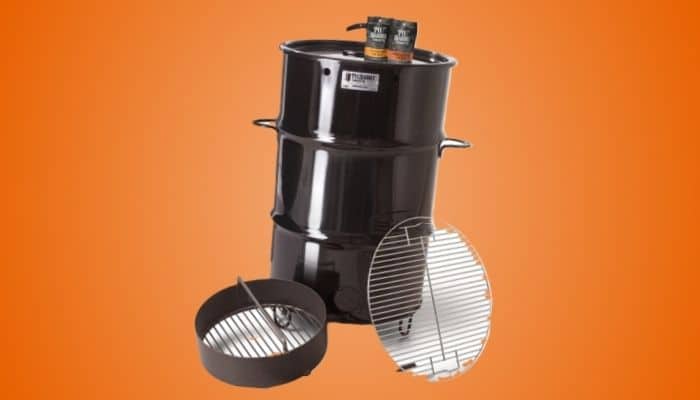 Are you looking for an easier, faster way to delicious tasting smoked meats? The Pit Barrel Classic Smoker is by far one of the easiest to use charcoal smokers around, producing superior results at a fraction of the price of some of the biggest names in smoking.
Not only is it exceptionally easy to use, once you've followed the instructions on lighting and smoking times, you can simply set it and forget it. With its unique vertical smoking experience not only does it provide double the capacity of regular horizontal cookers, it also utilizes 360-degree All-Round Heat Dynamics to produce consistently perfect results in shorter cooking times with no need to regulate temperature or smoke as you cook.
Made from durable 18-gauge steel with a porcelain-enamel coating, the PBC is also built to last. Given the ingenuity of its simple yet highly effective design, it is exceptionally durable and will last for years. It requires minimal assembly, being almost ready to smoke right out of the box, and comes complete with everything you need to get started.
Aside from the eight included stainless steel hooks for hanging your meat, there is also a standard grate included for grilling and searing. The charcoal basket is sized to allow for an optimal quantity for the perfect cook every time, and two hanging rods plus a hook remover tool are also included. The PBC doesn't come with a thermometer as it is engineered to cook at a constant temperature, although you should check your meat with a probe before serving.
Incredibly easy to use, it reduces your smoking time, and provides consistently even, tender, smoky results, not to mention its superior capacity, portability and excellent durability – little surprise there are hundreds of thousands of confirmed PBC fans.
If you are looking for an easy to use charcoal smoker and some of the best smoked meats you've ever tried, the PBC makes the best overall choice.
Oklahoma Joe's Highland Reverse Flow Smoker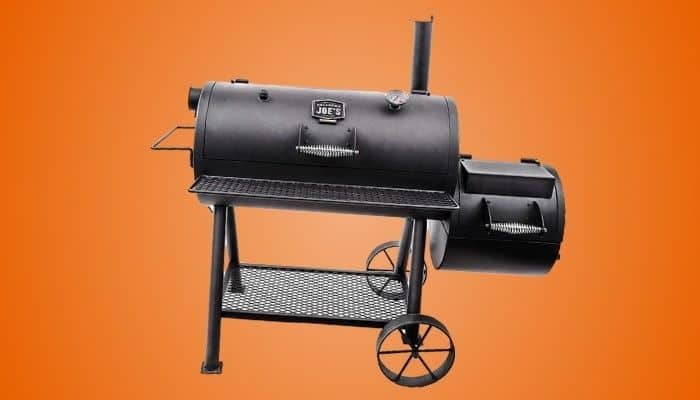 Offset smokers are a popular choice, but a lot of the cheaper models just don't work that great. However, if you're in the market for an offset and don't want to spend big bucks, the Highland Reverse Flow Smoker by Oklahoma Joe is the best model you'll get for the money.
Made from heavy-gauge steel, its thick walls retain heat – essential for even temperatures during your long smoking sessions. Complete with multiple dampers, you can get good heat and smoke control, however, the best feature of this offset smoker is its reverse flow design.
This utilizes four repositionable baffles and an optional smokestack location to enable you to improve the flow of heat and smoke throughout your cooking chamber. A far cry from cheaper models that cook high and fast next to the firebox and much cooler at the stack end.
With its large 900 square inch total cooking area, porcelain coated grills, convenient front and bottom shelves, plus its swing-open firebox door, there is a lot to like about the Highland Reverse Smoker. On the downside, assembly does take some time and you may find it necessary to make some modifications to get the best results from this particular model, notably adding some sealant to reduce leakage.
That said, this is still a good quality smoker and if you want to make some easy mods, you can achieve comparable results to higher priced premium offset models. However, if you are looking for an easy to use, ready to use straight out of the box model, this is not going to be the right choice for you.
You'll need to put in some time and effort to get the best results, something which makes using their offset smoker all the more rewarding for some BBQers.
Weber Master Touch Premium Charcoal Grill Smoker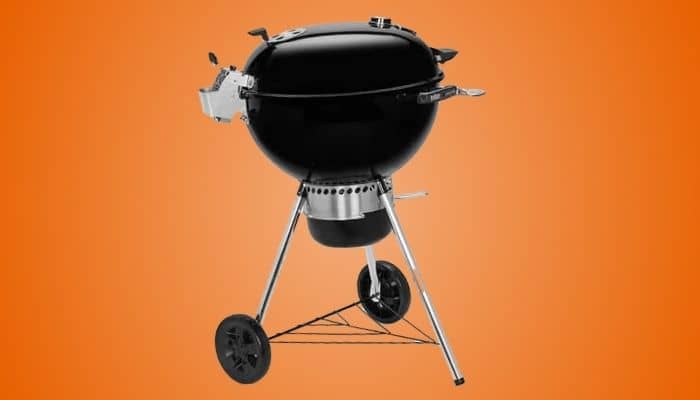 The Weber Master-Touch Premium is a fantastic reinvention of the original Weber Kettle. This three-in-one is your ideal backyard companion for grilling, roasting, and smoking. If you are short on space and need a multipurpose grill that can also double as an excellent smoker, then the Weber Master-Touch Premium will not disappoint.
With its total cooking area of 363 square inches, it's plenty large enough for couples and small gatherings. It is also highly portable, thanks to its two all-weather eight-inch rubber wheels, so you can wheel it in to store or easily change location.
Featuring a heavy-duty steel charcoal grate and a porcelain-enameled bowl and lid, this Weber grill combines the original features that you know and love with some excellent new additions. The spring-loaded lid hinge makes it so much easier to open, while the new P-vents enable even greater airflow control.
Thanks to the addition of a new charcoal chamber ring and stainless steel diffuser plate, the Weber Master-Touch Premium makes an excellent choice for smoking low and slow in your backyard. Additional features include a built-in thermometer, a bottom wire rack, and a special bracket for mounting your iGrill.
If you love tender smoked meats, but can't justify buying a dedicated smoker, then the Weber Master-Touch Premium is a good compromise, providing you with an excellent three-in-one BBQ for grilling, roasting, and smoking. It is also very easy to use and features an aluminized steel one touch cleaning system.
All in all, one of the most convenient and compact charcoal smokers on the market, available at a highly affordable price.
Cuisinart Vertical Charcoal Smoker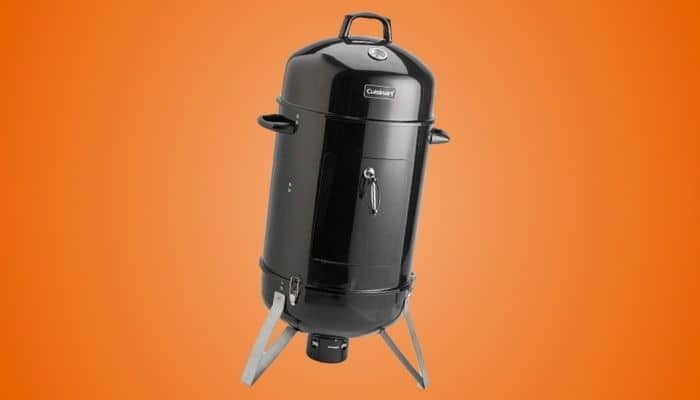 The Cuisinart Vertical Charcoal Smoker is the cheapest model in our charcoal smoker reviews. If you don't want to spend several hundred dollars on a smoker and are looking for a decent entry-level model, then it makes a good choice. If you are looking for superior performance out-of-the-box, we recommend spending more.
Thanks to its vertical barrel design, complete with top and bottom vents, it is easy to maintain a stable temperature throughout your cook time. Two steel racks are included with this smoker that can be stacked inside the chamber, allowing you to smoke numerous items simultaneously with 510 square inches of cooking space.
Made from durable steel with a porcelain-enamel water bowl, this model is fairly easy to assemble, and should only take around 15 minutes with a screwdriver. The vertically hinged door makes for easy access to fuel and water. However, the door leaks pretty badly. Being just metal on metal, you'll really need to add on a heat gasket for better results.
What's more, the coal ring is fairly small, so you might find you have to refill several times for longer cooking times, when smoking briskets for example. However, this can be easily rectified by purchasing a taller coal ring designed for another brand with a similar diameter.
On the whole, if you are going to go for a cheap smoker, then the Cuisinart Vertical Smoker is better than most other entry-level models. If you are new to smoking and simply want to try it out without spending a lot, then it could work for you. Just be aware that there are easier to use models that are much more robust, durable, and better designed, albeit double the price and more.
Pros & Cons of a Charcoal Smoker
Generally considered the best type of smoker around, charcoal smokers are a highly popular choice. Before investing in one, it's important to consider the advantages and disadvantages of charcoal smokers, so you can make your purchase with confidence.
Pros of charcoal smokers
Versatile – Charcoal is a highly versatile fuel, allowing you to cook at both higher and lower temperatures. So you can smoke low and slow, but if you also need to sear some steaks or want to pick up the pace a little, you can easily adjust your temperature to suit your needs.
Safe – As a fuel type, charcoal is very safe to have lying around. So you won't have to worry about your bags of charcoal catching fire or exploding in the heat.
Flavor – As your smoking meats drip over your hot coals you'll get a tasty aromatic flavor that you just can't match with other types of smokers. Plus you can also add chunks of wood to your charcoal smoker without the need for a smoker box if you want to add some extra smoky flavor.
Juicy meats – Smoke your meats over charcoal and they'll cook using infrared heat which results in less moisture loss for consistently tender, juicy results.
Cheaper – Given their relatively simple construction, charcoal smokers cost much less than most equivalents.
Cons of charcoal smokers
Setup time – Unlike gas or electric, you'll have to spend some time setting up your smoker and getting it to the correct temperature before you can start smoking.
Supervision – You will need to monitor most charcoal smokers throughout your cook time to ensure that temperature and airflow are maintained at optimal levels. This can be tricky when using a new smoker, although with time, you will hone your skills for better results. As the saying goes, practice makes perfect.
Cleanup – Depending on your smoker's ash system, cleanup can be pretty messy. You'll want to wait for your coals to burn out fully before cleaning up which can take some time.
Charcoal Smoker vs Other Smokers
While charcoal smokers are considered to be the gold standard, there are other options out there if you are looking for an easier way to a slow smoked brisket.
Pellet
Pellet smokers have soared in popularity in recent years and it's easy to see why.
For starters, they are highly convenient and an excellent way to smoke. They utilize pellets that are made from sawdust, so they combust almost completely leaving virtually no ash. However, as they combust so well, they don't produce an awful lot of smoke, especially at higher temperatures. Smoking under 250 degrees F will give you a fair amount of mild smoke, though.
As a set-it-and-forget-it smoker, pellet smokers are really easy to use. They are becoming increasingly sophisticated with electronic controllers complete with chamber thermostats. What's more, the pellets themselves are an all natural product, with no fillers or binding agents.
On the downside, you will need electricity to power your pellet stove's digital controller and heat circulation fan. As they do not provide a lot of intense, flavorsome smoke, some people prefer to use them for more delicate smoked white meat or fish. However, if you don't like your meat too heavily smoked, it could be an ideal option for you.
Electric
Electric smokers are highly convenient and can produce some delicious food. If you live in an apartment building or condo, your choice of smoker may have to be electric as gas, pellets, and charcoal are often prohibited.
While they are very, very easy to use and excel at smoking fish, bacon, sausages, and the like, a lot of people find that they just don't impart the same smoky flavor as you get from cooking with a live flame.
Gas
Gas smokers are another really easy to use method. They produce plenty of clean heat and don't cost too much. However, if you are looking for an authentic smoky flavor, you'll have to add wood chips.
Unlike pellet and electric smokers, gas smokers are portable and you can easily transport them to cook at a friend's house or on a camping trip. While they are easy to pack up, a lot of models are fairly narrow, so not the best if you are looking to smoke full racks of ribs.
As you can tell, while each type of smoker has its own advantages, if you are looking for that full-on smoky flavor, charcoal is the best way to go.
Charcoal smokers are also generally cheaper and give you that authentic BBQ experience that you just don't get with other more convenient types of smoker.
Why Trust Us
All of our reviews are compiled with a combination of expert input, years of hands-on testing of grilling products, curating the reviews of real-life buyers in a "wisdom of the crowd" system, and of course our own expertise. All the products listed are the ones we would buy if we were looking to purchase a new charcoal smoker.
Methodology Used to Pick the Best Charcoal Smoker
When picking the best charcoal smoker we looked at and then rated each smoker on the following criteria. Price, type of smoker, chamber area, portability, build quality, temp controls, and gaskets.
Buyer's Guide to Buying the Best Charcoal Smoker
To help you choose the best charcoal smoker, we've put together this buyer's guide covering all of the most important features. Don't hit buy until you've carefully thought through everything on our list.
Price
You tend to get what you pay for and smokers are no exception. However, you don't need to spend a huge amount to get a good value charcoal smoker that is more than adequate.
Just bear in mind that some of the lower priced models can take a lot more time to get used to and you may end up having to make some modifications to get them to work effectively.
As modifying your cheap charcoal smoker is going to cost you extra cash and take up some of your precious time, we recommend paying out extra for a higher quality model. While you can modify cheaper versions, is it really worth all your time, money and effort? You'll still end up with a poor grade steel model that has a limited lifespan.
For around 300$, you can get some excellent charcoal smokers that work out of the box. Naturally, there are plenty of other more expensive versions, often laden with extra features, superior build quality, and extensive warranties.
However, the extra high priced models do not ensure a better smoke and you may find some of the mid-market models perform just as well.
Smoker Type
There are several different types of charcoal smoker available, here's a closer look at some of the most popular styles.
Bullet
Shaped like a capsule with metal feet at the bottom and a vented lid up top, bullet shaped smokers are plentiful at the lower end of the market. They frequently feature water pans between the coals and your food to stabilize heat levels, as well as adding humidity. They are a popular style, although you may find it difficult to access the lower shelf, as well as your coals and water pan while smoking.
Barrel/drum
Barrel or drum smokers, also known as ugly drum smokers (UDS) have taken the market by surprise in recent years. You can build your own from scratch, buy a kit and build it, or purchase a ready to smoke version.
Barrel smokers work surprisingly well and offer plenty of vertical space, enabling you to cook large quantities. If you are looking for an easy to use charcoal smoker, we recommend getting yourself a barrel model for consistently good results and a less steep learning curve.
Offset
Offset smokers certainly look the part, however, as smoke naturally rises rather than flowing sideways, some cheaper versions can create very uneven cooking results. So, don't be tempted by a cheap offset smoker.
If you want a good charcoal offset smoker look out for one that features a reverse flow, with a heavy thick-walled construction and tight seals.
Cabinet style
Looking for a premium charcoal smoker? Some of the most expensive, top-rated charcoal smokers come in a cabinet style, complete with full front opening doors.
Usually reserved for commercial usage, they tend to cost several thousand dollars and come with a range of features, such as internal ducting, for even cooking results and extra ease of use.
Kamado/egg
Spherical or oval-shaped, kamado or egg smokers are another highly popular type of smoker.
The ceramic versions tend to be very well insulated which makes them a great choice for cooking low and slow. They are also less affected by variations in the weather, making them more suitable as a year-round smoker.
The lid fastens tightly on to the lower half with a good seal. Most can also be used for searing and general grilling, as well as baking and roasting, making them a good multi-purpose smoker, ideal if budget or space constraints mean you can only invest in one type of outdoor stove.
Grill/Smoker Combo
If you don't already own a grill or are looking to upgrade your current model, you may want to invest in a smoker that can also function as a grill. This can also be handy for when you have a large grill and you don't want to fire it up for a couple of steaks.
Traditional smokers will often struggle to meet the higher temperatures that you need for general grilling, however, if you opt for one of today's multipurpose models, you can grill, smoke and roast, all on the same outdoor stove.
On the other hand, if you are looking for a large smoker for large quantities, you may be better off looking for a smoker only version.
Cooking Chamber Area
Consider what you will be smoking on a regular basis. How many people do you tend to have over?
While egg-shaped smokers often have a small chamber area, drum smokers offer plenty of vertical hanging space, so you can easily cook for a crowd. Offsets tend to have plenty of horizontal space, although a large bullet smoker with two tiers won't be that far behind.
Consider the dimensions of each potential model. If this is your first grill and the measurements don't mean that much to you, draw out the diameter on some paper and you'll more easily be able to envisage if it will be big enough for your needs.
Easy to Move
When summer's over and winter sets in, you'll probably want to move your smoker indoors to store. Also, when you're entertaining, you may like to move it to another part of your yard so everyone can mingle around, while you keep a close eye on your progress.
One of the main benefits of charcoal smokers is that they are portable, so if you are thinking of taking yours tailgating, camping, or simply round to friends and relatives, check the weight and if you can easily dismantle it.
Build Quality & Materials
You'll want to look for a model with thick steel housing. This will absorb the heat and radiate it back around the chamber for consistent, even temperatures throughout cooking.
Thin, cheaper models will leak heat and you'll struggle to keep temperatures even. This will make it harder to predict your cooking times and you may end up keeping your guests waiting several hours longer.
Brand & Warranty
All major brands will provide a good warranty for their product. Reputation is important and many BBQ brands have very loyal customer bases. In general, the more expensive models tend to have the longest warranties.
If you are looking for a budget charcoal smoker, you'd be best advised to look for an entry-level model from one of the big names in outdoor grills, rather than picking up a generic model made by a company without any insider know-how.
Temperature Control
Temperature control is essential to a good smoker. Airflow controls your temperature and must be carefully monitored to ensure that you are cooking at the recommended levels.
If you're not, you could end up over or under-cooking your meal. No big deal for a small family lunch, however, when the pressure's on and you have guests over, you'll need to ensure that you are cooking at the right temperature for your recipe.
While charcoal smokers are not the easiest type of smoker to control, with practice, you will get the hang of your particular model. Air vents allow you to increase or decrease your temperature by regulating air flow.
However, models like the Pit Barrel Smoker don't feature any vents. During the setup process you stabilize the temperature which is kept constant throughout, which can make smoking on this type of model much easier.
Thermometer
A lot of charcoal smokers have traditional bi-metal thermometers in the lid. While they look the part, they are often inaccurate and in any case, give you a reading of the temperature right at the top, not down where your meat is.
You should always invest in a modern digital thermometer to use with your smoker. Some models, like the WSM, have a silicone grommet so you can easily insert your own. Others may need some modification.
Seals & Gaskets
Wherever you have metal surfaces that open, such as the lid or a door, you will need a seal or heat gasket to prevent heat and smoke leaking out. This is a particular problem with lower priced smokers.
While a lot of users add sealant or place heat gaskets to rectify this problem, check before you buy if you don't want to have to start modifying your smoker and potentially invalidating its warranty.
Top Charcoal Smokers Video
Final Thoughts
There are so many different charcoal smokers on the market that it's easy to get bogged down in the sheer number of options. However, if you carefully consider your needs and budget, then consult our top selection, you are sure to find your perfect match.
Looking for a compact all-rounder that you can use all-year round for smoking, as well as grilling, then the Kamado Joe Classic III is one of the best models around. Thanks to its revolutionary patent-pending SlōRoller Hyperbolic Smoke Chamber, your meat is bathed in waves of smoke for tender, flavorsome results like you've never had before. Swap it out for the three-tier Divide and Conquer split grate and enjoy up to 510-square inches grilling surface, this highly versatile smoker is one of the very best models around.
Want a cheaper option that gives you almost failproof, perfectly tender, deliciously smoked meats every time? You really can't go wrong with the Pit Barrel Classic Smoker. It's vertical smoking method gives your food 360-degree heat that keeps it moist and tender, vaporizing the juices for outstanding results. One of the easiest charcoal smokers to use, simply follow the instructions setting it up and take it easy. Using a Pit Barrel Smoker can even knock hours off your brisket time with a superior end result.
Looking for a combination of traditional and new? Check out the Weber Master-Touch Premium for excellent grilling, roasting, and smoking. Thanks to its new P-shaped vents, charcoal chamber ring, and heat diffuser plate, this new take on an old favorite provides excellent smoking capabilities. Not only is it easy to use, it is also highly portable and made with high quality, durable materials for a long lifespan and excellent performance.