If you're just starting out on your journey into the world of delicious home-smoked meats, getting yourself the best beginner smoker is a smart choice.
Depending on the type and fuel source, some smokers are much easier to use than others, and the last thing you want is to ruin your enthusiasm with disappointing results after your first few attempts.
In this guide, we have rounded up a comprehensive selection of the most novice-friendly smokers on the market, to help you achieve perfectly smoked meats from day one. We have included models of each type – gas, charcoal, electric, pellet, and kamado smokers – so you can find your ideal match with confidence.
Best Beginner Smokers
There are several different types of smokers available on the market, so it's no surprise that beginners often find the range of choices confusing.
In this section, we have compiled a list of our favorite models for novice smokers – so whether you want to take a hands-off or manual approach to cooking, you're sure to find your ideal match right here.
Weber Smokey Mountain – Best Beginner Charcoal Smoker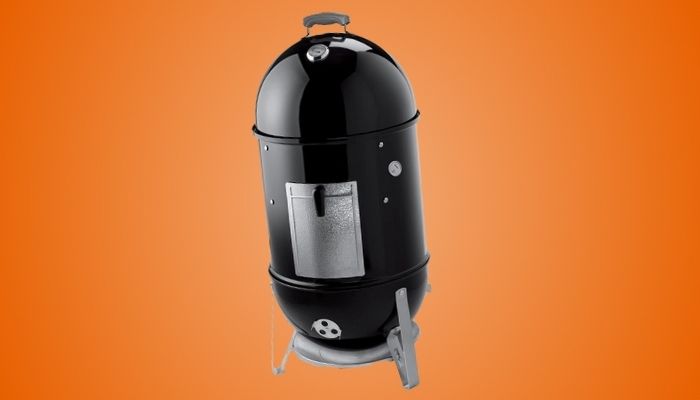 Our overall pick for the best beginner charcoal smoker is the Weber Smokey Mountain. This model is highly popular, and its ease of use makes it a great choice if you're new to smoking.
This model has a compact design and is shaped like a capsule, but it still offers plenty of capacity to cook for gatherings of family and friends. It has a 22-inch grill area that provides a total of 726 square-inches of cooking space – enough for around 6 to 9 people. It also has a large water pan so you can smoke all day long.
The front-access door allows easy loading of wood chips and charcoal, so you can top up the fuel without interrupting your cook. Temperature control is simple, thanks to the integrated temperature gauge and built-in dampers, and there's even a grommet included so you can use your own temperature probe if desired.
Aside from its ease of use, this model is capable of reaching high temperatures and is also built to last. The main body is made from highly-durable, porcelain-enameled steel, that retains heat while also resisting rust. This means you can cook up to 190°F consistently without any heat loss or structural weakening.
We like that this model also has a heat-resistant handle and an integrated heat shield in the base that prevents the ground underneath from getting hot. It has sturdy legs that keep it stable on most surfaces, and it's also compact enough to take with you on camping trips and days out.
Overall, this model is an excellent choice for beginners. It is simple to use, highly-durable and retains heat very well for low and slow cooking. It's not the biggest smoker on the market, but it's still large enough to cook for several people at once.
Pros – Things we liked
726 square inches of cooking space
Large water pan
Front-access door
Made from porcelain-enameled steel
Cons – Things we didn't like
No hinge or bracket for the lid
Masterbuilt Gravity Series – Runner-up Charcoal Smoker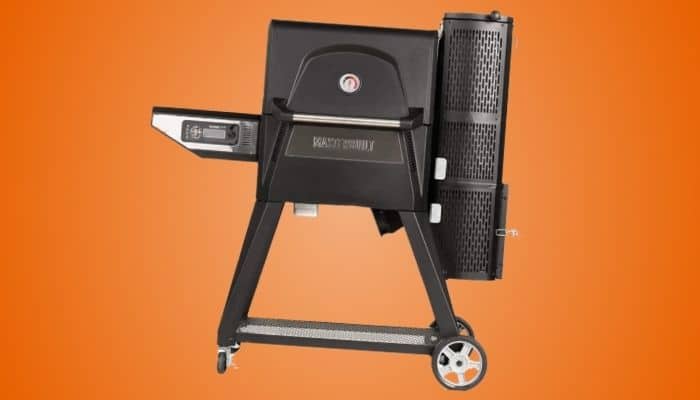 Our favorite choice for the best runner-up charcoal smoker is the Masterbuilt Gravity Series. This digital charcoal grill and smoker is capable of smoking, grilling, searing, roasting and baking – so you get an all-around cooking experience with one unit.
To set the temperature, you can use either the digital control panel or adjust the heat remotely via WiFi or Bluetooth using your smartphone or tablet. The integrated digital fan works to keep the cooking temperature stable, so you can create perfectly-smoked food at the tap of a button.
This model has a large hopper that can hold more than 12 hours of charcoal, so you can cook all day without needing to top up. It uses a GravityFed™ mechanism to ensure the fire has a constant supply of fuel and there's no risk of interruptions. It reaches high temperatures fast, too. In just 13 minutes, this model can hit 700°F, so you won't need to wait around for it to heat up.
With 560 square-inches of cooking space, this model has enough capacity to cook 4 racks of ribs or 8 whole chickens at once, so you can feed large groups easily. The cast-iron grates are reversible so you can smoke or sear to perfection, while the convenient, built-in meat probe is great for checking that your food is thoroughly cooked.
On the downside, this model isn't as durable as the Smokey Mountain. Some users have noticed the paint beginning to peel off after a few months, so if you choose this model, we recommend getting a good quality cover to keep the weather off.
Traeger Tailgater – Best Beginner Pellet Smoker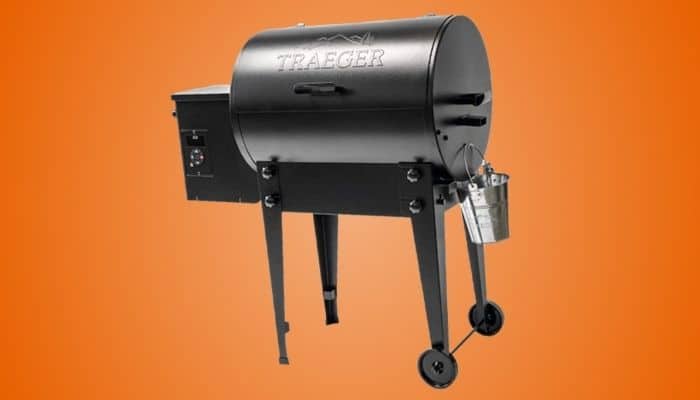 If you're looking for a pellet smoker, the Traeger Tailgater is our favorite beginner's choice. This model is simple to use, well-made and it's even portable enough to take with you on day trips with friends and family.
The Traeger Tailgater is lightweight at just 62 pounds, and it has foldable, wheeled legs for easy storage and transport. The 300 square-inch cooking area with non-stick grates can accommodate 3 racks of ribs or 2 whole chickens, so it's plenty large enough to cook for the whole family and some extra guests.
Another great thing about this smoker is its large pellet hopper. It can hold 8 pounds of pellets, which is enough for 6 hours of smoking before you need to top it up. Temperature control is made easy thanks to the digital arc controller, which allows you to set the temperature very precisely in increments of 5 degrees for perfect results.
This model can also reach temperatures of up to 450°F, so you can cook all of your favorites. And once your food is done, there's also a handy "keep warm" mode that prevents your meal from getting cold if your guests or side dishes aren't quite ready yet. Another great feature is the built-in meat probe, so you can check the internal temperature of the meat without opening the lid.
All in all, the Traeger Tailgater is a great option if you're new to smoking. Not only does it have a large capacity and generously-sized hopper, but the digital arc temperature controller makes it simple for newbies to achieve delicious results.
Z Grills – Runner-up Beginner Pellet Smoker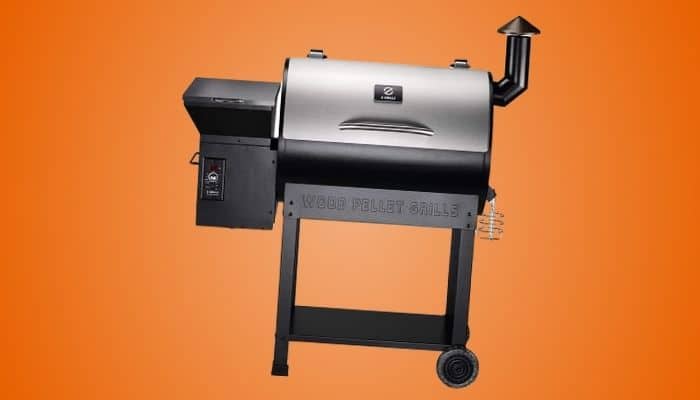 Another good choice of beginner pellet smoker is the Z Grills ZPG-7002E. This model has a 694 square-inch cooking area, making it a great pick if you regularly cook for large groups of people.
The Z Grills ZPG-7002E has capacity for 6 racks of ribs or 5 whole chickens, and comes with a large hopper that can hold 20 pounds of wooden pellets. This generous capacity means that you can smoke all day on one fill – great for "set it and forget it" cooking.
Another great feature of this pellet smoker is its digital temperature controls. The controls are pretty precise, so once you set your desired temperature, they will ensure the heat stays within 10-degrees of this temperature for the duration of cooking.
Once you're done cooking, this model has a convenient grease collection system that makes clean up much easier. We also like that it comes complete with a free waterproof cover, so you can keep it protected from the elements when not in use.
This user-friendly smoker is made from highly durable stainless steel, so it's built to last and won't rust. It has a weighty lid that closes tightly to seal in your woodsmoke, and wheeled legs, so you can easily move it around your yard single-handedly.
Overall, there's very little to fault with this model. The temperature control isn't as precise as the Traeger Tailgater, but it's still a robust, easy-to-use smoker that's great for entertaining large gatherings of friends and family.
Masterbuilt MB20070210 – Best Beginner Electric Smoker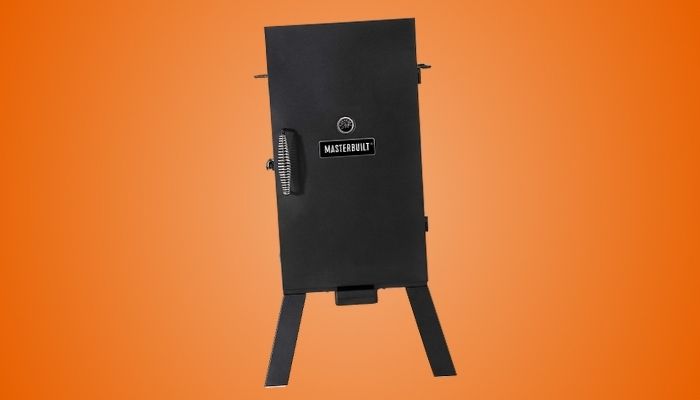 If you'd rather keep things clean with an electric smoker, our top pick is the Masterbuilt MB20070210. This electric analog smoker has a generous amount of cooking space and is very easy for novice smokers to use.
This model has a 548 square-inch capacity, spread across three smoking racks. The racks are chrome-plated for durability and provide enough space to smoke three whole chickens, two turkeys or three racks of ribs – more than enough to feed the whole family.
Powered by an impressive 1500 watt heating element, this electric smoker doesn't require you to continuously add charcoal or pellets, making it a convenient option for fuss-free smoking. All you need to do is plug it in, set the temperature, fill the tray with water and wood chips and leave it to do its thing.
Once set up, the dual-wall insulation and airtight seals hold all the heat and smoke firmly inside, so your food absorbs all the delicious smoky flavors as it cooks. A temperature gauge is built into the front of the door, so you can easily monitor the internal temperature and adjust it if needed.
The water tray is designed to catch any grease drippings while cooking, so it's fairly easy to clean out when you're done. However, some grease may miss the tray while cooking and you'll need to wipe this out by hand.
The only potential problem with this smoker is the exterior paint. It is prone to bubbling and peeling after a few uses, but this is just a cosmetic issue that doesn't affect performance. If you need a simple beginner's smoker that can create delicious meals with little effort, this model is a great choice.
Char-Broil Deluxe Digital – Runner-up Beginner Electric Smoker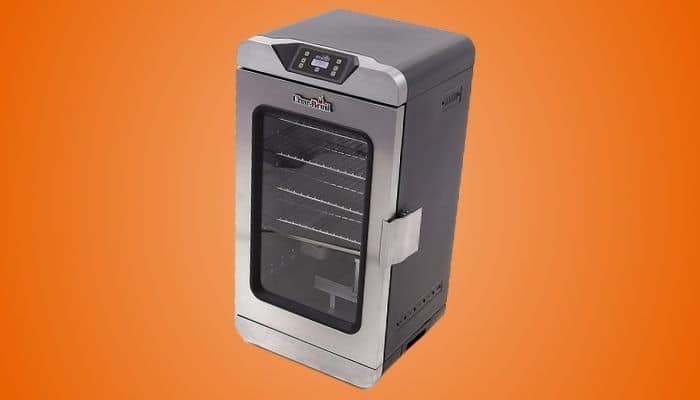 Another great choice of electric smoker is the Char-Broil Deluxe Digital. This model has four smoking racks that provide a total of 725 square-inches of cooking space, so you can cook whole chickens, pork butts and ribs for 8 people or more.
The Char-Broil Deluxe Digital keeps the heat tightly contained, thanks to its double-walled construction and high-quality insulation. The glass door has an airtight seal and stainless steel latch to prevent flavor-filled smoke from escaping, and allows you to keep an eye on your food while cooking.
This model is great for beginners as the digital controls are simple to use. All you need to do is set the temperature and duration, lock the door and it'll do the rest. It also comes with a remote control, so you can adjust the temperature or set it to the "keep warm" mode without getting up from your seat.
We like that this model has a large smokebox, so you can fill it with wood chips and smoke away for up to 7 hours before you need to top it up. There's also a built-in, removable food thermometer, which is useful for checking that your meats are thoroughly cooked before serving.
Overall, the Char-Broil Deluxe Digital is a good beginner's choice that's well-made and easy to use. There's plenty of space to cook for big gatherings and its stainless steel design is both attractive and durable.
PIT BOSS 77435 – Best Beginner Gas Smoker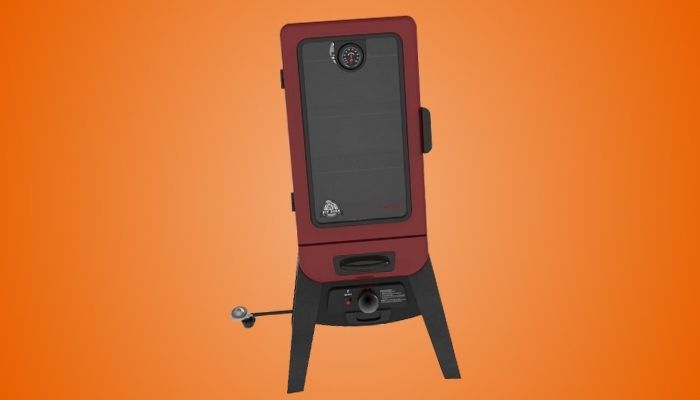 Prefer to cook with the convenience of gas? Then we recommend checking out the PIT BOSS 77435 – our favorite beginner's gas smoker. Featuring a striking bright red and black design and large 884 square-inch cooking capacity, this model will be the centerpiece of any gathering.
This model has three racks so you can spread out your food for best results. The racks are porcelain-coated for great heat retention and durability, and they can be adjusted to a range of heights as required. This is perfect if you're smoking large turkeys or big racks of ribs.
The PIT BOSS 77435 has twin stainless-steel burners that are capable of kicking out 12,500 BTUs. It easily reaches temperatures of 350°F which is perfect for searing, but can hold a steady heat level of 100°F for low and slow cooking.
This propane smoker heats up fast and is easy to start up at the push of a button, thanks to the built-in piezo ignition. The large control knob on the front makes it simple to control the temperature, while the front-access wood chip tray means you can top up the fuel whenever you need.
Other great features include a sturdy, well-sealed door with a built-in glass window so you can monitor your cooking, a cleverly-designed grease tray and integrated wheels so you can easily move the unit around without lifting.
For gas-fired convenience and deliciously smoked results, the PIT BOSS 77435 is a worthy pick if you're new to smoking.
Cuisinart Vertical – Runner-up Beginner Gas Smoker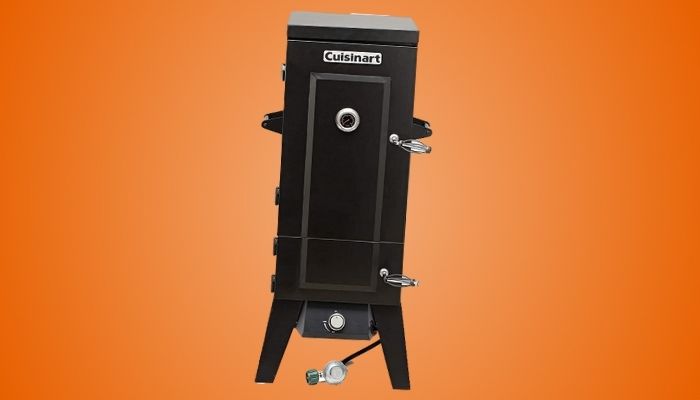 Our runner up model for the best beginner gas smoker is the Cuisinart Vertical. This model has slightly less capacity than the PIT BOSS at 784 square-inches, but it still has more than enough room to smoke large cuts of meat to feed the whole family.
With its four removable shelves, this model makes it easy to arrange them as you need to accommodate all your food. All the racks are made from stainless steel for durability and can even be cleaned in the dishwasher.
This gas smoker has just one burner, but it's still pretty powerful at 15,400 BTU and it can reach an impressive maximum temperature of between 350°F -375°F. The built-in thermometer on the door makes it easy to keep an eye on the temperature without resorting to guesswork.
The temperature is simple to adjust by using the gas flow dial at the base of the smoker. You can also use the rear vent as an additional control measure to temper the heat and smoke. The door seals tightly for great heat retention, thanks to the twist lock handle.
Inside this smoker, the steel, porcelain-enameled tray holds a generous amount of wood chips and water, so you can infuse your meats with smoky flavor without needing to top up frequently. The tray is easy to remove once you've finished cooking, too, so clean up is hassle-free.
All in all, if you want an easy to use gas smoker and you don't need huge capacity, this model is well worth a look.
Kamado Joe Classic Joe III – Best Beginners Kamado Smoker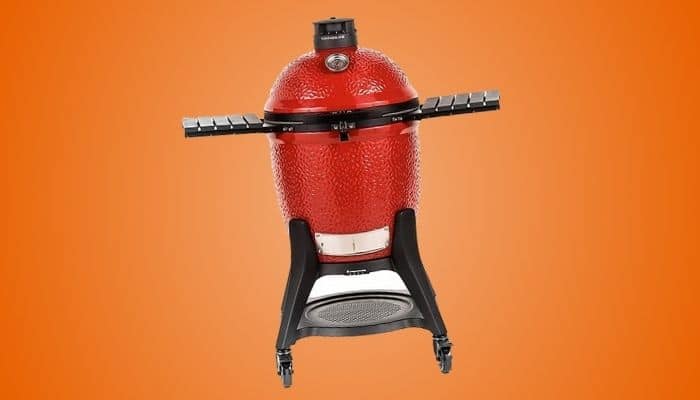 Kamado smokers don't come cheap, so if you want a kamado smoker as your first smoker, you're better off paying for one of the best models money can buy. Our absolute favorite has to be the Kamado Joe Classic Joe III.
This highly-popular model is made by one of the leading grill manufacturers and pulls out all the stops. It features a large cooking area of 510 square-inches and can reach temperatures of between 225°F – 750°F for versatile cooking. This is enhanced by the innovative "SloRoller" plate, that distributes heat and smoke to create a hyperbolic smoke chamber for even heat and delicious results.
The three-tier "Divide and Conquer" cooking grates allow you to not only arrange them as you wish to accommodate food, but also to place the grates closer or further away from the coals as needed. The top vent makes it easy to control the heat and smoke, while the built-in temperature gauge ensures newbie smokers can keep an eye on the heat.
The Kamado Joe Classic Joe III has a highly-durable ceramic construction that is built to efficiently retain heat. The lid has a reliable air-tight seal so no smoke can escape, as well as an airlift hinge and strong aluminum latch for comfortable handling.
Other great features include folding side shelves for extra preparation space and a pull-out ash drawer for easy cleanup.
The Classic Joe III is a fantastic choice as it comes, but there's also a huge range of accessories available for this model, so you can up your smoking and grilling game with just one unit.
Large Big Green Egg – Runner-up Kamado Smoker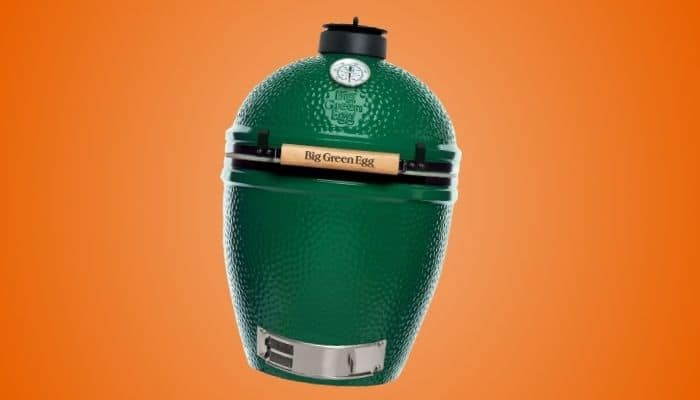 Our runner up Kamado smoker is the Large Big Green Egg. Often touted as the biggest competitor to the Kamado Joe, this model has been around for decades and offers a more affordable alternative to our top pick.
The Large Big Green Egg has a smaller cooking capacity than the Kamado Joe at 262 square-inches, but this is still plenty large enough to smoke 7 racks of ribs or 6 whole chickens at once. The ceramic construction also retains heat incredibly well, it can reach temperatures of up to 575°F and it has a felt seal between the lid and body to keep smoke securely contained.
The grill grate cannot be adjusted on this model, so you are a little more limited with regard to temperature control. However, it does have an integrated temperature gauge and adjustable vent on the lid, just like the Kamado.
The Large Big Green Egg is simple for beginners to use, just load up the firebox with charcoal and wood chips, light it up, close the lid and adjust the vent as needed to maintain your desired cooking temperature. This model is also compatible with a range of accessories, so you diversify your cooking as you gain experience.
On the downside, unlike the Kamado, this model needs to be assembled before use, which may be off-putting if you're not very handy. It also doesn't come with any side shelves, so there's no included preparation space.
Overall, though, we think this model is a worthy runner up if you can't justify the cost of the Kamado Joe Classic Joe III.
Types of Smokers
There are several different types of smokers to choose from. When you're starting out on your smoking journey, navigating the range of models can be confusing.
Let's take a look at each type of smoker and how they work.
Charcoal Smokers
Charcoal smokers are perhaps the best-known type of smoker. As the name suggests, these models use charcoal as fuel and as a source of smoke to cook. You can also add wood chips amongst the coals for extra flavor.
Many people believe that traditional charcoal smokers create the best smoked meats with an authentic smoky taste. There's a large range of charcoal smokers on the market and they are a very popular choice.
The drawback to charcoal smokers for beginners is that they can be quite difficult to use correctly. The biggest challenge with charcoal smokers is temperature control; this is achieved by adjusting the airflow to the fire pit via vents and dampers, so many newbies struggle to get this right to begin with.
Pellet Smokers
Pellet smokers use a combination of electricity and wood pellets to create heat and smoke. They are easier to use for beginners, as they have built-in thermostats that maintain the desired temperature automatically.
Pellet smokers have an attached hopper that is filled with wood pellets. You can use a variety of different flavored pellets to add a mild flavor to our food. The pellets are fed into the firebox by an automatic auger, where they are burned to create heat and smoke.
As pellet smokers have a very "hands-off" cooking method, they are a pretty fool-proof choice for inexperienced users. All you need to do is fill the hopper, set the temperature and push a button to start smoking. The rest is done for you.
Gas Smokers
Gas smokers use wood chips or small chunks of wood over gas-fired burners to create flavored smoke that infuses into your food.
These models heat up fast, are simple to get going and the temperature can be easily controlled by adjusting the gas flow. They usually have push-button ignition and a built-in thermometer so you can monitor the temperature inside.
This style of smoker is a popular choice for beginners as they are relatively easy to use. The only drawback is that they create a slightly less smoky flavor than traditional charcoal smokers and, unlike pellet or charcoal models, you cannot top-up the fuel part-way through cooking if your gas runs low.
Electric Smokers
Electric smokers have an electric coil that creates heat. This heats up wood chips within a firepan, which then begin to smolder, generating smoke.
Electric smokers have built-in thermostats that maintain the temperature at your set level, so you don't have to monitor them too closely while cooking. They often have a compact, vertical design, so they don't take up a lot of space if you have a small balcony or decking area.
A drawback of electric smokers is that they often have a limited temperature range and the high moisture levels make it difficult to achieve a crispy outer layer on your meats.
Kamado Smokers
Kamado smokers are a highly popular choice. This style of smoker is made from ceramic with a weatherproof outer coating and has an egg-shaped design. They often come with a separate wire stand that they are slotted into to keep them off the ground.
Kamado smokers use charcoal or a combination of charcoal and wood chips as fuel. Their ceramic walls are excellent at retaining and evenly distributing heat, and they can also reach very high temperatures. Like charcoal smokers, kamado smokers use vents and dampers to control the temperature, which can be a learning curve for beginners.
Best Type of Smoker for Beginners
The best type of smoker for beginners depends on your level of experience.
If you are completely new to the world of grilling, gas, pellet and electric smokers are a good place to start. These models feature easier temperature controls, with pellet smokers and many electric smokers offering an almost "hands-off" experience thanks to built-in thermostats.
On the other hand, if you're familiar with charcoal grills already, a charcoal or kamado smoker is your best bet. The use of vents and dampers will be less of a challenge for you, and these types of smokers offer more versatility if you're looking to expand your smoking skill set.
Why Trust Us
All of our reviews are compiled with a combination of expert input, years of hands-on testing of grilling products, curating the reviews of real-life buyers in a "wisdom of the crowd" system, and of course our own expertise. All the products listed are the ones we would buy if we were looking to purchase a new smoker for a beginner friend.
Methodology Used to Pick the Best Smoker for Beginners
When picking the best beginner smoker we looked at and then rated each smoker on the following criteria. Price, type of smoker, temp control, seals, max temps, grill grate area, portability, and ease of cleaning.
Buyer's Guide to Buying the Best Smoker for Beginners
Ready to buy your first smoker? Have a read through our in-depth buying guide first. In this section, we tell you everything you need to consider before making your choice.
Price
There's a vast variety of smokers on the market to choose from, with everything from budget models to super high-end smokers that cost thousands of dollars. Thankfully, you can find good quality choices at each end of the scale.
If you're a little more experienced with charcoal grilling and are looking for something you can grow into, we recommend opting for the best charcoal or kamado smoker you can afford. More expensive models tend to have a greater range of features that will help you to advance your smoking skills.
Alternatively, if you're completely new to smoking and just want to try it out, a budget model is your best bet. This way, you can invest a smaller amount to start with, and look to upgrade later as you become more experienced.
Temperature Control
Charcoal and kamado smokers use vents to control the temperature by adjusting the airflow into the coals. You should look for models that feature good quality vents and dampers that are durable and easy to access.
Temperature controls for gas, electric and pellet smokers are easier to use. For gas models, check that the gas flow dial is robust and well-marked so you can easily see which way to turn it to reduce or increase the heat.
Pellet or electric smokers often have digital control panels where you can set the temperature and adjust it as needed. Look for models that have an intuitive design and large display screens for ease of use.
Insulation and Seals
No matter what type of smoker you choose, if the insulation and seals are sub-par, you will struggle to achieve good results.
Look for models that have thick or double-walled construction to retain heat, and airtight seals or gaskets between the lid and body (or around the edge of the smoker door) to keep the heat and smoke contained.
Temperature Range
The best temperature for smoking meats is around 200-250°F, so you should check that your smoker is capable of maintaining this temperature before buying.
Many models are also able to reach and hold temperatures far exceeding this range, which is useful if you want to sear or crisp up the outer layer of your food before serving.
Capacity – Grate Surface Area
Grate surface area is a crucial consideration, as it determines how much food you're able to smoke at once.
If you're planning to smoke enough meat for large gatherings, we recommend looking for a model that has at least 500 square-inches of cooking space. On the other hand, if you're only expecting to cook for yourself or your household, a smoker with around 260 square-inches will be more than sufficient.
Wheels & Portable Options
If you'd like to take your smoker away with you on camping trips, tailgating or just to a friend's house, it's worthwhile looking for a compact model that has portability features.
Some smokers have foldable legs and side tables for simple storage and transportation. Those with wheeled legs and built-in handles are also a great choice, as this makes it easier to move the unit around without lifting.
Can You Use the Smoker as a Grill?
Many types of smokers can double-up as grills too. Kamado, pellet and charcoal smokers are the most popular smoker/grill options, but some gas models can also be used as grills.
If you'd like to use your smoker as a grill too, be sure to check the maximum achievable temperature before buying. Much higher temperatures (between 250°F and 450°F) are required for grilling than smoking, so if your smoker cannot reach these temperatures, you'll struggle to use it as a grill.
Is the Smoker Easy to Clean?
After a belly full of delicious smoked meats, the last thing anyone wants to do is scrub grease and ash from their smoker.
Of course, all smokers require a level of cleaning after use, but some models make this necessary chore easier than others. We recommend looking for a smoker that features removable, dishwasher-safe grates, easy-access ash drawers and non-stick materials.
Warranty and Support
Last but not least, you should always research the type of warranty and customer support you will receive after your purchase.
Not only does warranty policy tell you a lot about how much confidence the manufacturer has in the quality of their product, but as a beginner, it's good to have access to responsive customer support so you can get the most out of your smoker.
Top Beginner Smokers Video
Final Thoughts
If you're venturing into the wonderful world of smoking, any of the models we have reviewed would make great first choices. But the best type of beginner smoker for you depends on your level of experience with grills.
For those of you who prefer a more hands-off experience, we recommend either the Traeger Tailgater pellet smoker or the Masterbuilt MB20070210 electric smoker as your first model. Both of these smokers have a very high degree of automation, so if you're not confident about performing manual temperature control, these options make it easy to achieve good results.
Alternatively, the PIT BOSS or Cuisinart Vertical gas smokers are great options that make it easy to adjust the heat as required at the turn of a dial. This means you can control the temperature quickly until you find the sweet spot and gain confidence.
Lastly, if you have been using charcoal grills for some time and are familiar with controlling the temperature via vents and dampers, a charcoal or kamado smoker is your best bet. The Kamado Joe Classic Joe III or the Weber Smokey Mountain are our top picks in this category, but the runner up models, Large Big Green Egg or the Masterbuilt Gravity Series are still excellent choices for newbie smokers.