Looking for the best picnic chairs that will last longer than one season? Choosing the best models can be tricky with so many different versions to consider.
Whether you are looking to kick back and relax after a picnic in the sun, a cozy loveseat for two, or a sturdy fold-up picnic chair, we've got all options covered in our picnic chair reviews and comprehensive buyer's guide.
Best Picnic Chairs
Make sure that you choose the best picnic chair with our top-rated reviews. We've covered all styles and budgets so you're sure to find your perfect model right here.
Best Value Picnic Chair
Coleman Camping Chair with Built-in 4 Can Cooler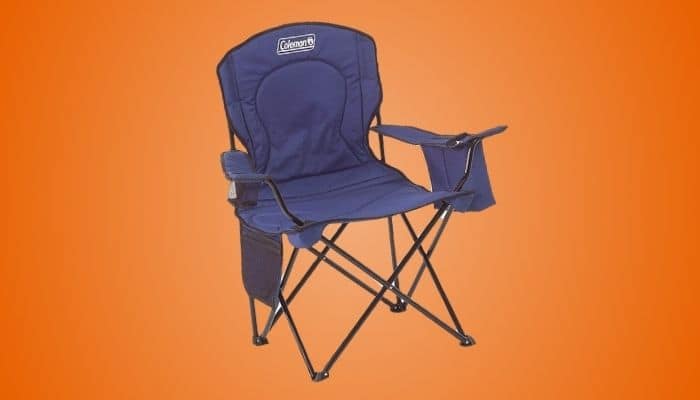 The Cooler Quad Chair by Coleman combines comfort, convenience, and value for money, making it one of the most popular picnic chairs around.
Its strong steel frame can support up to 325lbs, while its roomy 24" seat at an 18" sitting height makes it a comfortable choice for relaxing. Unlike most other picnic chairs, both the seat and back are fully padded for extra support and comfort.
Its collapsible, folding design makes this picnic chair extremely easy to pack away, transport, and store in the included carry bag. Once you're all set up, it's easy to keep your ice-cold beverages to hand with the integrated four-can cooler. Use the mesh cup holder to prevent any spills, while the side pocket is ideal for storing your magazines, snacks, or gadgets.
Weighing around 8lbs, this picnic chair is fairly lightweight considering its extra padding and spacious seat. It is very easy to carry with the included bag, however, you may want to look out for a replacement as the bag's poor quality does not match this chair's excellent sturdiness and durability levels.
Easy to use and highly practical, if you need a comfortable chair for your next picnic or camping trip, the Cooler Quad Chair by Coleman is a great choice that is also good value for money.
Pros – Things we liked
Fully cushioned seat and back
Built-in 4-can cooler, mesh pocket, and cup holder
Large 24" seat
Collapsible folding design
Cons – Things we didn't like
Poor quality carry bag
Best Picnic Chair for Tall People
STRONGBACK Elite Folding Picnic Chair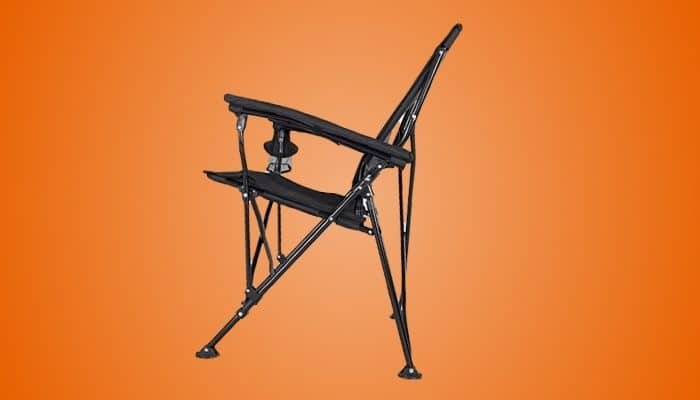 The Strongback Elite has been specially designed to provide users over 5'8" with high levels of lumbar support. Unlike most picnic chairs which leave your back unsupported, the Elite's award winning design aligns your posture to ease any tension from your spine and back. A great choice for any tall person with back problems.
Easy to use and lightweight, the Elite folds down into its included double shoulder strap carry bag, allowing you to transport it hands-free – saving your hands for carrying your picnic food. Its powder-coated steel frame provides excellent durability and the strength to support loads up to 300lbs.
While this seat isn't padded, thanks to its posture-correcting design, it is comfortable with its highly durable 600D polyester fabric. Plus you also get a cushioned lumbar pad and solid padded armrests for extra support. The mesh beverage holder prevents you from having to reach down to pick up your drink, reducing the chances of any spills.
On the downside, the Elite does not have any storage pockets and if you're 5'7" or under, you should consider checking out the Strongback Guru that is designed to provide correct back support for shorter users.
All in all, if you are looking for a picnic chair to support your bad back and are fairly tall, the Strongback Elite makes a good choice.
Pros – Things we liked
Frame-integrated lumbar support
Spacious 600D polyester seat
Solid padded armrests
Dual shoulder strap carry bag
Cons – Things we didn't like
Less suitable if you are 5'7" and under
No storage pockets
Best Rocking Picnic Chair
GCI Outdoor Freestyle Rocker Portable Folding Rocking Chair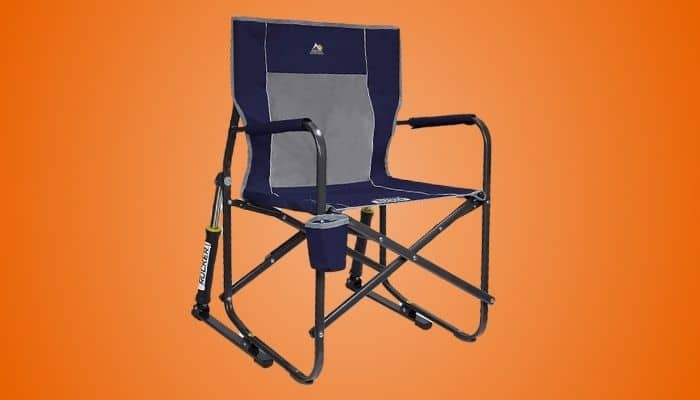 The Freestyle Rocker Folding Chair by GCI Outdoors gives you a smooth rocking motion thanks to its patented spring-loaded shocks.
Unlike many other rockers, this model folds flat for easy transportation and storage. Plus, as it comes with an integrated carry handle, you won't have to worry about struggling to get it packed away inside a small bag.
Its sturdy metal frame can support up to 250lbs and is very easy to open up and fold back down thanks to its Eazy-Fold Technology. Weighing 12lbs, it's reasonably lightweight for a rocking picnic chair and you won't struggle carrying it short distances from your vehicle.
Thanks to the durable nylon mesh backrest you get good air circulation for enhanced readability, ideal for hot summer weather. The padded armrests provide extra support, however, the included cup holder could be significantly improved and as it is not rigid, you'll risk spilling your drink. Also, note that this picnic chair does not have any storage pockets.
If you are looking for a relaxing way to while away the day in the great outdoors after your picnic, the GCI Outdoor Freestyle Rocker is one of the best portable outdoor rocking chairs around.
Pros – Things we liked
Spring-Action Rocking Technology
Breathable mesh backrest
Folds flat
Integrated carry handle
Cons – Things we didn't like
Unstable cup holder
No storage pouch
Best Reclining Picnic Chair
PHI VILLA Oversize XL Padded Zero Gravity Lounge Chair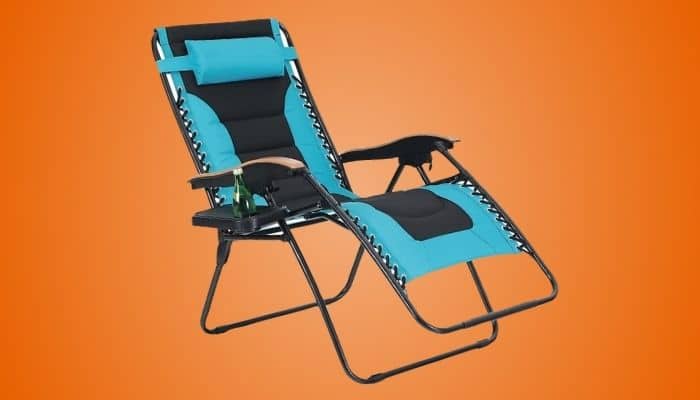 If you are really looking to kick back and relax after your picnic, then the Oversize XL Padded Zero Gravity Lounge Chair by PH VIlla is the best picnic chair to go for.
Thanks to its fully adjustable reclining position, you can simply lean back then lock your chair in position when you're comfortable for a personalized seating angle to suit your height and preferences.
With its oversized padded seat complete with a suspended double bungee system you get great levels of comfort and support. The large armrests are also extra supportive, while the heavy-duty steel frame can take weights up to 350lbs. The durable UV and weather-resistant Oxford fabric is highly resistant to wear and will continue to look great year after year.
While this reclining picnic chair folds flat and very easily for storage, note that it does not have a carry handle or strap, making it less suitable for carrying over long distances. What's more, at 21lbs it is one of the heaviest picnic chairs around, so you won't want to use it too far away from your vehicle.
Extras include a removable head pillow and a side table complete with a cup holder. Despite its weight, if you are looking for a padded, comfortable recliner for use in the great outdoors, this model won't disappoint.
Pros – Things we liked
Oversized padded seat
Lockable redlining system
Side table with cup holder
Weather-resistant Oxford fabric
Cons – Things we didn't like
Heavy – 21lbs
No carry handle
Best Picnic Chair for Couples
Kelty Low Loveseat Picnic Chair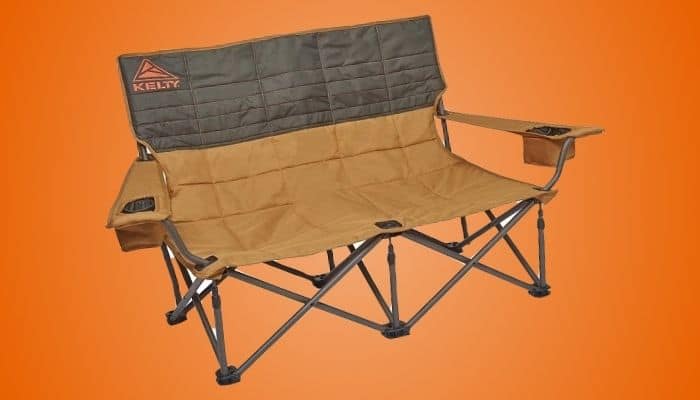 One of the most popular picnic chairs for two on the market, the Kelty Low Loveseat has a low seat height with a slightly reclined back to allow you and your significant other, friend, or four-legged friend to settle in and get comfortable. Its low 13.5" seat height makes it a great choice for picnics, as well as festivals, days at the beach, or campfire gatherings.
Its durable steel frame and 600D paw-proof polyester fabric give it a good 400lb weight capacity and extra durability. It is also really easy to set up and take down. There's no need to struggle trying to fit it into a carry bag, simply fold up the loveseat, wrap the included cover around, and secure with the buckles for a perfectly fitting roll-tote carry bag.
Thanks to its adjustable padded armrests, it's easy to get into relaxation mode, plus the large insulated cup holders allow you to keep your ice-cold beverage to hand. While its low-to-the-ground design makes this camping loveseat a great choice for relaxing, it can be a little tricky to get up out of it. This makes it less suitable for anyone with mobility issues.
Durable, easy to set up and transport, if you are looking for a picnic chair for two, the Kelty Low Loveseat is a highly practical, high-quality choice that's well worth the money.
Pros – Things we liked
Steel-framed two-seater
Adjustable armrests
Insulated adjustable cup holders
Strong and thick 600D polyester seat
Cons – Things we didn't like
Low height can make getting up tricky
Best Luxury Picnic Chair
Nemo Stargaze Recliner Luxury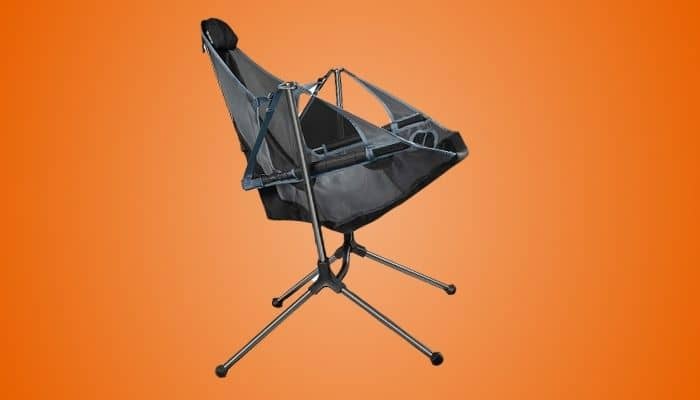 If you've got the cash to spare, the Nemo Stargaze Recliner could become your favorite new way to relax when picnicking.
Thanks to its auto-reclining feature the chair automatically adjusts to the perfect sitting angle with a simple shift in your body weight making it extremely comfortable on any terrain. Kick back and enjoy a snooze or views of the night sky with the deep reclining action and supportive headrest.
With its new lower center of gravity, the Stargaze allows you to swing back and forth on any terrain for an extra relaxing way to kick back even on sandy or rocky ground. The mono-filament mesh fabric is not only cool and breathable, it is also non-absorbent, weather, and bacteria-resistant, making this luxury picnic chair a great choice for all of your outdoor adventures.
Weighing just 7lbs 2oz and setting up in three simple steps, the Stargaze is easy to set up and pack up into the included padded carry case complete with a handy shoulder strap. The integrated non-spill cup holder keeps your beverage securely upright, while the stash pocket is ideal for holding your keys, phone, or latest read.
Sturdy, thanks to its aircraft grade aluminum suspension frame, this innovative picnic chair is a great model for reclining and relaxing with a good 300lb weight capacity. While it is pretty expensive and the armrests could be more comfortable, this model's innovative design is sure to change the way you sit for the better and its lifetime warranty ensures a high-quality product.
Pros – Things we liked
Relaxing swinging motion
Auto-reclining feature
No-spill cup holder and stash pocket
Lifetime warranty
Cons – Things we didn't like
Expensive
No armrest padding
Most Durable Picnic Chair
ALPS Mountaineering King Kong Chair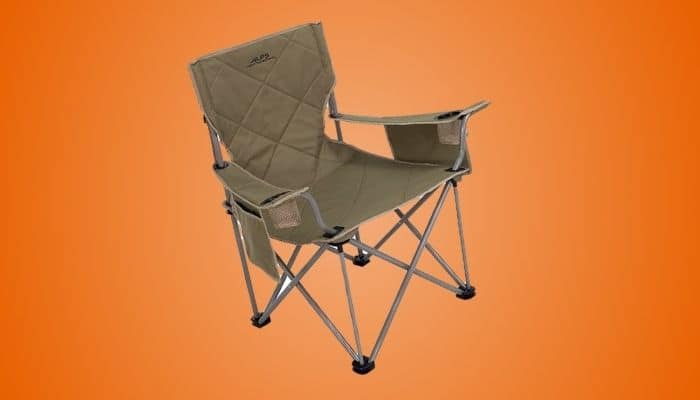 Famous for its durability, if you are looking for a heavy-duty picnic chair, the King Kong by Alps Mountaineering will not disappoint.
This sturdy picnic chair can hold up to 800 pounds making it one of the highest weight capacity picnic chairs on the market. Even if you don't need a chair with the extra weight capacity, you'll easily be won over by its roomy seat, long lifespan, and ease of use.
Made from a robust 600D polyester fabric with a powder-coated steel frame, this picnic chair should last a lifetime – it even comes with a lifetime warranty. Despite its generous dimensions, it folds down easily into the included 7" x 41" carry bag. At 13lbs, it is fairly heavy due to its durable steel frame, so it's not going to be the best picnic chair for backpacking or long excursions.
Highly practical, the King Kong has two drink holders, one on each arm. It also features two side pockets for your accessories, plus a large rear mesh pocket, so you can keep your suncream, gadgets, and books easily to hand. While this picnic chair is very comfortable, note that if you are below average height, you may find sitting right back in it to be less relaxing given its 18" seat height.
All in all, for the money, you won't find a better quality, more durable picnic chair that is so easy to set up and pack away.
Pros – Things we liked
800lb weight capacity
Durable 600D polyester fabric
Foldable
Lifetime warranty
Cons – Things we didn't like
Less comfortable for shorter users
Fairly heavy 13lbs
Best Picnic Chair for Summer
GCI Outdoor Pod Rocker Collapsible Rocking Chair with Sun Shade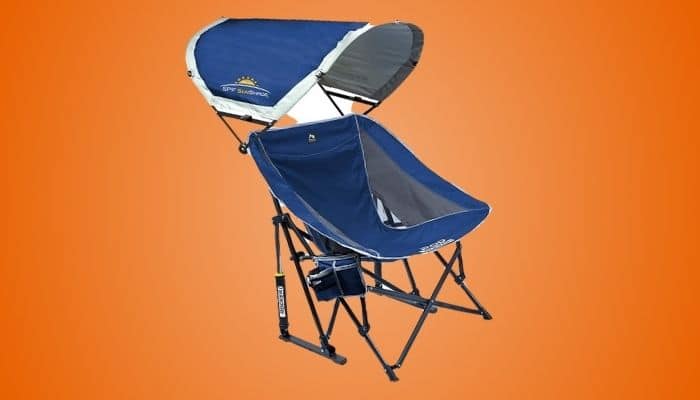 For summer picnics at home or when you're car camping, the Pod Rocker by GCI Outdoor is an excellent choice.
It comes with an adjustable UPF 50 sunshade, so you can decide when you want to switch between catching some rays and covering up. Thanks to its Spring Action Rocking Technology, you also get a smooth and relaxing rocking motion – ideal for whiling away the hours in comfort.
The Pod Rocker also features breathable mesh panels to help you stay cool and dry when enjoying the summer weather outdoors, while its sling style seat keeps you comfortably supported. It has a generous 250-pound weight limit and folds down for transportation and storage into the included wide-mouth carry bag. However, bear in mind that given its rocker system it is fairly heavy at 13.9lbs, so you won't want to be carrying it too far.
Complete with a beverage holder and side pocket for your books, snacks or gadgets, this picnic chair is the best choice for summer relaxation. If you are looking for a full-sized rocker that works on just about any surface and can also be packed up and easily transported, this is the one to go for.
Pros – Things we liked
Adjustable UPF 50 sunshade
Spring Action Rocking Technology
Breathable mesh panels
Beverage holder and pocket
Cons – Things we didn't like
Heavy
Best Low-Back Picnic Chair
Helinox Incline Festival Chair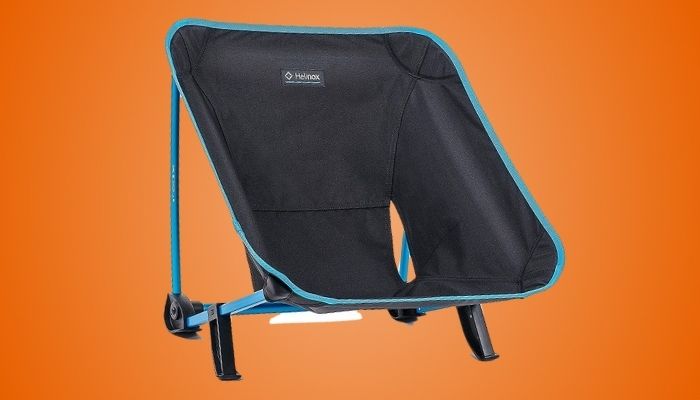 Lightweight and highly portable, the Helinox Incline Festival Chair packs down to just 20 inches in length. Weighing a mere three pounds when packed in the included roll-top carry bag, it's easy to bring along to all of your picnics, outdoor gatherings, and festivals, where its low-back height won't obstruct the view.
Thanks to its proprietary DAC aluminum alloy frame and heavy-duty UV-resistant polyester bucket seat, this picnic chair is a sturdy, durable model that can hold up to 320lbs. Testament to its longevity and high-quality construction, it comes with a long five-year warranty, so you can expect to use it for many years to come.
Comfort-wise, for a low-back picnic chair, it's pretty good. The sliding supports allow you to adjust your seating angle to suit your height and the terrain, making this picnic chair a lot more comfortable out in the great outdoors than many similar models. Just be aware that as with all low-to-the-ground picnic chairs anyone with mobility issues will find it difficult to sit down in it and get back up.
Supportive, quick, and easy to set up, it's a great lightweight choice to take just about anywhere. The Helinox Incline Festival Chair makes a popular choice if you are looking for a durable and portable picnic chair for your next outdoor adventure, taking up next to no room when packed.
Pros – Things we liked
Large bucket seat
Adjustable legs
Durable UV-resistant polyester fabric
Weighs 3lbs
Portable
Cons – Things we didn't like
Low height is not suitable for all users
Why Trust Us
All of our reviews are compiled with a combination of expert input, years of hands-on testing of grilling products, curating the reviews of real-life buyers in a "wisdom of the crowd" system, and of course our own expertise. All the products listed are the ones we would buy if we were looking to purchase a new picnic chair.
Methodology Used to Pick the Best Picnic Chair
When picking the best picnic chair we looked at and then rated each chair on the following criteria. Price, chair style, back support, carry bag, weight, comfort, supported weight, ease of setup, and seat height.
Buyer's Guide to Buying the Best Picnic Chairs
To ensure you choose the best picnic chair for your next trip, our buyer's guide is packed with helpful advice on all of the most important aspects and features that you'll need to consider.
Price
Picnic chairs are available at a wide variety of prices. To ensure you'll get a good quality product that will last, we recommend spending a minimum of around $40-$50. At the lower end of the price scale, you'll get less innovative features, but a perfectly functional picnic chair that will be much more comfortable than sitting on the ground.
Mid-priced picnic chairs tend to come in at around $80-$120. This will usually get you a higher quality chair that is easy to set up and more durable. Models in this price bracket may have certain defining characteristics such as lumbar support, extra padding, or rocking functionality.
The most expensive picnic chairs will set you back around $200 or more. For this hefty price tag you can get some advanced features and innovative designs. This doesn't always translate to greater ease of use and more comfort, however. So make sure that any picnic chair is suited to your needs and personal preferences.
You should also consider how often you will be using your picnic chair, as well as how many you will need to purchase. If you only need one and want a model for regular use, you'll want to spend more for an extra durable version.
On the other hand, if you need to pick up several chairs for your family picnic and are only likely to use them a handful of times per year, you're probably going to be better off selecting a lower priced model.
Back Support
Picnic chairs are not renowned for having high levels of back support. If you regularly suffer from backache or have had back surgery and need extra support, you should look out for models that provide you with extra support to correctly align your spine to improve posture. Strongback, for example, is a brand that specializes in manufacturing picnic and camping chairs to support your back.
Carry Bag
If you tend to picnic in beauty spots at a distance from your vehicle, you'll want to choose a picnic chair with a good carry bag. Models with shoulder straps will allow you to transport them hands-free, so you can carry your cool box and other picnic essentials as well as your picnic chair.
The best carry bags have a wrap-around design with easy to fasten closures. Otherwise, keep an eye out for good sized bags with wide-mouth openings to ensure that you won't have to struggle to get your iconic chair packed up and away at the end of the day.
Weight
For picnics near your vehicle, weight isn't really too much of an issue. However, if you like to venture further away to enjoy the great outdoors, you'll want to invest in a lightweight, extra-portable picnic chair.
While lightweight models are easier to carry, they can lack the padding and sturdiness of some of the heavier models. If you are looking for a patio style chair that you can fold up and take out with you, you'll generally be looking at models weighing over 12lbs.
Ultra lightweight models can weigh as little as 3lbs, ideal for taking with you on short hikes.
Comfort
Comfort is often subjective, what's comfortable for one person, won't necessarily be so for you. So pay close attention to your picnic seat design and try to find one that is similar to chairs that you have tried and felt comfortable with in the past.
If you like padded seats, you'll be disappointed with a rigid mesh version, although you can always add a cushion. Mesh seats can bring extra comfort by improving breathability in hot summer weather. Also, take a look at the seat height and whether or not the angle is fixed.
If a reclining model is a must for you, check what angles you can lock it in position at, as well as any extras that can help such as a foot or headrest.
Extras
The following extras are by no means essential, but they can make your picnic chair much more practical and help to make your day out more relaxing.
Shade Umbrella or Canopy
Protect your skin and eyes from the sun's glare with a picnic chair that comes with a shade umbrella or canopy. While you can get up and move your seat into the shade, it's not very relaxing, plus you may be restricted as to where you can place your chair, or wish to sit facing friends and family.
A canopy or shade umbrella can allow you to get a bit of sun, then to protect yourself, preventing you from getting sunburn or overheating. Always check that your canopy or umbrella has a good UPF rating of 50 and above to ensure that you are sufficiently protected, especially if you're going to be picnicking in the middle of summer.
Foot Rest
For reclining models, a foodrest helps you to kick back and relax. Foot rests aren't all that common and if you feel like your picnic chair could do with one, you could always use a small separate one, especially if your chair is a little too high.
Drink Holder
Pretty much an essential, drink holders keep your beverage easily accessible and spill-free. Some models have insulated cup holders to help keep your drink cold in the heat of long summer days. Make sure that your drink holder is securely attached or, ideally, incorporated into the arm of your picnic chair to ensure maximum stability.
Storage Pouch
Snacks, books, electronic tablets, and smartphones, there are plenty of items that are much better stored in a dedicated pouch on your chair. Not only will they be much safer off the ground, it's also handy to have all of your accessories to hand when you're relaxing.
Side Table
For crossword puzzles, light snacks, and beverages, a side table can come in real handy. They are also useful for holding your book or electronic screen while you surf the net.
Frame Materials
Picnic chairs come in three main frame materials: stainless steel, aluminum, and wood. Here's how to choose the best one for your needs.
Stainless Steel
Strong and durable, stainless steel has high levels of tensile strength making it a good choice for higher weight capacity models. It can be heavy, so tubular frames are a good way to reduce weight without compromising too much on strength. Powder-coated steel frames provide extra weather resistance.
Aluminum
Lightweight and strong, aluminum framed modes are the best choice for backpacking or hiking. While they may have a slightly lower load capacity, most are compatible with your average steel versions but weigh much less.
Wood
Wooden framed picnic chairs are a more traditional choice for home garden and yard furniture. Folding deck chairs typically have wooden frames and tend to be an inexpensive option popular for beach and day trips.
Folding Picnic Chairs or Assembled
Unless you are going to be styling exclusively in your backyard, a folding picnic chair is a must. Even without considering transportation, folding models are also a much better choice for easy storage.
If you do find an assembled model that you can take apart, it is going to take you a lot more time to set up and take down every time you want to use it on a day out.
Space Consumption
Your picnic chair's footprint when folded will give you a good idea of whether or not you'll have enough space to easily store and transport it. If you are picnicking as a large group with several chairs, you may need to opt for models with smaller footprints when unfolded to ensure that you can all eat together in close quarters.
Durability & Quality
A high-quality picnic seat will last for longer and remain in better condition. Look out for models with warranties that are either life-long or several years long. Heavy-duty fabrics with a high denier are generally more resistant to wear and tear.
You should also check that any brightly colored seats are treated for UV resistance to ensure that your picnic chair won't get an aging, faded look after just one season's use.
Ground-to-Seat Height
While some people find it easier to relax with a picnic seat that is low to the ground, others find such models uncomfortable or difficult to get up off. Your height and leg length can also be determining factors.
While picnic chairs are invariably lower than your average dining chair, it can be helpful to measure out the ground to seat height at home to give you a visual as to how low down your seat actually will be. If you have any other chairs of a similar height, test sitting in them and see how you find sitting down and getting back up.
Seat Back Height
If you are looking for a relaxing picnic chair to recline in, you'll want to look out for models with tall backs that can accommodate your head as you lie back. Obviously taller people will prefer picnic seats with longer backs; however, a longer seat back height also means a more cumbersome chair to carry when it's folded.
Style of Picnic Chairs
There are several different types of picnic chairs to choose from. Before you make up your mind, give the following styles some consideration.
Director Style Camping Chairs
Collapsible and easy to store flat, director style picnic chairs are a popular choice for providing good support and hassle-free folding. On the other hand, they are fairly basic and are not the most comfortable for use during long periods.
Lounger Camping Chairs
Lounger style chairs allow you to kick back and relax. You can use them upright for your picnic, then recline back to snooze or sunbathe. Lounger models are generally padded and come with extras to keep your beverages and accessories to hand so you won't have to get up too often.
Camping Chair Rockers
Rockers are a good choice for anyone who finds sitting around relaxing a bit of a challenge. A rocker will add some weight to your picnic chair but it will give you a soothing rocking motion that makes a great distraction.
Small Camp Chair
Small camp chairs are good for active users and small children as they are close to the ground. Also known as festival chairs, their low profile makes them a good choice for comfort without obstructing anyone's view of the stage or scenery.
If you're going to be picnicking in areas with varied terrain, look out for models with adjustable legs to get a secure level seat wherever you decide to set up.
Backpacking Chair
Lightweight, compact, and easy to pack away, backpacking chairs tend to cost quite a bit more given their superior design and use of lightweight aluminum alloys. While they are not going to give you the same comfort levels as a full-on picnic lounger, the best models combine low weight with good support for a comfortable seat that you can take just about anywhere.
Canopy Chair
For hot summer days, a canopy chair is a smart choice to protect your skin from sunburn and premature aging. The sunshade should be adjustable so you can move it as needed to ensure you remain fully protected.
Look out for models with high UPF protection ratings of 50 and above to ensure that you stay safe in the sun.
Top Picnic Chairs Video
Final Thoughts
There are plenty of excellent picnic chairs to choose from for comfortable days out in the great outdoors. Consider your needs, anticipated usage, and how important weight and portability are to you, alongside comfort and support.
If you're struggling to choose and are looking for a budget-priced model, the Coleman Cooler Quad Chair makes an excellent choice. Complete with a built-in four-can cooler, a cup holder, and storage pouch, this picnic chair is an extremely popular choice. Robust, long-lasting, and durable, it's a great buy for the money.
For family picnics or day trips with your significant other, the Kelty Low Loveseat is ideal. It is hard wearing, comfortable, and seats two with ease. The adjustable armrests and dual cup holders make it a highly practical choice, as does its impressive carry bag that wraps around making it exceptionally easy to pack up and go.
Looking for the most durable picnic chair around with a roomy seat and high weight capacity? You can't go wrong with the excellent King Kong Chair by Alps Mountaineering complete with a lifetime warranty. Extremely sturdy and hard-wearing, this picnic chair is a highly reliable model that also boasts two cup holders and three storage pouches to keep everything you need to hand.