Inexpensive, easy to control, and comfortable to use. There are many reasons to purchase the best gas grill under $500. Everyone loves the taste of food that's straight off the grill, and if you can achieve delicious results without having to spend thousands of dollars, it'll taste even better!
With such a huge range of gas grills on the market, shopping on a budget can feel like a mammoth task. After all, the last thing you want is to purchase a cheap grill, only for it to fail a few months down the line. But despite what many may think, it is possible to find high-quality gas grills without breaking the bank.
If you would like to try out the convenience of grilling on gas, but don't want to spend big bucks, then this article has been written for you. Here's our guide to choosing the best gas grill under $500, complete with our top-rated budget gas grill reviews.
Best Gas Grill Under $500
Here are our seven top gas grill picks under $500. We've covered a wide range of features, sizes, and styles, so you are sure to find your ideal gas grill on a budget right here.
Weber Spirit II E-310 3-Burner Liquid Propane Grill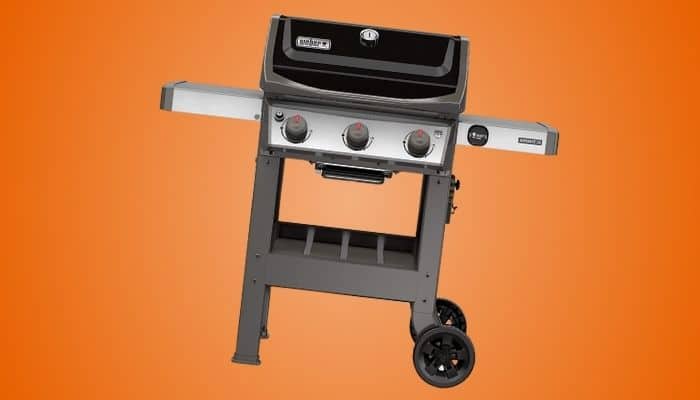 Weber, renowned for their high-quality grills and excellent customer service, have developed the Spirit II E-310 – an outstanding entry-level gas grill. Ideal for cooking everyday meals in your backyard, this gas grill provides a range of excellent features at an affordable price.
With a main cooking surface area of 424 square inches, plus 105 square inches on the warming rack, you get a total cooking area of 529 square inches – perfect for small groups or family meals. It features durable cast-iron, porcelain-enameled cooking grates plus porcelain-enameled triangular Flavorizer bars to ensure an even heat distribution, reducing flare-ups, and adding flavor to your meats.
This Weber gas grill has three stainless steel burners, each capable of producing up to 32,000BTUs. All burners feature independent Infinity electronic ignition for easy lighting and infinite burner control. This makes cooking different types of food a cinch, allowing you to set up different heat zones.
Thanks to its painted steel open cart design, complete with two large wheels for easy transportability, there's plenty of space for all of your favorite grilling accessories and equipment. For prepping, the two side tables with integrated tool hooks are really useful, plus the left side can be folded down to save space. The black porcelain-enameled hood features a center-mounted thermometer and the unit is iGrill3 compatible.
Complete with a handy fuel gauge and easy assembly, this entry-level Weber gas grill has all the features you need plus many more. With its 10-year warranty and Weber's proactive customer service, it makes a great choice.
Pros – Things we liked
Cooking surface area of 424 sq. in.
105 sq. in. warming rack
Cast-iron, porcelain-enameled cooking grates
Three stainless steel burners
Two large wheels for easy transport
Cons – Things we didn't like
Sharp edges on the heat deflector
Char-Broil 463377319 Performance 4-Burner Cart Style Liquid Propane Gas Grill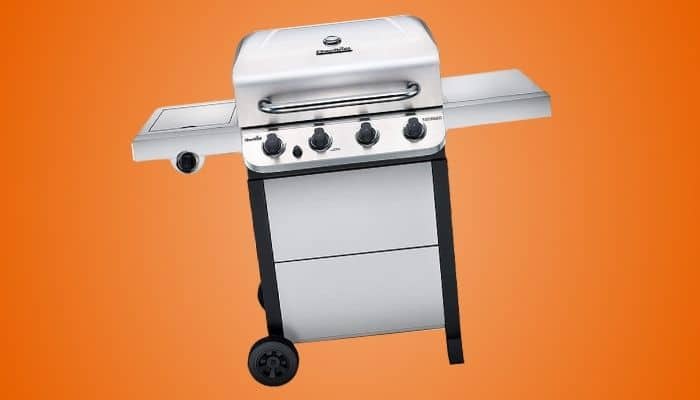 The Performance 4-Burner Gas Grill by Char-Broil is an excellent choice if you are looking for a large, high-performance gas grill on a budget. It not only has a high capacity, its sleek, modern stainless steel construction also looks the part and is sure to impress the neighbors.
You get ample cooking space with this model, with a 425 square inch primary cooking area, plus a 150 square inch swing-away warming rack. You can easily grill 20 burgers or six large steaks, making it a great choice for larger family meals and entertaining. The porcelain-coated cast-iron grates are not only highly durable but also easy to clean.
You get four main burners that can put out up to 36,000BTUs. They are made of durable stainless and emit the flame at the top for a more even heat distribution. For your sauces and sides, this gas grill also comes with a lidded 10,000BTU side burner. Getting this grill lit is nice and easy thanks to the reliable electronic ignition system.
The lid-mounted temperature gauge allows you to keep a close eye on your temperature, while the stainless steel side shelves with the side burner lid down give you plenty of prep and serving up space. Despite its large size, mobility is also a strong point, with two large seven-inch wheels, and there is even a removable porcelain-coated grease pan for an easy cleanup.
While this grill could be a little sturdier, at this price, it really is excellent value for money. It also has a five-year warranty on the burners, plus two years on the firebox and lid.
Weber Q3200 Liquid Propane Grill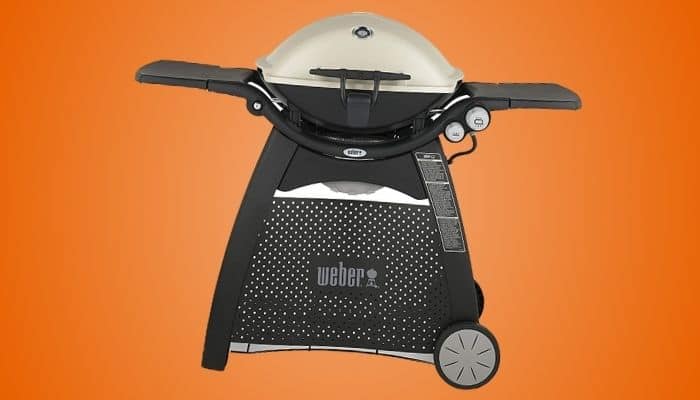 Looking for a compact gas grill? Be sure to take a look at the Weber Q3200 Liquid Propane Gas Grill. Perfect for smaller backyards or for tucking away in a corner of your apartment balcony, the tables fold down and the split grate can also be used with the separately available compatible griddle.
Small but mighty, the grill area is relatively large compared to the unit's total size resulting in a total of 468 square inches of cooking space, including the 75 square inch warming rack. The two large porcelain-enameled cast-iron grates are highly durable, set within a cast aluminum body complete with drip ducts, and a glass-reinforced nylon frame and handle.
Two stainless steel burners give you up to 21,700BTUs, complete with infinite controls for heat precision and an easy-start electronic ignition. Other noteworthy features include a built-in lid thermometer, Grill-Out handle light, and an easy-to-clean, removable catch pan.
Complete with a tall cast aluminum lid to accommodate larger items, the Q3200 has been carefully designed to maximize your cooking options and can even grill an entire roast. While the cart is plastic, it is very sturdy and has a bottom shelf to store the warming rack plus one grate or griddle, as well as a 20lb propane tank. The large wheels make it easy to move and the fold-away side tables with tool hooks are great for preparing and serving up.
Complete with a five-year warranty on the burners and aluminum castings, this compact gas grill is a good choice for any home with limited outdoor space or for cooking for a small family.
Fuego Professional Propane Gas Grill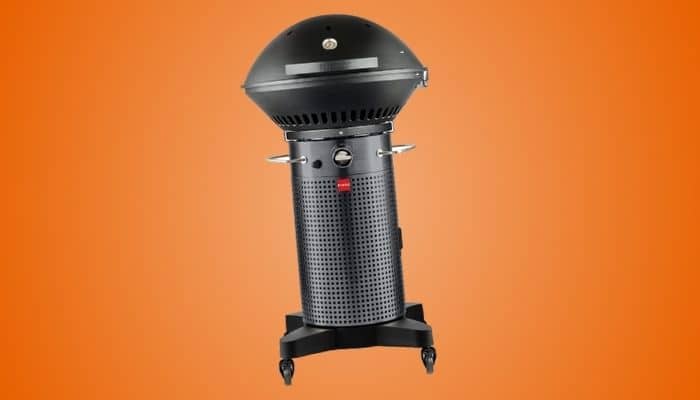 If space is at a premium, but you don't want to compromise on performance, then you'll love the compact, sleek design of the Fuego Professional Propane Gas Grill. Boasting a compact 24" x 24" footprint when not in use, this gas grill is perfect for any small patio or balcony, and best of all, it's highly convenient reaching 500 degrees F in just five minutes.
Despite its compact size, the Fuego Professional has an impressive 415 square inch grilling area, plus a 110 square inch warming rack, making it large enough for cooking 20 quarter pounders simultaneously. The porcelain-enamel cast iron grate weighs over 18lbs, making it a great heat sink for impressive sear marks.
Electronic ignition dual burners give you a combined 25,500BTUs with a fantastic temperature range of 250-700 degrees F, leaving other budget gas grills way behind. Sear steaks and seafood, or set up distinct direct and indirect grilling zones and vary your menu. As this grill is so energy-efficient, it requires less airflow for combustion, which also results in juicier, tastier food.
Thanks to its sleek modern design, you won't have to worry about any unsightly propane tanks on show. The Perfect Clasp door close system features a propane tank storage door. The hinged 45-degree lid is designed to prevent you from having to reach over the hot fire and with a nine-inch grilling height below the lid you can easily fit in up to three beer can chickens.
Non-marking industrial casters make this professional propane grill easy to move, while the drop-through residual system ensures an easy cleanup. There are no side tables included, but you can purchase a small clip-on shelf separately.
All in all, this is quite simply an exceptional gas grill that performs as good as it looks. Ideal for small spaces, its ultra-fast heat up time and all-around ease of use make it easily one of the best gas grills under $500 on the market.
Napoleon Rogue 365 Gas Grill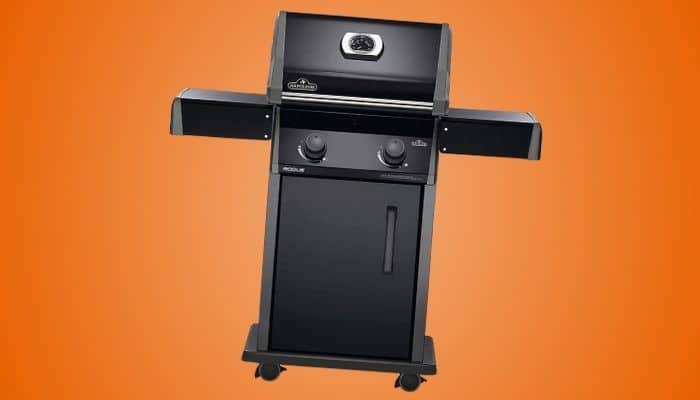 The Napoleon Rogue 365 Gas Grill exudes class with its closed cart design and stylish black exterior. If you are looking for a premium quality gas grill with a fantastic warranty, this is as good as you'll find in the $500 and under price range.
With its 495 square inch total cooking area, including its generous chrome-plated warming rack, this gas grill has plenty of space to accommodate all your grilling needs. For even heat distribution and a great sear, the porcelain-coated cast iron Wave cooking grids are an excellent feature, all housed in a virtually indestructible, rust-resistant, durable cast aluminum firebox.
Two stainless steel burners provide up to 32,000BTUs and utilize Napoleon's renowned Jetfire Ignition System for extra-easy lighting. Thanks to the Accu-Probe Temperature Gauge, you can easily see just how hot you're cooking, while the easy-lift lid retains heat for perfect grilling results.
Prep and plate up your creations on the handy side shelves. Stuck for space? Simply fold them away for optimal storage. The control knobs are good-quality and allow you to easily adjust your temperature, while the integrated tool hooks keep all your essential grilling accessories on hand at all times. There is also a large pull-out drip tray for easy cleaning.
The built-in propane tank ring securely houses your gas out of sight within the cabinet, reinforcing this model's stylish looks. Napoleon's unbeatable 15-year warranty makes this premium gas grill well worth its budget price.
Monument Grills 4-Burner Stainless Steel Propane Gas Grill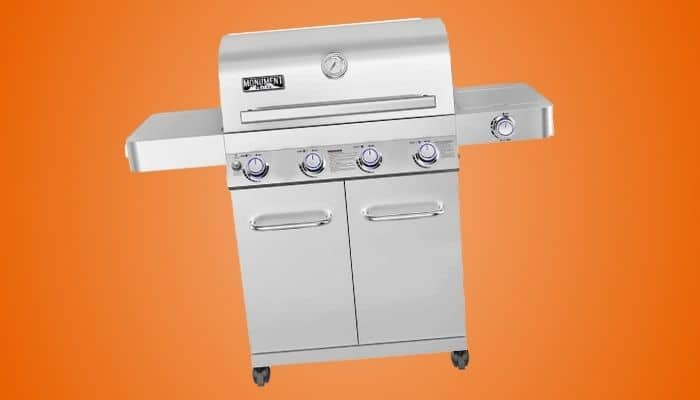 If you are willing to consider a gas grill that isn't from one of the big brands, then you should check out this feature-laden model by Monument Grills. It is also stylish with an extensive cooking area, making it one of the most comprehensive yet affordable models in this price range.
With a 513 square inch main cooking area, plus a 210 square inch warming rack, you get a total of 723 inches. With its total output of 60,000BTUs, this is one powerful gas grill complete with four main 304 stainless steel burners. What's more, you also get a really useful lidded 10,000BTU side burner for your sides and sauces, as well as a full rotisserie kit complete with a 120V motor.
The porcelain-coated cast-iron grates are easy to clean, while the stainless steel flame tamers work well evening out heat and improving flavor. Electronic ignition makes getting your grill going nice and easy and for increased visibility in low-level lighting, the back-lit control knobs really stand out.
You also get a built-in thermometer to help improve temperature control, plus two side shelves for meal prep, complete with tool hooks. The rear access, removable grease tray makes cleaning up a lot easier, while the enclosed cart design looks great and hides your unsightly propane tank.
All in all, you get a lot of bang for your buck. However, there isn't a lot of information on this product's durability or warranty. On the other hand, you won't find another gas grill this size with so many features for such a low price.
Blackstone 4 Burner Flat Top Gas Grill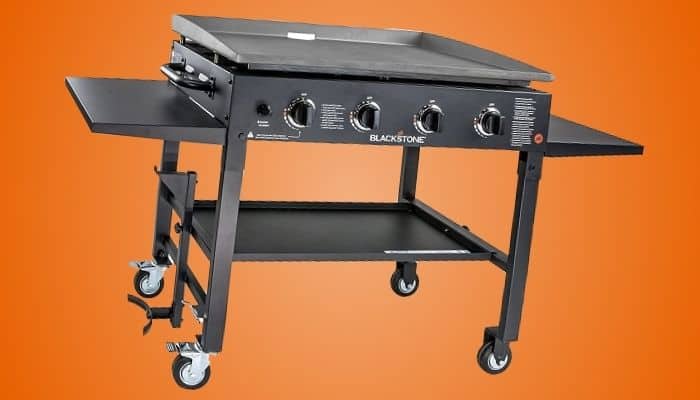 Looking for a change from your standard grill? Go for a Blackstone Gas Griddle and expand the number and types of dishes that you can cook outdoors.
With enough space to feed 2-20 hungry guests, whether you want to sear 16 steaks or grill 72 hot dogs, with the Blackstone 4-Burner Flat Top Gas Grill, you've got all options covered.
Thanks to its extra-large 720 square inch cooking surface, you really can cook for a crowd. The rolled carbon seven-gauge steel griddle top is highly durable and fast heating, designed to retain your food's flavor and moisture, as well as giving you a more crisp exterior when you crank up the heat.
Talking of heat, this model is capable of putting out an impressive total of 60,000BTUs over its four independently controlled burners. This also allows you to create up to four heat zones to cook different types of food simultaneously, as well as keeping cooked food warm while you finish off items with a longer cook time. The no-fuss electronic push button ignition gets you off to a flying start every time.
This gas griddle features a durable powder-coated steel frame complete with a bottom storage shelf and side tables. Prep and serve your dishes on the side tables, then fold away when you're done. Easy to move, the four industrial-rated caster wheels allow for smooth, easy motion from place to place. Simply lock the two locking casters for secure placement.
Bear in mind that this flat top gas grill is fairly large, making it less suited to small spaces. It is, however, very easy to use and allows you to cook a whole range of recipes, from breakfast pancakes to stir-fry, plus your traditional steaks, burgers, and hot dogs, all in one highly convenient unit.
Why Trust Us
All of our reviews are compiled with a combination of expert input, years of hands-on testing of grilling products, curating the reviews of real-life buyers in a "wisdom of the crowd" system, and of course our own expertise. All the products listed are the ones we would buy if we were looking to purchase a new gas grill under $500.
Methodology Used to Pick the Best Gas Grill Under $500
When picking the best gas grill under $500 we looked at and then rated each grill on the following criteria. Price, ease of setup, grate materials, low and high temp ranges, BTUs, the ignition system, total grilling area, shelves, lid size, number of burners, wheels, and did it come with any extras.
Buyer's Guide to Buying the Best Gas Grill Under $500
With such a crowded market and so many different models to choose from, it's easy to get carried away by all of the manufacturers' hype. Here's what you really need to consider when choosing your new gas grill.
Price
Gas grills tend to cost more than their charcoal equivalents, having more complex parts. However, if you're a regular griller, as in once a week, and are switching from charcoal, the good news is you will save money on your fuel over the course of a year. This can easily run over 100$, so you may want to be a little more generous with your purchase price.
In the under $500 gas grill market, there are plenty of options. It basically boils down to two main camps. First option: get a premium product at the top-end of the price bracket. It will be durable, easy to use, have a good warranty, but less in the way of features. Second option: go for a mid-price article that is feature-rich with lower quality standards and less durability.
How much you spend and your expectations are all relative. Some people like to replace their grill every other year, while others are looking for a more durable model.
Basically, in the under $500 price bracket you'll really struggle to have it all: performance, durability, features, and a user-friendly experience. If you could, there wouldn't be any more expensive gas grills out there on the market.
So, be realistic, focus on what's most important to you and select your gas grill accordingly.
Cooking Surface Area
Cooking surface area should be one of the main deciders in making your purchase decision. If your gas grill is too small to accommodate your regular needs, then you're going to waste time and fuel grilling in batches.
While this is fine for the occasional big get together, it's not something you want to be doing on a daily basis, so make sure you focus first and foremost on your gas grill's cooking surface area.
As a rule of thumb, you should allow approximately 72 square inches per person. However, it all really depends on what you tend to cook on a regular basis. Taking the 72-inch rule, you should be able to comfortably cook for six persons on a gas grill with a 432-square inch main cooking area.
Take this estimate with a pinch of salt, if you are regularly cooking for six, you'll want to go with a larger model, but depending on what you're cooking, it's by no means unrealistic.
An important point to bear in mind when it comes down to cooking surface – always check what the primary cooking surface is. Not the total. The total cooking surface usually includes a warming rack that can be a great place to slow cook your veggies.
However, it's not going to sear your steaks or brown your burgers, so always bear this in mind and read through your gas grill's specifics with care.
Grate Materials
Another feature that will really make or break your enjoyment of your gas grill: its grate materials.
Stainless Steel – When it comes down to grates, stainless steel is a good choice. While you certainly won't get the same heat retention and sear marks as you do with a cast iron grate, they are easier to clean and thanks to their fine bars, they won't impede radiant heat from below.
Cast Iron Cooking Grates – Heavy, with a high thermal capacity, cast iron cooking grates make great grill marks and are often considered essential to a good grill. However, while they are efficient at retaining heat, they are prone to rusting, requiring a lot of scraping and maintenance.
Porcelain Coated Grates – Cast iron porcelain-coated grills are much easier to care for than cast iron alone. They are easy to clean and retain heat, giving you the best of both worlds. Look for models with thin rods to ensure a maximum of radiant heat transfer to your food for tasty browning and a maximum of flavor.
Temp Range and Heat Control
Temperature range and heat control are also essential factors to consider when choosing your new gas grill.
Not all manufacturers are completely transparent when it comes down to giving temperature ranges, preferring to give you a total BTU per hour figure instead (see below).
However, some manufacturers have made the bold step of letting their customers know what cooking temperatures they can expect to reach such as the Fuego Professional Gas Grill.
For steaks, you'll want to get your grill going at around 500 degrees F, so if you have your doubts on a specific model that otherwise looks the part, it's worth reaching out to the manufacturer to ask how long their grill takes to heat up to this level.
Gas grills have excellent heat control, in fact, it is one of their main advantages. Simply adjust the dial to raise or lower your grilling temperature as required.
However, bear in mind that lower-end thermometers are not the most accurate and in any case, we strongly recommend investing in a digital grill thermometer for an accurate reading no matter what grill you're using.
BTUs
BTUs can be fairly deceptive in the gas grill market. Basically, BTUs are a measure of energy – British Thermal Units.
One BTU is the amount of energy required to heat up one pound of water by one degree F. With that in mind, the BTU rating typically given by manufacturers doesn't really give you a clear indication of the amount of heat produced, more the number of BTUs that are burnt per hour.
Obviously bigger grills with more burners will have a higher BTU than smaller ones with fewer burners, as they will get through more gas. If you take the total BTU output and divide it by your primary cooking area, you will get a BTU per square inch reading.
Anything above 80 indicates a good, high-performance grill that will be adequate for the average home cook.
Ignition
Gas grills require an ignition system to light the gas and get started. Most commonly gas grills tend to feature battery-operated electronic ignition systems.
They work well and usually take regular AA batteries. You will also see Piezo ignition systems that work by creating a spark through friction. These are the most common types of automatic ignition on gas grills under $500.
Build Quality, Construction, and Material
Gas grills with a better build construction and higher quality gauge materials will provide you with a better grilling experience.
Thicker, higher quality materials are not only more durable, they will also retain the heat much better. Likewise, if your gas grill isn't well built, it may not fit correctly together.
To ensure you get a good gas grill that meets your expectations, we recommend choosing a well established grill manufacturer. If you have a choice between two gas grills that cost the same price, one with multiple features, the other with fewer, but a better build quality, you're most probably going to get the most out of the latter.
You can always buy extra grill add-ons at a later date, but you cannot upgrade your grill's construction quality.
Work Space & Shelves
Choosing a gas grill with a good work space area and shelves is a smart move, even more so if you are looking for a large gas grill.
Smaller models that need to fit on small patios or balconies are often better without. With space being so limited you can use your table which will, in all likelihood, be situated right next to your grill.
Larger gas grills with side tables, allow you to prep and serve up your meals right next to your grill – ideal when you've got a lot of people over, keeping your cook station neat and completely separate from the drinks and social mingling area.
Shelves are useful for storing various tools and grill accessories. However, bear in mind that with smaller models, having shelves may come at the expense of accommodating your propane tank next to your unit and on show. For you to decide on your priorities.
Lid
A lid is actually essential to cooking on a gas grill, hence why most of the models in our top gas grill selection come with one.
If you don't have one your cooking options will be severely limited. A lid is essential for cooking thick cuts, including large steaks, turkey, and ribs.
Number of Burners
With larger gas grills, you get more burners. However, regardless of your grill size, you'll still want to have more than one burner.
Having two or more gas burners allows you to set up different heat zones, so you can cook certain items using indirect heat and others with direct heat, all at the same time.
With warming rack temperatures often a mere 50-100 degrees lower than on your cooking grate, you may find your already cooked food starts to dry out with your burner on full throttle.
Having two or more burners allows you to keep food warm until you're ready to eat, as well as creating a low zone for slow cooking.
Types of Burners
The very best burners are made from good, high-quality stainless steel, brass, or aluminum.
These types of gas grill burners can last for years and years. A good tip is to check how long your burners are covered under warranty. This will give you a good idea of their quality.
Thin, poor quality steel or aluminum burners will last around three years, although you can replace them when they're worn out.
Wheels
Gas grills with wheels or casters allow you to easily relocate your grill.
Whether it's moving it in for storage or transporting it to another part of your yard or patio to better accommodate your guests, wheels make it so much easier.
If you have a smooth patio or deck, then casters should do it. Grill carts with four casters will need a secure locking mechanism to prevent your grill from moving around.
If you are going to be frequently relocating your gas grill over uneven terrain, you may want to keep an eye out for a model with larger wheels.
Warranty
All of the main outdoor grill specialists provide good warranties with their products, even if you are purchasing a model from a lower-end range.
Some brands, such as Napoleon offer long 15-year warranties. Other brands vary their warranties depending on which parts your gas grill comes with.
Generally speaking, your warranty is a good indicator of how long your grill should reasonably last, before requiring replacement parts. Obviously, this is also dependent upon good maintenance and how often you use your grill.
Some grills will outlast their warranties by years, but it's nice to have that peace of mind that should your grill have a fault, you'll be covered.
Extras
There are plenty of extras that may or may be included with your gas grill. As we said earlier, we'd take a better build quality any day over all the extras which can normally be purchased at a later date.
However, there are certain extras that cannot be added on and, in some cases, you may get a better deal purchasing your gas grill with certain extras already included.
Rotisserie – while pretty uncommon at lower price levels, rotisserie add-ons are excellent extras. They come as full kits providing you with a motor, spit rods, and bracket mounts for deliciously tasty chicken and other whole birds.
Lights – while you can easily add on a portable grill light, a built-in one is a nice touch. Just make sure that the battery is easy to change out and that it covers your entire cooking area.
Smoker box – generally the reserve of high-end gas grills, smoker boxes are an excellent choice if you love the smoky flavor of grilled food but are obliged to use a gas grill due to your location. A metal perforated tray full of chips sits over a dedicated burner. As the wood chips smolder, they impart a tasty smokiness to your food.
Warming racks – pretty much standard with gas grills, warming racks also make a great secondary grill area, ideal for cooking food items that require a lower temperature.
Propane storage – gas grills with a dedicated tank storage area will hide your unsightly LP tanks and also make it easier to relocate your grill as required.
Tool hooks – while you can easily install a grill caddy, built-in tool hooks make it nice and easy to keep your favorite grilling tools to hand on your grill cart.
Easy to Use & Setup
Not all gas grills are easy to assemble and set up. If you're not the handiest of DIYers, then you may want to read through the user manual assembly instructions before purchase.
This will give you a good idea of what to expect. While some gas grills come mostly pre-assembled, others come with a huge number of various parts, especially for building their carts.
Top Gas Grills Under $500 Video
Final Thoughts
With so many options, choosing the best gas grill under $500 can seem like a huge challenge. To make sure you pick the best model that will give you many years of happy backyard grilling, we recommend first of all considering your personal needs and preferences before starting your search.
Once you've decided what you really need in a gas grill, be sure to take another look over our favorite top-rated models. If your priorities are a highly compact, stylish grill, with a super-fast heat up time and exceptional grilling performance then you can't go wrong with the Fuego Professional Propane Gas Grill. Perfect for small spaces and perfectionists alike.
For large groups and frequent backyard entertainers, you'll just love the spacious Char-Broil Performance 4-Burner Gas Grill with its 425 primary cooking area plus an ample 150 square inch warming rack. Featuring four main burners plus a lidded side burner for your sides and sauces, this highly versatile gas grill allows you to cook a wide variety of food simultaneously.
Looking for a highly durable gas grill? Take another look at the Napoleon Rogue 365 Gas Grill, complete with its outstanding 15-year warranty. Complete with its Accu-Probe temperature gauge, iconic Wave cooking grids, and JetFire Ignition System, it's a good entry-level gas grill with a generous 495 square inch total cook area – ideal for family meals and entertaining friends.