When I was a kid, natural gas grills were very expensive and only available for built-in BBQ stations. If you wanted a stationary, stand-alone appliance you had to choose between charcoal and propane. Luckily for us, the best natural gas grills no longer cost thousands of dollars or require being permanently installed!
With a modern natural gas grill, you can cook outdoors using the same fuel that powers your home's other gas appliances. Once you set-up an external gas line in your yard, you can hook your grill right into it.
Natural gas grills are the most convenient way to grill. You'll never have to dispose of hot ashes or lug around bags of charcoal again. Unlike a propane grill, your natural gas grill will never run out of fuel, making them ideal for hosting events and parties.
Natural gas grills are currently very popular, and there are more options on the market than ever before. They are a bit more complicated to shop for than a charcoal or propane grill, however. In this post, I cover everything you need to know about selecting the best natural gas grill for your family.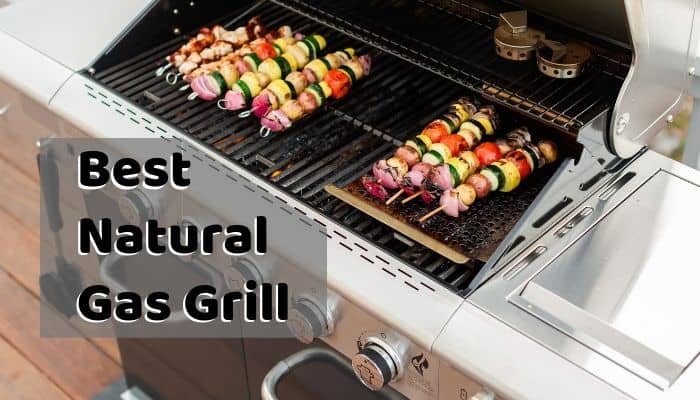 At a Glance: Our Top 7 Best Natural Gas Grills
Best Natural Gas Grills
There are several reasons why people prefer natural gas grills over propane or charcoal.
Convenience is the biggest reason people make the switch to natural gas. Having your grill hooked into your gas line means you never run out of fuel and never have to refill a propane tank. You also don't have to fuss with starting coals or deal with a messy clean-up afterwards.
Ease-of-use is another reason folks switch to natural gas. If you are comfortable using a propane grill, then using a natural gas grill will feel very similar to you. You won't have much of a learning curve and most of it will just be becoming acquainted with your new grill!
Natural gas grills come in both drop-in and stand-alone models. For a built-in backyard kitchen, a drop-in grill adds elegance along with performance. These grills are most usually very high-end and have features like infrared elements, brushed stainless steel hoods and commercial-quality burners and grates.
A stand-alone natural gas grill usually looks identical to a propane grill and typically comes with a 10-foot gas connector, giving you a bit of flexibility. These grills are available in a wider range of prices but most are still in the premium price range.
Natural gas grills are not ideal for every situation, and while you can switch some grills to run on propane, not all grills are easily converted. If you need a grill that can easily convert between types, be sure to look for a dual-fuel model. You can see our Buyer's Guide below for more information.
With the best natural gas grill, you can grill as much as you want, whenever you want!
Best Overall Natural Gas Grill
Weber Summit E-670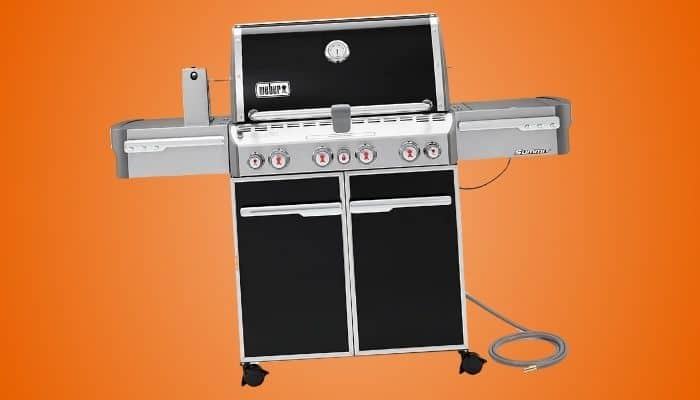 You can never go wrong when you choose to grill on a Weber. Their grills are among the best on the market, and the premium Summit E-670 is no exception.
The Summit stands on an enclosed cart made with painted steel doors, with chrome plated cast aluminum handles and stainless steel trim. The cast aluminum firebox and hood are durable, weather resistant and do a marvelous job of retaining the heat.
The grill measures 30 x 74 x 57 inches and has two attached stainless steel side tables and under cabinet storage. One of the tables houses a flush-mounted side burner with a cover. The tables also have convenient hooks for hanging your BBQ tools.
This natural gas grill has 6 primary stainless steel burners, a smoke chip burner, and a rear-mounted infrared rotisserie burner. The individual Snap-Jet ignition system ensures that your burners light quickly every time, and the searing station gives you a blast of high heat whenever you need it.
Some of the other features of the Summit include a built-in hood thermometer, lighted control knobs and a tuck-away rotisserie system with a flip-up motor and separate spit and fork storage. The grill handle also has a built-in grill light for easy nighttime BBQing!
This grill has 624 square inches of primary cooking capacity, with an additional 145 square inches on the warming rack. You can choose between porcelain enameled steel or cast iron cooking grates, or opt for their stainless steel grates if you prefer.
The Summit E-670 is the best overall natural gas grill on our list and one of the best gas grills on the market. Weber backs the grill with its fantastic 10-year warranty.
Pros – Things we liked
Cast aluminum firebox
6 primary stainless steel burners
Infrared rotisserie burner
Snap-Jet ignition system
624 sq. inches of primary cooking capacity
Cons – Things we didn't like
Expensive
Best Weber Natural Gas Grill Under $2000
Weber Genesis II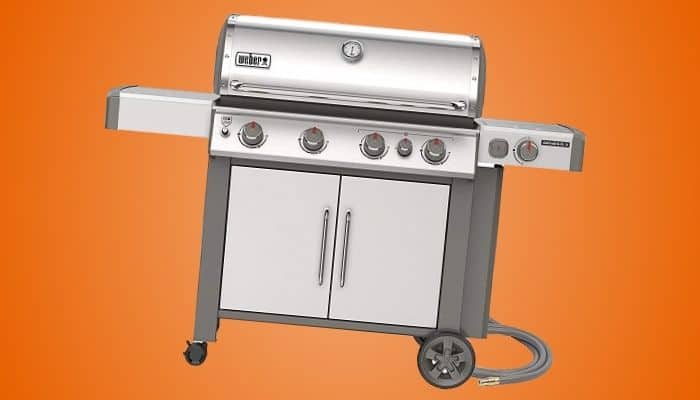 If the Summit is beyond your price range, then consider the Weber Genesis II S-435. It has fewer features than the Summit but is still a great grill with all the quality you expect from a Weber product.
The Genesis features an all stainless steel cart and firebox with an enclosed storage area below. The 4 primary burners are quick to light and easy to adjust with the control knobs, and it does have an integrated searing station as well.
This grill measures 62 x 65 x 31 inches and includes two attached side tables. One of the side tables has a covered burner you can use for simmering sauces or sautéing veggies. You can hang your tools from the hooks on the side tables too.
The Genesis has 646 square inches of primary cooking capacity with an additional 198 square inches on the warming rack. The stainless steel cooking grates are durable and leave lovely sear marks on your food.
This grill is also compatible with Weber's iGrill 3, an app-controlled digital thermometer. With the iGrill 3, you can monitor up to 4 cuts of meat while they cook without ever having to raise the hood!
The Genesis is a great premium gas grill, and it comes with Weber's outstanding 10-year warranty. If you have a problem with your grill, Weber will be there to help!
Best Natural Gas Grill Under $1000
Napoleon Rogue 525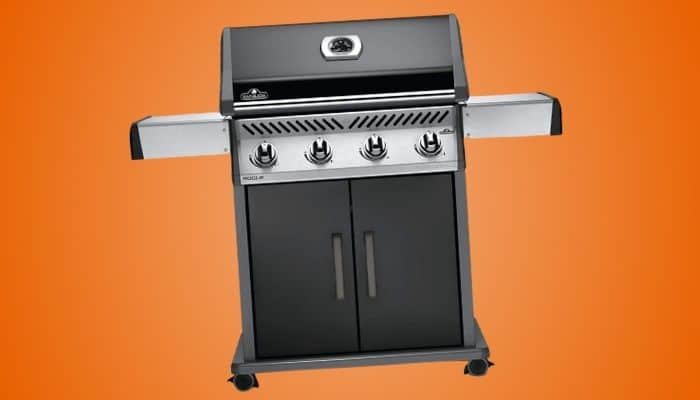 If a Weber isn't quite your style, then consider this outstanding grill from Napoleon. The Napoleon Rogue 525 is an excellent grill with some great features, and it is one of the few premium natural gas grills under $1000.
The Triumph has a durable stainless steel firebox and hood that is precision mounted. The hood glides up with the touch of a finger and seals in the heat and moisture. This grill has 4 powerful burners that automatically light when you turn the knobs.
The cabinet is made with durable black powder coated galvanized steel, and has large, locking caster wheels to keep it in place. The two side tables fold down for easy storage.
This grill measures 57 x 25 x 48 inches with the shelves extended. The weight of the grill is only 68 pounds, and comes with a 15 year guarantee.
The Rogue 525 comes with Napoleon's classic porcelain enameled cast iron cooking grates. Their signature "wavy" grates leave lovely marks on your food and are naturally non-stick. The grill has 525 square inches of cooking capacity, which is enough room to grill 25 hamburgers at once!
Napoleon has been making high-end grills for years and they have a great reputation for quality, and they offer replacement parts on their website.
Best Natural Gas Grill Under $500
Weber Spirit II E-310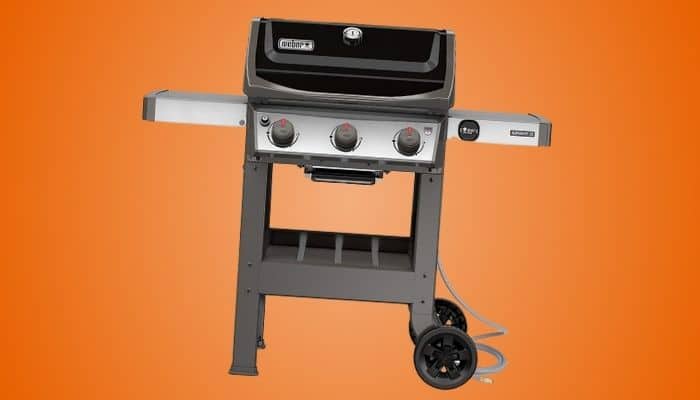 If your budget is tight but you really need a natural gas grill then this Weber was made for you! The Spirit II E-310 is a compact and inexpensive gas grill that has more than just the basic features.
The Spirit has an open-cart design, so you can quickly reach your supplies from any angle. The sturdy painted steel legs are durable, and the cart has two wheels for easy relocation.
The cast aluminum firebox and hood are weather resistant and do a great job of retaining heat. The Spirit comes with Weber's GS4 grilling system and has the improved infinity ignition and brightly marked control knobs.
The cooking grates are porcelain enameled cast iron and are naturally non-stick. They provide 360 square inches of cooking capacity, with another 90 square inches on the warming rack. The three primary burners make it a breeze to set up cooking zones in this grill.
The Spirit measures 44.5 x 52 x 27 inches. It has two attached side tables that fold down for compact storage. You can hang your tools from the hooks on the side tables, or place them on the shelf under the grill.
The Spirit comes with Weber's 10-year warranty, and there are many accessories for this grill. You also have the option to pick-up a closed-cart version of this grill, if you don't care for the open shelves.
Best Blaze Natural Gas Grill
BLZ-4-NG
If you are considering a commercial-quality stand-alone natural gas grill, then this Blaze model might be the one for you. The Blaze 32-inch freestanding grill is one serious piece of BBQ equipment.
Made from durable and weather resistant stainless steel, you won't be replacing the Blaze anytime soon. The cart, firebox, and lid are made from heavy gauge stainless steel that will never warp or rust, even in extreme weather.
The 4 locking caster wheels make this grill easy to relocate. You can remove the inner shelf if you need more space, and the two side tables offer you plenty of prep space.
The grill has stainless steel cooking grates made from 8 millimeter-thick rod stock, to maximize your searing capability. It offers 738 square inches of cooking capacity, and also has a removable warming rack.
Where the Blaze really impresses is with its burners and ignition system. Just push and turn the knob, and the burners spring to life. The 4 primary commercial-grade burners are all stainless steel and will be trouble-free for years.
The Blaze also has a powerful rear-mounted infrared burner and stainless steel heat separators for easy zone cooking. Mesh grates inside limit flare-ups and prevent food from falling through to the burners. The Blaze is a premium grill and has a limited lifetime warranty.
Best Broil King Natural Gas Grill
King Regal XLS Pro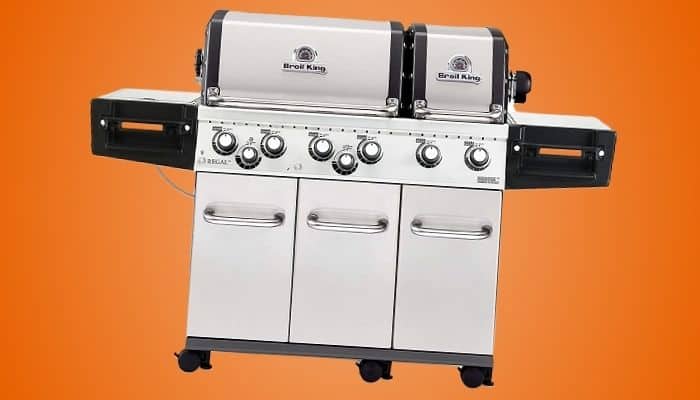 For large family BBQs and celebrations, a big grill is a handy thing to have. If you need a large natural gas grill, then check out this feature-rich Broil King Regal XLS Pro.
The Regal has two painted stainless steel fireboxes with separate hoods. You can grill a big piece of meat on the large side and still have room to grill your side dishes on the smaller side. This grill offers over 1000 square inches of capacity between the two sides.
The enclosed cabinet has three doors and offers you a lot of room for storing your accessories. The 6 wheels support the grill and make it easy to move. The two side tables give you plenty of prep space and also house a handy side burner.
Inside the grill, the 6 powerful double-tube burners offer superb heat control. The 180° dials makes setting the temperature super easy. There are 4 burners on the large side, and 2 in the smaller one.
The Regal also has a rear-mounted rotisserie burner, backlit control knobs and durable, reversible stainless steel/cast iron cooking grates. The grates provide great heat retention and leave bold sear marks on your grilled foods.
The Regal is an excellent choice for larger families or folks who frequently need a large-capacity grill. The cook box comes with a lifetime warranty, and the burners have a 10-year warranty as well.
Best Lion Natural Gas Grill
Premium Grill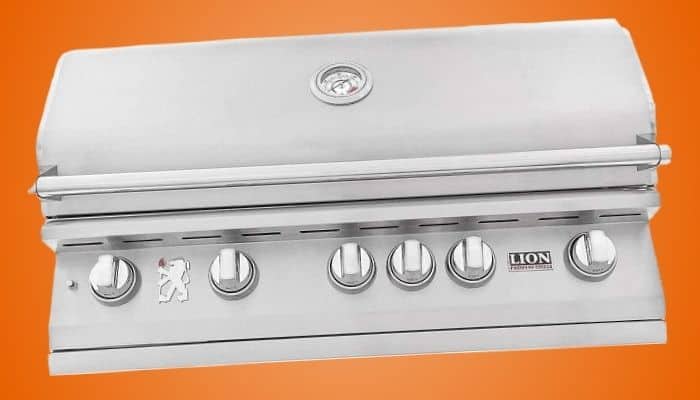 If you are looking for the best drop-in natural gas grill for your built-in outdoor kitchen, then we have the grill for you. The Lion Premium 40-inch grill will look fantastic in an island, and wait till you see it fired up!
The Lion measures 24.2 x 40 x 21.5 inches. Made from the highest quality materials, the Lion features a commercial-grade stainless steel hood and firebox.
The double-layer seamless welded hood is very well insulated and includes interior lights and an extra-large commercial temperature gauge.
Inside the hood, the Lion continues to impress. The 5 cast stainless steel burners offer superb heat control and 90,000 total BTUs. The solid stainless steel cooking grates are durable and provide great heat retention.
The Lion also has a rear infrared rotisserie burner with the included rotisserie motor and spit. This unit can cook up to 40 pounds of meat at a time! The large knobs make heat control easy and the grill lights up quickly with a push-and-twist.
This grill also comes with a griddle, adjustable warming rack and smoker box. Everything you need to host your next BBQ is in the box! The Lion comes with a lifetime warranty on the cook box, grates and burners and a 2-year warranty on the other parts.
What is a Natural Gas Grill?
A natural gas grill hooks directly into your home's gas line. These grills use the same fuel as your other kitchen appliances to grill your food.
To use a natural gas grill, all you have to do is switch on the gas, turn on the grill and hit the ignition. Since your grill gets its fuel directly from the gas line, you don't have to worry about running out of power mid-BBQ. You can grill all day and smoke meat all night long!
Natural gas grills are a very convenient way to BBQ. You can even use the grill when the power is out since your gas line is not dependent on electricity. You'll never have to refill your tank or store back-up bags of charcoal when you cook with a natural gas grill.
Also, natural gas is less expensive than propane (prices vary), so you may even save some money when you buy the best natural gas grill.
Natural Gas vs Propane Grill
Natural gas (NG) is actually a mixture of several gases. It usually contains propane, butane, ethane, and methane in differing quantities. During the refining process, manufacturers separate the propane and store it under high pressure, which turns the gas into liquid propane (LP).
Liquid propane is typically stored in large tanks or sold in 20-pound, refillable portable tanks. Most LP grill owners use refillable propane tanks to fuel their grill. The advantage of buying the best natural gas grill is you never have to lug an empty tank in for refueling.
Natural Gas Grill Properties
Propane and natural gas have different properties, and this affects the design of your grill.
Natural gas contains about half the energy of propane and is lighter in weight. Measured in BTUs (British thermal units), a cubic foot of natural gas produces 1,030 BTUs, while a cubic foot of liquid propane produces closer to 2,516 BTUs.
This means that a natural gas grill requires a higher flow of gas (and a higher flame) to produce the same amount of heat as a propane grill. While a natural gas grill might look identical to its liquid propane cousin, they have different burners, valves, and regulators.
A grill can either be ready for use with natural gas or propane, but not both at the same time. A propane grill has smaller orifices in the burner and valves, so hooking it into a natural gas line would leave you with barely any flame to cook with.
If you connect a natural gas grill to a tank of propane, on the other hand, you will likely have flames shooting up several feet high. The burner orifices are too large for this type of fuel. This is a house fire waiting to happen. Don't do this.
Some manufacturers make convertible or dual-fuel grills, so you can change the fuel source without buying an entirely new grill. You do have to swap some parts around, however. You can read more about converting a grill in the Buyer's Guide below.
Natural Gas Grill Safety
These grills are safer than propane grills, although the difference is rather minor.
Natural gas is lighter than propane, so if any gas escapes from the line will be quickly dissipated into the atmosphere. Propane can linger near the ground for a longer amount of time. If your propane tank springs a leak, small children or pets in the area could accidentally inhale the gas before it blows away.
But honestly, both natural gas and propane grills are pretty much equally safe if you pay attention and maintain your grill properly. The biggest danger of using a grill or smoker, no matter the fuel source, is the risk of starting a structure fire.
According to the National Fire Protection Association, there are approximately 10,000 home fires a year caused by grills, smokers, and other outdoor cookers. Nearly a quarter of the fires started by gas grills came from leaks or breaks in the gas line or tank.
Safety Tips for Natural Gas Grills
To protect your property, always have the gas line professionally installed and be sure to have a quick-release safety valve on the outdoor connector. Then you can easily turn the gas off to your grill at the source without affecting the rest of your gas appliances.
Check and see if you need any state or local building permits before installing a natural gas grill or external gas line. Be sure any work done on your property is to code because the fines can get pretty spectacular if you don't.
Never leave the natural gas line open when the grill is not in use. Even if you have turned the burners off. If something accidentally moves the knob or grill (like the wind, a bird, your dog or small child) the gas could flow and fill the BBQ, leading to an explosion.
Before you fire up your grill, check the gas line and make sure all the connections are tight. A loose connector could allow gas to leak from the line while the grill is running.
Most stand-alone natural gas grills come with a 10-foot long gas hose. While it is tempting to get an extension hose so you have more flexibility in locating your grill, stick to the original length. The gas pressure in your line is preset and is not high enough to move gas through a longer hose safely.
At the end of a BBQ, be sure the grill is off and that the gas has been turned off at the source. Believe it or not, folks have left their natural gas BBQ running all night long and the results are not always this benign.
Why Trust Us
All of our reviews are compiled with a combination of expert input, years of hands-on testing of grilling products, curating the reviews of real-life buyers in a "wisdom of the crowd" system, and of course our own expertise. All the products listed are the ones we would buy if we were looking to purchase a new natural gas grill.
Methodology Used to Pick the Best Natural Gas Grill
When picking the best natural gas grill we looked at and then rated each grill on the following criteria. Price, BTU, build quality, grill size, number of burners, grill grates, hood size, accessories, and ease of cleaning.
Natural Gas Grill Buyer's Guide
Buying the best natural gas grill has never been any easier than it is today. With the growing popularity of these grills, there are more options available than ever before.
Natural gas grills are fantastic for folks who just want to get busy grilling and don't want to fuss with fuel or fire management. Charcoal and propane grills require you to plan ahead, or you might run out of fuel mid-BBQ. This is never a problem when you cook with natural gas.
Natural gas grills have a short learning curve and are easy to master. They are very versatile and come in a wide range of sizes, styles, and designs. You can get a small grill for use on an apartment patio, or even invest in a natural gas smoker.
Natural gas grills are not ideal for every family, however. They have definite downsides that may make them a less desirable option for some pitmasters.
Before you buy a natural gas grill, consider the following factors:
Construction
Since natural gas grills have a long history as a high-end product, these grills are traditionally very well constructed. They typically use heavy duty insulated steel or cast iron for the firebox and have welds instead of rivets to hold things together.
You definitely want to get a natural gas grill that is well constructed and made from high-quality materials. It is much easier to manage your grill's heat when the firebox is tight and well insulated.
The more expensive the grill, the more likely you are to see additional features like a brushed stainless steel hood, backlit control panels, and commercial-grade grates and burners. For the very discerning, you may even have your grill custom-built for your backyard kitchen.
A stand-alone natural gas grill almost always comes with a lower storage cabinet, high-quality locking caster wheels and a side table or side burner. Since there is no tank of propane to hide away, you can use the entire lower section to store your BBQ accessories!
BTUs
Manufacturers rate their gas grills by measuring the amount of heat, or BTUs, the burners produce per hour of use. So you should just be able to compare grills by their BTU rating, with the highest number indicating the grill that can get the hottest, right?
Not exactly. While the BTU rating of your grill gives you some good ideas about its temperature range, there is more to a good grill than a high BTU. The construction quality and materials will also affect the way your grill heats-up and retains the heat.
Also, consider the BTU rating of each burner individually. Some manufacturers list the total BTUs for all of the burners together, which can be deceptive. A grill that can produce 50,000 BTUs per hour sounds impressive until you realize that number is spread among 6 burners and a rotisserie unit.
Rather than focus on BTUs, I prefer to look at the overall construction quality of a grill and take the big picture into account. A well-insulated grill with a tight hood will actually get hotter and produce better BBQ than a leaky, cheap grill, no matter the BTU-rating of the burners.
Price
Modern natural gas grills typically fall into the premium price range. There are a few basic models that you can pick up for under $500, but the majority will likely run at least $1000. In some cases, it may make more sense to convert your old propane grill to natural gas rather than investing in an entirely new grill.
Originally, natural gas grills were a built-in part of your outdoor kitchen. You can still find drop-in models, but these days we also have a lot of stand-alone grills to choose from. These grills have all the same features and abilities as premium charcoal or propane grills, and produce mouthwatering BBQ.
When creating your natural gas grill budget, be sure to factor in the cost of installing a natural gas line. Even adding an external connector and safety valve can get expensive. You can see the Practicality section below for more information about installing a natural gas grill.
Grill Size
There are a few ways to consider grill size.
First, you want to be sure your grill fits into the space you have in your yard. You need plenty of room to maneuver around your grill and should have sufficient clearance from any structures to prevent a fire. Be sure that the fuel line doesn't get in the way. Also, be sure there is plenty of clearance around your grill so you don't accidentally start a fire.
If you are unhooking your grill for storage, make sure it fits into your storage space. It's no fun to discover later that your grill is 3 inches too tall to fit under a shelf, for instance.
Lastly, grill size can also be a way to refer to the capacity of your grill. Often manufacturers report the capacity in square inches, but some may say how many burgers can fit on their grill at one time. Either way, be sure your grill has the capacity you need to feed your family.
Number of Burners
Since natural gas grills tend to be premium models, they often come with multiple burners. There are your primary burners, of course, but these grills often have extra burners for high-heat searing zones, rotisserie set-ups and even smoking wood chips.
I prefer grills with at least three primary burners, and for larger grills, more is better. Extra burners can be quite useful and add versatility to your grill. The burners should have independent ignition switches and control knobs as well.
When you have three or more primary burners, it is easy to set up cooking zones inside your grill. You can turn a burner off to create a zone for indirectly cooking a chicken. Or have one burner on high for steak-searing right next to your gently roasting vegetables.
Some grills have additional burners on the side table of the grill. You can use these to heat up a sauce or even to sear a piece of meat. These are handy to have but are not essential for most backyard cooks.
Another feature often seen on natural gas grills are rotisserie or infrared burners in the back of the grill. These allow you to rotate a big cut of meat while it slowly cooks and bastes itself. These specialty burners can add a lot to the cost, though, so keep that in mind if you are on a tight budget.
Practicality
Natural gas grills are very convenient to use, but they do require more infrastructure to operate than a propane grill. Unfortunately, natural gas grills are not a practical option for every living situation.
Choosing your grill's location is critical to setting up a natural gas grill. You won't have the option of completely relocating it like you can with a charcoal or propane grill. While your grill will come with an extended gas hose, you'll still need to be within a few feet of the main gas line.
Plan out the orientation of your grill before you have it installed. Make sure the gas hose won't get in your way or create a tripping hazard. Also, check that you have plenty of clearance from structures.
If your home already has an outside connection to your gas line, then you are good to go! Many apartment complexes and condos have these lines integrated right into your balcony or porch. You can just hook up a natural gas grill, turn on the gas and get straight to the BBQ.
If your home isn't set-up for a natural gas grill, you will have to hire in some professional help. This is where a natural gas grill can get expensive. You will obviously need to have a gas line installed in your home, with an external safety valve and connector close to your grill's location.
If you are lucky, your home is already piped for your other gas appliances. Then all you need to pay for is the external connector and safety valve installation. Depending on where you live and where you plan to place your grill, the cost could be anywhere from a hundred bucks to a few thousand.
They may need to dig up your yard to connect up the gas pipes, even if your home already uses other gas appliances. You may also need to get permits or pay for an inspection after having the line installed. Since the expense is so variable, be sure you know the installation costs and factor that into your budget before you start shopping for a grill.
It's so depressing to choose the best natural gas grill first, only to discover that the installation uses up your entire budget.
Cooking Grates
Many natural gas grills come with high-quality steel or cast iron cooking grates. You can always upgrade your grates if you don't like the type they come with.
Thicker-gauge grates retain more heat to evenly cook your food. They will last longer and are easier to clean. They are also easier to season and less likely to stick to your grilled foods.
Some grills come with enameled grill grates. These usually have a cast iron or steel core with a coating of porcelain covering the exterior surface. These grates have all the heat retention of cast iron but are naturally non-stick. You don't even have to season them!
Hood Size
The hood (or lid) of your grill controls how much space you have between the top of the grill and the cooking grate.
The taller your hood, the more room you have for fitting in large cuts of meat or roasting a beer can chicken. At the same time, it can't be too tall or the grill won't heat evenly.
Many drop-in style natural gas grills have a hood with a lower profile than a typical stand-alone grill. These grills look really sleek and professional when tucked into a marble countertop. But they might not have the room for grilling the taller cuts of meat.
You'll likely have a warming rack tucked into the hood of your grill, too. Some grills have a removable warming rack (or rotisserie bar) across the upper rear portion of the hood.
Flavorizer Bars
Weber gas grills have a "flavorizer" bar over each burner. And other manufacturers have followed suit and added similar bars to their gas grills. These bars are usually an inverted V-shaped piece of metal that sits right above the burner.
When drippings fall from your roasting meats, they land on the hot metal bars and are quickly vaporized. The vapor circulates around the interior and adds extra flavor to your grilled foods. Another benefit of these bars is that they direct grease away from the burners and reduce flare-ups.
Prior to the flavorizer days, many gas grills had a layer of lava rock between the burners and the grill grates. While these rocks served a similar purpose, they were also messy and very prone to flare-ups. Once Weber introduced their flavorizer system in the 1980s, lava rocks quickly disappeared from gas grills.
Conversion
Sometimes it makes more sense to convert a grill to run off another fuel source rather than investing in an entirely new grill. If your new home lacks a natural gas line, for instance, you may prefer to convert your grill to run on propane rather than investing in a new gas line or grill.
Some manufacturers list their grills as dual-fuel. Unlike a combo grill, a dual-fuel grill isn't able to use both types of fuel right out of the box. You still have to take other measures to convert between the fuel types.
To convert a grill, you have to replace the regulator and gas hose, get the proper gas valves and replace all of the burner jets. Once you leak-check everything, you should be able to reassemble the grill, hook into the new fuel source and be ready to BBQ!
Conversion Kits
If your grill is a dual-fuel model (check your manual or with the manufacturer), then you should be able to easily find a conversion kit for it. Buying a kit is easier than trying to source the parts separately. These kits typically sell for around $100.
There are kits for going from NG to LP, and other kits for changing from LP to NG. Look for a kit that matches your grill's brand and model number, and that converts it to the right fuel type. If you can, get a kit made by your grill's manufacturer.
What if your grill is not a dual-fuel model? Can you still convert it?
Theoretically, you can convert any gas grill between natural gas and propane (and back). It's just a matter of switching out a few key parts. But it is much harder to do with non-dual-fuel grills and may require professional assistance and customized parts.
Conversion and Warranties
If you don't have a dual-fuel grill and want to convert it anyway, be aware you may sacrifice your grill's warranty. Weber recently decided to stop selling conversion kits for their grills and no longer have them rated as dual-fuel. They also refuse to cover warranties on converted grills.
Why do some manufacturers advise against converting their grills? Really, it's a liability issue. While using a conversion kit is pretty easy, you can still have problems if you make a mistake. Weber and other companies don't want to deal with the additional liability if a converted grill causes a fire.
If you anticipate needing to convert your natural gas grill, or just want peace of mind knowing you can, look for one that is a dual-fuel model. That will save you the hassle of hiring a BBQ technician to custom-convert your grill in the future.
Accessories
There are an almost unlimited number of accessories available for natural gas grills.
These accessories add versatility and convenience to your grilling experience. They may allow you to more easily cook a favorite food, or turn your grill into a smoker or oven. Some common grill accessories include:
Work Space
Stationary natural gas grills often come with an attached side table or two. These may house an extra burner or sear-station. Or you can use them as a prep table or place to lay down your tongs.
Drop-in natural gas grills are usually incorporated into a permanent structure in a backyard kitchen. You might install it on an island, or surround it with a nice countertop as part of a workstation.
If your yard is short on prep or serving space, you may want to consider adding a BBQ table to your backyard kitchen. These handy stations are a great addition to any grill, even one with its own modest side tables. As a bonus, they also give you extra room for storing your accessories!
Ease of Cleaning
Natural gas grills, like propane grills, are usually very easy to clean. The natural gas fuel burns clean and doesn't leave behind any residue or ashes like charcoal grills and smokers.
You will have to clean your grill grates frequently, but with a good grill brush and a warm grill grate, this should only take a few minutes. Otherwise, caring for your grill is really a matter of following the maintenance schedule and doing a deep clean as needed or seasonally.
Maintenance
If you take care of your grill and properly maintain it you will have years of trouble-free outdoor cooking. So what kind of maintenance does a natural gas grill require?
The good news is that a natural gas grill is as easy to maintain as a propane grill, and a lot easier than a charcoal grill. Your instruction manual should cover the maintenance schedule for your particular model.
Maintaining the Grill Grates
The best way to care for your grill is to maintain it as you use it. After cooking a meal, crank the burners up to high for a while to burn off any food or grease. Using a good grill brush or scraper, remove any debris from the warm grill grates or inside of the grill.
You can wipe down the control panel, hood, and side tables with a wet cloth, adding a drop of dish soap if they are especially grungy. Just be careful not to burn your hand if the grill is still hot.
Seasonal Deep Clean
A few times a year, or more frequently if you grill a lot, you should break down your grill and give it a good deep cleaning. Remove the grates to access the inside of the firebox. Now you can use a brush or scraper to clean the flavorizer bars and gently wipe any debris from the burners.
Sometimes there can be a build-up of soot inside the firebox or hood, especially if you use your grill to smoke meat. Use your brush and scraper to remove this build up. If you happen to have a vacuum ash collector for a charcoal grill this is a great time to break it out!
Keep Your Grill Covered
The best piece of advice I can give you for maintaining your natural gas grill is to keep it covered! Covers will protect your grill from the sunlight and rainy weather, and they really reduce the amount of dirt, dust and bird droppings your grill will collect.
Warranty
Natural gas grills are typically more expensive than propane or charcoal models. Given the expense, most natural gas grills also come with premium warranties.
It is common to see warranties that cover certain parts for a longer time than others. Weber, for instance, warranties their fireboxes for 5 to 10 years (depending on the model). But their cast iron cooking grates are only under warranty for 2 years.
Look into the details of your warranty before you buy your grill so you know what it covers. Check out the manufacturer's website and see how easy it is to make a claim. And look to see if there is a nearby service center in case you have a problem.
One last caution about warranties on natural gas grills. Some manufacturers do not support converting their grills between natural gas and propane. Weber, for instance, no longer supports converted grills.
If you convert your grill, you may void your warranty. If you think you may need to convert your grill in the future, consider going with a brand that supports conversions to protect your warranty.
Top Natural Gas Grills Videos
Conclusion
If you are planning to convert your home over to natural gas, then this is the perfect time to install a natural gas grill! There have never been more options for buyers of the best natural gas grills. And you don't even have to rob a bank to afford it.
When you install a natural gas grill you get the most convenient BBQ experience possible. You'll never have to light coals or clean old ashes from your grill. And you will never run out of fuel. Our guide has got you covered with tips for safety and what to look for when shopping for your grill. So you can get straight to the cooking!