Few things are more enjoyable than listening to the sizzle and pop of a perfect burger or steak on the grill. We could go on listening for hours, but most of the time, your hungry family wouldn't be too keen on that. For those days when you need to hurry the process along a bit, a high-quality grill press helps you speed things up without sacrificing quality.
Today we're reviewing the best grill presses on the market to help you find the perfect type and model for your grilling style.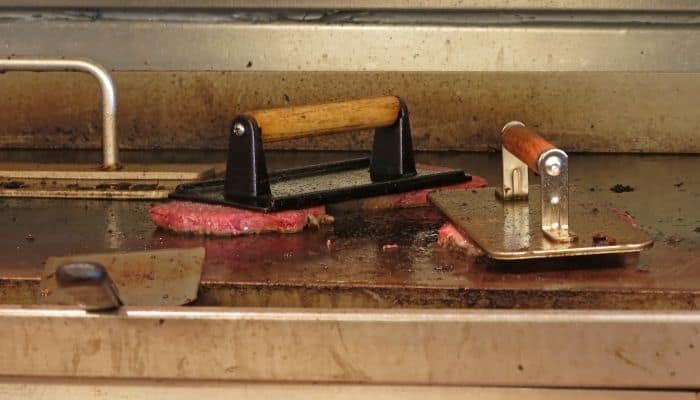 Best Grill Press
Picking out the best grill press is a bit more complicated than you might expect at first glance. There are several different types out there, with certain varieties better at one task than others.
Our list below includes various grill presses in various sizes, shapes, and material types. Whatever your cooking style we're sure you'll find one that fits your needs.
Lodge Pre-Seasoned 6.75 Inch Cast Iron Grill Press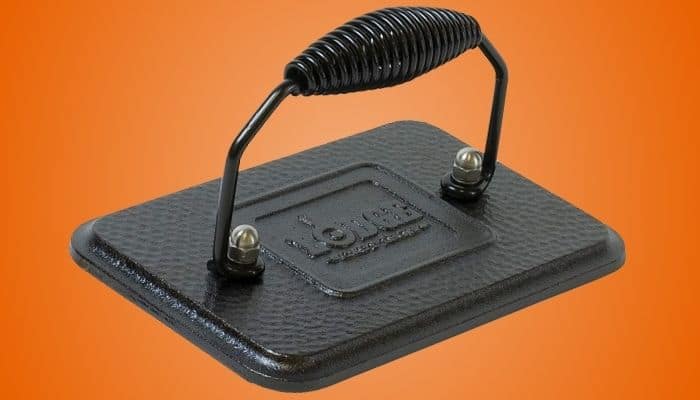 The Lodge Cast Iron Grill Press is a heavyweight rectangular press from the granddaddy of American cast iron manufacturers. It comes pre-seasoned for out-of-the-box cooking readiness and measures 6.75 inches x 4.5 inches.
It's got a beautifully textured top surface with a smooth bottom to provide maximum surface area for pressing a sear pattern into the meat. It has a stay-cool spiral handle that helps keep your fingers safe from the heat while giving a good grip for really ratcheting down pressure.
We'll admit it; we're suckers for old-school cast iron. Lodge is the epitome of Americana cast iron cookware, and this rectangular grill press really shows it.
It's durable, easy to maintain, and does its job perfectly. If you're looking for a grill press you'll be passing down to your grandchildren, the Lodge Pre-Seasoned Cast Iron Rectangular Grill Press is the way to go.
Pros – Things we liked
Heavyweight rectangular press
Comes pre-seasoned
Stay-cool spiral handle
Durable & easy to maintain
Cons – Things we didn't like
Common complaint is people wish it was bigger
Lodge Pre-Seasoned 7.5 Inch Cast Iron Round Grill Press
Want Lodge cast iron quality but looking for something a little more 'well-rounded'? Bad puns aside, the round grill press from Lodge is an excellent alternative for those who aren't too keen on rectangular grill presses.
It measures 7.5 inches in diameter and has a round shape, but is otherwise identical to the Lodge Rectangular Cast Iron Grill Press.
It has the same stay-cool handle, same textured top, and same generational quality.
If you're the kind of grillmaster more likely to be smashing down some deliciously crispy burgers, the Lodge Cast Iron Round Grill Press is a great option.
George Foreman Cast Iron Grill Press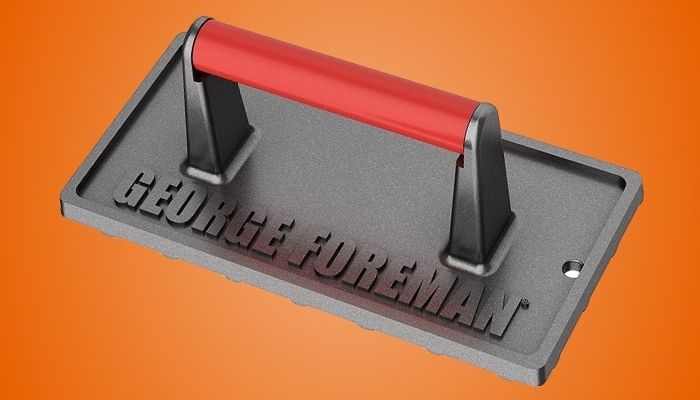 George Foreman built two levels of fame for himself, first through boxing, then through his world-famous George Foreman Electric Grill. His Cast Iron Grill Press is a big rectangular press with raised ridges for putting classic grill marks on your food.
It measures a full 8.7 inches long and 4.3 inches wide, plenty of space for even large steaks. The handle is soft to the touch and comfortable to apply pressure with while cooking.
It comes pre-seasoned right out the box and is easy to get started with, but it does have a few flaws we noticed.
To start with, the soft handle does nothing to keep heat from flowing up. We accidentally reached for it without bbq gloves on and got a hot finger to show for it. You'll need to keep your oven mitts or gloves on if you want to take full advantage of the double sear option.
Other than that though, it's a roomy rectangular grill press from one of the most well-regarded names in the grilling world. If you're someone who always wanted a panini press but didn't want to get a whole new appliance, this is a great option.
Bellemain Cast Iron Bacon and Grill Press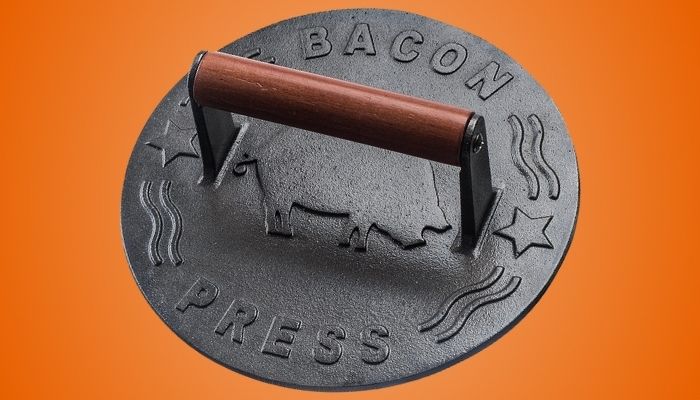 The Bellemain Cast Iron Bacon and Grill press is a large round press made from cast iron. It's specialized for getting perfect crispy bacon every time but works just as well to smash down burgers or apply pressure to other meats.
We weren't kidding when we said it was large, either. It filled our standard size cast iron skilled all the way to edge, putting even pressure on every slice of bacon within.
When we tried it out on the grill, we were equally impressed with how well it applied even pressure to an inch thick ribeye. The inverted ridges didn't add any extra grill marks either, a good thing when you're going for traditional checkerboard patterns on your steak.
It comes pre-seasoned, with a wooden handle and downright hilarious pig and bacon pattern on the top. It was easy to clean and felt quite sturdy while we were handling it.
It may seem silly to buy a grill press just to cook bacon, but the Bellemain Cast Iron Bacon Press is a lot more than it appears at first glance. It was one of our favorite round grill presses, just as suited to pressing down steaks and burgers as it is to making perfect bacon.
Cuisinart Cast Iron Grill Press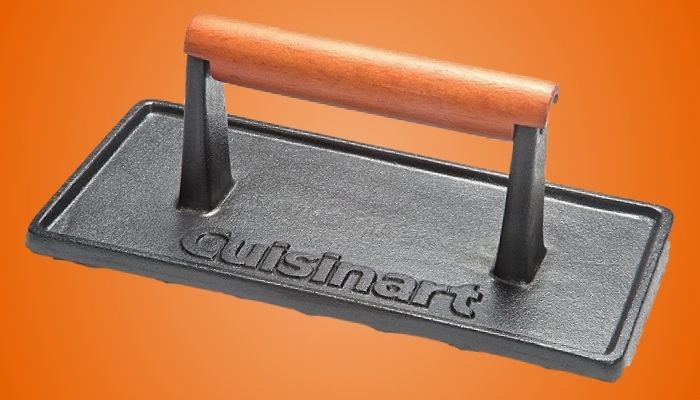 Cuisinart is a giant in the cooking world, and their cast iron grill press shows their attention to detail and general high-quality craftsmanship. It has diagonal ridges along the whole length of it and weighs 2.8 lbs.
That's just about right to put a gorgeous set of grill marks on the top of your burger or a tasty pressed sandwich. It didn't come preseasoned, which honestly surprised us, but it was easy enough to do ourselves.
It has a traditional wooden handle with an inset top panel. It's quite basic looking but in a good way. The classic cast iron and minimalist styling give it a look we enjoy.
While this isn't a groundbreaking grill product, it's a reliable cast iron grill press that gets the job done and is easy to maintain. We recommend it if you like the diagonal grill marks especially.
Victoria Cast Iron Panini Grill Press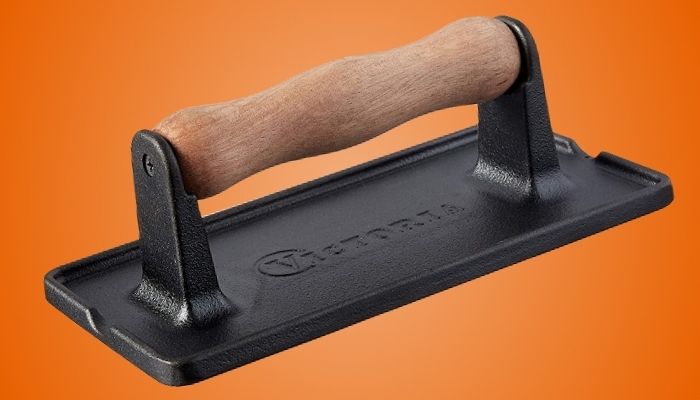 The Victoria Cast Iron Panini Grill Press is a multi-purpose grill and sandwich press. It comes pre-seasoned and has an interesting textured bottom that we don't often see on cast iron grill presses.
Instead of ridges or a smooth point of contact, it has rows of tiny dots. Victoria claims they provide a non-slip point of contact with meat, but honestly, we've never experienced much slippage when using traditional grill presses.
It certainly doesn't hurt the functionality, but it does make it a bit harder to get that perfect smash burger consistency, and doesn't apply any grill marks.
The handle, though really stands out to use. It's a wooden handle with contouring for a more comfortable grip. We thought it was a gimmick at first but were pleasantly surprised to be proven wrong.
It's more comfortable to grab onto and lets you apply more pressure without annoying your hand.
We aren't sure about the dot texture bottom, but the Victoria Cast Iron Panini Grill Press gets high marks overall for craftsmanship and design.
Winco Patty Meat Grill Press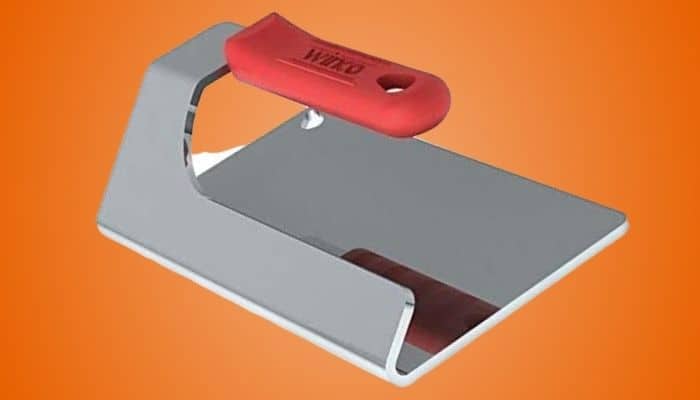 The Winco Patty Meat Grill Press is a commercial grade burger and grill press. It's made of thick stainless steel and has a heat-resistant silicone handle plus some unique design features we didn't know we needed.
We'll level with you, we weren't sure what to think about this grill press at first glance. It's got a sleek, futuristic appearance that just didn't jive well with our image of what a grill press should look like. Once we actually started using it, we had to admit that this bad boy provides serious value.
The angular design that rubbed us the wrong way at first allows you to nest two grill presses together. It's a really useful feature if you want to apply more weight to your food and make it a lot easier to store multiple grill presses.
The silicone handle was something we didn't know we needed. We're usually big fans of traditional wood handles, but we'll admit we loved being able to grab the press right off the grill.
While we won't say that the Winco Patty Meat Grill Press is our favorite, it certainly proved to have unique benefits and the staying power to get the job done.
Cuisinart Smashed Burger Press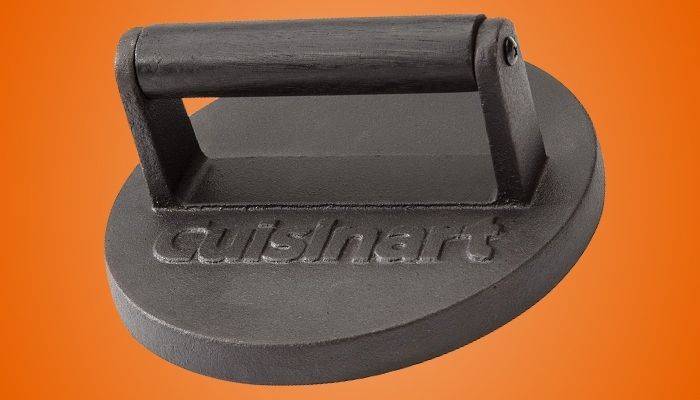 The Cuisinart Smashed Burger Press is a burger specific grill press designed to produce perfectly thick smash burgers every time it hits the grill. It's a 6-inch diameter round press made of heavy-duty cast iron with a 1 cm raised lip around the edge.
It allows you to press down hard without fear that you'll smash clean through your burger or overextend it. You wind up with perfect 6-inch burgers every single time, with that delicious crispiness around the edges that comes only from getting the ideal thickness.
It has a black wooden handle that can be removed easily with two screws and displays excellent overall craftsmanship. One thing to keep in mind is that it doesn't come pre-seasoned. Cuisinart says you don't have to season it for use, but we're old fashioned about things like that and spent an hour or so taking care of it before we tried it out.
If you're looking to make perfect smash burgers, few grill presses are better suited for the task than the Cuisinart Smashed Burger Press.
The Sasquash Professional Grade Burger Smasher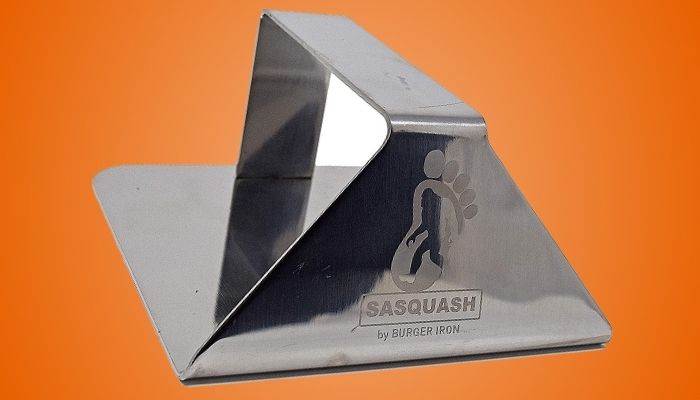 The Sasquash Professional Grade Burger Smasher is a heavy-duty stainless steel steak and burger press. It's made from a single piece of folded and welded steel and has a few features that other presses just can't match.
It measures 5.5 inches on either side for a square configuration that combines the benefits of round grill presses with rectangular ones. The metal folds up some to provide a screen for your hand to keep juices and spatters of oil from hitting your fingers.
You can press burgers, steaks, and pretty much anything else quite well, but there was one glaring defect.
The handle, or rather the lack thereof.
It's honestly the least comfortable one we've ever used. It's a piece of flat stainless steel about an inch or so wide without any padding. Even applying light pressure caused it to dig uncomfortably into the palm of our hands, we couldn't imagine really pressing down.
It's easy to get around with an over mitt or other thick bbq gloves, but we can't believe they didn't consider this when releasing it.
All in all, we felt the Sasquash Professional Grade Burger Smasher was a good idea that was imperfectly executed. It can become an excellent grill press with a little work, just make sure you know what you're getting yourself into.
Why Trust Us
All of our reviews are compiled with a combination of expert input, years of hands-on testing of grilling products, curating the reviews of real-life buyers in a "wisdom of the crowd" system, and of course our own expertise. All the products listed are the ones we would buy if we were looking to purchase a new grill press.
Methodology Used to Pick the Best Grill Press
When picking the best grill press we looked at and then rated each press on the following criteria. Price, weight, shape, size, materials used, handle, and ease of cleaning.
Buyer's Guide to Buying the Best Grill Presses
Grill presses may seem nigh identical to one another, but several key features affect how they can be used. Weight, material, size, and the texture of the grilling surface all play a significant role in what a grill press is best suited for.
Price
Grill presses are inexpensive and very consistent in pricing. They start around $10 and rarely go above $30. Most of the grill presses on our list cost between $10 and $20.
Weight
With grill presses, a heavy weight can be a good thing. You obviously don't want to struggle to lift it, but having some heft behind it can make it a lot easier to press down on different cuts of meat cuts.
Heavier models can be heated on the grill then set on top of food. The weight of the press itself helps speed up the cooking process and even add grill marks to the top of your food.
Shape and Size
The shape and size of your grill press play a significant roll in how it can be used. The two most common configurations are round and rectangular.
Round grill presses are most often used for burgers or similar pattied meats. They do a great job spreading out thick pieces of ground meat to help them cook evenly.
Many have a built-in lip that prevents you from smashing them too thinly, preserving the perfect 'smash' thickness and consistency. Round grill presses are almost always the size of a good burger patty.
Rectangular grill presses are general-purpose tools, and usually larger than their round cousins. These are what you use to press down bacon, steak, and other larger cuts of meat to get a delicious deep sear on them.
Most rectangular grill presses range in size from about 4" long to just under 8". That's big enough to push down any single piece of meat effectively.
Material
Cast iron is traditionally what grill presses were made from, and many of the best still use it. It's durable, heat resistant, has enough heft to provide a great press and is available in tons of shapes and sizes.
You can also find stainless steel models that provide excellent service, but they aren't as common.
Handle
The majority of grill presses have wood or metal handles that are pretty basic. There's not much to worry about with handles so long as they're comfortable and help prevent heat transmission from the press to your hand.
We prefer wooden handles as they're generally a little more comfortable, but many like the sturdy feel of metal or the comfort of plastic/silicone handles.
Smooth vs. Ridged
There are two main press surface types for grill presses: Smooth and ridged. Smooth is more common, but ridged offers benefits all its own.
Smooth presses are the Swiss army knife of grill presses. You can use them on anything you want to put pressure on and get a very consistent thickness. They're what you need if you're going to make smash burgers or get that perfect thickness on your grilled cheese.
Ridged grill presses are better if you plan to cook mostly primal cuts of meat, such as steaks, chicken breasts, or pork chops. By placing the press over the heat you can add a next-level sear to both sides of the meat at once.
Care and Seasoning
Grill presses need to be correctly maintained and cared for. This is especially true with cast iron grill presses.
If you've ever owned a cast iron skillet, you know that they require periodic 'seasoning' with cooking oil to keep them in tip-top shape. Some cast iron grill presses arrive pre-seasoned, while others need to be seasoned before first use.
It's a simple process but does require a bit of care. Start by removing any non-fireproof parts, such as a wooden handle. Most grill presses have screws you can undo to pull the handle free.
Once that's done, thoroughly clean the grill press in hot, soapy water and allow to fully dry.
Grab a high-smoke point vegetable oil and rub down every surface of the grill press. You want to make sure and provide an even coating over the entire press.
Once that's done place it in an oven preheated to 375℉ and bake for a full hour. Turn off the oven and carefully remove the grill press, then allow it to cool naturally.
Voila!
You've got a correctly seasoned cast iron grill press ready for the grill or griddle.
Easy to Clean
You need to be careful with cleaning as most grill presses are made of cast iron. Once they've been adequately seasoned you don't want to use soap or another cleaning agent on them.
Thoroughly rinse them off with hot water, then use a stiff bristle brush to scrub any bits of food off.
If you've got some burnt on parts pour kosher salt onto them and use it to give them a deep scrub.
Top Grill Presses Video
Final Thoughts
Grill presses are a fundamentally useful tool that every good grillmaster should have in their toolbox. They make it easy as can be to get the perfect consistency and sear pattern on your favorites cuts of meat.
Picking out the best grill press comes down to what you're cooking and how you intend to cook it. All of the models on our list are excellent, with some focused on making perfect individual food items while others are more 'jack of all trades.'