There's nothing quite like the smell of perfectly seasoned ribs slow smoking at the perfect temperatures. If you've got a whole bunch of people waiting to dig in, though, you may find yourself wishing for a bigger smoker. Enter the humble rib rack, a simple tool that can nonetheless supercharge the number of ribs you can smoke in the same ole smoker you've always used.
Today we're reviewing some of the best rib racks on the market to make it easier for you to pick the one perfect for your needs and bbq style.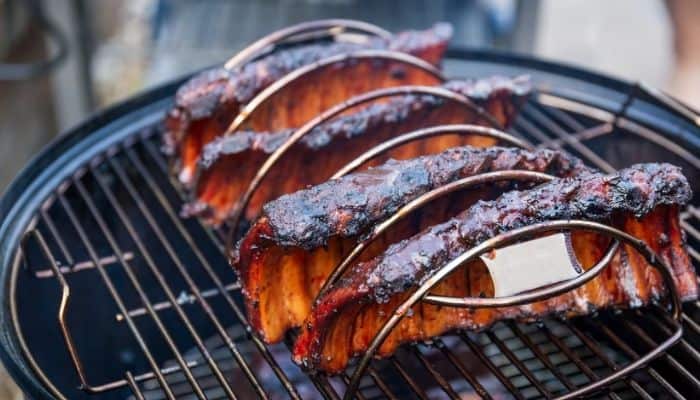 Best Rib Racks
There honestly isn't a lot to rib racks. They're basically metal bars that hold up ribs, and as such don't need a lot of bells and whistles to work.
That said, there are some noticeable differences between different types, especially as regards what kind of grills they'll work out.
Our list below includes a range of different rib racks that hold various numbers of racks of ribs and fit different kinds of grills.
Weber Premium Rib and Roast Holder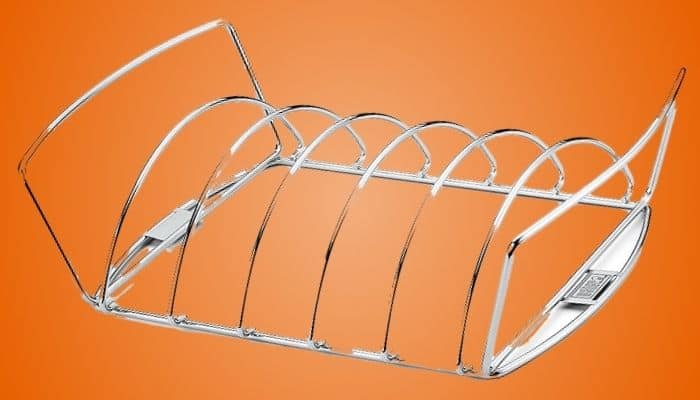 The Weber Premium Rib and Roast Holder is a stainless still rib rack in a standard hoop design. It has space for five racks of ribs and a pair of large handles on either end that make it easy to get into and out of your smoker.
It's made of brushed stainless steel, is dishwasher safe, and can play double duty as a roasting tray. By flipping it over, you can set all kinds of delicious roasts, whole chickens, or things like Boston butts.
It makes it a lot easier to monitor the doneness of your ribs and helps prevent the heat of the hot metal grill grate from burning them.
Overall it's a reasonably priced, sturdy, and reliable rib rack that lets you smoke up enough delicious, fall off the bone tender ribs for the whole family.
Pros – Things we liked
Made from stainless still
Space for 5 racks of ribs
Large handles
Doubles as a roasting tray
Cons – Things we didn't like
The grill handles stops the lid from closing on smaller grills
Traeger Grills BBQ Rib Rack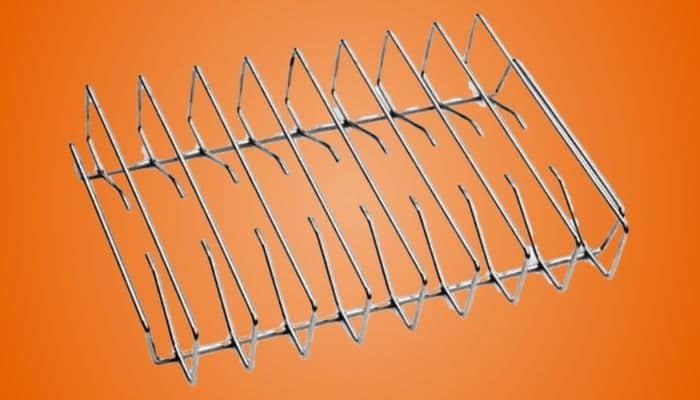 The Traeger Grills BBQ Rib Rack is a high-capacity stainless steel rib rack from one of the biggest names in the pellet grill industry. It has space for a full eight racks of ribs and is designed to fit perfectly on a range of the company's grills.
It measures 18.75" long and 12" deep and can double as a roasting rack for things like Boston butts, brisket, or other large pieces of meat. All you have to do is flip it over, and the arched prongs on the bottom work perfectly to hold them up.
It has a pair of handles for easy movement and does a great job keeping the racks of ribs separate from one another. One thing to keep in mind is that there are a lot of individual racks on this bad boy.
Cleanup takes a bit longer than with smaller rib racks.
If you're looking for a way to smoke up enough ribs for a big cookout, the Traeger Grills BBQ Rib Rack is a great way to do it.
Sorbus Non-Stick Rib Rack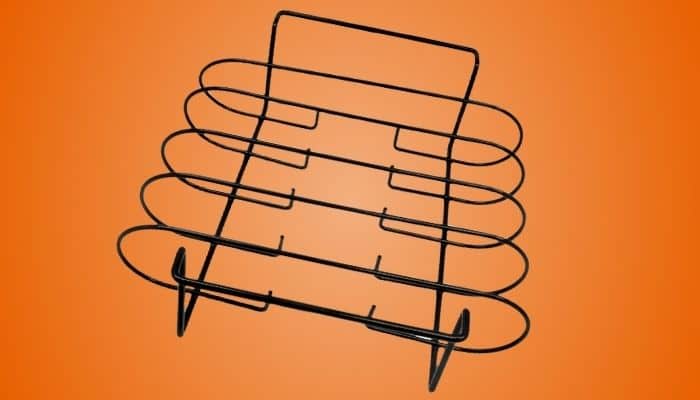 The Sorbus Non-Stick Rib Rack is a compact rib rack designed for easy cleanup. It's made of stainless steel with a porcelain non-stick coating applied.
It allows the rack to hold four racks of ribs easily while still being simple to wash off in seconds. It's an excellent value-add for reducing your clean up time after chowing down.
The small size of the Sorbus Rib Rack allows you to use it on just about any grill or smoker on the market. It frees up space for cooking sides or other meats while your ribs slow smoke to perfection.
All in all we thought the Sorbus Non-Stick Rib Rack was an excellent choice for small-scale pitmasters and others looking to cook up enough delicious ribs for a medium to large family.
Weber Original Rib Rack for Grilling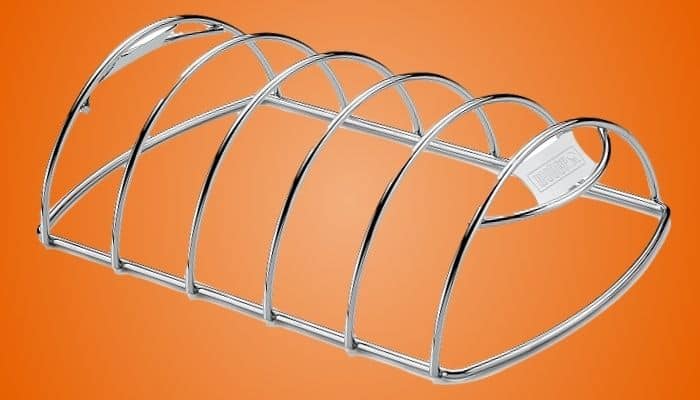 The Weber Original Rib Rack is a grilling focused rack specialized for the Company's 200/2000 line of grills. It has a rounded base designed to fit perfectly in the space of the traditional round grills.
It's a great way to extend the cooking capacity of your kettle grill, but it does come with some tradeoffs. The design still works for roasting other foods, but it's not quite as easy to use or as reliably stable when not in rib mode.
To get a rib rack this compact, certain sacrifices had to be made. While there are handles on either side of the frame, they're not as easy to grab onto as some other rib racks.
We found our hands pushing up against the ribs more often than not, leading to sticky bbq gloves and more cleanup later on.
Still, though, if you've got a traditional Weber kettle grill, the Original Rib Rack is an excellent way to smoke up to five racks of ribs at once.
Steven Raichlen Best of Barbecue Nonstick Ultimate Rib Rack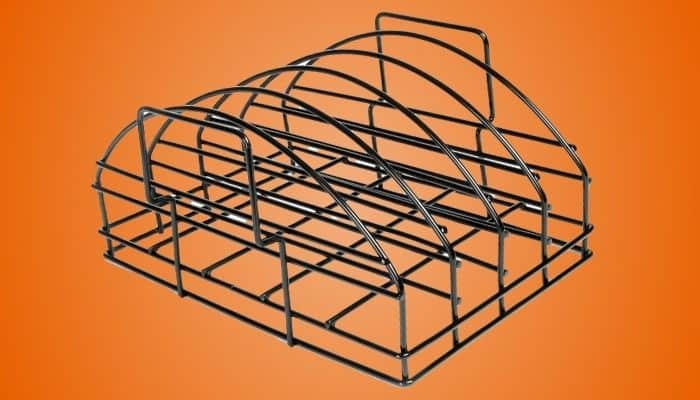 The Best of Barbecue Nonstick Ultimate Rib Rack is an advanced rib rack from celebrated pitmaster Steven Raichlen. It's capable of holding four racks of ribs in a sturdy and non-stick framework.
Unlike most of the rib racks on the market, the Ultimate Rib Rack has a grid of supports underneath the frames. It helps support each rack of ribs from below, preventing them from bowing down and coming into contact with the grill surface.
Despite its overengineered design, it fits into a surprising range of grills. We had no problems smoking with it on a large Big Green Egg and certainly could have fit it on any of our standard size grills.
If you're looking for something a bit sturdier and more supportive than your average rib rack, the Best of Barbecue Nonstick Ultimate Rib Rack lives up to its name.
Broil King Rib Rack and Roast Support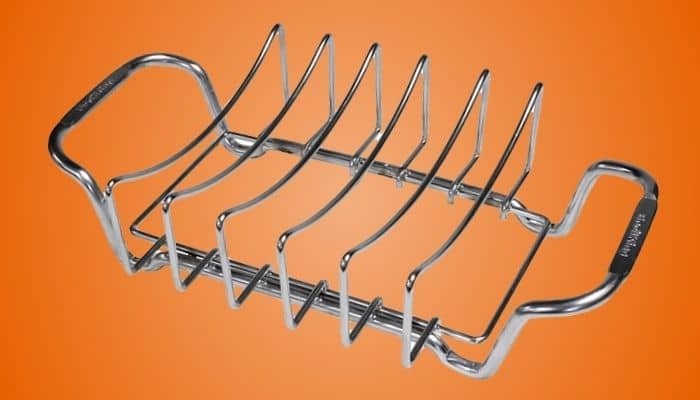 The Broil King Rib Rack and Roast Support is a multi-purpose barbecuing rack capable of cooking several different types of food. It's made from thick stainless steel and is able to handle up to five racks of ribs at once.
What's even better is how versatile it is. The top of the rib rack has a concave depression that allows you to securely roast more massive cuts of meat like brisket, Boston butt, or pork loins.
It's also got one of the most manageable pair of handles we've seen. They stick out a lot further than those on most other rib racks, making it a whole lot easier to get a good grip without getting sticky rub all over your gloves.
Don't be put off by the high price tag either. Sure, the Broil King is noticeably more expensive than most other rib racks, but you get a lot of value for your money.
For those who prefer to follow the buy it for life philosophy, the Broil King Rib Rack and Roast Support is just the kind of heavy-duty, long-lasting grill tool you need.
Camp Chef Rib Rack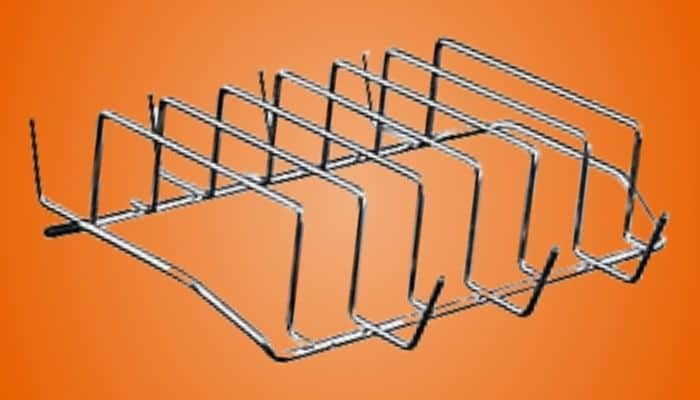 The Camp Chef Rib Rack is a multi-purpose rib and roasting rack from a popular name in the camping and outdoor world. It's made from corrosion-resistant stainless steel and allows you to smoke up to six racks of ribs at once.
That's not all it can do for you, though. It also has seven metal skewers all along the edges, perfect for sticking potatoes, veggies, or other pieces of meat to roast and smoke.
If you flip it over, you can even fit a larger piece of roast or a whole chicken in to make it easier to move around on the grill.
The Camp Chef Rib Rack is a versatile and reasonably priced rib rack that provides a ton of utility for those who like to cook up a hearty and delicious meal in perfect convenience.
Dracary's BBQ Rib Rack for Smoker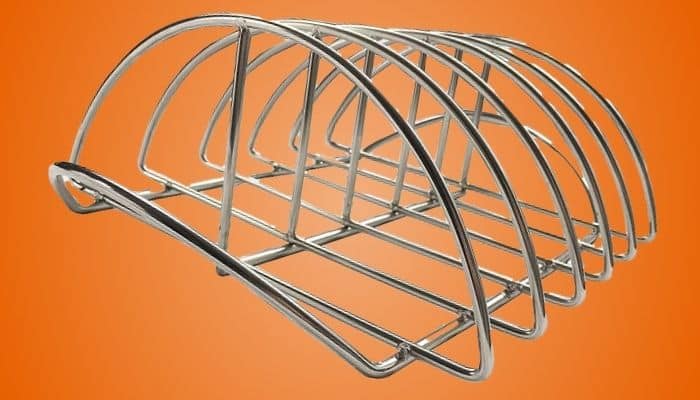 The Dracary's BBQ Rib Rack is a smoker specific cooking tool optimized for use on Kamado style smokers such as Big Green Eggs or Kamado Joes. It's made from stainless steel and has a rounded shape capable of holding up to five racks of ribs at once.
It fits on any grill with at least 18" across of cooking surface, perfect for the vast majority of standard size grills. It worked perfectly on the large Big Green Egg we checked it out on.
The only real downside to this rib rack is its lack of multiuse functions. It doesn't allow you to smoke up other roasts or meats and doesn't have a good surface to put anything else on.
If you're looking for an excellent rib rack to use on your round or standard size grill, the Dracary's BBQ Rib Rack is a good choice to try.
Why Trust Us
All of our reviews are compiled with a combination of expert input, years of hands-on testing of grilling products, curating the reviews of real-life buyers in a "wisdom of the crowd" system, and of course our own expertise. All the products listed are the ones we would buy if we were looking to purchase a new rib rack.
Methodology Used to Pick the Best Rib Rack
When picking the best rib rack we looked at and then rated each pair on the following criteria. Price, the number of racks it holds, breathing room, materials used, is it multi-use, total size, and ease of cleaning.
Buyer's Guide to Buying the Best Rib Rack
Rib racks are simple tools that nonetheless provide a ton of value. Picking out the best one comes down to how many racks of ribs you intend to cook and whether or not you plan to cook anything else.
Price
Rib racks are relatively inexpensive and very consistent in pricing. The vast majority of ribs racks cost between $20 and $30, with a few outliers in the $30+ range.
You don't need to spend a lot to get a quality rib rack that'll last for years.
Number of Racks it Holds
The most significant benefit of a rib rack is the ability to smoke more racks of ribs in the same space. Holding them up on their sides lets you fit two or even three times as many ribs as you otherwise might be able too, so make sure you consider just how many you need.
Some are capable of holding four, five, six, or even more racks without issue.
Breathing Room
One of the things that separate great ribs racks from so-so ones is the space between individual racks. Cheaper knock-offs often don't leave enough space between each rack of ribs.
It has the double downside of preventing the ribs from properly cooking and stopping all that smokey goodness from fully penetrating them. Without enough room for hot, smokey air to circulate around your ribs you'll wind up with dry, overdone ribs that lack flavor.
Material
The vast majority of rib racks are made of durable and corrosion-resistant stainless steel. It's a great material for cooking on as it can stand up to the constant high-temps without issue.
Some also offer a non-stick coating, but in general, we prefer the standard stainless models.
Multi-Use Design
Rib racks are specialized gear, to be sure, but they can also be used for a number of other roles. The most obvious is the ability to smoke different types of meat than racks of baby back or St. Louis cut ribs.
You can fit brisket, pork belly, thick ribeye steaks, and many other cuts in the same brackets that hold racks of ribs. Depending on the rib rack in question, you may even be able to cook different foods alongside your ribs.
Some rib racks offer skewers or spikes that can hold onions, tomatoes, potatoes, shish kebabs, or other items to smoke alongside the ribs. Rounded rib racks can be flipped over and used as a handy basket to hold vegetables for roasting.
Total Size – Fits your Grill
Before purchasing a rib rack, double-check that it will fit onto your grill with space to spare. We like to leave a bit of airflow room around the rack to allow all that smokey goodness to circulate freely.
If you've got a Big Green Egg or similar round grill or smoker, make sure that the rib rack you're looking for won't get in the way of the lid or block access to other areas.
Ease of Cleaning
Anyone who's ever used a smoker before knows that cleanup can be a real drag. Anytime you've got rich, fatty meats with sugary rubs slow cooking for hours on a surface, you're bound to end up with a few burnt on spots.
While just about all rib racks are dishwasher safe, you're probably going to need to break out the scrubber or steel wool and dig in to get the worst spots off. Look for rib racks that allow you to access every nook and cranny.
These are a whole lot easier to clean.
Top Rib Racks Video
Final Thoughts
Picking out the best rib rack depends on how much food you want to cook at once and what kind of smoker you're using.
There aren't a ton of features that separate different models from each other, with only the basic shape and configuration standing out past the number and size of the racks built-in.
So long as you keep in mind just how frequently you need to smoke up a ton of ribs, you shouldn't have any problem finding the perfect rib rack for your needs.