Spend more time with your friends this summer, and less time running back and forth to your overflowing refrigerator. The best patio cooler will make it easy for everyone to stay refreshed and topped up. They are also great focal points and conversation starters during warm-weather fun. Here's how to find the best model for your outdoor entertainment area.
What is a Patio Cooler?
Patio coolers are a special type of cooler that are designed to be used for entertaining outdoors. Unlike regular coolers, they tend to be very easy to access and mostly feature raised frames and bases that keep your contents well-insulated away from the hot floor.
Most patio coolers have extra features such as wheels, bottle openers, and cap catchers. Others may have even integrated tabletops. One thing is sure, they are excellent focal points and are sure to be at the very center of your next get-together.
Designed for permanent outdoor use, patio coolers are robust and weather-resistant, although some models will benefit from a protective cover for wintering out. You can find models in a wide variety of sizes to suit your needs and outdoor space, with capacities ranging from 30 quarts up to over 100 quarts.
Best Patio Coolers
Find the best patio cooler for your home with our top-rated reviews. We've analyzed nine of the very best models on the market, covering a range of styles, types, and capacities, to ensure you'll find the right patio cooler for your needs.
Best Large Capacity Patio Cooler
Permasteel 80 Quart Portable Rolling Patio Cooler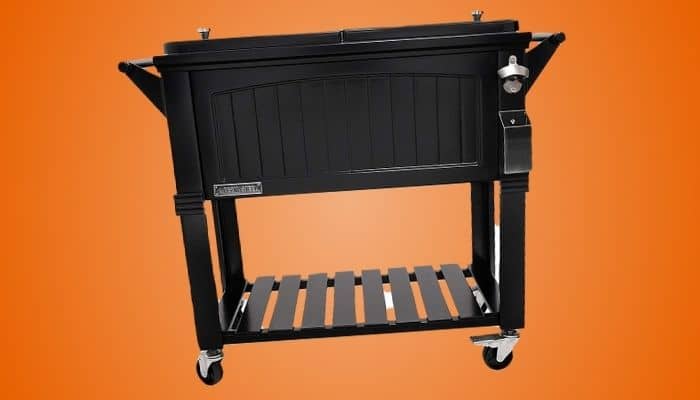 The Permasteel 80 Quart Patio Cooler can hold up to 110 12oz cans plus ice to keep them all cool, making it a great option for large get-togethers and parties.
Made from steel with a powder-coated weather-resistant finish, this durable rolling patio cooler cart has an extra-large insulated basin that utilizes injected molded insulation technology capable of keeping your drinks cold for up to 36 hours.
Measuring 34" tall, it's easy to access – even more so thanks to its removable dual-hinged lid. This cooler cart is also very easy to maneuver with its four caster wheels and large grip handles. Once it's all set up, simply lock the brake on the two locking casters to keep it securely in place.
Smart and stylish, this large patio cooler is also a highly practical choice with its integrated bottle opener and cap catcher. The large lower shelf is ideal for storing extra supplies or any other party or cocktail items that don't need chilling. You can also use the large handles for hanging your spare bar towels.
Given its huge capacity and steel construction, unsurprisingly, this patio cooler is fairly expensive. However, for the price, the finish can be a little disappointing with scratches, dents, and blemishes found as standard.
So, if you don't really need the extra capacity and this is likely to bother you, you may be better off taking a look at some of the other models in our patio cooler reviews.
Pros – Things we liked
110 x 12oz can/80 quart capacity
Easy access dual-hinged removable lid
Lockable caster wheels
Includes storage shelf, bottle opener, & cap catcher
Cons – Things we didn't like
Imperfect finish
Best Patio Cooler with Table
Keter Modern Outdoor Patio Cooler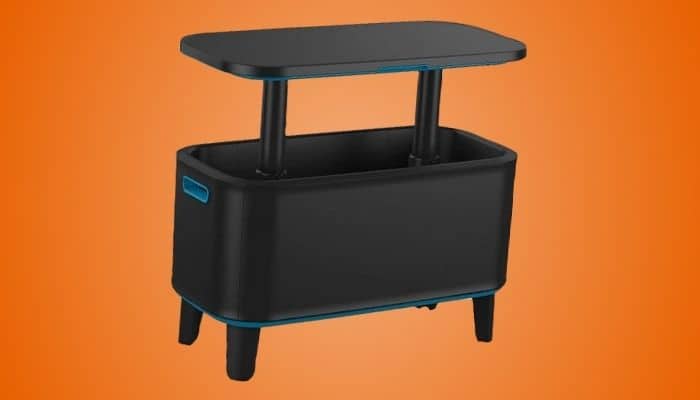 With its space-saving, contemporary design, the Keter Modern Outdoor Patio Cooler is a great two-in-one option to help make the most of smaller outdoor entertaining areas. Simply raise the cooler lid and it transforms into a handy drinks table, giving your guests extra space to place their beverages.
Made from a highly durable, weather-resistant resin, you won't have to worry about rusting. What's more, the tabletop has a good 110lb weight capacity, making this a good sturdy unit. The cooler part can hold up to 40 12oz cans with its 7.5-gallon capacity. When the party's over, the built-in drainage plug makes it easy to empty and clean out.
While this is a really handy cooler to have, bear in mind that the tabletop is a little low for standing guests and a little high for seated ones, measuring 33" from the ground when extended or 22.5" when closed. Also, the open position locking mechanism can sometimes be a little difficult to operate, so make sure it's definitely in place to avoid any unexpected collapses and spilled drinks.
Inexpensive with a small footprint, if you are looking for a budget multipurpose cooler and bar table, this model by Keter is the best patio cooler to go for.
Pros – Things we liked
Two-in-one drinks table and cooler
Durable weather-resistant resin construction
40 x 12oz can capacity (7.5 gal)
Drainage plug for easy cleaning
Cons – Things we didn't like
Fairly short table
Can be difficult to lock into the open position
Best Retro Patio Cooler
Leigh Country 60 Qt Ice Cold Embossed Cooler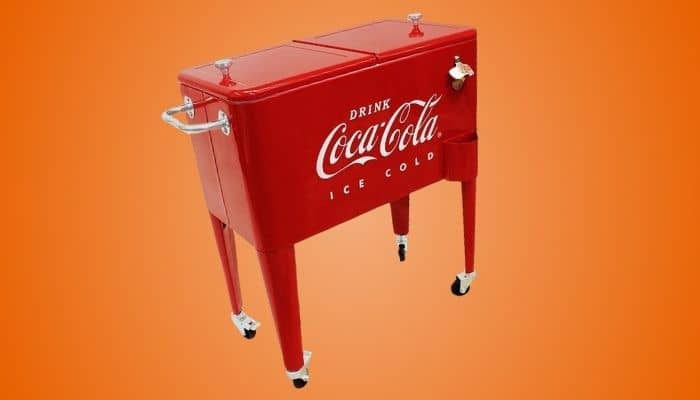 With its bright red color and embossed retro Coca-Cola logo, this 60 quart cooler by Leigh Country is sure to be a hit with your guests. Made from steel with an insulated poly liner to keep your drinks colder for longer, this officially licensed Coca-Cola cooler is well made and fairly easy to assemble.
Thanks to its generous 60 quart capacity, it's a good choice for parties and family events, keeping up to 72 12oz cans cold for the day. The removable double lid gives you easy access, while the steel handle makes it easy to relocate as well as providing a handy place to hang your bar towel. Four casters, two of which lock, allow you to easily push this rolling patio cooler from one end of your yard to another.
For serving drinks in traditional glass bottles, you'll find the branded bottle opener and cap catcher really useful. No more caps littering your lawn or guests wandering around looking for an opener. When your evening draws to a close, simply pull out the plug to drain out your cooler, it is even attached via a chain so you won't lose it. Just be aware that given its steel construction, this type of cooler is prone to denting during transportation.
Shiny, stylish, and highly practical, if you are looking for a vintage-style rolling patio cooler that has a good capacity, this model has to be your top pick.
Pros – Things we liked
60 quarts – 72 x 12oz can capacity
Removable easy-access double lid
Cap catcher & branded bottle opener
Four caster wheels
Cons – Things we didn't like
Possibility of some denting
Best Modern Patio Cooler
BLACK+DECKER Mobile Cooler Cart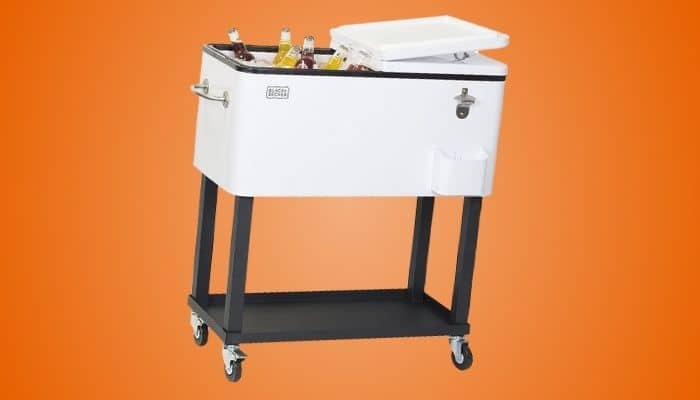 If you have a modern or minimalist styled outdoor entertaining area, then the Black+Decker Mobile Cooler Cart will definitely be one you'll want to consider. Featuring minimalist styling and a sleek white cooler body complemented by black steel legs, this cart cooler is a practical yet stylish choice.
The insulated 20 gallon (80 quart) cooler section keeps plenty of drinks cool for numerous guests, although the door seal could be improved. Thanks to the removable split door top complete with stainless steel handles, it's easy to fill up and access the contents.
Moving this cart cooler around is extra easy with the 360-degree rotating rubber wheels. Two come complete with foot locks, so it's simple to securely lock your cooler in place, then to move again later on during your gathering. Cleaning it out after use is really quick thanks to the drain with its stainless steel extension tube. This also means you won't have to tip up your cooler to get rid of any excess water when it's in use.
This Black+Decker rolling chest cooler also has an integrated stainless steel bottle opener and cap catcher basin to allow your guests to serve themselves, plus a sturdy lower shelf for extra storage. All in all, it's a highly practical, stylish patio cooler that is sure to be a firm favorite at your parties or family gatherings.
Pros – Things we liked
20 gallon (80 quart) capacity
Split door top for easy access
Drain with an extension tube
Bottle opener and cap catcher basin
Cons – Things we didn't like
Seal around the lid could be improved
Best Portable Patio Cooler
Rio Brands Entertainer Rolling Party Cooler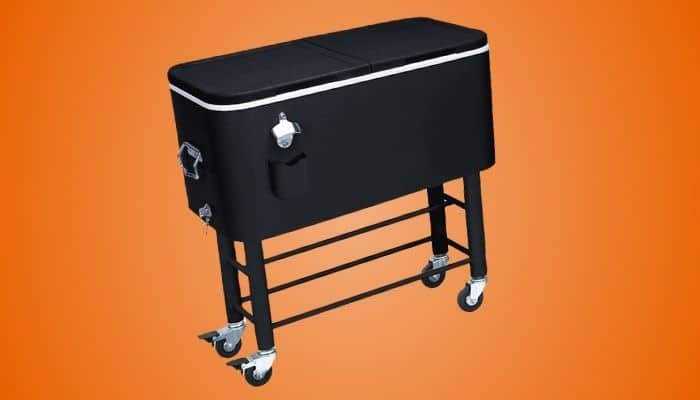 The Entertainer Rolling Party cooler by Rio Brands is one of the most portable high-capacity patio coolers around – ideal for using at different events or in the homes of your friends and family. As the cooler body can simply be lifted off the steel frame, it is also easier to store than most other models and you can also use it as a tabletop chest cooler.
Thanks to its large 77 quart capacity it can accommodate up to 120 12oz cans making it suitable for even large gatherings. The injected foam cooler container can keep your drinks cool for up to three days long, while the double opening lid makes it easy to grab a cold beverage. Whether you're removing the cooler from the frame or moving it around, the large carry handles are a nice extra addition.
On its portable steel base, four heavy-duty wheels make it easy to move this cooler around and the wheel locks ensure it stays put. There is, however, one issue that can cause problems – the cooler does not lock on to the base. If you push the base over any slight bumps, the cooler can easily become dislodged, so you may want to try attaching it with bungee clips if you are going to be pushing it around your backyard.
This cooler makes a great buy for the money and it even comes with an integrated bottle opener and cap catcher. Whether you're off on a day trip to the beach, car camping, or having friends over, this cooler is an excellent choice for use at home and use further afield.
Pros – Things we liked
77 quart capacity – 100 x 12oz cans
Cooler can be taken off base for storage and transportation
Integrated bottle opener & cap catcher
Double opening lid
Cons – Things we didn't like
Cooler doesn't lock on to the base
Best Patio Cooler with Serving Bar
Keter Breeze Bar Outdoor Patio Furniture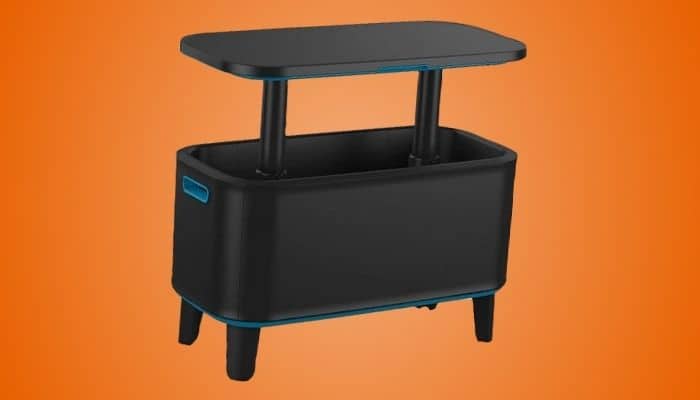 For parties with a lot of different types of beverages, the Keter Breeze Bar makes it easy for your guests to help themselves thanks to its rectangular format and in-built upper level bar counter. Whether you want to mix up a cocktail, use it as a drinks table, or even a handy serving station for snacks or punch, the Breeze Bar makes an excellent choice.
Thanks to its 59 quart capacity it can hold up to 75 12oz cans with plenty of space for ice. Easy to assemble, all you have to do is attach the legs and it's ready for use. The drain plug makes it easy to empty out, while the entire unit is made from a highly durable, weather, and fade-resistant polypropylene resin.
This patio cooler bar will save you space and is a good versatile piece of outdoor entertaining equipment. However, note that it won't keep your drinks as cold for as long as traditional isolated coolers and when you are using it in summer with the lid up your ice is likely to melt much more quickly. Also, it does not have any wheels, so make sure you set it up in the best location before filling it up.
If you are short on space and are looking for a stationary standing patio cooler that can also be used as a serving station, the Breeze Bar is going to be the best patio cooler for you.
Pros – Things we liked
59-quart/ 75 x 12oz can capacity
Weather-resistant resin construction
Easy assembly
Drain plug for easy cleaning
Cons – Things we didn't like
No isolation
No wheels
Best Patio Cooler for Parties After Dark
Igloo Party Bar Cooler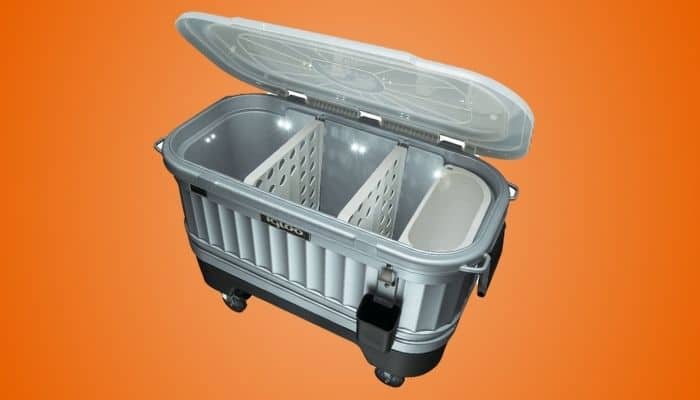 Robust, with a huge 125 quart capacity, the Igloo Party Bar Cooler can hold up to 212 12oz cans, or 158 when used with the two removable internal dividers. An excellent patio cooler for all types of beverages, it can even accommodate two-liter bottles standing upright and comes with a bottle/wine caddy for easy access to the entire contents.
Thanks to its UltraTherm insulation, it will keep your beverages colder for longer. Use it with the removable base and benefit from its Cool Riser Technology, or take it out and use it as a standard ice chest cooler. The base is extremely sturdy and comes with four heavy-duty locking caster wheels making it extremely easy to move around.
Perhaps the main highlight of this model, aside from its high-quality construction and huge capacity, is its internal lights. Simply insert four AA batteries and this Igloo patio cooler will light up giving you and your guests a clear view of the contents even when you don't have much in the way of outdoor lighting.
The lid can be removed for easy access. While leaving it on will help to keep your drinks cooler for longer, for daytime use in hot weather, you would probably appreciate a more opaque version that locks on.
Complete with a bottle opener, cap catcher, and a threaded drain for making use of your meltwater to water your plants, the Igloo Party Bar Cooler is a comprehensive, high-quality patio cooler and a great addition to any party after dark.
Pros – Things we liked
125 quart capacity – 212 x 12oz cans
UltraTherm insulation
Internal lighting
Heavy-duty locking casters
Cons – Things we didn't like
Lid could be improved
Best Rattan Patio Cooler
Giantex 80 Quart Rattan Rolling Patio Cooler Cart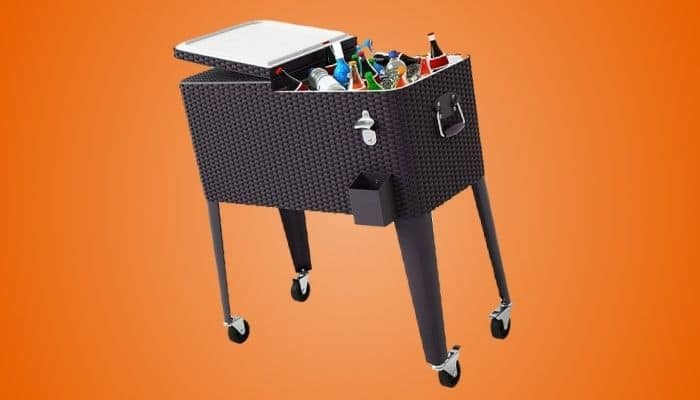 The Giantex 80 Quart Rattan Rolling Patio Cooler is a perfect match for anyone with gray plastic rattan outdoor furniture.
Its discreet design will also complement most styles of outdoor entertaining areas. Made with a weather-resistant plastic rattan weave on the outside, inside, this patio cooler cart has a foam infused polyurethane inner to keep your drinks chilled for up to 36 hours long.
Capable of accommodating up to 70 cans or over 50 bottles, this patio cooler cart can hold all the beverages you'll get through on your next get-together. Its dual opening lid gives you easy access, or it can even be removed altogether. If you're serving bottled beverages to your guests, the bottle opener and catcher will be a great help.
Easy to move, thanks to its four 360-degree rotating wheels and side handles, this patio cooler cart can also be safely secured via the two locking wheels. Unfortunately, the frame is not the most sturdy on the market, so it helps to pay close attention to how it's holding up as you fill up the cooler and make sure you move it to where it needs to be before you load it up.
Low maintenance and easy to empty via the drainage hole, this patio cooler is a popular choice for complementing matching outdoor furniture. While there are more robust models, if you are looking for a gray rattan patio cooler and don't need to fill it up excessively, this model could be your perfect model.
Pros – Things we liked
80 quart/70 can capacity
Removable double opening lid
Four 360-degree rotating wheels
Bottle opener and cap catcher included
Cons – Things we didn't like
Frame isn't very sturdy
Best Wooden Patio Cooler
Merry Garden Wooden Patio Cooler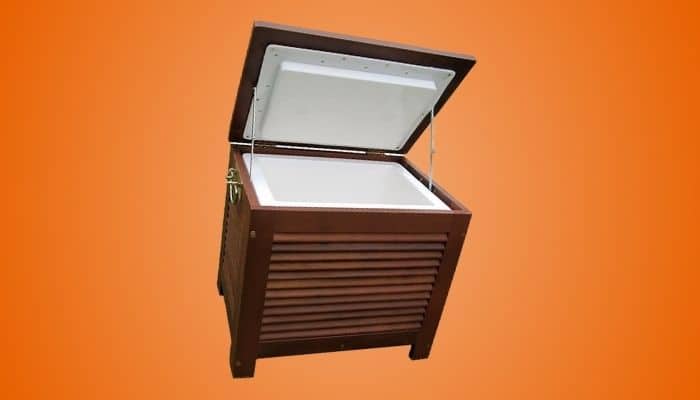 If you are looking for a stylish wooden patio cooler, then make sure you take a closer look at this model by Merry Garden.
Extremely good-looking with its louvered panels, this patio cooler is made from durable eucalyptus hardwood with an oil-based stain for maximum weather resistance. It also has a drainage point for an easy release of meltwater.
The double-walled plastic insert can be removed for easy filling and cleaning. While its 34 quart capacity is smaller than most of the other patio coolers in our reviews, it should still hold around 40 cans. At 11"45 high, it can also accommodate some bottles of wine upright. Despite its smaller than average capacity, it is plenty large enough for small groups and close family visits.
With its antique-style handles and rich wooden tones, this patio cooler is a very popular model. Just be aware that it can arrive with some broken parts, being fairly susceptible to breaking during delivery. On the whole, this is a really nice-looking patio cooler for any home.
Pros – Things we liked
34 quart capacity
Stylish wooden outer
Removable double-walled plastic insert
Side handles
Cons – Things we didn't like
Susceptible to breaking in transit
Pros & Cons of a Patio Cooler
If you are just checking out what's available and undecided whether or not a patio cooler is the best choice for your setup, here's a quick rundown of the pros and cons of patio coolers to help you to make up your mind.
Pros:
Look good – patio coolers look much better than regular coolers as they are designed to be on show, concealing their inner cool boxes inside.
Keep drinks/snacks chilled – they are a great choice for keeping your drinks or snacks chilled with most models working just as well as regular coolers.
Different types and styles – patio coolers are available in a range of styles, so you're sure to find one to suit your outside entertaining area. There are also several different types available.
Large capacity – generally designed to hold enough beverages for a crowd, patio coolers mostly have large capacities.
Extra features – from built-in bottle openers to cap catchers, drainage plugs, pull-up tables, and large handles, patio coolers tend to have a lot more user-friendly features than standard versions.
Cons:
Can be expensive – given their extra materials and larger sizes, patio coolers tend to cost more than regular cooler boxes.
Less suitable for transporting – while some styles of patio cooler are more portable than others, most wheeled versions are less suitable for packing up for use elsewhere unless they come with a detachable base.
Why Trust Us
All of our reviews are compiled with a combination of expert input, years of hands-on testing of grilling products, curating the reviews of real-life buyers in a "wisdom of the crowd" system, and of course our own expertise. All the products listed are the ones we would buy if we were looking to purchase a new patio cooler.
Methodology Used to Pick the Best Patio Cooler
When picking the best patio cooler we looked at and then rated each cooler on the following criteria. Price, type of cooler, capacity, storage, shelves, portability, insulation, ice retention, and drain plug.
Buyer's Guide to Buying the Best Patio Cooler
Choosing the best patio cooler can be a difficult decision. To make sure that your money is well spent and that you get the most suitable model for your needs, take a look through our patio cooler buyer's guide.
Price
Classed as a piece of functional outdoor furniture, patio coolers are generally priced between around $100-$400. While you can expect higher quality materials and designs at the higher end of the price scale, you can often still get a perfectly functional patio cooler for around $100.
Size, brand, and construction are all main factors that will influence the price of your patio cooler. If you are shopping for a patio cooler in a certain style, you may find very similar looking models at a wide range of prices.
Before spending a large amount, check out the competition and make sure that your model is going to be long lasting and suitable for your needs.
Capacity
You should carefully consider which size patio cooler is best for your general needs.
Too small can be an issue, but too large is almost just as bad, meaning you need lots more ice for just a few beverages when you're hanging out poolside. You could always consider investing in a large patio cooler for get-togethers and using it with a small regular sized cool box inside for when there are just two of you using it.
Small patio coolers tend to start out at around 30 quarts capacity with extra large models going over 120 quarts. You will often find a number of cans given as a measure of capacity. Some manufacturers are a little optimistic with their calculations, not leaving adequate room for ice.
Always make sure that you take a good look at the actual internal dimensions, rather than just relying on the stated capacity. If you prefer or often serve a certain type of drink, make sure that it will fit height-wise.
For example, a standard wine bottle may just fit in, but if you're using a stopper it may just be a little too tall. Some models can even take two-liter bottles making them a great choice for all beverage types, from soft drinks to mixers and cocktails.
Extra Storage or Shelves
When you're entertaining outside, extra storage space can really come in handy. Whether it's for napkins, accessories, or non-chilled snacks and refills, don't underestimate just how useful a shelf can be on your cooler cart.
Slatted shelves are popular options as they won't collect rainwater. However, make sure that the items you are storing won't be likely to fall through, or get yourself some small containers or baskets to bring out and back in after your party.
Portability – Wheels & Handles
Rolling patio cooler carts will need good wheels. Look out for heavy-duty rubber ones that can rotate 360-degrees. At least two of the wheels should have foot brake locks to keep your cooler stationary when it's ready for use.
Whether you're looking for a cart patio cooker or a standing bucket model, handles are an important feature to make positioning or carrying your cooler nice and easy.
Insulation
Insulation is essential for keeping your drinks chilled for longer. Insulation works by slowing down the rate at which warm air circulates. You use ice to keep the air inside your cooler nice and cold, while the insulation helps the ice to stay cold for longer, keeping your drinks or food nice and chilled.
Patio coolers usually have an internal insulated cooler within a decorative outer. Cooler insulation is generally made from double-walled plastic or foam. Models with a tight-fitting lid and good insulation will keep their contents chilled for the duration of your party.
Non-insulated versions may struggle to last over several hours if used in a very hot climate.
Ice Retention Time
The better your patio cooler's insulation, the longer its ice retention time will be with some models keeping your ice intact for over 24 hours. However, bear in mind that regularly opening your cooler will allow heat to enter and melt your ice much faster.
Drain Plug
Models with drain plugs are much easier to empty out when you're done for the day. They also make cleaning out patio coolers with a non-removable interior container much faster and more simple.
Units with drain extensions allow you to collect your meltwater for use in watering your plants. Look out for models that have a chained or otherwise attached drain plug to ensure you don't misplace it.
Different Types of Patio Coolers
Before you take the plunge and order your new patio cooler, take a quick look at the different types that are available to choose from.
Rolling Chest Cooler
One of the most popular types of patio cooler, rolling chest models consist of a wheeled base that your coolers sits on top. Some models may have a removable cooler, allowing you to use them without the base.
A good option for large events with numerous guests, rolling chest coolers tend to have larger capacities. They make a great option for moving around your outdoor entertaining area for refills or just making sure that everyone is served.
Standing Chest Cooler
A lot like rolling versions but just without the wheels, standing chest coolers make good permanent fixtures to your patio area. If you have space, or just don't need a wheeled version, a standing chest cooler could be just right for your needs. If possible look for models with inserts for easier filling and cleaning.
Standing Bucket Cooler
Standing bucket coolers have lower capacities which make them a popular choice for smaller outdoor areas and more intimate gatherings. For daytime use in hot climates, lidded versions will keep your drinks cooler for longer. Some models have lids that double up as tabletops where you can place your drinks or snacks down as you chat.
Top Patio Coolers Video
Final Thoughts
Don't rush in and purchase the first patio cooler you like the look of. First of all, make sure that it will be compatible with your needs. Provided you consider where you will be using it, what capacity you will need, plus what style will best suit your decor, you're sure to find the best patio cooler for your home here in our reviews.
For large groups, the Permasteel 80 Quart Patio Cooler with its 110 can capacity and wheeled base makes an excellent choice. Its dual hinged lid gives you easy access, while the lower storage shelf is really useful for glassware, serviettes and accessories.
Short on space? The Keter Modern Outdoor Patio Cooler with its built-in tabletop is a really handy two-in-one model. Raise the table and your guests can help themselves to cold snacks and beverages. Using the cooler's footprint as a drink's table can free up a lot of space, or provide you with an extra beverage station further away if you have a large area and a lot of people over.
If you are holding a party after dark, make sure you take another look at the popular Igloo Party Bar Cooler with its in-built lighting system. Not only does it look really good, you can also easily view its contents without needing to grab your phone. This model is also an excellent choice for keeping your drinks cold for longer thanks to its UltraTherm insulation, while its generous 125 quart capacity and removable wheeled base make it a really versatile option.