An apron is an apron is it not? So what makes one a BBQ apron? Well as bad as it might sound, BBQ apron is often used as a slightly sexist way of saying aprons for men. Now you and I both know there are some extremely talented women pitmasters who I'm sure would like my list of best BBQ aprons. But for some reason, the marketing people have decided these aprons must be geared towards men with macho styles such as military camouflage or police tactical vests. So for the purpose of this article, BBQ apron will mean men's grilling apron.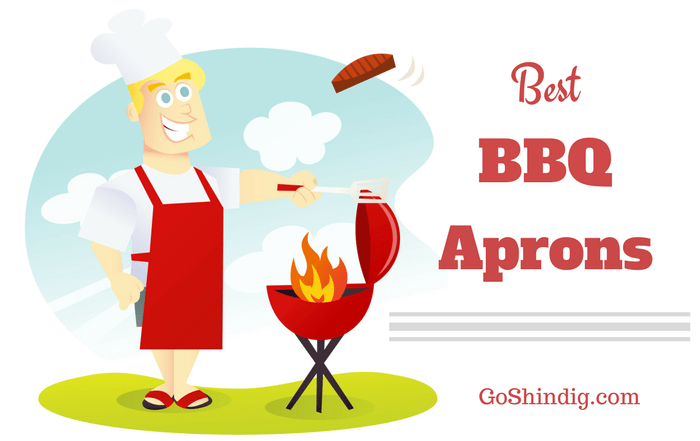 What to look for in a BBQ apron
Functionally there isn't much that separates one BBQ apron from another. However, there are a few things to look out for that we have listed below. The styles and design on the other hand, vary significantly. Everyone has their own sense of fashion so buying an apron that suits you, and one which you'll feel comfortable wearing, is probably the most important aspect of this purchase. There is no point buying a novelty apron with a life-sized print of a semi-naked woman just because it made you laugh in the shop if it's not the sort of thing you'll wear once you get home.
Material – What the BBQ apron is made out of will normally dictate the price. You have cheap material such as PVC, mid-range materials such as cotton or waxed canvas and then your expensive materials like suede or cow leather. So looking at the price tag alone doesn't necessarily tell you which is the best made or most functional apron, it just means it's made with more expensive materials.
What I look for when buying a BBQ apron is a good quality waterproof cotton that is machine washable and flame retardant. Although, if someone bought me a leather or waxed canvas apron as a present I'd be more than happy, even though it does result in an extra effort to clean.
Flame Retardant – You are cooking over an open flame, and even though you should have good control of the flame, you don't want a wayward spark to have you demonstrating your drop and roll technique to your guests. So look for a flame retardant material and one that will not melt.
Neck Straps – People come in many shapes and sizes, and yet most BBQ aprons come as a one size fits all. So if you don't fit the body shape of the average American, make sure your apron has an adjustable neck strap.
You may also want to buy an apron with neck strap padding. One main difference with a normal apron and a BBQ one is how it is used. As you don't have the luxuries of a kitchen to store all your equipment you end up storing loads of stuff in the apron pockets. All this extra weight is normally only held by the next strap – so could become uncomfortable with extended use. An alternative is to buy an apron with shoulder straps instead of neck straps.
Pockets – As alluded to above, pocket space is more important in a BBQ apron than a standard kitchen apron. I have a BBQ prep station next to my grill to place my rubs and utensils but I still find having several decent sized pockets very handy, even if it's just for my phone, a thermometer and bottle opener.
Best BBQ Aprons
There are thousands of aprons available to buy and as it's an item of clothing as well as a cooking tool, what I personally think looks good might not be your thing. So below I have tried to give a varied list of great BBQ aprons in different styles but with the features I've listed above.
Tactical Apron
The only negative with a tactical apron is you'll have a stream of guests coming over to talk to you about it. They look cool and would make a great gift for anyone that works for the police. The one I recommend is the Tactical Chef Apron by ThinkGeek. It has plenty of pocket space, and to accommodate the extra weight this bring, they have swapped out neck straps for shoulder straps.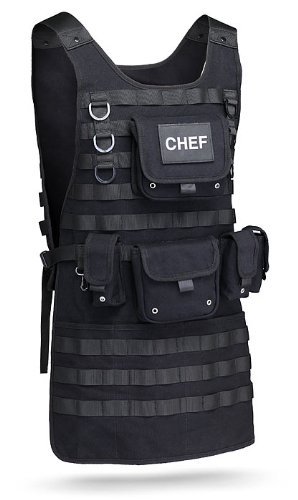 Sports Team Aprons
If you like to grill great food while tailgating at your favorite sports stadium then a BBQ apron with your team logo might my be your thing. Several companies offer BBQ sports aprons, like Pro Specialties Group if you want a cheap easy to pack apron. But if you want an apron that has the features I have outlined in the buyer guide section, I highly recommend the Team Sports America Apron.
This apron has five pockets of different sizes and an adjustable neck strap so you can adjust to your size. It also has some unique features you'll not find on many, if any, other aprons. It has a strap for you to hold a dish towel, giving you something to wipe your hands on other than the apron. And it has an insulated drinks holder for you to keep your beer along with an attached bottle opener.
Personalized BBQ Aprons
The king of gifts for a BBQ enthusiast is a personalized apron. Unfortunately these are often cheap novelty aprons that are not fit for purpose. However, a company called Embroidered Stitches do make a pretty decent BBQ apron if you want that personalized touch.
Camouflage Apron
Military camouflage seems to be a style that never goes out of fashion. So it's no surprise it looks great on a BBQ apron and if you know someone that has served his country these make great gifts. The one I'm recommending is pretty cheap compared to the others but gets my vote because I love the number of pockets it has. For the money, it's great value – The EZ Drinker Grill Master Grill Apron.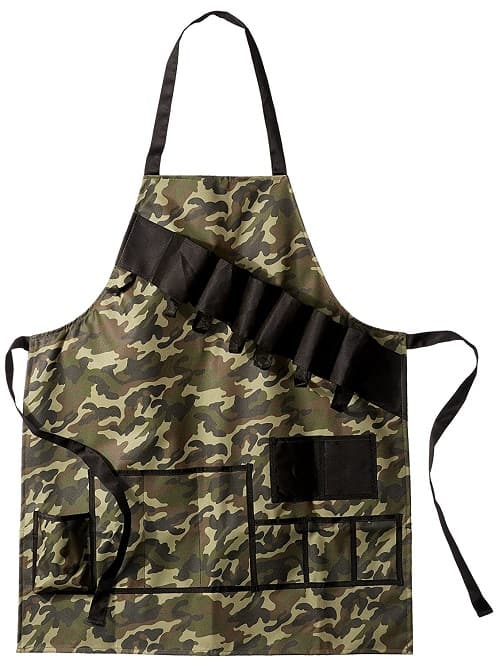 Best of the Rest – Grill Aprons
This guide to the best BBQ apron is in no particular order, I've just tried to break it down into different subcategories and give you the best option from each. So although this section is at the bottom it doesn't mean the ones above are any better – aprons are a personal choice. However, you will be happy with the quality of any of the BBQ aprons I have listed.
Weber BBQ Apron – I have to say I am firmly in the Weber fan club. Everything they make you just know will be quality. And their attempt at a BBQ apron is no different. It's a bit basic when it comes to features compared to other aprons I've recommended, but it does have pockets, an adjustable neck strap and a Weber bottle opener. It's made of a durable cotton which gives it a heavy, more manly feel. And for extra macho points, the black and gray colors make it look like an apron of a car mechanic.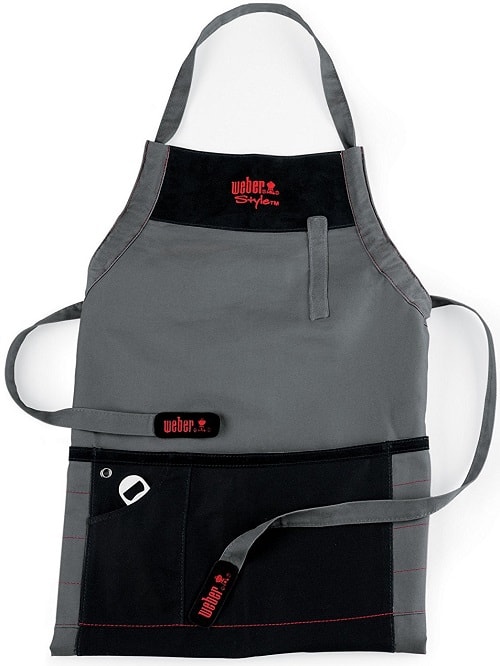 Classic BBQ Apron – If you want a classic understated BBQ apron then a Hudson apron is a great pick. This apron is often used by tradesman so is built to withstand heavy use and carry heavy tools.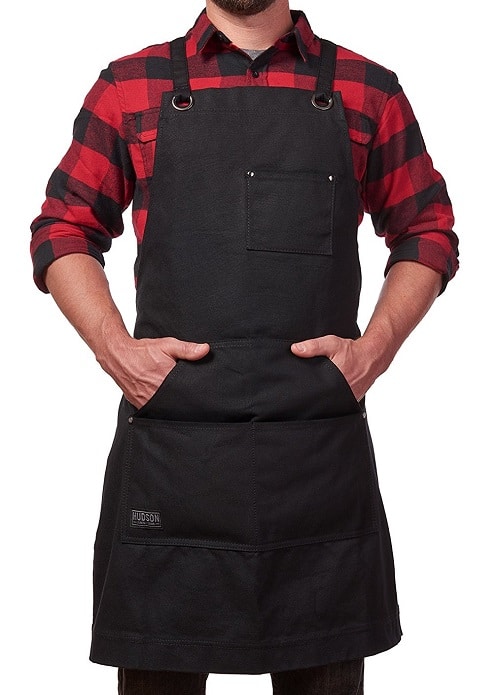 Waxed Canvas Apron – This apron from Texas Canvas Wares is again built for tradespeople, but as long as an apron has pockets and is durable then it can be used for grilling.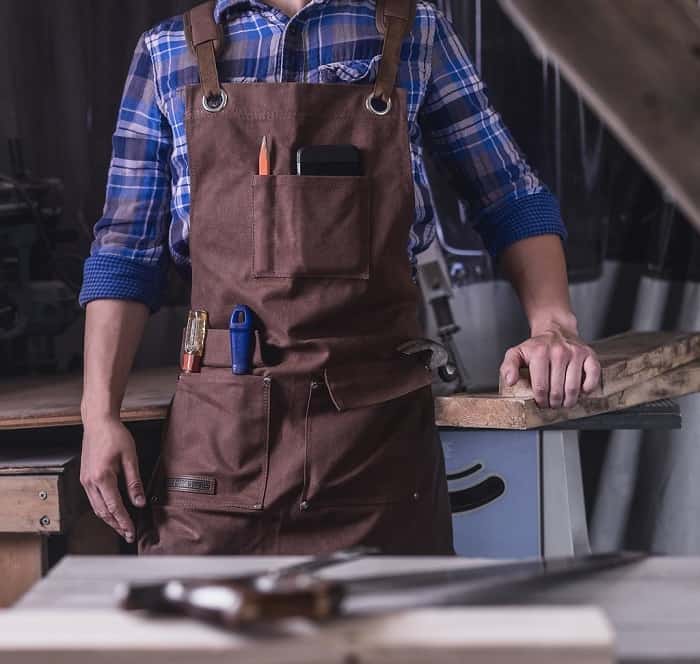 Different Apron Styles
All the BBQ aprons I've recommended above are the most common "Bib apron" style. There are other styles of apron, which might look strange at your grilling shindig, but for completeness I'll give them a mention just in case "strange" is your style.
Tuxedo Apron – Give the name for it's very slight resemblance to a tuxedo (I don't really see it, but obviously others do, hence the name). Here we aren't talking about an apron with a print on the front that looks like a tuxedo. No, this is a posh apron that would normally be worn by restaurant employees that work the front of the house.
Cobbler Apron – These are neck to waist aprons, covering both front and back. Although not the worst type of apron for grilling it's not the easiest to put on and off as you mingle with guests.
Bistro Apron – An apron from waist to knee with a couple of pockets. This is probably the worst of the styles for outdoor cooking, as it offers no protection to from grease of sauce splashes from the waist up