An apron is an apron is it not? So what makes one a BBQ apron? Well as bad as it might sound, BBQ apron is often used as a slightly sexist way of saying aprons for men. Now you and I both know there are some extremely talented women pitmasters who I'm sure would like my list of best BBQ aprons. But for some reason, the marketing people have decided these aprons must be geared towards men with macho styles such as military camouflage or police tactical vests. So for the purpose of this article, BBQ apron will mean men's grilling apron.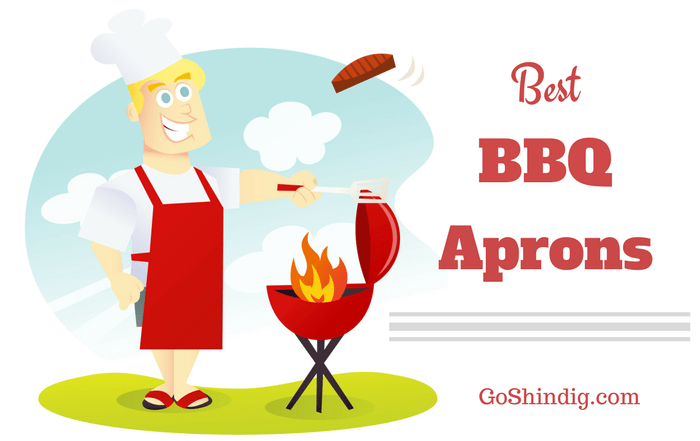 Best BBQ Aprons
There are thousands of aprons available to buy and as it's an item of clothing as well as a cooking tool, what I personally think looks good might not be your thing. So below I have tried to give a varied list of great BBQ aprons in different styles but with the features, I've listed below in the buyer's guide.
ThinkGeek Tactical Molle Apron
Best Tactical BBQ Apron for Men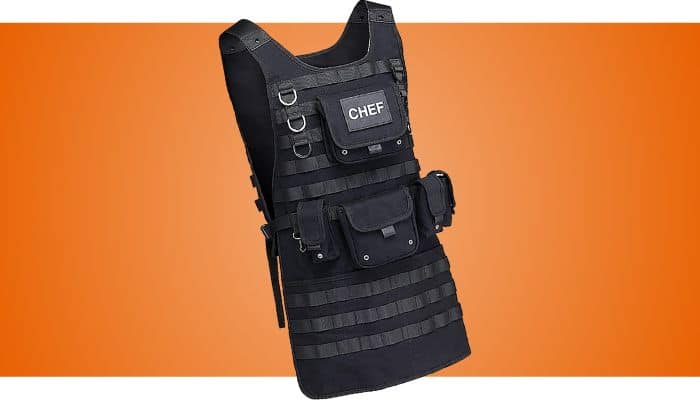 The only negative with a tactical apron is you'll have a stream of guests coming over to talk to you about it. They look cool and would make a great grilling gift for anyone that works for the police. The one I recommend is the Tactical Chef Apron by ThinkGeek. It has plenty of pocket space, and to accommodate the extra weight this brings, they have swapped out neck straps for shoulder straps. Men who want to barbecue in elegance will appreciate this fantastic addition.
Spatulas, tongs, brushes, and sauces all have a home in the many pockets and clips of this great BBQ apron. This ultra-masculine apron has fully adjustable straps and can be washed in the washing machine, so splatters of ketchup and BBQ sauce when barbecuing won't be an issue.
The tough appearance it gives its wearer when barbecuing is the nicest aspect of this apron. The front and back of this tough black apron read, "Chef." This apron won't help you much if you ever need to swat somebody, but it's great if you're going to be doing some heavy grilling.
The Tactical BBQ Apron is a fantastic present option for fathers who enjoy grilling because of its masculine design and practical features.
Team Sports Ultimate Grilling Apron
Best Grilling Aprons for Sports Fans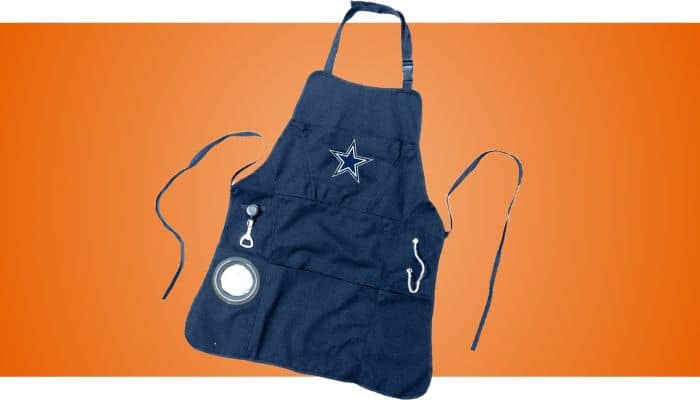 If you like to grill great food while tailgating at your favorite sports stadium then a BBQ apron with your team logo might my be your thing. Several companies offer BBQ sports aprons, like Pro Specialties Group if you want a cheap easy to pack apron. But if you want an apron that has the features I have outlined in the buyer guide section, I highly recommend the Team Sports America Apron.
This apron has five pockets of different sizes and an adjustable neck strap so you can adjust to your size. It also has some unique features you'll not find on many, if any, other aprons. It has a strap for you to hold a dish towel, giving you something to wipe your hands on other than the apron. And it has an insulated drinks holder for you to keep your beer along with an attached bottle opener.
Wild Side Grill Personalized BBQ Apron
Best Grill Apron for Personalization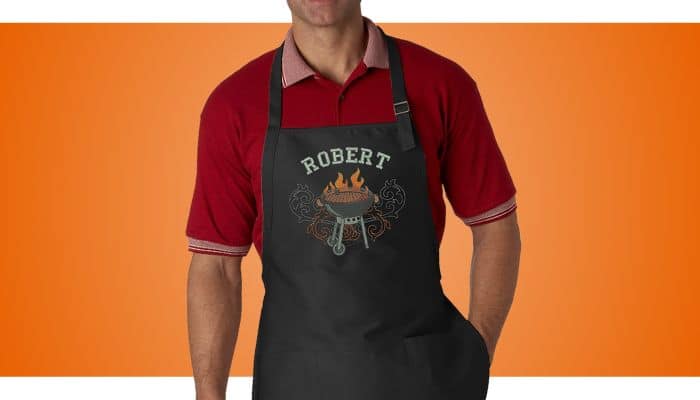 The king of gifts for a BBQ enthusiast is a personalized apron. Unfortunately, these are often cheap novelty aprons that are not fit for purpose. However, a company called Embroidered Stitches does make a pretty decent BBQ apron if you want that personalized touch.
This grill apron is made from 100% cotton and has an adjustable neck strap and two nice sized pocket. At checkout you get to choose which color you want the apron and the name you want above a picture of a kettle grill, making this apron even better if you are a kettle grill owner.
Camouflage Apron
Best Barbecue Apron for Outdoorsman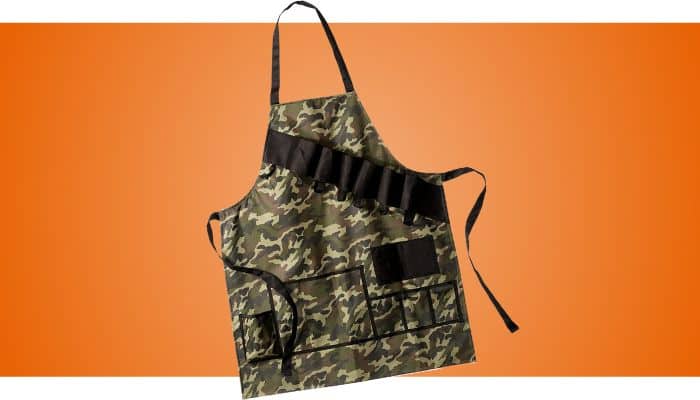 Military camouflage seems to be a style that never goes out of fashion. So it's no surprise it looks great on a BBQ apron and if you know someone that has served his country these make great gifts. The one I'm recommending is pretty cheap compared to the others but gets my vote because I love the number of pockets it has. For the money, it's great value – The EZ Drinker Grill Master Grill Apron.
Every tool pocket a rugged outdoorsman would require while tending the grill is conveniently sewn into this Camouflage Grilling Apron. The attractive camouflage pattern conceals not one, but six compartments, so you can keep your extra drinks close at hand while you fire up the grill. Ideal for hanging out with dad, friends, or even yourself! The apron is constructed from 600D Fabric and measures 27.5 x 29.5 inches.
Weber BBQ Apron
Best Grill Apron for Weber Fans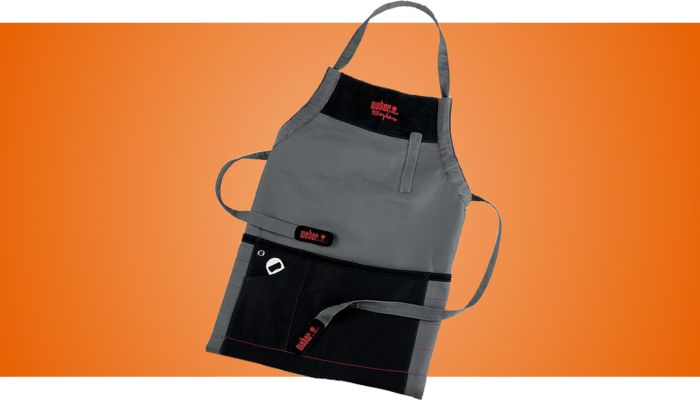 I have to say I am firmly in the Weber fan club. Everything they make you just know will be quality. And their attempt at a BBQ apron is no different. It's a bit basic when it comes to features compared to other aprons I've recommended, but it does have pockets, an adjustable neck strap, and a Weber bottle opener. It's made of durable cotton which gives it a heavy, more manly feel. And for extra macho points, the black and gray colors make it look like an apron of a car mechanic.
This BBQ apron is great for anyone who frequently uses a grill or smoker, whether they are die-hard Weber fans or not. I've ruined far too many pairs of jeans and shirts by bending over my smoker or grill and getting grease or charcoal dust on them. There will be no more of that because of this product.
The fabric is far more durable than the typical novelty apron. It's robust, well-stitched, and has a thick feel. Has multiple pockets for storing BBQ essentials such as thermometers, sauce bottles, and napkins. It also contains a bottle opener that, while it may seem like a novelty, has actually came in helpful on a few occasions. The one-piece construction of the straps over the shoulders and back is another nice touch. Every time I put it on, it takes only seconds to adjust to the perfect height and fit. Furthermore, the apron's length is ideal. It's just the right length, neither too short nor too lengthy.
With my experience with other Weber goods, I know this one will hold up for a very long time. Many of my friends and family who enjoy barbecuing as much as I do have asked for aprons as gifts because they loved this so much.
Hudson Durable Goods Waxed Canvas Apron
Best Classic Style BBQ Apron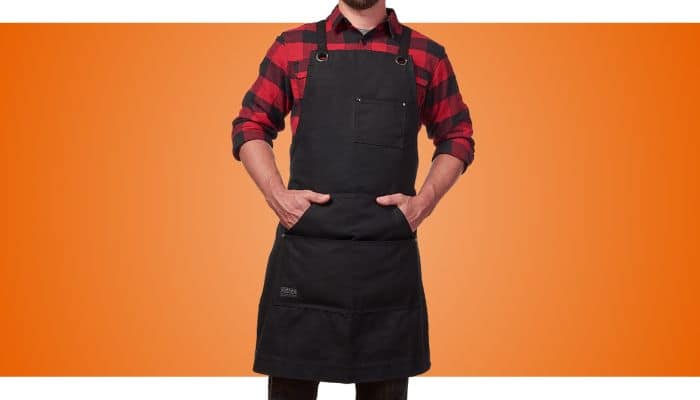 If you want a classic understated BBQ apron then a Hudson apron is a great pick. This apron is often used by tradesmen so is built to withstand heavy use and carry heavy tools.
A BBQ apron should be durable while still being easy on the skin. Because this crossback apron spreads the load across both shoulders, you can keep working for long periods of time without experiencing any discomfort. The pockets are reinforced with metal grommets and rivets to prevent grilling accessories from falling out.
Hudson's grilling apron is resistant to liquids, so it will keep you and your clothes clean and your utensils dry. You may rest assured that this canvas apron will not absorb any of the potentially harmful substances that might be spilled on it.
This BBQ apron has two front pockets (6.5 inches tall by 8 inches wide) and one chest pocket (for an instant read thermometer and a cellphone). It has two loops on each side, so you can hang anything from a towel to a pair of tongs.
Texas Canvas Wares Work Apron
Best BBQ Apron for Multiple Uses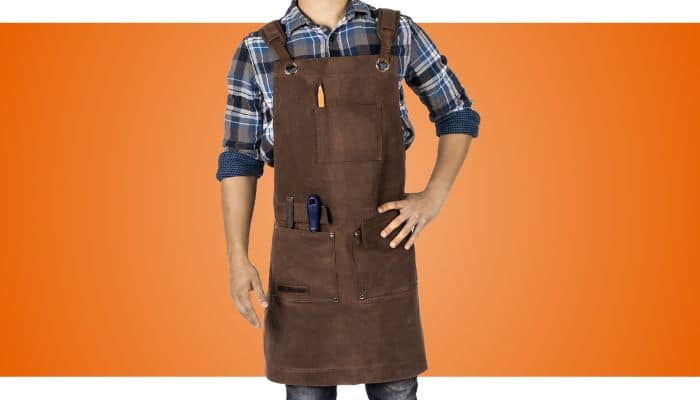 This apron from Texas Canvas Wares is again built for tradespeople, but as long as an apron has pockets and is durable then it can be used for grilling.
Constructed from heavy-duty custom-dyed 16oz waxed canvas, this work apron is designed to deliver many years of robust protection you can trust on. It will last for years and take a beating, no matter the project.
Do you believe that every canvas apron is the same? Ignore that notion. This waxed canvas apron offers a distinctively tough style with strategically placed straps and pockets, including cellphone and pencil compartments. You'll soon realize how essential the streamlined features are to your operations.
The extra-long straps on these aprons make it possible to fit a person with a waist size of up to 50 inches. Protect yourself while working on any kind of project with its padded straps and multiple uses. It will be a go-to tool for woodworkers, blacksmiths, painters, mechanics, and, of course, pitmasters.
What to look for in a BBQ apron
Functionally there isn't much that separates one BBQ apron from another. However, there are a few things to look out for that we have listed below. The styles and design on the other hand, vary significantly. Everyone has their own sense of fashion so buying an apron that suits you, and one which you'll feel comfortable wearing, is probably the most important aspect of this purchase. There is no point buying a novelty apron with a life-sized print of a semi-naked woman just because it made you laugh in the shop if it's not the sort of thing you'll wear once you get home.
Material
What the BBQ apron is made out of will normally dictate the price. You have cheap materials such as PVC, mid-range materials such as cotton or waxed canvas, and then your expensive materials like suede or cow leather. So looking at the price tag alone doesn't necessarily tell you which is the best-made or most functional apron, it just means it's made with more expensive materials.
What I look for when buying a BBQ apron is a good quality waterproof cotton that is machine washable and flame retardant. Although, if someone bought me a leather or waxed canvas apron as a present I'd be more than happy, even though it does result in an extra effort to clean.
Flame Retardant
You are cooking over an open flame, and even though you should have good control of the flame, you don't want a wayward spark to have you demonstrating your drop and roll technique to your guests. So look for a flame-retardant material and one that will not melt.
Neck Straps
People come in many shapes and sizes, and yet most BBQ aprons come as a one size fits all. So if you don't fit the body shape of the average American, make sure your apron has an adjustable neck strap.
You may also want to buy an apron with neck strap padding. One main difference between a normal apron and a BBQ one is how it is used. As you don't have the luxuries of a kitchen to store all your equipment you end up storing loads of stuff in the apron pockets. All this extra weight is normally only held by the next strap – so could become uncomfortable with extended use. An alternative is to buy an apron with shoulder straps instead of neck-straps.
Pockets
As alluded to above, pocket space is more important in a BBQ apron than a standard kitchen apron. I have a BBQ prep station next to my grill to place my rubs and utensils but I still find having several decent-sized pockets very handy, even if it's just for my phone, a thermometer and bottle opener.
Comfort
No matter what you'll be using your apron for, the fabric you choose is crucial. Choose a sturdy apron for grilling, even if you prefer wearing something lighter and more airy in the summer, like a cotton apron. Why? Grease stains and hot oil spills are more likely to happen while you're standing in front of a barbecue. When working with oil and grease, you want to keep it off of your clothes as much as possible. If your apron is too flimsy, this won't be possible. Linen is a versatile fabric that may be worn during any time of year. Before making a purchase, think about what you'll be using the apron for.
Strain on the shoulders or upper back might aggravate neck problems, so I advise choosing shoulder straps or cross-back straps instead. The key to finding success is to focus on what you need specifically.
Intended Use
Determine your intended use and desired level of protection before purchasing an apron. Is an apron more of a precautionary measure for your clothing or a practical tool in the workplace? Do you want an apron primarily for its aesthetic value, or will you be using it for its practical purposes? You should ask yourself all of these questions before settling on a solution, so that you can be sure you're meeting your true requirements.
Look for an apron that can withstand frequent use and has multiple pockets if you need one for to carry thermometers and grill tools. If you want to use your apron as a fashion statement rather than a practical tool around the grill, choose a design that stands out. You should trust your own judgment while selecting an apron.
Flexibility
A quality apron should allow you to move freely and rapidly without requiring you to constantly adjust or attach buckles or straps. Make sure the apron you pick has an adjustable neck strap, waist ties, and shoulder straps so that you can move freely and comfortably while wearing it. The constant hassle of re-tightening a loose tie isn't worth the time it takes.
Style
It's safe to assume that if you own a grilling apron, you enjoy throwing barbecues and other cookouts frequently. Even if you're standing at a sizzling grill, flipping burgers, you should still look your best for your guests. I advise you to give careful consideration to the design of your apron. The more attractive you look in your new apron, the more often you'll reach for it, so it's money well spent. Look for a stylish grilling apron that will "turn heads" of your guests.
If you need an apron, one that the kids will really wear, think about getting one that is brightly colored or features their favorite sports team. If you do this, they will not only be pleased, but they will also be more likely to grill alongside you while listening to your advice.
Different Apron Styles
All the BBQ aprons I've recommended above are the most common "Bib apron" style. There are other styles of aprons, which might look strange at your grilling shindig, but for completeness, I'll give them a mention just in case "strange" is your style.
BBQ Apron – Heavy materials, long-lasting hardware, and durability to high temperatures are all features of high-quality BBQ aprons. What you receive with the above aprons is just that. They can withstand the high temperatures of outdoor cooking (such as grilling and smoking meat). For added safety against fire, many of these aprons are made entirely of leather.
Tuxedo Apron – Given the name for its very slight resemblance to a tuxedo (I don't really see it, but obviously others do, hence the name). Here we aren't talking about an apron with a print on the front that looks like a tuxedo. No, this is a posh apron that would normally be worn by restaurant employees that work the front of the house.
Cobbler Apron – These are neck-to-waist aprons, covering both front and back. Although not the worst type of apron for grilling it's not the easiest to put on and off as you mingle with guests.
Bistro Apron – An apron from waist to knee with a couple of pockets. This is probably the worst of the styles for outdoor cooking, as it offers no protection from grease or sauce splashes from the waist up
Kitchen Apron – A chef apron with multiple pockets is ideal if you want to use a wide variety of cooking implements while preparing your favorite meals. Many of these choices also come in stylish and ergonomic designs, allowing you to move freely and with precision while you cook.
General Aprons – Apparel for those who work with their hands, such as a general apron, makes a thoughtful present for the handyman, artist, or carpenter in your life. Expect things to be built with longevity and usefulness in mind.
Common BBQ Apron Materials
Cotton, polyester, and leather are the most common materials used to make BBQ aprons. Let's go into depth on each of them.
Leather Grill Aprons
An apron made of leather, one of the highest quality and most stylish materials available, is a perfect choice for a pitmaster. Because it doesn't soak up moisture, you may use it after a heavy session at the barbecue without worrying about splatters. Leather is one of the most popular options for grill aprons because of its long lifespan. It does not absorb spills or stains, making cleanup a breeze. However, the cost of leather is somewhat more than that of comparable synthetics.
Cotton Barbecue Aprons
Cotton, the natural substance with no adverse effects on the skin, is the softest and most breathable of the lot. Cotton comes in a wide range of hues, allowing you to find the perfect shade to express yourself. It can be used to wipe your hands because it is absorbent. Plus, the cost of this material is reasonable. Cotton, however, is not very flexible, thus it is typically supplied in a blend with a synthetic fabric such as polyester.
Polyester Aprons
It is time to begin talking about polyester. Polyester is one of the most long-lasting and resistant to moisture materials available. Durability and lifespan are ensured by its pliability and resilience. Polyester can be dried and cleaned quickly, saving you a ton of effort. However, in most cases, natural cloth must be used in conjunction with polyester to achieve the desired level of comfort.
Final Thoughts
This guide to the best BBQ apron is in no particular order, I've just tried to break it down into different subcategories and give you the best option from each. So although a section is at the bottom it doesn't mean the ones above are any better – aprons are a personal choice. However, you will be happy with the quality of any of the BBQ aprons I have listed.