When shopping for picnic supplies, blankets are usually an afterthought. Picnic baskets and coolers get all the attention, leaving the blankets out in the cold. This is a sad state of affairs, because the best picnic blanket can really set the ambiance for your outdoor meal.
A picnic blanket is more than just a groundcover for your picnic basket. A good blanket is also where you sit and relax while enjoying your food. It acts as a tablecloth, chair, and a cozy nap spot for the kids. It can also be the visible signpost marking your picnic spot in a big crowd.
While any blanket may act as a picnic blanket in a pinch, most fall short of the ideal. They might be too bulky or hard to clean, or not suited for the environment around your picnic spot. Having a dedicated picnic blanket or two can make the entire experience a lot more enjoyable.
We're here to help you identify the best picnic blankets on the market and show you how to select the perfect one for your family events!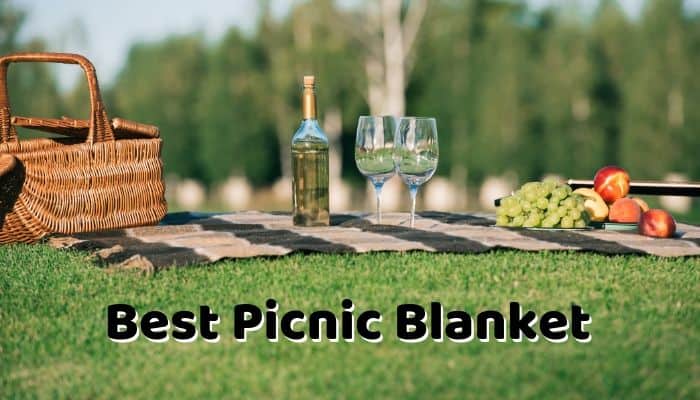 At a Glance: Our Top 8 Best Picnic Blankets
Best Picnic Blanket
When you are not totally prepared for a picnic something always goes wrong. A blanket may seem like a small thing but a good blanket can make a big difference to your overall experience.
Look at what can happen: You get the perfect picnic basket, send out some beautiful picnic invitations and fix a fantastic meal. You set up your picnic spot and sit down on the blanket…and feel wet. So do your guests. Now everyone is spending the day in wet underwear.
The challenge with buying the "ideal" picnic blanket is that the traits vary depending on your picnic location. The best blanket for a day at the beach might not be the best for an outdoor concert, for instance. Luckily, all picnic blankets share some common features.
A picnic blanket should be lightweight and easy to carry. The blanket should be comfortable to sit and lay on, and it should be resistant to dirt and stains. It should also be easy to brush clean and ideally machine washable.
Your picnic blanket should also be particularly suited for the environment of your picnic spot. If you will be using it near water you might prefer a water-resistant or waterproof blanket. If you are spending a day at the coast, a wind resistant blanket could be a lifesaver.
The best picnic blanket for your family will depend primarily on your budget and the size and style of blanket you want. You can check out our Buyer's Guide for more information on selecting the perfect blanket for every situation.
VonShef – Best Fleece Picnic Blanket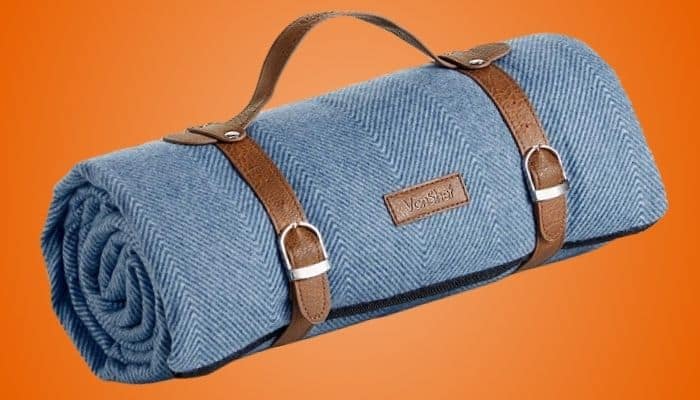 If you want a fleece picnic rug then consider this herringbone-patterned blanket from VonShef.
This blanket has room to spare and is ideal for three to four picnickers. The VonShelf measures 58 x 71 inches and weighs 1.7 pounds.
It rolls up and can be easily carried with the faux leather straps and handle. The polyester fleece is soft and warm against your skin.
The rustic blue blanket also has a waterproof PEVA protective layer. You can use this blanket on the wet ground and the water won't leak through.
The VonShef is a thin blanket and doesn't have any internal padding. This makes it easier to pack. The carrying straps are removable, so you can opt to leave them behind if you wish.
This blanket is a great option for a single picnicker or a small family. The blanket isn't machine washable, however. If you have kids or pets this could be tricky to clean.
Miu Color – Best Waterproof Picnic Blanket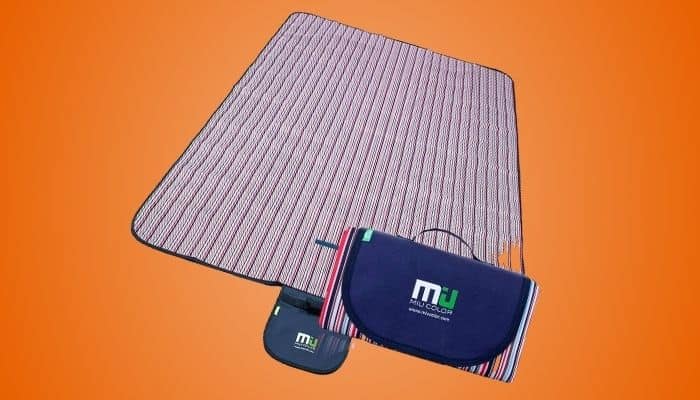 A waterproof picnic blanket can keep your bum dry no matter how boggy things are at your picnic spot. This Miu Color blanket does a great job at resisting the water and is big enough for four adults.
This versatile blanket is ideal for a day at the beach or by a lakeside. The extra large blanket measures 80 x 60 inches and weighs 2.65 pounds. This is plenty of space for two adults to lounge or four to spread out and relax with some food.
The brightly colored polyester surface is smooth and water-resistant, so you can just wipe up spills and not have to deal with any stains. The lower PVC layer prevents any moisture from leaking through and gives it extra durability.
The Miu Color has a layer of padding so it is comfortable no matter where you set it up. It folds into a compact 13 x 8 inch package and has a handle attached to the blanket. It is easy to toss in a basket or you can carry it on its own.
This is an ideal blanket for families with kids and would also work in a playroom as well. Since it is stain resistant and waterproof you can even use it in your car as a seat cover.
Even better, this blanket is soft on the skin and doesn't get too hot in the summer sunlight. Since it's waterproof, however, it's best that you wash it by hand rather than in a machine.
Scuddles – Best Picnic Blanket Tote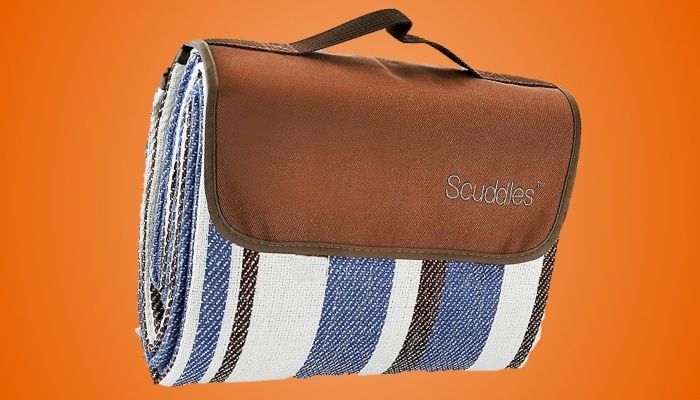 For a blanket that travels easily, consider a blanket tote. This blanket from Scuddles folds into a tote bag with a handle so you can put it away in seconds.
You'll never struggle to pack away this picnic blanket! The Scuddles measures 59 x 76 inches and weighs a modest 16 ounces. The attached tote bag prevents you from misplacing it and makes the blanket very easy to fold and carry.
The blanket is a soft polyester fleece with a modern tartan-stripe pattern. The fleece is stain, dirt and water-resistant and can be easily wiped clean if soiled.
The Scuddles is also waterproof and has a bottom layer of PEVA to prevent any moisture from leaking through. The lower layer is quite rugged and gives this blanket some extra durability.
This blanket is ideal for all kinds of day trips. The blanket won't allow any sand through either, making it a great option for the beach.
The Scuddles packs down to a small 10.5 x 15-inch tote and closes securely for easy transport. To maintain the waterproofing you should wash it by hand rather than in a machine.
Marmel Planet – Best XL Picnic Blanket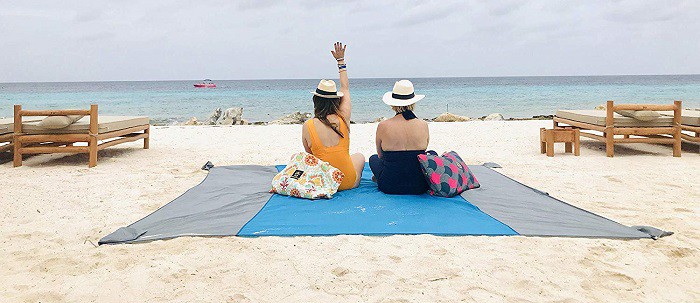 If you want an XL picnic blanket then this Marmel Planet blanket could be the one for you. This huge picnic throw is also chock full of extra features.
Let's start with the size. This beast measures a full 9 x 10 feet wide when spread out. That's enough room for seven adults to lounge in comfort even with all their glasses and plates in the way.
Made entirely from rip-stop nylon and with rugged stitching for durability, the Marmel Planet is one tough blanket. It is waterproof, windproof and sandproof and it just needs a quick shake to clean it off.
It also comes with a zippered pocket to secure valuables like your cell phone or keys. You can attach the pocket to the blanket or stash it in your basket. The blanket also comes with sand stakes to weigh it down on windy days.
This picnic blanket includes a stuff sack-tote and carabiner to clip it to your pack. When compacted down in the tote, the Marmel Planet fits easily in your hand or a pocket.
This is an ideal blanket for all kinds of trips, from the beach to an outdoor concert. The only real downside is it is so thin that it doesn't offer a lot of padding. If you want a feature-rich XL blanket, the Marmel Planet could be the best picnic blanket for you.
BEZ Outdoors – Best Flannel-like Picnic Blanket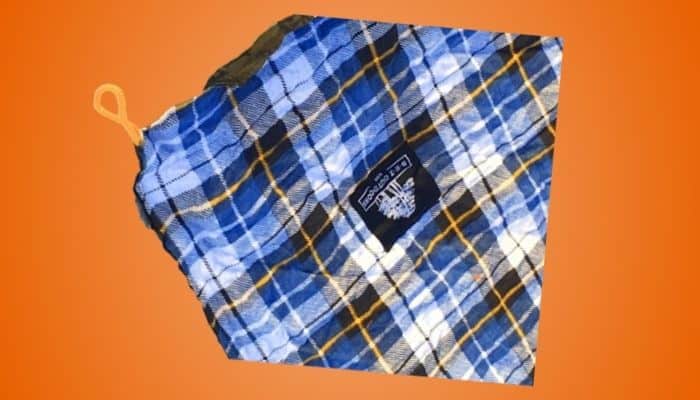 Unlike the specialized blankets on our list, the blanket from BEZ Outdoors is more of a generalist. This flannel blanket is extremely versatile and is ideal for all sorts of outdoor activities.
Made from padded plaid cotton flannel, this blanket has a classic appearance and is very comfortable. It measures 60 x 70 inches and is the perfect size for up to four adults.
The bottom has a thin layer of polyester to resist water, so the cotton flannel stays dry when things are wet. It isn't fully waterproof but it won't absorb a lot of moisture from the ground. It even has loops on the corners if you need to stake it.
The cushioned flannel can wrap around you to keep you warm at a concert. It is an ideal picnic blanket for a chilly day at the coast as well. You have a lot of options when you buy this blanket.
The BEZ folds up nicely and is easy to carry in the included stuff sack. It is also machine washable, making it one of the easiest blankets to care for.
Matador – Best Portable Picnic Blanket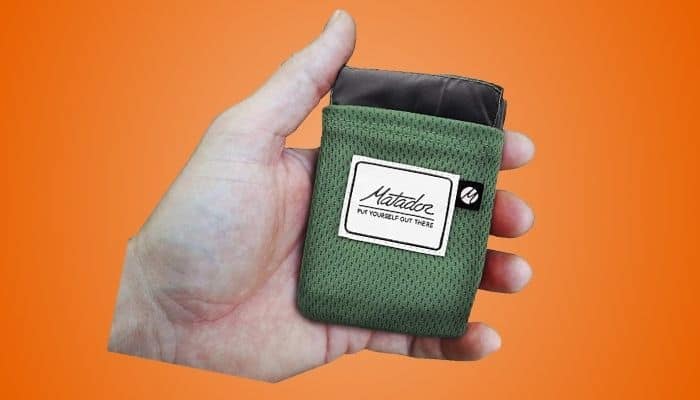 If you need a portable picnic blanket, then the Pocket blanket from Matador might be the one for you. This ultra-compact blanket is ideal for trips where every bit of space is needed for supplies. It compacts down into a small sack perfect for stuffing in a pocket.
The Matador measures 63 x 44 inches and weighs a light 3.84 ounces. It can easily accommodate two people lounging or up to four adults sitting upright.
Made from durable nylon, the blanket is water, sand, stain and tear-resistant. The upper surface has a satin finish so the fabric won't stick to your skin. This comfortable blanket will protect you from twigs, dirt and insects and is easily brushed clean.
The Matador also has a coating of polyurethane on the bottom to better resist moisture. It isn't entirely waterproof but it will definitely protect you from the wet ground for a few hours.
This portable blanket has internal rustproof stakes in the corners that also act as blanket weights. You can stake them into the ground to secure the blanket. They retract back into the blanket once you're done.
This is an excellent choice for camping, backpacking or just to keep in your car as an emergency blanket. It's so compact you might even forget you have it until you need it. Even better, the stuff sack is sewn into the blanket, so you'll never lose it!
Paige and Co – Best Cheap Picnic Blanket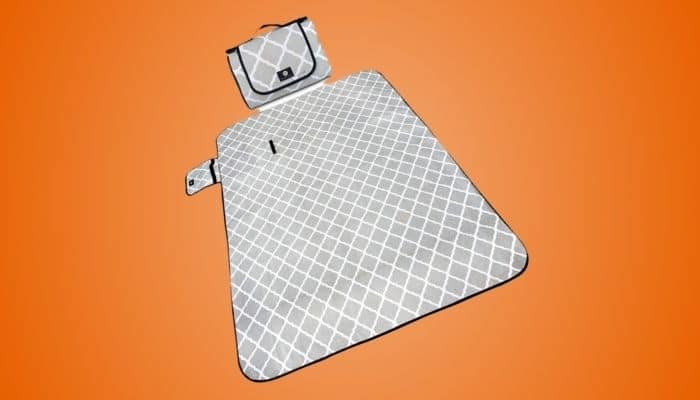 If you need a cheap picnic blanket, consider this blanket from Paige and Co. There is nothing fancy about these blankets but they are a real steal and priced under $20!
This big blanket measures 79 x 59 inches and weighs 2.16 pounds. It can easily accommodate up to four adults or six children. The modern, neutral print is easy to spot at a distance and is quite attractive.
The cotton-blend fabric stays cool in the warm summer sun and won't make you feel sweaty. The bottom of the blanket has a waterproof layer, so you'll stay dry while enjoying your picnic.
The Paige blanket folds into a compact tote for easy carrying. The tote bag is sewn into the blanket so you can't lose it.
This is a great option if you have kids because you won't have to spend a lot to replace it if something happens. You'll get your money's worth from this cheap blanket.
The downside to the Paige blanket is that it is made from a cotton-blend fabric. The fabric is not stain resistant and the blanket can't go in a washing machine. It could be a little tricky to clean if it gets really dirty.
Cozy Adventures – Best Windproof Picnic Blanket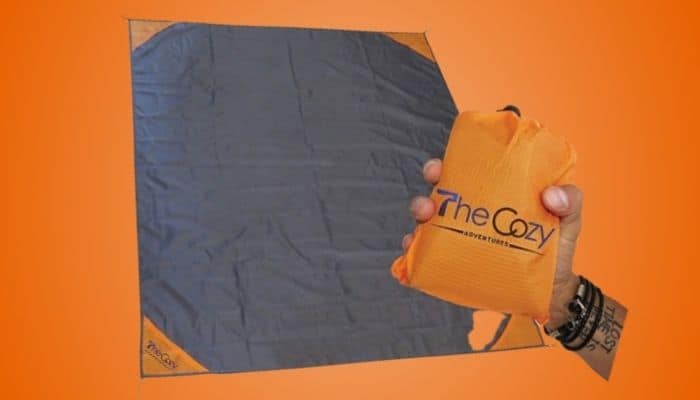 For a breezy day at the coast, you need a windproof picnic blanket. This blanket from The Cozy Adventures will protect you from the wind and so much more.
This beach-style blanket is very lightweight and ultra compact. It measures 70 x 55 inches when fully unfolded and yet compacts down into a 4.5 x 1.5-inch tote!
The rip-stop nylon construction is wind, sand and waterproof and incredibly durable. If the blanket gets dirty you can just wipe it clean with a wet sponge. You'll never need to wash this picnic blanket.
The Cozy Adventure comes with pockets along the corners that you can use in several ways. You can tuck your belongings in them for safe storage. Or you fill them with sand or rocks and use them to stake the corners of the blanket down.
Those are not your only options in the wind, however. It also has corner loops and stakes you can push into the ground. No matter how windy it is, your blanket will stay in place while you picnic.
This is a great blanket for the beach and the compact design is ideal for camping and hiking trips. Weighing a mere 7 ounces, this blanket isn't going to hold you back from your adventures.
Why Trust Us
All of our reviews are compiled with a combination of expert input, years of hands-on testing of grilling products, curating the reviews of real-life buyers in a "wisdom of the crowd" system, and of course our own expertise. All the products listed are the ones we would buy if we were looking to purchase a new picnic blanket.
Methodology Used to Pick the Best Picnic Blanket
When picking the best picnic blanket we looked at and then rated each blanket on the following criteria. Price, materials, construction, size, practicality, waterproofing, thickness, and ease to clean.
How We Selected the Best Picnic Blanket
Shopping for a picnic blanket can feel daunting. A picnic mat can be made from nearly any material and can be as small as a beach towel or as large as a comforter. The best picnic blanket for your family will depend on your budget and where you plan to use it.
First, consider the type of picnics you usually throw and the features you would find most helpful in a picnic blanket.
You might prefer a waterproof blanket for camping by a lakeside or a fishing trip. A blanket that is windproof or that has stakes or integrated pockets might be helpful for a windy location. If you head off trail then a really compact blanket may be what you need.
Once you know your budget and have identified the features you're looking for, you can start narrowing down your options. Unlike the more straightforward supplies like picnic plates, you really have a huge number of options when buying a picnic blanket.
Here are the things you should consider when shopping for your picnic blanket:
Material
If you plan on using a blanket outside in all kinds of conditions, it needs to be sturdy and durable enough to stand up to some hard use. No one wants to buy a blanket that will wear out after a few picnics. At the same time, your blanket should also feel soft and comfortable when you are sitting or lying on it.
Durable fabrics are usually not the most comfortable of fabrics, unfortunately. They can also be heavy and bulky. As a trade-off, many picnic blankets use different fabrics for the upper and lower surfaces.
The upper surface of the blanket is the material you will be sitting on and looking at. This layer should feel comfortable against your skin and offer some padding from the ground. The color and pattern of this fabric is usually quite distinctive to help your picnic spot stand out.
Picnic blankets can be made from natural or synthetic materials and are frequently made with a blend of both types. Synthetic fabrics are especially popular due to their durability and ability to compact down for packing. Some synthetic fabrics are also naturally water or wind resistant.
You are less likely to see natural fibers in picnic mats these days. These materials are durable but are also heavier and bulkier to pack than the synthetics. Blankets made from natural fibers tend to be more expensive as well.
Polyester
You will see a lot of picnic blankets made with polyester or from blends of polyester and other fibers. Polyester is a synthetic fiber that is frequently used in clothing and blankets. Polyester fabrics, depending on their construction, may be naturally water and wind resistant and are very durable.
Polyester blankets are stain and wrinkle-resistant. Polyester blankets can be nearly as thin as nylon if they are made with a high thread count and are tightly woven. This style of blanket is commonly seen in picnic blankets designed for the beach.
When woven more loosely, polyester blankets can have a softer feel similar to flannel or fleece. This is especially common on blankets made with a polyester blend. This style of picnic rug is less durable than the other but is a lot more comfortable to sit on.
The downside to polyester picnic mats is that they are not very heat resistant and can melt if exposed to a flame or other heat source. This is not the ideal material if you are using the blanket near a campfire or portable grill. Some blankets have further treatment by way of a fireproofing spray for extra protection.
While polyester fibers are water and wind resistant, your blanket's properties will depend on the fabric's construction. The tightly-woven, thin beach-style blankets are more resistant than the looser-weave, softer polyester blankets.
Fleece
Fleece picnic blankets are some of the most comfortable and affordable on the market. While fleece can also refer to the wool from an animal, that's not the material we're talking about here. It is actually the synthetic fabric commonly known as polar fleece.
Polar fleece is usually woven from polyester, although it can also be partially made from recycled plastics. It is a very warm and durable fabric and it is much lighter in weight than natural wool. It does not absorb water and dries very quickly.
Fleece is a popular material in picnic blankets especially when paired with a second waterproof layer. The soft upper fabric is ideal for sitting or laying on and it is resistant to dirt and stains. Fleece can keep you warm but still allows your skin to breathe.
The downside to fleece picnic blankets is that they don't offer water or wind resistance on their own. Your fleece blanket will need another layer if you want yours to have these properties. Fleece is also heat sensitive and quickly melts when you expose it to high temperatures.
Fleece has one other annoying property, and that's that it can easily pick up a static charge. Dust, lint, and pet fur tend to cling to fleece blankets, making them harder to shake clean at the end of a picnic.
Nylon
Nylon is another synthetic fabric that is commonly used by picnic blanket manufacturers. Nylon fabrics are very thin and have the feel of silk against your skin. This is a very popular choice for ultra-compact camping blankets and beach-style blankets.
Like polyester, fabrics made from nylon are typically wind and water resistant and can even be made waterproof. Rip-stop nylon fabrics have a woven cross-hatching that prevents a rip from opening further. Nylon picnic mats are softer than polyester and are more durable but also tend to be more expensive.
Nylon picnic blankets share many of the downsides of polyester. The fabric is heat-sensitive and can melt if put through a dryer. Nylon also melts when exposed to high heat and isn't ideal for use near campfires or grills.
Wool
Wool picnic blankets are traditional and it's no surprise that these were very popular before synthetic fibers were an option. Wool comes from animals like sheep and goats and makes for a warm and sturdy fabric. Think of it as nature's version of polar fleece.
Wool fabric is naturally water resistant and is very durable. It keeps you warm but also allows your skin to breath. Wool is very insulating and folks often used it for cold-weather clothing, bedding, and even baby diapers prior to World War II.
These days, wool is a less-desirable option for a picnic blanket, although some wool-blend blankets are still available.
Wool blankets are heavy and bulky and are much more expensive than synthetic blankets. Wool can also be scratchy against your skin unless it is a less-durable type like merino. Wool blankets are harder to clean than synthetics and can shrink if put through a dryer cycle.
Cotton
Cotton is one of the most common textiles on the market and it's likely that you have some cotton towels, sheets, and blankets in your home. Cotton is spun from natural plant fibers and is frequently blended with other natural or synthetic fibers to make fabrics.
Cotton picnic blankets are lighter in weight than wool blankets and not usually as bulky. Cotton fabric is soft and fairly durable and is easy to clean in a washer and dryer. It can keep you comfortably warm while still allowing your skin to breathe.
On their own, cotton blankets are not ideal for picnicking. Cotton fabrics wrinkle quickly and easily pick up stains. Cotton also absorbs moisture and is slow to dry.
Most of the picnic blankets on the market that contain cotton will use a blend, usually a polyester-cotton blend. These fabrics will have some of the advantages of cotton but will avoid the downsides of the all-cotton blankets.
Construction
Picnic blankets come in a wide variety of designs and many are much more than a simple layer of stitched fabric. Picnic mats can actually have a fairly complicated construction to increase their durability and functionality.
Picnic blankets can be made from a single layer of fabric or from multiple layers sewn together, similar to a picnic mat. Obviously, more layers boost the padding and durability at the expense of increased bulk and weight.
Ultra-compact and lightweight blankets usually have a thin layer of synthetic material with reinforced edging. They may not offer a lot of padding but they are ideal for sandy locations like the beach.
Many of the best picnic blankets are made with multiple layers of fabric sewn together. These sturdy blankets often include a rugged waterproof bottom paired with a softer, brightly-colored upper fabric. They may also have a layer of padding sewn between the upper and lower layer for extra cushioning on hard ground.
Look for picnic blankets with high-quality stitching, reinforced edges, and double-seams. These blankets will last longer and stand up to harder use than blankets without these features.
Size
Picnic blankets come in a variety of sizes. A small 5 x 5-foot picnic rug may be suitable for one to three picnickers, but for larger crowds, you'll need a bigger blanket. Also, if you plan on using your blanket as a nap spot you may prefer a bigger blanket over a smaller one.
If you're not sure which size you need you can always start small and add more blankets as your family expands. Or you could opt for the biggest blanket you can find and enjoy the extra space when you have fewer folks at your picnic.
Practicality
So, what makes a picnic blanket practical? More than just the fabric and construction, the design and features of your blanket will determine how easy it is to use. Features that make a picnic blanket more practical include:
Built-in tote or carrying straps – Allow you to quickly fold or stuff your blanket away and easily attach it to your backpack or picnic cooler. Some even fit in a pocket!
Smart-folding design – Manufacturers assemble these blankets in such a way that you can easily see how to fold them to fit inside the carrying bag. This is especially common with the ultra-compact picnic blankets.
Ground stakes or sand pockets – To prevent your blanket from flapping in the breeze, some picnic blankets come with stakes to hold down the corners. Beach-style blankets often include pockets you can fill with sand to hold them down. If you picnic at windy locations you may really appreciate a blanket with stakes or sand pockets (or both).
Internal zippered pockets – Many blankets now come with extra zippered pockets for storing your keys, phone or reading materials while picnicking.
Fireproof coating – To make a blanket safer to use near an open flame, some blankets are specially treated with a fireproof coating. If you plan to use your blanket near a campfire or grill you may prefer one that has been fireproofed.
Waterproof
A waterproof picnic blanket is an excellent thing to have. When you use a waterproof blanket you never have to worry about picnicking on moist grass or near a lakeside.
Your bum will stay high and dry all day while you enjoy your meal.
There are several ways to waterproof a blanket. The best picnic blankets will have an entire bottom layer made from a waterproof material like PVC, PEVA plastic or Mylar. These blankets are sturdy and completely waterproof. The lower layer is a permanent part of your blanket.
Another option is to coat the fabric of a blanket with a waterproofing spray. Usually, the underside of the blanket has this coating, leaving the top fabric soft and pliable. The spray won't make the blanket waterproof but does leave it water resistant.
A third option is really a combination of the above two methods. Instead of using a fully waterproof bottom layer (which can be bulkier and heavier), these blankets have a polyester backing. The backing is naturally water resistant and is often also sprayed with an additional waterproofing material.
If you really want a waterproof picnic blanket, get one with a waterproof underside and not one that is just water resistant. These blankets can be harder to clean because they usually not machine washable. But they will last longer than those whose coat only has a waterproof spray.
Strength of Material
If you want your picnic mat to stand up to years of adventure and washing then it needs to be made from high-quality materials.
Nylon, especially rip-stop nylon, is the strongest material you can make a blanket from. It is stronger and more weather resistant than polyester but is also a bit less durable. Both fabrics are easy to wipe clean but are sensitive to high drying temperatures.
Wool is strong, weather resistant and is very durable but can be bulky and challenging to clean. Cotton is strong, but not very durable because the fibers break rather than flex. Cotton-polyester blends are a better bet for picnic blankets than pure cotton for this reason.
Thickness
There is a trade-off when it comes to the thickness of your picnic rug. You want a blanket that offers some padding if the ground is hard, right? But the thicker your blanket, the bulkier it is to pack into your picnic spot.
For beach picnics, the blankets can be thin because you have a nice layer of sand beneath you for padding. Many beach-style picnic blankets are made from thin nylon or polyester with no additional layers of cushion. These ultra-light blankets are also ideal for backpacking and camping trips.
For picnicking on harder ground, however, you definitely want a bit more padding. A thicker fleece or flannel blanket will likely be a lot more comfortable. These blankets are bulkier than the ultra-light ones but can still compact down for easy transport.
Style
Picnic blankets usually have vibrant colors or have a distinctive pattern to their fabric. This helps you identify your picnic spot at a distance and makes your location more noticeable to others. If you have a vintage picnic basket you may prefer a picnic mat that coordinates with it.
Some blankets feature traditional patterns like plaid, checks or chevrons. Others are made with a combination of fabrics and stitched together like a quilt. Premium blankets usually have double seams and contrasting edging.
Avoid blankets that are dark in color or have large patches of dark-colored fabric. These blankets will absorb more sunlight and get hotter than lighter colored blankets. They may be uncomfortably warm under the summer sun.
Cleaning
Your picnic blanket should be easy to clean. Most blankets will just shake or brush clean and the debris fall right off.
The best picnic blankets are resistant to stains and dirt too. Since many blankets have some natural water resistance, spilled liquids may not even soak into the fabric.
Often you can just sponge or wipe these blankets down instead of washing them.
Many picnic rugs are machine washable but can't go in the dryer. You may need to hang them to dry instead. Honestly, your blanket will last longer if you avoid washing it too frequently.
To clean your blanket, try using a wet sponge on the stains first. If the blanket is still soiled you can wash it by hand and hang it to dry. Never pack your blanket away until it is completely dry or it may begin to mold.
Price
Picnic blankets are all over the map in terms of price. An inexpensive picnic blanket can be found for around $20, while a premium blanket could go for as much as $50.
You definitely don't need to buy an expensive blanket to get a high-quality picnic blanket. Once you know your budget you should have no trouble finding a great option in your price range.
Top Picnic Blankets Video
Conclusion
The best picnic blanket for your family should be lightweight, comfortable and easily portable.
Beyond that, picnic blankets are available in a wide range of styles and designs. They can be ultra-compact or extra-large. Some are waterproof, windproof or sandproof and many have extra features like internal pockets or stakes.
Choosing a picnic blanket is a bit of a challenge because you have so many options and products to choose from. We hope our guide will help you select the ideal blanket based on your budget and particular needs. No matter what you're looking for, our list has the ideal picnic blanket for your family.