The combined heat from your grill and the scorching summer sun can easily make your BBQ uncomfortable. We all love the idea of a relaxing summer afternoon grilling and enjoying a couple of drinks with friends and family outdoors. However, in reality, this is seldom how it pans out when temperatures start to rise, sending everyone rushing to the AC indoors.
Save your BBQ season with the best outdoor misting fan and keep yourself and your family cool while you enjoy the best of summer.
Best Outdoor Misting Fan
To help you find the very best outdoor misting fan for your next BBQ, we've reviewed the best models on the market. Save yourself time researching and check out our top-rated outdoor misting fan reviews and buyer's guide.
Best Battery-Operated Outdoor Misting Fan
Geek Aire Battery Operated Patio Misting Fan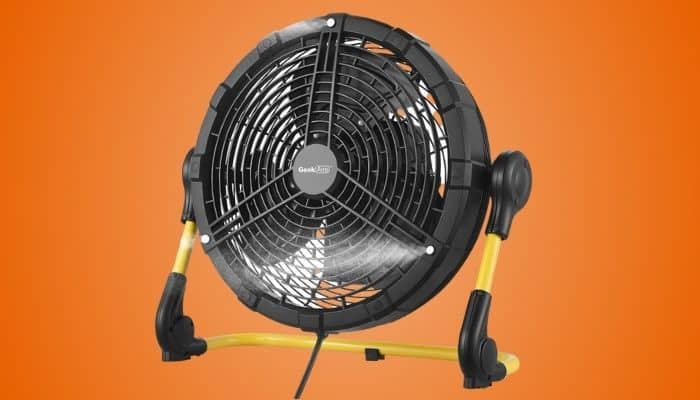 The Geek Aire Battery-Operated Patio Misting Fan makes a top choice for keeping you and your guests cool at your next BBQ thanks to its versatile power options for almost unlimited placement options.
Use it plugged in with the included power adapter or use the included 15000mAh detachable battery for areas without power. The battery also doubles up as a handy power bank for recharging your phone.
This heavy-duty, weatherproof misting fan is rated IPX4 waterproof, plus its rugged ABS construction benefits from a thickened UV-resistant coating for extra durability. The 12-inch model puts out up to 1500 CFM with three misting nozzles to cool you down, even after tending to your coals. Unlike most basic outdoor misting fans, the speed control is stepless, allowing you to adjust it just to your needs and liking.
Angle your Geek Aire Misting Fan up to 360-degrees to ensure you feel its cooling breeze, just note that there is no locking mechanism to keep it tilted in position. Also, finding a spare battery can be a little hit and miss as they are rarely available. However, you do get between 3-23 hours depending on your speed settings.
Given its solid construction, ease of use, and great functionality, no wonder this misting fan is one of the most popular models on the market and our top battery-operated misting fan pick.
Pros – Things we liked
12" fan with maximum 1500 CFM airflow
Stepless speed control
15000mAh power bank battery
Lightweight 7.1lbs
360-degree tilt
Cons – Things we didn't like
Does not lock in position
Spare batteries are rarely available
Best Outdoor Misting Fan with High Water Output
Lasko 7050 Misto Outdoor Misting Fan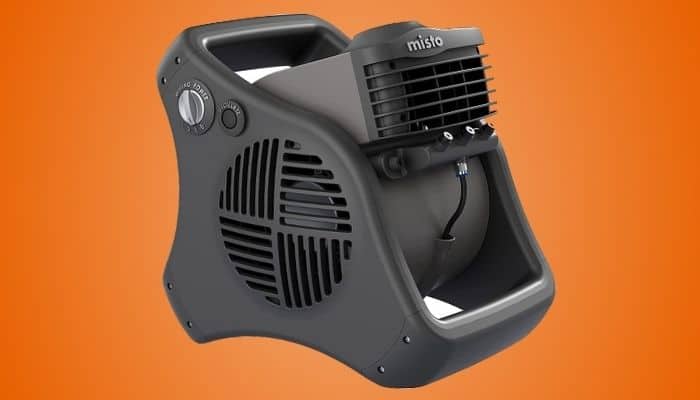 If you are looking for a compact outdoor misting fan that will keep your BBQ area cool and damp, the durable Lasko 7050 is the model to go for.
Bear in mind that it will wet the area directly in front of it, so you won't want to install it right next to your outdoor furniture or guests – however, placed at a distance or even next to you when you're suffering in the heat over your grill's flames, it's a good choice.
Compact and lightweight, this model is easy to move around your patio thanks to its nine-foot water hose and long six-foot power cord. Even though things will get pretty wet, you can still use it with peace of mind thanks to its inline GFCI complete with a three-prong grounded plug. This model also comes with a spare set of finer nozzles should you wish to limit the size of the water droplets.
The 90-degree pivoting fan head complete with oscillating louvers will keep a large area cool, with a choice of just fan or fan and mist. While this unit does have three speeds, at just 298CFM on the highest setting, it does not move as much air as a lot of other units. However, given its extra high water flow, it does still cool effectively.
Highly durable, this robust outdoor misting fan is a favorite for BBQing in areas with low humidity, providing plenty of large droplets to keep pitmasters and guests alike refreshingly cool.
Pros – Things we liked
Compact design
Three fan speeds
9-foot water hose
Two sets of nozzles
In-line GFCI with three-prong grounded plug
Cons – Things we didn't like
Only 298 CFM on highest speed
Wets area directly in front
Best Mini Portable Misting Fan
KOODER Handheld Portable Misting Fan
For tailgating or BBQing when you're out camping, the Kooder Handheld Portable Misting Fan can help you to cool down even when you don't have mains power or a water supply. Simply recharge the USB-port rechargeable 1200mAh battery and you can run this handheld fan for up to six hours.
Fill the spray container from a water bottle or tap and when you feel uncomfortably hot, simply press the button at the rear to cool off. While the manual spray button is obviously less effective than having a fully automatic misting fan, this helps to save valuable battery life and makes it possible to use in areas without a water hose.
This lightweight handheld misting fan is highly packable and a must for any BBQ away from home. You can use it freestanding or close up and handheld for extra refreshment. On the downside, as it is so portable, unfortunately, the water container has a very low one fluid ounce capacity, although you're likely to have water on hand anyway to refill.
Inexpensive, easy to use, and complete with good battery life, whether you're out grilling at the beach, in a national park, or even in your backyard, the Kooder Handheld Portable Misting fan can most definitely help you to stay cool while BBQing without a power or water supply.
Pros – Things we liked
Compact and portable
USB-port rechargeable 1200mAh battery
Up to 6 hours run time
Lightweight
Use freestanding or handheld
Cons – Things we didn't like
Manual spray button
Low one fl oz capacity
Best Professional Quality Misting Kit
iLIVING Cooling System Fan Misting Kit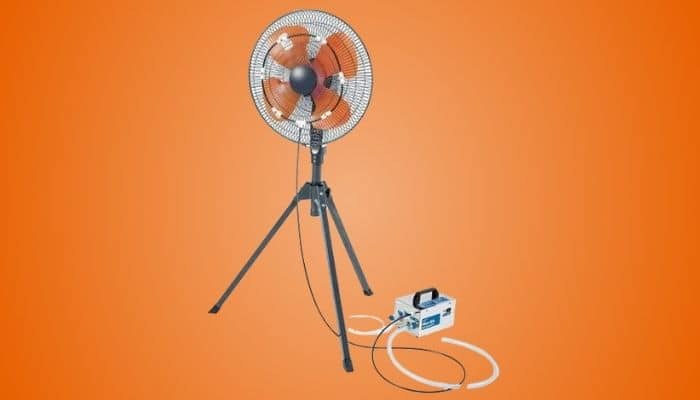 Looking for a professional-quality misting kit for a fine, high-pressured mist like you get at commercial and sporting venues?
The Cooling System Fan Misting Kit by iLiving is more than capable of replicating that fine, refreshing mist – so much so it is suitable for both indoor and outdoor use, so you can use it while you're out grilling in the evening and indoors during the day.
Thanks to its 12 liters per hour misting capacity (3.17 gallon) complete with six high pressure, anti-drip misting nozzles, and a 200 PSI pump you get an effective, fine cooling mist. A ¼-inch T-connector is included for inlet and outlet, although you will need to purchase an adaptor to connect this misting kit to a garden hose. The pump's durable stainless steel housing ensures a long lifespan and the flexible nylon tubing makes for an easy setup.
While this misting kit is a great choice for use with large containers of water or a garden hose, bear in mind that you will need to supply a fan to use with it. All in all, if you are looking for a professional quality misting kit to provide a fine and refreshing mist at home, this one is the one to go for with its high-pressure nozzles and 200 PSI pump.
Pros – Things we liked
Durable stainless steel housing
Misting capacity 12L per hour
6 high-pressure anti-drip misting nozzles
200 PSI pump
For indoor and outdoor use
Cons – Things we didn't like
Fan not included
No hose adapter included
Best Rechargeable Table Misting Fan
Aasonida USB Rechargeable Personal Cooling Mister Fan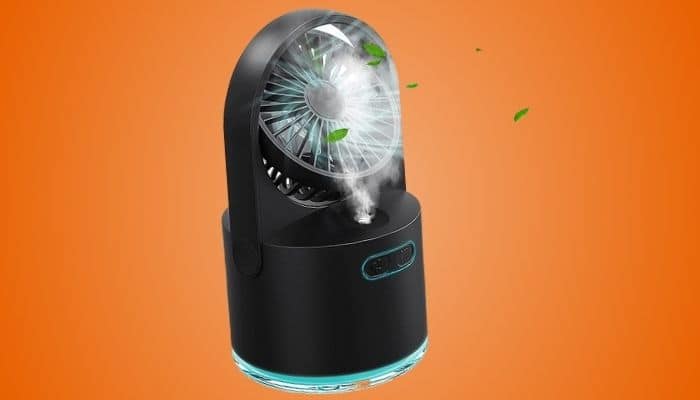 The USB Rechargeable Personal Cooling Mister by Aasonida can be easily placed right next to where you grill, without the need for any power points or water hoses. Its 2000mAh battery can simply be charged up via USB in just three hours, giving you between three to nine hours of operation depending on your selected speed.
Choose between three fan speeds and two spray modes, either continuous or intermittent. Unlike other budget-priced, compact misting fans, this model automatically mists so you can keep your hands free for your BBQ. However, note that the mist is not very noticeable, and being small, this unit is best reserved for one-person use.
Another advantage this model has over similar small master fans is its comparatively large 300ml water tank for less frequent filling. When the sun starts to set, this table misting fan also makes a good focal piece that will help you to create a relaxing ambiance thanks to its discreet yet colorful mood lighting mode.
While this is a small table misting fan, it works well enough to cool one person at close range, plus being battery operated with its own water tank, it's a good choice for staying cool while you tend to the BBQ.
Pros – Things we liked
Three fan speeds
Continuous or intermittent spray modes
Rechargeable via USB
300ml water tank
Colorful mood lighting mode
Cons – Things we didn't like
Mist isn't very noticeable
Best reserved for one-person use
Best Clip-On Misting Fan
OPOLAR Battery Operated Cooling Misting Clip-on Fan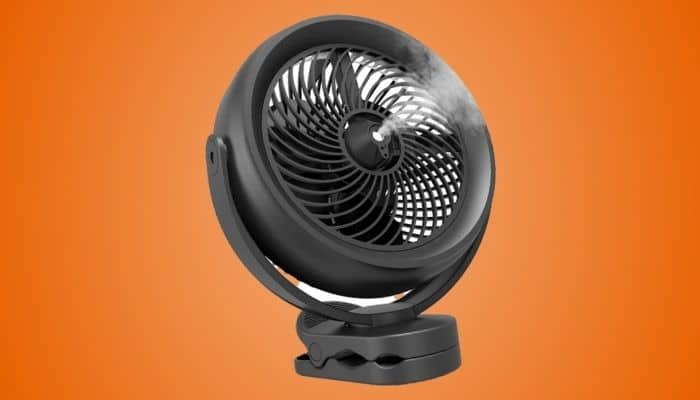 Clip the Opolar Battery-Operated Fan onto your grill's side table for a continuous breeze when you're grilling or spare your guests the heat by clipping one onto your patio furniture. Thanks to its three speeds, you can select just the right airflow, while the misting function can be either set to intermittent or continuous.
With its detachable 10000mAh battery, this handy eight-inch fan can run between 6-48 hours off just one charge depending on your operation settings. Rotate it 360 degrees both vertically and horizontally to get a good breeze going just where you need it. Its highly practical design makes it an ideal choice for clipping onto your grill gazebo structure or patio awning.
Unfortunately, this model does not have a high-capacity water tank or the option to hook it up to a garden hose. However, by setting it to mist intermittently, you will decrease the number of times it will need filling during your afternoon's grilling.
As this clamp-on misting fan has just one central misting nozzle, it is less suitable for areas with a very hot and dry climate, where the mist will be much less noticeable.
Pros – Things we liked
Three-speed operation
Detachable 10000mAh battery
360-degree rotation
Two mist modes
Secure clamp
Cons – Things we didn't like
Small water tank
One misting nozzle
Best Budget Portable Misting Fan
HandFan Portable Handheld Misting Fan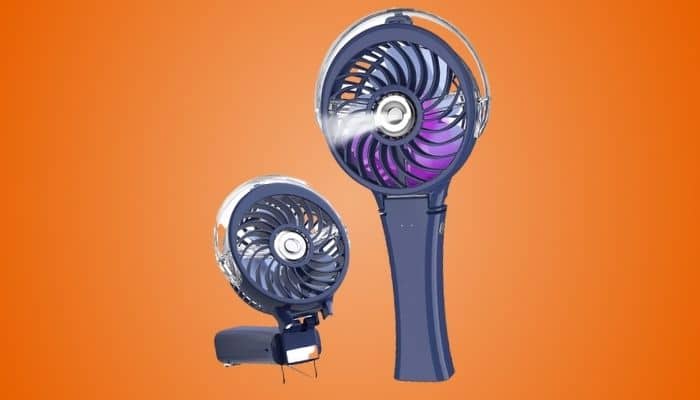 If you are looking for a compact misting fan to use on the go, as well as when you're having a BBQ, the HandFan Portable Handheld Misting Fan is a good budget option. What's more, this particular model can fold over 180 degrees to make for easier storage and transportation, or to be used on your tabletop in hand's free mode.
This mini mister fan has an impressive battery life between 3-13 hours depending on the fan speed selected, low, medium, or high. Use the one button control to switch between fan speeds and activate or deactivate the misting function. As you would expect for such a small model, the water tank does not hold a lot at just over half a fluid ounce or 17ml.
When using on the go, you can quickly refill this unit with the included small water bottle, however, bear in mind that the misting function will automatically stop after 10 minutes and need to be reactivated. While non-essential, the colorful nightlight mode cycles through seven different colors making a pretty focal point for your evening BBQ.
Inexpensive, easy to use, and highly packable, if you are looking for a budget-priced portable misting fan, this model makes a top choice.
Pros – Things we liked
Three-speeds
Adjusts to table or handheld mode
Includes small water bottle for refills
Battery duration 3-13hrs
Colorful nightlight mode
Cons – Things we didn't like
Small 17ml water tank
Misting automatically stops after 10 minutes
Best Bucket Top Outdoor Misting Fan
RYOBI 18-Volt ONE+ Bucket Top Misting Fan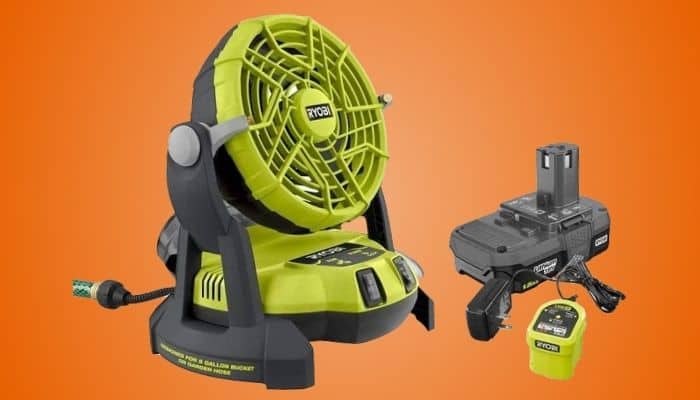 For powerful, refreshing misting wherever you are, the Ryobi Bucket Top Misting Fan is an excellent model.
Cool off with this battery-operated fan when grilling in your backyard or further afield. Simply charge up the included Ryobi 18-V One+ battery and you can use it anywhere with a 5-gallon bucket of water. For ease of use, you can also connect it to your garden hose when you're using it at home.
Unlike smaller battery-powered mister fans, this unit puts out a lot of water. Even on low, you get a good amount of mist, so expect nearby items to get a little wet. You can select two fan speeds and use the fan independently without the mister function. For more or less mist, select hi or low to suit the occasion and location.
Thanks to its pivoting head, you can angle this bucket top misting fan to effectively cool you down. Set it on a flat surface with a hose connection or on top of a bucket and the included battery will last for up to 3.5 hours runtime. You can, however, invest in other Ryobi One+ batteries for longer periods of usage.
Note that the bucket is not included, so make sure that you pick up a suitable one with a 12-inch opening so that your mister fan will sit securely on top. Durable, complete with two heavy-duty brass misting nozzles, this Ryobi Misting Fan is a great way to cool off when you're grilling at home or out in the great outdoors.
Pros – Things we liked
Use with a 5 gallon bucket or garden hose
Battery included for up to 3.5hrs runtime
Two fan speeds and misting settings
Quiet pump operation
Pivoting head
Cons – Things we didn't like
Puts out a lot of water
Bucket not included
Why Trust Us
All of our reviews are compiled with a combination of expert input, years of hands-on testing of grilling products, curating the reviews of real-life buyers in a "wisdom of the crowd" system, and of course our own expertise. All the products listed are the ones we would buy if we were looking to purchase a new outdoor misting fan.
Methodology Used to Pick the Best Outdoor Misting Fan
When picking the best outdoor misting fan we looked at and then rated each fan on the following criteria. Price, type of fan, is it portable, coverage, tank capacity, power supply, centrifugal mist, noise levels, speed, and safety features.
Buyer's Guide to Buying the Best Outdoor Misting Fan
Want to make sure that you choose the best outdoor misting fan? As it's not always that easy to differentiate between the different types of models and features, we've compiled this handy outdoor misting fan buying guide – take a read through and make your purchase with confidence.
Price
There are a wide variety of different types and sizes of outdoor misting fans available at a huge range of prices.
Small, handheld models start at around $20, whereas professional quality systems can come in at several hundred or even thousands of dollars. Handheld models aside, you can get a perfectly adequate freestanding, table, or bucket top model suitable for your family BBQ for around $80-$200.
Paying out more will get you a higher quality system that produces a finer, high pressured mist. However, if you are new to setting up and using outdoor monster fans at home, you may want to see how you get on with a more economically priced model before spending big bucks.
Spending a few hundred dollars rather than under $100 should get you a better quality model with a longer lifespan. Higher price tags often also equate to larger models that will be more suitable for cooling a larger area and by extension, larger groups of people.
Fixed or Portable
Consider purchasing a portable outdoor misting fan if you frequently tailgate or go competition grilling.
Portable models are also useful when camping or grilling in the great outdoors. Opt for a fixed outdoor misting grill if you are looking for convenience and high performance, but don't need a model that you can use elsewhere.
Looking for the best of both worlds? Consider a battery-powered outdoor misting fan that can also run off an adapter with the option to run off your garden hose or a bucket of water.
While portable models will never be quite as easy to run at home without any intervention, there are plenty of good hybrid models that you can comfortably use at home and away.
Size and Coverage
It goes without saying that a portable model will need to be more compact than a fixed one for easy transportation. Compact models will have a smaller coverage area than larger ones. However, mister fans with pivoting heads can still give you extensive coverage without taking up too much extra space.
For large patios and BBQ gazebos that can accommodate a lot of guests, consider a large fixed mister fan. If you have a smaller outdoor grilling and entertaining area or rarely have more than 2-4 persons, consider a smaller unit with a smaller coverage.
Tank or Tankless and Tank Capacity
Portable units feature a water tank that will need to be refilled, whereas tankless units run off your garden hose. A bucket top outdoor misting fan gives you a good compromise with a large, easy-to-fill tank in the guise of a five gallon bucket. Portable handheld units tend to have very small tanks under half a fluid ounce.
Some portable units can also be used with a garden hose, making them a more practical choice for use at home as well as when you're tailgating or competition grilling. It is well worth considering a unit that can simply attach to your garden hose for hassle-free usage at home, especially if that is where you primarily BBQ.
Power Supply
Long grilling sessions and lazy evenings spent on your patio are going to require a mains-powered misting grill. If you also are looking to use your misting fan when you're camping or grilling at a picnic spot, then a battery-powered model is going to be more useful.
If you are considering purchasing a battery-operated misting fan, make sure you look at the manufacturer's anticipated runtime. Bear in mind that these figures often take into account the lowest fan speeds and can be considerably shorter at top speed with the misting function switched on.
Ideally, you should look for a misting fan with additional batteries available, so you can switch out your battery for a fresh one and extend your runtime. This will also allow you to keep a spare one charged up.
Misting Nozzles and Centrifugal Mist
Most of the cheaper units available on the market have misting nozzles that release small droplets of water.
For more effective cooling without getting drenched, look out for systems with high-pressure pumps and very small nozzle outlets. These systems create a fine mist that will keep you cool without getting you wet as the finer water particles are quickly evaporated resulting in cooler air.
Centrifugal misting systems tend to cost a lot more than standard outdoor misting fans with nozzles. They utilize a central spinning plate from which a very fine mist is emitted. While they do cost more, you get a finer spray for faster more effective cooling without dampness.
Also, you don't have any nozzles to clog up, meaning less maintenance cleaning and more economical water usage.
Noise Level
Fans can be pretty noisy. However, outdoor misting fans are not as noticeably loud as ones used indoors, especially when used at family get-togethers and the like.
If you are looking to use your outdoor misting fan in a very quiet area and are sensitive to noise, then you'll want to look out for a model with a brushless motor and adjustable speed settings so you can turn it to low for less noise.
Speed, Oscillation, and Angles
To keep your entire patio seating area several degrees cooler, you'll need to look out for an outdoor misting fan that has adjustable speeds and a rotating head.
Misting fans with a full 360-degree tilt will allow you to locate them at a good distance so you don't get wet but are still able to direct the cool air flow to where you are sitting. Oscillating models are a good choice for a larger area or larger groups of people.
Most outdoor misting fans, even the most basic versions, will have at least two speed settings. Others may have three to four, with some models allowing you to fine-tune your fan speed with stepless speed control.
Safety Features
As water and electricity don't mix, it's essential that all misting fans have the necessary safety features. As you would expect, your misting fan should be fully waterproof and come with several safety shut down protections built in.
Misting fans that are plugged into mains power may also have a ground fault circuit interrupter (GFCI) which can help to prevent electrocution should your electrical circuit come into contact with water.
Assembly & Ease of Use
Some minor assembly may be required for certain models. If you are uncertain what this may entail, make sure that you take a look at any available manufacturer's documentation before you buy.
You should also double-check that all of the necessary components required for your setup are included or else readily available to order. For example, a hose or faucet adapter may be required in addition.
Most misting fans are incredibly easy to use, especially large, fixed versions. Some small handheld models can take more getting used to, especially ones with just one main button that controls power, fan speed, the misting function, and any other features such as a light.
Such models may require a combination of presses or long presses to access speed or misting settings.
Indoor or Outdoor Use
If you are looking for an outdoor misting fan that you can also use indoors, you'll want to increase your budget considerably, or risk getting your interior a little damp! Professional-quality misting fans produce a very fine mist that immediately evaporates and are suitable for both indoor and outdoor use.
Do not use a misting fan that is only recommended for outdoor use indoors, unless you are in an area of your home where you can easily wipe up any excess water, for example in your kitchen.
What are the Different Types of Misting Fans?
Make sure that you choose the correct type of misting fan for your needs. Here are the most popular types of misting fans on the market.
Standalone Misting Fans
Standalone misting fans can be easily moved to another part of your deck, patio, or grilling area. They have a height-adjustable stand, plus you can also rotate the body to ensure that your airflow is directed where you need it. Some models have an oscillating setting where the fan turns from side to side, ideal for covering a large area.
Wall-Mounted Misting Fans
If you have a fixed entertaining or grilling area and don't need a misting fan that you can move around your deck, a wall-mounted misting fan makes a great opinion. Not only will you no longer have to worry about tripping over any wires, you'll also save on space.
Wall-mounted misting fans are best connected to your garden hose or outdoor faucet, otherwise, you will struggle to fill them up regularly, especially if they are located high up.
Remote control models are preferable, as are larger more powerful units if you are intending on locating yours at a distance on the framework of your grill gazebo or the wall of your house.
Small Portable Misting Fans
A lifesaver when you're out and about in the heat, small portable misting fans can also be highly useful when you can't step away from your grill. Place it next to your outdoor cooking station and cool off as your ribs heat up.
For small patios, a portable misting fan will still help you to cool off, plus you can also take it with you when competition grilling or tailgating.
Handheld Misting Fans
Handheld misting fans can bring welcome relief from the heat for a very reasonable price. If you are on a tight budget or are looking for an extra misting fan for when you're tending to your grill, a handheld model is going to be the most economical option.
Misting Fan Kits
Misting fan kits can be a good money-saving option if you already own a good fan and are looking to upgrade it to a misting one. They are easy to install and come in a variety of models, from comprehensive, high-performance misting kits complete with high-pressure pumps, to basic ring adaptors that simply attach to your garden hose and rely on your water pressure.
How Effective are Misting Fans at Keeping you Cool?
Misting fans are much more effective at keeping you cool than regular fans. Used all over the world in bars and restaurants, at sporting venues, and even by the military, misting fans can drop the temperature even over large areas by as much as 20-30 degrees.
Thanks to their ultra-fine mist, the water evaporates almost instantaneously in the surrounding air. The evaporative process removes heat from the air, reducing its temperature, so you get a cooler breeze than you would from a regular fan that simply blows hot air at you.
Do Misting Fans Work in High Humidity?
While misting fans are at their most effective in hot, dry climates, you will still notice a cooling effect in high humidity areas.
For example, even with humidity levels in the upper fifties at 100 degrees F, a good outdoor misting fan can still cool the surrounding air by 15 degrees.
So if you struggle to stay cool on hot and humid summer days, an outdoor misting fan is definitely going to be a welcome source of relief.
Top Misting Fans Video
Final Thoughts
Don't let the summer heat ruin your BBQ. Outdoor misting fans are a great way to cool down, even when faced with high humidity levels. Luckily, there has never been a better time to invest in an outdoor misting fan with so many excellent models to choose from. Just remember to focus on your needs and outdoor setup before choosing the best model.
If you are still struggling to decide, we recommend taking another look at the popular Geek Aire Battery Operated Patio Misting Fan. It covers a good area with a powerful 1500 CFM output and 360-degree tilt. Use it plugged in via the adapter or take it away from home with its long-lasting 150000mAh battery.
Alternatively, if you already have a good quality fan, treat yourself to one of the best high-pressure misting kits around – the iLiving Cooling System Fan Misting Kit. Complete with a 200 PSI pump and a 12L per hour misting capacity, this professional-quality kit produces an ultra-fine cooling mist for effective cooling without drenching you or your meal.
Looking for a budget handheld option? The Portable Handheld Misting Fan by HandFan can be folded for tabletop as well as handheld use – handy for a quick setup on your grill side table. Compact, with a good battery lifespan, this mini misting fan can help you to stay cool while you get your BBQ served up both at home or out in the great outdoors.