Using up your BBQ leftovers after spending the day smoking a full brisket or pork butt doesn't mean that you have to spend the next three days eating the same thing. Invest in the best vacuum sealer and preserve your home-smoked meats to enjoy at a later date.
You can also use your vacuum sealer to sous vide cook your steaks evenly through, before tossing them on your hot grill for a fast sear and smoky flavor. Here's how to choose the best vacuum sealer.
Best Vacuum Sealers
Looking for a reliable vacuum sealer to really make the most of the delicious results from your long weekend grilling session? Here is our top-rated selection of the best vacuum sealers on the market.
Best All-Round Vacuum Sealer
NESCO VS-12 Deluxe Vacuum Sealer with Bag Starter Kit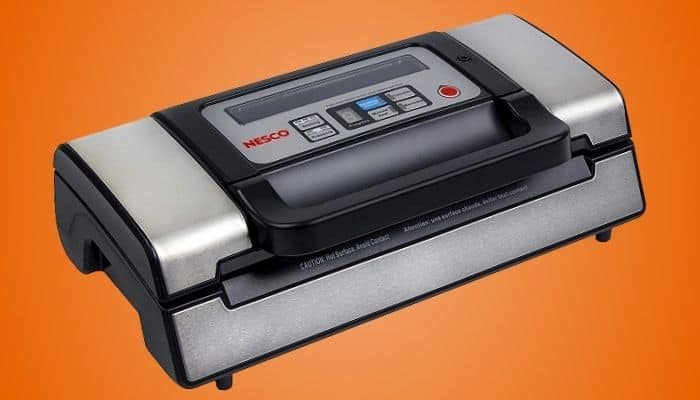 The Nesco VS-12 Deluxe Vacuum Sealer is our overall favorite model thanks to its high functionality, easy-to-use variable settings, and great durability. Featuring a strong 130 W double vacuum pump rated 25.1 InHG, this top-rated vacuum sealer ensures maximum air extraction.
Select from three seal settings, dry, moist, or double for extra security when sealing liquids. Once sealed, choose between normal or gentle suction for softer foods, or opt for the pulse vacuum function for user-controlled air extraction – ideal for fragile items. So whether you are sealing up your leftover smoked brisket or marinating your steaks ahead of grilling, this vacuum sealer can handle all of your needs.
Capable of accommodating bags with a width of up to 11.8 inches, this vacuum sealer is a good choice for storing large quantities of leftover smoked meat. Thanks to its easy-lock handle, you can operate it with just one hand and the built-in bag storage and cutter will keep your countertop neat and tidy. It takes all brands of vacuum bags and comes with two rolls to get you started.
While there are faster and quieter models around, for the money, this vacuum sealer really is an excellent buy for sealing all of your extra smoked meats when smoking in bulk thanks to its high reliability and powerful suction, complete with a double sealing option.
Pros – Things we liked
130W 25.1 InHG double vacuum pump
3 seal settings and variable suction
Takes up to 11.8" width bags
Easy-lock handle
Built-in bag roll storage and cutter
Cons – Things we didn't like
A little noisy
Slow when doing multiple seals
Best Compact Vacuum Sealer
Anova Culinary Precision Vacuum Sealer for Sous Vide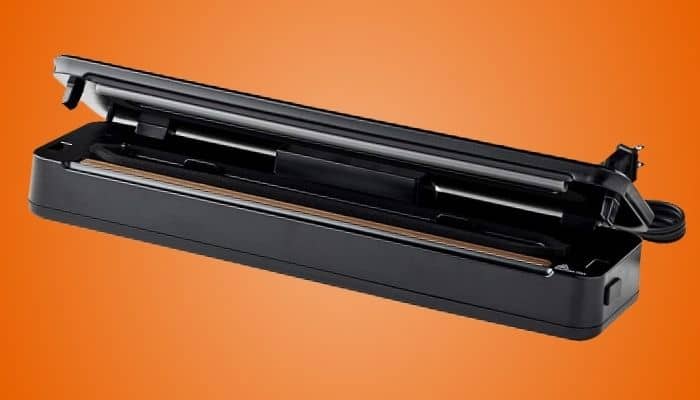 The Anova Culinary Precision Vacuum Sealer is a good entry-level sealer that has a simple interface and a compact size – ideal if you are looking for a space-saving, easy-to-use model. Thanks to its basic three-button control system, it's very easy to get started vacuum sealing what's left of your smoked pork butt or any other large cuts of meat that you've smoked.
As a simple starter model, this vacuum sealer does not have an integrated cutter, so once you have used up the 10 included pre-cut bags, you'll need to cut any future rolls that you purchase or stick to the pre-cut variety. Use the seal button with open-ended bags, then press on the vacuum and seal button once your ingredients are in and you're ready. The pulse vacuum function allows you to seal liquids and fragile items.
This little vacuum sealer is pretty quick, however, at just 13 InHG of vacuum strength with an 80W motor, it is not very powerful in terms of how much vacuum it actually pulls. Still, it certainly is a handy little sealer and is very easy to use.
What's more, it also comes with a 100-day money-back guarantee, so if you decide it's not good enough and you want to spend more on a stronger model with more features, you can simply return it.
Pros – Things we liked
Compact size
Simple three-button interface
Pulse vacuum function
Includes 10 pre-cut bags
100-day money-back guarantee
Cons – Things we didn't like
Low 80W 13 InHG vacuum strength
No built-in cutter
Best Value Vacuum Sealer
NESCO VS-02 Food Vacuum Sealing System
Much cheaper than the deluxe version, the Nesco VS-02 Food Vacuum Sealing System makes a good value option for storing your leftover smoked meats or for cooking steaks sous vide before you sear them on the grill.
This fully automatic food vacuum sealer has a 130W motor with 23 InHG vacuum power, making it more powerful than most other budget priced models, although it is fairly noisy when in use.
Use the seal-only function to store delicate foods without sucking the air out of your bag or the vacuum and seal button to remove the air from your bag and automatically seal it afterward. If you are using ultra-thick bags or want to seal moist foods, the time sealer switch can be used to extend the sealing time to ensure a good seal. Use the cancel button to stop the unit at any moment.
The convenient bag roll storage compartment and built-in bag cutter makes this unit very easy to use. However, while it can easily accommodate any brand of vacuum bag rolls up to 11.8" wide, unfortunately, the compartment is very difficult to open.
Complete with a cord storage area for a neat and tidy finish, this unit can also be used with additional accessories to seal canisters. All in all, a great buy for the money.
Pros – Things we liked
130W motor with 23 InHG vacuum power
Seal time selection switch
Full automatic one-touch operation
Cancel button
In-built bag cutter and roll storage
Cons – Things we didn't like
Roll storage compartment is tricky to open
Fairly loud
Best Easy to Clean Vacuum Sealer
NutriChef PKVS Vacuum Sealer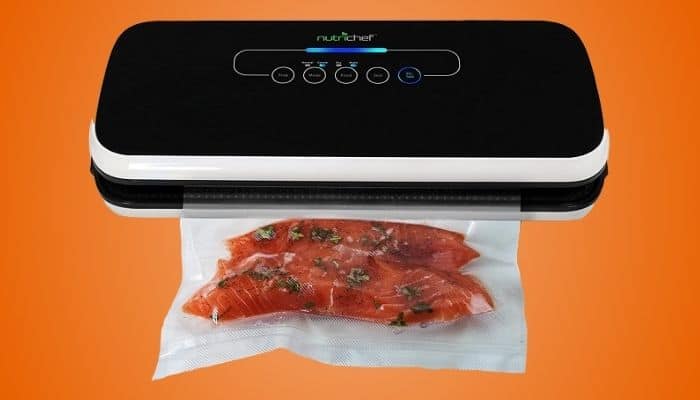 The NutriChef PKVS Vacuum Sealer has a stylish looking, sleek black modern exterior.
Thanks to its stain-resistant housing, it is very easy to wipe clean in the event of any accidental spills. While the manufacturer does not provide a vacuum strength reading in InHG, with its 110W motor, we can assume that it is around average for vacuum sealers in this price range.
This vacuum sealer has a soft-touch digital control center complete with LEDs. Choose from normal or gentle mode, plus moist or wet food. Use the seal button to seal an open bag or vac and seal to automatically vacuum your BBQ leftovers and seal up the air-free bag.
Thanks to its handy in-built bag cutter, it's easy to cut bag rolls to size without searching for your scissors. This model also comes complete with five pre-cut bags, an extra-long roll of bags, and a wine stopper cork so you can seal up opened bottles and keep them fresh.
While this isn't the most reliable vacuum sealer and the instructions are not very well written in English, on the whole, it's a handy, easy-to-use item for occasional use, especially when you want to save your beef jerky or other home-smoked meats.
Pros – Things we liked
Two sealing modes – dry or moist
110W motor
In-built bag cutter
Soft-touch digital LED control center
Includes wine stopper cork and bags
Cons – Things we didn't like
Poor English instructions
Not very durable
Best Budget Vacuum Sealer
Mueller Automatic Vacuum Air Sealing System for Food Preservation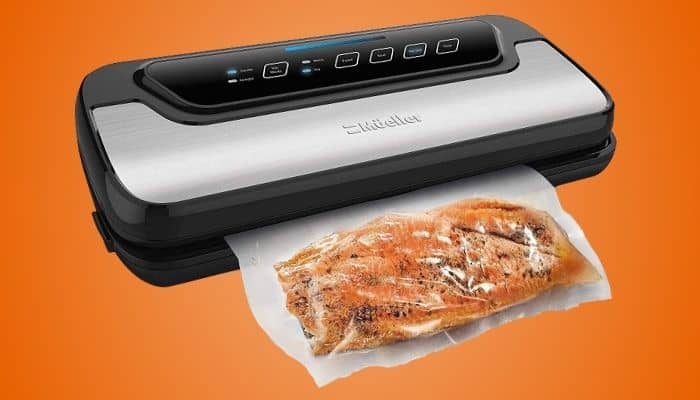 If you are looking for an easy to use vacuum sealer on a budget, the Mueller Automatic Vacuum Air Sealing System could be your ideal model. Its modern styling features a fully automatic control panel complete with LED indicator lights and touch-sensitive controls.
Choose from dry and moist sealing settings, as well as gentle or airtight vacuum modes depending on what you are vacuum sealing, to get the best results every time. Unlike other more expensive models, this vacuum sealer comes complete with an air suction hose for use to seal canisters.
A selection of bags, five medium pre-cut ones and a long roll are included with your purchase. Just be aware that this unit does not feature a built-in bag cutter, so you'll need to keep some scissors to hand.
Also, unlike more expensive models, you may find that the seal produced by this unit is a little thin, although you can always do a second one to be extra secure.
Pros – Things we liked
Dry & moist food sealing settings
Fully automatic control panel
Gentle or airtight vacuum modes
LED indicator lights
Includes air suction hose for canisters and vacuum bags
Cons – Things we didn't like
No cutter included
Thin seal
Best Premium Vacuum Sealer
Avid Armor Vacuum Sealer Machine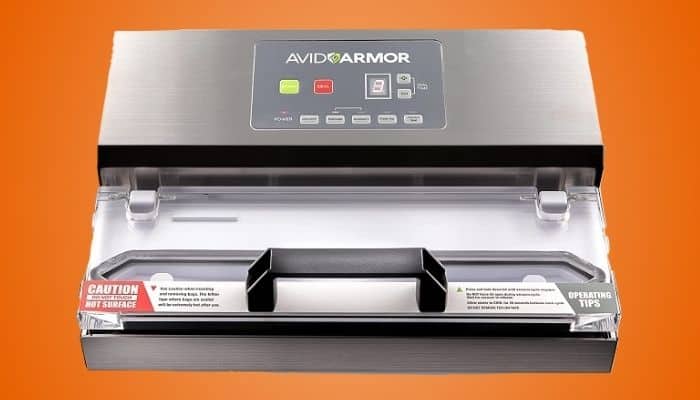 If you're fed up with getting faulty seals when vacuum sealing your meat off your smoker, you need to upgrade to this heavy-duty Vacuum Sealer Machine by Avid Armor. It is most definitely worth paying out the extra for such a well designed, highly effective vacuum sealer.
Made from a highly durable stainless steel construction, this model is a world apart from your standard plastic vacuum sealers. It features a powerful 450W motor that gives it 27.5 InHG vacuum suction – the highest you'll get on a non-professional vacuum sealer. Not only does it provide superior vacuum strength, it also has a double piston pump with a cooling fan to allow you to vacuum and seal bag after bag of freshly smoked meat.
Another advantage of this particular unit is that it gives you a good 5mm wide seal, ensuring your sealed food stays airtight. Easy to use, simply press the clearly labeled buttons to select your food type, while the LED display allows you to alter your seal time to suit your bags. There is also a pulse vacuum mode and an accessory port for marinating and canister sealing.
While this powerful vacuum sealer does not have an in-built cutter or bag storage, it is a highly practical model that will save you a lot of wasted time and frustration that often comes with budget priced models. Instead you'll get a highly reliable seal and impressive suction every time.
Pros – Things we liked
Powerful 450W motor with 27.5 InHG vacuum suction
5mm wide secure seal
Adjustable seal time
Durable stainless steel construction
Double piston pump with cooling fan
Cons – Things we didn't like
No roll storage
No built-in cutter
Best Chamber Vacuum Sealer
VacMaster VP210 Chamber Vacuum Sealer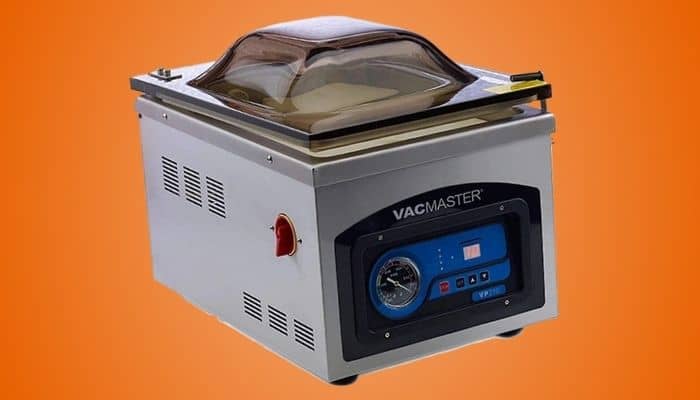 If you vacuum seal a lot of food from your grill and are also looking for a really high-performance chamber vacuum sealer that can handle liquids and liquid-rich foods, the VacMaster VP210 is definitely going to be a game-changer for you.
You place your bagged food to be vacuum-sealed inside the chamber and close the lid while the machine removes all of the air from the chamber, then seals the bag before allowing air to reenter the chamber. Thanks to its exceptionally high 27-29 InHG suction levels that simply cannot be reached by external vacuum sealers, plus its 10" seal bar complete with a double seal wire, you get perfectly sealed food every time.
Both the vacuum and seal time are adjustable, while the dry maintenance-free pump ensures exceptional longevity. Made from durable stainless steel, this chamber vacuum sealer is the very best choice for completely sealing fresh meat, marinades, and any other moist or liquid BBQ dishes and sides.
On the downside, at 72lbs, it is very heavy, plus the price tag is also substantial. However, it truly is an exceptional piece of kit for keeping your fresh food stored for longer.
Pros – Things we liked
Excels at vacuuming liquids and liquid rich foods
10" seal bar with double seal wire
Adjustable vacuum and seal time
Pressure indicator
Capable of reaching 27-29 InHG suction levels
Cons – Things we didn't like
Very heavy – 72lbs
Expensive
Best Space-Saving Vacuum Sealer
GERYON Automatic Food Sealer Machine
If you are looking for a compact, space-saving vacuum sealer to occasionally seal your BBQ leftovers, take a look at the Geryon Automatic Food Sealer Machine. This inexpensive, ultra-lightweight food vacuum sealer weighs just 2.2lbs and measures 2.5 x 5.4 x 14.6 inches, making it easy to store even in small kitchens.
Its simple three-button interface allows you to vacuum seal your BBQ meats and other dishes with next to no hassle and no complicated programming. Select seal or vacuum and seal to preserve your food for longer than you could by simply putting it in your fridge or freezer without sealing. Use the stop function to control vacuum levels and protect fragile foods.
Despite its small size and low price, this compact unit has a decent enough 110W motor providing 0.8 bar pressure which equates to 23.63InHG vacuum suction power. This unit comes complete with five individual bags and a long roll, so you'll be ready to start vacuum-sealing your smoked meats right out of the box.
On the downside, it does not have an attachment available for vacuum sealing mason jars, so if that's something you may like to try, you'd be better off opting for another model.
Also, this vacuum sealer is best suited to occasional, infrequent use, requiring a minimum of 40 seconds pause between each seal.
Pros – Things we liked
Compact and lightweight design
Simple three-button interface
Stop function
Rated power 110W with 0.8 bar pressure (23.62 InHG)
Includes 5 individual bags and a long roll
Cons – Things we didn't like
No attachment available for mason jars
Needs at least 40 seconds pause between seals
Best Vacuum Sealer with a Long Guarantee
FoodSaver FM2100-000 Vacuum Sealer Machine System with Starter Bags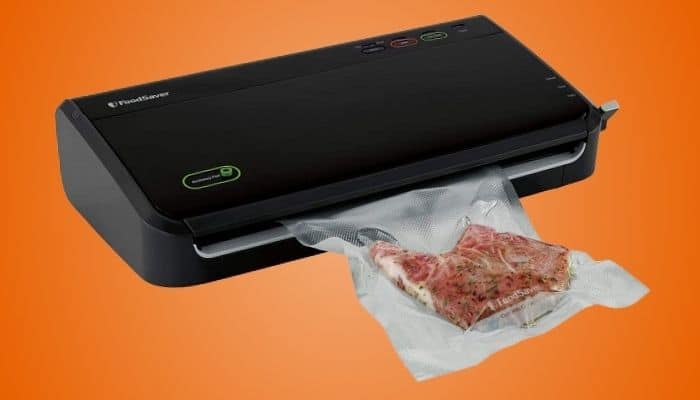 Thanks to its five-year warranty, the FoodSaver FM2100-000 is our best vacuum sealer pick with a long guarantee. It has a good 120W rated motor, plus a patented removable drip tray for easy cleaning.
Compared to other FoodSaver models, this version has been specially designed to yield more bags per roll thanks to the relocation of its vacuum trough near the front of the unit. It gives a good 2mm seal and has an accessory port with a hose vacuum for use with FoodSaver containers.
You get a set of bags and a roll included with this unit so you can start sealing your food straight away. The built-in cutter makes it easy to get your rolls cut to size without having to reach for your scissors. On the downside, this particular model does not seal moist items very well, so it's not a great option if you are looking to seal your marinades or especially juicy cuts straight off the BBQ.
For vacuum sealing predominantly dry items, the FM2100-000 FoodSaver is a good all-around choice complete with a long manufacturer's guarantee for greater peace of mind.
Pros – Things we liked
120W motor
Removable drip tray
Built-in roll cutter
Accessory port and hose vacuum
Includes bags, a roll, and a 5-year limited warranty
Cons – Things we didn't like
Doesn't seal moist items well
Why Trust Us
All of our reviews are compiled with a combination of expert input, years of hands-on testing of grilling products, curating the reviews of real-life buyers in a "wisdom of the crowd" system, and of course our own expertise. All the products listed are the ones we would buy if we were looking to purchase a new vacuum sealer.
Methodology Used to Pick the Best Vacuum Sealer
When picking the best vacuum sealer we looked at and then rated each sealer on the following criteria. Price, type of sealer, vacuum power, controls and functions, accessories, noise, roll width, built-in cutter, and bag storage.
Buyer's Guide to Buying the Best Vacuum Sealer
Struggling to choose the best vacuum sealer to keep your home-smoked meats fresher for longer? Here's our buyer's guide, covering all of the essential vacuum sealer features, so you can select the best model for your needs.
Price
External vacuum sealers for home use can cost anywhere between $40-$500 and over. It is not unusual for chamber vacuum sealers to cost in excess of $1,000. So, how much should you spend on a vacuum sealer for preserving your home-smoked meats and BBQ leftovers?
While some of the cheaper models work pretty well for the money, spending between $100-$200 generally gets you a machine with a more powerful motor and more control over the vacuuming process. This will make it easier to seal fragile food items, as well as ensuring you get a better unity machine that is easier to use.
Spending over $200 will get you a more durable model that will have higher levels of suction power for longer-lasting produce. Stainless steel versions will often outlast cheaper plastic models and tend to have better fixation and locking systems.
On the other hand, it's important to consider just how much use you are likely to get out of your vacuum sealer. If it's just for occasional use, then you will probably be better off spending less money on a cheaper model and if necessary, spending a little longer getting your food correctly sealed.
Vacuum Power – Inches of Mercury
The strength of your sealer's vacuum is normally measured in inches of mercury pulled, or InHG for short. 29.92 InHG is considered to be the perfect vacuum although this is unobtainable in practice.
Inexpensive vacuum sealers typically pull at around 22-24 InHG, with higher performance models pulling at 25-29 InHG. The stronger your sealer's vacuum power, the more air it will be able to remove from your bags for longer lasting food.
Controls and Functions
More expensive models tend to have a wider range of functions and controls, making it easier for you to successfully preserve a wider variety of food types. A pulse function is really useful for vacuum-sealing delicate articles, allowing you to control the vacuuming process, so you can easily stop it before your food gets crushed.
A cancel or stop function is another popular option. Aside from enabling you to quickly cancel sealing or vacuuming, it can also be used to control vacuum levels on cheaper models. Once your food is in danger of being crushed, simply hit stop, then seal to remove a maximum of air without damaging delicate items.
Other useful functions include the ability to increase or decrease the sealing duration – ideal for when you are using thicker bags, as well as being able to switch between dry or moist settings.
Accessories
Most standard vacuum sealers come with an attachment port. This allows you to attach a tube attachment for vacuum sealing mason jars, or various other accessories designed to seal opened bottles of wine or marinating canisters.
Another useful accessory well worth looking out for is a removable drip tray for easy cleaning after vacuum-sealing moist foods.
Size, Weight & Roll Width
Most external vacuum sealers designed for the residential market measure around 12-14 inches wide in order to be able to accommodate standard 11.8-inch rolls. If you tend to BBQ large cuts then vacuum seal, you'll want a sealer with good dimensions to make it easier to deal with large portions.
If you are short on space, you may want to look out for a more compact model and consider breaking down your leftovers into smaller portions. Vacuum sealers are generally lightweight and very easy to store; however, the more durable, expensive models will weigh more which can make them a little more difficult to put away in high cabinets.
Noise
Most external vacuum sealers are fairly noisy when in operation, although this should only last for a couple of seconds while they suck the air out of your vacuum bag.
While some models can be quite a bit noisier than others, unless you have your vacuum sealer in continuous operation and have very sensitive hearing, it's unlikely to be a major issue for you. Chamber vacuum sealers are much quieter.
Built-in Cutter & Bag Storage
While a machine with a built-in cutter and bag storage will be quite a bit bulkier, it will make cutting your bags to size much easier and prevent you from misplacing your roll of bags.
For these reasons, it is much easier to use a unit with a built-in cutter and bag storage, especially if you are likely to be making frequent use of your vacuum sealer.
Warranty
Most models will be covered by a manufacturer's warranty of at least one year, although some may be covered for as long as five years. A good warranty period is a sign that the manufacturer has confidence in the quality of their product and will enable you to return it for a replacement should it fail prematurely due to a manufacturing defect.
Why Should you Buy a Vacuum Sealer?
Vacuum sealers are really useful appliances. Here are some of the top reasons to invest in one:
Prevents wasting food by keeping it fresher for longer.
Allow you to bulk buy and save money on food.
Save time by cooking larger meals and vacuum sealing portions to eat later. Ideal for when you're smoking big cuts of meat.
Store fresh produce for longer – fewer trips to the store restocking.
Prevent freezer burn when you freeze food items at home.
Perfect for cooking sous vide – your bag won't float with the air removed.
Aside from storing food, vacuum sealers can also be useful for securely storing medical supplies and beauty products, as well as giving you a waterproof seal for your electronic gadgets while you travel.
Very easy to use – once you've tried out your vacuum sealer a couple of times, you'll find they are really easy appliances to use.
Types of Vacuum Sealer
There are three main types of vacuum sealer that you are likely to come across for home use: handheld, external, and chamber vacuum sealers.
Here's all you need to know.
Handheld
Handheld vacuum sealers are not that effective. They are generally very small, meaning they have less powerful motors than external and chamber models, so they can't draw as much air out of your bag. Handheld models are designed to be used with special bags with a valve and a zip-top style fastening.
External
The most prevalent type of vacuum sealer for home use, external vacuum sealers are the best all round choice. Effective, easy to use, and reasonably priced, there are plenty of models to choose from depending on your needs, budget, and available space.
External vacuum sealers open up to allow you to place an open bag over the seal bar. When you close the unit, it pumps air out of the bag then the internal bar heats up to provide your bag with a secure seal.
For almost all home users, an external vacuum sealer will be the best choice.
Chamber
Chamber vacuum sealers are much more expensive than external or handheld models. They allow you to seal even liquids in air-tight bags, without having to freeze them first.
To use a chamber vacuum sealer, you place your food in a bag inside the unit's chamber. When you close the chamber lid, the sealer removes all air from the bag and chamber simultaneously, so you won't get any liquid spillage. The bag is then sealed before air is reintroduced back into the chamber.
Chamber vacuum sealers are more effective at vacuum sealing large amounts of food than the other two types of vacuum sealers, making them more suitable for highly regular or professional and commercial usage.
Top Vacuum Sealers Video
Final Thoughts
With so many excellent vacuum sealers to choose from, you may be struggling to make up your mind. If so, take another look over our top-rated vacuum sealer reviews, you're sure to find the perfect model for preserving your home-smoked meats and BBQ dishes.
If you are looking for a good all-around model that works well, without having to spend a small fortune, take another look at our favorite pick, the Necso VS-12 Deluxe Vacuum Sealer. With its powerful 25.1 InHG suction, three seal settings, and variable suction settings, it is one of the very best units around at a relatively low price point given its features and power.
Otherwise, if you are going to be using your vacuum sealer a lot, it makes sense to pay out more for a highly durable version with superior vacuum power and sealing capabilities. In this case, our premium vacuum sealer pick, the Avid Armor Vacuum Sealer Machine is the one to beat with its durable stainless steel housing, wide 5mm seal, and adjustable seal time, complete with an extra powerful 450W motor and 27.5 InHg suction vacuum power.
Alternatively, if you are after a good deal and want a relatively inexpensive vacuum sealer for your occasional BBQ leftovers and sous-vide cooking your steaks before searing them on your grill, check out the NESCO VS-02 Food Vacuum Sealing System, our best value vacuum sealer pick. It has a good 23 InHG suction power, a fully automatic one-touch operation for ease of use, plus a cancel button, and a seal time selection switch.