Tender, juicy, and perhaps loaded with cheese, it's no surprise that burgers are one of the most popular foods to cook on the grill. Whether you're entertaining friends in your yard, or heading to the beach for a meal with a view, getting yourself the best grill for burgers is a great way to enjoy outdoor cooking with your loved ones.
In this guide, we review the top-rated grills for burgers and tell you everything you need to know to find your ideal match.
Best Grill for Burgers
The best burger grill for you will depend on the style of burger you plan to grill. Griddles are best for smash burgers, while grills are ideal for thick, flame-grilled burgers.
In our in-depth reviews, we take a look at the best models across both categories – so you can find your perfect match.
Blackstone 28 inch Outdoor Flat Top Gas Grill Griddle Station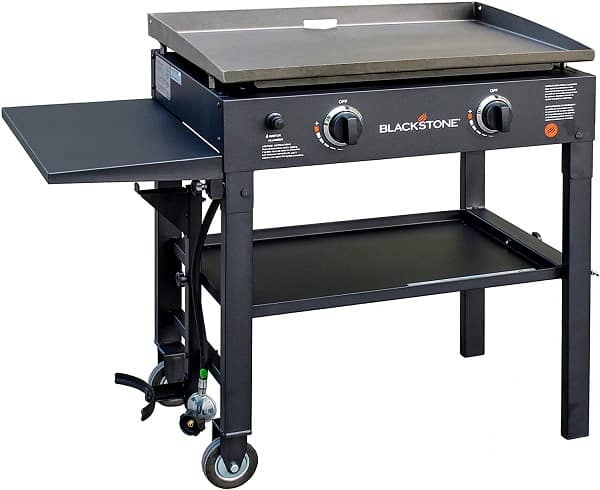 With its large grilling space and solid design, the Blackstone 28 inch Outdoor Flat Top Gas Grill Griddle Station is a great choice for outdoor cooking.
The flat griddle boasts 448 square inches of space, enough for 18 burgers, so you can cook delicious smash burgers for large gatherings and still have space for side dishes. The twin burners kick out up to 34,000 BTU and can be independently adjusted for complete control over heat output. It's also easy to fuel with a standard, widely-available 20 pound propane tank.
Built to last, this outdoor gas griddle is sturdy, yet simple to assemble – so you can spend more time cooking and less time setting up. The stainless steel burners are highly durable, and the black powder-coated steel frame can withstand the elements without rusting. The battery-powered ignition button is a welcome addition, but it's less reliable in windy conditions, so we recommend keeping a long-nosed lighter handy.
This model is ideal for backyard cooking but it's also portable enough to bring with you on camping weekends or day trips. The griddle top can be removed and the legs can be folded up for smooth transport. It also features caster wheels that meet industrial-strength standards, so you won't need to worry about wheeling it over rough ground.
All in all, this burger griddle is a great option for entertaining large groups of friends and family. It's easy to use, has a generous cooking space and high-powered burners for effortless cooking. We also like that the cold-rolled steel griddle top is easy to wipe clean, so you won't get stuck scrubbing the cooktop once dinner time is over.
Pros – Things we liked
448 square inches of cooking space
34,000 BTU
Black powder-coated steel frame
Stainless steel twin burners
Cons – Things we didn't like
Need a long-nosed lighter if windy, as the ignition button isn't great
Blackstone Tabletop Grill – 22 Inch Portable Gas Griddle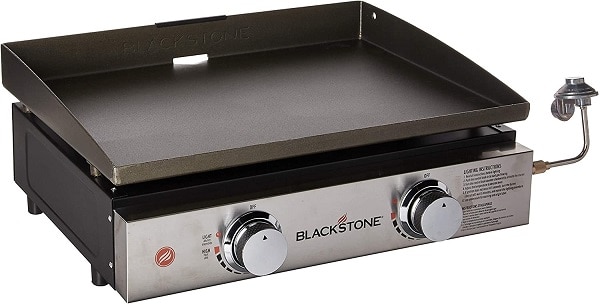 If you're looking for a highly-portable burger griddle for camping, tailgating or picnics on the beach – the Blackstone Tabletop Grill – 22 Inch Portable Gas Griddle is well worth a look.
Compact yet powerful, this portable gas griddle offers 339 square inches of cooking space, which is enough to cook burgers for 12 people. It features twin H burners, with a combined heat output of 24,000 BTU for fast cooking. The rear hood also helps to keep heat contained for evenly-cooked results, especially in windy conditions.
Each burner can also be independently controlled, so you can cook smash burgers on one side, and adjust the temperature on the other side for vegetable dishes or as a keep warm area. For maximum portability, this model is designed to be used with 1 pound propane cylinders, but you can also use an adaptor to attach 20 pound tanks if you wish.
As a tabletop griddle, this model has rubberized feet for better grip when cooking on uneven ground. The height of the legs can also be adjusted as required, so whether you're cooking up burgers on grass, sand or rocky terrain – this griddle will remain stable.
Once you've finished eating, another great feature of this portable burger griddle is that it's easy to clean. At the rear of the griddle is a grease drain, so you can simply pour it away, wipe the griddle surface and get back to enjoying the view.
Be sure to read and watch our full Blackstone 22-inch review if this is the grill you are interested in buying.
Weber Master Touch Kettle Grill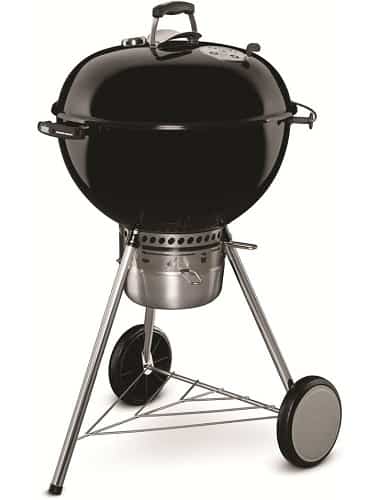 Featuring a porcelain-enameled lid and bowl, generous cooking area and attractive design – the Weber Master Touch Kettle Grill is a popular choice. It has tall legs for comfortable grilling and sturdy, all-weather wheels for portability, so it's perfect for outdoor cooking with friends.
This charcoal kettle grill offers a 363 square inch cooking grate. This is enough cooking space to grill 13 burgers at once, so you and your guests can enjoy your food at the same time. The dual charcoal baskets allow you to create both direct and indirect cooking areas, so you can cook flame-grilled burgers and side dishes simultaneously without the risk of burning.
The porcelain-enameled lid and bowl help to keep the heat retained inside, for quick and evenly cooked results. And if you need to adjust the temperature, simply open and close the rust-resistant dampers for precise temperature control. Open them up to let more oxygen inside (increased heat), or close them over a little to temper the flames.
A built-in temperature gauge in the lid displays accurate temperature readings, so you can be sure that the heat is just right before cooking. The tuck-away lid holder means you can remove the lid without placing it on the ground and getting it dirty. There's also a useful hook on the side of the grill for hanging your utensils – great for keeping them close to hand and away from the heat.
Once your burgers are cooked, if you or your guests aren't quite ready to eat, you can use the convenient warming rack at the edge to stop them from getting cold. And after you've finished your meal, this model features a smart "one-touch" cleaning system for mess-free cleanup. Simply pull the lever in the base to sweep the ash into the catcher, remove and tip away.
The only downside to this model is that it can take a little while to assemble. However, once you've got it set up, the range of features and ease of use make it a fantastic option for outdoor grilling with friends and family.
Weber Go Anywhere Portable Charcoal Grill for Burgers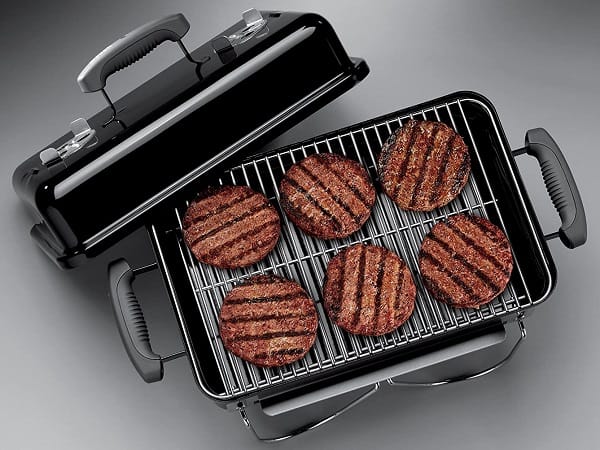 Next on our list is the Weber Go Anywhere Portable Charcoal Grill for Burgers. Another compact and lightweight choice, this model features comfortable side handles and is great for day trips, camping or picnics on the beach.
Best suited to small gatherings, this portable charcoal grill has an 160 square inch cooking area – enough grill space to cook up to 6 flame-grilled burgers at once. The curved metal legs fold out to provide stability on uneven ground, while the plated steel cooking grate is durable and retains heat, for evenly cooked results.
This model is simple to use, making it a good option for beginners. The inner grate has a close mesh design for supporting the charcoal, and the upper grate just slots in above for you to place your food over the coals. It's quick and easy to set up in just minutes, so you can get dinner going in no time.
The built-in dampers in the lid give you control over the cooking temperature, so you can adjust it in seconds to prevent burning and flare-ups. Furthermore, the porcelain-enameled lid and base conducts heat and is also resistant to rust and peeling, so you can be sure this grill will stay looking good season after season.
When it comes to cleaning up, the grease drip tray in the base can be removed for emptying. The process is a little messier than some other models, though, and you'll need to wait for it to completely cool down before you can access the ash in the base.
That said, if you're looking for an ultra-compact, portable charcoal grill for cooking up burgers on the go – this model is a great option.
Kamado Joe High End Charcoal Grill For Burgers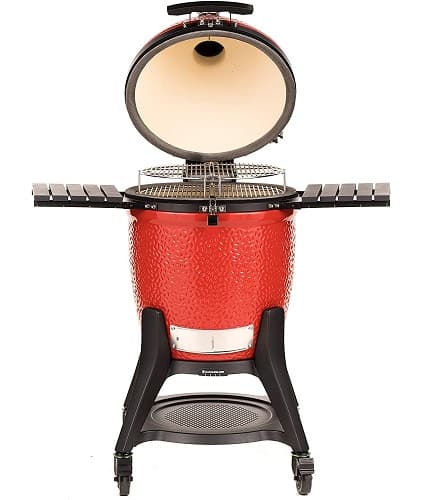 The Kamado Joe High End Charcoal Grill For Burgers is a premium choice from one of the leading grill manufacturers on the market. With a feature-packed design and high-end build quality, this charcoal grill is sure to impress your guests.
Ideal for big gatherings, the Kamado Joe grill has a large 18-inch cooking area so you can grill up tasty flame-grilled burgers for several people at once. The charcoal basket slots into the base and holds a generous amount of charcoal for hours of cyclonic heat, making it perfect for BBQ parties that run late into the night.
If you're worried about burning your burgers, this grill gives you ultimate control over the temperature so you can avoid embarrassment. Not only does it have a dual-tier rack for multi-level cooking, but it also features two air vents, one on the lid and one in the base, which can be adjusted to fine-tune the temperature in moments. If you're unsure, the built-in temperature gauge on the lid is very accurate, so you can keep a close eye on the heat for best results.
With its ceramic outer construction and galvanized steel rolling cart, this charcoal grill is built to last. The sturdy lid has a specialized "airlift" hinge that reduces its weight by 96%, so it feels light to lift and won't slam down suddenly if someone knocks it.
This model is pretty heavy, so it isn't as portable as more compact models we have seen, but the real drawback is its price. As a premium charcoal grill, it is one of the most expensive on our list. However, if you're looking for quality, versatility and ease of use, the Kamado Joe High End Charcoal Grill For Burgers is tough to beat.
Royal Gourmet Regal 2-Burner Propane Gas Grill Griddle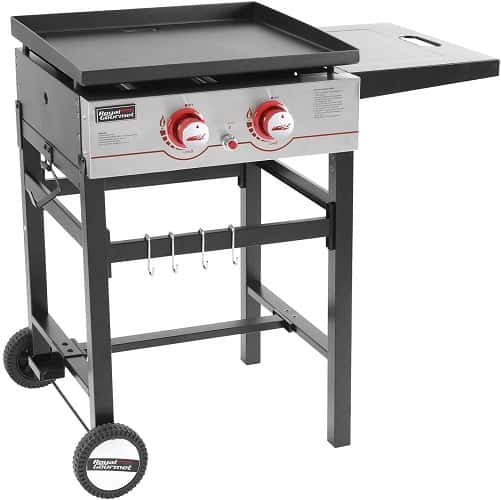 Next up is the Royal Gourmet Regal 2-Burner Propane Gas Grill Griddle. With its 486 square inch cooking area, this portable grill for burgers is ideal for cookouts with friends.
Offering enough space for 20 burgers, you can prepare plenty of food for you and your companions. The thick, ceramic-coated steel griddle plate is durable and heats up quickly, so there's no waiting around to get dinner started. Beneath the griddle plate, the twin propane burners boast a total output of 26000 BTU and can be independently controlled for maximum flexibility.
This burger griddle is easy to get started, thanks to its electric ignition system. Simply turn on the gas and push the button to get it fired up and ready to go. The heat is distributed evenly across the griddle for thoroughly cooked results, so everyone can enjoy their burgers at the same time.
For extra convenience, this model also features pull-out side tables to expand your available workspace. These can be used to prepare side dishes or as a serving area for your guests to load up their burger buns and add condiments. Furthermore, there's a low hanging bar with adjustable hooks on the front of the grill, so you can keep all your utensils within easy reach.
We also like that this model has a large grease collection cup for easy cleanup. A small opening at the back of the griddle plate allows grease to drain into it, so you can simply remove the cup and pour it away once you're done.
Overall this model is an excellent choice when entertaining big gatherings. The generous cooking space enables up to 20 people to enjoy burgers at the same time with no waiting around and the large caster wheels are sturdy enough to transport this grill over bumpy ground.
Royal Gourmet PD1300 Portable 3-Burner Propane Gas Grill Griddle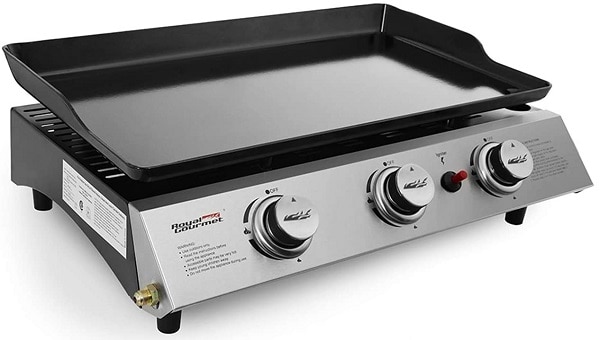 Looking for something ultra-portable? Then the Royal Gourmet PD1300 could be just what you need.
At only 24.1"L x 13.5"W, this compact griddle is perfect for camping, days at the beach or road trips with friends. The 325 square inch griddle features a non-stick porcelain enamel coating and offers enough space to cook up to 10 burgers at once, so everyone can enjoy their meal with a view at the same time.
This model may be small, but it still packs a punch. It features no less than three, stainless steel ring burners that each have an output of 9,000 BTU. Combined, this gives an impressive cooking power of 27,000 BTU – for rapid heat up, even heat distribution and perfectly cooked burgers. It comes complete with a regulator for 20 pound propane cylinders,
Another plus point of this model is its ease of use. The built-in ignition piezo system makes startup hassle-free, allowing you to get grilling in mere minutes. Adjusting the temperature is simple, too – thanks to the stainless-steel control panel and large dials for each burner. Furthermore, the sturdy legs in the base ensure this griddle stays stable on uneven ground, so you can enjoy freshly-cooked burgers wherever you choose.
In line with other models we have seen, the Royal Gourmet PD1300 features a built-in grease collection cup for easy cleanup. The griddle itself is also simple to clean by just wiping it down with soapy water and a paper towel after use.
In summary, we think this griddle is an excellent portable choice for outdoor cooking where you have limited packing space. It's easy to use, even for beginners and the compact design is powerful despite its size.
Royal Gourmet 24 Inch Charcoal Grill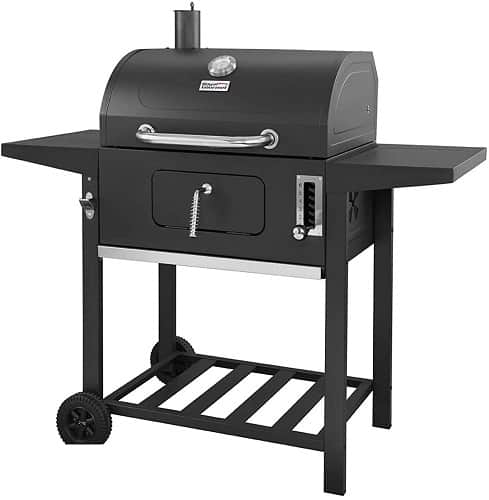 If you plan to host large parties, then the Royal Gourmet 24 Inch Charcoal Grill is well worth checking out.
This model features 393 square inch cooking grates, as well as a further 205 square inch warming rack. Its impressive size means you can cook juicy, flame-grilled burgers for groups of 10 people.
Built to a high quality, the cooking grates are made from porcelain wire that works to retain heat and distribute it evenly for perfectly cooked results. The additional warming rack is great for keeping your freshly-cooked burgers warm and ready to eat, so your guests can come and grab one whenever they please.
The access door in the front of this grill allows for easy loading and tending of charcoal without having to lift out the grates. Once loaded and lit, you can use the handy lever on the outside to raise or lower the charcoal pan to adjust the heat.
The built-in dampers help you to tweak the temperature even further, and the large temperature gauge on the lid ensures you can keep everything under control without burning. Once you've finished cooking, the pull out ash pan in the base makes cleanup much less of a chore.
Another great feature is the two side tables that provide additional space for prepping and serving your burgers. These tables are sturdy, easy to clean and can be folded back down to save storage space.
This grill isn't the most portable option on our list, so it's best suited to backyard burger flipping, rather than camping or road trips. However, it does have two durable wheels so you can move it around your patio with ease.
Camp Chef Expedition 2X and 3X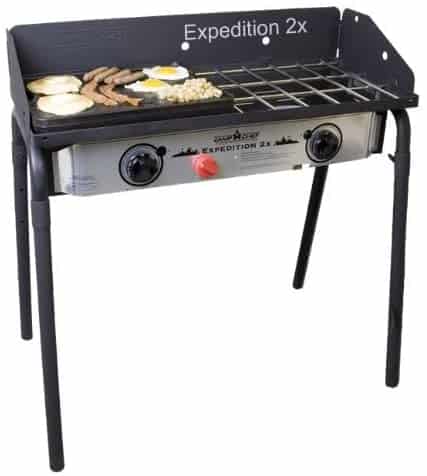 Last but not least, we have the Camp Chef Expedition 2X and 3X. Available in a choice of either two or three 30,000 BTU burners, this highly portable model is great for camping, tailgating, RVing or road trips.
Ideal for versatile cooking, the Camp Chef Expedition comes complete with a pre-seasoned fry griddle that can be placed over the burners, so you can cook over the flames for flame-grilled burgers, while also cooking up some smash burgers on the griddle. This flexibility is great for side dishes too, as you can prepare vegetables, eggs or fried potatoes at the same time.
Made from heavy-duty steel with a built-in carry handle, the Camp Expedition is ready to go right out of the box and built to withstand the challenges of the Great Outdoors. The legs can be removed for easy storage and hassle-free portability, while the three-sided windscreen ensures you can keep cooking if the wind picks up.
This model comes with a connector that will fit any to any standard propane tank, so you can pick the right size to suit your desired cooking time. The heat from the powerful burners can be adjusted with the large control knobs on the front panel – making it easy to tailor the temperature as required.
It also has built-in diffuser plates that distribute the heat evenly, so you won't need to worry about any hot or cold spots – as well as a built-in grease drain for easy cleanup.
Considering its versatile, portable and simple to use design, we think this model is a worthy pick at an affordable price.
Griddle Insert Options
If you love flame-grilled burgers but would like to have the best of both worlds, a griddle insert is a great solution. Designed to be placed over your propane burners or charcoal, griddle inserts allow you to expand your cooking options quickly and easily.
The Double Play Reversible Grill & Griddle is a good choice for extra versatility. Pre-seasoned and made from highly durable cast iron, this rectangular model features a textured griddle on one side for meats and vegetables, and a smooth side on the other for eggs, pancakes or sandwiches.
Alternatively, if you have a compatible Weber grill, the Weber 7421 Gourmet BBQ System Griddle is worth a look. This round griddle insert has a smooth surface and a raised lip around the edges to prevent food from sliding off. It also features a porcelain coated, non-stick finish for easy cleaning.
For a stainless steel option, we recommend the onlyfire Universal Stainless Steel Griddle. This griddle insert features a built-in grease drain, sidewalls, detachable handles and vents for even airflow.
Buyer's Guide for Buying the Best Grill for Burgers
Still struggling to decide which grill is best for burgers? In this section, we tell you everything you need to consider before purchasing.
Price
Burger grills are available in a wide range of prices, with something to suit all budgets.
Basic charcoal grills can vary in price from as low as $30, while large, premium models can fetch more than $2000. Good quality gas grills usually start at around $100 but feature-packed models can also reach prices in the thousands.
The best grill for you will, of course, depend on your budget and intended use. If you're looking for a grill for burgers to use on the occasional day trip or camping weekend, then a basic model will suit just fine.
On the other hand, if you cook outdoors frequently or host large gatherings, a more versatile model with additional features would be a better choice.
Griddle or Grill
Whether you choose a griddle or grill for your burgers depends on your preferences.
When using a grill, the burger has direct contact with the flame, therefore making grills the best choice if you prefer fat burgers and the authentic taste of flame-grilled meat. In the case of charcoal grills, you can also mix up the fuel source to enhance the flavor. Charcoal imparts a delicious smokey taste, but you can also add wood chippings for a different flavor.
Grills are better for thick burgers and create a crispy chargrilled layer as the fat drains off. Griddles, on the other hand, retain the juices as the fat doesn't get "cooked off" like it does on a grill. Instead, the fat melts out and mixes with the oil on the griddle beneath the burger.
Griddles are best for smash burgers as there's no rack for pieces of meat to fall through. And because they are cooked in their own fat, burgers cooked on a griddle maintain their moisture well, for juicy and flavorsome results.
Fuel
You generally have two fuel choices for burger grills: charcoal or propane.
In terms of flavor, most people prefer charcoal due to its authentic smokey taste. Charcoal also provides a drier heat than gas, which is great for getting a good sear on the meat.
On the downside, charcoal can be messy and take some time to reach cooking temperature. It can also be frustrating to keep the temperature stable as the coals flare up or begin to die down.
Propane grills are easy to use, especially for beginners. They can be started up in seconds, reach high temperatures almost immediately and the heat can be accurately adjusted at will. They are also easier to clean and smoke-free.
However, burgers cooked on gas grills will not have the same smokey taste as those cooked over charcoal, which may be a dealbreaker for some people.
Combo
If you love the authentic taste of charcoal grilling but also appreciate the ease of use that comes with propane grills – a combo grill is a great solution.
Combo grills have dual-fuel capabilities, so you can get the best of both worlds in one unit. They usually have separate charcoal and gas sections, so you can choose which side to cook your burgers on and use the other for side dishes.
Size
The total cooking area of grills for burgers is measured in square inches. Often, this measurement will encompass both the cooktop and any warming racks, so it pays to check this before ordering.
The right size grill for you depends on your lifestyle. For groups of up to 6 people, a grill that has a minimum cooking area of at least 160 square inches is a good choice.
For bigger gatherings (or hungrier guests) we recommend opting for a grill that has a cooking area of at least 320 square inches, while large parties of 18 people or more are best suited to grills of 450 square inches or above.
It is important to remember not to cram too many burgers at once onto the grill, otherwise, you won't have space to flip them for even cooking. Therefore, it's always better to have a little more space than you think you'll need – just in case unexpected guests show up.
We recommend leaving around 25% of your grill space free at all times, so you have enough room to manage your cooking.
Intended Use
For backyard parties, a large freestanding grill is the best option. But if you're planning to grill at home and also at the beach or away on camping trips, you'll need a compact grill for burgers that is easily portable.
The best portable options feature adjustable, fold-out legs, built-in handles and locking lids. For models with fixed legs, look for those that have durable caster wheels for easier transportation.
Build Quality
As with any outdoor product, build quality is an important consideration. A well-made grill should be sturdily constructed and able to withstand the elements, so that it can last for years to come.
The best grills are made from durable materials like stainless steel, cast iron or cast aluminum. They may also have protective coatings such as porcelain enamel to increase strength and prevent rust.
Griddles and grates should be made from welded or cast metals. Stainless steel or cast iron are good choices, but again, porcelain-coated options will have greater durability over time.
Temp Control & Gauge
Temperature control is the key to evenly cooked burgers. The last thing you want is to serve your guests a burger that's black on the outside and raw in the middle.
Charcoal grills can be a little more complicated to control than gas grills. You should look for models that have dampers in the lid and base, so you can limit airflow when necessary to temper the flames. Some premium models may also have adjustable racks that allow you to lift and lower the height of the coals to control the heat.
Gas grills are easier for beginners. To control the temperature, all you need to do is turn a knob on the control panel to increase or lower the gas output and, therefore, the heat level.
For both charcoal and gas grills, a built-in temperature gauge is a useful addition. This allows you to monitor the temperature accurately without resorting to guesswork.
Final Thoughts
When choosing the best grill for burgers it is important to consider your preferred cooking style and intended use.
For backyard parties with friends and family, we recommend opting for the Kamado Joe High End Charcoal Grill For Burgers or the Blackstone 28 inch Outdoor Flat Top Gas Grill Griddle Station. Both models feature a sturdy, well-built design, are easy to use, and have ample cooking space to serve several people at once.
If you're after something more portable for weekend trips, camping and days on the beach, the Weber Go Anywhere Portable Charcoal Grill or Royal Gourmet Regal 2-Burner Propane Gas Grill Griddle are well worth a look. The Weber has enough space to cook up to 6 burgers at once, while the Royal Gourmet is better for large groups with its 20 burger capacity. Both models are compact, highly-portable, and have a wealth of features that make them easy to use.
Lastly, for versatile cooking, we recommend the Camp Chef Expedition 2X and 3X. This is available in a choice of either two or three burners and comes with an extra griddle that can be placed on one side, so you get the best of both worlds. Great for backyard cooking as well as out on the road, the Camp Chef is portable, durable, and ready to use right out of the box.
These are just a few of the great options we've covered in our best grill for burgers reviews. Whatever you're looking for, you're sure to find your perfect match in our selection.