If you're a fan of what we do here at Go Shindig you will know that we love everything about outdoor entertaining. We especially love our picnics and have previously waxed lyrical about the joys of an Italian Picnic. The Campari Spritz cocktail is THE perfect drink to accompany such a shindig as not only is Campari 100% bona fide about as Italian as it gets, it also offers a bold, crisp and boozy taste to compliment the antipasto and other wondrous Italian foods you might be enjoying.
Not that you should limit your enjoyment of Campari Spritz only to such occasions! This is a drink that can be enjoyed anywhere, any time. My favorite time to enjoy it however is in the blazing sun when I've worked up a properly good thirst that needs quenching.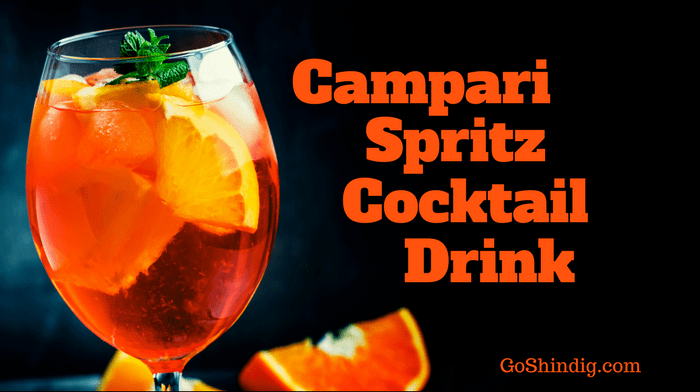 Having spent many a year in and around the Med, this is a drink that you simply can't escape. It seems to be everywhere. There are many heated debates which I gather have been running for as long as time itself which revolves around the battle of Campari Spritz vs Aperol Spritz. For my two cents, they are both awesome drinks but the Campari Spritz cocktail just shades it. It's just a personal preference but I find the Campari Spritz to hold a bit more of a pronounced taste on the palate.
How to Make a Campari Spritz
Campari Spritz Recipe
3oz/90ml Prosecco
2oz/60ml Campari
1oz/30ml Club Soda
Orange twist to garnish
Campari Spritz Cocktail Equipment
Making a Campari Spritz
1. Fill the balloon glass with ice cubes
2. Pour the prosecco into the glass
3. Pour the Campari into the glass
4. Pour the club soda into the glass
5. Stir the drink with the bar spoon
6. Garnish with the orange twist
Campari Spritz History
I have vague memories of my mom drinking wine spritzer when I was young and it's this drink that the Campari Spritz owes its existence to.
The spritzer is a drink that consists of equal measures of white wine and soda and was born in Austria. The Spritz (there are many variations), in its earliest form, was conceived in the 1800s when outsiders coming into the town of Veneto in Italy were not used to the unusually high alcohol content of the local wines. To counter this they asked for it to be diluted with water so it approached a taste that they were accustomed to.
With the 1900's came the introduction of carbonated drinks and so the spritz evolved which saw its appeal reach a much more mainstream crowd. In Veneto, the Spritz is made from local wines, namely Pinot Grigio, Prosecco and Soave yet it is Prosecco which you will find on almost any modern menu outside of this region.
Campari Spritz Variations and Tips
The brief history above tells us the origins of the Spritz but as alluded to there are many variations of this drink. To make a true Spritz cocktail, given that a cocktail needs at least three ingredients, we need to add a bitter liqueur, although modern spritz recipes quite often don't even require the liqueur to be a bitter one. Some alternatives to Campari include:
Aperol – Probably the most famous Spritz. Aperol is softer on the palate than Campari.
Cynar – With notes of artichoke, cloves and pepper.
Select – Similar to Aperol but with more of a vanilla taste.
Cointreau – Offers the same orange tones as the Apertivos but without the bitterness.
Campari Spritz Mocktail
It is not an easy task to make a non-alcoholic version of Campari Spritz but it is possible with a little imagination. Firstly, we can easily replace the Prosecco with an alcohol free sparkling wine alternative.
To replace the Campari is slightly more difficult however. What I have done, and I have to warn you that it's not perfect, is use some angostura bitters and orange syrup mixed in a shaker. Although bitters do contain alcohol, you only need 3 or 4 drops due to the taste profile, so the intake is negligible. If you really need to go totally alcohol free you can try these specially made bitters.
All that's required after this is the club soda which thankfully doesn't need replacing.
Great Gifts for Campari Spritz Cocktail Drinkers
Amazon has a great selection of gifts for cocktail drinkers. Below are some that they offer that will be good for people who enjoy Campari Spritz Cocktails.