Smoking meat generally means putting in a long shift around the grill. The positive side of this is you can enjoy several nice cold beers and listen to some tunes, so it's seen as all just part and parcel of the low and slow cooking experience. However, there are times when you'd rather not be chained to the grill and have the freedom to join in other activities or festivities your neighborhood has to offer. This is when a BBQ temperature controller comes in handy.
The scope and functionality of products that are marketed as BBQ/Grill/Smoking temperature controllers or regulators is quite vast. So it's best to know what you're looking for before making a purchase. In this article I'll tell you which controllers I believe are the best, as well as giving you details of things to look for when buying.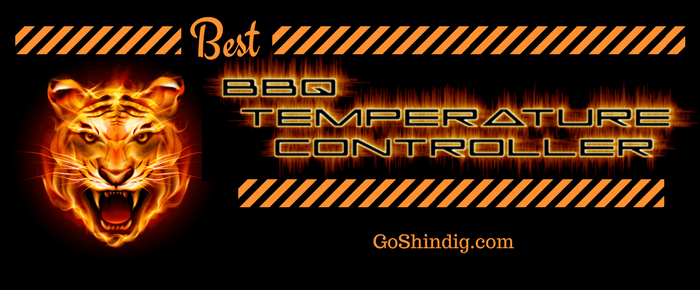 What is a BBQ Temperature Controller?
Consistent ventilation is one of the most important factors in maintaining heat in your grill or smoker. A temperature controller enters the scene in this situation.
The main aim of the temp controller is to monitor the cook chamber's temperature with what is often referred to as an ambient probe. Most controllers also have a secondary feature to measure internal meat temps with meat probes.
The probes provide precise temperature readings for both the meat and the grill. So, you can always tell if something is cooked through or not.
Additionally, you may program the controller to your desired temperature so that when the grill achieves it, an alarm will sound and you will be notified.
You must control the passage of air into and out of the smoker to get the most from your charcoal barbecues. By mounting a fan on the intake damper, the temperature controller aids in maintaining control over this.
Once everything is set up, the controller will maintain the fan's speed in accordance with your predetermined objective. The fan's speed will decrease if the temperature rises too much, and vice versa.
Best BBQ Temperature Controllers
What's the best BBQ temperature controller and what best suits your needs could well be two completely different products. And to be honest, it's a little unfair to even compare some of these gadgets. You have the basic tool that is just a vent attachment that you manually open a certain amount to aid in regulating airflow. Then you have the all-singing all-dancing WiFi-controlled unit with multiple probes, a great app and built-in algorithms to detect if the lid is open or if your meat is almost finished.
There is no point in comparing which of these is the best, but the simpler device might be all you need and therefore the better option. So I'll tell you which device is probably technically the best, then give you a rundown on what options the other devices have in case that's the temperature controller that fits your needs better.
ThermoWorks Billows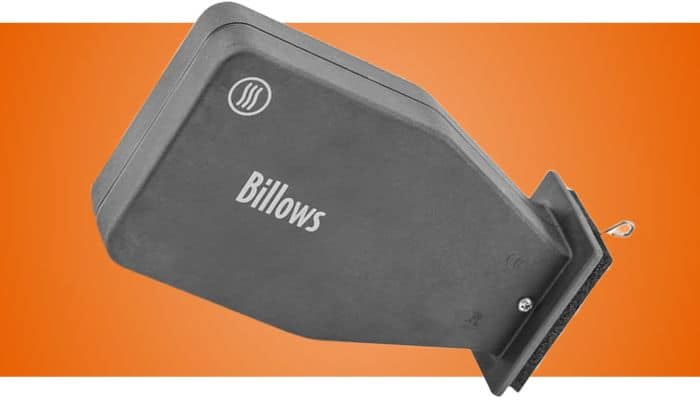 By pumping oxygen into the cooking chamber, The Billows fan controls the barbecue's temperature. The Billows only functions with the ThermoWorks Signals or Smoke X thermometers, where the thermometer unit serves as the temperature control module and the Billows is the actual fan unit, you must be aware of this before purchasing the thermometer.
As a result, if you already own a ThermoWorks Signals or Smoker X, you can upgrade to a superb temperature controller for a relatively low price compared to other temperature controllers. Of course, the price increases significantly if you don't already own one of these thermometers since they are both rather pricey.
With the mounting plates, the Billows may be attached to any well-known kamado, and with a little fiddling or simple modification, to any other charcoal grill. These modifications might involve drilling a hole into your grill, so investigate this before buying. The grill having a lid is the only necessity to being able to use the Billows.
The 12 V power source and the Signals are connected by an adapter into which Billows is plugged. When the unit is connected and a temperature probe is put into Signals channel 4, the unit immediately switches to temp controller mode. Food temperature monitoring is possible using the remaining three channels, each of which has its own alert settings.
Either directly on the Signals device or through the app, the user may set the grill's target temperature. The Signals and Billows duo can really work without the phone app and without sacrificing any functionality, which is advantageous if you're somewhere without an internet connection. The Signals can still interact with your smartphone through Bluetooth if you don't have access to the internet, but you'll need to stay within its Bluetooth range to keep an eye on the progress of the cook. You may watch and manage the device from any location with an internet connection if your Signals have been set up to communicate with your network.
The fan quickly heats the cooker to operational temperature because it has a high output. ThermoWorks advises merely partially opening the higher exhaust vent, and this was successful for me.
The cooker's initial goal temperature was set at 225°F. When the target temperature of the cooker is set, the appliance automatically sets alarm limits 25° above and below the target; the user cannot change this window. The low-temperature alarm will sound when it is first activated, but it may be quickly hushed by pressing a button on the hardware or in the app.
Initially, the app that was used for the Billows didn't have open-lid detection, but due to it being the most requested feature for a temp controller ThermoWorks later added it with a software update. This is one of the great features of having apps to display information, extra features are often given to you for free after purchase via a software update. Additionally, user feedback typically influences these modifications.
FireBoard 2 Drive with Blower
There are three different FireBoard 2 models: the standard FireBoard 2, the FireBoard 2 Drive, and the FireBoard 2 Pro. You can't tell the difference between the three models by looking at the screen. However, the differences can be seen from a side view.
The FireBoard Blower is supported out of the box by both the Drive and Pro models, so no additional cables are required. Because it is the only version that supports three Type K Thermocouple probes instead of six conventional probes, the Pro version is special.
Here's an overview of everything for you:
| | | | |
| --- | --- | --- | --- |
| | FireBoard 2 | FireBoard 2 Drive | FireBoard 2 Pro |
| | | | |
| | Buy | Buy | Buy |
| Channels | 6 | 6 | 3 |
| Range | 0 to 572°F | 0 to 572°F | -148 to 1202˚F |
| Probes | 100K Thermistor | 100K Thermistor | Type K Thermocouples |
| Drive | Cable required | Built In | Built In |
I chose the Drive type because I thought the ability to use up to six probes would be more valuable than the Thermocouple probes' wider temperature range. I won't need the lower and higher temperature range that the FireBoard 2 Pro offers because I'll just be utilizing this temperature controller for smoking BBQ.
The FireBoard 2 Drive comes with a USB-C charger, a grate clip, a user manual, two food probes that track food temperatures, and one ambient probe that tracks pit temperature. The device can accommodate three more temperature probes, which are available for separate purchases.
Installing and configuring the FireBoard 2 Drive on your wireless network is simple. You merely need to download the FireBoard app to your smart device and use it to create a free FireBoard account. To add your FireBoard 2 Drive to your new account, Bluetooth-connect your smart device to the FireBoard 2 Drive.
Be advised that you must also purchase the FireBoard Blower if you intend to use the FireBoard 2 as a temperature controller. Two adaptor plates that can be used to attach the blower to various smokers' lower vents are included with the blower.
In comparison to other blowers, this blower feels heavier and more solidly constructed, and it seems like it will last a long time.
FireBoard Labs keeps innovating and enhancing an excellent product. In its class, the FireBoard 2 Drive is undoubtedly among the best. You'll adore it just as much as I do, I'm certain.
Spider Grills Venom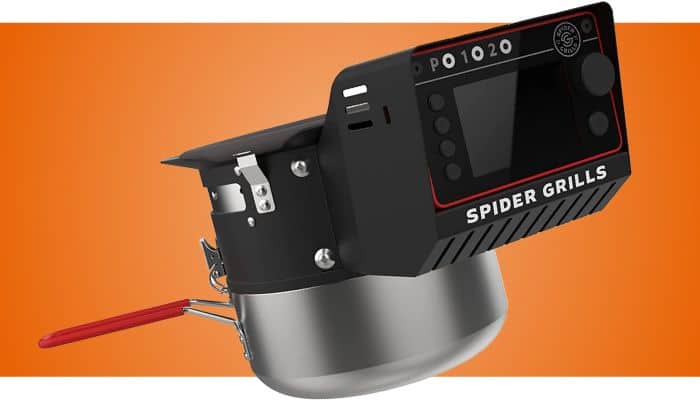 Most people, if not all, associate charcoal grills with Weber kettles. It is a cheap, practical tool with a four-decade lifespan. It's almost untouchable.
A Weber kettle may be very well-liked, but that doesn't mean it is without drawbacks. Managing air temperature on a Weber kettle while using charcoal is what I find to be the most difficult. You have to fiddle with the top vent, and the bottom vent, and then wait 15 minutes for temperature changes to stabilize. Additionally, it can be a little unpleasant when cooking a piece of meat or other food when the temperature fluctuates wildly in response to vent changes.
Temperature is determined by airflow. The kettle gets hotter as more air is infused inside. I can assure you that the temperature will soar through the roof if you introduce it to plenty of ventilation.
I eventually found a company called Spider Grills and their intriguing product, the Venom, after doing a lot of research on the topic of Weber kettle airflow management. The Weber kettle's airflow is fully controlled by the Venom, which is essentially a Weber accessory. It has a lovely display and, unlike the other temperature controllers on this list, you don't need to drill a hole in a Weber kettle to use it.
It only required a little bit of back-and-forth swiveling to install the unit, which was actually fairly straightforward. So, no issues with the installation, which is a big plus. An improvement would be if the main panel could have been removed, you could apply enough pressure on the unit until it is in place without worrying about harming the panel, and then you could simply pop it back in. Although having that would be good, it is not essential.
Next, I should mention how convenient it is that I don't need to drill a hole in the Weber kettle's base – as products like the Billow or FireBoard require you to do this. Additionally, drilling a hole voids your warranty. The Venom just replaces your ash basket with a gasket that sits nicely around the whole bottom vent. This enables the Venom to have superb airflow control. Once turned on, the Venom quickly reaches operating temperature.
A wonderful feature the Venom has for novices or individuals who don't know what they're doing is having the display show you how much to open your top vent. The Venom also had excellent temperature control; it never erred by more than 2 degrees. I was able to go shopping for a solid two or three hours without worrying at all, which is pretty impressive. Another excellent feature is that I could monitor it from my phone as it connects to Wi-Fi.
The Venom is an excellent tool all around. I adore it. I've used it numerous times with consistent outcomes. The Venom never overshot by more than 2 degrees, and once I was done cooking, it helped bring temperatures down quickly. All meals have been perfectly cooked. Also, The app will soon have a ton of fantastic features, according to Spider Grills.
Flame Boss 500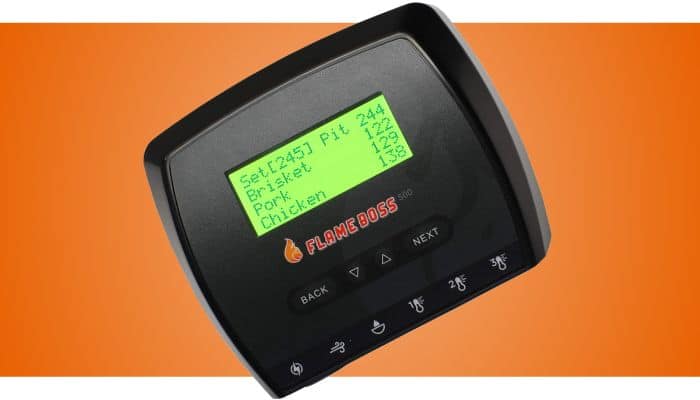 One of my favorite current temperature controller firms is Flame Boss. They've introduced some intriguing advancements to the market for automatic barbeque temperature controllers that I think will stick around. For instance, the Flame Boss 300 introduced variable-speed fans, and the Flame Boss 400 added a vast array of new online functions. Now, Flame Boss has introduced the 500.
Like many of the previous types of automatic BBQ temperature controllers from Flame Boss, the 500 comes in 2 different models. There is a type with a universal adaptor that is ideal for grills like the Weber Smokey Mountain and can fit almost any standard barbecue. The Kamado variant, which is perfect for Kamado cookers like the Kamado Joe, is another option. Make sure you choose the appropriate model so it fits your grill when you shop!
Many of the same capabilities seen in the previous versions, such as online and app integration, are present in the Flame Boss 500. Google Home and Amazon Alexa connectivity are also available. You can also set alerts for internal meat temperatures, set a timer, and even receive a message on your phone when your cook is done. Additionally, you can track your cook data via the web interface and smartphone apps, which also enable the control unit to update itself automatically each time it is turned on.
The revised and enhanced control unit, which not only has a much sleeker form but also includes a larger screen and additional controls, is the primary source of the difference between the 400 and 500 thermometers. Additionally, three probes can be used simultaneously without the use of a y-cable splitter.
The WiFi temperature control device has a sizable 4-line LCD screen with backlighting. The controller has 6 ports, including one for the power supply, three for meat probes, one for the ambient probe, and one for the blower. The mounting bracket is magnetic, which is incredibly useful for keeping it in place on any grill with a metal side shelf. If you want to install your Flame Boss 500 WiFi smoker controller in a more permanent location, it also contains pre-drilled holes for screws.
The controller or your mobile app can be used to configure WiFi. Depending on your preferred approach, consult your owner's manual for details on how to proceed. In my experience, using the app to connect the Flame Boss to WiFi was a quick and easy process.
Your smoker's temperature may be controlled precisely thanks to the variable speed blower fan. To enable use in a wide range of grills and smokers, Flame Boss has offered a selection of different grill adapters.
One high-temperature meat probe and one high-temperature ambient probe are included with the Flame Boss 500 WiFi smoker controller. Two organizers for probe cables are also included. Since the length of both probes is 6 feet, there is plenty of space between the interior of your grill and the location where you need to put the temperature controller. Additional probes can be bought separately if you want to be able to monitor more than one piece of meat at a time because the Flame Boss 500 can hold up to 3 meat probes without the need for additional cables.
The Flame Boss smartphone app allows you to monitor your BBQ pit temperature as well as meat temp throughout the course of your low and slow cook without having to physically travel to your smoker. If the cooking temperature is having trouble being kept under control, it will send you text alerts and updates. Just picture cooking a pork butt all night long without ever having to get up to check on the barbecue. As a result, you may snooze soundly knowing that Flame Boss 500 has everything under control and will let you know if anything goes wrong.
BBQ Guru UltraQ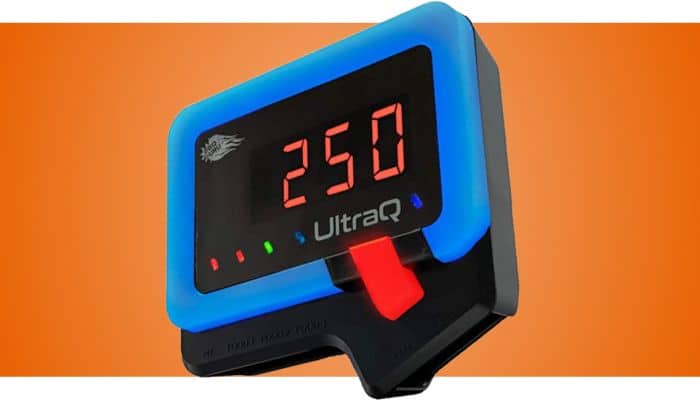 The BBQ Guru UltraQ is a four-channel, Bluetooth, and Wi-Fi-enabled wireless remote food thermometer and thermostatic controller. It can be powered by the included AC power supply or an additional 12VDC battery. It includes a mounting stand that can be fastened to a surface using either the provided screws or the stand's built-in magnet.
The display unit, which has the shape of the letter Q, displays the probe's current temperature. The color of the lighting around the display turns blue if the temperature is below the user-selectable settings. Red indicates that the cook chamber is within the temperature range. Its lights flash red when the temperature rises too much.
Depending on whatever probe's temperature data is being shown, the Q's tail changes color. The machine may cycle between the four probes, displaying the temperatures one at a time, or the user can select the desired probe. A Bluetooth/Wi-Fi connection status LED is also included in the display's lower right corner.
Utilizing the free Apple or Android app makes setting up the device simple. The Bluetooth connection is established first, and then the Wi-Fi connection is set up. The thermometer can also be operated by pressing a series of buttons on the controller itself, although you are restricted from using some of the app's functionality. The range is constrained if only a Bluetooth connection is made. The cook can be observed from any location with an internet connection if the appliance is set up to operate over Wi-Fi.
You may control a variety of the product's features and select your cooking temperature using the app. You can adjust temperature ramping, enable open-lid detection, define target temperatures, change the behavior of the temperature controller, and turn on or off the light display. For each probe, temperature vs. time graphs are also available. The control may send you a text message or email in addition to audio and visual alarms to notify you of the food's doneness and the cooker's temperature. A Wi-Fi connection is necessary for this text/email functionality. Additionally supported is Amazon Alexa.
The probes' being dishwasher-safe is a unique feature. The majority of probes are vulnerable to damage from immersion, so caution must be used when cleaning them. I'm relieved to find that with BBQ Guru's probes, this shouldn't be a problem.
The fan module connects to the cooker adapter and includes a built-in damper so you can control the amount of airflow. This is useful for reducing temperature changes brought on by thermal airflow. When the meal is finished cooking, the damper can be closed to put out the fire and conserve the fuel.
I can attest that the BBQ Guru UltraQ WiFi Temperature Controller is excellent at controlling the temperature of your smoker after using it for the past couple of months.
The various colorful lights on the UltraQ initially give the impression that it is quite complicated, but after a few cooks, these operations become automatic. The mobile app for UltraQ is no different; you'll need to spend some time getting used to it before you feel at ease.
You really start to appreciate the BBQ Guru UltraQ once you take away the flashy features and look at what it was made to do, which is manage the temperature of your smoker. Which it excels at!
There are several drawbacks to this temperature control, and depending on where you smoke most often, they may or may not be a problem. Some users might have a problem with the UltraQ's need for an external power supply, most commonly a regular wall outlet. An additional problem is a lack of waterproofing.
Inkbird Smoker Thermometer ISC-007BW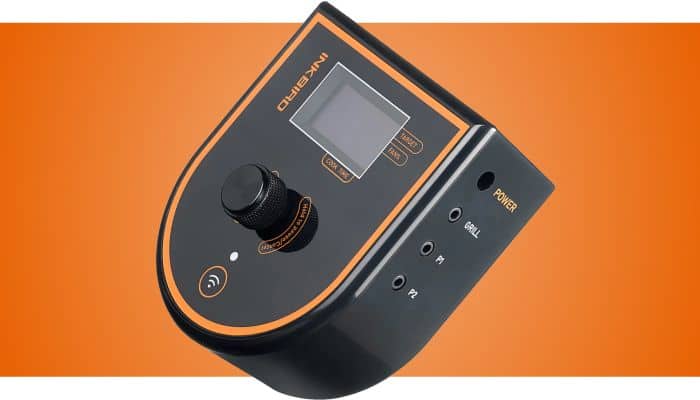 By automatically blowing air into the cooking chamber, this Inkbird thermometer is meant to transform your smoker into a set-it-and-forget-it oven. It's designed for ceramic grills like the Kamado Joe, although Inkbird does ship an adaptor for the Weber Smokey Mountain, Napoleon smokers, and many other vent-equipped water smokers.
When using the Inkbird on a water smoker, installation is a little awkward with the brackets on the vents; however, it is much simpler when utilizing a Kamado-style vent. Depending on your grill, you might need to cover any additional bottom vents with aluminum foil in order to stop any additional airflow and improve the efficiency of the Inkbird. You just need to attach the hose after the brackets are set up. Everything is pretty elementary.
I will advise you to use some form of defuser between the fan and the charcoal, and this is sound advice for all temperature controllers. The air shouldn't be directed straight onto the coals. A charcoal ring, charcoal basket, or simply some foil can be used as the defuser.
Overall, the Inkbird thermometer truly transforms your ceramic or water smoker into a set-it-and-forget-it device. In comparison to the competitors, it is reasonably priced, Inkbird is also trustworthy, and this temp controller is really simple to set up and operate.
Comparing the installation of the water smoker adaptors to that of the ceramic models, there is potential for improvement. Additionally, it appears that the software is still in its early phases of development or that it is in beta status. Since you will receive the software upgrades without charge, this is not a major problem.
Great Temp Controllers That Just Missed out
The BBQ and grilling thermometer marketplace is always evolving, and temp controller thermometers are no different from instant-read thermometers or dual probe thermometers in this respect. So I'll do my best to keep this article up to date with all the latest and greatest gear. But instead of deleting older models or thermometers that are knocked off my best temperature controller list by newer gear, I have decided to add a "great temp controller" section with these older models. My reason for this is that they are still great bits of kit, and if you can find them at discounted prices then it'd be silly for you not to consider them when making a purchase.
Table Comparing Great Temp Controller Thermometers
Flame Boss 300
Buy on Amazon

Flame Boss 300 Smoker Temperature Controller

As with most gadgets, there are normally two or three main competitors vying for the number one spot. This is good for purchasers like me and you, as it means the companies are constantly trying to innovate and at the same time keep prices reasonable. This is also the case for BBQ temperature controllers. So I'll be sure to keep this page up to date if anything changes, but for now, the Flame Boss 300 is going to get my recommendation as the best overall controller (remember what I've said above though, this doesn't mean it's the best one for you).

The Flame Boss 500 is WiFi enabled, has the option of three food probes, and a variable speed fan. This hardware is backed up with software that can detect if the lid has been opened, will keep food warm once the desired temperature is reached, and even send your phone a text telling you your food is almost ready so you better get home.

Unlike many gadgets these days, there is no need to install an App on your phone/tablet or software to your computer. The Flame Boss 500 has a dashboard for monitoring and adjusting cooks that is browser-based. This means as long as you have Chrome, Explorer, Firefox or any of the other popular internet browsers available, then you will be able to interact with the Flame Boss.

This isn't the first BBQ temperature controller Flame Boss has made, the 500 is their latest model. So if the price is too high for you, or it just has more than you need then you might want to look at the Flame Boss 200 or 100 (the price difference between the 200 and 100 is so minimal I'd definitely say you should only be considering the 200 if you're going for an early model).

BBQ Guru PartyQ
Buy on Amazon

BBQ Guru PartyQ Temperature Controller

Unlike the Flame Boss which has three different models that are iterations of the previous model, BBQ Guru has three stand-alone models that are all current in their own right – but target how people use BBQ temperature controllers differently. They have a basic, intermediary and advanced model.

I'm going to recommend the PartyQ model – which is their basic model. Does this mean I think the PartyQ is the second-best BBQ temperature controller after the Flame Boss 300? No. It's not even the second-best BBQ Guru temperature controller (it's their 3rd best). But its quality for its price makes it a bargain and even the more advanced models run off the same technology, just with more added features.

Three different BBQ Guru models. (I recommend the PartyQ)

Pitmaster IQ Temperature Regulator Kit
Buy on Amazon

Pitmaster IQ Temperature Regulator Kit

Another great company whose main focus is BBQ temperature controllers is Pitmaster IQ. And just like BBQ Guru they have three different controllers, each targeting different needs and price levels. The model I like best is their mid-level kit called the IQ120.

Three different Pitmaster IQ models

Tip Top Temp Grill Temperature Regulator
Buy on Amazon

Tip Top Temp Grill Temperature Regulator

I had to think long and hard before adding the Tip Top Temp (TTT) to this article. Not because of any quality issues or functioning problems, because this gadget does exactly what it says it does, but because people expect some sort of electrical device with a fan when they look to buy a BBQ temperature controller.

The Tip Top Temp isn't such a device and in fact is more accurately described as an advanced vent unit. However, it does help with controlling temperatures. Combine this with a price that won't break the bank and with it being useful for most types of cooks other than low and slow smoking, leads me to conclude that it's a worthwhile investment as an entry-level temperature regulator.

The only slight negative I have to say about the Tip Top Temp is the red silicone ring that's used as a suction cup to keep the device in place will not hold if you tip the lid too much. I've seen people use strong magnets as a hack to keep the TTT in place, but as I've never tried this I can't guarantee this works.
Why Do You Need a Temperature Controller?
Every experienced griller will tell you that mastering the regulation of your smoker's temperature is the key to cooking delicious barbecue.
The best barbecue can be produced when you learn how to hold a low, consistent temperature for an extended length of time (16+ hour of cooking is not unusual if you enjoy pork butts or briskets). It's not about using blends of spices, sauces, or injections (although those can help you hide your errors as you learn!). It all comes down to timing and temperature.
When examining the top smoker thermometers, I previously discussed how crucial it is to be able to monitor the pit temperature throughout a cook. The first half of the struggle is being able to keep track of the temperature. Making routine changes to the airflow to regulate the temperature while your fuel burns constitutes the majority of the work involved in smoking.
The simplicity of automatic, "set it and forget it" temperature control is what persuades hundreds of chefs to switch to gas smokers or even contemplate buying a cheap electric smoker.
But before you give up on your charcoal smoker, you should be aware that you can still maintain constant low temperatures without constantly getting up to change the airflow. You can connect a variety of temperature controllers to your smoker that will handle temperature regulation on your behalf.
Thus, reclaim your valuable sleep during lengthy pulled pork cooking sessions and transform your charcoal smoker into a set-it-and-forget-it device.
How do Automatic Temperature Controllers Work?
Oxygen is one of the primary sources of fuel for your fire, therefore it's crucial to control the airflow into and out of the chamber of your smoker or grill.
Your grill's vents allow air to enter and leave the chamber; the intake damper is located at the bottom, and the exhaust damper is located at the top.
The intake damper of your BBQ is fitted with a fan, which is connected to a temperature controller's central control system to assist in controlling this flow. The fan will adjust the oxygen intake to assist you to reach your temperature goal based on the data from the temperature probe.
All grills and smokers experience temperature variations, which can be caused by more than just ventilation. It does happen. Temperature controllers are one of the greatest ways to manage your response to these, which is crucial.
Modern models even have WiFi built in, allowing you to operate them and regulate the interior temperature from your phone. They even make pretty interesting graphs displaying the temperature logs of your grill or smoker, which is great if you're a bit of a stats nerd like I am.
When you manually adjust your vents, you frequently overcompensate, fully flipping a low temperature to a high temp, or vice versa. This is bad for cooking at low temperatures because temperature stability is so important.
A controller will keep track of temperature changes and eventually really learn how your grill or smoker responds to changes in airflow, making it a much more effective way to maintain a consistent temperature in the pit.
How to Install Your Temperature Controller
The majority of temperature controllers are actually rather easy to install. All of them will have an adaptor of some sort that connects to the smoker's bottom vent. A fan or pipe will then be connected to the controller. You'll be ready to start once you've connected your probes and provided some electricity.
It's normally vital to close all other vents so that the fan is the only source of circulation, but you should leave the top vent open just a little bit.
Tips for installing your temperature controller
Installing a FireBoard
Flame Boss 500 user guide
BBQ Guru UltraQ
Things to Look for when Buying a BBQ Temperature Controller
Before buying a BBQ temperature controller, there are many things to take into account. Isn't searching for any other bit of BBQ gear the same? Sometimes situations might become complicated, leaving you with a ton of questions and confusion in your mind.
Knowing what to search for will help you choose the finest option. I want to make this process for you very simple and uncomplicated.
Therefore, based on thousands of consumer evaluations and recommendations from other websites and countless hours of using BBQ equipment, I have compiled what I like to refer to as industry-constant options.
After a ridiculous number of hours of research, I discovered the best solutions that fit a variety of lifestyles. To assist you in making the best choice, I also created a buying guide.
Compatibility
Normally I'd put the price on the top of any list when it comes to buying something new. But with BBQ temperature controllers I think it best to highlight the danger of buying a gadget that isn't compatible with your grill or smoker. Buying the wrong controller means you merely have an expensive paperweight – so be sure to double-check.
Price
A good BBQ controller is pretty expensive, so make sure you know exactly what you are going to be using it for before you buy it. Having all the latest features is all well and good, but if they are never used then you will be paying through the nose just to brag to your mates about how great the controller is.
WiFi
This is a feature of the top-of-the-range temperature controllers. This allows you to view and change the temps of your pit remotely. It is a very impressive feature but one I'd probably say will get limited use. Considering this feature will be responsible for the bulk of the price tag I'll leave it to you to decide if you can justify it. For most long cooks all you need is a steady temperature, you'll not need to play with it once set.
Reading Precision
Finding something that consistently and consistently reads the correct temperature without fluctuating is crucial. You will never be able to grill your meat exactly if the thermometer gives you erroneous readings. It will constantly get dry and overdone.
Temperature Control
You need a temperature controller that will give you a lot of flexibility in controlling your charcoal pit. This includes simple knobs, monitoring via an app, or online graphs. You can keep the temperature stable without being physically close to the grill thanks to remote access.
Probes
A pit probe is standard with BBQ temperature controllers that can automatically (not manually) adjust temps. But maybe you'll also want to buy one with meat probes. Odds are, if you're a seasoned pitmaster, you already have a meat temp thermometer and think you'll not need this feature. This thinking is wrong because having a meat probe that works in conjunction with the temp controller allows extra features like ramping down the pit temp as the cook comes closer to finishing.
Detect an open lid
You don't want all your alarms set off and your fan ratcheting up to its top gear just because you've opened the lid for a sneaky look at the food. And it's something you'll not have to worry about if your BBQ controller has an open-lid detector.
Alarms
Hopefully you'll not need these but it's better to be safe than sorry. Yes, you're buying a BBQ temperature controller to take the effort and worry out of smoking, but sometimes things can still go wrong and the controller can do nothing about it other than to alert you to the problem. One such problem would be if you didn't add enough charcoal or briquettes, no matter how hard the controller's fan blows you'll not get the heat you require. So the temp will drop, and once below a certain point, you'll get an alarm to go off.
Temp Ramp mode
This is a great feature of some temperature controllers that have food probes built-in. The software algorithm will know the temp of the meat, the grill and your desired finishing temperature. It'll do some calculations and know when to slowly lower the grill temperature so that you don't overcook the meat.
Power supply
The manual units will obviously have no power supply. The more advanced BBQ temperature controllers will either be batteries or mains power. If this is a gadget you want to take away camping or tailgating, the odds are you'll want one that runs on batteries. If it's for your backyard grill set-up mains power might be okay.
Durability
BBQ controllers are not cheap, let's face it. They cost a lot of money, so you want to be sure you get your money's worth. So, check for products that come with a warranty and sturdy materials.
To the touch, the build should not feel flimsy and should be sturdy. As long as they are made to withstand heat, plastic controllers are acceptable. If not, it would simply dissolve. Make sure that the probes and fan are made of sturdy steel or aluminum by inspecting their construction. This guarantees endurance.
Final Thoughts
If you take your grill seriously, temperature controllers can be a great investment even though they may seem like an expensive indulgence.
The device pays for itself by allowing you to set up your BBQ quickly before bed and knowing that there won't be any temperature spikes that ruin it.
Even though I personally think the WiFi features are essential, the low-tech choices still provide all the advantages of constant temperature. If fiddling with a phone and studying temperature graphs doesn't sound like your idea of fun, there are nice alternatives.
If you believe I missed anything or if you have any personal experience with automatic temperature controllers, please share your thoughts in the comments section below. I'll try to keep this guide up-to-date with all the latest controllers as they are released and I've had time to test them.