In the world of grilling, there have been countless head-to-head championship matches. Gas vs charcoal, smoker vs grill, Traeger vs Weber, and butcher paper vs foil to name just a few. Today, though, we must decide between two very distinct but equally significant options: Big Green Egg or Kamado Joe.
The history of kamado-style cooking dates back several thousand years, and since its birth, it has undergone significant evolution to meet the gastronomic demands of BBQ enthusiasts. Due to their quaint, rustic appearance and some of the most sought-after grilling and smoking characteristics, kamado grills are highly regarded by both pitmasters and novice barbecue cooks.
A kamado grill will produce excellent results and a gourmet experience unlike any other grill after you have mastered it.
Two of the most well-known brands of commercially available kamado grills are Kamado Joe and Big Green Egg. Both of these manufacturers offer high-end, feature-rich devices that perfectly encapsulate all the best aspects of kamado grills. It's difficult to pick between them because they both have a lot to offer in terms of quality and outcomes. To the untrained eye, these grills are pretty much the same other than their distinctive colors, but having said that, each of these brands has certain distinctive qualities that set them apart from one another.
To put an end to the Big Green Egg vs. Kamado Joe argument once and for all, I'll cover everything there is to know about kamado grills in this post as well as review and compare the two leading brands.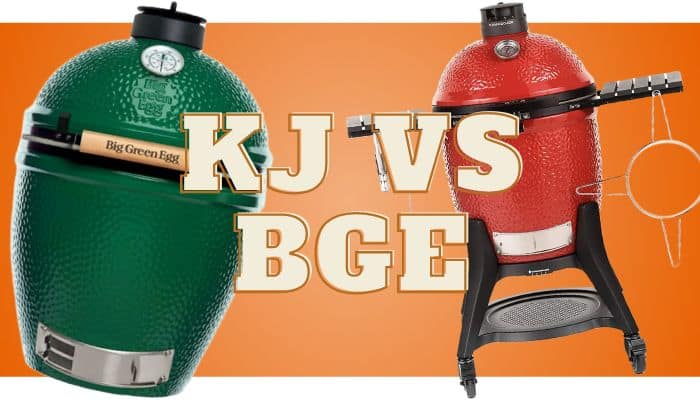 Overview of Kamado Grills
The market for kamado grills in the barbeque world is expanding. Despite the fact that this method of grilling has been used for a very long time, BBQ fans have only recently become interested in it. With flawless heat retention and distribution, these grills produce food quickly and evenly while retaining the delicious smokiness of charcoal. These grills could be ideal for you if you routinely grill or smoke and want to improve your outdoor cooking experience.
What is a Kamado Grill?
China, Japan, and India have all utilized clay and earthenware cooking pots for hundreds of years, but the modern kamado grill has only been around for a few years. Ancient cooking techniques were transformed into mushikamado rice cookers, charcoal-fired cooking appliances with a damper and draft door to regulate the heat. Americans serving in Japan during World War II returned home with these gadgets, and businessmen like Ed Fisher turned them into the Big Green Egg, the first kamado grill.
They became strong enough to survive nearly a lifetime after the clay was replaced with more resilient porcelain glazes and ceramics over time. Because of the thick sides' ability to absorb a lot of heat, these grills operate very similarly to wood-fired ovens. In comparison to grills made of plated steel, they also typically use charcoal more effectively and cook food more uniformly. A kamado grill can be used to cook steaks and hamburgers or converted into an outdoor oven or smoker. There are countless options!
History of Kamado Grills
The Kamado of today is a contemporary development of a traditional cooking technique. Its style is based on the clay Asian rice cooker known as the mushikamado, which also had a draft door, a damper, and a removable dome.
These knee-high cookers were used for cooking rice hundreds of years ago. They were powered by wood or charcoal, exactly like the Big Green Egg and Kamado Joe are now and had small rice pots hung inside the dome. By the 1600s, the cookers were hoisted off the ground and placed up on a platform, which was unquestionably much easier on the cook's back. Eventually, a slatted cooking grid was installed inside for grilling and roasting. As a result of these upgrades, the mushikamado eventually acquired the name kamado, which is Japanese for "cooking range" or "stove."
As American servicemen found this kind of cooker during World War II and shipped them home after the war, popularity started to grow. People grew captivated with the extra taste and juiciness this "newly found" type of cooking imparted to foods, making the domed cookers an intriguing alternative to the conventional charcoal or gas grills of the day.
Big Green Egg History
American serviceman and businessman Ed Fisher was astounded by how much better the food tasted after having it prepared in one of these domed clay cookers. When he opened the first Big Green Egg store in Atlanta in 1974, he sold a basic clay cooker based on the same design and materials that had been used thousands of years earlier. He started importing them after sensing that there might be an interest back home. Even while they generated excellent results, the early clay cookers were weak and unreliable after being exposed to the weather.
While the Big Green Egg's recognizable egg form hasn't changed in almost 50 years, considerable adjustments have been made to the original clay design to position it far ahead of competing kamado cookers. A wide variety of easily adjustable cooking temperatures, from high-heat searing to low-and-slow smoking, are delivered via state-of-the-art ceramics, a patented draft door, and a vent cap. By enabling air to enter at the base and feed the charcoal, these vents enable the aroma of charcoal to permeate the Egg and escape at the top, giving food a delightful live-fire flavor.
Kamado Joe History
One of the most well-known and rapidly expanding brands in the charcoal ceramic grill sector is without a doubt Kamado Joe. Bobby Brennan and Kerry Coker founded it in 2009, and it quickly outperformed all rivals and established a solid name for itself. The reason for it was the excellent build quality they brought to the table, combined with a plethora of cutting-edge innovations to improve and make grilling more fun.
Brennan and Coker, the company's co-founders, showed the world that they take their love of barbecue seriously by quitting their corporate jobs to pursue their vision of creating the best ceramic grill currently on the market. Since then, they have committed themselves to consistently developing upgrades and distinctive, new features, with a focus on use, convenience, and an all-around significantly better cookout quality of life. The outcome? Top-tier ceramic grills that are crammed with unique and incredibly practical features.
There are several special characteristics that are exclusive to Kamado Joe grills. This includes the Air Lift hinge, Slide-out Ash Drawer, Kontrol Tower Top Vent, SloRoller, and Divide and Conquer Cooking System, all of which are patented by the company. Together, these characteristics make these grills simple to operate and maintain and are evidence of the brand's attention to detail. Additionally, there are zero sacrifices in the quality of these feature-rich grills. They have a solid construction that makes them durable, and they have incredible heat and moisture retention as well as fuel efficiency.
Kamado Joe Company Product Lines
Kamado Joe offers a greater selection of products than BGE does. They now also sell pellet grills and kettle grills, so they don't just sell kamado-style barbecues. I'll provide a brief overview of the main grills Kamado Joe offer below.
Classic Joe Kamado Series
It has an 18-inch firebox width and a maximum built width of 47 inches, making it the ideal kamado size. The Classic I, II, and III are the three models in this range. Although there are observable improvements with each iteration, these models share a lot of characteristics. These variations all have the recognizable robust ceramic construction and a split heat deflector attachment.
The smoke vents are designed differently in the second and third versions, and a wire mesh fiberglass gasket has been added. In Classic II and III, the conventional top vent has been replaced with the powder-coated cast aluminum Kontrol Tower top vent. The last model features an additional tier, whereas the previous two models have a two-tier Divide and Conquer cooking mechanism. The firebox of Classic I has been changed into a six-piece firebox in Classic II and III, and the Air Lift Hinge system has been updated. The Classic III has a SloRoller smoke chamber insert, just like the Big Joe III.
Big Joe Kamado Series
The Big Joe grills may be the perfect solution for you if you want to prepare food for a sizable crowd. The Big Joe series offers kamado grills with firebox widths of 24 inches and constructed widths up to 58 inches, providing you plenty of space to prepare all of your favorite foods at once.
The Big Joe I, II, and III models are the three different types in the series. A thick-walled, heat-resistant shell with a cart and locking wheels, stainless steel cooking grates, an integrated thermometer, folding side shelves and handles, an ash tool, the patented slide-out ash drawer, and a grill gripper are all features that these models have in common with other Kamado Joe models. A 2-tier Divide and Conquer flexible cooking mechanism is used by the Big Joe I, II, and III, although the Big Joe III features an additional tier for further flexibility. In Big Joe II and III, a wire-mesh fiberglass gasket guarantees a tight seal and is far more robust.
When the lid is entirely open on the Big Joe I, the Kontrol tower top vent slides open. The innovative Kontrol Tower Top Vent used in the following two models successfully addresses this problem. The Big Joe III's cart has been modified to a heavy-duty galvanized steel design for improved support, unlike the first and second models' simple but reliable cast iron cart and wheels. Both the stainless steel charcoal basket and SloRoller hyperbolic chamber insert are excellent upgrades to the Big Joe III.
Joe Junior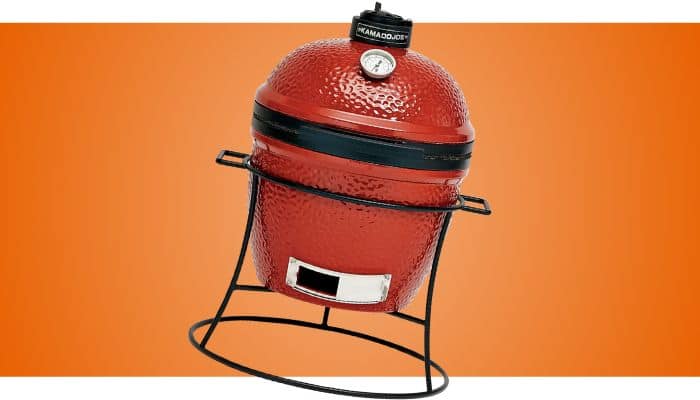 Do you frequently grill? Enjoy camping vacations and football games? The Joe Jr. is a perfect match in that case. The Joe Jr weighs only 68 pounds and has 148.5 square inches of cooking space, making it ideally portable while offering most of the advantages of a full-size kamado grill.
For grillers who are already experienced with kamado grilling and the Kamado Joe line, the Joe Jr. is ideal. However, because it isn't fully equipped with some full-size functions, I can't suggest it as your very first Kamado Joe buy. The Kontrol tower, the Divide and Conquer cooking system, the Air Lift Hinge, the firebox, and the practical slide-out ash drawer are all absent from the Joe Jr.
The meat will be constantly soft and juicy because the ceramic body seals in heat and moisture, but it still has plenty of room for a full-size chicken and veggies. The unique stand holds the grill firmly in position, and the integrated handles make transportation simple. A Joe Jr. grill produces a deep, smokey flavor that is unmatched among portable grills.
Pellet Joe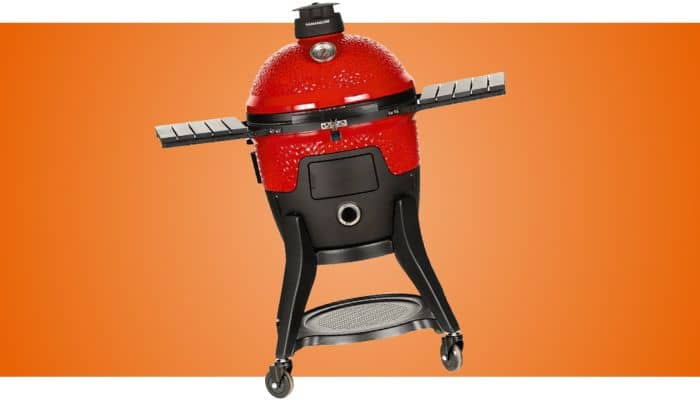 The Kamado Joe pellet is a brand-new product to the line-up. Anyone who desires the smoky flavor, effectiveness, robustness, and adaptability of a charcoal Kamado with the ease of a pellet barbecue will love this grill.
A new Kamado-style barbecue called the Kamado Joe Pellet uses some of the same parts as a conventional steel pellet grill. A fire pot, pellet agitators, and a pellet hopper are all fed by an electric auger.
The mechanism is firmly packed inside the egg's abdomen and is essentially self-contained. In fact, Kamado Joe's ability to incorporate a PID controller, a stainless steel hopper, an auger, and a fire pot all within the guts of this kamado really impresses me.
Kettle Joe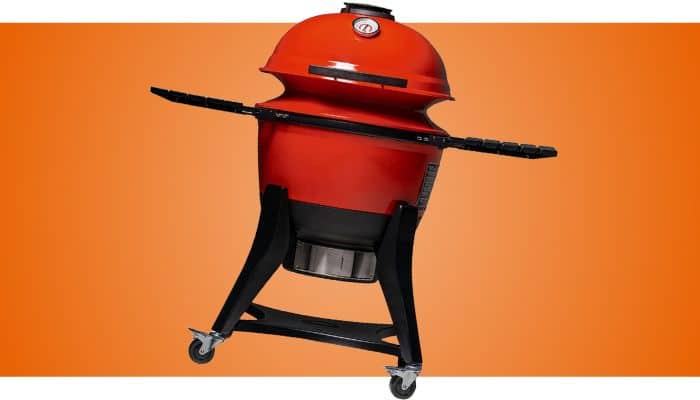 A kettle grill would undoubtedly be the most common backyard accessory if you were to search every backyard in America. Since Weber has long controlled the kettle grill market, that is the Kettle you will mostly find. However, lately, they have had to contend with fierce rivalry from businesses like Kamado Joe, Slow N Sear, and Napoleon.
A remarkable charcoal grill that is distinguished for its vivid red exterior is how I'd describe the Kamado Joe Kettle Joe. It is a sizable grill with loads of space for meals. A winner if you want to prepare and smoke huge pieces of meat for gatherings or entertain guests. The Kettle Joe is also a like a love child of a kettle grill and a kamado grill, bringing together some of the best parts of each.
Big Green Egg Company Product Lines
The Big Green Egg is America's first ceramic barbecue for fans of outdoor cooking, having been introduced in 1974. Its design is based on Japanese clay cookers called kamados, and it has a thick layer of glazed ceramic to protect it from the weather and provide ideal cooking conditions for a variety of dishes.
There are seven different sizes available for the Big Green Egg: mini, minimax, small, medium, big, extra-large, and, 2XL. Each airtight ceramic Egg has a stainless steel cooking grid and is porcelain-glazed for great durability. A built-in thermometer offers accurate readings up to 750 degrees. To keep the temperature under control, two vents are used, a flow draft door at the bottom, and a dual-function metal vent top.
Mini Big Green Egg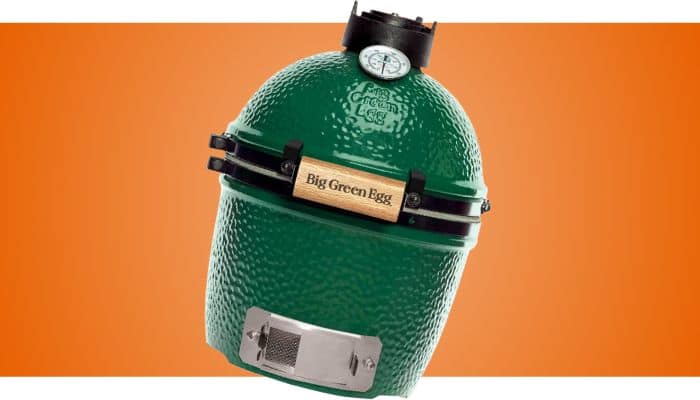 When you want to bring The Ultimate Cooking Experience with you on picnics and tailgating trips, a Mini Big Green Egg is the ideal choice! Additionally, it is a well-liked size for camping and fishing trips as well as grilling on apartment balconies. Enjoy your favorite campfire meal on the Mini and leave the propane tanks at home!
MiniMax Big Green Egg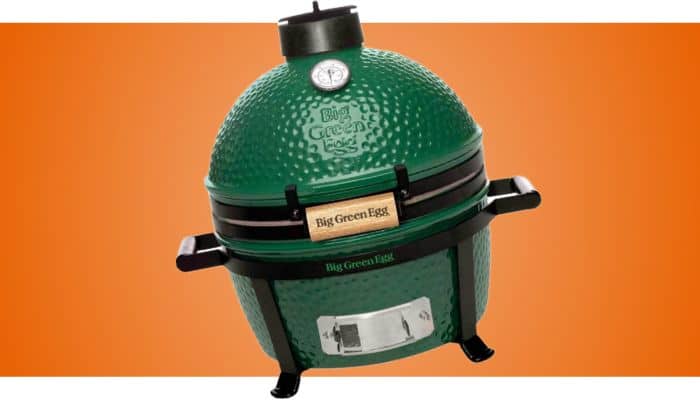 The MiniMax Big Green Egg is evidence that big things may be contained in little packages. This Egg is the first to arrive with its own mode of transportation, a robust, comfortable Carrier! The MiniMax is ideal for tailgating during a football game, camping, and poolside. MiniMax is designed for performance and is prepared to go wherever your passion for food takes you!
When the MiniMax dome is opened, a stainless steel cooking grid with a diameter of 13 inches (33 cm) and a total cooking space of 133 square inches (855 cm2) is visible, all within a practical height of 19.5 inches (50 cm). Naturally, MiniMax is made of the same top-notch ceramics as the other six Egg sizes, and it also has the same industry-leading, limited lifetime warranty. The MiniMax Big Green Egg is delivered in a single, comprehensive package that also includes a robust, comfortable Carrier.
Small Big Green Egg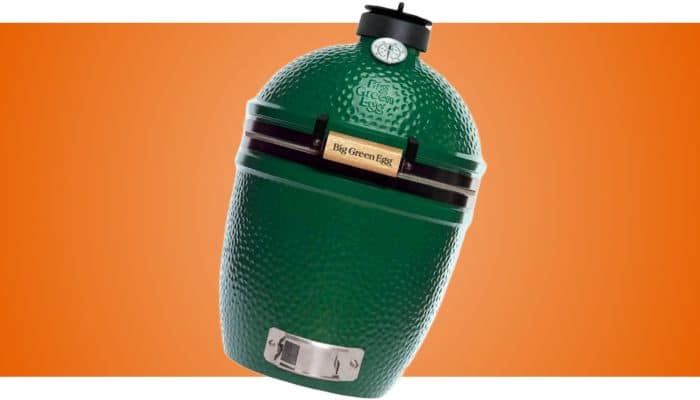 A lot of flavors in a small container! Smaller patios and balconies can easily accommodate the Small Big Green Egg. It can cook four chicken breasts or hamburgers at once. To enable the preparation of multiple dishes simultaneously, the Small Big Green Egg is frequently employed as a partner for the 2XLarge, XLarge, or Large Egg (or any lager grill or smoker). It is ideal for restaurants looking for an EGG's functionality in a size that would accommodate a commercial kitchen.
Medium Big Green Egg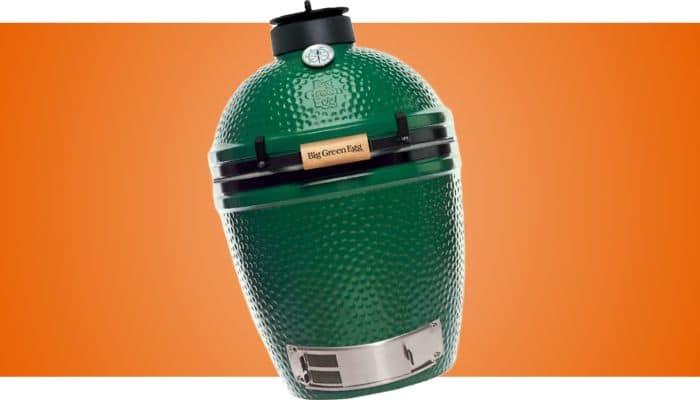 Happiness in a more compact form! Perfectly designed for smaller families and couples is the Medium Big Green Egg. It can fit all of the most often used "EGGcessories", including the convEGGtor and pizza stone. With plenty of cooking space, you may enjoy the famed Big Green Egg's versatility and efficiency while grilling up four steaks or two full chickens.
Large Big Green Egg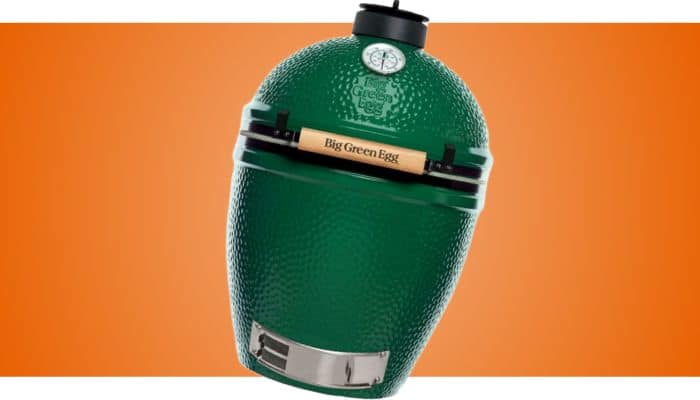 The Large Egg is the most widely used size and a favorite for handling the cooking requirements of the majority of families and social occasions. Contains all EGGcessories for roasting, smoking, and baking. It's adaptable enough for pizza parties or weekend cookouts, big enough to hold eight steaks at once, and effective enough for a quick meatloaf for two!
Big Green Egg XL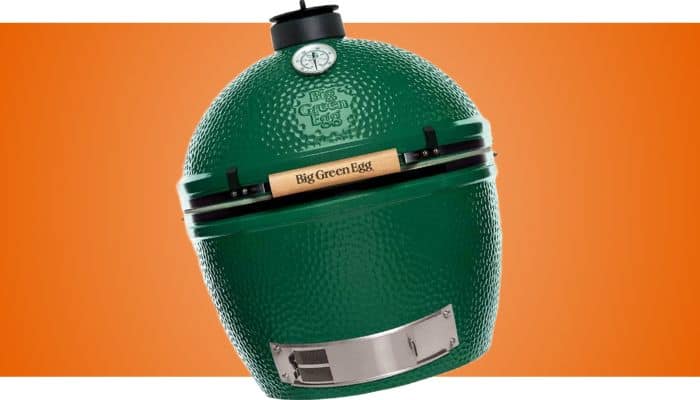 Large families and get-togethers with all of your friends can effortlessly prepare meals on the XLarge Big Green Egg's cooking surface. Additionally, cooking multiple meals at once over coals is efficient. Are you prepared to serve up 24 burgers, 12 racks of ribs, or a couple of holiday turkeys with all the fixings? No issue with this grill!
The Big Joe series is the same size as the XL Big Green Egg, which has a 24-inch cooking surface perfect for big cookouts. It has a glazed interior that is incredibly simple to clean, a cast-iron top vent, and a stainless steel bottom vent. To make lifting easier, the lid has a spring-loaded mechanism.
Big Green Egg 2XL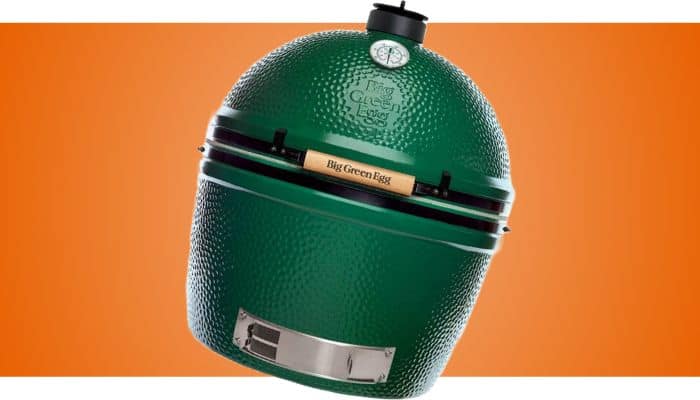 The unmatched 2XL Egg, the biggest Green Egg of them all, is more than big enough to meet restaurant and catering needs. It can comfortably accommodate family reunions or cookouts with huge numbers. To consume all of the ribs, steaks, and hamburgers that this kamado can hold at once, you'll need to gather a massive group of people. Even roasting a suckling pig is an option.
Big Green Egg vs. Kamado Joe Feature Comparison
I've selected two of their newest grills of comparable sizes and capabilities for the purposes of comparing the features of the two manufacturers; in this example, the Big Green Egg Large and Kamado Joe Classic III.
I'll evaluate each brand's guarantee, construction quality, and included accessories.
Price
Without a question, Kamado Joe triumphs in this category. The cost of a similarly sized Joe and Egg is quite comparable, but with the Kamado Joe, a wide range of included accessories and a high-quality stand are supplied at no additional cost. The Big Green Egg definitely lags behind the Kamado Joe in this area because it lacks a variety of highly practical and cutting-edge features, as well as an overall superior build quality.
Due to its feature-rich design and assortment of special functions, the Kamado Joe offers significantly better value for the money.
Vents
Cast aluminum construction avoids rusting even when the Kontrol Tower Top Vent on Kamado Joe grills is left outside in the rain. By adjusting the airflow inside the grill, you can easily set the right temperature thanks to the lines that are marked on it. The Kontrol Tower top vent is strong and well-constructed and doesn't budge even when the lid is opened.
Because the Big Green Egg's top air vent is made of cast iron, it is vulnerable to rust. It includes a ceramic chimney cover that stops the airflow after cooking is finished and saves fuel. However, when the grill lid is lifted, the top vent lid falls down and needs to be readjusted.
Both grills have a typical stainless steel door on the bottom vent.
Lid Hinge
The Kamado Joe's Air Lift Hinge is one of its unique characteristics. This counterbalance mechanism not only cuts the dome's weight by 96% but also holds the lid in place when raised to any desired height, preventing it from slamming down. The Big Green Egg includes a basic spring-loaded hinge that doesn't do much to lighten the dome's weight. This is most likely what distinguishes Kamado Joe from the BGE.
Thermometers
Both grills come with lid thermometers. I have to say I don't really care for lid thermometers. And this is true for any grill, not just the Big Green Egg and Kamado Joe. Lid thermometers give you the ambient temps of the area near the thermometer, but you really want the temps down at the grill grates. So just use lid thermometers as a ballpark figure and buy yourselves a good instant read thermometer and dual probe thermometer.
Ash Removal System
The Kamado Joe has an integrated ashtray at the base of the grill for simple ash disposal after cooking. Compared to the Green Egg, which forces you to scrape the ash into whatever you wish to use to dispose of it, this technique is better.
If you're looking to upgrade your Kamado grill to a set-it-and-forget-it smoker, using a BBQ Temperature Controller, these ash removal bottom vents are where you'll attach the fans.
Grill Grates
The unique Divide and Conquer cooking grates from Kamado Joe have two to three half-moon layers for optimum flexibility. Because of this, you may adjust the height for various items based on how slow or how quickly you want them to cook. The cooking surface of The Egg, in contrast, is a typical single-level and can be completely lowered by around two inches.
Wheels & Carts
For optimal stability and sturdiness, the Kamado Joe grill stand is completely custom welded and has a much wider wheelbase. The entire containment ring strengthens the support and serves as the unit's main point of stability. An optional portable support (nest) for the Big Green Egg is available. Please take note that this is optional and will cost you extra. The Big Green Egg has substantial, sturdy wheels, but the plastic wheel lock is a little fragile. Although the Kamado Joe wheels are tiny, the metal wheel locks are strong, guaranteeing that your Joe stays upright.
Shelves
The wooden handles and shelves of Big Green Egg grills have a more natural, rustic appearance. The shelves and handles of the Kamado Joe are constructed from a straightforward but more enduring molded plastic.
Build Quality
Both the Big Green Egg and the Kamado Joe are superbly constructed. Although Big Green Egg takes pride in using ceramic materials developed by NASA, there isn't much of a difference between the shells of the Joe and the Egg. In actuality, Kamado Joe has a slight advantage in terms of the caliber of the functional components.
In comparison to the Big Green Egg's regular gasket, Kamado Joe grills include a wire mesh fiberglass gasket that is far more robust. Additionally, it guarantees a solid seal when the lid is shut. While it is exactly aligned in the Joe, the lid alignment on the Egg is, in many units, inaccurate by about a quarter of an inch.
The stand that the Kamado Joe comes with is of higher caliber, and the confinement ring is thicker and perfectly fits the shell. The Big Green Egg's ring is narrower and there is a tiny space between it and the shell. The Joe stand has stronger support for the unit and is more durable because it is welded and composed of heavy-duty galvanized steel.
Extras
The Sloroller hyperbolic smoke chamber and the three-tier Divide & Conquer adjustable cooking system are two examples of how Kamado Joe differs from BGE in terms of its emphasis on innovation.
The Sloroller converts your Kamado into a smoker by dispersing smoke and heat in rolling, recirculating waves using unique Harvard physics. This improves the smoky flavor while also lowering hotspots.
In order to enlarge your cooking area and cook food at various temperatures, the Divide & Conquer flexible cooking system combines a half-moon heat deflector, which partially blocks off heat, with multi-level tiered grates (two with the Kamado Joe II and three with the III).
In comparison to BGE, Kamado Joe offers better value thanks to the creation of creative accessories and the bundling of them with their grills.
I prefer Kamado Joe grills because they are more useful than BGE grills despite the fact that the quality of the grills made by both businesses is virtually the same.
Warranty
BGE takes pleasure in providing a limited lifetime warranty on each and every one of its products, with various warranty durations for various materials.
As long as you are the egg's original buyer and it was purchased from a licensed dealer, the ceramic parts, including the dome, base, damper top, firebox, and fire ring, are always covered by the manufacturer's warranty.
The guarantee duration is reduced to three years for ceramic add-ons like the pizza stones and plate setter. Thermometers and gaskets are also covered by a one-year warranty from BGE.
The cooking grid, fire grate, draft door, hinge mechanism, and dual-function metal top are all covered by a five-year warranty for metal parts, while any wooden parts are covered by a one-year warranty.
The guarantee provided by Kamado Joe is equivalent and has the same limitations and time frames.
You won't need to be concerned that your kamado will break down within the first six months because both firms provide thorough and great warranties for their products.
Big Green Egg vs. Kamado Joe video
Final Thoughts
It's been interesting and enjoyable to compare the Big Green Egg Large and the Kamado Joe series because there are so many cooking methods and accessories that you can use to master either kamado grill.
The Kamado Joe Classic Joe Series Three is my personal favorite. This ceramic grill/smoker comes equipped with everything you need to start grilling right away. It comes with a trolley and ready-to-use side tables and is four inches taller than the equivalent BGE Large. The total creativity and dedication to excellence of Kamado Joe are everything I look for in a ceramic grill.
You must consider what cooking means to you and how you wish to perfect your craft before choosing between these two contemporary masterpieces. The first step is to decide what features you want in a grilling system. In my opinion, the greatest kamado grill is the one that satisfies all of your requirements. In order to help you make that decision with a little more assurance, I hope this comparison has helped you gain a better understanding of it.