Every meat-eater loves a steak grilled to perfection or the classic BBQ grub of burgers and hotdogs. But there comes a time in every budding pitmaster's life when they move on to the big guns of backyard cooking and try to tackle ribs, briskets, and pulled pork. For this low and slow style of cooking, you're going to need the right tools. One such tool is a thermometer, and choosing the best dual probe thermometer for BBQing and smoking meat means your task of achieving legendary status among your guests will increase significantly.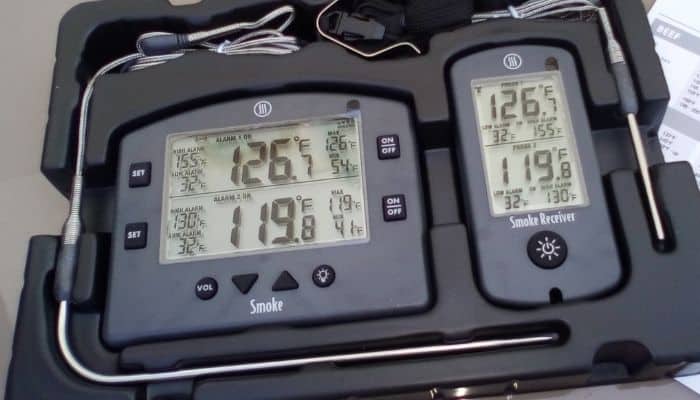 What is a Dual Probe Thermometer
Firstly, a dual probe thermometer doesn't necessarily mean there are just two probes – I've seen some with six probes, and as you'll see in this list of best dual probe thermometers many of the best thermometers have four probes. Being a dual probe thermometer simply means that there are at least two probes that serve a slightly different purpose.
One of the probes will be a "leave-in" thermometer. And as the name implies, this probe is to be left in the meat the whole time the meat is cooking. With low and slow cuts of meat, you don't want the internal temperature to rise too quickly or exceed your target temp. It's therefore very important to be able to track this temperature and to also be able to do it without lifting the lid every five minutes.
The second probe will normally be used to check ambient temperatures – this is best measured close to the meat and near grill level. Yes, most grills come with some sort of temperature gauge built-in for ambient/grill readings (normally in the lid), and these are great to give you a ballpark figure, but this reading will be the temp where the gauge is – which is likely a fair distance from the meat and maybe even positioned over the coals. The second probe will likely be stubbier than the leave-in probe and also have an attachment that aids in keeping it slightly off the actual grill.
Each of the probes will be connected to a display unit or phone via long heatproof wires or a wireless technology like Bluetooth, WiFi, or radio frequency. This is so the probes can be left in the grill while the display unit is left in a place it can easily be read (like a nearby BBQ table).
Best Dual Probe Thermometers
There are so many different types of thermometers available today that it must be a nightmare for someone new when looking for the best dual probe thermometer to suit their needs. So below we have given a quick outline of our top 5 with a buying guide near the bottom of the article.
Signals 4 Channel Dual Probe Thermometer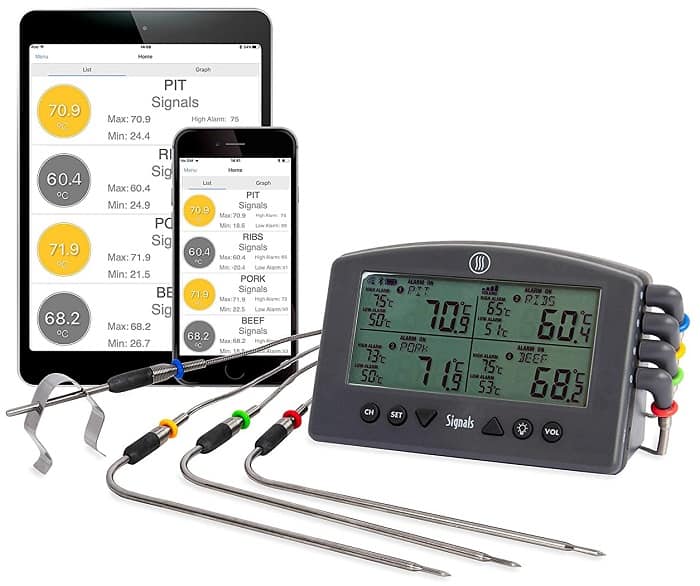 The first thing that needs to be said about the Thermoworks Signals thermometer is it's expensive. Considerably more expensive than most other dual-probe thermometers you'll come across. But it's a heck of a good thermometer if money isn't a big issue for you.
Thermoworks has given you four-probe thermometers with the Signals, three of the probes are for your food while the fourth is specially designed to monitor pit temperatures. All four probes are from their pro-series of cooking probes and come with silicon color-coded rings to make it easy to keep track of which probe relates to the data on the base unit.
As the Signals is such an expensive unit it obviously comes backed with the latest tech. You can connect to the thermometer with either Bluetooth or Wifi. I'd like to have seen a better version of Bluetooth for the money, having version 4.2, but this still gives more than enough range for most backyard grillers at about 95ft. Of course, Wifi is where the money was spent on this unit and eliminates any range issues with you being able to connect to the thermometer from anywhere in the world with an internet connection.
Other nice little touches added to the Signals thermometer are the magnetic back to help give you somewhere to place the unit. The backlighting helps with readings in poor light. It is splashproof so you don't panic when it starts to rain. And the min/max alarms.
One other reason to consider the Signals as the thermometer to buy is that it's compatible with the billows temp control fan. For me, buying this add-on now makes the unit seem reasonably priced, cos many other grill temp control units cost more than this combo.
ThermoPro TP27 Dual Probe Thermometer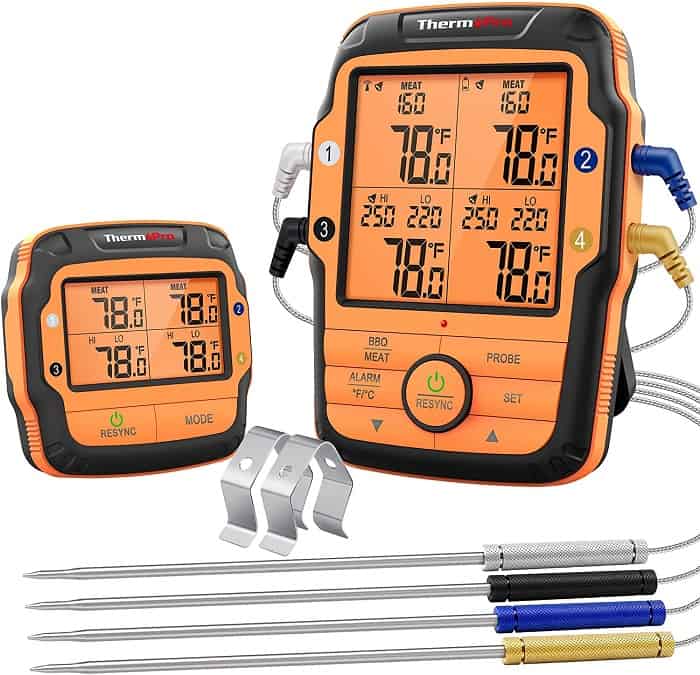 The ThermoPro TP27 is a wireless dual probe thermometer using radio frequency as its wireless tech. Radiofrequency was the go-to tech for early wireless thermometers because it has a good range, and that is the same today, the ThermoPro TP27 has a range of 500ft.
Using radio frequency also makes a thermometer a great choice if you aren't tech-savvy or want an easy to setup thermometer. As these units normally come with a transmitter unit and receiver unit already paired. Which I am sure sounds complicated but just means you open the box, turn on the device and you are ready to go.
ThermoPro goes with the classic larger transmitter where you have several buttons to select your options and the smaller receiver unit that is more pocket friendly. The receiver is what you can carry up to 500ft away from the grill.
The TP27 also comes with most of the expected add-ons, such as good backlighting, a magnetic holder, hi/low alarms, and the ability to change from Fahrenheit to Celsius readings.
Inkbird IBBQ-4BW Dual Probe Thermometer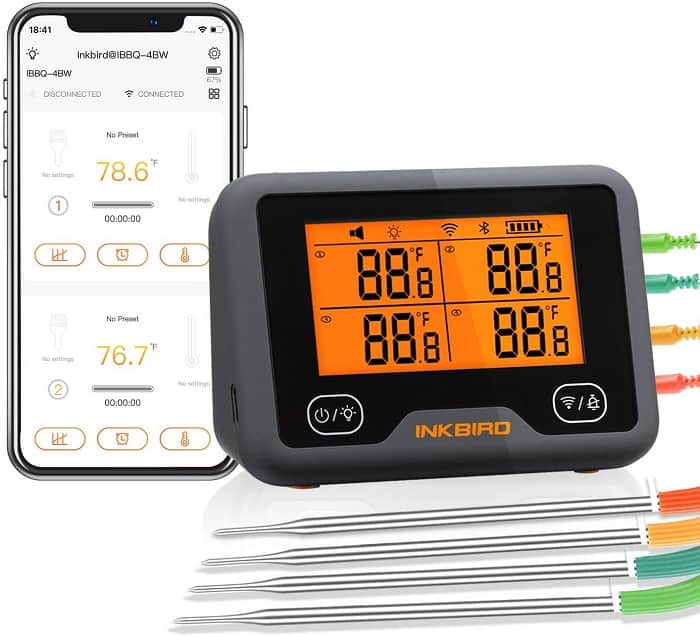 The Inkbird IBBQ-4BW, like all the other dual probe thermometers on this list, is wireless. Using both Bluetooth and Wi-Fi to connect to a smartphone. Having Wi-Fi in a thermometer is the most expensive tech to connect wirelessly, so Inkbird must be running on some tight margins when you look at the cost of this unit compared to other Wi-Fi-enabled thermometers.
The body of the IBBQ-4BW doesn't have as big a display or the amount of information as the Signals, but it does have what most people would need. The temp readings of all 4 probes. Any other information can be found in the well-made App.
Although I have the Inkbird down as a great value for money thermometer it still isn't cheap. So you do expect a great build quality and the other high-end thermometer luxuries for this price, and Inkbird doesn't let you down.
The sturdily build thermometer comes with four quality color-coded probes, two grill clips, a magnetic holder, a backlight screen and a very nice app.
Have a look at our full Inkbird IBBQ-4BW review for more information.
Weber Connect Smart Grilling Hub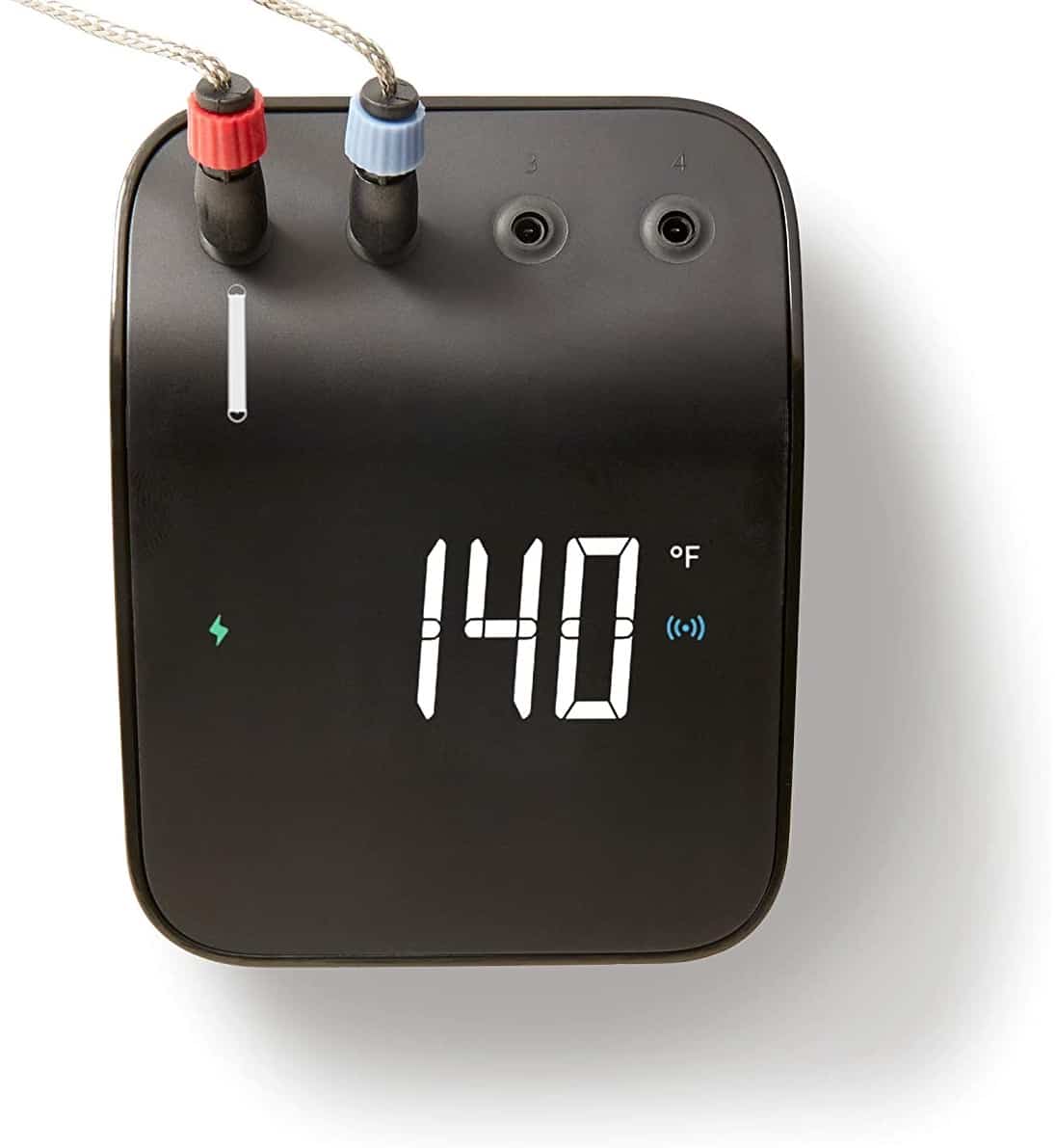 Anything with the Weber name is worth having a look at when it comes to grilling. Step forward the Weber Connect Smart Grilling Hub. Weber's high-end Wi-Fi-enabled cooking thermometer.
This thermometer can handle four probes, although you only get two with your initial purchase, meaning you must buy the extra two separately if you want all four. And also has one of the best-looking base units I have seen.
But this slick design comes at the cost of having very little information or functionality available on it. In fact, it only shows one temp probe, which I recommend you have set as the ambient probe. For any extra info, you have to use the excellent app, where you have all the features and information you'd expect.
Does the thermometer meet the expectations of the Weber name? I think it's an excellent thermometer however, I do think for the price it should ship with all four probes. But if money isn't a motivator in your purchase, then the Weber Connect is a quality bit of kit.
We have an in-depth review of the Weber Connect Smart Grilling Hub if you want more info
Meater Plus Temp Probe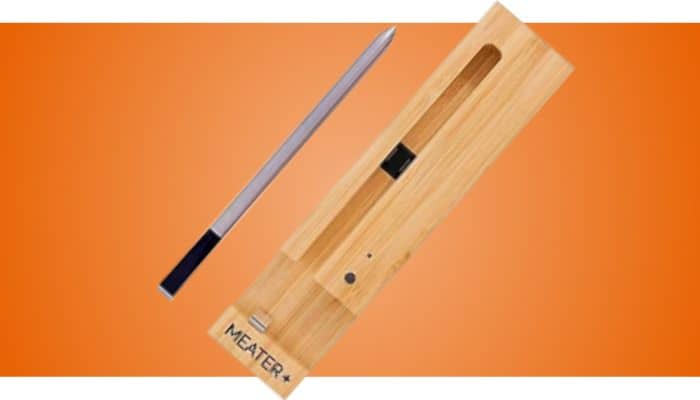 Probes that measure the temperature of meat have always been linked together with wires. This is not the best choice for smokers and grills without wire routing or felt gaskets around the lid. Probes and wires need to be cleaned, and if you don't place them carefully, they could get in the way of other things on your grill. These temperature probes still work well and give accurate readings but the Meater is just as useful and makes it easier to use a grill. When you buy your next meat thermometer, you should think about this for sure.
As with everything else, technology has made it easier to come up with new ideas and use them. Do you remember how the long wire on your home phone used to wind up everywhere? When you got your first cordless phone, do you remember how happy you were to get rid of the wire? The Meater brings the same feeling, but this time with BBQ thermometers.
I've had the Meater Plus for a few years, but I didn't realize how important it would be to keep track of what you eat. This thermometer has a wireless probe that sends the internal temperature of the food and the temperature of the area around the food straight to your phone. You can quickly set a temperature alarm or check the temps on your app to see how your meat is doing. It makes it so you don't have to open the lid of your grill to check with an instant-read thermometer, which helps keep the cooking temperature steady.
Meater says that it is the first "truly wireless BBQ thermometer" and that it is a leader in the barbecue industry. Meater is a great company, which is clear from the fact that their website has a lot of detailed and well-done information. Even if you've never done BBQ before, you can make great meals with a MEATER, their YouTube channel, and their instructions.
The price is around $100, which is pretty high for a thermometer. This is mostly because of how easy it is to use the single probe, dual-reading thermometer, and how it works with a smartphone app. Most people think that the single Meater probe only measures the temperature inside, but it also measures the temperature of the space around it. The spiky end measures the meat temp and the flat end measures the ambient temp. So the single "probe" is a dual-probe thermometer.
The Meater works best for slow cooking or rotisserie cooking because it stays in the meat the whole time. The Meater measures temperature in a consistent way, unlike instant-read thermometers, which are proud of how quickly and accurately they can read. These measurements are put together to make a graph that shows how the temperature has changed over time.
The Meater Plus also lets you set temperature alarms for your grill or the meat. The Meater app will let you know when either temperature goes over the temperature threshold you've already set.
The temperature reading display on the Meater Plus is linked to the app on your phone through Bluetooth (you must purchase the Meater Block for WiFi). This software gives you a number of ways to store your information. The setup page, real-time graphs, and color-coded sections all make it very clear what the meat and room temperatures are. The backlight of the screen is black, and the sharp contrast of colors makes it look modern.
ThermoPro TP930 Dual Probe Thermometer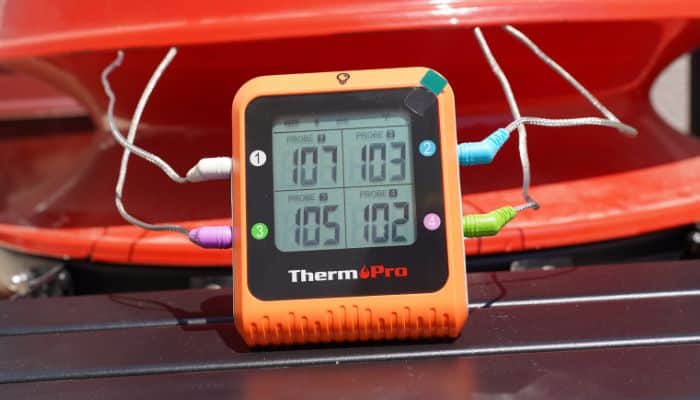 ThermoPro is a company that has been around for a while and takes pride in not just delivering good thermometers but also having the best prices. Their low price point is apparent across their entire range of thermometers, which is why many budget-conscious grillers enjoy them.
With so many thermometer companies fighting for your money, you can now shop around for the best dual probe thermometer for you – one that has all of the important features you need. Let's take a look at everything this ThermoPro thermometer has to offer and see whether it's right for you.
ThermoPro has given you a wonderful tiny screen that contains all of the essential information. The screen is divided into four corner quarters, each of which displays the temperature of the probe whose port is closest to it. Then, across the top of the screen, there is a battery indicator, followed by icons indicating whether or not you are connected to Bluetooth, whether or not the alarms are turned on or off, and whether or not the backlighting is enabled. Finally, a symbol showing whether the temperature has been set to Fahrenheit or Celsius.
The ThermoPro TP930 is a Bluetooth version 5-enabled wireless thermometer. ThermoPro claims a range of 500 feet, which I believe is a conservative estimate given that Bluetooth 5 specifications state an 800-foot range.
I've tried the TP930 in a few various weather conditions with real-life instances of walls, trees, and fences interfering and have always gotten farther than 500ft. Which, unless you live in a castle, is significantly more than you'll usually require.
If you need more range, I recommend reading my reviews of thermometers with WiFi, which have an infinite range. Of course, there is a cost to this.
ThermoPro has gone all out on the alarms with this model. They've incorporated the conventional Hi/Low alerts found on most excellent thermometers, but they've taken it a step further by integrating a pre-target temp alarm. Meaning, if your chicken's target temperature is set at 165, you can set a warning at 155 to begin preparing for your chicken.
Another useful warning is the Bluetooth disconnect alert. Many people have yelled at their Bluetooth thermometer, believing they had hit a stall when they had merely lost connectivity. As a result, the meat gets overcooked.
And the ThermoPro TP930 offers an alert capability that I don't use but you might: the ability to assign a different alarm sound to each probe. That is, the music should be able to inform you which probe's alarm is activated.
In every thermometer app, the main display screen is the first thing I look for. I want it to clearly display all of the probe temps because that's really all you need; everything else is just a bonus. I'm glad the ThermoPro TP930 accomplishes this.
First and foremost, I am content to just set this thermometer on its back, as it is simple to view from both my side shelves and BBQ prep table in this position. However, if you require it, this thermometer comes with a gorgeous tiny kickstand to keep the screen upright, as well as a small hook holder if you wish to hang the thermometer from something.
A magnetic holder is an obvious absence in this grilling accessory, which is increasingly gaining popularity. Be careful if you're used to using a magnetic holder; I almost dropped this thermometer a couple of times when trying to attach it to my table.
If you've done a lot of low and slow cooking, you'll know that it's normal to start a cook early in the morning while it's still dark, or to finish it late at night after the sun has gone down. As a result, being able to read the thermometer display in the dark is a great benefit. ThermoPro has brilliant backlighting that can be conveniently turned on and off with the front button.
Other thermometers allow you to regulate the illumination via the app as well. The ThermoPro lacks this feature, but it isn't a deal breaker. If I'm accessing the app to turn on the backlighting, I might as well check the temperatures the app.
If the incredible ThermoPro TP930 Bluetooth thermometer looks like the thermometer for you, read my whole review.
FireBoard 2 Drive Thermometer
The three FireBoard 2 models are the standard FireBoard 2, the FireBoard 2 Drive, and the FireBoard 2 Pro. Screen comparison makes it impossible to choose between the three available models. Only when viewed from the side can the different models be identified.
The FireBoard Blower is compatible with both the Drive and the Pro models right out of the box; no adapters or cables are necessary. Only the Pro edition allows for three Type K Thermocouple probes instead of the standard six probes of the other two models.
I'll give you a rundown of the situation here:
| | | | |
| --- | --- | --- | --- |
| | FireBoard 2 | FireBoard 2 Drive | FireBoard 2 Pro |
| | | | |
| | Buy | Buy | Buy |
| Channels | 6 | 6 | 3 |
| Range | 0 to 572°F | 0 to 572°F | -148 to 1202˚F |
| Probes | 100K Thermistor | 100K Thermistor | Type K Thermocouples |
| Drive | Cable required | Built In | Built In |
For me, the ability to use up to six probes was more important than the Pro version's wider temperature range with Thermocouple probes, so I opted to get the Drive model. Since I'll only be utilizing this temperature controller for smoking meat, the FireBoard 2 Pro's lower and higher temperature ranges will be unnecessary.
Two food probes for tracking meal temperatures and one ambient probe for tracking pit temperature are included in the FireBoard 2 Drive, as well as a USB-C charger, a grill grate clip, a user manual, and an ambient probe. A total of three additional temperature probes, sold separately, can be used with the device.
The FireBoard 2 Drive is a breeze to set up and connect to your wireless network. A FireBoard account can be created at no cost by downloading the app to your mobile device and following the on-screen prompts. Add your phone or tablet to your new FireBoard 2 Drive account by pairing it with the device using Bluetooth.
You'll also need to get a FireBoard Blower if you want to use your FireBoard 2 as a thermostat. Two adaptor plates are included with the blower so that it may be used with the lower vents of a wide variety of smokers.
This fan seems to be much more robustly constructed than similar models, and its weight and heft give the impression that it will survive for a very long time.
FireBoard Labs keeps making improvements to an already fantastic product. Among dual probe thermometers, the FireBoard 2 Drive is among the better options available. I think you'll like it just as much as I do.
Great Dual Probe Thermometers
Over the years I have tried and tested hundreds of dual-probe thermometers. Some I have used once and never looked at again and others have made the best dual-probe thermometers list above. But that leaves a massive area in the middle of great thermometers that have just missed the cut. I think some of these thermometers still deserve a mention. So I've created this "great dual probe" section. Most of the thermometers here will be older models that you'll likely be able to find at great prices compared to the latest models in the best dual probe list.
Table Comparing Great Dual Probe Thermometers
ThermoWorks Smoke Thermometer
Buy on ThermoWorks

ThermoWorks Smoke Thermometer

During my decades of smoking and grilling, I've probably recommended the ThermoWorks Smoke thermometer more than any other bit of kit. I bought mine when it came out, and it's still working great after more than what must be 10 years. Now my current recommendation is more often than not to get ThermoWork's latest member to the family, the Signals, but if you want to save a few dollars and see the Smoke on offer you'll be buying an amazing grill accessory.

It's more expensive than many cheap thermometers on the market, but it's a good investment for anyone who takes barbecue seriously and knows how important it is to control the temperature.

If you haven't heard of ThermoWorks before, think of it as the Bentley of thermometer companies. They are based in Utah and have a small number of products that are better made and designed than those of their competitors. They are also loved by people who like to barbecue.

The Smoke has two channels, so you can connect two probes at the same time. You get a 47-inch cooking probe (47 inches is obviously including the wires, not just the probe) from the Pro Series and a 47-inch air probe and grate clip from the Pro Series. The highest and lowest temperature that either probe can handle is -58 to 572°F.

If you are worried about that range, you could get the Smoke X2 which increases the range to a huge 6,562 feet, or the X4, which also doubles the number of probes to four, or the Signals, or check out my best WiFi thermometers list.

You can feel the difference in quality when you hold the transmitter in your hand. Because the transmitter has a tough case and the probes are protected, this thermometer is made to last, and my Smoke thermometer is still running strong and I have 100% put it through its paces. I've dropped mine more times than I should admit, but nothing has ever broken.

ThermoWorks says that the Smoke is for "BBQ competition teams and professional chefs," but I think it's a great choice for home pitmasters. I'd also say that currently there are better options for BBQ competition teams. This claim was made when the Smoke was first launched and it was the best thermometer for BBQ teams at that time.

Along with the base unit, you get a wireless receiver with a range of 300 feet, so you can check the temperature while sitting in front of the TV.

Some backyard pit masters may not be able to afford it because of the price, but remember that once you've replaced the probe on your cheap unit a few times, the price of the Smoke won't seem as high!

What I liked:

Large LCD Screen. This makes it easy to read the temperature from far away, even if your eyesight isn't as good as it used to be. You can also press the receiver once to make the LCD screen light up and make it easy to read in the dark or when there isn't a lot of light.

The Smoke is easy to use. You just turn it on, and it "works." Before I chose our temps, I barely looked at the quick start guide.

Accuracy and speed. This thermometer's reading time of 4-5 seconds puts it in the speed category of many instant-read thermometers. More importantly, this is one of the most reliable smoker thermometers on the market because it is accurate to within 1.8°F for temperatures up to 248°F.

What I don't like:

Can only make changes on the transmitter. It would be nice to be able to change the minimum and maximum temperature alarms while lying on the sofa.

Adding smart tech features costs extra. You can buy a WiFi Gateway as an add-on that connects your Smoke to your home's WiFi and lets you check temperatures and make graphs from your phone.

Neither of those things is a deal-breaker. Changing your temperatures isn't something you have to do very often, so having to do it at the transmitter isn't a big deal. And I found that the receiver was more useful than checking the temperatures on my phone, and it doesn't drain your battery like many bbq apps do.

Maverick Adrenaline Barbecue Company XR-50
Buy on Amazon

Maverick Adrenaline Barbecue Company XR-50

Maverick has been a popular choice for BBQ'ers due to the simplicity of their units. And the XR-50 is the same. You don't have to understand how to set up Bluetooth or Wi-Fi and the transmitter and receiver come already set up for you to use.

Using RF-based technology the XR-50 gives an impressive 500ft of range which covers nearly all home use. In fact, a lot of people that buy thermometers that come with their own receiver and not an app are more than happy to just use the main body (the transmitter) during cooks, as they will be sitting close to the grill having a drink, so it's easy to just have a quick look.

Does this thermometer come with all the other expected bells and whistles? You get a decent backlit screen that displays the temps of all four probes. You get the magnetic back holder, and high/low alarms.

ThermoPro TP20
Buy on Amazon

ThermoPro TP20

As a dual probe, wireless BBQ thermometer, the ThermoPro TP20 features a transmitter to which the two temperature probes are attached. The receiver is carried around with you everywhere you go, and the base station is left on the grill, smoker, or whatever it is that you're cooking on. It employs a radio frequency signal to transmit the data from the base station to the receiver.

This is quite helpful to have when cooking things low and slow because it allows you to do anything else while your food cooks. Because there are two probes, you can simultaneously check the temperatures of two separate things. One of these probes should be inserted into the meat you are cooking, and the other should be placed in the pit to serve as an ambient temperature probe.

The setup for the transmitter and receiver is quite straightforward. They may be powered up using the supplied batteries, at which point they will automatically pair with one another.

Numerous types of meat, each with a unique flavor, are preprogrammed into the thermometer. For instance, there is a preset for beef, which then has several flavors, such as rare, medium, and well done. You can also choose your own temperatures and cooking periods, but to ensure that your meat is perfectly cooked, I'd suggest utilizing a BBQ chart of times and temperatures. When the device is turned off, all of these settings are preserved.

The receiver has a sizable LCD screen that is completely illuminated, which makes it ideal in low-light conditions. Alternating between Celsius and Fahrenheit is another option.

The ThermoPro TP20 has a very good overall design. On the surface, it appears to be rather ordinary, but this is actually a good thing because the two-unit system is tried and true and works effectively. The user interface is straightforward enough for anyone to use with some practice, and the devices have a pleasing appearance. The receiver has a nice feature that many other BBQ thermometers lack, it includes a built-in lighted screen, which makes using it much simpler. For me, the most notable aspect of the probes is their design. The step-down tip is such a straightforward yet useful feature that we're not sure why all businesses haven't used it yet.

The TP20 is likewise very well constructed. In the hand, the primary unit is quite dependable and cozy. Despite being primarily comprised of plastic and rubber, it seems sturdy. I anticipate that it will be durable and able to withstand hard knocks and blows. Due to their rather thin plastic construction, the belt clip and stand do feel a little flimsy, but this isn't a major issue.

Typically, the probes are fairly good. They are capable of withstanding a wide range of temperatures, and the wires appear to be thick enough to handle the typical issues they would encounter. The probes breaking has been a concern for some people, which could be caused by a variety of factors. The probes have worked well for me; they are somewhat precise and capable of maintaining a consistent reading. They aren't quite quick, but since this isn't an instant-read thermometer, we can overlook that.

The signal range of many other thermometers, particularly Bluetooth thermometers, might be fairly limited or can be significantly impacted by walls and barriers. The TP20 can easily transmit the signal across numerous walls and up to 300 feet without experiencing any issues. It typically takes a few seconds for the signal to reappear if it does drop.

The ThermoPro TP20's strongest suit is its simplicity of use. Out of all the wireless thermometers we've used, the setup is the simplest. Simply insert the batteries, turn on each device, plug in the probes, and it will function. I'm done now. Then, you can choose from a wide range of excellent, preprogrammed meat temperatures that should satisfy all of your requirements. You may quickly browse through these to get everything you need, and then you can start cooking.

You shouldn't experience any issues at all if you choose to customize your temps and times in more detail. You can change everything with only a fast glance at the instructions. The huge screen and clutter-free UI make everything incredibly simple. The buttons are also big and uncomplicated. You'll frequently use 4 buttons, all of which have obvious labels and are simple to comprehend.
Features to look for in a dual probe thermometer
Thermometers are expected to do one job, read temps, and every dual probe thermometer will do this. So what other features should you look for in a quality thermometer? I'll run through a list of the key features I examined in order to come up with what I thought were the best dual probe thermometers.
Price
In general, BBQ accessories are pretty expensive; different grills, firelighters, a dutch oven, utensils, etc. all quickly add up. For what you actually get for your outlay though, I'd have to say a dual probe thermometer is one of the best value-for-money accessories you can buy. Are they cheap? Well, that's all relative but considering some of the very best thermometers are available for under $50 I'd say they are cheap. Low and slow cooking is what BBQ and smoking is all about and a dual probe thermometer will be used for every one of these cooks. It's money you will not regret spending!
Number of Probes
If you've been bitten by the BBQ bug like me then it's highly likely you'll have more than one chunk of meat on the go at the same time for a BBQ party. So the options are to buy multiple thermometers or to buy one that allows you to plug in more probes. Each option has its pros and cons so buy what suits your grill set-up best. Multiple thermometers give you more flexibility because if you're using more than one grill it doesn't matter about the distance between them. This flexibility comes at an extra cost however and means that you'll need to carry around multiple receivers or have several apps installed on your phone.
WiFi, Bluetooth and Radio Frequency
What you're looking for when considering WiFi or Bluetooth capabilities is the range – how far can you wander off from the grill and still be confident you'll get a signal. Unfortunately, I have to say you have to take the range given by manufacturers with a huge pinch of salt. Maybe manufacturers test in ideal conditions that are unattainable by the average backyard grill jockey, because I'd hate to think they are outright lying.
Radio frequency is my preferred feature over WiFi or Bluetooth simply due to the simplicity it offers. Radio frequency dual probe thermometers will generally already come coupled, meaning the receiver is already set-up, so you are good to grill right out the box. Synchronizing a WiFi or Bluetooth enabled device is normally a lot trickier and I have an internet engineering degree. Someone like my father, who has just figured out his phone has an alarm clock app has next to no chance of working it out. Radio frequency lets my better half grill without me having to give over my phone and also allows me to lend it to friends hassle-free.
Accuracy
Many of the best dual probe thermometers will give you an error range that the company is confident their reading will not stray outside of. For example, the Signals thermometer claims to be correct to within plus or minus 1.8F. The smaller this figure the better.
Accuracy isn't something you can test before you buy so you'll have to trust what the company tells you. So it's best you go with trusted companies and not "no name" brands.
App & App Setup
The app is fast becoming a very important part of the thermometer. For me, all I want is an easy setup, from installing the app to configuring the Bluetooth or WiFi connection, and an easy-to-read screen with all my probe temps.
Thankfully all the thermometers on this list have this, but some older thermometers are a little tricky with their initial setups.
Past the basic of showing you the current temps some of the most popular features you'll want to look for is temperature and connection alarms, changing from Fahrenheit to Celsius, timers, custom pre-sets, and temp graphs.
Holders
The first type of holder I look for is some form of a magnetic strip. This allows you to safely place your thermometer on any metal object you have near your grill. I wouldn't recommend attaching it to the grill you are using as it will melt.
Other holders, that I personally don't really use, are hook holders and kickstands. If you have hooks around your grill at a nice height for a thermometer, then a hook holder might be good for you. But you'll likely just ignore kick stands and just place the thermometer down flat.
If the thermometer comes with a small receiver, then a belt clip is a nice accessory for it to have. Of course, having a receiver unit is becoming less common as thermometer companies push you towards using your phone as the receiver.
Alarms for certain ranges
It's pretty simple what I mean by alarms for certain ranges. If your meat or grill gets too hot or cold you want to be warned about it. Any dual probe thermometer worth its salt will have this feature. Ideally, you'll have the option of setting the alarm to only sound from either the main display or the portable receiver that comes with it.
Waterproof
If you love BBQing or smoking outdoors, it's only a matter of time before you get caught in the rain. These long cooks can take 15 hours and even if the sun is shining when you first fire up the grill, over this kind of time period and after many uses, it's inevitable the rain will get you. So make sure you buy a dual probe thermometer for outdoors and that it is either waterproof or splash-proof.
Backlighting for the digital display
For many of my long smokes, I start the process the night before I want it to be eaten. This is pretty standard as you'll want your guests to be eating at a reasonable hour and while the sun is still out. So having good backlighting on my digital display is a nice bonus. It's not a deal-breaker as I have grill lights I can use or turn on the yard lights. However, it is a nice feature for people who have their grills down the bottom of their yard where they have no lighting, or for people that want to do long smokes on camping trips.
Build Quality
Probably the most important thing to look for in a piece of equipment like this is build quality, and yet it is one of the hardest to assess. Grilling equipment seems to take a lot more knocks than standard cooking equipment. I don't know if this is because of how well grilling and drinking go together or whether it's deemed a more macho cooking style that people simply mistreat stuff. Whatever the reason you'll need to guess the build quality before buying as you're unlikely to be allowed a trial period on thermometers to test the quality. So other than just guessing, your best bet is to read articles like this one or ask people on Facebook BBQ groups, this will give you a much better idea of build quality than guessing alone.
Battery life
You're going to be cooking outdoors where you're not always going to have access to an electrical point so battery life is important. Especially as dual probe thermometers will be used for long cooking sessions.
Rechargeable batteries
Personally, I much prefer a rechargeable battery. If the thermometer dies on me mid-cook I can easily take it inside and give it a little juice to finish the cook. If non-rechargeable batteries die on you then you'll have to rush to the shop to buy new ones. Which isn't always possible.
A tip I'd recommend for rechargeable thermometers is to buy a portable power pack. If you use your thermometer often you'll forget to recharge your battery pretty often, and it's better to have a backup power source than to take the thermometer inside for a quick charge.
Extras
An extra I always look for a carry case. Not because I want a nice case to carry my thermometer around with, but because they make it much easy to store the thermometer after use. Without a case, the wires always get tangled around other bits of BBQ kit I have.
Something you'll hopefully not need to buy, but if you lose a probe or it gets damaged in a cook then you'll want to be able to buy just a single probe and not have to buy a whole thermometer again. So wise to check your thermometer company sells probes individually.
A mounting bracket is a great little extra, giving you several different options for placing your thermometer safely during cooks. Thermometers are expensive so a relatively cheap extra like this makes sense to buy if available.
Final Thoughts
Accuracy is the deciding element in how good a dual probe thermometer is, even while its broad feature set, which could include wireless capabilities, multiple probes, alarms, and app management, may surely simplify temperature monitoring you want a thermometer with excellent accuracy first and foremost. While all of the best dual probe thermometers I tested were packed with features, a few of the lower-priced models lacked precision. As a result, I have only included the most accurate thermometers on this list, treating the inclusion of any other features as a bonus.