Every meat-eater loves a steak grilled to perfection or the classic BBQ grub of burgers and hotdogs. But there comes a time in every budding pitmaster's life when they move on to the big guns of backyard cooking and try to tackle ribs, briskets, and pulled pork. For this low and slow style of cooking, you're going to need the right tools. One such tool is a thermometer, and choosing the best dual probe thermometer for BBQing and smoking meat means your task of achieving legendary status among your guests will increase significantly.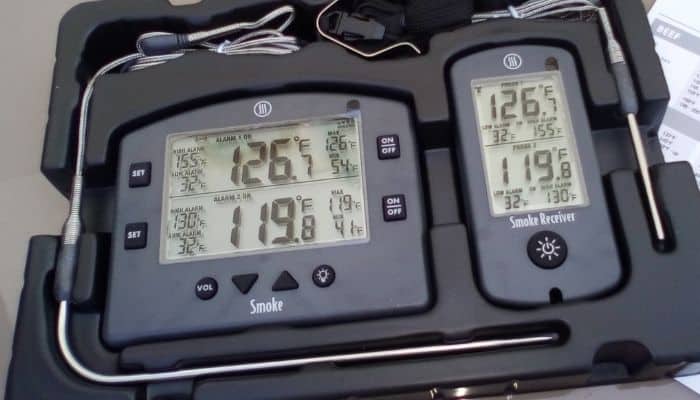 What is a Dual Probe Thermometer
Firstly, a dual probe thermometer doesn't necessarily mean there are just two probes – I've seen some with six probes, and as you'll see in this list of best dual probe thermometers many of the best thermometers have four probes. Being a dual probe thermometer simply means that there are at least two probes that serve a slightly different purpose.
One of the probes will be a "leave-in" thermometer. And as the name implies, this probe is to be left in the meat the whole time the meat is cooking. With low and slow cuts of meat, you don't want the internal temperature to rise too quickly or exceed your target temp. It's therefore very important to be able to track this temperature and to also be able to do it without lifting the lid every five minutes.
The second probe will normally be used to check ambient temperatures – this is best measured close to the meat and near grill level. Yes, most grills come with some sort of temperature gauge built-in for ambient/grill readings (normally in the lid), and these are great to give you a ballpark figure, but this reading will be the temp where the gauge is – which is likely a fair distance from the meat and maybe even positioned over the coals. The second probe will likely be stubbier than the leave-in probe and also have an attachment that aids in keeping it slightly off the actual grill.
Each of the probes will be connected to a display unit or phone via long heatproof wires or a wireless technology like Bluetooth, WiFi, or radio frequency. This is so the probes can be left in the grill while the display unit is left in a place it can easily be read (like a nearby BBQ table).
Best dual probe thermometers
There are so many different types of thermometers available today that it must be a nightmare for someone new when looking for the best dual probe thermometer to suit their needs. So below we have given a quick outline of our top 5 with a buying guide near the bottom of the article.
1. Signals 4 Channel WiFi & Bluetooth Thermometer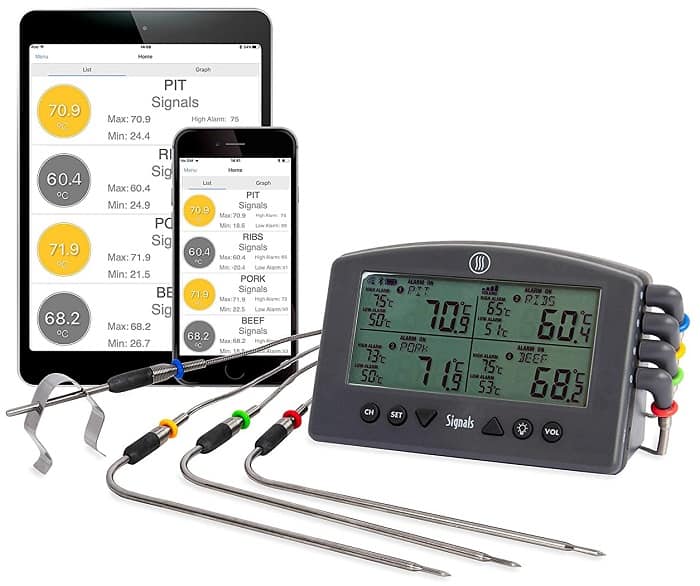 The first thing that needs to be said about the Thermoworks Signals thermometer is it's expensive. Considerably more expensive than most other dual-probe thermometers you'll come across. But it's a heck of a good thermometer if money isn't a big issue for you.
Thermoworks has given you four-probe thermometers with the Signals, three of the probes are for your food while the fourth is specially designed to monitor pit temperatures. All four probes are from their pro-series of cooking probes and come with silicon color-coded rings to make it easy to keep track of which probe relates to the data on the base unit.
As the Signals is such an expensive unit it obviously comes backed with the latest tech. You can connect to the thermometer with either Bluetooth or Wifi. I'd like to have seen a better version of Bluetooth for the money, having version 4.2, but this still gives more than enough range for most backyard grillers at about 95ft. Of course, Wifi is where the money was spent on this unit and eliminates any range issues with you being able to connect to the thermometer from anywhere in the world with an internet connection.
Other nice little touches added to the Signals thermometer are the magnetic back to help give you somewhere to place the unit. The backlighting helps with readings in poor light. It is splashproof so you don't panic when it starts to rain. And the min/max alarms.
One other reason to consider the Signals as the thermometer to buy is that it's compatible with the billows temp control fan. For me, buying this add-on now makes the unit seem reasonably priced, cos many other grill temp control units cost more than this combo.
2. ThermoPro TP27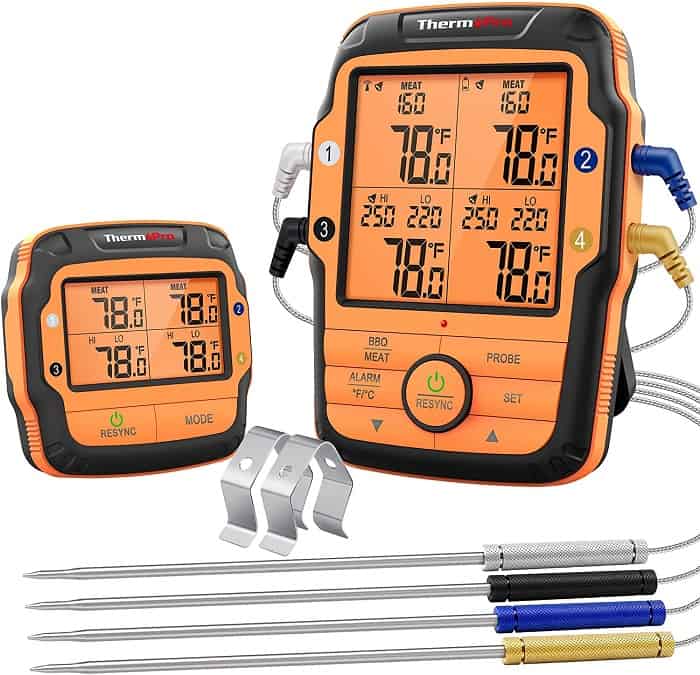 The ThermoPro TP27 is a wireless dual probe thermometer using radio frequency as its wireless tech. Radiofrequency was the go-to tech for early wireless thermometers because it has a good range, and that is the same today, the ThermoPro TP27 has a range of 500ft.
Using radio frequency also makes a thermometer a great choice if you aren't tech-savvy or want an easy to setup thermometer. As these units normally come with a transmitter unit and receiver unit already paired. Which I am sure sounds complicated but just means you open the box, turn on the device and you are ready to go.
ThermoPro goes with the classic larger transmitter where you have several buttons to select your options and the smaller receiver unit that is more pocket friendly. The receiver is what you can carry up to 500ft away from the grill.
The TP27 also comes with most of the expected add-ons, such as good backlighting, a magnetic holder, hi/low alarms, and the ability to change from Fahrenheit to Celsius readings.
3. Inkbird IBBQ-4BW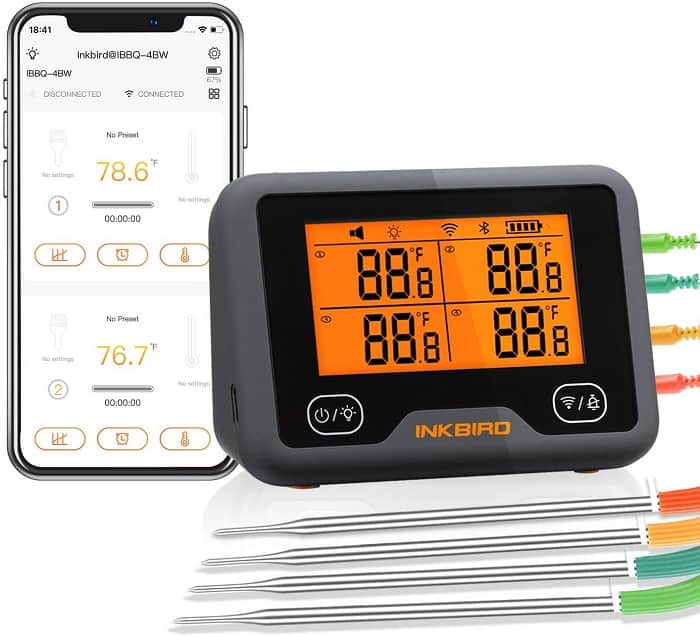 The Inkbird IBBQ-4BW, like all the other dual probe thermometers on this list, is wireless. Using both Bluetooth and Wi-Fi to connect to a smartphone. Having Wi-Fi in a thermometer is the most expensive tech to connect wirelessly, so Inkbird must be running on some tight margins when you look at the cost of this unit compared to other Wi-Fi-enabled thermometers.
The body of the IBBQ-4BW doesn't have as big a display or the amount of information as the Signals, but it does have what most people would need. The temp readings of all 4 probes. Any other information can be found in the well-made App.
Although I have the Inkbird down as a great value for money thermometer it still isn't cheap. So you do expect a great build quality and the other high-end thermometer luxuries for this price, and Inkbird doesn't let you down.
The sturdily build thermometer comes with four quality color-coded probes, two grill clips, a magnetic holder, a backlight screen and a very nice app.
Have a look at our full Inkbird IBBQ-4BW review for more information.
4. Maverick Adrenaline Barbecue Company XR-50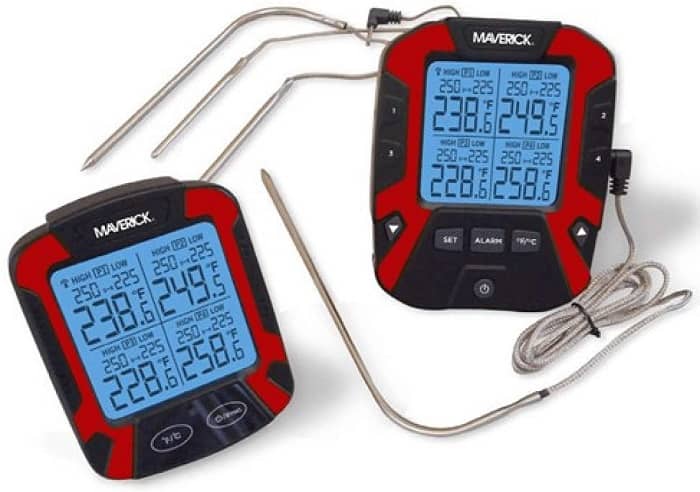 Maverick has been a popular choice for BBQ'ers due to the simplicity of their units. And the XR-50 is the same. You don't have to understand how to set up Bluetooth or Wi-Fi and the transmitter and receiver come already set up for you to use.
Using RF-based technology the XR-50 gives an impressive 500ft of range which covers nearly all home use. In fact, a lot of people that buy thermometers that come with their own receiver and not an app are more than happy to just use the main body (the transmitter) during cooks, as they will be sitting close to the grill having a drink, so it's easy to just have a quick look.
Does this thermometer come with all the other expected bells and whistles? You get a decent backlit screen that displays the temps of all four probes. You get the magnetic back holder, and high/low alarms
5. Weber Connect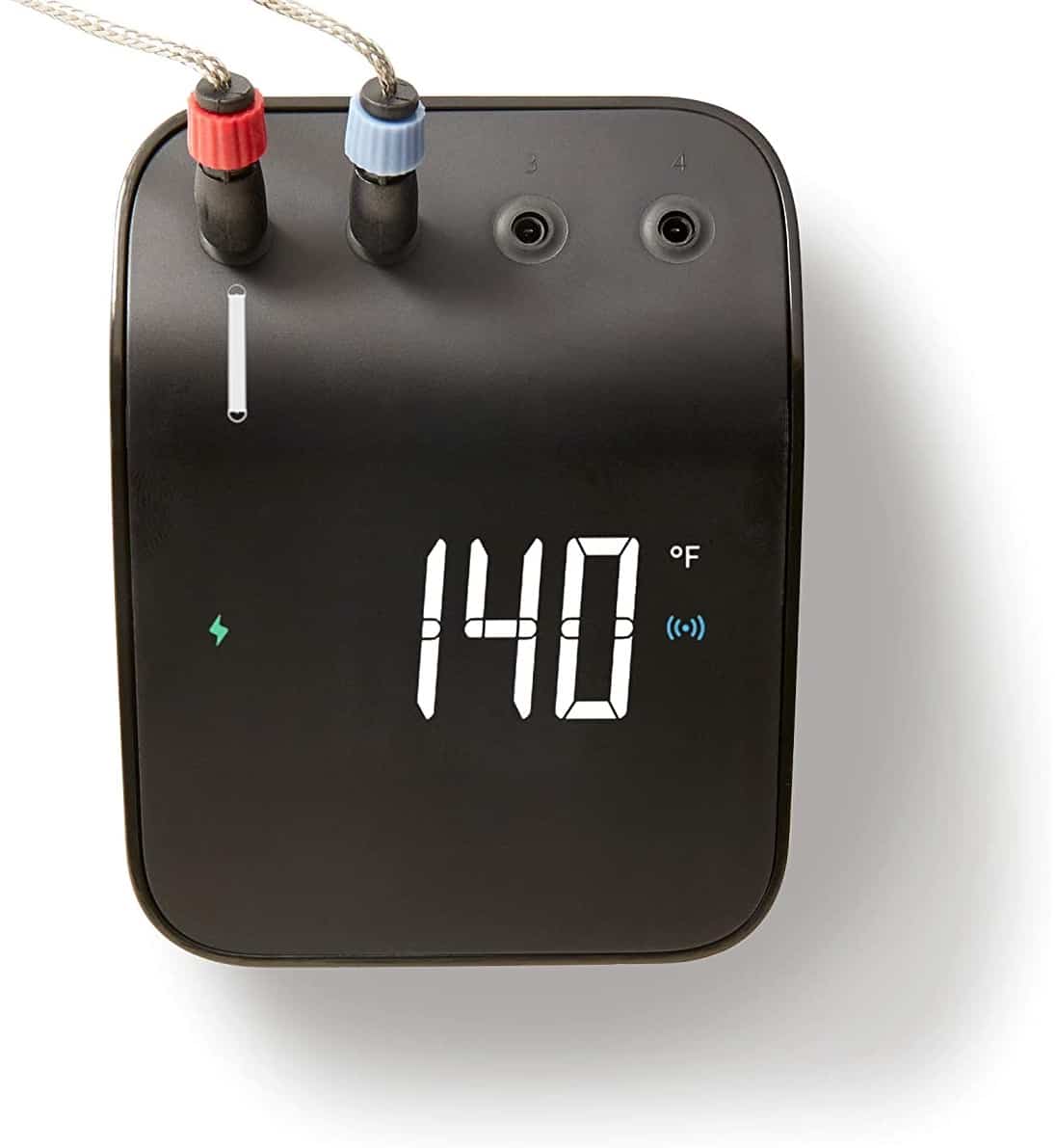 Anything with the Weber name is worth having a look at when it comes to grilling. Step forward the Weber Connect Smart Grilling Hub. Weber's high-end Wi-Fi-enabled cooking thermometer.
This thermometer can handle four probes, although you only get two with your initial purchase, meaning you must buy the extra two separately if you want all four. And also has one of the best-looking base units I have seen.
But this slick design comes at the cost of having very little information or functionality available on it. In fact, it only shows one temp probe, which I recommend you have set as the ambient probe. For any extra info, you have to use the excellent app, where you have all the features and information you'd expect.
Does the thermometer meet the expectations of the Weber name? I think it's an excellent thermometer however, I do think for the price it should ship with all four probes. But if money isn't a motivator in your purchase, then the Weber Connect is a quality bit of kit.
We have an in-depth review of the Weber Connect Smart Grilling Hub if you want more info
Features to look for in a dual probe thermometer
Thermometers are expected to do one job, read temps, and every dual probe thermometer will do this. So what other features should you look for in a quality thermometer? I'll run through a list of the key features I examined in order to come up with what I thought were the best dual probe thermometers.
Price
In general, BBQ accessories are pretty expensive; different grills, firelighters, a dutch oven, utensils, etc. all quickly add up. For what you actually get for your outlay though, I'd have to say a dual probe thermometer is one of the best value-for-money accessories you can buy. Are they cheap? Well, that's all relative but considering some of the very best thermometers are available for under $50 I'd say they are cheap. Low and slow cooking is what BBQ and smoking is all about and a dual probe thermometer will be used for every one of these cooks. It's money you will not regret spending!
Number of Probes
If you've been bitten by the BBQ bug like me then it's highly likely you'll have more than one chunk of meat on the go at the same time for a BBQ party. So the options are to buy multiple thermometers or to buy one that allows you to plug in more probes. Each option has its pros and cons so buy what suits your grill set-up best. Multiple thermometers give you more flexibility because if you're using more than one grill it doesn't matter about the distance between them. This flexibility comes at an extra cost however and means that you'll need to carry around multiple receivers or have several apps installed on your phone.
WiFi, Bluetooth and Radio Frequency
What you're looking for when considering WiFi or Bluetooth capabilities is the range – how far can you wander off from the grill and still be confident you'll get a signal. Unfortunately, I have to say you have to take the range given by manufacturers with a huge pinch of salt. Maybe manufacturers test in ideal conditions that are unattainable by the average backyard grill jockey, because I'd hate to think they are outright lying.
Radio frequency is my preferred feature over WiFi or Bluetooth simply due to the simplicity it offers. Radio frequency dual probe thermometers will generally already come coupled, meaning the receiver is already set-up, so you are good to grill right out the box. Synchronizing a WiFi or Bluetooth enabled device is normally a lot trickier and I have an internet engineering degree. Someone like my father, who has just figured out his phone has an alarm clock app has next to no chance of working it out. Radio frequency lets my better half grill without me having to give over my phone and also allows me to lend it to friends hassle-free.
Accuracy
Many of the best dual probe thermometers will give you an error range that the company is confident their reading will not stray outside of. For example, the Signals thermometer claims to be correct to within plus or minus 1.8F. The smaller this figure the better.
Accuracy isn't something you can test before you buy so you'll have to trust what the company tells you. So it's best you go with trusted companies and not "no name" brands.
App & App Setup
The app is fast becoming a very important part of the thermometer. For me, all I want is an easy setup, from installing the app to configuring the Bluetooth or WiFi connection, and an easy-to-read screen with all my probe temps.
Thankfully all the thermometers on this list have this, but some older thermometers are a little tricky with their initial setups.
Past the basic of showing you the current temps some of the most popular features you'll want to look for is temperature and connection alarms, changing from Fahrenheit to Celsius, timers, custom pre-sets, and temp graphs.
Holders
The first type of holder I look for is some form of a magnetic strip. This allows you to safely place your thermometer on any metal object you have near your grill. I wouldn't recommend attaching it to the grill you are using as it will melt.
Other holders, that I personally don't really use, are hook holders and kickstands. If you have hooks around your grill at a nice height for a thermometer, then a hook holder might be good for you. But you'll likely just ignore kick stands and just place the thermometer down flat.
If the thermometer comes with a small receiver, then a belt clip is a nice accessory for it to have. Of course, having a receiver unit is becoming less common as thermometer companies push you towards using your phone as the receiver.
Alarms for certain ranges
It's pretty simple what I mean by alarms for certain ranges. If your meat or grill gets too hot or cold you want to be warned about it. Any dual probe thermometer worth its salt will have this feature. Ideally, you'll have the option of setting the alarm to only sound from either the main display or the portable receiver that comes with it.
Waterproof
If you love BBQing or smoking outdoors, it's only a matter of time before you get caught in the rain. These long cooks can take 15 hours and even if the sun is shining when you first fire up the grill, over this kind of time period and after many uses, it's inevitable the rain will get you. So make sure you buy a dual probe thermometer for outdoors and that it is either waterproof or splash-proof.
Backlighting for the digital display
For many of my long smokes, I start the process the night before I want it to be eaten. This is pretty standard as you'll want your guests to be eating at a reasonable hour and while the sun is still out. So having good backlighting on my digital display is a nice bonus. It's not a deal-breaker as I have grill lights I can use or turn on the yard lights. However, it is a nice feature for people who have their grills down the bottom of their yard where they have no lighting, or for people that want to do long smokes on camping trips.
Build Quality
Probably the most important thing to look for in a piece of equipment like this is build quality, and yet it is one of the hardest to assess. Grilling equipment seems to take a lot more knocks than standard cooking equipment. I don't know if this is because of how well grilling and drinking go together or whether it's deemed a more macho cooking style that people simply mistreat stuff. Whatever the reason you'll need to guess the build quality before buying as you're unlikely to be allowed a trial period on thermometers to test the quality. So other than just guessing, your best bet is to read articles like this one or ask people on Facebook BBQ groups, this will give you a much better idea of build quality than guessing alone.
Battery life
You're going to be cooking outdoors where you're not always going to have access to an electrical point so battery life is important. Especially as dual probe thermometers will be used for long cooking sessions.
Rechargeable batteries
Personally, I much prefer a rechargeable battery. If the thermometer dies on me mid-cook I can easily take it inside and give it a little juice to finish the cook. If non-rechargeable batteries die on you then you'll have to rush to the shop to buy new ones. Which isn't always possible.
A tip I'd recommend for rechargeable thermometers is to buy a portable power pack. If you use your thermometer often you'll forget to recharge your battery pretty often, and it's better to have a backup power source than to take the thermometer inside for a quick charge.
Extras
An extra I always look for a carry case. Not because I want a nice case to carry my thermometer around with, but because they make it much easy to store the thermometer after use. Without a case, the wires always get tangled around other bits of BBQ kit I have.
Something you'll hopefully not need to buy, but if you lose a probe or it gets damaged in a cook then you'll want to be able to buy just a single probe and not have to buy a whole thermometer again. So wise to check your thermometer company sells probes individually.
A mounting bracket is a great little extra, giving you several different options for placing your thermometer safely during cooks. Thermometers are expensive so a relatively cheap extra like this makes sense to buy if available.