One of the nation's favorite past times is grilling and choosing a pellet grill for grilling might be challenging because there are so many types available. Two of the most well-known wood pellet grill brands are Traeger and Pit Boss. What pellet grill is best for you, though, given that they both provide a number of features?
I'll examine the advantages of Pit Boss vs Traeger grills in this article to assist you in selecting the one that best suits your requirements. Having competed as a pitmaster for several years, I can offer professional guidance to assist you in selecting the ideal new pellet grill.
Let's contrast the features of Pit Boss and Traeger pellet grills.
Introduction to Pellet Grills
You've made the decision to purchase a wood pellet barbecue, but you're still debating which brand to choose. Two of the most well-known manufacturers of pellet grills today include Traeger and Pit Boss.
There are many different ideas regarding which is better, so ask around. It's challenging to get an unbiased opinion because everyone typically ends up defending the grill they purchased and criticizing the competition.
To assist you to choose the best pellet grill for you, I'll explain the distinctions between Traeger and Pit Boss in this article and examine some of their best grills. But first, let me go over some fundamentals about pellet grills and the background of each brand.
What is a Pellet Grill?
Instead of using gas or charcoal, a wood pellet barbecue burns 100% all-natural compressed hardwood pellets. Wood pellet grills can be used to smoke, roast, bake, grill, and sear practically anything because they combine the capabilities of conventional ovens and traditional grills. When Traeger Grills created the wood pellet grill in 1985, they found that pellet grills produce a reliable, manageable fire for consistently flavorful food.
History of Pellet Grills
On Mount Angel, Oregon, Traeger created the first wood-fired grill more than 30 years ago. They have spent decades perfecting the art of wood-fired cooking, and as the world's #1 selling wood-fired pellet grill, they continue to lead the industry. A pellet grill will change the way you cook since it consistently produces the same results. With pellet grills, satisfy your craving for wood-fired flavor with the ease of cooking with an oven.
An auger transports wood pellets from the hopper to the fire pot. An ignition system ignites the pellets when they get to the fire pot, feeding the flames and giving your meal a delightful wood-fired flavor. A drip tray keeps flames away from your food and minimizes flare-ups, while a fan distributes heat and smoke for even, consistent cooking. A controller controls everything, maintaining a precise temperature so you can focus more on the people who matter and less on the grill.
History of Traeger
The first wood pellet grill was created by Traeger. Traeger's 100% wood-smoked barbeque, which was created by the company's creator Joe Traeger in 1985 and patented in 1986, revolutionized the market with its set-and-forget cooking method.
With a product that made home smoking hassle-free and helped Traeger establish itself as a luxury brand, the company's popularity naturally surged. Nevertheless, patenting the design gave Traeger a stranglehold over the market.
Several barbeque producers rushed into the market after their patent ran out in 2006, fostering innovation and pricing competition. And even though there are many different pellet grill manufacturers available right now, Traeger is still one of the best-selling businesses because of their premium reputation as the first and greatest.
It is no longer a family-owned firm. It's interesting to note that Joe Traeger sold it in 2006 and is now employed by Dansons, the proprietors of Pit Boss, a rival business.
What country produces Traeger grills? Originally produced in the US, Traeger has recently transferred its production to China, along with the majority of its rivals.
History of Pit Boss
Dansons Inc. was established in 1999, and Pit Boss is a division of that company. Although Pit Boss produces a variety of barbecues, including charcoal and gas grills, they are most known for their economical yet high-quality pellet grills. Pit Boss was one of the first firms to compete in the pellet smoker market.
Lousianna Grills, another well-known producer of pellet smokers, is also owned by the Dansons. Where are the grills created by Pit Boss? China is where Pit Boss pellet smokers are made.
Pit Boss Top Grill Series
With a larger, hotter, heavier brand mindset, Pit Boss brings the heat to the barbeque market. Each of their products is created internally by a highly skilled group of engineers and subject matter experts. This business was founded on two pillars: quality and sincerity. If the Pit Boss name is on it, the value proposition is strong. Pit Boss was ranked by SimilarWeb as the eighth-fastest growing brand in the home and garden category in the digital sector in 2020. It was one of the top brands in terms of unit sales in the United States.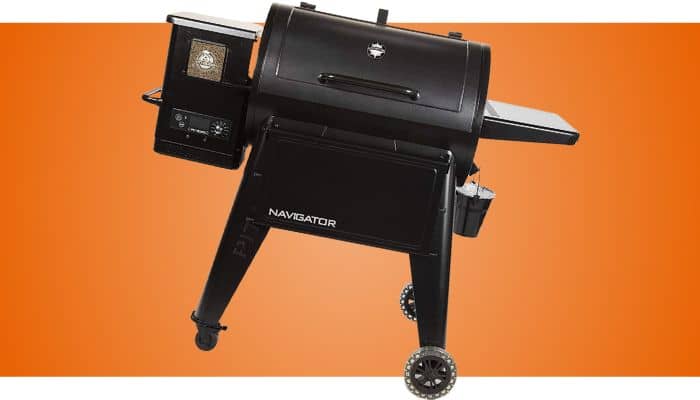 If you want a short answer about what I think of the well-known Pit Boss Navigator pellet smoker series, let's keep it simple and say that it's a reasonably priced, very well-built smoker that doesn't have all the bells and whistles but does well at all the essential functions.
It produces fantastic smoke rings, is one of the smokiest pellet smokers I've tried, and it constantly produces flavorful meat. The temperature does fluctuate considerably with a conventional temperature controller that is not PID. Yet, that is what increases its smokiness and, in my opinion, has no impact on the reliability of the results.
For fully wood-fired meats, the slide-plate mechanism for direct flame grilling works exceptionally well (this is why the Navigator is cited as one of the top pellet smokers for searing). Also, it doesn't pulverize the pellets like trying to grill over indirect heat would.
For a pellet smoker in this price range, the construction quality is remarkable. The cart is as sturdy as anything I've tried and is thick enough to endure the heat without warping. Also, the front and side tables provide useful additional workspace.
The Pit Boss Navigator series, which comes with two meat probes and a weatherproof cover, is excellent value for a very durable smoker that works well for both low and slow and direct-flame, high-heat grilling.
The Pit Boss 850 offers astounding 8-in-1 culinary versatility, enabling you to smoke, bake, braise, roast, grill, barbecue, char-grill, and sear all in one appliance. With the cutting-edge Flame Broiler Lever, you can generate direct or indirect heat instantly. You can monitor temperatures using the digital control board, stainless-steel meat probes, and Wi-Fi and Bluetooth features from the convenience of your living room.
A custom-fitting grill cover for heavy-duty full-length coverage, a large hopper capacity, a large pellet view window, a pellet door cleanout, a high-temperature powder coat finish, locking caster wheels, and the Pit Boss 5-year warranty are additional features of the Pit Boss Navigator Series.
Pit Boss Sportsman 1100 Wood Pellet Grill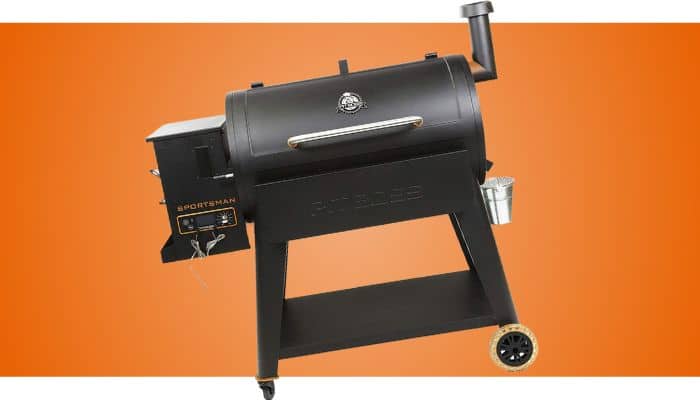 After letting the grill automatically ignite with the lid open for about 10 minutes, you should start seeing the white smoke diminish. To begin cooking, all you have to do is turn the power on and select "Smoke." When you reach that point, you can close the cover and adjust the temperature for cooking.
The days of estimating the doneness of your meat are gone. Two wired meat probes connected to the digital control board allow you to check the internal temperature. When you're cooking several pieces of meat at once, having two of these probes can be a lifesaver. Your best indication of the group's doneness will come from one probe in both the biggest and smallest parts.
This pellet grill from Pit Boss includes a Flame Broiler. To provide you with direct heat over the fire pot, it opens a number of sliding vents underneath the grill. This enables you to sear food at temperatures of up to 1000°F. Moreover, it provides indirect heat at temperatures between 180 and 500 degrees Fahrenheit.
Without opening the cover, you may easily change the cooking settings and monitor the pellet levels. To avoid letting heat escape each time you need to check on your meal, it accomplishes the process electronically.
On the Pit Boss Sportsman 1100, you won't have to worry about running out of room for cooking. The primary area is 35 x 19 inches, giving you a total of 1610 square inches of cooking space. There is also a stainless steel jerky tray that is 32 x 14 inches and an upper tray that is 33 x 11 inches, providing you with a lot of cooking space.
The amount of pellets your grill uses depends on a variety of factors. While I don't have a precise figure, I found that when smoking at 225°F, I go through about 1 pound of pellets every hour. Keep in mind that you will use up pellets more quickly the hotter your cooking temperature is.
With regular grilling, you may anticipate using about six bags of pellets a year. The price of a high-quality pellet, which will run you about $20 per bag, will eventually offset the cost of propane for a gas barbecue.
In terms of the kind of pellet you employ, I advise utilizing a premium 100% hardwood pellet as opposed to a less expensive alternative. They may contain binders and fillers, which produce a lower-quality flavor and cause them to burn less effectively. Moreover, they could leave unwelcome residue on your barbecue.
Pit Boss Portable Wood Pellet Grill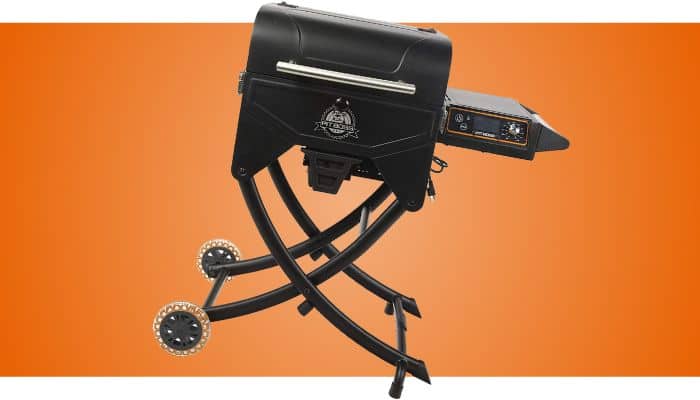 The Pit Boss Portable pellet grill can be a terrific option if you're looking for something portable but useful that checks a lot of the right boxes and has very few compromises. This is a tempting idea because you can use your pellet barbecue camping and have a pleasant BBQ session in the open air. The grill's quality stainless steel structure gives you a reason to be confident in the grill, and the presence of strong, collapsible legs that let you move the grill away emphasizes how portable it is.
The ample 387 square inches of cooking space can prepare a dinner for two people. The grill can reach temperature ranges of 180F to 500F, offering a variety of cooking options. Low temperatures with the assistance of the large 19 lb hopper capacity make it simple to cook food low-and-slow.
Convection cooking, automated start and cool down, an LED-equipped digital control board, and the ability to use both direct and indirect heat make for simple operation. The dedicated grease management system avoids flare-ups, and the porcelain-coated cast-iron grates perform an excellent job of transferring heat. It's also important to note that the grill contains one meat probe that you may use to check the internal temperature of the meat you've selected.
Traeger Top Grill Series
Since the company's founding in 1987, Traeger has continued to improve its pellet cookers. These auger-fed, wood-burning barbecues have advanced significantly since their first basic design. It used to be a major issue to add an auger to a pellet grill, but now that technology is more accurate and connected, they are among the simplest and most efficient ways to prepare mouthwatering barbecue. I'll suggest a handful of Traeger's best-performing pellet-grill models.
Traeger Ironwood XL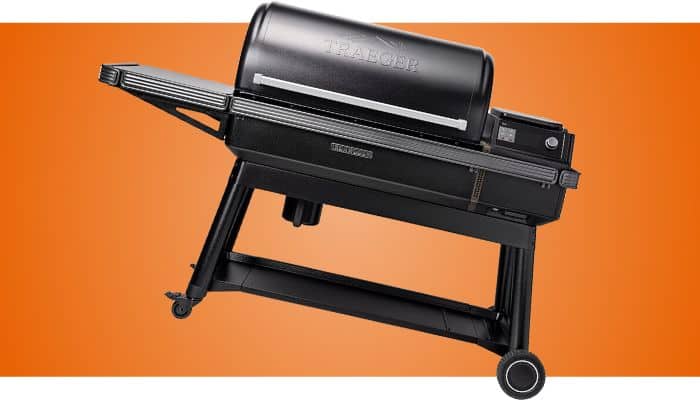 The Traeger Ironwood grill delivers on its promise of being dead easy to use and incredibly versatile. The majority of pellet grills on the market operate similarly to the Traeger Ironwood and Ironwood XL. Little cylindrical pellets, which are effectively compressed sawdust, should be added to the hopper. The pellets are gradually pushed into a metal pot by an auger shaped like a screw, where a flame ignites them. The air that the grill injects into the pot accelerates the cooking process by assisting the burn.
The earlier Ironwood series cookers from Traeger, which you might be able to find at discounted prices, have been replaced by the new Ironwood and Ironwood XL models. The updated touchscreen electronic controller, a feature that has trickled down from the flagship Timberline grill, is one of the new models' most significant changes.
A chute for quickly discarding old pellets, a rail for mounting Traeger's modular accessories, and compatibility with Traeger's wireless-connected grilling accessories are other improvements for the new Ironwood models.
Outside of the cooking equipment, there aren't many bells and whistles to be found. There is only a straightforward, robust side table for meal preparation and to hold a beverage while you cook; there is no side burner. The sole hint of storage is a single shelf near the bottom of the legs under the cooking chamber.
The modular accessory rail system that Traeger introduced with its Timberline series last year has been added to the new Ironwood. It is compatible with a wide range of accessories, including condiment and rub storage containers, tool hooks, and paper rolls. If you're willing to spend extra money on accessories to go with your already expensive barbecue, it's useful.
You will be spoiled by the Traeger Ironwood and Ironwood XL. These pellet grills are practical for everything from low-and-slow smoking to high-heat searing because they are simple to set up, maintain an exact temperature, and can heat up to 500 degrees.
For outdoor cooks like myself, a Traeger Ironwood pellet grill achieves the ideal blend of simplicity and automation. It provides a real smoky flavor without the need for constant attention. I don't have to, but I could obsessively check the temperature every ten minutes. Pellet cookers are considered cheating by some barbecue purists. While a small part of me believes they are correct, a much greater part of me prefers to chat with my guests than tend a fire over an extended cook. This grill is just what you've been looking for if that applies to you.
Traeger Timberline XL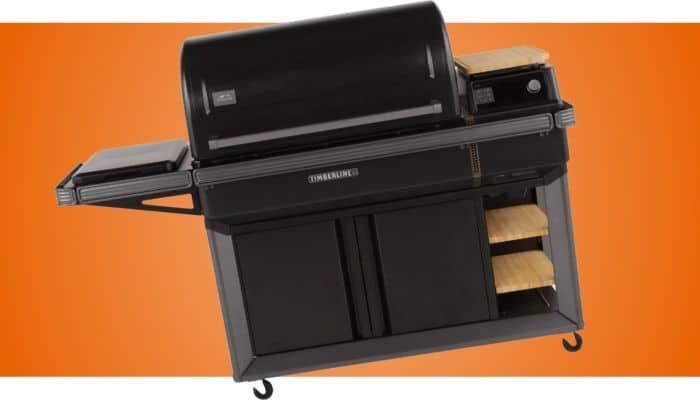 The most recent model of the company's signature grill line, the Traeger Timberline XL, epitomizes grilling at its pinnacle. It has a ton of high-tech capabilities, like Wi-Fi connectivity and induction cooking, as well as thoughtful finishing touches.
You may save a lot of money and probably be just as satisfied with one of the smaller and less expensive choices among my best cheap pellet grills list if you don't need or want all of the dynamic features that come standard on the Timberline. Yet, if you have the money and cutting-edge grilling is more important to you than the marbling of a steak, this is a wise, progressive investment. Did I also mention that it produces amazingly delicious food?
If you have the Traeger Timberline XL delivered to your house, it will require at least a couple of people to unpack and set it up. To prevent any injuries or damage to your grill, you'll need to set it up carefully because it weighs a whopping 289 pounds as well.
You'll be amazed at how much space there is after it's set up. The 1,320 square inches of cooking space offered by the Timberline XL is significantly larger than the 880 square inches provided by the smaller Timberline. Traeger claims that the size is the only true distinction between the two as they both offer the same functionality, connectivity, and accessories.
The Timberline XL's overall design is comparable to that of other wood pellet grills. The large, spherical top must be opened to gain entry. Within, there is an oven-like arrangement with three levels for cooking. Two of them are movable or adjustable as desired.
Although the cooking space on this barbecue is good to have, the new Timberline additions obviously have little to do with it. The additions are more connected to intelligent systems. On the outside, there is a large round temperature dial and a full-color touch screen that can be used to operate a variety of tasks.
A unique Pop-and-Lock connection system that is also on the exterior of the grill enables you to attach accessories to the grill's exterior. It's reliable and customizable to some extent, which is always a plus.
Traeger Pro 780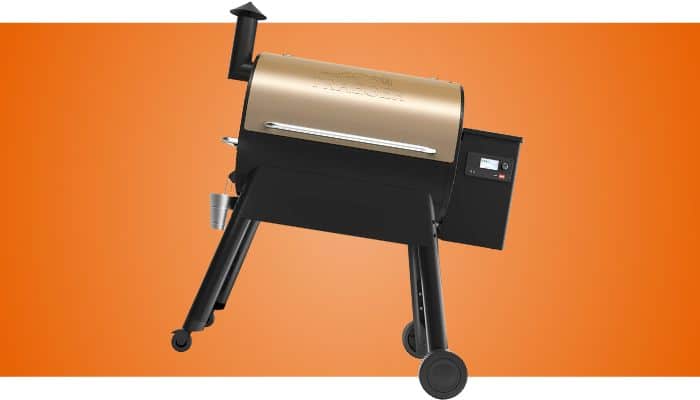 Being a pit-master is a serious job that involves sweating over a smoker, watching over the coals, and carefully cooking meat for hours on end to extract delectable tastes. With the combination of choosing from a variety of tried-and-true recipes, setting a temperature, and then monitoring it all via an app on your phone through WiFi almost makes the Traeger Pro 780 feel a bit blasphemous.
There are two models in the Pro series. In the Pro 575, which costs around $800, there are 575 square inches of cooking space divided between a full-width grate and one above it. The Pro 780 costs around a thousand bucks and, as you might have guessed, has a capacity of 780 square inches. The latter is the one I've been testing; according to Traeger, if you were so inclined, you could fit six birds, six slabs of ribs, or a full 34 burgers on it at once.
The mechanics are the same regardless of the size you choose. Wood pellets are placed in a bin on the right side of the grill; Traeger provides roughly 14 different sorts, all of which are hardwood and made in the USA. A screw-like augur then moves the pellets slowly into a fire pot in the center of the grill. The Pro 780 guarantees to maintain the temperature you select by regulating the speed of that screw and using an automated fan sparingly. It can reach temperatures of 500 or as low as 165.
Obviously, the grill quickly cools down if the lid is opened. The inclusion of Turbo Temp, which Traeger claims will assist in getting back to temperature once something happens, is one of the boasts of this grills 2019 improvement. Naturally, how quickly it cranks back up depends on the temperature it is set to, but I discovered that it can do so at a pace of about 5 to 10 degrees each minute.
Officially, assembly is a two-person task. After screwing on the legs, I needed some assistance to turn the grill the proper way up, but other than that, it was quite simple. The instructions from Traeger are straightforward, the minor components like nuts and bolts are all delivered separately, and you can find instructional videos on YouTube to assist you to understand everything.
After assembling it, all that's left to do is plug it in (the power cord is a tad on the short side) and connect it to your WiFi. At first, I had a few problems getting it online, but after that, every time I turned it on, it immediately reconnected.
Traeger Tailgater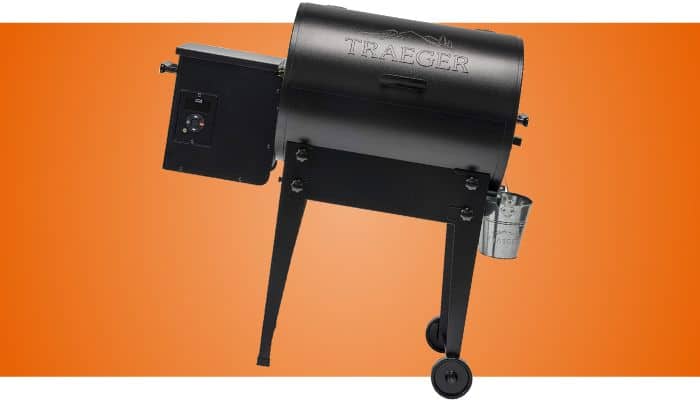 The most well-liked portable pellet grill from Traeger is the Tailgater. It is designed to be easily transportable for tailgating. The Ranger, which is another product offered by Traeger, has much less room and is more suited for camping.
With 300 square inches of cooking capacity, the Traeger Tailgater pellet grill is a mobile wood pellet grill smoker. It has collapsible, EZ-folding legs that make it simple to transport the BBQ grill onto your truck. The temperature control keeps the range between your preferred setting and 5 degrees.
The temperature range of this tailgater pellet grill is 180 to 450 degrees Fahrenheit (82 – 232 C). It has a digital arc control with an external LCD panel that shows the temperature. The 8 pound capacity of the pellet hopper allows for a continuous flow of pellets into the fire pot.
The Tailgater's temperature is managed by a digital panel. With the lid shut, it should reach the desired temperature in 15 minutes. After a break-in period, this grill maintained the proper temperature range. No changes of more than 5 degrees were observed during testing. Nevertheless, a dome gauge is not included.
To avoid corrosion and chipping, the Tailgater grill is comprised of powder-coated steel. To ensure easy polishing, the cooking grates are made of porcelain-coated steel. A high-grade polymer induction fan is included in the hopper. In comparison to comparable portable pellet barbecues, I found Traeger grills to be of above-average quality.
Pit Boss Vs Traeger Feature Comparison
I comprehend why people take their smoking seriously. It's difficult to beat fantastic barbecue, and weighing Traeger vs. Pit Boss is a terrific place to start for those who like flawlessly smoked meats.
Due to their superior performance and innovative approaches in a market long dominated by conventional cooking techniques and closely-guarded family recipes, Traeger grills and Pit Boss grills have grown in popularity. However, there are some significant variations that merit investigation.
Price
Pit Boss has made a name for itself by being more reasonably priced than its main rival, Traeger. Smaller, portable varieties of Pit Boss' pellet smokers are typically priced between $500 and $700 USD, while their top-of-the-line units can cost up to $900 USD.
Expect to pay at least $600 USD for one of Traeger's more entry-level models and up to $3,000 USD for their biggest and most advanced models.
Traeger is the better grill if you are willing to pay the extra money and there is also a small premium for the brand name and marketing. Pit Boss is the better option if you have a limited budget and is the value-for-money choice.
Construction and Build Quality
Stainless steel and powder-coated steel are frequently used in the building of Traeger grills. Overall, Traeger appears to have a better fit and finish with a stronger build and better features. Pit Boss models vary considerably in quality, but they don't have Traeger's dependability.
To improve heat retention and temperature management, Traeger mid-range grills offer double-wall insulation and the highest level of additional insulation.
Quality is crucial, but it also raises the price of the grill. The price of the grill will increase in direct proportion to the quality and caliber of the materials.
Although Traeger pellet grills have a minor advantage over Pit Boss if quality is crucial to you, Pit Boss has managed to strike a nice balance between price and quality.
Temperature Control
Although pellet smokers are designed to be set and forget grills, one of the most crucial questions to ask is "does it keep a stable temperature?" You want to make sure that it will consistently stay within an acceptable range of your goal temperature throughout the whole cook.
How well a pellet smoker maintains its temperature will primarily depend on two factors. Its digital controller is the first, and insulation is the second.
While Traeger's Ironwood and Timberline series feature double-wall side insulation for enhanced heat retention at cooler temperatures, their Pro line of grills is made of single-layered steel. Yet, if it's very cold, Traeger makes branded insulation blankets to fit most models. The digital controllers are upgraded frequently. The majority let you adjust the temperature in small steps, keeping within a reasonable range of the desired temperature, and providing consistent, high-quality smoke.
Also, Pit Boss has done a fantastic job of regulating temperature and has a design that doesn't often leak smoke. Few of their models, however, feature double wall insulation. But, if you live somewhere chilly, they also provide inexpensive insulating blankets for most of their models.
Remember that the majority of Pit Boss' digital controllers only let you adjust the temperature in increments of 25°F. I'm not overly bothered by it. But, Traeger will give you a tiny advantage if you prefer more exact control.
Smokers with sophisticated digital controllers and well-insulated construction are available from both Traeger and Pit Boss, and they should be able to maintain a consistent temperature in most weather circumstances.
Temperature Range
The majority of pellet grill manufacturers construct their grills' fireboxes so that a cover or heat screen covers the flames. Indirect heat won't touch or burn the foods, which is fantastic, but it could be challenging to sear a steak.
This issue has been solved by Pit Boss by including a sliding panel in the middle of the heat deflector that is included in the majority of its grills. Direct flame grilling is possible because to a sliding plate that allows the flames to heat the meat in a manner similar to a charcoal barbecue.
A benefit of the Treagers D2 controller is that it provides greater overall temperature control accuracy. The 180 to 500 degree temperature range offered by both brands is suitable for both grilling and smoking meats.
Cooking Space
Both Pit Boss and Traeger, pellet smoker experts, provide a wide range of options in terms of size. You can choose from super-sized beasts to smaller, compact models to find the perfect fit for your requirements.
But, Pit Boss also has a good selection of vertical pellet smokers if space is a concern. With this modest design, you can maximize your cooking area in backyards with limited space while maintaining a professional appearance.
Hopper Size
A wood pellet bag typically weighs 20 pounds. A 20-pound capacity hopper should last your grill for around 20 hours of use because the average pellet grill burns one pound of pellets per hour. Since they cook at lower temperatures, pellet smokers burn pellets more slowly.
Grills from Pit Boss and Traeger both include hoppers that vary in size, I'd say a 20-pound hopper is an ideal size. Keep in mind that pellets must be stored in an appropriate pellet container and not in the hopper. In other words, a 50-pound hopper might not be of much use to you as you should remove pellets is the grill is not in use.
Extra Features
Both Pit Boss and Traeger didn't have many added features until lately. Both manufacturers offer strong carts with lockable castors, efficient pellet purge doors (to keep pellets from going bad), and a number of features to make cleaning up simpler.
Moreover, Traeger has improved in this area by incorporating WiFi technology to all of its latest smokers, even though you really don't need a lot of bells and whistles on a pellet smoker. This enables you to link your smartphone to the barbeque so that you can control it entirely from afar using their really awesome software.
But, you will also receive a few more minor upgrades as you move up the Traeger series. To differentiate itself from the competition, Traeger has created features like Super Smoke mode, Turbo Temp, a low pellet warning, Downdraft exhaust system, and integrated grease management, to name just a few.
Pit Boss Vs Traeger Video
Other Brands to Consider
If you're still torn between the Traeger and the Pit Boss, you might discover that one of the many other manufacturers sells the pellet grill you've been coveting. I'll quickly go over some of the options you might want to think about.
Z Grills
You might want to look at Z Grills if cost is your main consideration when buying a pellet grill.
These people have been producing pellet grills for other businesses (like Traeger!) for a long time, but they are extremely new to selling to customers.
When you look at the design, it is clear that they are similar. With the exception of the exorbitant price, everything is comparable.
One of their latest grills is the Multitasker 7052B with Wi-Fi. It has a digital PID controller, state-of-the-art LCD control panel, and 709 sq. in. of total cooking space.
Camp Chef
The pellet grills made by Camp Chef have a lot of fans. I rank their well-known Woodwind Pro 24 as one of the finest pellet grill overall.
Although not being the largest grill for the money, it has good build quality, is simple to clean, and consumes pellets very effectively.
I adore Camp Chef's method for searing as well. Instead of employing a gimmick, they merely provide you the choice of adding an optional sear box. Even though it appears straightforward, that's the greatest method for searing I've seen from a pellet grill.
Thankfully, the Camp Chef product line is much less complicated than those from companies like Traeger and Pit Boss.
Frequently Asked Questions
When it comes to buying a pellet grill, two names often stand out – Pit Boss and Traeger. These two brands have dominated the market with their reliable, high-quality grills that cater to all levels of barbecue enthusiasts. However, making a choice between these two can often be challenging. There are common questions that arise when comparing Pit Boss and Traeger, and this Frequently Asked Questions (FAQ) section is designed to address them. Here, we aim to provide clear, concise answers to help you understand the differences, similarities, pros, and cons of each, ultimately aiding in your decision-making process. Whether you're a novice griller or a seasoned pit master, this FAQ will provide valuable insights into these two popular brands.
Which is better, Pit Boss or Traeger?
The answer to this question largely depends on what you value in a grill. Both brands offer high-quality pellet grills. Traeger grills are known for their durable construction, consistent heat, and excellent features, but they tend to be more expensive. Pit Boss grills offer great value for money, with large cooking space and versatility at a more affordable price.
Are Pit Boss grills as good as Traeger grills?
Pit Boss grills are often compared favorably to Traeger grills. While Traeger grills have a reputation for premium build quality and features, Pit Boss grills are known for their value for money, offering generous cooking space, and versatility at a lower price point.
Are Traeger grills worth the money?
Traeger grills are generally considered to be worth the money due to their superior build quality, reliability, and excellent temperature control. If budget is not a constraint, a Traeger grill can be a great investment for a BBQ enthusiast.
Do Pit Boss grills last as long as Traeger grills?
The longevity of a grill depends on factors like the quality of its materials, how well it's cared for, and the frequency of use. Both Traeger and Pit Boss grills are built to last, but Traeger grills may have a slight edge in terms of longevity due to their premium materials and construction.
Can I sear on a Pit Boss or Traeger grill?
Yes, both Pit Boss and Traeger grills allow you to sear meat, but the methods are different. Pit Boss grills have a flame broiler feature for direct flame searing. On the other hand, Traeger grills require high temperatures to sear, which may require a separate sear box.
Final Thoughts
Hopefully, you are much more aware of the variations between Traeger and Pit Boss now. I sincerely hope that my analysis didn't enrage any ardent Traeger supporters. I'm not arguing that they produce subpar barbecues; rather, Pit Boss offers more value for the money.
Despite this, some individuals find the WiFi connectivity and mobile device control of Traeger's most recent grills to be too alluring to pass up. So if money isn't an issue you should buy a Traeger, otherwise you'd probably be better off with a Pit Boss.