The hottest trend in recent months is the versatile and budget-friendly pallet picnic table.
These wooden pallets can be dressed up to look fancy, allowing you to be really creative. The stability of the pallets also allows for a good amount of tableware such as food dishes to sit comfortably without problems.
Transporting the pallets is easy, as they lay flat and stack well, which in turn will store well when not in use. Which is another great reason for the popularity of pallet picnic tables.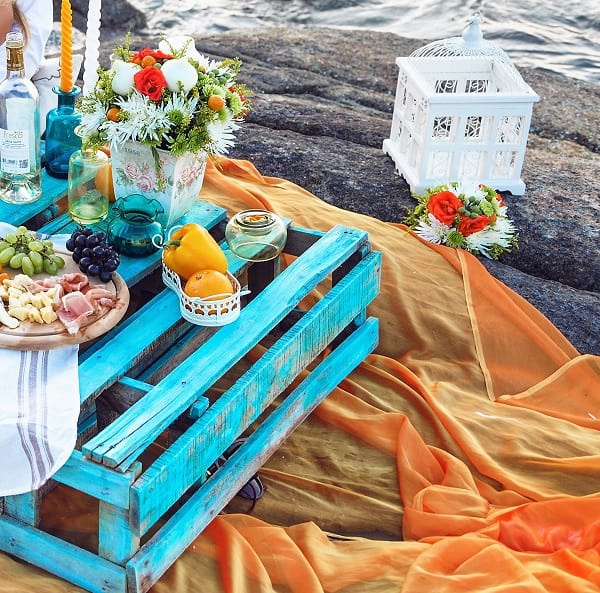 Join Our Facebook Picnic Group
Obtaining a Wooden Pallet for Use as a Picnic Table
Locating a pallet to use as a picnic table is relatively easy. Business units on an industrial estate are a firm favorite. Alternatively, you can go and look around at your local market or independent store. Ask friends who may be able to help you out too. We all know someone who knows someone that works with pallets.
Generally, most warehouses are happy for you to take the pallet off their hands for free! Be selective in the pallet that you choose, you want it to last. It would be a disaster, after all your efforts, if in a few weeks, you're chopping up your pallet picnic table for firewood. Yes, be selective in your choice even if it is free.
Observe the pallet's overall condition for its recycled use as a picnic table! You may need to do a little prep work on the pallet itself. Look it over for any rough edges that may need sanding down to avoid splinters and any nails that will need pulling out.
Decorating a Picnic Table
This section of the article warrants a separate article in itself, but for now, let us make do and get creative.
There are five key areas to address in preparation for a beautiful pallet picnic table set up.
These include the following
Picnic Color Scheme
Picnic Soft Furnishings
Picnic Hardware and utensils
Picnic Location
Firstly, when choosing a color scheme, it is important to experiment with colors to identify which colors appeal to you, for your event or occasion. Revise a few color wheels online for basic ideas if you must. However, I generally use a color guide below when deciding on a color scheme. It is a combination of individual colors with contrasting colors as a clever little guide. I hope this is of some help.
White: combines with everything, especially blue, red, and black.
Beige: combines with blue, brown, emerald, black, red, white.
Gray: combines with fuchsia, red, violet, pink, blue.
Pink: combines with brown, white, mint green, olive, gray, turquoise, light blue.
Choosing the colors for your pallet picnic table can be fun, there is no right or wrong here. However, consider the colors carefully as they will play a big part in creating an overall effect and feel for the picnic you're trying to create. So, go ahead and create your picnic and personalize it with your own ideas!
If you need some inspiration check this Pinterest board.
Picnic Soft Furnishings
Using soft furnishings when decorating a pallet table, softens the feel of a hardwood pallet.
Adding big scatter cushions for seating or a blanket laid bare on the ground with a cushion placed on top of the blanket, will work wonders and be comfortable. There is also something quite nice, about being seated on a cushion on the ground and eating outdoors.
Let's rewind for a second as your color choices come into play here. It is advised that the color of the cushion matches the tablecloth. The blankets/covers should be of a complimenting color. To fully understand here is an example. I have chosen bold colors for the purpose of this demonstration.
If the color of the cushions is red, the table cloth would also be red too, the blanket/cover would be black. You could possibly have black or red napkins! I hope this gives you an idea of the presentation and flow of color.
If you're going for a boho-chic look then a mismatch of colors, different size cushions and textures is a good way to go without effort for a real fancy effect that will still feel cozy.
Pallet Picnic Tableware
Selecting plates, cutlery, and glasses for a picnic is not easy, as a consumer, we are spoilt for choice. Hurrah! To reduce the selection, it is wise to revise your budget and decide how much you are willing to spend. Lucky for us, it is a competitive market, so having a smaller budget won't cause a crisis.
Let us discuss the two main styles that encompasses picnic tableware and paraphernalia. Up first, is the traditional tea set carried in a wicker basket.
Typically, a traditional picnic will include a china tea set, plates, stainless steel utensils and glassware, laid out on a gingham or tartan table cloth, for good effect. This is very aesthetically pleasing to the eye if this is your aim. The uniformed look will give an impression of a well thought out and organized picnic which is bound to impress your guest(s). A traditional picnic set up on a DIY pallet table brings together an old format with a modern touch. Almost breathing a new lease of life into an old pastime of picnic days of old.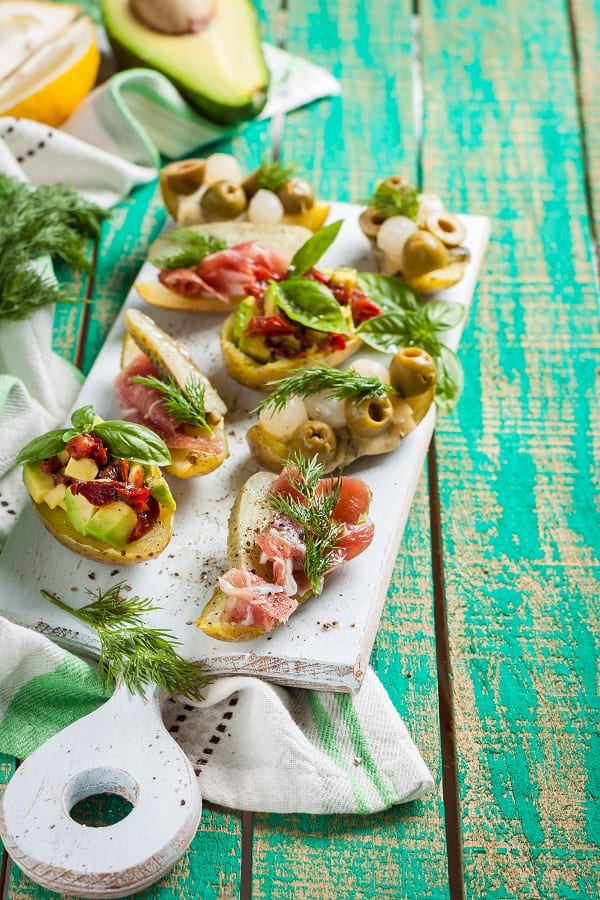 Alternatively, you can opt for a picnic pallet banquet, direct from a cooler box. This is popular and stylish, as it reduces the amount of tableware used and encourages social eating and certainly looks inviting too!
By grouping foods together this way, it looks very artistic when cleverly positioned, creating a huge platter effect and a relaxed buffet-style feel to any picnic. The banquet table layout encourages fingerpicking if you're ok with that. But if you're not, a pair of big serving spoons, to scoop up the food is advised and a great idea to promote a self-serve option, again, it is a personal preference.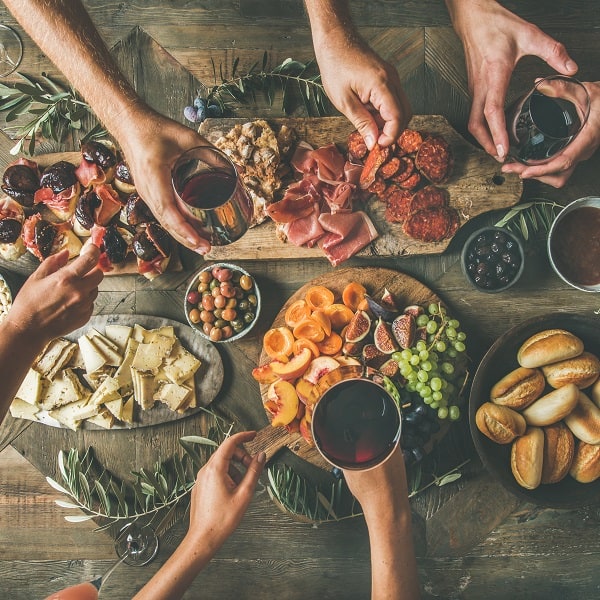 In this instance, using recycled reusable plates, china or even disposable plates, wouldn't look out of place. As a picnic host, I like to simplify picnic occasions as much as possible and for that reason, I choose disposable plates, at every given opportunity. You can get some really good plate designs and they are not expensive either, long gone are the days of white, flimsy paper plates that crumple.
Picnic Accessories
Not accessorizing is a big fail. It is often an afterthought but an important one. Caution: It makes or breaks all your efforts. This is the time to shine so ROCK IT!
My go-to is a string of cheap throw away, one-time-use battery operated LED lights on a wire which can be bent and manipulated into any shape! yep.
Also, Lanterns placed apart with a fake candle or fake tea light inside are really pretty. Lanterns are a one time purchase that can be used numerous times and are versatile enough to also be used in your home and not just for a picnic. A wise investment in my mind.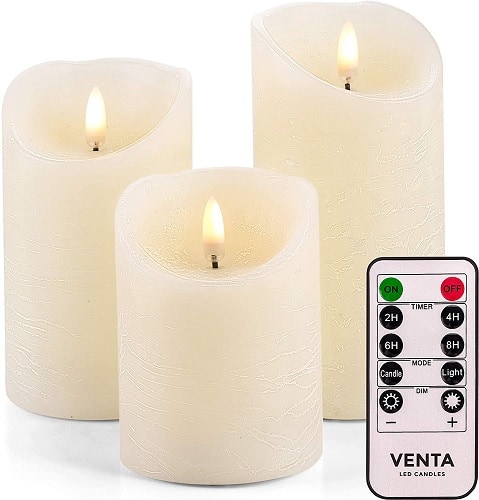 If you're serving wine, take a wine bucket cooler so it has a place to sit, creating a finishing touch. Go to your dollar store and rummage for any accessories that will enhance the overall effort of your Picnic set up.
Whether you're having an intimate date night or a group social meeting with family and friends another must-have is background music via Bluetooth and a handy-sized speaker. A word of warning – unless uncle Cedric plays the guitar really well, leave all musical instruments at home.
Location and Occasion
This is a major factor in how your picnic plays out. Your environment will impact your efforts if you're at the beach, your local park, indoors, or in your backyard.
Think ahead and make provisions for all eventualities. If you're on a beach maybe get an umbrella for protection from the sun and add ambiance. If it is a birthday occasion, secure your balloons so they don't fly away. Any banners should be secured too. Check the forecast, as this can also play an important role in how successful your picnic will be. If you have to relocate then do so or postpone. Better still bring it indoors! Create the outdoors, indoors!
Final Thoughts on Pallet Picnic Tables
All that being said, a picnic can take place almost anywhere from the trunk of your car, to having a picnic in your backyard. It's what you make it. Organize and prepare in advance, don't despair. Dress up, turn up, and wear a smile. Most of all, enjoy yourself and all your hard work. You can never take too many pictures so share with us at goshindig@gmail.com