One of the best things about Rv'ing is the joy of cooking outdoors in the fresh air. The authentic taste of grilled food is hard to beat, and is a satisfying daily highlight of any trip.
Choosing the best RV grill for you is crucial to ensure you get the most out of your adventure. But if you're a newbie to RV grills, you may struggle to navigate the huge range of models on the market.
Whether you need a compact, lightweight RV grill that's easily stowed away, or a larger model capable of feeding the whole family all summer long, we've got you covered with our top RV grill reviews and buying guide.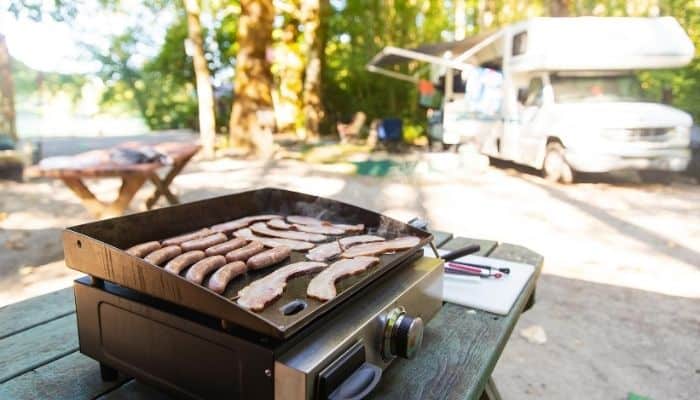 Best RV Grills
Here's our selection of the very best RV grills on the market. Read through and find your perfect model right here.
Camco Olympian RV Grill Range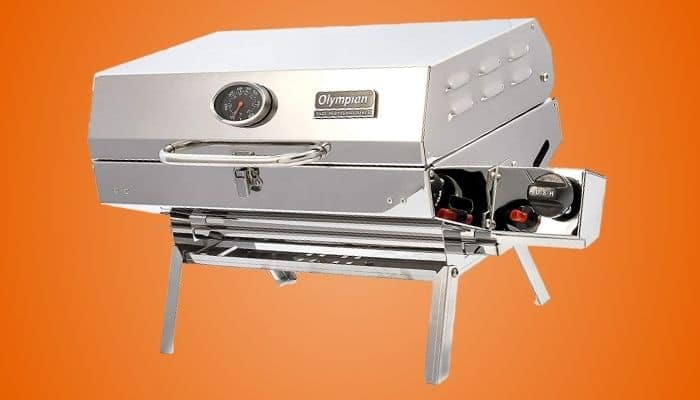 The excellent Camco Olympian RV Grill Range consists of several propane grills that have all been specifically designed and manufactured for RVing, making them a top go-to choice.
Our favorite and the most versatile is the Olympian 5500, which we're going to cover in greater detail. However, if you are looking for an RV grill with a smaller or larger cooking surface area, be sure to check out the Olympian 4500 and 6500.
Thanks to its generous 160 square-inch cooking area, this durable, lightweight stainless-steel RV grill can accommodate all of your needs. Grilling is all about the flavor, so you'll enjoy using the cast-iron smoker plate that also ensures an even heat distribution and reduces the chance of flare ups. With its high-quality construction and stainless steel burner, cleaning is simple and the unit is also rust-resistant.
Ready to use straight from the box, this model comes complete with tabletop legs, an RV mounting bracket, and a quick-connect hose and valve. So, you'll have everything you need to get grilling. The included hose and valve connect up to any RV with a built-in low-pressure quick-connect propane connection. Otherwise, you can purchase an additional hose and valve to connect to either a 20-pound or a one-pound propane cylinder.
Weighing just 26 pounds, the lightweight Olympian 5500 RV Grill is easy to pack and has a handy carry handle for easy transportation. With its impressive 12,000BTU per hour heat output and generous cooking surface, this highly versatile RV grill is one of the very best models around.
Pros – Things we liked
Range of several different sizes
Specifically designed for RVing
160 square-inch cooking area
Comes complete with tabletop legs
Quick-connect hose and valve
Cons – Things we didn't like
Would like a longer hose
Weber Q Series Grills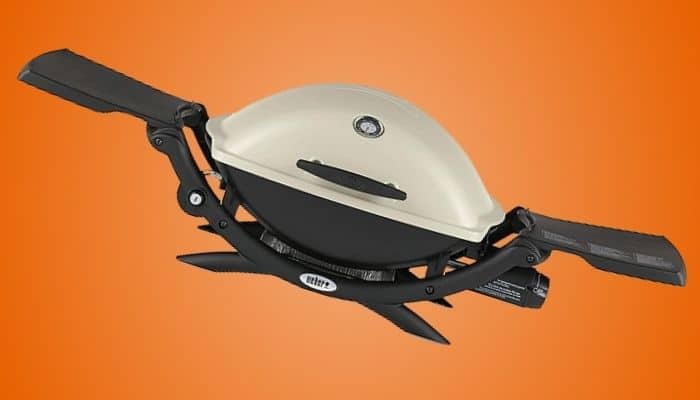 Top BBQ brand Weber created their popular Q Series Grills with portable grilling in mind.
While these grills are not RV-specific, they do make an excellent choice for grilling when you're RVing, thanks to their portability, easy-of-use, and range of convenient features. The Q Series covers both gas and electric models, with an array of different versions, from the smaller 1000 models up to the larger 3200s.
Our favorite Weber Q series grills for RVing are the gas-powered Q2200 and the electric Q2400. Both models are very similar in design and size, with a generous 280 square-inch cooking area. Further identical features include the easy-to-clean porcelain-enameled, cast-iron cooking grates, a durable, lightweight cast-aluminum lid and body, and their compatibility with Weber carts.
Obviously here, your choice of grill for your RV will be mainly determined by your choice of power. If, however, you're flexible then we highly recommend opting for the Weber Q2200 over the Q2400. While both are easy to transport, the propane model can be used anywhere and for added convenience when you're out RVing, you can also purchase an adapter hose for use with your 20-pound propane cylinders.
In terms of performance and features, the Q2200 is also far superior. Its split grate is compatible with Weber's griddle for a tasty and convenient way to cook up a wider variety of dishes on your RV grill.
Unfortunately, Weber does not recommend using a griddle on the Q2400. What's more, the Q2200 has a great 12,000BTU-per-hour for fast and powerful heating, whereas no BTU figures are released for Weber electric grills.
In addition, the Q2200 also has a handy, in-built electronic thermometer, so you can check your grill temperature, as well as two side folding tables, ideal for prepping. If you have a choice between the Q2200 and the Q2400, we wholeheartedly recommend the Q2200, given its superior features and the fact you can use it just about anywhere.
However, if you need an electric RV grill, the Weber Q2400 makes a great reliable choice, combining a compact, easy-to-transport size with a generous cooking surface area, and the ease of grilling with electric power.
Coleman RoadTrip 285 Portable Stand-Up Propane Grill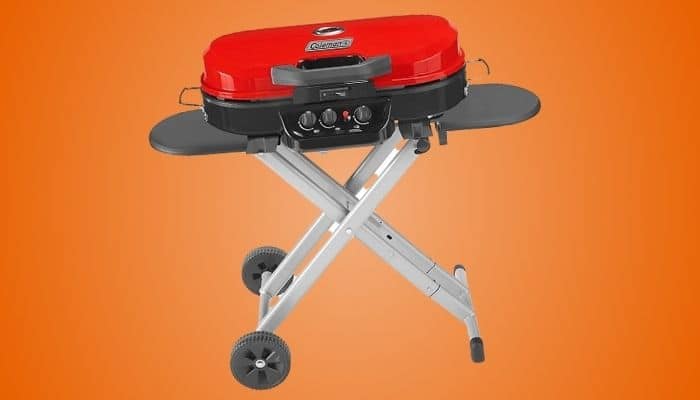 If you love grilling almost as much as RVing, or need to cook for the whole family on your RV grill, then the Coleman RoadTrip 285 Portable Stand-up Propane Grill makes an excellent choice.
This high-performance stand-up grill has the power and capacity that you need, while neatly folding away for when you set off to explore. It can even be stored upright, so you're sure to find space to stow it away before hitting the road.
With its hassle-free setup and take-down, no surprise this model is a popular choice among RVers. Its quick-fold legs and robust wheels allow you to set it up wherever you've decided to stop – without taking up precious table-top space or having to install an RV mount. It also has two sliding side tables, perfect for your utensils and getting the next batch of cooking lined up.
In terms of performance, this RV grill is one of the very best, providing between 3,250-20,000 BTU per hour over a 285 square-inch cooking area. Whether you're grilling vegetables, fish or meat, you won't struggle to accommodate various different food types and their temperatures, thanks to the no less than three burners. Select your heat for each one independently and cook your chicken low and slow, while firing up the power for searing steaks simultaneously.
Not only do you have excellent control over your cooking temperatures, there is also an integrated thermometer to boot, and you can also swap your porcelain-coated cast iron grill gates out with the additional purchase of a griddle or stove grate.
Other features include a matchless lighting InstaStart Ignition system and an easy clean grease management system. For long trips away in your RV, we recommend purchasing the extra 20 pound to one pound propane adapter, so you can hook it up to your 20-pound cylinders, instead of purchasing one-pound disposable ones.
The only real downside to this highly versatile, high-performance model is that the hood doesn't stay closed in transit as the lock is not strong enough. However, it is easily secured with a strong rubber strap.
Given its fantastic performance and easy setup, this is one of our favorite RV grills for some serious grilling for large groups on the go.
Weber Go-Anywhere Portable Grill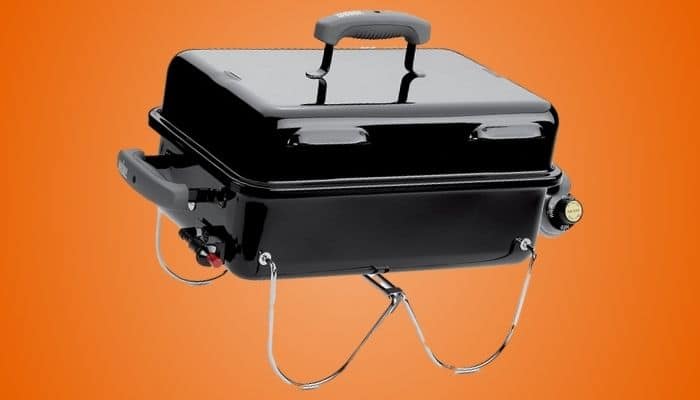 If space is really of a premium and you only need to grill for a maximum of two to three persons, then check out the Weber Go-Anywhere Portable Grill.
Available in either a gas or charcoal version, this is a highly portable, lightweight grill that is made for grilling in the great outdoors – ideal for your RV.
Both versions feature the same innovative design with steel plated legs that pivot to lock the lid firmly in place, providing a space-saving compact unit for traveling. The three glass reinforced handles are sturdy and comfortable to hold, while the porcelain-enameled base and lid retain heat and are easy to clean. With its 160 square-inch cooking surface, the Go-Anywhere is more than sufficient for couples, or small families.
Real BBQ fans in search of a smoky flavor will want to opt for the charcoal version, which would also make a nice addition to an existing gas grill for smoking red meats, or for when there's fewer of you RVing and you don't want to set up a larger model.
The charcoal version features four aluminum dampers that are rust-resistant for extra durability. Compact and lightweight, unfortunately, the tradeoff is that the grilling surface is plated steel rather than cast iron. This also makes it pretty difficult to clean up, so bear this in mind.
The gas version has a porcelain-enameled grate that is also steel, not cast iron. But, it is lightweight and easy to carry. This compact RV gas grill takes one-pound propane canisters and has one burner that produces up to 6,500BTU per hour. For ease of use, wherever the road takes you, it also has a push-button ignition system.
Thanks to its compact design that stores away in next to no space, the Go-Anywhere is a tried and tested staple for RV grilling. As it's hard to get fully clean, we think it makes a great choice if you are looking for an RV grill for occasional use that you can pack away and forget about until needed.
Cuisinart Portable Tabletop RV Gas Grill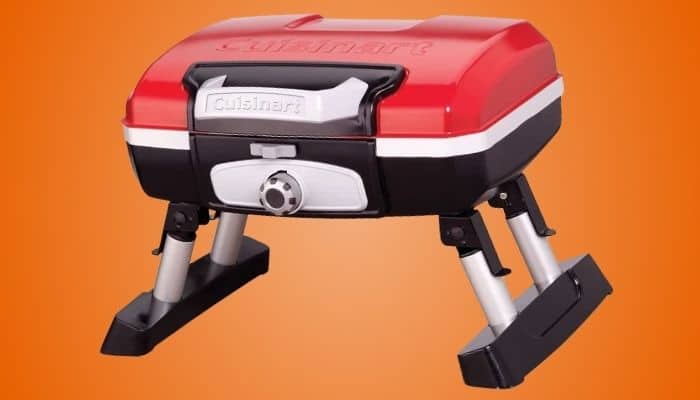 Recommended for use as an RV grill, the Petite Gourmet Tabletop Gas Grill by Cuisinart is compact and easy to carry.
Ideal for small families, couples, or solo use with its 145 square-inch grilling surface. Given its small size, this model heats up much faster and uses less gas than larger grills.
With its 5,500 BTU rating, it has enough power to get your meal cooked relatively quickly. However, as it only has one burner, it's best used for food that cooks at similar temperatures, so you may need to cook certain items separately. Unfortunately, it is not the most even heating of grills, although this isn't really that much of an issue provided you keep an eye on it and rotate your cuisine.
One of the main advantages of this handy little RV grill is its highly portable design. Simply fold-out the legs and place it on your table-top. When you're done, the legs fold away without any difficulty, while the whole grill remains stable throughout use thanks to its stabilizing feet design. It also features a twist start ignition, for extra ease of use.
Weighing just 13.5 pounds, when it's time to pack up and hit the road, simply pick it up by its briefcase-style carry handle. Easy to clean, this model also has a spill-resistant drip tray, so it's even easier to transport. The removable grate is dishwasher proof, making it even easier to clean up when your trip is over.
If you have a little more storage space in your RV and would like to free up your food preparation and dining space, this grill is also available with Cuisinart's VersaStand. Featuring telescoping legs, it packs away in seconds and the total weight of the grill with stand comes in at just 17 pounds.
A compact, highly portable RV grill, this model by Cuisinart is a stylish choice that is simple to set up, as well as being easy to carry and store away until your next adventure.
Smoke Hollow Stainless Steel Tabletop RV Grill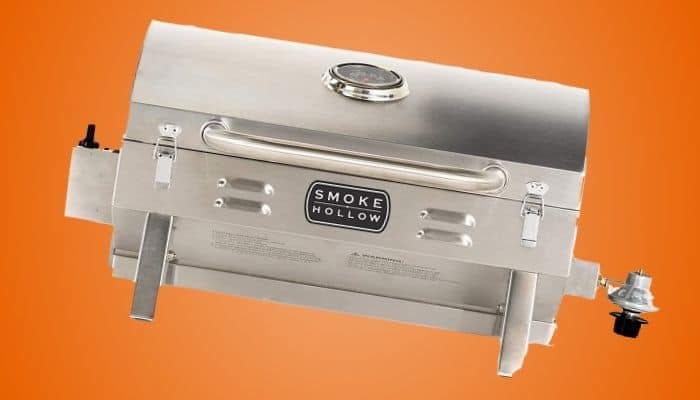 This stainless-steel table top RV grill by Smoke Hollow is a top choice if you are looking for an easy-to-use propane grill that takes 16 oz disposable cylinders.
With its impressive 10,000 BTU output, it is fast to heat up, making light work of searing steaks as well as general grilling.
Thanks to its compact, easy to transport design, featuring a locking lid, a large front carry handle and folding legs, you'll have no difficulty finding somewhere to store this RV grill. At approximately 20 pounds, it is very lightweight, especially given its generous cooking surface area.
With a 205-square-inch primary cooking area and an additional warming rack of 100 square inches, you'll have plenty of space for grilling a wide variety of items. The push-button ignition makes this model easy to get started, while the temperature gauge lets you keep an eye on how hot you're running, so you can make any necessary adjustments for a perfect meal, every time.
Spacious, easy to use and lightweight, this portable gas RV grill is a top choice, although quality control is not always as high as it could be.
However, on the whole, it makes a great grill for when you're out RVing.
Char-Griller Table Top Charcoal Grill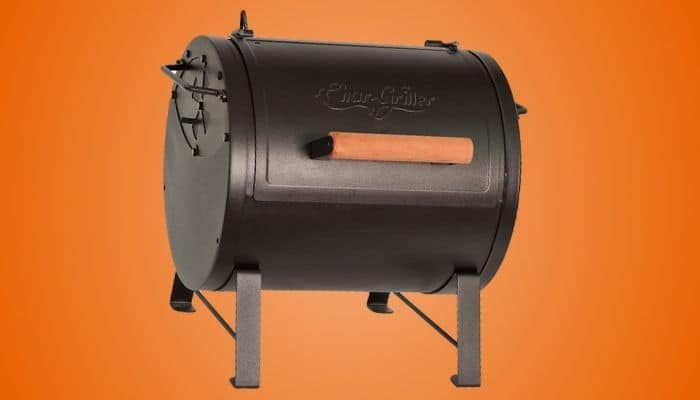 If you don't grill without charcoal, then you'll want to check out the ultimate portable charcoal RV grill, the Char-Griller Table-Top Charcoal Grill.
Made from a heavy-duty steel construction, this highly durable model is easy to carry, although at 41 pounds, it isn't the lightest of RV grills.
With its adjustable dampers, it's easy to get your airflow just right, while the easy-dump ash pan makes cleaning up afterward nice and simple. With its generous 250 square inches of cooking surface, you'll have plenty of space to grill a variety of foods, with the sliding drawer giving you easy coal access to set up direct and indirect heat areas.
While the cast iron grates are heavy, they are excellent quality, offering maximum durability and heat retention. The Stay Cool hood handle, makes it safe to open and close the hood as your grilling progresses.
Two riveted side handles make it easy to transport the grill in and out of your RV, however, given its distinctive round shape and straight albeit short legs, it isn't the most compact in terms of storage space.
If you want a real grill for RVing, then you don't get much more authentic than this portable charcoal grill by Char-Griller, for smoky flavor and a highly durable construction that will last for many years to come.
Blackstone Grills Tailgater – Portable Gas Grill and Griddle Combo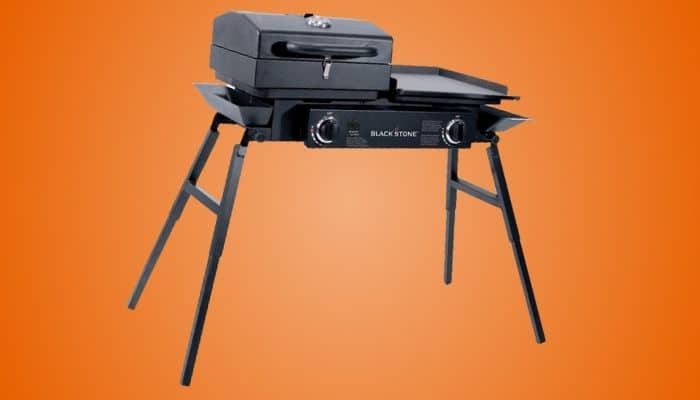 The Tailgater by Blackstone isn't just an RV gas grill, it's a whole outdoor cooking unit.
If your trailer doesn't have much in the way of a kitchen, or if you just like to make the most of your time spent in the great outdoors, either way, this RV grill makes an outstanding buy.
Highly versatile, the Tailgater has two independently controlled burners, one stainless-steel H tube burner that puts out 15,000 BTUs and a cast iron one, with a 20,000 BTU output.
Use the grill box for your meats, the griddle for breakfast and sides, or take both off and use the burners with your pots and pans. This RV grill is a great home-away-from-home cooking solution with an impressive total cooking surface area of 512 square inches.
Thanks to its adjustable legs, whether you're RVing at a developed site or going off-grid, setup is easy even on unlevel ground. The legs also fold flat when not in use and you can detach the grill box and griddle to store, making it lighter to carry.
Made from high-quality, durable cast iron, the grates are pretty heavy and the unit as a whole weighs in at 72 pounds. For this reason, it makes a better choice if you tend to stopover in one place for a while in your RV before moving on.
If you struggle to cook all your meals on your RV grill, the Tailgater by Blackstone is a fantastically versatile outdoor cooking unit that will allow you to make all your favorite home stove-top, griddle and grill recipes when you're RVing.
Pit Boss Grills Stainless Steel Two-Burner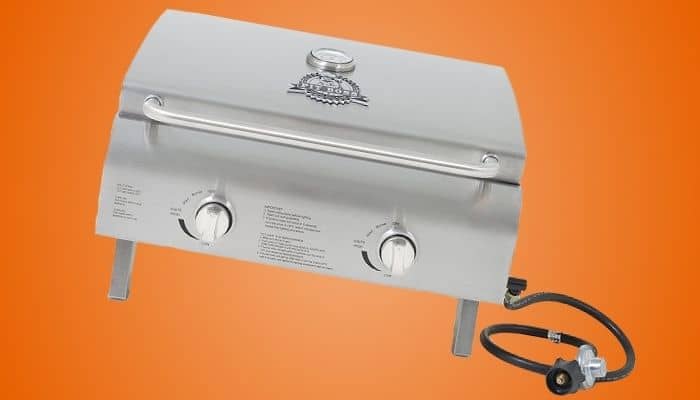 Weighing in at just 23 pounds, if you are looking to do some serious grilling while RVing, then the 200P Portable Gas Grill by Pit Boss is a great choice.
Thanks to its lightweight, folding legs and latching hood, getting it set up then packing it backup couldn't be easier. It also takes 20-pound propane cylinders, for long lasting, powerful grilling.
Despite its compact size, this stylish stainless-steel RV grill boasts an impressive cooking surface area of 275 square inches – enough for the whole family. It also has two independently controlled burners, so you can sear items as well as keeping other cuts cooking low and slow simultaneously.
The push and turn ignition makes this premium RV grill easy to light, while the dome thermometer let's you check on your temperature – essential to ensuring your meat is done correctly, without drying out. As it is stainless-steel, it is easy to clean and rust-free for extra longevity. Bear in mind that some assembly is required.
If you are looking for a good-quality tabletop RV grill that is lightweight with a generous cooking area, then this model is pretty hard to beat.
Why Trust Us
All of our reviews are compiled with a combination of expert input, years of hands-on testing of grilling products, curating the reviews of real-life buyers in a "wisdom of the crowd" system, and of course our own expertise. All the products listed are the ones we would buy if we were looking to purchase a new RV grill.
Methodology Used to Pick the Best RV Grill
When picking the best RV grill we looked at and then rated each grill on the following criteria. Price, fuel source, total grill area, side burners, BTU, ease of use, portability, storability, grates, and heat control.
Buyer's Guide to Buying the Best RV Grill
To help you to find the best RV grill for your next trip we've compiled this handy RV grill buying guide.
Read through and find out all you need to know to choose the perfect model for your needs and preferences.
Price
There are some excellent budget priced RV grills on the market. However, before you jump in and hit buy, take a moment to consider your needs and anticipated usage.
If you're new to grilling in general and don't intend on using your RV grill extensively, then picking up a low priced, entry-level model can be a good choice.
On the other hand, if you already have plenty of experience grilling (and high standards of quality and performance to live up to), then you'll want to spend quite a bit more on your RV grill if it's going to come anywhere close to your at-home grilling experience.
If your trailer doesn't have much in the way of a kitchen, or if you just want to cook more outdoors than in, it makes sense to pay more for a higher quality, more durable model that will see you through several years.
Spending more at the initial outlay, can save you money on replacements of cheaper models over time.
Fuel Source – Gas, Electric, Charcoal or Pellets
Before looking at specific grill models, once you've come up with an approximate budget, you should then consider what type of RV grill you are going to go for.
This can depend on a number of factors, but most importantly you'll want to think about fuel availability and your personal preferences.
Gas
Given that many RVs use propane anyhow and its prevalence at camp stores as well at convenience stores, gas stations and big chains, propane is a highly convenient choice.
Some models will connect directly to disposable one-pound cylinders, whereas most can be adapted to fit your standard 20-pound ones. Some even come with a connection to your RV's low-pressure quick connect propane supply.
However you intend to connect your propane RV grill, one thing is sure, it's highly convenient and in most cases, you won't have to carry an additional fuel source.
Another benefit of using a propane grill is that you can simply hook it up and switch it on, being much easier to set up than charcoal or pellet grills. This is worth bearing in mind, as after a long day's driving, you may just want to relax.
Lastly, along with electric RV grills, if you are entering areas with a fire ban, you will still be able to use a propane grill, whereas charcoal and pellets will be prohibited. Something worth bearing in mind if you tend to RV a lot in hot areas with a high risk of fire.
Electric
If you enjoy camping off grid, then electric won't be what you're looking for. However, if you regularly RV camp at developed sites with shore power, then electric RV grills are a convenient, easy-to-use choice.
While they have their fans, most BBQ aficionados will tell you that the flavor from a carbon or even a gas grill is far superior to that from an electric one. If you are less interested in the grilling process as a whole and want to plug in, cook, then eat, an electric grill could well work for you.
Charcoal
For a true smoky flavor, you simply cannot beat a charcoal grill. On the downside, you'll need to have plenty of experience or be willing to learn quickly, and to carry around and regularly top up a ready supply of charcoal.
If your RV trips are truly about getting away from it all and finding time to relax in the slow lane, then go for it. If, on the other hand, you're going to be relying on your RV grill day in, day out and don't want to spend a substantial amount of time on it every day, then a propane grill might be better for daily use.
Pellets
Pellet grills are growing in popularity. They give off less smoke than charcoal grills, yet still impart great flavor.
If you enjoy smoking substantial cuts, such as briskets, then a pellet RV grill will be ideal for you as they allow you to maintain a low, even temperature for hours, without requiring major adjustments.
In a way, pellet grills have most of the advantages of charcoal ones, with less attention and experience required for successful smoking.
Grill Area
Always take a close look at the grill area figure when considering which RV grill to go for.
Make sure that you take into account the primary grilling area only. Some manufacturers include a warming rack and then use this space to bump up their cooking surface area figures.
Likewise, be sure to take any estimates of the number of burgers, chicken breasts etc, with a pinch of salt. In most cases they will be vastly overestimated. Unless they tell you the exact size of those eight burgers, who's to say they aren't more like sliders?
Obviously, when you're purchasing an RV grill, your grill surface area is not going to be anything like what you would look for at home. After all, portability is key and storage space is always at a premium when it comes down to motorhomes. Realistically the average recommendation of 72 square inches cooking area per person can go out the window when you are looking for a portable grill to feed the entire family.
However, it is still important to bear this figure in mind, as well as considering the types of food you tend to grill, how many people you'll be cooking for on average, and how important portability is to you.
Most RV grills average between 140 – 300 square inches, although there are some larger free-standing models like the Tailgater listed above with a little over 500 square inches, grill and griddle included.
Side Burner
Side burners are a useful option to go for, allowing you to diversify your meals and saving you from having to spend your evening running backward and forward between your grill and your RV stove.
Use your side burner for pasta, vegetables, sauces, sides, anything you can't do on your grill that would usually require a stove top.
BTU Output
BTU stands for British Thermal Unit. In layman's terms, it is used to measure the amount of energy required to heat up one pound of water by one degree Fahrenheit.
Grills with a higher BTU output are more powerful than those with lower ones, generating more heat at maximum output. However, you should also bear in mind that grills with higher BTUs will also go through fuel faster.
Ease of Setup
When you arrive on site, there's no end of things to set up and sort out. So, it helps to look for an RV grill that is simple to set up.
If your model has detachable or folding legs, take a closer look at how easily they connect or extend. Ease of set up generally also means that your grill will be pretty easy to pack away too – handy if you like to explore and seldom spend more than a night or two in the same place.
Portability & Storability
Regardless of how convenient and easy to use your grill is when it's set up, if it doesn't pack away small to stow well, or have sufficient carry handles, then it's going to end up being quickly relegated from your RV trips.
Look for models that pack down into a rectangular shape for maximum storage possibilities. They should also have folding, collapsible, or pivoting legs to ensure that they take up a minimum of your precious storage space.
Handles are important too, they should be robust and easy to grip. The heavier your RV grill, the more sturdy they'll need to be.
Grates
While cast iron is best for even heat distribution and maximum heat retention, it is also very heavy.
Stainless steel is a compromise, although if you are really into grilling, you may prefer to take the extra weight and opt for a cast iron grate. Porcelain coated grates make cleaning easier, they also hold heat well and are rust resistant.
Heat Control & Vents
On electric and gas models, adjusting your heat level is extremely easy. If you opt for a charcoal RV grill, pay close attention to the number and location of your air vents.
Your vents allow you to control your grill's temperature by regulating the flow of oxygen over your coals. Make sure that they are treated against rust, or else you may struggle to open and close them as necessary after a few months use.
RV Grill Mount
Even compact table top RV grills take up a fair amount of space. Plus they are also a hazard in case of flare ups, or if you have inquisitive young children or pets.
An RV grill mount fixes to the side of your motorhome and allows you to install your grill at a height that suits you, directly onto your RV. This takes up less space and can be a lot safer if you have younger family members present.
However, there are also some excellent telescoping grill stands available, if you just can't bring yourself to fix a mount onto the side of your pristine RV.
Top RV Grills Video
Final Thoughts
There is a huge selection of RV grills available. Whatever your preferences and needs, you're sure to find the best RV grill for your next adventure right here.
Whether you're looking for a compact, lightweight model like the Weber Go-Anywhere Grill, complete with its space-saving design for easy storage and impressive 6,500 BTU. You could also consider the Cuisinart Petite Gourmet, another great compact option with a highly practical large carry handle, low 13.5 pound weight and stabilizing, fold away feet.
If you're in the market for an RV grill, griddle and stove top, the highly versatile Tailgater by Blackstone Grills makes an excellent all-in-one solution. With an impressive 512 square-inch cooking surface and stand complete with adjustable legs, it's practically a home-away-from-home replacement kitchen.
Or, if you love the smoky flavor that comes from grilling over coals, opt for the Char-Griller Table Top Portable Grill. With its slide out coal access drawer, easy-dump ash pan, and heavy-duty steel construction complete with cast iron grates, you don't get a more authentic BBQ experience on the road than with this excellent charcoal RV grill.