For the griddler in your life, this griddle holiday gift guide is brimming with suggestions. The greatest griddles, griddle accessories, stocking stuffers, cookbooks, and holiday recipes can all be found in this guide.
The greatest outdoor griddle equipment from this year is included in this ultimate holiday gift guide. Backyard grillers of all levels, whether novices or experts adore their griddle extras!
I sincerely hope that this guide helps you locate the ideal griddle gift over the holiday season. If you have any great ideas for gifts that should be on this list let me know in the comments section and I'll have them added to the list.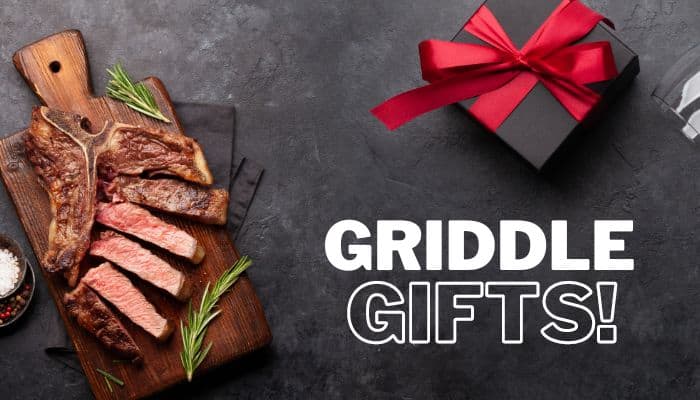 Best Griddle Gift Ideas
A few of my favorite griddle gift ideas are shown here. Want to buy something novel or are looking for one of the fundamental griddle tool gifts? You're certain to discover inspiration right here because I've covered all of the essential griddle gifts along with new exciting tools to hit the market.
Best Griddle Gift Sets
If you are buying a gift for a new griddle owner you might opt to spend money on a starter set of griddle tools. If you want to improve your loved ones' griddle accessories, these sets make wonderful presents for any griddle enthusiast in your life. They can even be a good treat for yourself.
Top Griddle Book Presents
Griddlers of all skill levels would adore having at least one griddle cookbook for ideas. Choose one of these three amazing cookbooks.
Final Thoughts
Fantastic griddle gifts can be found in abundance. While some are a must-have, others depend on your cooking preferences and requirements.
The Blackstone Griddle Accessory Tool Pack is a high-quality kit that will get you off to the best possible start if you're new to griddling and are looking for a solid griddle gift starter set.
Take another look at the Cuisinart Multi-Purpose Griddle Scraper if you're looking for the best griddle gift tool for chopping, serving, and scraping on a griddle. Some excellent present choices include the Cuisinart Adjustable Warming Rack and the Weber 6610 Original Tongs, both of which have excellent balance and grip.
Why not treat yourself to one of my odd favorites, like the wildly popular Cuisinart Butter Wheel, the Blackstone Taco Rack, or the fantastic Cuisinart Griddle Food Mover?
Take advantage of my top selections to add a great griddle gift to your loved ones' collection since there are so many wonderful options to pick from.