If you are on a diet, you might want to look away – things are about to get crazy. We're taking a look at the infamous Luther Burger, sometimes better known as the donut burger. It is a culinary concoction of epic proportions that has many people wondering – just because you can, should you? Well, the answer is a resounding YES. It may sound a little unbelievable, but a burger with donuts for buns is the best thing since, well, sliced bread.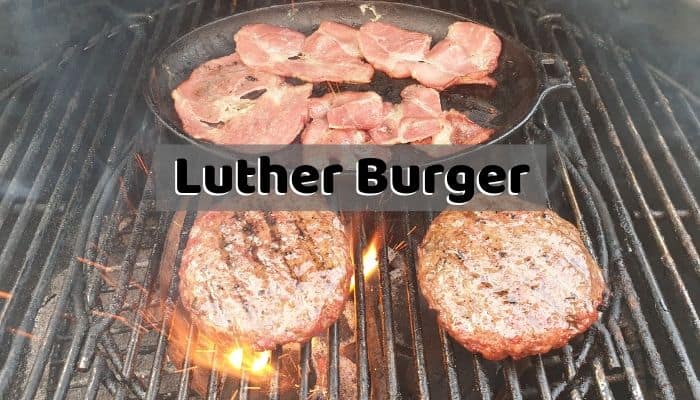 Join our Grilled Burger Group on Facebook
How to Make a Luther Burger
There are two highly debated arguments about the Luther Burger – 1) where it got its name and 2) how do you make a Luther Burger correctly? The answer to where the Luther Burger got its name is Luther Vandross. There is also a rumor that says he was the original creator of the Luther Burger. After running out of hamburger buns one day, Luther Vandross slapped an all-beef patty between a glazed donut, and the rest was hamburger history. While the burger itself is named for him, there is no clear evidence of Vandross being the inventor, but it was said to be one of his favorite snacks.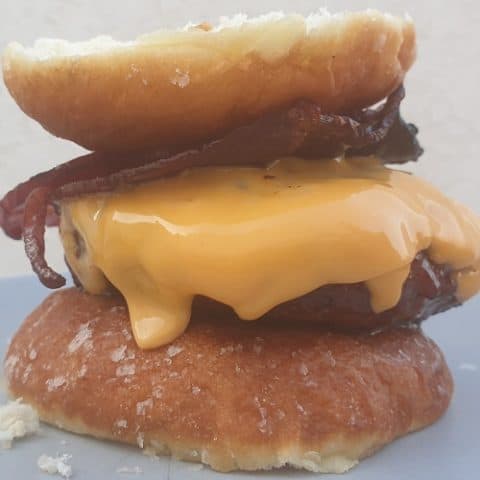 Luther Burger Recipe
How to make a Luther Burger? Well, there are a lot of variations on the original that you will tend to come across when searching for recipes. However, we tend to prefer the tried and true classic Luther Burger Recipe.
Ingredients
2 slices bacon
1 glazed doughnut (we recommend Krispy Kreme for the right size, but any glazed donut will do)
⅓ pound ground beef
⅛ teaspoon salt
Black pepper (just a pinch)
2 slices American Cheese
Instructions
Heat a cast-iron skillet to medium. Start by frying the bacon until it is crispy. Remove the bacon from the hot pan, and place the strips on a paper towel. Reserve the bacon grease in a small container – you will be using it throughout the recipe.
Slice your donut evenly in half. Be mindful not to remove any glaze or crush the donut. Drizzle some of the bacon grease back into the skillet and place the donuts slice side down in the pan. Toast until golden brown, and then remove them from the pan.
It's time to start making our burger patties. We will be using a burger press method to shape our patties. If you prefer to hand shape your patties, here are a few things to remember when forming your burgers:

A high-fat content gives your burger a rich, juicy flavor. We like the taste of 85/15. Just know that the higher the fat content, the more shrinkage will occur. Be sure to make your patties slightly larger than your buns, or in this case – donuts.

Make sure your patty is thinner in the middle by creating a small dimple in the meat. With the patty resting on wax paper, depress the center by pressing slightly to the center of the round. This prevents the patty edges from breaking as they shrink and ensures even cooking.

Work with the meat while it is as cold as possible. You want to handle it as little as possible and not overwork the meat.

Start your patty by shaping the meat into a ball first and then flattening. Tupperware lids are useful as a flattening and shaping device if you prefer. They also ensure that every patty is the same size and shape so that they will all cook evenly.
Why do we use the burger press method? It's easier and more efficient! Rather than shaping the patty yourself, you simply roll the meat into a ball and toss it in the pan. Then, you use a heavy-duty burger press. Take a look at some of the best burger presses (if you don't already have one) to smash the meat down into uniform flatness and mold it to its perfectly round shape. So for this step, quickly roll your chilled ground beef into a small, round ball.
Season the ball of ground beef with salt and pepper on all sides. If you'd like, you can add other herbs and spices, but for us, great meat stands well on its own with a little help from salt and pepper.
Return the cast iron skillet to medium-high heat and add another drizzle of bacon grease. Toss the ball of beef into the pan and allow it to sizzle for 3-5 minutes until it starts to crisp and brown.
Flip the ball and apply pressure using your burger press. This will smash the burger into the right shape and flatness. Let the burger cook another 3-5 minutes.
Flip the burger one last time and add the cheese. Remove the pan from the heat and allow the cheese to melt about 1-2 minutes.
Transfer the burger from the hot pan to the crispy donut "bun". Top your burger with the bacon and another glazed, delicious donut slice.
Serve immediately and enjoy the infamous donut burger!
Nutrition Information:
Yield:

1
Serving Size:

1
Amount Per Serving:
Calories:

915
Total Fat:

58g
Saturated Fat:

24g
Trans Fat:

2g
Unsaturated Fat:

27g
Cholesterol:

206mg
Sodium:

1504mg
Carbohydrates:

36g
Fiber:

2g
Sugar:

17g
Protein:

59g
Variations of the Luther Burger
The Luther Burger in its original form is already considered pretty crazy, but it seems people are always up to the challenge of making it even crazier. You will see all different kinds of variations on the Luther Burger. Some people prefer two donut buns rather than one. Some want those donuts deep-fried while others prefer toasted. You will also see a wide assortment of extra ingredients, such as lettuce, tomato, mayo, or other traditional burger toppings. There are also often meat substitutions, like using turkey bacon or a vegetarian burger patty.
Our favorite way to switch up the flavor of the Luther Burger is to forego the cast iron pan for a charcoal grill. It may take a little more time than the traditional method, but a chimney starter can help you get your charcoals blazing hot in hardly any time at all. We think it's worth it for the delicious burger flavor you can only achieve from cooking a patty over hot charcoal.
At the ballpark of the Gateway Grizzlies in Sauget, Illinois, they serve a version of the Luther Burger that's often referred to as a "cardiologist's worst nightmare". It is almost a thousand calories and uses deep-fried Krispy Kreme donuts in addition to a 100% all-beef black Angus patty. They top the burger with melted cheese and two thick slices of bacon. It's one of the most popular attractions at the baseball team's home games.
Several variations of the Luther Burger also like to make appearances around the country at state fairs. At the Wisconsin State Fair in 2010, a variation was sold that used a ¼ pound Angus beef burger, Wisconsin cheddar cheese, a toasted Krispy Kreme donut bun, and two strips of bacon covered in chocolate.
Nutritional value
If it tells you anything about what you can expect from the nutritional value of a Luther Burger – a donut burger at the Mississippi State fair had reasonably healthy toppings – "lettuce, tomato and a generous slice of raw onion". However, it also packed in an estimated 1,500 calories. An average person consumes between 2,000-2,500 calories per day.
Planning your next bbq party? If you plan on serving Luther Burgers to your most adventurous friends and family members, they shouldn't plan on eating too much more. Luther Burgers generally run between 800-1,500 calories. Not the healthiest of options, but one that will certainly have all of your friends talking. Besides, if you want to chow down on a burger made with donuts for buns, calories are likely the least of your concerns. Just be sure to keep some napkins handy for all of that delicious, sugary glaze and the delightful mess that is the Luther Burger.