The great smells and freshness of Mediterranean food combined with the naughty indulgence of a classic American hamburger. That's how I'd describe this wonderful Greek burger.
What makes a Greek burger a stand out recipe for burger enthusiasts to learn? The Greek burger recreates the classic Greek lamb gyro (often called lamb doner) in the form of a burger. We'll not be just using meat for the burger patty but all the ingredients that typically go into lamb gyro.
On top of this, we will be bringing the freshness of an amazing Greek salad and the tangy flavors of a classic tzatziki sauce. Once all these great flavors are pulled together, not only is it a taste sensation, but it's a burger that almost feels healthy to eat.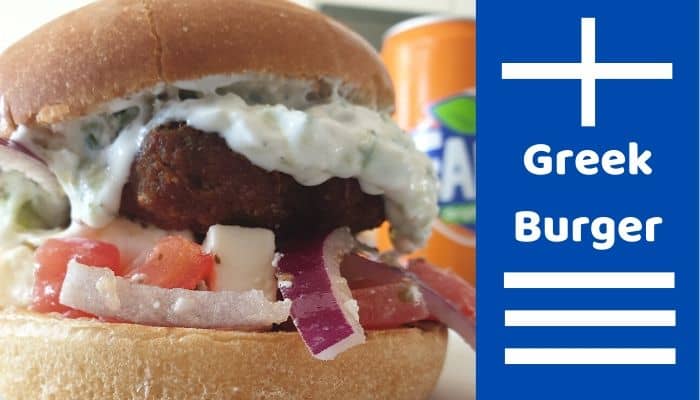 Join our Grilled Burger Group on Facebook
Greek Burger Ingredients
I'll forwarn you, this Greek burger recipe takes a lot of prep time compared to the average burger recipe, but it's well worth the effort. I normally only make it when doing a BBQ party where I'll be making several. I'd also make more salad and sauce than I need so I can take some to work for lunch the next day. This recipe will be enough for six Greek burgers.
Your prep work can be broken down into three separate sections. The Greek salad, the strange sounding sauce – tzatziki, and the burger patty mixture.
Greek Burger Salad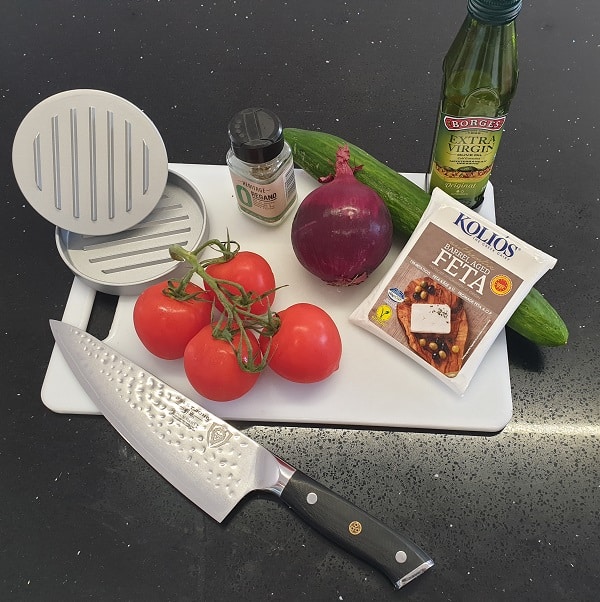 6 vine tomatoes
1 cucumber
1 a red onion
1 tsp dried oregano
85g feta cheese – barrel matured feta is the best
4 tbsp Greek extra virgin olive oil
Tzatziki Sauce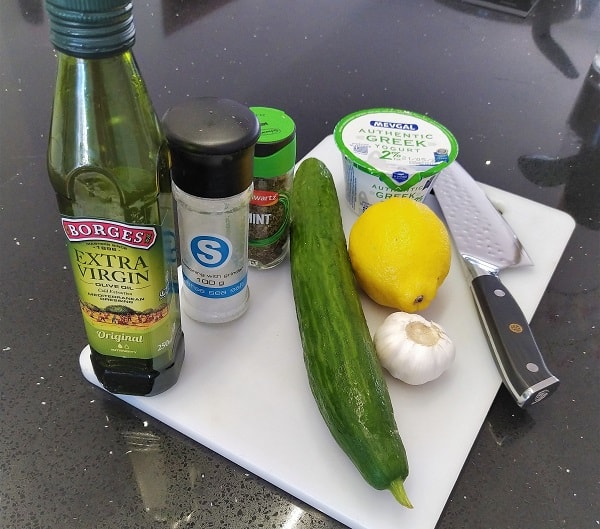 2 cups grated cucumber
1 ½ cups plain Greek yogurt
2 tablespoons extra-virgin olive oil
2 tablespoons chopped fresh mint and/or dill
1 tablespoon lemon juice
1 medium clove garlic, pressed or minced
½ teaspoon fine sea salt
Burger Patty
600g lamb mince
1 small onion, coarsely grated
4 garlic cloves, minced or finely grated
100g fresh breadcrumbs
2 tsp ground cumin
2 tsp ground cilantro
1 tsp dried oregano
¼ tsp smoked paprika
Bun – 6 Sesame seed bun
Greek Burger Instructions
As with all the burger recipes we cover on Go Shindig we try to do as much as we can on our kettle grill. This is because we are an outdoor entertaining blog, and kettle grills are the most popular backyard grill in homes around America.
You don't need any special equipment for a Greek burger but we do recommend you have a good knife, read our best BBQ knife guide for our tips. The Dalstrong chef knife is what we use. An instant-read thermometer is a must for anyone serious about grilling, and a good burger press will also be helpful
Start with making the salad. Cut the tomatoes into quarters, remove and discard the juicy insides and then dice the flesh of the tomato.
Now cut the cucumber in half (longways), and use a small spoon to deseed. Once deseeded you'll cut the halves into two-inch long sections.
Thinly slice the red onion.
For the cheese, I like to cut it into good-sized chunks, so they look like little cubes. But you can crumble it in if you don't want too big a hit of cheese in one mouthful.
Add all these ingredients together and pour on the four tablespoons of extra virgin olive oil (any decent salad oil is fine) and sprinkle on the oregano before giving the whole salad a light toss. Although all the cutting, slicing, and dicing are time-consuming it is worth the effort and much better than buying a store-bought salad for your burger.
Cover your salad and place it in the fridge before moving on to the next step – firing up the grill. Of course, the timing of this step all depends on what grill your cooking with. We are using a charcoal grill so it will take about 10-15 minutes for the coals to get nice a hot. We recommend you use a charcoal chimney for firing up your charcoal grill and some quality briquettes or lump wood. If you are cooking on gas you will want to delay this step.
While the coals are heating up you'll get on with making the tzatziki sauce. Use something like a cereal bowl to mix all the ingredients together. First, you'll empty your Greek yogurt into the bowl. Then you'll grate the cucumber. There is no need to peel or deseed the cucumber, just give it a good wash before grating. Once grated, you'll squeeze out some of the water by simply placing some of the cucumber in the palm of your hand and squeezing. You don't have to go crazy, the strength of your grip should remove enough water.
Add the cucumber to the bowl, squeeze in about a tablespoon of lemon juice (more if you like it tangy), add your minced garlic and sea salt then chop up some fresh mint. If fresh mint isn't in season you can use dried mint. Once all these ingredients have been mixed together and you have given it a taste test, pour a little extra virgin olive oil over the top and place it in the fridge.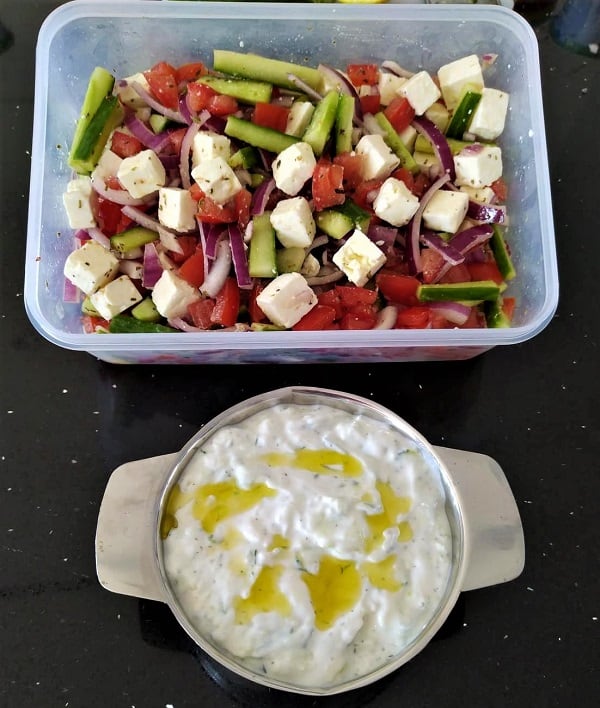 Now for the star of the show – the burger patty. This section is quick and easy. Once you have grated the onion all you do is chuck all the ingredients together and mush with your hands until you have a consistent mixture. Separate the mixture into six balls of the same size (no need to measure you'll be able to eyeball it). Then use your burger press to make patties. You can also form them by hand if you want.
Your coals should be nice and hot now. For my grill setup, I like to have a two-zone setup. I use my grill baskets to keep the coals in the center where it's extremely hot and have the outer ring as a cooler area.
Place the burgers on the outer ring to start with and grill until the burgers are at an internal temp of 160°F (with the lid closed, should take about 25 minutes). Once the internal temp has been reached, place the burgers in the center over the hot coals. As the juicy rendered fat drips of onto the coals, this will give a nice flame-grilled sear.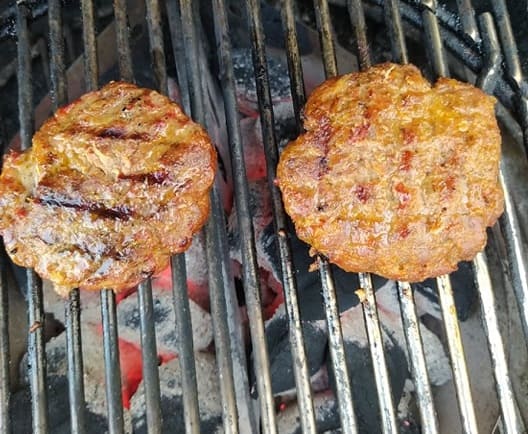 Before constructing your Greek hamburger you have one final step. Toasting your buns. I like to spread a small layer of mayonnaise on the bread before toasting. Then I place the bun in the center of the grill for about 20 seconds. And that is it, time to build your masterpiece and eat.
For the Greek burger, I like to have the salad under the burger. The reason for this is all the ingredients are chopped and diced into small pieces, which makes them harder to balance if you go bun, burger, then salad. So for the Greek burger, we'll go bun, salad, burger, and then sauce.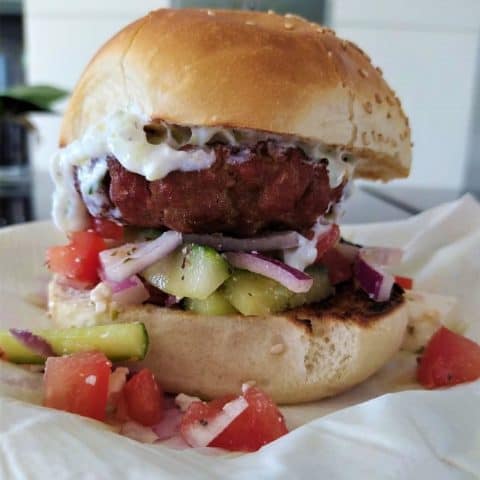 Greek Burger
Amazing Mediterranean flavors combined with the naughty indulgence of a classic American hamburger
Ingredients
6 Sesame seed bun
600g lamb mince
6 vine tomatoes
2 cucumbers
1 red onion
1 small onion, coarsely grated
100g fresh breadcrumbs
85g feta cheese – barrel matured feta is the best
6 tbsp Greek extra virgin olive oil
1 ½ cups plain Greek yogurt
2 tablespoons chopped fresh mint and/or dill
1 tablespoon lemon juice
5 medium clove garlic, pressed or minced
½ teaspoon fine sea salt
2 tsp ground cumin
2 tsp ground cilantro
2 tsp dried oregano
¼ tsp smoked paprika
Instructions
The Greek Salad - Chop the tomatoes, one cucumber, red onion, and feta cheese and mix together
Add 4 tablespoons of extra virgin olive oil and a tablespoon of oregano
Tzatziki Sauce - Grate a cucumber and mix with the Greek yogurt, lemon juice, and salt
Mince 1 garlic clove and chop the fresh mint and stir into the sauce
Pour on 2 tablespoons of extra virgin olive oil
Burger Patties - Grate the onion and mix with the lamb, breadcrumbs, oregano, cumin, cilantro, and smoked paprika
Mince the 4 remaining garlic cloves and add to the mixture.
Form 6 burger patties
Grill burger until 160 and then finish with a sear
Toast the buns
Nutrition Information:
Yield:

6
Serving Size:

1
Amount Per Serving:
Calories:

810
Total Fat:

46g
Saturated Fat:

16g
Trans Fat:

0g
Unsaturated Fat:

26g
Cholesterol:

133mg
Sodium:

891mg
Carbohydrates:

52g
Fiber:

5g
Sugar:

9g
Protein:

47g
Greek Burger Alternatives
Instead of using a burger bun, I have also made this recipe using pita bread, for a more Greek feel to it. You can also use olive bread, other buns, or flatbread. Below is a picture of a Greek burger using pita bread cut in half as the burger buns.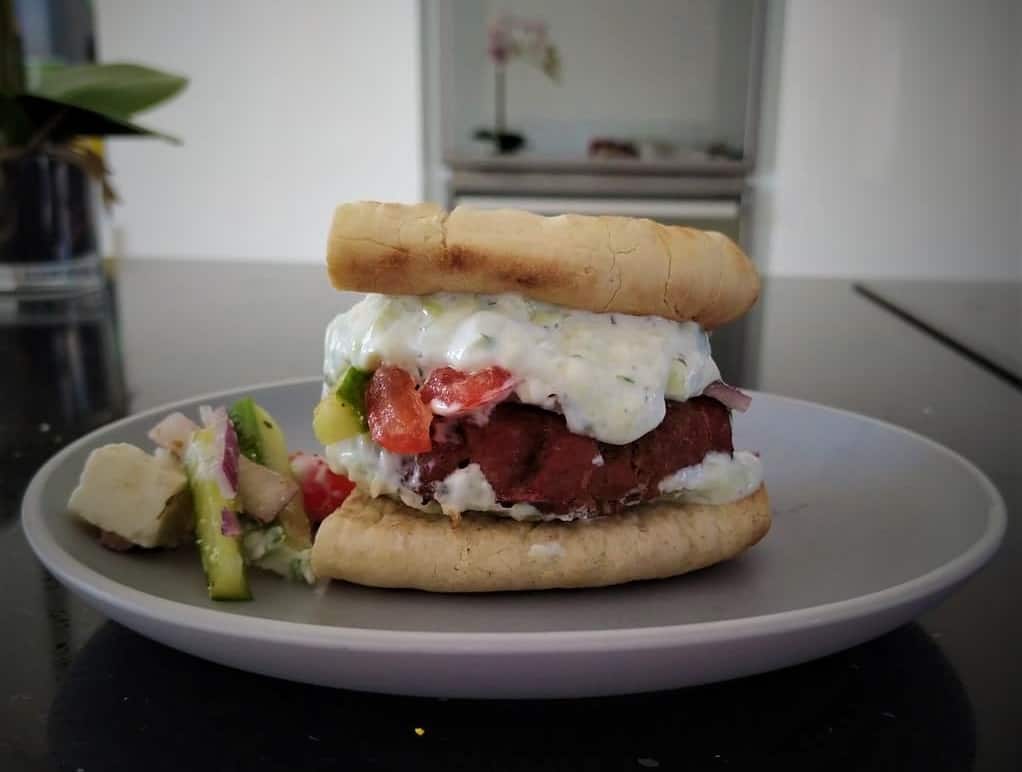 One of the most iconic foods associated with Greece is olives. And for most Greek salad recipes your find will include olives. So if you like olives feel free to chop a few up and toss them in the salad. Another option is to have a side dish of a small bowl of olives.
You'll also see many Greek salad recipes say you should peel the cucumber before slicing. I like the extra crunch of the skin, but peeling the cucumber is also tasty.