Something I have been doing since I was a kid, and I'm sure many of you reading this have done, is open up my burger and add a few of my french fries on top of my patty. It's a beautiful and classic combination that works great together and adds a nice little crunch to the whole hamburger experience.
I'm surprised not many burger outlets offer this combo on their menu. I guess they just assume if you want fries on the burger you'll open it up and add them yourself. Which is what I have done for years. And although this approach does give a burger an extra taste boost I decided it wasn't enough. I wanted a burger where the whole selection of toppings was decided around enhancing the fries and not the other way around.
This has lead me to experiment with flavors until I came up with the fries burger I put before you now. It has a fiery kick and plenty of gooey cheese. Your only complaint will be that it has ruined the experience of just throwing fries on any burger, as it will not compare to the amazing flavors of our Go Shindig Fries Burger. So without further ado, here is our fries burger recipe, and further down you'll see our instructions and alternative toppings.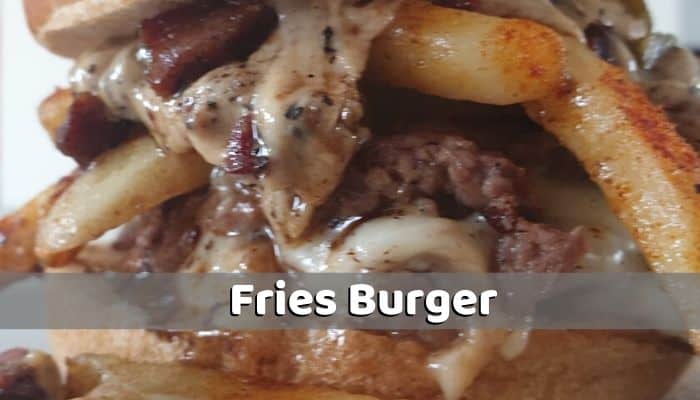 Join our Grilled Burger Group on Facebook
Fries Burger Recipe
Other than the bun, a fries burger consists of three main parts. The burger patties, the cheese sauce, and of course the fries. Let's look at each of the parts.
Fries and Seasoning – We'll be using oven fries as we'll be cooking them on our kettle grill. If you have a fryer you can use this with hand-cut potatoes. Each burger only needs a handful of fries as you'll not be able to stack much more than this. Once the fries are cooked we add a dry rub mix for seasoning. Our rub has the following ingredients.
1/4 teaspoon of Onion Powder
1/4 teaspoon of Garlic Powder
1/2 teaspoon of Smoked Paprika
1/4 teaspoon of Salt
1/4 teaspoon of Black Pepper
1/4 teaspoon of Cayenne pepper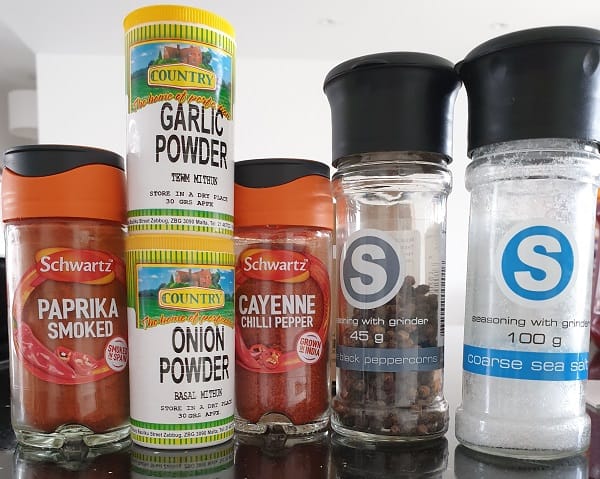 Cheese Sauce – Started with adding bacon lardons to a skillet and fry until crispy. Without draining the fat add a knob of butter, a splash of milk, 5 slices of Gouda cheese (use smoked Gouda for that extra smokey flavor), and 8-10 slices of pickled jalapeno (diced).
5 Slices of Gouda
Bacon Lardons
8 Slices of Pickled Jalapenos
Knob of Butter
Splash of Milk
Burger Patties – Two 2oz ground beef chuck balls. Smashed flat of a hot griddle. Seasoned with a generous amount of salt and pepper. And one more slice of Gouda.
Bun – I'd say use your favorite bun. However, a good choice for this hamburger is a potato roll. Cut in half, spread a thin layer of mayonnaise and then toast.
Fries Burger Instructions
As with all the burger recipes we cover on Go Shindig we try to do as much as we can on our kettle grill. This is because we are an outdoor entertaining blog, and kettle grills are the most popular backyard grill in homes around America.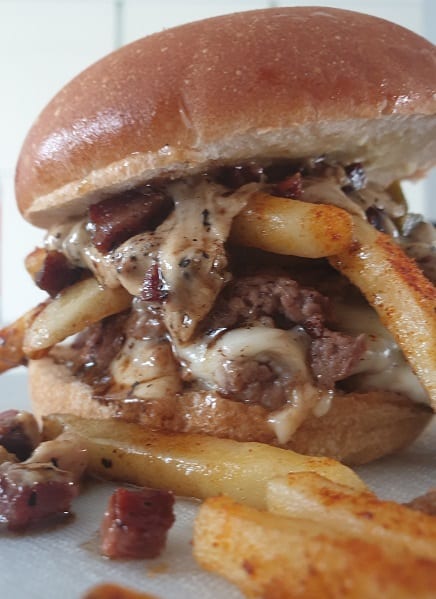 Other than the kettle grill we will also be using the Weber gourmet bbq system griddle, Napolean cast iron skillet, an infrared thermometer, Lodge grill press and a Weber flipper. We will be cooking with Weber briquettes.
We'll set the grill up with both charcoal baskets pushed to one side and on the opposite side we'll cover part of the upper grill grate with tin foil. In the center, we'll have the Weber griddle and the skillet balanced as best we can over the briquettes. Place the lid thermometer over the area with tin foil and wait until the temperature is 400 degrees Fahrenheit.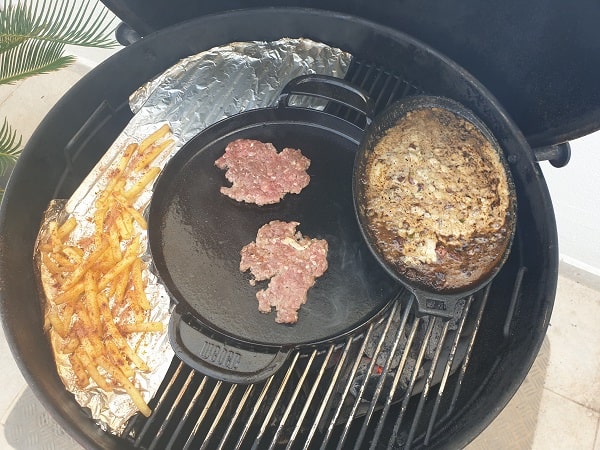 The fries burger has 3 separate elements to it – the fries, cheese sauce, and the burgers. The fries come first. Place a handful of your favorite oven fries on the tinfoil area and cook until they are nice and crispy. This normally takes 20 minutes but it may take longer. It's best not to hold yourself to a time frame and only move onto the next stage when you are sure the fries are ready.
While the fries are cooking you should mix together the fries seasoning. Mix together the salt, pepper, onion powder, garlic powder, smoked paprika, and cayenne pepper. Once the fries are ready, generously sprinkle the seasoning over the fries.
At this point, the rest of the recipe is done with the grill lid off. The skillet should be nice and hot now. First, you add the bacon bits to fry until they are how you like them. I like them crispy. Now you have a decision to make. Do you want a dirty cheese sauce or not. I like a dirty sauce. Which means I don't drain the bacon fat that has rendered out. I now add the butter, giving it time to melt, then add the milk, pickled jalapenos, and cheese.
It will not take long for the cheese to melt into a sauce so you'll want to get the burgers on as soon as you have added all the cheese sauce ingredients. Use the infrared thermometer to quickly check the griddle is 400 degrees or more. If it is less then you'll need to adjust your times for the burgers.
Put both your beef balls on to the griddle and then use your grill press to flatten the beef into burgers. Leave these to grill for about 1 minute (once you have smashed your burger, that is when you add your buns for toasting). As long as your griddle is well seasoned it should let you know when the burgers are ready for flipping as the griddle will release the beef and the burger will not be stuck. Your flipped burger should look nice and crispy.
Add a slice of cheese onto one of the burgers. The second side of the burger should only take around 20 seconds to cook. Once ready you'll place the uncheesed patty onto the patty with cheese. Then you'll place this burger stack onto your toasted bun.
Before toasting your bun you should spread a thin layer of mayonnaise on the insides of both halves of the bun. Place the buns to only toast the insides.
Once you have the burgers on the bottom bun you'll now pile as many chips on as can fit. And then carefully spoon on as much of the cheese sauce as you can before the burger stack collapses. Then quickly place the top bun on and push it now to stabilize the whole structure.
This is a messy burger, and one your waistline will not thank you for. But your taste buds will be in heaven.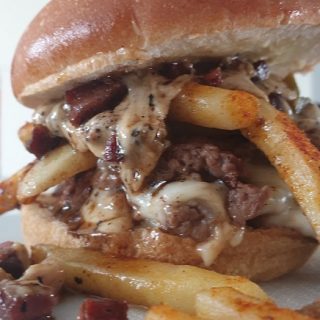 Fries Burger
A spicy seasoned fries, double smash burger with a dirty bacon and jalapeno Gouda cheese sauce
Ingredients
Potato Roll
4 oz of beef
Handful of Fries
6 Slices of Smoked Gouda
Bacon Lardons
8 Slices of Pickled Jalapenos
1/4 teaspoon of Onion Powder
1/4 teaspoon of Garlic Powder
1/2 teaspoon of Smoked Paprika
1/4 teaspoon of Salt
1/4 teaspoon of Black Pepper
1/4 teaspoon of Cayenne pepper
Knob of Butter
Splash of Milk
Mayonnaise
Instructions
Cook fries for 20 minutes
Mix fries seasoning and add once fries are ready
Fry bacon bits in a skillet
Add butter and wait until it's melted
Add milk, pickled jalapenos and 5 slices of cheese
Start to toast buns
Smash both beef balls on the griddle
Flip after 1 minute
Add a slice of cheese to one patty
Wait 20 seconds and stack all ingredients together
Notes
Split the 4 oz of ground beef into two 2 oz balls. Try to keep the balls loosely formed and not packed tightly.
In this recipe we have a dirty cheese sauce. This is us making the sauce in bacon fat. If you want a "cleaner" sauce fry the bacon separately.
Nutrition Information:
Yield:

1
Serving Size:

1
Amount Per Serving:
Calories:

1628
Total Fat:

115g
Saturated Fat:

54g
Trans Fat:

1g
Unsaturated Fat:

52g
Cholesterol:

364mg
Sodium:

5954mg
Carbohydrates:

56g
Fiber:

10g
Sugar:

11g
Protein:

93g
Fries Burger Alternatives
As I mentioned earlier, I've thrown fries on many of my burgers, it just works with any burger. So the toppings alternatives are endless. Fries on a burger will taste great whatever you choose. But remember, this is a fries burger, so in that spirit let's make sure the fries are the star of the show.
Over in the UK they have a popular dish called a chip butty. These aren't chips as we know it but rather something more along the lines of think cut fries. And the butty part is normally a bread roll like that used for burgers. On this very popular dish, the sauces they use (and therefore will make good alternatives for our cheese sauce) are curry sauce, a beef gravy, and sometimes mushy peas. Obviously they also use ketchup and/or mayonnaise, but this just shows you how flexible you can be with sauces and fries.
If you go north over the board in Canada they also have a popular fries dish that can give you some inspiration on fries burger alternatives – Poutine. Basic poutine is french fries, cheese curds, and gravy. But there are many great alternatives that add ingredients such as pulled pork, bacon, chili, and even lobster. So if you are looking for some amazing fries burger topping ideas have a look at what people add to poutine.
Most of you will be grilling this burger in your backyard and will have easy access to all your kitchen comforts. This burger is much easier to make if you do your fries in your oven or fryer. You'll also find it easier to do the cheese sauce on a stove, so if you have a side burner on your grill or have a portable stove then you might be better to use it. And you can even make a proper cheese sauce roux if done this way.