Grilling is one of the greatest pleasures in life. Delicious, juicy food cooked over an open flame – there is really no downside. That is, other than the cleanup. Let's face it – ash is something you don't want flying around and seasoning your otherwise perfect meal. It has got to go! Even with a removable ash tray, you are still likely to find ash tucked away in all the nooks and crannies. That is why you should always clean your ashes up with the best ash vacuum available.
Not only is an ash vacuum a worthwhile investment for your grill, but you will soon discover why we think it is one of the handiest tools to have around your house. We will take a look at some of the best ash vacuums on the market and also tell you what exactly you should be looking for in a high-quality ash vacuum.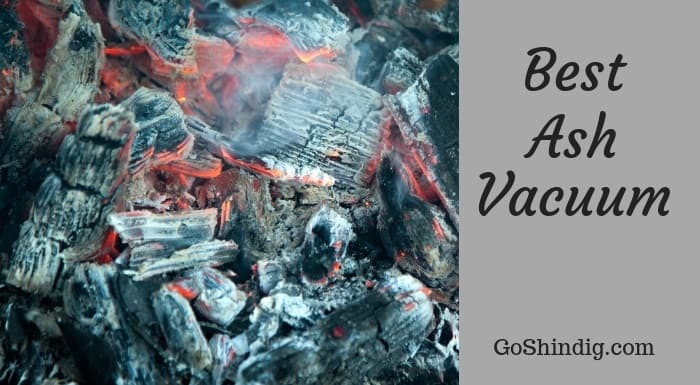 What is an Ash Vacuum?
An ash vacuum is exactly what it sounds like – a vacuum for ashes. But did you know it comes in handy for more than just cleaning your grill? Use your ash vacuum with your fireplace, smoker, wood burning stove, fire pit, and more. You can also use some models as shop vacuums, which is convenient for cleaning fine dust in your home such as drywall dust.
The metal tanks and fire resistant hoses help the ash vacuum to withstand high heat. However, it is a wise rule of thumb to wait until your ashes cool completely before attempting to vacuum them up. Go enjoy your delicious meal! The cleanup can wait! The design of ash vacuums is to handle high heat, but sticking to warm or cool ash is just a smart move to keep your vacuum performing its best for years to come.
Why you need an Ash Vacuum cleaner for your BBQ Grill, Smoker or Fire Pit
One thing you definitely do NOT want to try to do is use a regular vacuum cleaner for ash. It is simply not safe. Regular vacuums lack the fire resistant components that are standard on ash vacuums. Even if you wait for the ash to cool, you still may encounter hot embers buried in the ash.  So, stay safe and use a hot ash vacuum instead.
Another reason not to use your regular vacuum for ash is how damaging it can be to the vacuum's inner workings. Ash is very fine and can quickly penetrate your regular vacuum's filter and go straight for the motor. With that kind of damage, you will be replacing your vacuum sooner rather than later.
Ash vacuums are compact, affordable, and they get the job done. Charcoal briquettes leaving behind an ashy mess after dinner? Cleanup can be completed in next to no time if you have the right tool for the job – an ash vacuum.
Best Ash Vacuum Cleaners – Top 5
While it may sound like all ash vacuums are created equally – the truth is, they are not. There are a few that stand out among the rest as the best ash vacuums you could buy. These are those vacuums:
PowerSmith Ash Vacuum with Metal Hose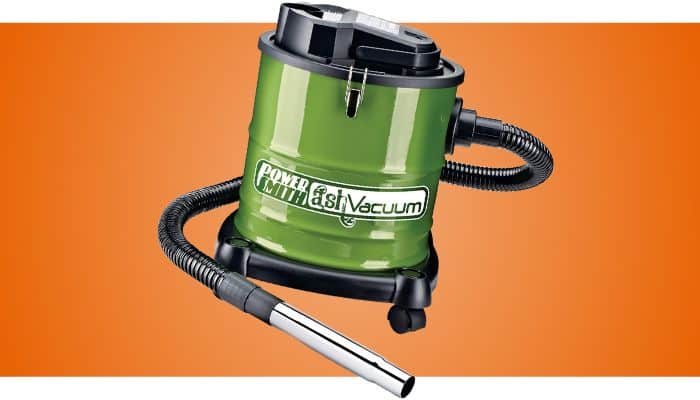 First up, we have the PowerSmith Ash Vacuum. It is a very effective, versatile model capable of cleaning all varieties of ash from wood stoves to fire pits. It contains a washable filter, meaning you will purchase replacement filters less frequently than other vacuums. The filter can handle warm and cool ash, and it filters even the finest particles.
One advantage to the PowerSmith is that it comes with additional accessories such as casters and a 16-foot cord. So, not only will it function as an ash cleaner, but it also makes a great shop vacuum. The motor is a 10amp, but do not expect it to make the loud noise that often comes with motors of that high power. The PowerSmith does not reach over 79 dB meaning it is powerful, yet quiet.
Built to last, the Powersmith can handle any task, whether you are cleaning up the charcoal ash from your barbecue or the drywall dust from your workshop. This ash vacuum rates among the best of the best, and its affordable price and 2-year warranty make it a real winner.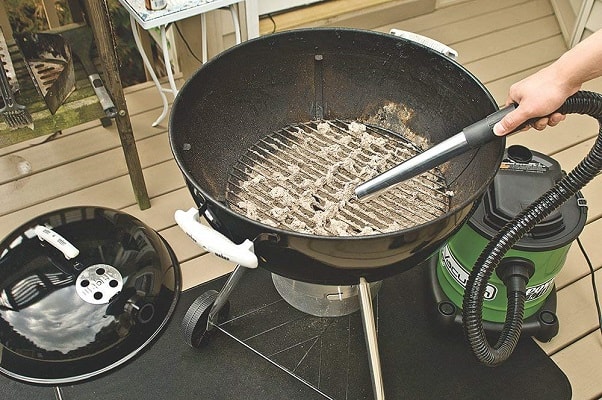 With a 50-inch hose and a 16-foot cord, this robust 10-amp ash vacuum from PowerSmith offers a broad range. The canister is positioned on wheels for convenient mobility and has a 3-gallon capacity.
For a wet/dry model, this ash vacuum produces mid-range noise at an operating level of around 79 dBA. Its all-metal structure makes it suited to clear up warm ashes. Ash removal is made easier by a variety of extensions and nozzles.
Even the smallest bits of ash or dust is contained within the PowerSmith's changeable fire-resistant filter system's canister for proper disposal.
Cougar Ash Vacuum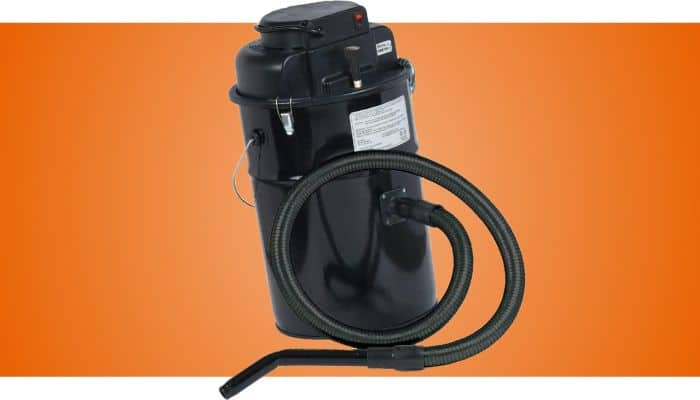 If you are looking for a great ash vacuum that can handle all of your dirty work and be reliable enough not to spit out ash, the Cougar Vacuum is an excellent choice. Ideal for wood stoves, barbecues, pellet stoves, and fireplaces, its patented filter system is designed to filter even the smallest particles. Built with fire-resistant fabric, the filter can withstand temperatures up to 1,200 degrees Fahrenheit.
Unique to the Cougar Vacuum is its method of filter cleaning. You can actually clean the filter without ever opening up the vacuum. Shaking the agitator rod on the outside of the vacuum knocks the ash off of the filter and suction will resume. Complete more thorough cleanings after you have vacuumed between 60-80 gallons of ash. The six-gallon canister has a three-gallon capacity.
The hose, nozzle, and canister are all made of metal. It is safe to use on warm and cool ash. It also includes nine different accessories such as a horsehair brush and a crevice tool, as well as a drawstring bag for storage. The motor is quiet and powerful, capable of pulling in 124 cubic feet of air per minute. It is among the more expensive ash vacuums, but the Cougar Ash Vacuum is also backed up with a 10 Year Limited Warranty.
Filter Technology Captures the Tiniest Ash Particles. A double filtration mechanism on the Cougar makes sure that no ash escapes the vacuum. This technique makes cleaning your fireplace quick, easy, and healthful while also leaving your air clear of ash.
The filters in the system are all made to capture even the smallest ash, and the second filter can even catch sub-micron particles. Your air remains clear thanks to the efficient ash-trapping action of the two filters.
Without taking them out of the vacuum, you may clean your Cougar's filters, preventing any mess. Simply take off the brass lid cap and move the agitator rod back and forth to shake the filters and cause ash particles to fly off.
Your Cougar will be prepared for a full cleaning once you have removed 60 to 80 gallons of ash with the vacuum. To clean the secondary and primary filters, just unscrew them and vacuum them.
A cold-rolled steel canister that can contain up to three gallons of ash is a feature of the Cougar Ash Vacuum. You won't ever need to be concerned about costly and bothersome replacements because this fireproof canister safely stores your ashes without bags. Simply take off the lid of the ash canister when it's time to empty your ashes.
The Cougar's crimped steel nozzle is made to suck up ash rapidly while leaving heavier material behind to be burned later. This helps with ash cleaning. Simply set the vacuum nozzle on the hearth and swipe it around in a circular motion to use. Ash won't clog the hose and will pass through it easily.
Shop-Vac 5 Gallon Ash Vacuum Cleaner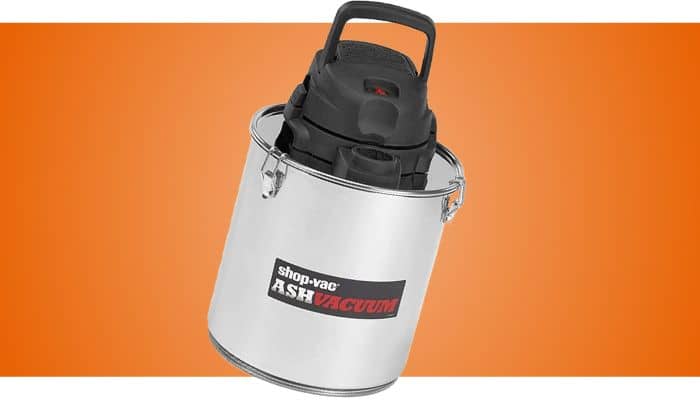 Next up is the Shop-Vac Ash Vacuum Cleaner. Shop-Vac is a high-quality brand when it comes to vacuum cleaners, and their ash vacuum is no exception. It features a stainless steel tank that can handle up to five gallons of ash. Its HEPA (High-Efficiency Particulate Air) filtration system is highly effective at removing ultra-fine dust and ash particles. It also is resistant to clogging.
Included are the wire hose, metal nozzle, and metal crevice tool. While this model has fewer accessories than some others, it is also highly affordable and very efficient.
The Shop-Vac Ash Vacuum also features a thermal cutoff. That means that if your vacuum does begin to overheat, it will automatically shut off the motor to prevent any risk of damage. This prolongs the life of your motor. But just in case you have any problems, the Shop-Vac also comes with a two-year warranty.
Snow Joe Dual Filtration System Ash Vacuum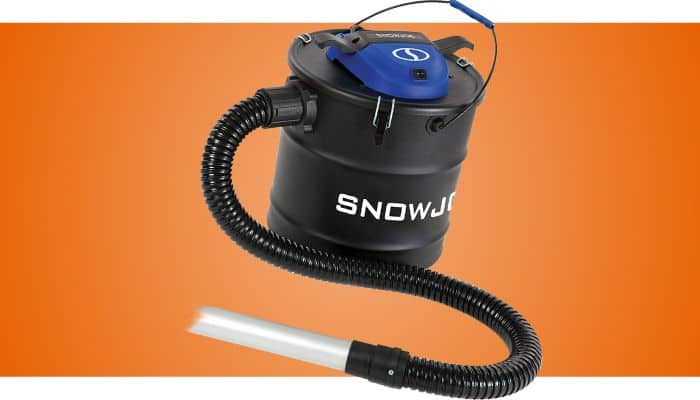 If you are looking for a truly affordable option and don't mind cold-only ash pickup, the Snow Joe Ash Vacuum is a great choice. Designed for use with wood stoves, pellet stoves, grills, and more, the Snow Joe Ash Vacuum can handle tough jobs. But you have to let the ash cool entirely first. Comprised of a pre-filter for coarse dust and a pleated filter for fine dust, this is a dual filtration system. A wire filter basket protects the pleated fine-dust filter.
The metal canister can hold up to 4.8 gallons of cold ash, and ash removal is simple. It is a bag-free system removed with just a lift of the lid. The Snow Joe Vacuum also features a safety stop switch. This will prevent the vacuum from operating without a properly fitted filter, meaning you won't blow dust around your house!
Other features include an inspection window blockage indicator, a built-in cord and hose organizer for easy storage, and a convenient handle for carrying. The 4-amp motor is capable of pulling in 42.4 cubic feet of air per minute and can generate up to 500W of powerful suction. This model is also backed by a two-year warranty. It works very well as both an ash cleaner and shop vacuum!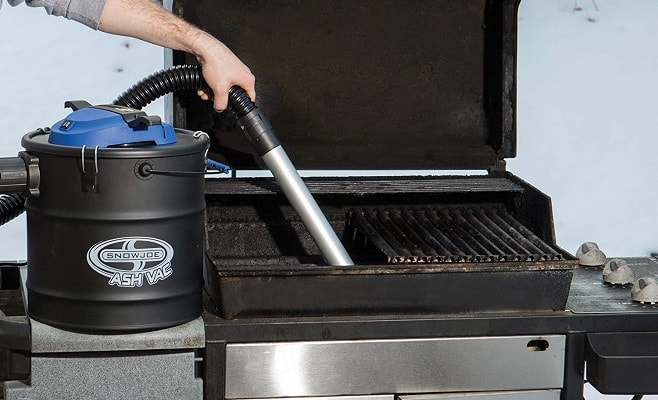 Vacmaster Stainless Steel Ash Tank Combo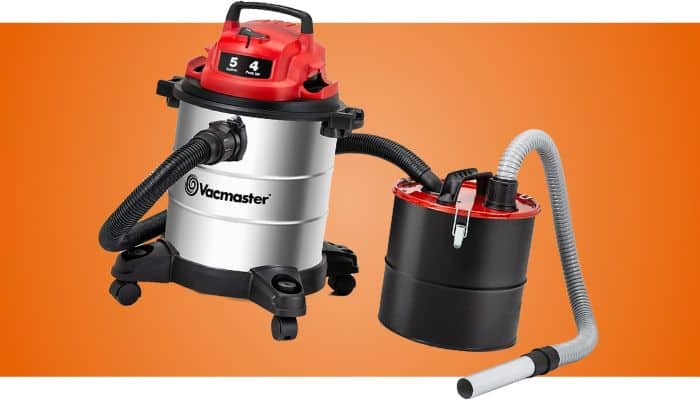 This two-in-one canister vac and container set has a flexible design that makes it perfect for cleaning liquid waste, furniture, floors, and of course, barbecues. It has a variety of attachments for a variety of uses.
The ash vacuum cleaner from Vacmaster, model number VOC508S 1102, is a flexible tool for general house cleaning and ash removal. This combination machine has a 3-gallon ash tank and a 5-gallon canister vacuum. It removes a significant amount of ash before needing to be emptied. The top handle of the vacuum makes transporting it easier. With its casters, the vacuum cleaner can move around the floor with ease. Nevertheless, there is no valve on this vacuum to prevent ash from escaping the ash tank and entering the vacuum.
The Vacmaster VOC508S 1102 ash vacuum cleaner can be used to clean fireplaces, stoves, and barbecue grills. It includes an effective 8A motor with enough suction to pick up small particles and ash. This tool is simply transformable into a blower for multiple applications. To prevent the vacuum cleaner filter from clogging, the ash tank is simply connected to the vacuum cleaner with a hose. For convenience, the vacuum incorporates built-in accessory storage. Wet floors are appropriate for the wet/dry vacuum.
Great Ash Vacuum Cleaners
The ash vacuum cleaner business isn't a fast-moving industry with new products released on a yearly bases from the top companies. But some great new products do hit the marketplace once in a while. This means one of the vacs on my top 5 ash vacuum list will be replaced. Instead of deleting the mini-review, I have decided to make a second list of great ash vacuums, as these products are still well worth buying if you find a deal on them.
Table Comparing Great Ash Vacuum Cleaners
Cheetah Ash Vacuum
Buy on Amazon

Cheetah Ash Vacuum

Last but certainly not least, we have the Cheetah Ash Vacuum. Comparable to the Cougar Ash Vacuum, the Cheetah is another high-end, high-quality vacuum. Made in the USA, the Cheetah Ash Vacuum's patented dual filter system is excellent for removing even the finest of ash particles. The filters and hose are flame resistant, so if you happen to suck up a piece or two of hot ash, there is nothing to worry about!

The Cheetah Ash Vacuum also features an external agitator rod for a quick clean of the filter. You don't even have to open the vacuum! If you notice that suction has reduced, it is possible that the filter is clogged. Just give the rod a shake to clear the filter and suction will resume as normal. Filters don't ever need to be replaced, just cleaned. Just like with the Cougar Ash Vacuum, be sure to give the Cheetah a more thorough cleaning after about 60-80 gallons worth of ash. The Cheetah's ash canister can hold up to 3 gallons at one time.

Its ease of cleaning makes the Cheetah Ash Vacuum a top choice among the top vacuums. It also comes with a three-year warranty.

The Cheetah ash vacuum product picture
Why Trust Us
All of our reviews are compiled with a combination of expert input, years of hands-on testing of grilling products, curating the reviews of real-life buyers in a "wisdom of the crowd" system, and of course our own expertise. All the products listed are the ones we would buy if we were looking to purchase a new ash vacuum.
Methodology Used to Pick the Best Ash Vacuum
When picking the best ash vacuum we looked at and then rated each vacuum on the following criteria. Price, tank capacity, hose size, suction power, filter system, type of tank, length of power cable, wheels, and dust indicator.
How Do Ash Vacuums Operation?
Ash vacuums work similarly to conventional vacuums by using a motor to spin an air pump that creates suction. You can direct the suction power with an extension wand, a flexible hose, or a brush attachment.
The majority of ash vacuums are corded devices with extra-long power cords that hook into an electrical outlet. While smaller, more compact AC-powered hot ash vacuum cleaners can employ a 4-amp motor, larger versions may use a powerful 10-amp motor.
An 18-36 volt battery pack is frequently used in cordless ash vacuum cleaner models. Lithium-ion battery cells are more common in more recent cordless devices because they offer faster charging and longer battery life.
A metal intake nozzle and metal crevice tool are frequently used with ash vacuums to give thermal protection while working near hot places like the tray under a pellet burner or the corners of a fireplace. Further accessories that some models include make it easier to remove ash from different surfaces. A brush nozzle or upholstery nozzle can increase versatility.
To stop ash particles from flying out the vacuum's exhaust, a decent ash vacuum cleaner will also contain a substantial triple filter or dual filtration system. Larger particles, dust, and debris are caught by an exterior filter or pre-filter unit, while smaller particles are caught by a second dust filter or HEPA filter.
To better trap tiny, possibly irritating, or harmful dust particles, the best ash vacuum devices frequently include a sealed canister. Ash from wood and pellet stoves can be poisonous, so an ash vacuum should feature carefully thought-out filters as well as a sturdy, snugly fitting canister with adequate storage space.
How We Selected the Best Ash Vacuum Cleaner
When it comes to picking out a vacuum, you want to make sure you select one that truly meets all of your needs. Here are some features that you should consider when selecting an ash vacuum:
Tank Capacity
Nothing is more tedious than having to stop repeatedly during a task, in this case, stopping to empty your tank of ashes. If you plan on only generating small amounts of ash at a time, a small tank might work well for you. However, if you want to handle the biggest of messes without stopping multiple times, opt for a larger capacity canister. That way you've got your BBQ grill, wood stove, pellet stove, fireplace, and more all covered!
Hose Size
Having a long hose is important for doing a high-quality cleaning job because you want to be able to reach every nook and cranny. Some spaces can be hard to reach. With a short hose, you may have to maneuver a cumbersome vacuum into inconvenient positions just to reach all of the ash. Save yourself the stress and opt for a long hose.
Suction Power
You want an ash vacuum that can pack a punch when it comes to cleaning suction. Otherwise, what is the point in owning one? Pick an ash vacuum with a larger sized motor. The bigger the motor, the more suction power. But also be aware of how much noise the soot vacuum creates. There are a lot of great models with tons of suction power that are easy on the ears.
Filter System
The filter system is what sets an ash vacuum apart from a regular ash vacuum, making it the most important aspect to consider. You do not want to be blowing ultra fine dust or ash particles all around your house. For the best quality filtration systems, find one that is HEPA filter rated. Typically, dual filtration and triple filtration systems are the best of the best. Another aspect you will want to consider is whether or not the filter is reusable. Some filters are washable and others will need replacements.
Type of Tank
Most ash vacuums are made of metal but some on the lower end of the price scale have tried to cut this corner. A good ash vac has to be at least lined with metal in order to be heat resistant. While you should only vacuum cool or slightly warm ash, if you happen to suck down some still hot embers, a metal tank will ensure your safety. It will also prevent damage to the rest of your vacuum.
A Long Power Cord
Just like having a long hose is important, you also want to have a long power cord. This makes it more convenient and easy to move around while cleaning. It is also handy if you plan on doing double duty with your ash vac and using it as a shop vacuum for larger spaces. Bonus points if the model has a retractable cord or a built-in cord organizer for easy storage.
Aluminum Crevice tool
Whether you are cleaning a grill or a fireplace, you can expect some places to be hard to reach. Corners and crevices can be especially tricky. An aluminum crevice tool makes cleaning quick and simple by extending the suction into those difficult to reach areas. Of all the available accessories, an aluminum crevice tool is a must have.
Wheels
If you have decided on a larger model, you can expect your vacuum to be somewhat cumbersome to carry. Bear in mind, that weight increases when the vacuum is full of ash! Most models of ash vacuums have a handle, but the truly convenient models also have wheels. This aids in moving the vacuum from place to place and transporting it for disposal of dust.
Full Dust Indicator
Look for an ash vacuum that features a full dust indicator. This little LED light will show you when your canister becomes full and is ready to empty. It is a highly convenient feature to have!
Best Ash Vacuum Cleaners Video
Ash Vacuums Vs Standard Vacuum Cleaners
Ash vacuums, when compared to regular vacuum cleaners, have specialized features for dealing with ash and smaller particles. In order to work near wood stoves and fireplaces, they may additionally have heat-resistant metal nozzles and heat-resistant filter systems. Wet-dry vacuums and common multi-purpose vacuum cleaners aren't designed to handle ash and can catch fire if they unintentionally take up hot ash or embers.
A good ash vacuum differs from a standard vacuum cleaner not only in terms of heat tolerance but also in terms of particle filtration, just like the best cordless shop vacs do. To prevent the smallest ash particles from being released into the air through the suction exhaust ports, an ash vacuum cleaner must have at least dual filtration. Ash from pellet stoves and wood-burning fires can be poisonous. Many have an inner and outer sealed canister, as well as a pre-filter.
In order to sustain suction with multiple or triple filtration systems, these models also typically contain a strong motor. The majority of ash vacuums, like other vacuum cleaners, are AC-powered and come with extra-long power cords, while cordless ash vacuums are also available.
The greatest ash vacs almost universally contain numerous particulate filters to capture small dust and aerosols, unlike most shop vacs and wet and dry vacuums. Also, a top-rated commercial backpack vacuum will likely work best if you want the space to keep clean because it will be simpler for you to carry around.
Final Thoughts
We hope this Buyers Guide and Best Ash Vacuums roundup has been helpful in your search for an amazing vacuum that meets your needs. Having an ash vacuum on hand is one of the best ways to make cleanup a quick and easy process. Keeping your grill clean will prolong its lifespan and keep your food tasting good, not covered in soot.
Looking for other ways to properly maintain your grill? Check out some of our other articles about grill cleaners and maintenance.