I'm not an expert in buying gifts by any stretch of the imagination. In fact, I often struggle when it comes to buying presents for most people I know. But there is one subject I know and love, and that's outdoor cooking. So when it comes to grilling gifts I know exactly what I'm doing. I simply pick something that I'd really like to unwrap at Christmas, on my birthday, or on father's day.
Below I'll list a selection of the best BBQ gift ideas that will suit all budgets and every occasion. Just be aware that many grillers are fanatical about their hobby and it's likely they will already own a wide range of accessories, so if it's possible to ask someone what equipment they already own then it's probably wise to do so.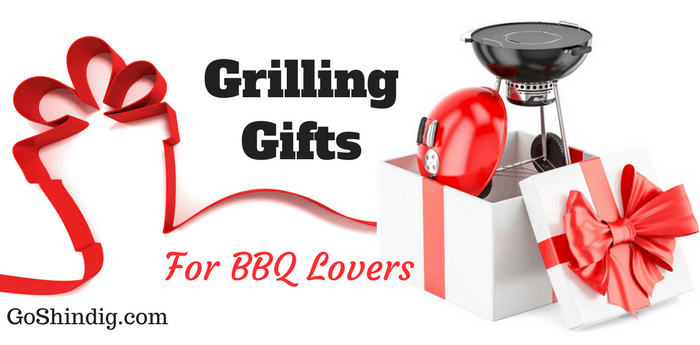 Grilling Apparel Gifts Ideas
The safest gift for BBQ lovers is an item of clothing. This type of grilling gift doesn't matter if they already have one as it's very often the case that the person you're giving a present to will welcome multiple items of clothing.
We're obviously not talking about a nice shirt and tie here, as this would be of no use for a pitmaster. What you'll be looking to buy is a BBQ apron, heat-resistant gloves or some branded grilling apparel.
Grilling Gift Stocking Stuffers
What sort of tiny smoker presents would you give to a pitmaster who has everything? The solution is clear. Even the most seasoned pitmaster would love any of these presents as a stocking stuffer.
Everyone enjoys opening the modest but perfectly practical gifts they find in their stockings that are hung by the fireplace. Everyone will find something here, and even though they are all little enough to fit in a stocking, the family member who is the grill master will be greatly impacted by them.
Grilling Accessories Gifts
Anyone who enjoys grilling meat will find several products online that will increase their enthusiasm for cooking.
Some folks merely stick to the dry rub recipes they have printed off the internet and store-bought sauces. But there are so many helpful tools available that may improve anyone's meat by a factor of a hundred in terms of flavor, juiciness, and satisfaction.
What would be the ideal grilling accessory present for the family member who is the pitmaster and seems to have it all figured out? Check out any of these weapons that belong in the armory of any legendary pitmaster.
Grilling Thermometer Gifts
A thermometer is a piece of crucial culinary equipment and one of the greatest grilling gifts you can give anyone. What makes a thermometer so crucial? Because no one likes to offer meat that is either overcooked or undercooked.
The quickest and most precise way to make sure that anything on the grill has achieved the ideal temperature is with a thermometer. The family pitmaster will then guarantee that the meat they serve is always the juiciest, tastiest, and most tender anyone has ever encountered. So let's look at some of the best grill thermometers you can buy that will make a great gift.
Thermometers make for a great present but are a tricky purchase if you don't know what you're looking for because there are several different types of thermometers and also a lot of rubbish brands. Thankfully I've got you covered with my series on all the best outdoor thermometers currently available. But if reading all this information is too much effort, or you're still left confused, then I've made some recommendations below that will make super gifts.
BBQ Books
Personally, I love books. I know many people ask, why do you buy a book when everything is on the internet? But with books I find I learn stuff I didn't even know I needed to learn and would therefore not be searching for it on the internet – and that's why a book is a great gift for BBQ lovers. There are many options available for BBQ, smoking, or grill recipe books, however, my top recommendation is a book all about the science of cooking from Meathead (the writer behind amazingribs.com).
BBQ Fire Lighters Gifts
It's often advised not to use an accelerant when lighting your BBQ coals as it's dangerous and can give a chemical taste to your food. Unfortunately, without fire-lighting fluid many people struggle to get their coals going.
There are several options for this problem that you can see in our BBQ fire lighter article, but I'll outline the options that make excellent BBQ gifts here to make it easy for you to select the perfect present for your loved one.
Great Knives for Grilling
A good knife is undoubtedly the most crucial kitchen utensil. Anyone who spends a lot of time in the kitchen, particularly when cooking with meat, is aware of the significant difference a good knife with a sturdy blade can make in the culinary outcome.
Therefore, a gift of a new knife for the holidays would make every home cook pleased. Whether it's something robust like a superb chef's knife or something more specialized like a paring or boning knife, it should be suitable for the work at hand. Simply put, nothing will be more helpful in daily cooking than fine, sharp steel. So give an amazing BBQ knife or the tools to keep knives sharp as a gift and it'll be greatly appreciated by the griller in your life.
Christmas Coal Gift
If it's Christmas and you've been naughty then it's highly likely that Santa will just fill your stocking with coal. Well, if you're a BBQ lover the joke is on him. People that like to grill or smoke food love good quality charcoal. I'd still say coal is a bit of a strange gift, but I'd still much prefer some restaurant-grade lump charcoal or some flavored wood like Whiskey barrel oak or cherry wood than the multi-pack of socks that many family members seem to think I love.
Grill Cleaning Equipment
Every skilled pitmaster is aware that maintaining a clean smoker is essential. But nobody enjoys having to do that; it's not always an easy process.
There may be a lot of accumulation on the grates and other sections of the smoker after a long day of smoking. This means that after a good evening in the backyard, it might be a very hefty job to tackle.
Therefore, one of the finest gifts for BBQ lovers would be a tool that makes the work simpler. Any one of these cleaning items would make a wonderful addition to the equipment collection of any home cook. But be warned, make sure you know the person you are giving the gift to wants grill cleaning gear, as cleaning products don't always make a welcome present.
BBQ Gift Set
Grilling gift sets are also decent go-to gifts for BBQ lovers. I'd say they aren't as good as the individual items mentioned above but they are a safe well-received present. Normally, bbq gift sets comprise either a selection of different sauces and rubs or several different cooking utensils.
Best Grilling Gifts Video
There are many meals to grill, many ways to grill them, and many gadgets to assist, whether using propane, charcoal, or wood. Therefore, there are a ton of gift possibilities available for grillers. What are the best choices, though? Have a look at the below video to get some bbq gift ideas.
Best Portable Grill Gifts
Do you need some ideas for your favorite grillhead's birthday or Christmas present? Here are several of this year's top portable cooking presents for barbecue enthusiasts.
BBQ enthusiasts are notoriously tough to purchase for (although they are a lot of fun to buy for), and this chore is made even more challenging when they refuse to provide any assistance or tips. But if you know someone that loves to grill and also loves to go camping, picnics or tailgates then these tiny grills will make the perfect present as they can combine both loves with one gift.
What to Look for in a Great Grilling Gift
There are all different types of grillers in the globe, from homeowners with Webers in their backyards to city residents who carry coolers of meat to the park. Whatever their setup, the pitmaster in your life will value a present that helps them pursue their passion. The sole issue? There are numerous tools available. So, whether you are looking for grilling gifts for men or women, luxury bbq gifts, or cheap bbq gifts, what are the things you should look out for?
Durability & Quality
You want something that endures being used and time if you're presenting grilling equipment, gadgets, or generally anything that isn't intended to be consumed. It won't make a fantastic gift if it breaks apart after just a few grilling sessions. Look for things that are waterproof, dishwasher-safe, and scratch-resistant.
Compatible With Users Grills
There are many different barbecues, and not all accessories will fit all barbecues. The essential factor to take into account is if your recipient owns a charcoal or gas grill. A charcoal grill's higher temperatures and smoke output may be too much for a gas grill's designed tool, and charcoal grills have a variety of fire-starting and fire-control mechanisms that gas grillers don't need. Size is also taken into account: A small or round kettle-style grill won't accommodate large grill plates or items like pizza oven inserts.
Personalization
Don't pass up the chance to customize your present! Many of the aforementioned products are made to last for many years, so it would be well worth spending a few extra dollars to personalize them with a name or monogram.
Shipping
Overnight or expedited shipping is frequently needed when ordering anything perishable, such as frozen steaks or burgers, which can significantly increase the cost. It costs more to ship grill tools and accessories because they are typically quite heavy-duty as they are intended to withstand high heat, and heavy goods cost more to ship. When comparing prices, keep in mind that some retailers include shipping costs while others don't include them until the final step of the checkout process.
Grilling Gifts Final Thoughts
People who enjoy grilling make great people to buy gifts for, because there are so many various supplies, pieces of equipment, and consumables available, such as rubs, tongs, and fire starters. However, if you are unfamiliar with grilling, it easily becomes an endless sea of meat deals, BBQ sauces, charcoal, and portable grills.
I searched the internet for unusual grilling presents for all the barbecue fans in your life and had each one evaluated. So you can be sure if you buy one of the grilling gift ideas from this list you'll be getting a great product. I've called this article "The Ultimate List of Grilling Gift Ideas" as I think I give more great ideas than anyone else. But I know this article can get better, so if you have any ideas for unique barbecue gifts you think I have missed let me know in the comments section and I'll add them to this guide.