I'm not an expert in buying gifts by any stretch of the imagination. In fact I often struggle when it comes to buying presents for most people I know. But there is one subject I know and love, and that's outdoor cooking. So when it comes to grilling gifts I know exactly what I'm doing. I simply pick something that I'd really like to unwrap at Christmas, on my birthday or father's day.
Below I'll list a selection of the best BBQ gift ideas that will suit all budgets and every occasion. Just be aware that many grillers are fanatical about their hobby and it's likely they will already own a wide range of accessories, so if it's possible to ask someone what equipment they already own then it's probably wise to do so.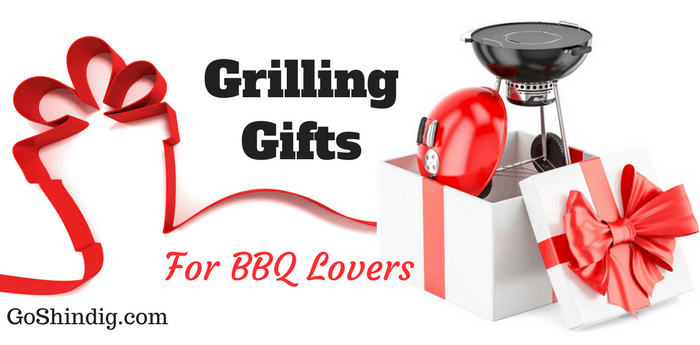 BBQ Gift Ideas
The safest gift for BBQ lovers is an item of clothing. This type of grilling gift doesn't matter if they already have one as it's very often the case the person you're giving a present to will welcome multiple items of clothing.
We're obviously not talking a nice shirt and tie here, as this would be of no use for a pitmaster. What you'll be looking to buy is a BBQ apron, heat resistant gloves or some branded grilling apparel.
Heat Resistant Grilling Gloves
You're buying a grilling gift for a loved one, so it's safe for me to assume their well being is paramount to you. And that's what makes a pair of heat-resistant barbecue glove a great present. It's a lovely gift and it helps protect your loved one from being burnt.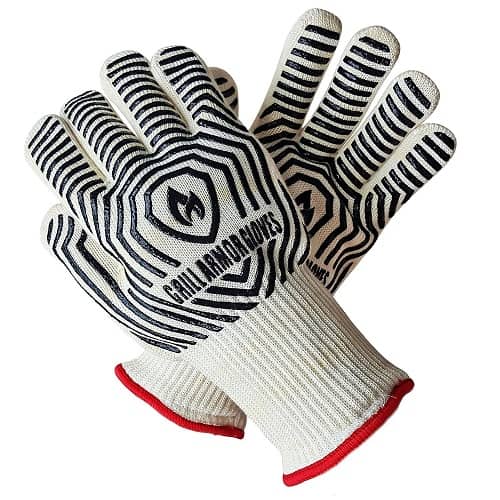 BBQ Aprons
Okay, I must admit that an apron isn't a cool grilling gift, but it's a present that will be well received. Grilling is a messy activity and one that normally takes place with friends or family around. And therefore it'll be likely the cook will be wearing some of his nicer clothes to look good. The last thing they want is a BBQ sauce stain or black ash marks on their fancy threads.
I've recommended several of the best BBQ aprons in a previous article if you want to see the many different styles available, but for a gift, you can't go wrong with the Weber BBQ apron.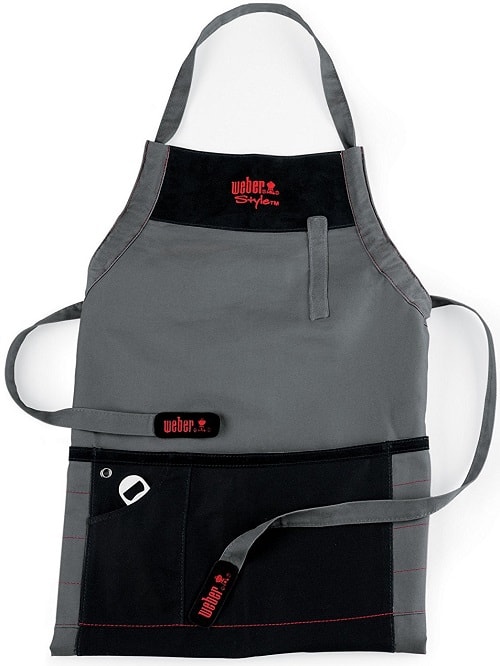 Branded Hats and t-shirts
As previously mentioned, grillers can be fanatical about the art of outdoor cooking, but also about the brands that fill this genre. For this reason, nearly any branded item will make a great gift. This can be grill manufacturers, BBQ teams or even companies that make rubs. It often doesn't matter as long as they are a name fellow grill enthusiasts will recognize. Below is a list of five of the bigger names that sell branded apparel.
Branded BBQ gifts
Outdoor Grilling Thermometers
Thermometers make for a great present but are a tricky purchase if you don't know what you're looking for because there are several different types of thermometers and also a lot of rubbish brands. Thankfully we've got you covered with our series on all the best outdoor thermometers currently available. But if reading all this information is too much effort, or still left you confused, then I'd recommend the instant-read thermometer called thermapen as an excellent grilling gift. The thermapen is an expensive gift and you might prefer to buy a cheaper thermometer such as the one made by Kizen.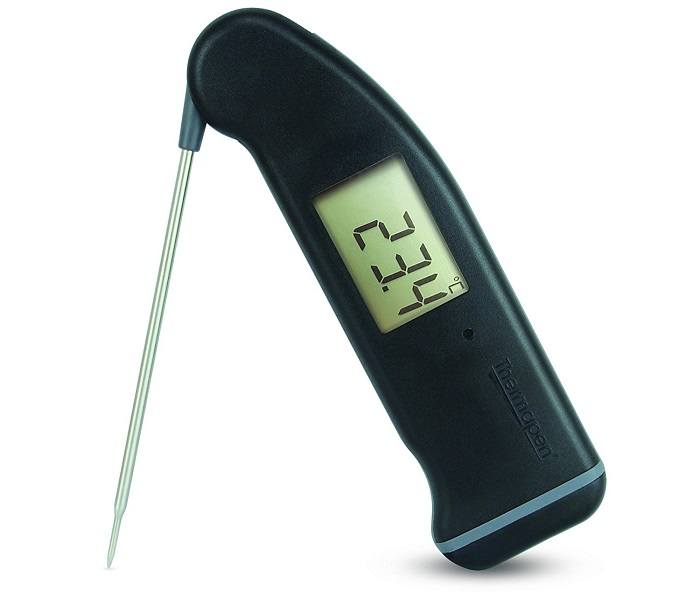 BBQ Books
Personally, I love books. I know many people ask why do you buy a book when everything is on the internet. But with books I find I learn stuff I didn't even know I needed to learn and would therefore not be searching for it on the internet – and that's why a book is a great gift for BBQ lovers. There are many options available for BBQ, smoking or grill recipe books, however, my top recommendation is a book all about the science of cooking from Meathead (the writer behind amazingribs.com).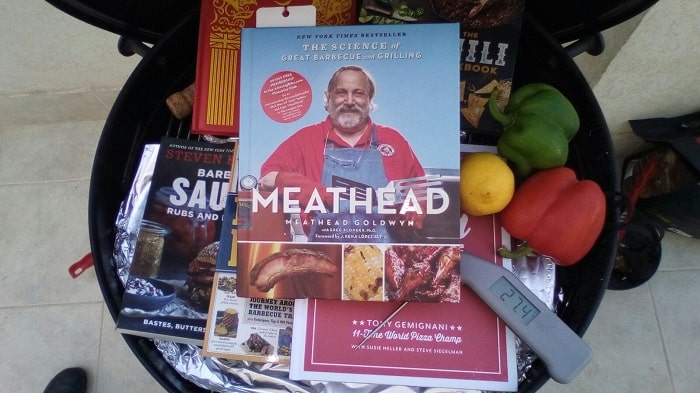 Grill mats
For those of you that aren't familiar with what a grill mat is, it's a mat made from fiberglass cloth and PTFE that you place on the grill grate that allows for a mess-free cooking experience. And as no one likes cleaning, this is what makes a grill mat such a wonderful present.
Before buying a grill mat as a gift be sure to find out whether you need to buy a rectangular or circular mat. It's still possible to use the wrong shape on a grill but it just looks nicer having the correct shape.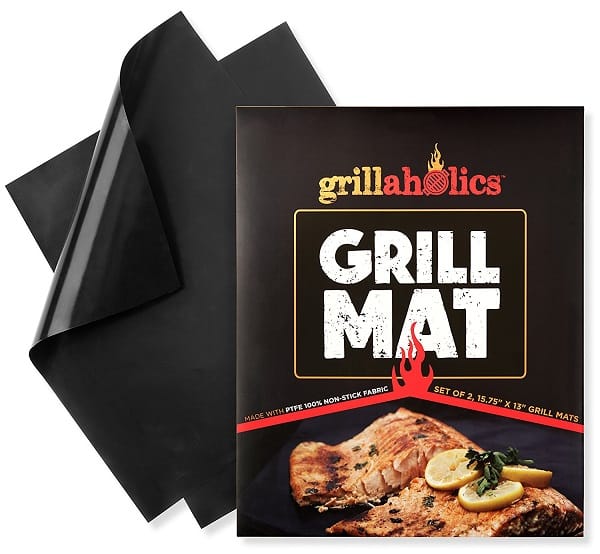 BBQ Fire Lighters Gifts
It's often advised not to use an accelerant when lighting your BBQ coals as it's dangerous and can give a chemical taste to your food. Unfortunately, without fire lighting fluid many people struggle to get their coals going.
There are several options to this problem that you can see in our BBQ fire lighter article, but the one option that makes an excellent BBQ gift is the Looftlighter electric fire starter.

Grill Lights
A nice simple grill gift that you can't get wrong is a BBQ light and they are relatively cheap. The inevitable cooking in the dark will happen, even if BBQing is seen as a nice sunny day activity. So having a light available will come in handy. One that has a clamp is best for grillers as it gives the ability to have both hands free to deal with the food. I recommend the Zeust grill light.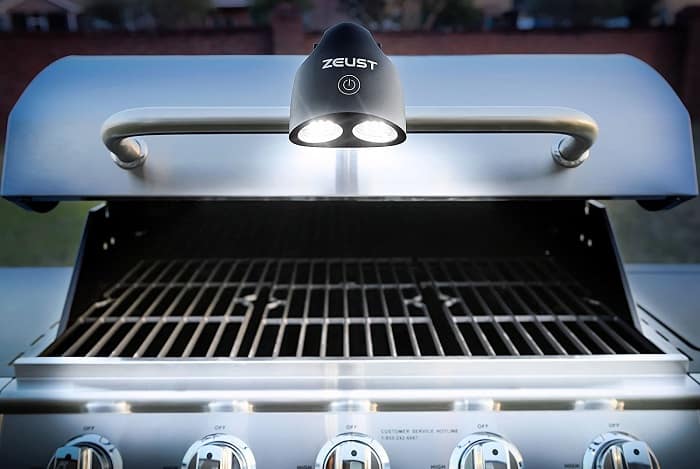 BBQ Prep Station
All the grilling gift ideas until now have all been pretty cheap or midrange products. If you're looking to get something a little more special then you might consider getting a BBQ prep station.
When cooking in the backyard food preparation space is often at a premium. Which means plates or food must be put on the floor or balanced precariously on top of each other. This doesn't have to be the case if you have a well-designed BBQ table. And there is a clear favorite among BBQ fans, the Keter table.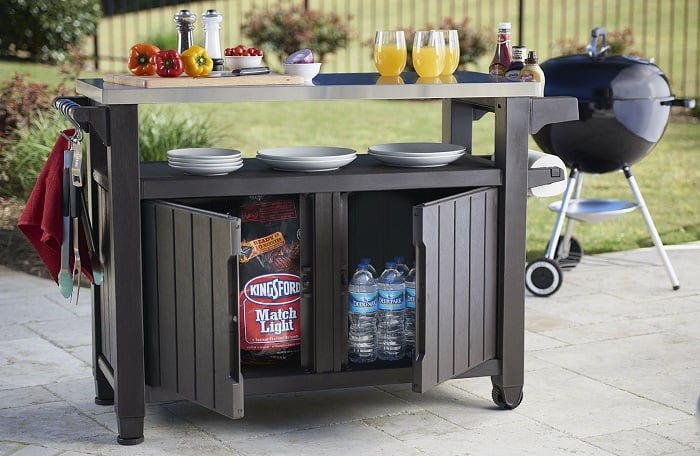 Insect Killer
From my understanding, very few people like insects, but around food even them few crazy people will not tolerate them. The problem with outdoor cooking is insects seem to think you have given them an invite and freely help themselves. So give a gift that helps solve this problem and is entertaining – the bug-a-salt.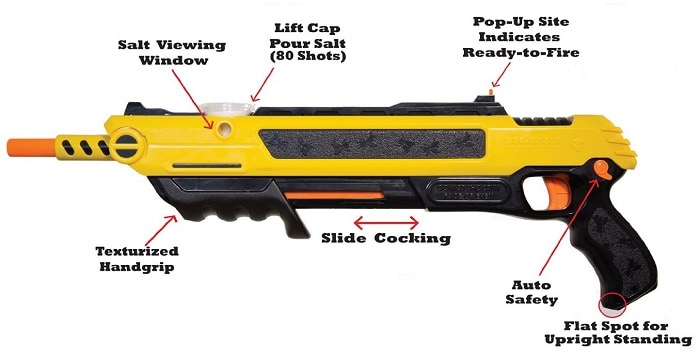 Christmas Coal Gift
If it's Christmas and you've been naughty then it's highly likely that Santa will just fill your stocking with coal. Well, if your a BBQ lover the jokes on him. People that like to grill or smoke food love good quality charcoal. I'd still say coal is a bit of a strange gift, but I'd still much prefer some restaurant grade charcoal or some flavored wood like Whiskey barrel oak or cherry wood than the multi-pack of socks that many family members seem to think I love.
BBQ Gift Set
Grilling gift sets are also decent go-to gifts for BBQ lovers. I'd say they aren't as good as the individual items mentioned above but they are a safe well-received present. Normally, bbq gift sets comprise of either a selection of different sauces and rubs or several different cooking utensils.
Top 10 Grilling Gift Ideas