One of the fundamentals of good cooking is heat management. Transferring energy in the form of heat into food changes its chemical makeup, and done right you'll get food that's safer to eat, more nutritious and digestible, and with enhanced flavors, juiciness and composition. Done wrong, you'll either burn your food or end up in hospital with food poisoning because of raw meat. So choosing the right heat source is clearly very important and that's the reason I'll give you a list of the best charcoal briquettes along with some other helpful tips and information on this great cooking heat source.
Best Charcoal Briquettes
Companies that are in the briquette business aren't in it for one quick sale where they are happy to hoodwink you with gimmicks or marketing as long as they make a sale. It's a repeat purchase marketplace and therefore they understand the product has to be of a good enough quality for the price point they sell it.
All it takes is one bad batch and loads of customers will switch brands, so all companies will try their best which normally means any pack of briquettes you buy will be decent. But which charcoal briquette is the best?
Weber Briquettes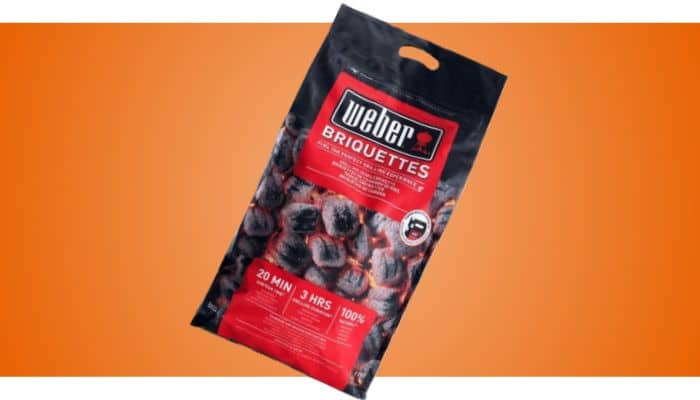 Right from the very start, Weber was at the forefront of BBQ innovation and quality products such as George Stephen's (the founder of Weber) Kettle grill. Although there have been many competitors with the intention of knocking Weber off top spot, Weber has refused to relinquish their mantle of top dog. But is this the case in terms of who makes the best charcoal briquette?
This charcoal briquette has no extra chemicals, just like all the other quality products on this list. Also, you don't need as many Weber briquettes to fire your grill because they are a little larger than those from most other manufacturers. Meaning you don't need as many when filling your charcoal chimney starter.
Weber briquettes are excellent for grillers who have some experience with charcoal-powered barbecues because they burn hot for a very long time. When it comes to value, these charcoal briquettes are among the best. These briquettes aren't the cheapest, but they don't skimp on consistency or quality.
They also come in packaging that is waterproof, recyclable, and resalable, which is ideal for reducing your carbon footprint. The one major downside is Weber briquettes aren't the easiest to find in the US, but if your local store does sell these charcoal briquettes I'd 100% recommend buying a few packs
Pros – Things I liked
Buying from a trusted brand
Extended burning time
Waterproof and recyclable packaging
Cons – Things I didn't like
Relatively expensive
Not many places sell it
Kingsford Original Briquettes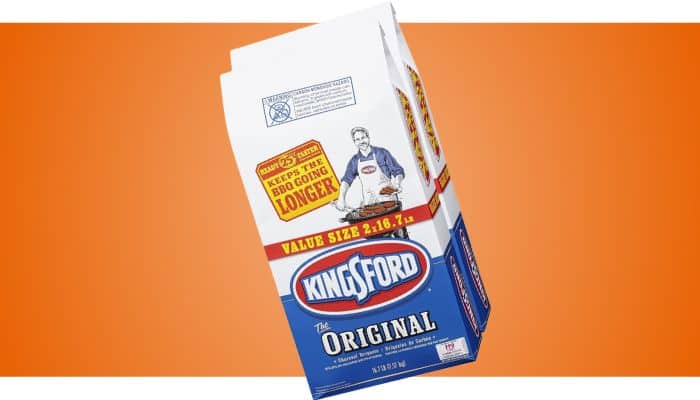 America's best-selling briquette. Kingsford makes an original briquette, which I highly recommend, but also a more expensive professional briquette and competition briquette. Although these other two briquettes are better than the original, I think for the price and intended use, then buying the original is the best value for money briquette.
Since Kingsford has been making high-quality charcoal briquettes for more than a century, the name has nearly come to be synonymous with the product, and if you're on a tight budget, the Kingsford Original product is among the best you can find.
Kingsford Original briquettes are typically sold in 20-pound or 16.7-pound bags which is more than enough for a typical grilling session.
Kingsford is the best-selling briquette charcoal brand in America because it consistently provides a top-notch quality product and upholds a distinguished reputation. Kingsford's most popular type of briquette is The Original, and the results speak for themselves.
These briquettes are natural and organic even if they contain additives. Chemical additives like lighter fluids don't exist. As a result, your food won't be laced with foul-tasting chemical fumes and will preserve its natural flavor.
The briquettes are specially made, and both of their surfaces are grooved. Over time, this may encourage better airflow and guarantee more equal, steady burning. With these briquettes, it may be simpler for you to keep a constant temperature. It is also simpler to ignite thanks to the grooves than a lot of other briquette charcoal products.
These briquettes offer excellent value for money and are created with American-sourced materials. These briquettes can be the ideal starting point for learning how to use charcoal briquettes and perfecting your technique, even when premium rival items can provide you with more heat or longer burn periods. The deal is made much more enticing by the low cost.
Pros – Things I liked
A special grooved shape improves airflow
Created in America with American-sourced ingredients
Without any chemical additions or acceleraters; all-natural
America's best-selling briquette
Cons – Things I didn't like
Not as long-lasting as some rival brands
Not the market's highest temp briquettes
B&B Better Burning Charcoal Briquettes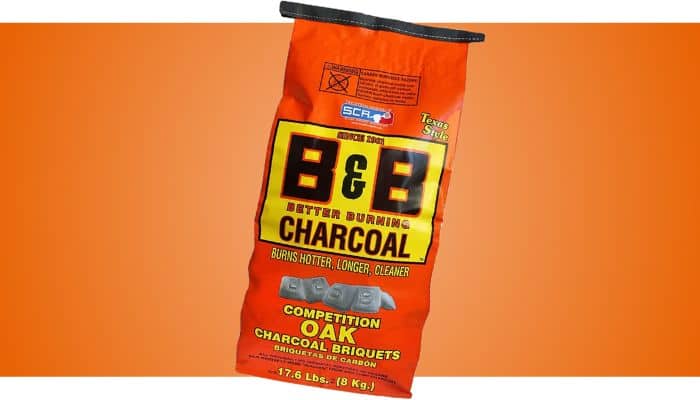 If you want to maintain the heat in your grill for an extended period of time, B&B Oak briquettes are a terrific product. They could be your ideal BBQ partner because of their size. For your charcoal grill, a slow-burning briquette is simple to light, and its form ensures a perfect, controlled burn. You can easily stack these in your grill if you're looking to use the snake method. These briquettes are constructed entirely of oak and bound naturally to keep their shape.
B&B briquettes are safe to use in your grill because it contains neither lighter fluid nor chemical binding. B&B burns hotter than the competition, so you won't need as many if your meal needs to be seared at the end. Although pricey, you don't use as many briquettes each cook as you would with cheaper alternatives.
This briquette is enjoyable to use because it is simple to clean up and has greater flavor. It is one of the best options for all types of meat because of its tasteful flavor. If you're cooking for a crowd and don't want your smoke to bother anyone, this charcoal is perfect.
Additionally, B&B goods only use pure wood sources which is great for the environment. The high burning temperature of these briquettes is something to be aware of. Start small to get a sense of how many pieces you need because you might not require as many as you're used to. B&B is a wise choice if you want to burn hot or use fewer briquettes.
Pros – Things I liked
No chemical additives that might alter the flavor
Burns long and hot
It leaves very little ash
Uses entirely renewable sources
Cons – Things I didn't like
Expensive
Burns differently from other cheaper briquettes
Royal Oak Ridge Briquettes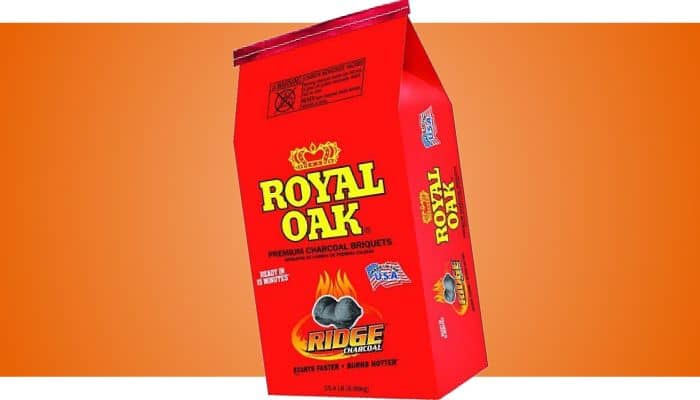 Royal Oak may not be one of the more well-known companies, but consumers consistently praise their products for their high caliber, adaptability, and value. The only materials used to create this premium pack of briquettes are hardwoods. Six 7.7-pound packages of charcoal briquettes totaling 46.2 pounds are included in the amazon deal I've linked to.
These can withstand higher temperatures than the majority of other types of briquettes because they are created from natural hardwoods. In tests, this product was able to maintain a temperature of 900 degrees Fahrenheit for approximately 80 minutes, which is remarkable considering it is a bag of briquette charcoal. It may therefore be used for both high-heat searing and low-and-slow smoking sessions, making it a very flexible device.
These briquettes' design is one of their distinctive qualities. Each briquette has a distinctive shape with a prominent ridge in the middle and is approximately 3 inches by 1 inch by 2 inches. This encourages airflow and prolongs the duration that the briquettes burn uniformly. This gives the briquettes an additional benefit over the majority of other types of charcoal briquettes: they are simple to light.
In my tests, these briquettes left no bad flavors on the meat and produced very little ash. The clean smoke produces a light, naturally smoky flavor. The low amount of ash produced also means easy cleanup and no obstruction to airflow.
Although the price of this product is greater than market averages for competing products, the benefits outweigh the expenditures.
Pros – Things I liked
Natural hardwood charcoal briquets without any dangerous chemicals.
Burns hotter than most brands
Innovative ridge design encourages airflow
There are no offensive odors or flavors in the food.
Cons – Things I didn't like
Pricey
Production of ash is marginally higher than that of some rivals.
Kingsford Professional Competition Briquettes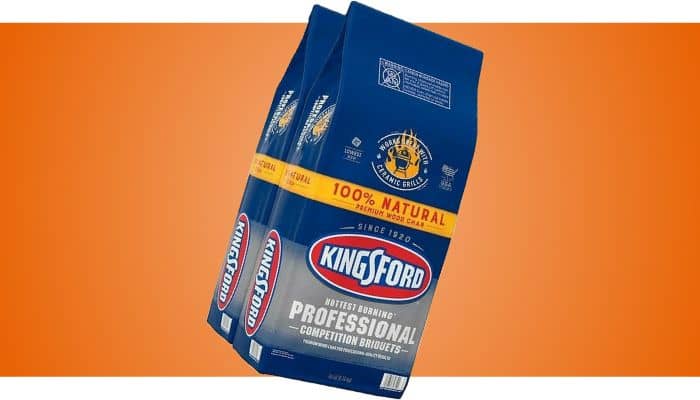 The beautiful, medium-sized bag of Kingsford Professional Competition Briquettes weighs 12 pounds with the larger bag weighing 18 lbs. For people who enjoy grilling but detest having to frequently purchase fresh briquettes, this is fantastic.
The average burn time of 2.5 hours gives you the chance to slowly roast your preferred meat cuts without needing to add new briquettes to the grill. This enables you to establish and maintain the ideal temperature for many hours using the minion method or snake method of cooking.
A product of the highest caliber is Kingsford Professional Competition Briquettes. It produces consistent grilling results and won't let you down. It enables you to exhibit your culinary prowess by letting you grill, sear, smoke, or slow-cook your food.
These briquettes will get hot enough to start grilling in approximately 10 minutes. There's no need to awkwardly linger while impatiently waiting to set down your first piece of meat. A low-ash recipe is another feature of Kingsford Professional Competition Briquettes. You don't need to be concerned about clearing up a sizable ash pile at the end of the night or about unexpected wind gusts scattering ash everywhere.
The fact that Clorox is the parent firm of Kingsford Professional Competition Briquettes may be one of its hidden qualities. This well-known company was first known for its cleaning products, but it has since expanded into other fields. You can count on these briquettes to be of the highest caliber because the Clorox brand is so well-known.
The cost of Kingsford Professional Competition Briquettes is the only drawback. It is entering the premium product category and, as such, might be a little beyond the means of the average backyard pitmaster consumer.
Pros – Things I liked
Made by a respected company
Low-ash recipe
Burns at a steady temperature
Cons – Things I didn't like
Expensive
Olivette Organic Charcoal Briquettes for Grilling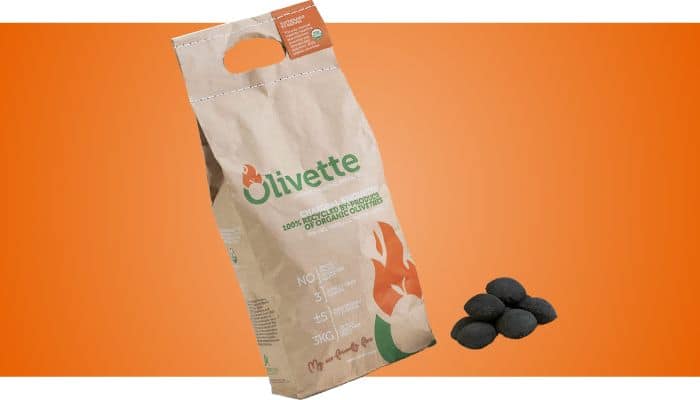 This offering from Olivette checks all the necessary boxes if you're seeking a sustainable, organic, and all-natural product. The fact that these briquettes are totally comprised of recycled olive tree leftovers is their unique selling point.
You can be certain that your meal will preserve its qualities and not pick up any off flavors or odors when using these briquettes. When employing charcoal briquettes that have chemical additives or accelerants, these things occur. Since this Olivette product is entirely devoid of these, you may focus solely on enjoying the flavor of your dish.
It is extremely simple to start using this clean-burning charcoal. The simplest way to start these briquettes if you want to avoid using chemical accelerants like lighter fluid is with a conventional chimney starter or electric starter. Using paper or kindling will also produce excellent results.
Because the briquettes make very little ash and emit very little smoke, the flavor of your food is unaffected. As a result, your meal acquires the subtle, smoky flavor that is characteristic of BBQ, and the low ash output ensures that the briquettes always have the best possible airflow. These briquettes burn continuously for a very long time and last for up to five hours.
The USDA has certified Olivette Organic charcoal briquettes as 100% organic, which means that they contain no chemicals or byproducts and are therefore a sustainable product.
Pros – Things I liked
Eco-friendly
Almost no ash or smoke is produced
Long burn time
Cons – Things I didn't like
Expensive
A little challenging to start because of the high density
Cowboy Brand Natural Hardwood Briquettes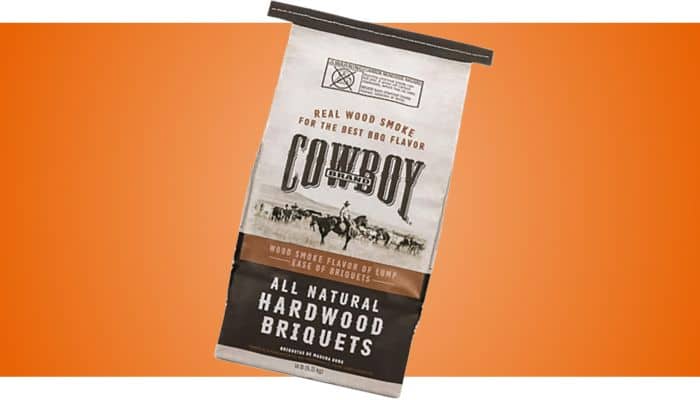 Next on my list is the Cowboy Brand Natural Hardwood Briquettes, which provide you with 14 pounds of 100 percent natural hardwood charcoal briquettes. This is perfect for outdoor grilling and cooking. It contains no extra fillers, chemicals, or coal because it is entirely natural. For uniform and long-lasting warmth, each briquette is shaped like a pillow.
This will gratify anyone searching for a reasonably priced pack of charcoal briquettes with good value. The Natural Hardwood Briquettes from the Cowboy Brand are reasonably priced while still being of the highest caliber. The hardwood mixture is intended to impart a true wood flavor, giving the impression that you were cooking over firewood as opposed to charcoal.
Cleaning up is easy because they burn cleanly like you would want from an all-natural briquette. Additionally, they burn uniformly, which makes it simpler to manage the heat and prevent hot and cold spots on your grill.
However, they don't burn as hot as other briquettes on my best charcoal briquettes list. This might be a problem for high-temperature searing, but you can still do it if you're willing to put in a little extra effort playing with your vents. This isn't always a bad quality. In actuality, it's a terrific one for meat smoking.
An appealing middle ground between inexpensive and expensive charcoal choices is provided by Cowboy Brand. This might be the charcoal you need if you're a casual griller trying to step it up a notch or two or you're looking for a new go-to that won't break the budget.
Pros – Things I liked
All-natural, with no chemicals or coal
Specialized shape for even heating
Provides a true wood flavor
Almost no ash
Cons – Things I didn't like
It burns slightly colder than others briquettes I've evaluated
Jealous Devil Max XL All Natural Hardwood Charcoal Briquets
Jealous Devil gained recognition for its incredible lump charcoal which is one of my favorites. And they entered the briquette industry with a unique strategy from the other briquette manufacturers. They used a distinctive strategy since they wanted to stand out from the competitors.
The size of the Jealous Devil briquettes is twice that of its rivals. This offers the following benefits:
Extra-Long Burn Time: Perfect for low & slow cookouts on your Weber kettle or ceramic kamado grill.
Hotter Burns: Compared to other briquettes, you can get more heat from the briquettes because of their enormous size.
Size is important. This has been a small part of briquettes' history of failure with some backyard grill masters. When compared to charcoal briquettes, which are often half the size of your palm, you'll see that the lumps can get rather enormous. More heat is produced by larger briquettes, which is perfect for grilling.
Jealous Devil asserts that their briquettes will generate more heat than the majority of lump charcoals. I can't agree with their assertion after conducting some testing.
I'm not sure if I should bother with lump charcoal at all given the quality of this briquette charcoal. It is that excellent.
Naturally, Jealous Devin employs no chemicals or fillers and maintains everything natural. Simple hardwood and starch are used to make these. Usually, starch is utilized to help in formation.
Pros – Things I liked
Free of additives and chemicals
High Heat & Long Burns
Doesn't leave a lot of ash
Cons – Things I didn't like
The packaging could be improved
Kingsford Easy Light Charcoal Briquettes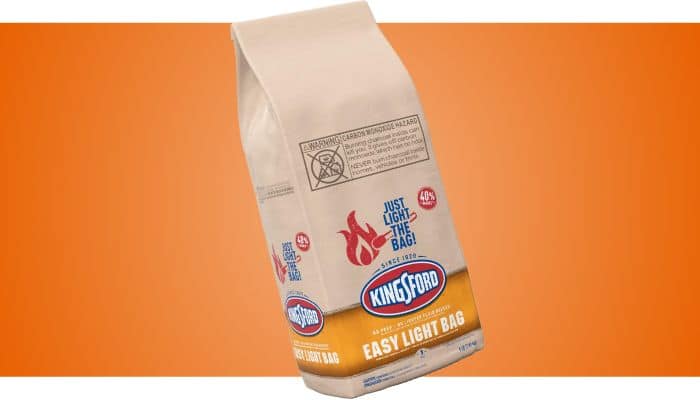 The Kingsford Easy Light Bag is the best option for people who genuinely want to use briquettes for grilling but also want simplicity and convenience. Everything you require for a grill session is contained in this single-use pouch. Both preparation and lighting fluid is not required. Additionally, the bag has grooves to make it easy to light.
All you have to do to begin cooking is toss the bag of briquettes underneath the grill grate, light it, wait 15 minutes, and then proceed with your cook. Although the 15 minutes are a little longer than some other briquettes, it is still a sufficient amount of time before you can start grilling.
You won't have to worry about chemical fumes with the Kingsford Easy Light Bag because it is constructed of natural materials. Furthermore, real wood was used to make it. As a result, your dish will have an authentically smoky flavor that is not overpowering.
Unfortunately, the Kingsford Easy Light Bag is a little expensive, but so are most briquettes on the list, this is a list of the best charcoal briquettes after all. However, the price drops if you purchase a lot of it. You have the choice to purchase a package of two bags or six bags from the manufacturer. The cost of the six-pack is double that of the two-pack, as is frequently the case with bulk purchases, making it the more cost-effective option.
The Kingsford Easy Light Bag is a terrific option if you want an easy package to carry on your BBQ picnic trip or if you just want a straightforward grilling method at home. It is practical and doesn't need to be cleaned up.
Pros – Things I liked
Real wood is used to provide a genuine smoky flavor
Great for beginners
Simple and practical to use
Easy to light
Cons – Things I didn't like
Expensive
Not the best option if you grill often
Heat beads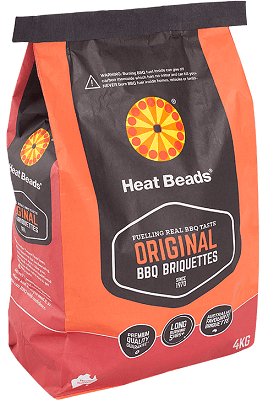 Often called Aussie heat beads due to their origin (they are made in Australia) these briquettes aren't the easiest to find in the States, but if you come across them, definitely give them a try.
Less fuel is used since the Australian Heat Beads 4kg Bags burn hotter and longer than charcoal. The steady heat output makes kettle barbecues perfect for cooking "low & slow," and they work especially well for roasting large meats. There is less volatility in performance when a grill is employed because the Heat Beads are consistently high quality.
For safety during travel with the courier, all Heat Beads briquettes are placed into heavy-duty paper bags that are then packed within a cardboard box.
The bag may occasionally split during shipping, and even though the cardboard box will prevent any charcoal or briquettes from being lost, I strongly advise opening the package in a place where any dust from the charcoal or briquettes won't endanger anything.
What are briquettes?
Briquettes used for BBQing are essentially a block of compressed charcoal with a few other elements thrown in to help keep them together and to make them look nice. Briquettes (sometimes called briquet) came about in order to use up small lumps or fine shards of coal that were no good on their own for the purposes of burning. The name has French origins as briquet means lighter in French and brique means brick.
Lump charcoal vs briquettes
For me, and it seems for many other regular BBQers, the choice is simple. Briquettes are better for low and slow grilling and lump charcoal is better for hot and fast. Why? Without getting too technical, the simple reason is that lump charcoal burns hotter than briquettes (this is due to the amount of oxygen needed for each). If I could only choose one, it'd be a close call but I'd likely pick charcoal briquettes. The reason being that you have better heat control as all blocks should be roughly the same size and weight, and because you can still easily get them hot enough to sear a steak – any extra heat is just a waste. Also, good briquettes are cheaper to buy than lump charcoal which is a big plus.
Don't Buy Instant Light Charcoal Briquettes
With the number of written resources and the popularity of BBQ I am surprised this still has to be said.  As anybody that's grilled more than a couple of times knows, you shouldn't use instant or fast lighting charcoal – I am just as surprised that there is a marketplace for such charcoal briquettes. These briquettes smell disgusting, make your food taste revolting and have chemicals in them that surely can't be good for your health. It doesn't take that long to fire up your good quality briquettes if you use the right charcoal lighter or a chimney starter; so please go down this route, your belly and your guests will thank you for it.
How long do briquettes burn for?
The quick answer is between 1.5 and 2 hours. But this all depends on the brand you buy, the amount of filler used in it, the temperature you are burning at and whether you have an open fire or a grill where the oxygen is regulated by vents.
I'd always recommend using more briquettes than you think you'll need. This isn't to be wasteful as you can normally use any coals that haven't fully burned out in a future cook. It's just that adding coals mid-cook can be messy and difficult. You can also extend your grills total burn time by using the methods explained in the section below.
Briquette cooking methods
I'll only give a quick explanation of cooking methods with briquettes as you should read an article dedicated to each of these techniques (beyond the scope of this article).
Zonal Grilling – This will normally be 2-zone grilling and is when you push all your briquettes to one side of the grill, giving you a hot zone and a cooler zone.
Snake Method – This is when you run a row of briquettes along the outer wall of your grill and light one end – letting the fire travel slowly along the length of the "snake".
Minion Method – When you have a large pile of unlit coals and you add several lit coals to the top. This is used to give a nice long burn as the coals on top slowly light the ones under it.
Charcoal briquette ingredients
The ingredients that major companies use in making briquettes vary considerably. As well as this you also have your small one-man band briquette makers that use a whole different set of ingredients (normally based on what they can source locally). In general though, all ingredients fall into one of the following six categories.
Heat fuel – Wood charcoal, charcoal fines, mineral carbon, coal, biomass, etc.
Binder – All types of starch, cement, kaolin, and clay.
Accelerants – Sodium nitrate, waxes, and sawdust.
Colorant – Limestone, calcium carbonate, and lime.
Filler – Silica, clay, soil, etc.
Release agent – Borax.
Heat Fuel
This is what provides the energy needed for cooking. It is, or at least should be, the main ingredient of any briquette – up at around 90% of the total material. The reason for not using 100% heat fuel, which would be ideal, is that charcoal has no plasticity. This means that when it is crushed and pressed into shape it cannot hold together. Therefore a binding agent needs to be added.
You can generally tell the quality of a charcoal briquette by the amount of ash left behind after it has burned out. Using good quality wood charcoal or charcoal fines is best. If you find lots of ash after your cook, it probably means the maker has used very fine charcoal fines from leaves that pick up lots of dust or soil which doesn't burn to give heat for your cooking. The ash might also mean lots of filler has been used to pad out the briquette, a common trick used to bring down costs.
Binding agents used to form Briquettes
As I've already mentioned, charcoal is a material with no plasticity and therefore needs a binding agent to form nicely uniform briquette blocks. Without a binding agent your briquettes will likely just fall apart. Starch is the standard binding agent and any type of starch will do, so this will normally be cassava starch – the cheapest starch. The starch needs to be gelatinized before being used. This simply involves adding the starch to hot water until it forms a thick paste that will stick the charcoal together.
Briquette Accelerants
I'm not talking about the sort of accelerants used in easy light charcoal briquettes here, I'd advise never to buy these. The accelerants used in good commercial briquettes will be sodium nitrate or even sawdust that is needed to help the briquette burn faster. Briquettes burn differently to lump charcoal due to the compression during the forming process of the briquette. This compression means the briquette is unable to absorb enough oxygen for fast combustion. All nitrates, including sodium nitrate, are oxidants. So when heated they give the briquette the oxygen it needs for fast combustion. If your briquette is very smokey it normally means the maker has used sawdust without fermenting it or carbonizing the briquettes after it is formed.
Colorant used in Briquettes
Why colorant is added seems strange to me but it seems people really like to see that nice white ash color coat their briquette once it's fired up. So manufacturers add a small percentage of white colorant to their ingredients – usually less than 3% limestone, lime or calcium carbonate. The effect of adding a white ash color agent isn't solely for looks though, it also changes the way the briquette burns. As these colorants aren't heat fuel they slow the burn rate which means the briquette lasts longer but at a reduced heat. As briquettes are normally used for long low and slow cooks this is actually a benefit.
Filler used to pad out Briquettes
I'd say you don't want any filler in your briquette as it has zero heat energy value. If I was to be unkind to manufacturers that use filler, I'd say they use it to pump up the weight of the product to con buyers into thinking they are getting a good deal. Being kind, I'd say they add fillers to prolong the life of the briquette while burning – but I'm not buying that as the filler is always something incredibly cheap like sandy soil (there are better materials to add if the sole goal is to increase the briquette life).
Briquette releasing agents
A release agent is what is used when a briquette is made in a high-pressure press to release the block from the press, which makes sure it doesn't get stuck and break apart. Sodium borate is what is normally used for this function as it's used in many products including cosmetics, insecticides, and as textures in cooking. Therefore it is food safe and good to be used for barbecuing.
Best Charcoal Briquettes Video
Features to Take into Account when Purchasing Charcoal Briquettes
Although charcoal briquettes may appear to be a straightforward product, there are actually several things to take into account. Here, I'll discuss the various briquette features you should pay attention to when deciding on which briquettes to buy.
Use of All-Natural Ingredients
Wood is first used to make charcoal briquettes, which are then burned to produce coal dust. The resulting briquette is created by pressurizing the dust. The briquettes are frequently coated with chemicals to make them simpler to fire and burn for longer.
The Weber briquettes are one of several modern products that provide 100% all-natural components throughout the entire process. Despite the fact that certain items may list natural ingredients, some may not be entirely created from them. If you want a fully organic product, you should search for certification.
Before adding any food to your grill, you can always let your briquettes burn a little longer if you are unsure of their inherent characteristics. The majority of chemicals used in briquettes are done so to facilitate lighting. The chemical is then burnt away. Prior to starting to grill your food, give yourself up to 30 minutes to wait after lighting the grill. This should ensure that there are no chemicals left.
Burn Time & Ignition
The ignition time and the burn time are two of the most crucial aspects to take into account while using briquettes. There will be flames when you light your charcoal briquettes. Before you start grilling, you must wait for the flames to die down. This is the ignition time. Typical igniting time ranges from 10 to 15 minutes. The quickest items on my list are the Weber Briquettes and Kingsford Professional Competition Briquettes, which both take just 10 minutes to prepare.
The only issue with ignition time is that it often lasts far longer than what's specified. Therefore, when you're cooking, make sure to allow for an igniting time of at least 30 minutes. Otherwise, your may taste a little funny.
The burn time is an additional consideration. The burn time is the amount of time it takes for the briquettes to extinguish themselves. This is the amount of time the charcoal briquettes will burn and be usable. The best charcoal briquettes for smoking will have a long burn time, like the 3-hour-long Weber Briquettes.
Size & Weight
For grilling, charcoal comes in a wide range of packaging sizes. You may come across a product like Royal Oak Charcoal Briquettes at the high end of the market. There are two sizes of this package: 20 pounds and 40 pounds. If you've used the brand before and are happy with the results, this is a terrific choice.
An excellent package size for summer grilling is 20 lbs or more. Nothing is worse than getting up to grill your favorite cut of meat only to discover there are no briquettes left. Always keep a huge bag nearby to prevent this catastrophe. Additionally, you typically save money when buying in bigger quantities.
The briquette packages come in a wide variety of sizes. For instance, a 12-pound container of Kingsford Professional Competition Briquettes is available. In the event that you are unsure of the brand, this might be a better choice.
A single-size package is still another choice. A single-use bag is the Kingsford Easy Light Bag. Just put it in your grill and start a fire. This is quite practical, especially if you've never grilled before or BBQing away from home. This product is sold in packages of one, two, or six bags, and buying more of it will help you save some money.
Ash
Nobody likes to clean up an ash puddle even if you have a great ash vacuum, or even worse, have ash blow all over their meal as they cook. Ash will always be produced when burning charcoal; there is no way to avoid it. Although you can buy specific charcoal briquettes that significantly reduce ash generation.
The best briquettes won't have any additional fillers or additives, like sawdust or wood shavings, because these produce too much ash. Some ash is beneficial, though, as it aids in insulating the coals.
Since a lot of ash is bad for some grills, such as porcelain grills, lump charcoal should be used. Ash will be much easier to manage on a larger grill.
Final Thoughts
So, which charcoal briquette is best for you? Your wants and choices actually matter. I advise using Weber Briquettes if you want a long-lasting, high-heat choice. Choose Cowboy Brand Charcoal Briquettes for a quick, simple, and easy cooking process. Simply make sure to read the reviews before making a purchase, regardless of the brand you select, so that you are aware of what to anticipate. I you buy any briquette on this list you'll not have any issues, they are all high-quality products. But sometimes the store you're at will not have any of these products, so keep my buyer's guide in mind for situations like this.