If you're anything like me then you have planned the perfect menu, invited all your favorite people over, bought great cuts of meat and loaded the fridge with beer. Yet even though you think that's all the bases covered you have a nagging feeling that you have forgotten something. And surprise surprise, you have. Even though this happens to you every time you throw a BBQ party, it always comes as a shock – The grill grates need cleaning.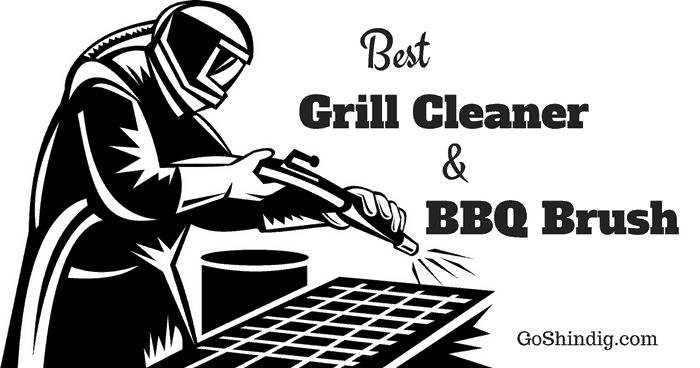 Best BBQ Brush
Let's start with the elephant in the room right off the bat – The dangers of grill brushes. There has been some mass hysteria of late about broken grill brush bristles sticking to food and being eaten. I'm not going to say this isn't an issue because this clearly happens, but I'd like to put it into perspective and offer some solutions. Then you can decide if it's worth the risk or not.
Videos go viral on a daily basis and viewers that take these videos at face value and look no deeper into them believe what they are seeing is the norm. And that's what's happened with BBQ brushes. However, a study carried out over a twelve year period suggests that just shy of 1700 Americans were admitted to an emergency room for ingesting grill brush bristles (141 people a year).
Of course, if you are one of these 141 people this number might seem extremely high, but 6,400 people go to the emergency room a year from opening plastic packaging which shows people will injure themselves doing the most mundane activities.
With that being said, you don't want to become one of these statistics. And to avoid this all you need to do is take a few steps and pay attention when cleaning. But if this minuscule chance of injury scares you then there are alternatives to the BBQ brush and I'll cover them a little later.
BBQ brush safety tips – It's all pretty simple really. The first obvious step is to buy a good grill brush to start with, I'll give some recommendations in a second.
Before you start to clean, inspect the brush and if bristles have thinned in areas it means some have already started to fall out. Discard this brush and buy a new one. BBQ brushes aren't a buy once purchase, but depending on how much you use them you should be looking to get at least two seasons out of them.
Check the grill after cleaning and before cooking. For this it's obviously better if you can clean when you have good lighting. If possible I'd also recommend taking the grill out and giving it a good rinse or have a quick scrub with a scrubbing pad and wipe down with a damp cloth.
Top BBQ Brushes
Most people are happy to buy any old wire brush to use as their grill brush, which invariably means they buy the type tradesmen use that looks like a giant toothbrush. These will do a pretty good job on the main grill area but are pretty useless at trickier areas around the edges. So firstly I say to get a BBQ brush that is designed specifically for the job at hand. These will normally have wires pointing in all directions from the brush head instead of all pointing downwards.
Most of these BBQ brushes are much the same. The only thing that separates them is the handle length and build quality. I'd recommend having a handle that's at least 18 inches long, as this keeps your hand a good distance from the grill grate that might still be hot. The three BBQ brushes I'd recommend based on build quality are the following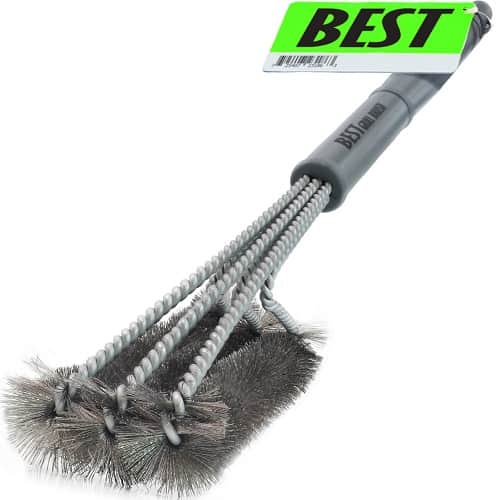 I'd say these traditional wire grill brushes are the best for cleaning grates, whether stainless steel or cast iron. They are the type I'll continue to use as I'm confident I'm not going to be one of the people that end up eating the wires. But if you're still scared that you may end up ingesting unnecessary pieces of metal here are a few alternatives.
Coil Shaped Bristle Free Brush
Wire coil grill brushes are now the popular option for BBQ enthusiasts. These brushes remind me slightly of my razor, where everyone was happy with one blade until you tried a two blade, then three blade, before wondering how many will be added before they stopped. Coil brushes started out with one coil and now the best options have moved on to three coils on the brush head.
Thankfully the makers did increase the number of metal coils because it makes for a far more effective grill cleaner. And the brush I'd recommend is the Safe and Clean Grill Cleaner for Kona (this company also featured in our recommended wire grill brush)
Grill Stones – Pumice Stone Grill Cleaner
Another option (and I'll state again, an option that's not as good as a wire grill brush) for cleaning your grill is pumice stone or grill stones that imitate pumice stone. These grill cleaners come in the shape of small bricks and are a relatively soft stone that will wear down to form the shape of your grill.
Pumice stone does get a worse rep than it deserves from some people due to the aggressive manner in which they use them. If you attack your dirty grate with too much venom, the stone is likely to break or crumble.
The trick to using grill stones for cleaning is to first clean any major chunks of food using a scrapper. Otherwise you'll wear down the stone faster than necessary and you'll risk having to use too much force. Once this is done you lightly move the stone over the grill in the direction the grate wires travel. Think of this cleaner as a type of sandpaper.
As well as buying a stone, like Earth Stone's Grill Cleaning Block, I'd also recommend buying a grill stone holder. These are pretty simple devices but they do make the job a little easier and stops your hands from getting chalky dust all over them.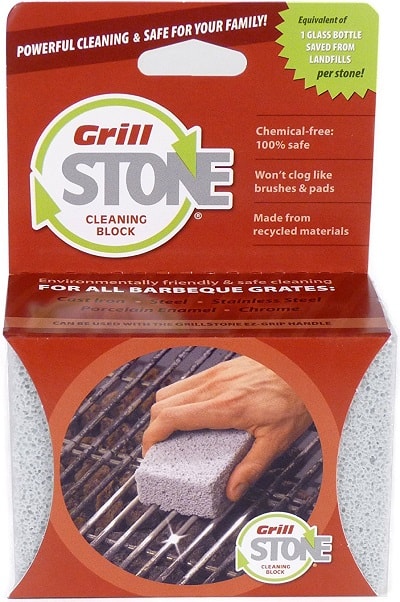 Scrubbing Pads
If your grill isn't caked in dirt and just needs a quick clean then you can't go wrong with a heavy duty scrubbing pad. Remember your grill grates aren't any different than the one you have in your oven. Yes, they are exposed to an open flame, which means they will blacken faster. But for removing burnt bits of food and grease, any scrubbing pad that's good for your oven will be good for your grill grate. However, I'm still recommending a scrubbing pad designed for grills, the Scotch-Brite Heavy Duty Grill Scrubber.
Grillbot – Automatic and Electric Grill Cleaner
Cleaning your grill is labor intensive, so if you want to take out some of the hard work then you'll need to invest in an automatic or electrical grill cleaner. The major player in this genre of grill cleaner is the Grillbot automatic grill cleaner.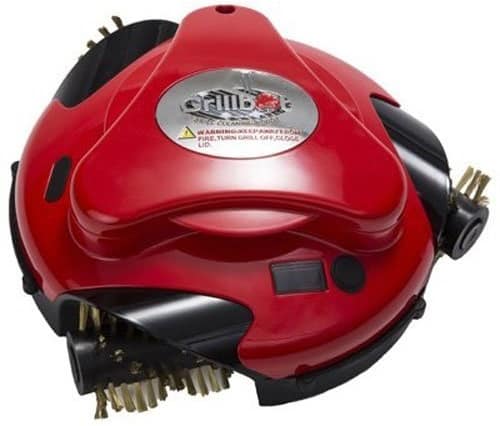 Is a Grillbot worth the money? Well it's hard to say. It doesn't have the ability to clean a grill grate as good as you'd be able to do it manually, but it does a pretty decent job, especially with the bigger bits. So if you're willing to finish the cleaning yourself, the Grillbot will do the majority of the hard work.
Another option that takes out the hard works is a grill drill brush. Of course, you'll need to own a drill to be able to clean this way but there are plenty of drill brush heads available to buy. You'll want to get a heavy duty bristle, ideally one specifically designed for grill grates. And thankfully the aptly named Grill Brush company does exactly this.
Best Grill Cleaners
As I've mentioned before, the basics of cleaning a BBQ grill grate is no different from cleaning an oven grill (side note – there are some differences between stainless steel grates and cast iron that I'll cover later). So when it comes to choosing a grill cleaner spray or liquid you'll likely already have a brand you already trust.
There are well known BBQ brands that make cleaning sprays that are specifically for grill grates as they know the power their logo has on grilling fanatics. Weber is one such brand that makes a professional strength de-greaser as well as a whole grill cleaning kit. But I'd say these are no better (and no worse) than the standard cleaner you may already have lying around the house, like Easy Off cleaners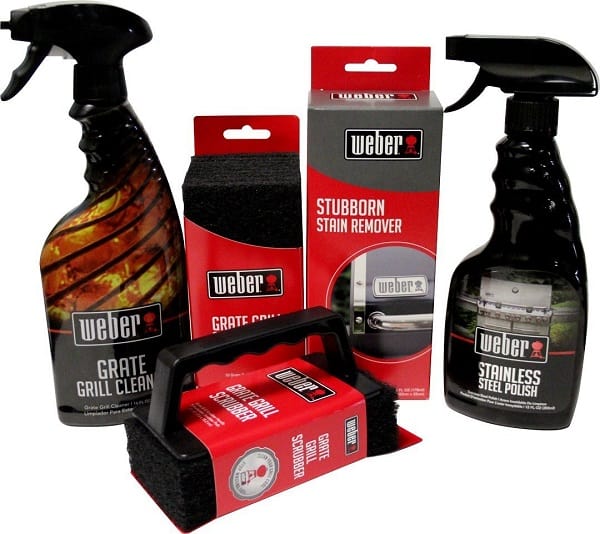 You don't want your food to have a chemical taste to it, so remember if you're going to use a grill cleaning sprays that you must give your grate a good washing down afterward. Alternatively, you can put your grate in the grill (without any food) at a high temp to burn off any residue.
Best BBQ Scrapers
BBQ scrapers are great for the start of a grill grate cleanup. They'll not give you a gleaming finish but they do make those big grease balls or baked in pieces of food so much easier to remove.
As much as I recommend a grill brush for cleaning, if you can afford both, I'd say buy a brush and a scrapper. As a combination they work perfectly. The scraper removing the hard parts first, then the grill brush gives the nice finish you are looking for.
The style of grill grate you wish to clean is important for choosing the right scraper. Most scrapers are flat, resembling a spatula. But most grill grates aren't flat, most are stainless steel wire. That's why my recommendation for best BBQ scraper for cleaning your grill is one that looks more like a ninja star than a traditional scraper – The Sage Owl grill scraper. This scraper is made with differently sized grooves that fit around the bars in your grill grate that makes it easy to attack the mess at harder to reach spots.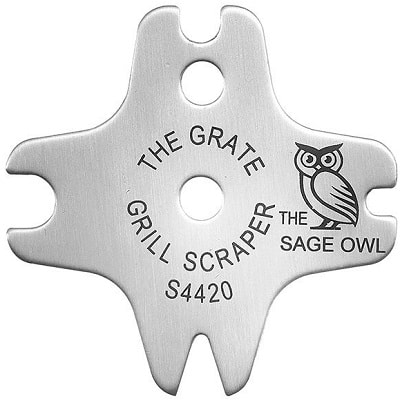 Grill Grate Cleaning Hacks
The number of cleaning hacks I've seen and heard could easily be the subject of a whole book. It'd take years and cost a fortune to try them all. So I'll just run through the best ones I've tried and hopefully you can comment on ones you've had any success or failures with.
Stay clean – The most obvious hack for having a sparkling clean grill grate is not to get it dirty in the first place. You may think this isn't really an option, as grilling amazing food will inevitably make a mess of the grate. But this isn't so. Plenty of people cover their grills in aluminum foil before cooks, which is ok for low and slow cooking but not any good for hot and fast. The best option for the majority of cooks is to buy yourself a BBQ grill mat.
Crumpled-up aluminum foil – The is a very popular method for cleaning the grill because it works and because aluminum foil is something all cooks have in their kitchen. For this, you simply scrunch some foil into a tight fist-sized ball and then use the foil ball as you would a grill brush.
Half an onion – Some people say this doesn't work and have even made videos showing it not working. Which surprises me, because I've had good results using this technique. Firstly, cut a large onion in half (I've also seen people substitute the onion for a potato). Then get the grill nice and hot and scrub using the onion. You may want to wear heat resistant gloves for this method.
The hot burn – Simple but effective. Just burn the grill clean. Any food or germs on the grill don't stand a chance with fire. Of course this will still leave the grill blackened by smoke so will need to be polished after if you want it nice and shiny. But this is effort free, and not even necessary.