Rotisserie cooking has been around since medieval times, and it is no wonder why. Also known as spit-roasting, rotisserie cooking uses a rod to rotate the meat over a heat source. The meat self-bastes in its own juices, leaving it tender and delicious. You don't need a fancy setup to rotisserie your own chicken or pork at home. Get the best rotisserie cooked meats and veggies right from your very grill with the best BBQ rotisserie kits and attachments.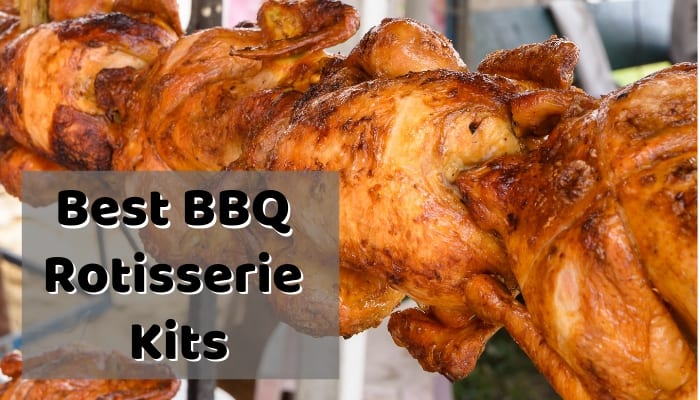 Best BBQ Rotisserie Kits
Rotisserie is a great way to cook a whole chicken, turkey, ham, lamb, fish, and more. Only some grills come with a rotisserie spit already built in. If your grill is not already equipped with a rotisserie, don't despair! Take a look at some of the best BBQ rotisserie kits that are quick and easy to install.
Weber Kettle Grill Rotisserie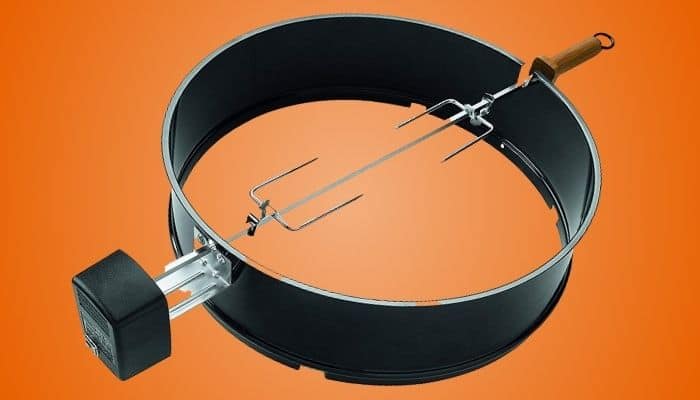 If you picture a kettle grill, most likely you are picturing a Weber. They have become the industry standard in charcoal kettle grills. But you might not know that a Weber kettle grill can easily become a rotisserie grill.
The Weber Kettle Grill Rotisserie optimizes grilling space by elevating the rotisserie using a porcelain enameled ring that fits any 22-inch kettle grill.
The rotisserie itself is one solid piece that connects to a heavy-duty electric motor that rotates the spit. This is an improved design, as it no longer requires a counterbalance for smooth wear on the motor. The wooden rod handle makes removing your food safe and easy.
It is a very strong rotisserie, easily capable of tackling a 20+ bird. Get mouthwatering food with minimal effort using this moderately priced rotisserie.
Kamado Joe JoeTisserie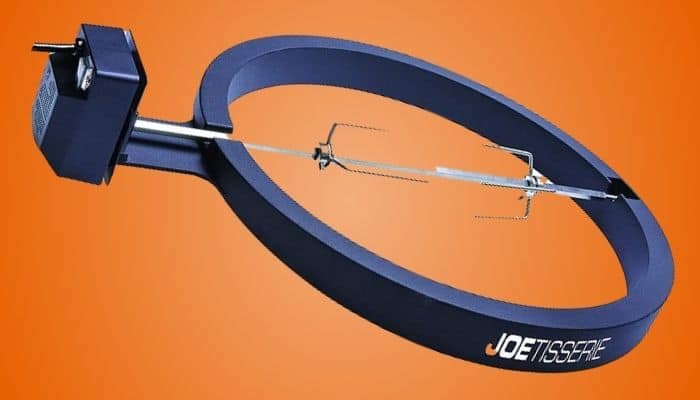 If you have a big Kamado Joe or the Big Green Egg XL, then the Kamado Joe JoeTisserie is made for you! No assembly required, this rotisserie will install in just seconds.
The fit is airtight, providing optimal heat retention. You can basically set it, forget it, and let the JoeTisserie do all of the work for you. The final result is perfect, evenly cooked meat that captures that delicious wood-fired flavor.
The 120-V motor is perfect for cooking huge cuts of meat. It can tackle up to a 50 pound balanced load of pork, poultry, or beef at once! Made of durable cast aluminum it is an especially sturdy model.
It comes with a higher price tag than some other best BBQ rotisserie kits. However, it is one of the only rotisserie kits that will fit a Kamado Joe. Just like the Kamado Joe itself, the JoeTisserie is really high quality.
Also of note is that the spit rod, which rotates your meat while cooking, is easily removed and is dishwasher safe. The JoeTisserie is the perfect addition to your Kamado Joe or extra large Big Green Egg.
Weber 7652 Genesis Rotisserie

Made for use with Genesis II & II LX 2 & 3 burner grills & Genesis 300 series grills, the Weber 7652 Rotisserie comes at a great value. This makes it one of the best BBQ rotisserie kits period.
It has a maximum weight limit of 20 pounds and a maximum diameter of 8.5 inches. This highly affordable model also comes with a two year limited warranty because Weber is well known for having excellent customer service.
You will have to remove the warming rack and cooking grates of your grill in order to use this rotisserie. Otherwise, your meat will collide with the grates and prevent full rotation and even cooking.
Place a foil pan directly under the meat and on top of the flavorizer bars to catch all of the juicy drippings. You will be serving up moist and delicious meat in no time at all!
Weber Spirit Series Rotisserie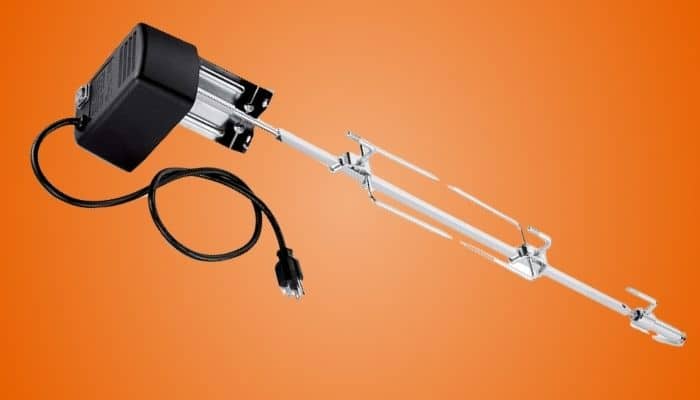 Another Weber model, the Spirit Series Rotisserie, is also highly popular. Made for use with the Weber Spirit 200/300 series, be sure to check your model number prior to purchasing to ensure the correct fit.
It is a fairly simple setup, just the motor, shaft, and two spit forks. It's worth noting that the shaft must be hand washed. Only the forks are dishwasher safe.
Fans of this model appreciate its high quality, sturdy build, quiet motor, and they especially like the great price. Weber always creates high-quality products that are durable, made to last, and excel in many areas in regards to performance.
Onlyfire Universal Charcoal Kettle Rotisserie Kit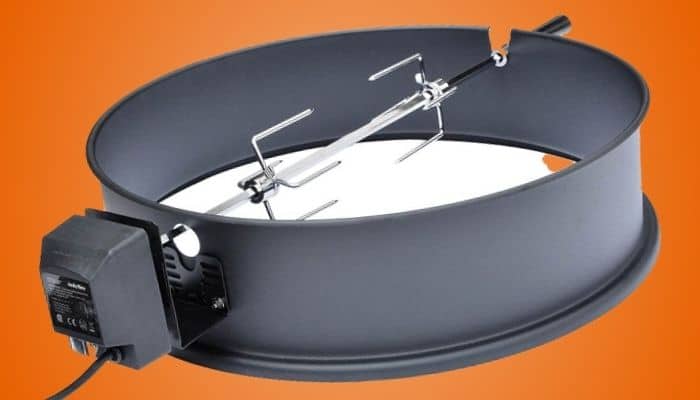 Rotisserie kits for kettle grills are very popular, and the Onlyfire Universal Charcoal Kettle Rotisserie Kit ranks among the most raved about. Everything about this model is solid and top quality.
The high-temp resistant black coated steel ring will fit most standard size 21 ½-22 ½ kettle grills, including Weber, Kingsford, and Jumbo Joe brands. The upgrades to this model have resulted in an overall tighter fit and better temperature control.
The Onlyfire rotisserie is easy to install and clean. The balance counterweight stabilizes the equipment when cooking especially heavy cuts of meat. This rotisserie can cook everything from lamb to chicken. You can even rotisserie a whole pineapple!
OneGrill Universal Complete Grill Rotisserie Kit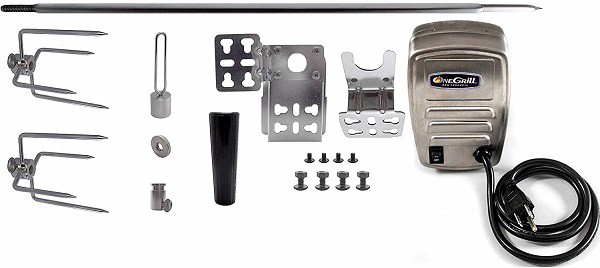 Looking for a heavy duty rotisserie kit? The OneGrill Universal Rotisserie can hold up to 50 pounds!
The 110v motor is surprisingly quiet, and the anti-backlash gear train keeps unbalanced loads rotating smoothly. You can't hide the high quality of this one-piece model, and its cost is exceptionally low – especially considering its solid stainless steel construction and high load capacity.
The three piece bracket is universally designed to fit most gas, charcoal, and custom grills. The rotisserie can adjust to fit grill heads up to 39 inches wide.
Included is a double chromed steel counterbalance for easy adjustment during operation. It is important to note that for naturally imbalanced meats like pig or lamb, a 30-pound weight limit is recommended for best results.
OneGrill is one of the most widely recommended brands when it comes to a universal rotisserie kit, and with its expert construction, it is easy to see why.
Grizzly Spit Rotisserie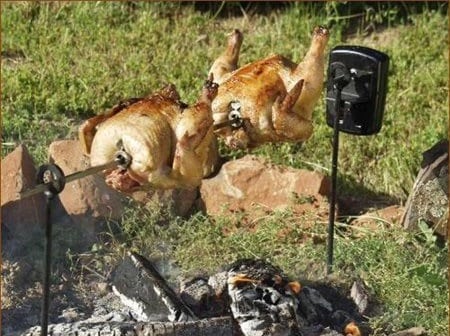 No grill required! With the Grizzly Spit Rotisserie, all you have to add is flame and food.
This is a freestanding rotisserie kit that includes two vertical support rods, a polished steel support bar, two spit forks, and a motor. It also includes a canvas storage bag, perfect for packing up your rotisserie to take camping.
The motor can run for up to 20 hours on just 2 D-cell batteries.
Fully portable from the boat to the backyard, the Grizzly Spit Rotisserie is ideal for achieving full rotisserie roasted flavor anywhere and at any time. Use it over an open fire, charcoal, or even your grill.
This model is a huge hit with outdoor enthusiasts and home cooks alike. At such a small price, you are sure to get your money's worth out of this great rotisserie kit.
Best Grill Rotisserie Attachments
While there is not much better than spit-roasted meat, your rotisserie is not just a one trick pony. There are a variety of attachments available on the market today that can take your rotisserie to the next level.
Rib-O-Lator Adjustable Trays
With its unique design, the Rib-O-Lator Adjustable Trays makes the impossible possible. Rotisserie isn't just for cooking large amounts of meat. With the three adjustable trays, the Rib-O-Lator perfectly cooks chicken wings, veggies, nachos, or anything else you want to imagine. The trays install easily and fit onto your existing rod and motor.
The trays are adjustable from fifteen inches up to two feet and made to fit gas grills, kettles, and even drum smokers. They can easily transfer from one grill type to another. The trays are stainless steel and also dishwasher safe, which makes cleaning super easy. They also come with a free instant-read digital thermometer, a great bonus to an already great product!
GrilShop Rotisserie Non-Stick Steel Basket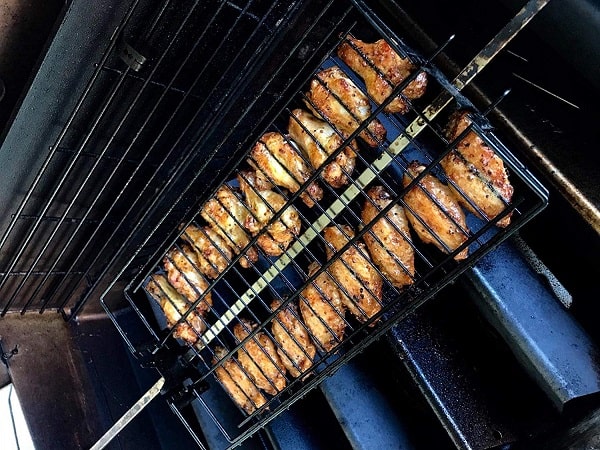 Secure your food on all sides while rotating using the GrilShop Rotisserie Steel Basket.
The basket measures 16 inches in overall length and is constructed of non-stick coated steel wire. It can attach to any 3/8" rotisserie rod and is perfect for slowly roasting fish, veggies, chicken wings, and other foods that don't fit well directly on the rotisserie spit.
What's great about this basket? The low price, for one! It can also adjust to fit the size of the food you are cooking, holding everything firmly in place. When finished, it is easy to clean. Simply toss it in the dishwasher and it will be ready to go for your next barbecue.
Onlyfire Grill Rotisserie Forks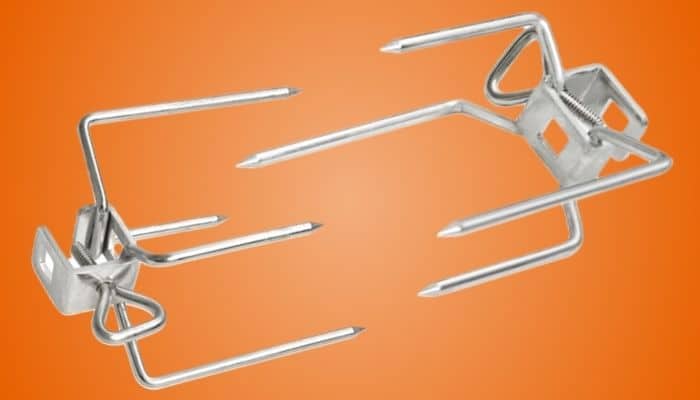 You can never have too many rotisserie forks. The Onlyfire Grill Rotisserie Forks are sure to become your go-to spit forks for securing food on your rotisserie. We like keeping a spare set around for when one set is in the dishwasher or for when we want to cook multiple pieces of meat at one time.
The Onlyfire rotisserie forks fit most 5/16" square spit rods and also fit a Weber 3/8" rod. The tapered prongs allow you to easily place, secure and remove the meat, and the thumb screw makes quick adjustments hassle-free.
These are excellent, sturdy, and rustproof rotisserie forks with four solid prongs that don't allow any slipping.
Napoleon Rotisserie Shish Kebab Wheel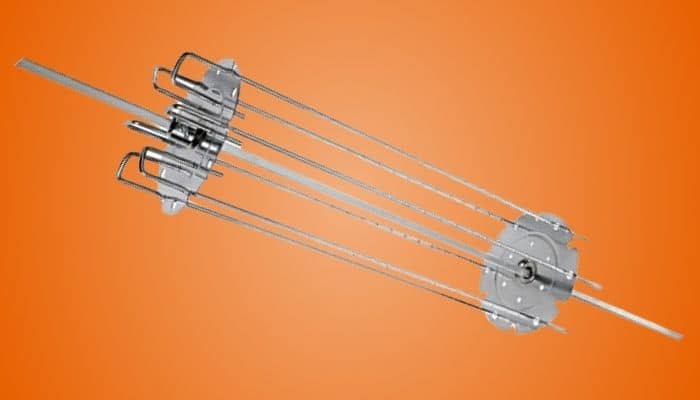 Want to stun your friends at your next barbecue? The Napoleon Rotisserie Shish Kebab Wheel is a marvel of modern rotisserie cooking.
Easily create and cook giant kebabs using your favorite meats and vegetables and baste them with sauce as they gently rotate. It makes an unconventional, yet undeniably impressive meal.
The rotary wheel has six detachable skewers, each eighteen inches long. It is compatible with most rotisseries that have a 5/16" spit rod. The chrome plated steel surface makes it easy to clean and is also dishwasher safe. With such a small price tag, it also won't hurt your wallet.
Napoleon Round Rotisserie Grill Basket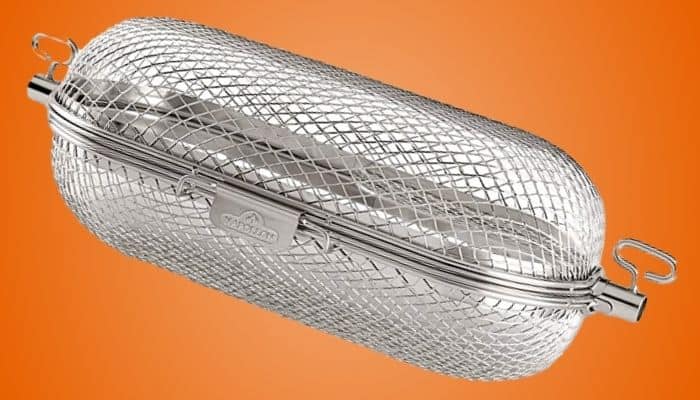 Another worthwhile attachment from Napoleon is the Round Rotisserie Grill Basket. Different from other grill baskets, the Napoleon model is round so that food will tumble together while rotating, helping to infuse the flavors. Perfect for evenly cooking small food items without ever having to stir them.
Worth the investment, this rotisserie grill basket is made of food grade stainless steel. It fits both square and hexagonal spit rods. Coming from Napoleon, you know you can trust that this basket is well made and of substantial quality. You can expect it to get a lot of use on your rotisserie!
Onlyfire Rotisserie Tumble Basket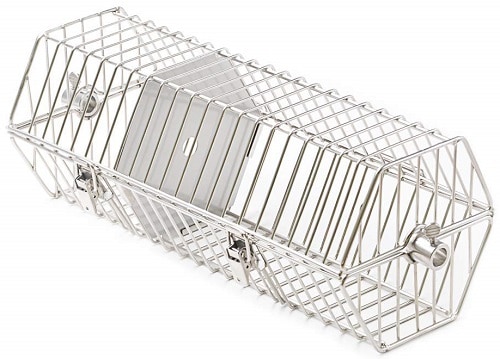 Round baskets aren't the only way to tumble! The Onlyfire Rotisserie Tumble Basket has a hexagon shape body that allows ample space for meat and vegetables to toss together during cooking.
A perfect fit for most gas, charcoal, or kamado grills, it has an impressive length of seventeen inches. The rotation of your pre-existing rotisserie rod causes the basket to tumble throughout cooking, ensuring that all food is fully and evenly cooked.
The basket is non-stick and made from a durable stainless steel material. It has a two lock mechanism which stabilizes the basket so that you can safely open and close the lid while the basket is attached to the rod – no fear of rolling or dumping your food!
Onlyfire Rotisserie Trays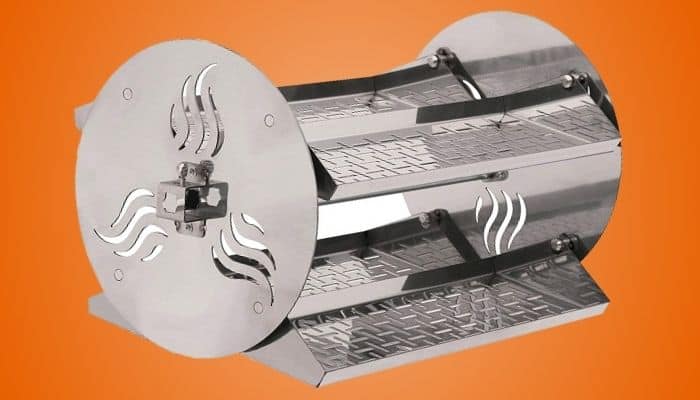 Whether you want to cook burgers, veggies, nachos, or any other food you can imagine, the Onlyfire Rotisserie Trays is a great addition to your rotisserie.
Included are four trays and a support rod that prevents the trays from falling off during cooking. These trays fit rotisserie grills with either ½" or 3/8" hexagon rods or 5/16" square spit rods, including many charcoal, gas, and kettle grill models.
Each tray is 14.5" long and 4.5" wide so you can cook a lot of food on them at one time. The trays have durable stainless steel construction and rotate a full 360 degrees without any risk of food falling off. With a little cooking spray, your food won't stick and the trays will be easy to clean after enjoying a delicious rotisserie dinner.
Best BBQ Rotisserie Kits and Attachments – Final Thoughts
The self-basting nature of a rotisserie makes it one of the most flavorful ways to enjoy moist, tender meat. Grilling enthusiasts have come a long way since the medieval origins of spit roasting, and it is incredible to see how many different BBQ rotisserie kits and attachments are available today.
So whether you prefer chicken, turkey, beef, pork, or even the vegetarian route – with the best BBQ rotisserie kits and attachments, your next rotisserie dinner is sure to stun your friends and family.