Struggling to decide which is the best Traeger grill for you?
As the leading pellet grill manufacturer in the market today, Traeger sells top-quality, best-selling grills that are incredibly popular. However, if you're new to the grilling game, or just new to Traeger, navigating the range of models on offer can be difficult.
From commercial grade smokers packed with high-tech features, to compact, portable options that are perfect for road trips; Traeger has something for everyone. When you buy a Traeger you're investing in your grilling future, so it's important that you make the correct choice.
In our Traeger grill reviews, we've done the hard work for you. We have broken down the wealth of options to five top picks and included an in-depth buying guide, so you can find the perfect Traeger grill for your needs.
Best Traeger Grills
With such a variety of high-quality grills to choose from, it can be tough to decide which Traeger is the right fit for you.
In this section, we have reviewed our top five picks of the best Traeger grills that money can buy. We have included a range of options to suit all needs, from the feature-loaded premium Timberline Series, to the super portable Traeger Ranger.
Timberline Series 850 Pellet Grill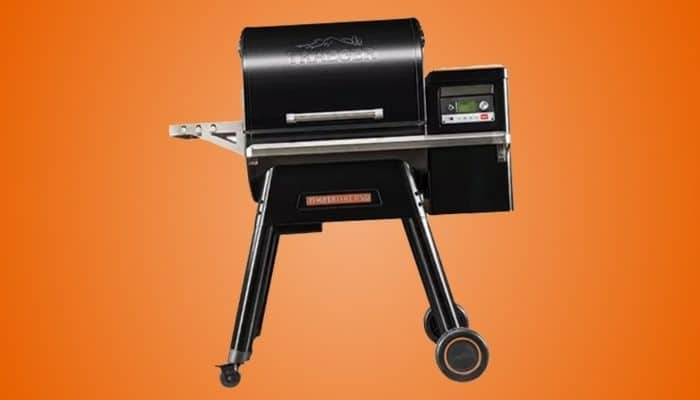 First on our list, we have the Timberline Series 850 Pellet Grill. As the name suggests, this model boasts a mammoth 850 square-inches of cooking space, which is spread out over three separate stainless steel grill grates for maximum capacity.
The main grill grate is 363 square-inches, the middle rack is 308 square-inches, and the upper rack is 198 square-inches. Each one is generously sized, so you can cook up a proper feast for all your friends and family. This model is large enough to accommodate 6 pork butts, 9 chickens or 8 racks of ribs at once.
The automated hopper is big, too. At 24 pounds capacity, you can load enough pellets to keep you cooking all day long without needing to refill. The hopper has a sensor that monitors how full it is and will alert you if fuel begins to run low. The pellets are dispensed via a direct-drive auger for precision. You can pre-program the settings with the special D2 controller and you can even control the temperature remotely and check cooking progress via WiFi with the Traeger "WiFIRE" smartphone app.
The temperature range of between 160℉ to a max of 500℉ means you can do everything from low and slow smoking to high-heat searing with just one unit. We like that there's a "Super Smoke" button for an extra boost of flavor towards the end of the cooking duration. There's also a meat probe included so you can be sure your food is thoroughly cooked before serving.
Like all Traeger grills, this model is built to last and features full double-walled insulation so it heats up fast, retains an even temperature and performs just as well in cold climates. If you're looking for an easy to use, feature-packed model that can feed a crowd, you can't go wrong with the Timberline Series 850 Pellet Grill.
Pros – Things we liked
850 square inches of cooking space
3 separate stainless steel grill grates
Big automated hopper
Traeger "WiFIRE" smartphone app
Cons – Things we didn't like
Pellets can get stuck in the hopper
Ironwood Series 650 Pellet Grill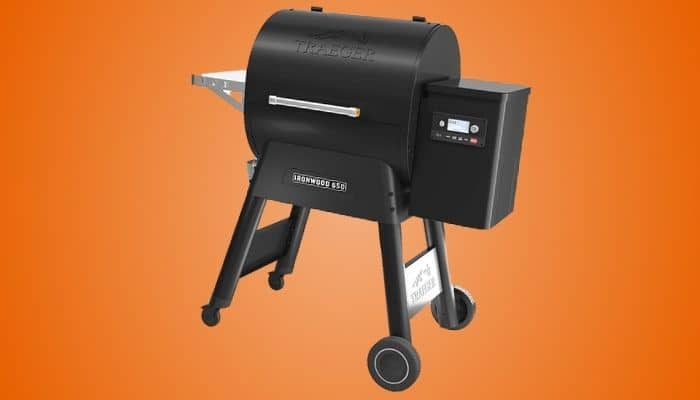 Next we have the Ironwood Series 650 Pellet Grill. The Traeger Ironwood Series are more advanced than the Pro series, but they are more compact and have smaller capacities.
This model has a total of 650 square-inches of cooking space. It may be a little smaller than the Timberline 850, but it's still enough to grill 5 racks of ribs, 8 whole chickens or 6 pork butts. The capacity is spread over two adjustable porcelain-coated cooking racks, so you can space out your food evenly for perfectly cooked results – whether you want to smoke or sear.
Just like our previous model, the Ironwood also has a pre-programmable D2 direct drive controller, so you can easily choose your desired temperature and duration settings and leave the grill to do its thing. The 20 pound pellet hopper holds enough fuel to keep you grilling and smoking for hours, and the built-in sensor ensures you never run out unexpectedly.
The variable speed auger delivers the wood pellets to the firebox with precision depending on the temperature you have chosen, while the downdraft and convection technology circulates flavor-packed smoke around the chamber for mouth-watering results your guests will love. Need a little extra? Hit the "Super Smoke" setting towards the end of your cook for an additional hit of flavor.
Highly durable and offering superior heat retention qualities, the Ironwood Series 650 Pellet Grill features a double-walled design that insulates the interior and keeps the temperature steady for precision cooking that's simple to master. This also means that it heats up fast, even when it's cold outside, so you can get started without delay.
Another great feature of this pellet grill is its WiFi connectivity. Known as "WiFIRE" (a cool play on words) this allows you to control the grill using an app on your smartphone, tablet or by connecting to your Amazon Alexa for voice controls.
Using WiFIRE, you can control the temperature to between 165℉ and 500℉ without leaving your seat, check the internal temperature of your meat via the built-in probe, set timers, and even keep an eye on how many pellets you have remaining. This feature is great for long duration smoking, and is sure to be a talking point for your guests.
Pro Series 780 Pellet Grill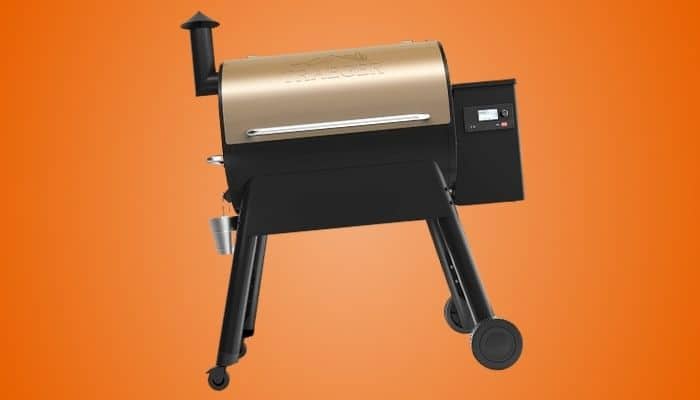 Moving on to the Pro Series, we have the 780 Pellet Grill. This popular model offers 780 square-inches of cooking space, spread out over two porcelain-coated, non-stick racks. This is enough space to grill as many as 34 burgers, 6 whole chickens or 6 racks of ribs, so you can cook up a real feast for friends and family.
Known as one of the best-selling wood fired pellet grills in the world, the Pro Series 780 Pellet Grill is packed with features that make creating delicious results easy. It has a 6-in-1 functionality, so you can grill, bake, roast, smoke, braise and BBQ all with one unit, while the rapid start up and simple controls are great for beginners.
This model has a 18 pound wood pellet hopper that holds plenty of fuel to keep you grilling all day long. This is 2 pounds less capacity than the Ironwood 650, but it has little impact on your overall grill time. If anything, it's just a mild inconvenience, as hardwood pellets usually come in 20 pound bags, so you'll have a little left over once you've filled the hopper up.
Like the Ironwood, the Pro Series features a D2 direct drive controller for more power and smokey flavor. The brushless motor and single piece auger ensure longevity, so this grill will last you for years to come.
The Pro Series 780 Traeger Grill has a wide temperature range of between 165℉ to 450℉, so you can cook low and slow or ramp up the heat for a perfect sear. Set the temp and duration via the built-in control panel and leave the grill to do it's thing, or download the Traeger WiFIRE app to wirelessly control the grill anytime from anywhere. This feature is ideal for long duration cooks, as it means you can get on with your day without being tethered to the grill.
This model doesn't have double side wall insulation like the Ironwood, but it still performs very well and recovers from internal and external temperature changes quickly. This is thanks to the Turbo Temp technology that ramps up the temperature fast to counter any heat loss from lid opening or natural temperature drops on cold days.
Overall, this model may not be the latest in the Traeger range, but it is still an excellent and reliable choice for beginners or seasoned grillers alike.
Traeger Tailgater Portable Pellet Grills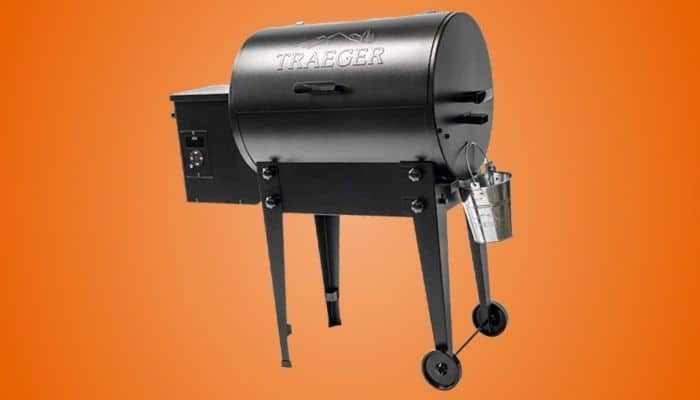 If you like to take your grilling adventures away from your yard, the Traeger Tailgater is the grill for you. This model is cleverly designed to be easily portable, so you can cook up great tasting food at the campsite, beach or tailgating party.
The Traeger Tailgater features 300 square-inches of grill space, so there's plenty of capacity to cook for all of your companions. With enough room to grill 3 racks of ribs, 2 whole chickens or 12 burgers, you can be sure no one will go hungry.
When you first look at this grill, you'll probably ask yourself just how this model can be portable. After all, it stands 36 inches high and 36 inches wide, so it's not exactly the most compact option on the market. However, the winning portability feature here is its E-Z fold legs that fold down to allow for easier transportation and storage when not in use.
It also has built-in wheels and sturdy side handles, so you can tow it along with little effort. At 62 pounds it's still pretty heavy, though, so you'll need some help when lifting it in and out of your vehicle.
The 8 pound pellet hopper is understandably much smaller than its non-portable cousins, but it still holds enough fuel for a few hours of cooking. If you're planning all-day smokes, you'll have to refill it a few times, so be sure to keep an eye on the progress to avoid running out part-way through a cook.
Like other Traeger grills we have seen, this model has a great temperature range and can reach a high of 450℉ for easy searing. The digital arc controller keeps the heat stable at your chosen temperature and allows you to set the temperature precisely at increments of 5 degrees.
The LCD display is simple to read and the keep warm mode is a convenient addition for when the food is ready before you are. This model also comes with a built-in meat probe so you can monitor the internal temperature of your meat without having to open up the lid and let heat out.
This model may not rival the huge capacity and high-tech WiFi features of other Traeger grills, but it's a tough one to beat if you like to cook for groups of people on day trips or camping vacations.
Traeger Ranger Grill
Like the look of the Traeger Tailgater but need something a lot more compact? Then the Traeger Ranger Grill could be your perfect match. At 13 x 21 inches, this tabletop pellet grill is ideal for truckers, camping, road trips and days out with loved ones – so you can bring real wood-smoked flavor with you wherever you go.
Featuring a 184 square-inch grilling area, this portable model has enough capacity to grill or smoke a rack of ribs, 6 burgers or 10 hot dogs at once – so you can cook up plenty of food for yourself and a few companions.
Offering the same capacity as the Traeger Tailgater, the 8 pound pellet hopper holds enough fuel to keep you cooking for several hours. Just fill it up, hit the "prime" setting to move the pellets into the firebox and then push a button to ignite. The digital arc controller allows you to set the temperature in precise increments of just 5 degrees, up to a maximum of 450℉ – so you can grill and smoke all your favorites without any limitations.
This compact Traeger pellet grill comes with a handy meat probe, which makes it easy to check on the doneness of your meats without having to open up the grill. And if your food is ready to eat sooner than anticipated, you can hit the "keep warm" function to save your meal from getting cold in the meantime.
Another great feature of this model is that it includes a cast iron griddle, so you can cook eggs and bacon or rustle up a stir fry if you wish. The grease is channeled into a little collection bucket that hangs on the back of the grill for easy cleaning, and the lid latches ensure the lid stays securely closed during transport when you're done.
Traeger Pellet Grill Series
Traeger grills have been released in a variety of series over the years. Let's take a look at each one in more detail.
Pro Series
The Pro series is the original and most affordable choice and are the best selling wood fired grills in the world. The most recent generation comes in a choice of two sizes: the Pro 575 and the Pro 780.
This series is a reliable choice that is easy to use and performs incredibly well. The Pro series also had an upgrade in 2019, so they now come with D2 direct drivetrains and the WiFire technology built-in, so you can control the grill from your phone using the Traeger app.
Ironwood Series
The Ironwood series is the next level up from the Pro series. Ironwood Traeger Grills come in larger sizes – with a choice of either 650 or 885 square-inches capacity.
These grills are more expensive than the Pro series and are packed with additional cooking technology. These features include TRU Convection and a Downdraft Exhaust that circulates heat and fresh smoke to really ramp up the hardwood taste. They also have a "Super Smoke" mode for an extra blast of smokey flavor, as well as double-walled side insulation for improved temperature stability.
Just like the Pro series, the Ironwood series also includes D2 direct drives and WiFi capability via the Traeger application.
Timberline Series
Top of the list is the Timberline series. The Timberline is the fully-loaded, premium option that includes all the features you need and a lot more.
Timberline series grills are the largest, coming in a choice of either 850 or a whopping 1300 square-inches capacity.
These grills include all of the features seen in the Pro and Ironwood series, but also include double-walled insulation in the back panel and grill door, a gasket seal, stainless-steel grates (the Pro and Ironwood have porcelain-coated grates), a slightly taller barrel so you can have a third rack, an internal grease collection system, larger pellet hoppers and a built-in pellet sensor that alerts you when you're running low.
Traeger History, Brand, & Reputation
The original Traeger grill was created by Jerry Whitfield and Joe Traeger after much experimentation with pellet wood stoves.
Joe Traeger developed the pellet grill in 1985 and patented it a year later in 1986. He was the first person to patent this design, and for the following twenty years, Traeger was the only pellet grill on the market and was run as a small family company based in Oregon.
The early models had a simple design. They used a basic LMH controller which only gave the user the option of low, medium and high heat levels. The auger was unable to account for outdoor temperature fluctuations or adjust heat output to the quantity of food that was being cooked.
By 2006, the original patent had expired and as a result, there was a flood of new, pellet grill brands coming onto the market. In the next eight years to 2014, the market grew rapidly from a single manufacturer, Traeger, to a total of 27 pellet grill companies.
In 2014, Jeremy Andrus bought Traeger alongside Trilantic Capital Partners and the company is now based in Salt Lake City. They are still the biggest manufacturer of wood-fired pellet grills, and their sales exceed $300 million dollars a year.
Despite all the competition, Traeger is still widely considered to be the leading pellet grill company in the world, and they are hugely popular among serious grill enthusiasts and beginners alike. They have a solid reputation for manufacturing top-quality products that create authentic, great-tasting results, are easy to use, reliable and built to last.
Why Trust Us
All of our reviews are compiled with a combination of expert input, years of hands-on testing of grilling products, curating the reviews of real-life buyers in a "wisdom of the crowd" system, and of course our own expertise. All the products listed are the ones we would buy if we were looking to purchase a new Traeger grill.
Methodology Used to Pick the Best Traeger Grill
When picking the best Traeger grill we looked at and then rated each grill on the following criteria. Price, portable features, total grill area, materials, hopper size, temp ranges, and any extras.
Buyer's Guide to Buying the Best Traeger Grill
Still not sure which Traeger grill is best for you? Read through our in-depth buying guide to discover all you need to know before making your choice.
Price
Traeger grills are not cheap, which is to be expected considering their build quality and the amount of technology that goes into making them.
With the exception of small, portable models, the Pro series is the most affordable range, both the Pro 575 and 780 are priced under $1000, and these models are plenty sufficient for beginners or experienced users.
If you want additional features and capacity, the Ironwood series is your best bet. These models are the mid-range choice and are priced at around $1000-$1500 depending on which size option you go for.
If you want the absolute best grilling technology and the largest grills that Traeger offer, then you'll need to opt for the Timberline series. These pellet grills are the premium option and are priced accordingly at around $1800 to $2000.
Portable choices such as the Traeger Tailgater and Traeger Ranger have a lower capacity and fewer features, but they're great for grilling on the go. These models have a price point at under $500, making them a good option if you're on a budget.
Size, Weight, and Portable Features
With the exception of the Ranger, Traeger grills aren't particularly small, nor are they lightweight.
They come in a range of capacities and dimensions, so it's up to you to decide which model is the best fit for your lifestyle. If you're planning on grilling in your backyard only, then any of the non-portable options are a worthy choice. All models come with wheeled legs anyway, so you can move them around without too much trouble.
However, if you're looking for a Traeger to take with you to parties, on camping trips or days out with loved ones, then it makes sense to go for one of the portable options. The Traeger Tailgater is specifically designed for tailgating, thanks to its folding, wheeled legs and built-in handles, while the highly compact Traeger Ranger is suitable for smaller gatherings, truckers, camping or day trips with a few companions.
Grill Surface Area
Grill surface area is a particularly important consideration. You need to have enough capacity to cook everything you want to feed yourself and your guests, but going for a model that's too large for your needs will be a waste of space, heat and money.
Of the five Traeger grills we have featured, there is a wide range of grill areas to choose from. The smallest model, the portable Traeger Ranger, has a grill surface area of 184 square-inches, which makes it the best choice for camping trips or small gatherings of around 6 people.
On the other hand, the largest option, the Traeger Timberline, has 850 square-inches of grilling space – enough to cook 9 whole chickens at once. This model is also available with 1300 square-inches of capacity, which is plenty enough for just about any occasion!
The ideal option for you depends on your intended use. Consider what type of food you'll want to cook and how many people you're likely to cook for. We recommend choosing a model that can easily accommodate your day-to-day grilling needs, with a little extra space for special occasions.
Thickness of Grill Metal
Traeger grills are high quality, so their grill grates are thick and either porcelain-coated or made from 100 percent stainless steel.
The Pro and Ironwood series grills have porcelain-coated grill grates, which have great non-stick qualities and retain/distribute heat very effectively. The top of the line Timberline series grills have stainless-steel grill grates that have even better durability and longevity.
Hopper Size
The size of the hopper determines how long you can cook for before needing to refill. If you're planning to do some all-day smokes, then it's important that you have a hopper large enough for the job.
As to be expected, the Timberline series grills have the largest hoppers at 24 pounds capacity. The Ironwood models have 20 pound hoppers, while the Pro series have 18 pound hoppers.
The cooking duration you'll get from a fill depends on the temperature the grill is set at. In general, you can expect your grill to burn through 1-3 pounds of pellets an hour; the higher the temperature, the faster the burn rate.
On that basis, a full 20 pound hopper will provide between 6 and 20 hours of grilling/smoking, while a 24 pound hopper will provide around 8 to 24 hours.
Of course, you can always top the hopper up along the way, but if you're planning to leave your Traeger to just do it's thing, then you're better off opting for a model with a larger capacity.
Temp Range
Having a wide temperature range is one of the best things about pellet grills. This allows you to smoke, roast, grill and bake with one unit, so you get maximum cooking versatility at the push of a button.
Of course, smoking requires a longer cooking duration at a lower temperature, so that your food is infused with all that delicious smoky flavor as it cooks. Grilling, on the other hand, requires higher temperatures for fast and hot cooking, especially if you want to get an authentic sear on your meats.
Traeger grills are perfect for low and slow cooking, as all models can maintain temperatures under 200℉. Not all models can hit the highs of over 500℉ – but the Ironwood and Timberline series can reach 500℉ for a quality sear.
The Pro, Tailgater and Ranger models don't do too badly, though – these options all have a max temperature of 450℉, which is plenty hot enough for most users.
WiFi Enabled
WiFi capabilities aren't the most important feature, but they are certainly nice to have and will make smoking and grilling much more convenient to manage.
All the Traeger grills we have featured, bar the portable models, have Traegers' impressive "WiFIRE" technology that allows you to control your grill from your phone using the Traeger app (so long as you have an internet connection).
This means you can monitor and adjust your grill settings from wherever you are, so you can go shopping, run errands or simply stay comfortable in your seat without needing to access the grill manually.
This feature is particularly useful for long duration smoking, so you can leave the grill to do its thing and just check up on it remotely while you get on with your day.
Extras
Aside from these main features, there are some extras that are worth looking out for.
Many Traeger grills come with a built-in meat probe, which is useful for monitoring the internal temperature of your food without having to open up the grill and let the heat out. Adjustable grill grates are another good feature, as these allow you to rearrange your cooking set up to suit your needs. Some models, like the Timberline series, have an additional grate and handy hooks on the grill body so you can store it when not in use.
Lastly, while the premium Timberline series includes a hopper sensor that alerts you when the pellets are running low, you can choose to purchase these sensors separately from Traeger and apply them to any of their grills.
Top Traeger Grills Video
Final Thoughts
Traeger grills are the best-selling models on the market. With their long history, great reputation and top-quality products, it's little wonder they are a popular choice for grillmasters and enthusiasts around the world.
Any of the models we have seen in our best Traeger grill reviews make excellent choices in their own right. But the perfect Traeger for you depends on your circumstances and intended use.
If you're just starting out, the best-selling Pro Series 780 Pellet Grill is a great option. As the most affordable large Traeger grill in the current range, this model has everything you need to create delicious wood-fired food in the comfort of your yard. Its large capacity has enough space to grill for big gatherings, durable, easy to use and now comes complete with Traegers' WiFIRE technology so you can control your grill from your smartphone.
If you're looking for something that has a little more tech built-in, then we recommend opting for the Ironwood Series 650 Pellet Grill. This model includes all the features of the Pro 780, but also comes with a downdraft exhaust, TRU convection system and "Super Smoke" mode so you can achieve maximum flavor.
If you have the budget and the passion, then the Timberline Series 850 Pellet Grill is your best bet. This premium option is packed to the hilt with all of Traegers' leading technology so you can be a grillmaster in no time at all. Not only does this model have a huge 850 square-inch capacity and all the features of the Ironwood series, but it also has stainless-steel grates, superb seals and insulation, a pellet sensor and enough space for a third grill rack so you can cook up a real feast.
Lastly, the Traeger Tailgater and Traeger Ranger offer great portable alternatives for grilling on the go. The Tailgater has a generous capacity and collapsible legs for easy transport and storage, while the Ranger is compact enough to store in your trunk ready for your next adventure.