Biting into a perfectly tender piece of meat has to be one of life's most satisfying sensations. Being such a huge advocate of carnivorism, I find it to be verging on criminal when I'm presented with a gorgeous-looking piece of meat that, for all intents and purposes, has been wasted due to it being tough to eat. How to tenderize meat properly, the best meat tenderizer tools to use and the benefits of tenderizing meat are paramount knowledge to have in your arsenal for any self-respecting home cook and especially the barbeque enthusiast.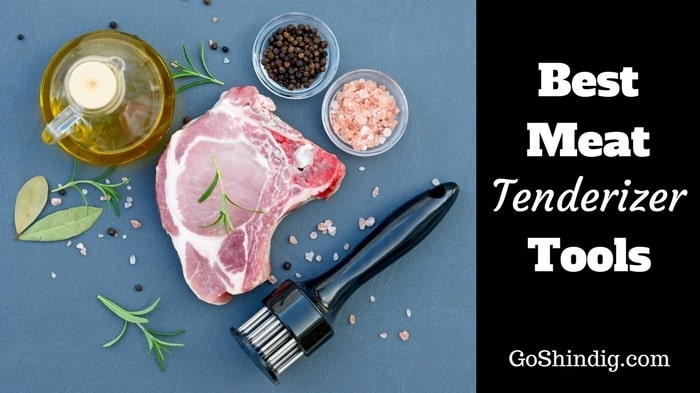 Of course, you can purchase meat that is naturally tender and will melt in your mouth when eating it but these cuts will almost always be on the more expensive side of the spectrum. Buying cheaper cuts and using a meat tenderizer can prove to be a cost-efficient way of achieving tasty, tender meat that can be enjoyed by friends and family. The added benefit here is that cuts of meat that you would normally associate as being intrinsically tough such as flank or skirt steak are normally the ones that are the most flavorsome.
So, what's going on? Why is it that certain meats are naturally more tender than others, how does tenderizing meat make a difference, and what is the best way to tenderize meat? Well, I invite you to read on and hopefully I can enlighten you a little on some of these and other questions.
What Makes Meat Tender?
Meat tenderness depends on a number of factors. Firstly, you have to remember that meat is just muscle and that muscles are complex things made from fibers and fats, and protein filaments which are normally referred to as collagen.
Tenderness is not an exact science but can be determined by things such as the age of the animal, the stress it endured both in life and death, the composition of the muscle i.e. the amounts of collagen present, and the dispersal of fat throughout the muscle.
The last point there in particular seems to have a sizable bearing on the tenderness of a meat. When thinking of a cut of meat with fat running throughout it, we say it has a lot of marbling. What this marbling does in cuts like a rib eye is melt when introduced to high heats which in turn spreads through the meat keeping it moisturized whilst cooking and therefore stopping the meat from drying out which is the root cause of tough meat.
Best Meat Tenderizer Tools
Hard, stringy flesh is unpleasant to chew and swallow. But a tough cut of meat can be transformed into a tender, juicy masterpiece with the help of a meat tenderizer. They accomplish this by separating the protein molecules in the flesh, but it's challenging to get the desired tenderness with a cheap model. That's why it's important to invest in a high-quality meat tenderizer that will make your life much simpler and the gob of tenderizing meat less time-consuming.
Here's where I hope to be of assistance: I've researched extensively to identify the best meat tenderizers on the market and have settled on the Jaccard 48-Blade Meat Tenderizer and OXO Good Grips as my top picks. When it comes to meat tenderizers, what are the essential components? I examined its overall performance as well as its construction, size, weight, and other factors. In this article, I'll delve deeper into the three most common options. Now, let's delve even further and examine the items and their characteristics in greater detail so that you may better understand what makes a good choice for your needs!
OXO Good Grips Meat Tenderizer
Best Meat Tenderizing Hammer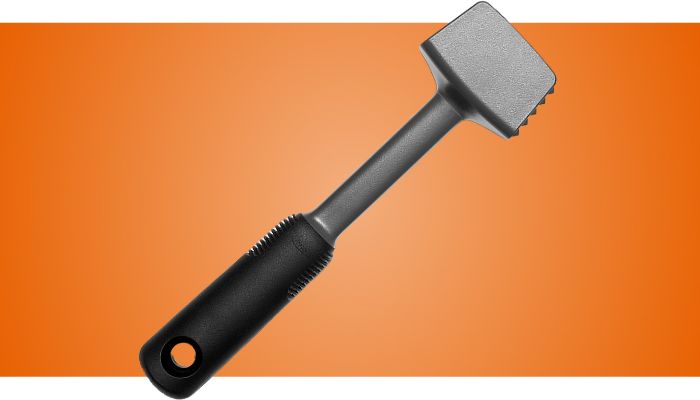 Here at GoShindig, we often recommend OXO products and it is with good reason. They make products that are simple, well-made, durable, and do exactly what they are supposed to do.
The OXO Good Grips meat tenderizer tool is a meat hammer that carries a good solid weight to it and is designed so that it feels good in your hand when using it. The handle is soft and contoured whilst providing an all-important non-slip property to it. It is also dishwasher safe so there is minimal clean-up to do after use.
As with most meat hammers, this can be used to perform other tasks such as crushing up nuts that you can serve in desserts or salads.
The OXO Good Grips Meat Tenderizer hit a home run in terms of strength, convenience, precision, and reliability. This model's compact frame made it simple to swing, its well-balanced weight allowed for a forceful swing without excessive effort, and its rounded silicone handle with grippers ensured a firm, comfortable hold. Because of its large head, it did not leave divots in the meat as other smaller models did, but its small size allowed you to push the meat about in targeted regions, which seemed to be the secret to faster flattening.
My arms and wrists were never sore, not even after two minutes of smashing brazil nuts in a plastic bag. Not only did it do the job faster than other short-handled hammers, but it also created a more uniform crumb. However, the KitchenAid, the other leading brand we tested with nuts, achieved an almost identical crumb consistency in the same amount of time.
When compared to the massive Rösle and Norpro offset pounders, I really like that this model is dishwasher-safe and compact enough to fit in most kitchen drawers. In addition, it is a really cheap pounder, which is a massive plus.
This product is the greatest option if you're shopping on a budget for a meat tenderizer. The pyramidal spikes on its surface penetrate stiff connective tissue, making the meat more tender and improving its ability to absorb marinades and retain its juices while still being easy to prepare. The meat may be pounded to an equal thickness thanks to the flattened side. The mallet's head angle and location make quick work of all kinds of meat.
Pros – Things I liked
Washable in the dishwasher or by hand
Avoids tired hands
Strong and long-lasting materials
Cons – Things I didn't like
Not suitable thicker cuts of meat
Kitchenaid Meat Tenderizer
Best Lightweight Meat Hammer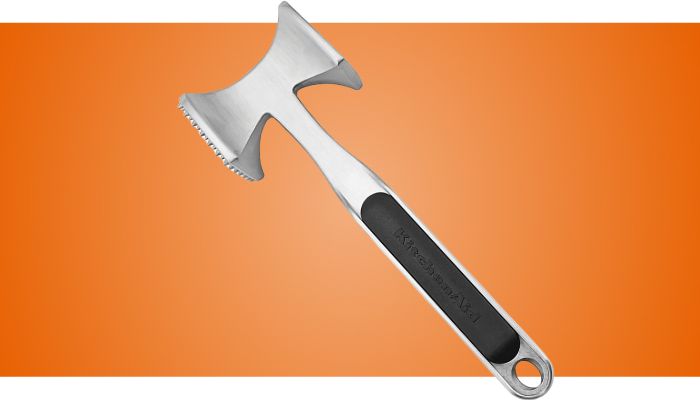 We all know and love KitchenAid for their stand mixers, they seem to be a national institution. They also make other cool kitchen gadgets like their meat hammer.
The Kitchenaid meat tenderizer tool is a single-cast piece of equipment made from aluminum. This means that the meat hammerhead will never come loose or go a bit wobbly.  It is also aesthetically beautiful and will find a place in any modern kitchen worth its salt.
What I really like about this meat hammer is that there is a one-year hassle-free replacement and a lifetime limited warranty that comes with it. Let's be honest, for 15 bucks and under, it's not a deal breaker but it is good to know you are buying from a reputable company with a history of good after-sales care.
KitchenAid's meat tenderizer resembles a mallet, letting you pound the meat to your preferred consistency. Its spiky texture on one side aids in tenderizing everything from chicken breasts to pork bellies. This tool's flat surface can be used to pound and flatten the piece of meat in preparation for cutlets, meat rolls, and other dishes.
Its ergonomic, soft-grip handle and lightweight aluminum construction mean you won't have to worry about fatigue or discomfort in your hands and wrists. This material's longevity means the tool won't have to be replaced for a very long time. You may hang it up anyplace thanks to the tiny hole at the end of the handle.
Pros – Things I liked
Easy to clean
Excellent build quality
Nonslip handle
Built-in hanging hole for convenient storage
Cons – Things I didn't like
Not dishwasher-friendly
Jaccard Supertendermatic 48-Blade Tenderizer
Best Meat Tenderizer Machines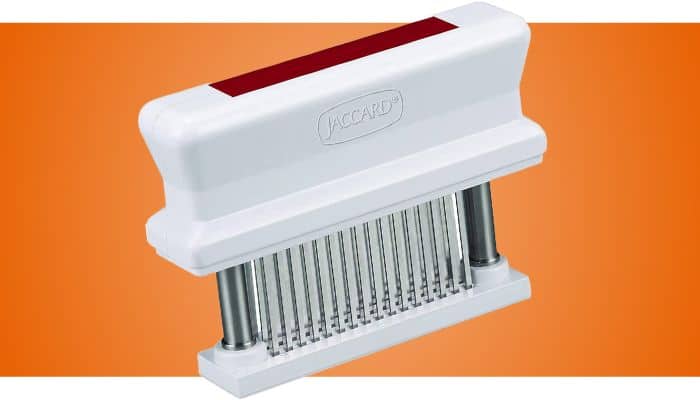 The original and still the best. You just have to look at the number of reviews and the quality of them all over the web to realize that the grand-daddy of them all is still doing its thing.
The Jaccard meat tenderizer machine comes with 48 stainless steel knives that are extremely sharp and extremely hard. The 301 stainless steel is made with a 48 Rockwell hardness and double-edged sharpness.
Some of the boasts that the Jaccard meat tenderizer can make include a 40% reduction in cooking time, a 600% increase in absorption when marinating and less shrinkage which will provide a more even cooking experience.
The greatest Jaccard meat tenderizer is on display here, and it's also a top contender for the best meat tenderizer on the market today, regardless of brand. It's a portable version with 48 sharp blades that will repeatedly puncture the meat to make it soft. It's portable and effective because of its space-saving design.
You might expect a lot of power from a meat tenderizer, and this one delivers. It's well-machined, so you can deliver repeated hits to the meat for maximum efficiency. Since it was made with ergonomics in mind, using it won't cause any discomfort in your hand. Quickly tenderizing the meat the way the Jaccard does aids in making delicious meals.
Stamp-action tenderizers can be cumbersome to clean since meat tends to become stuck in the crevices between the blades. It's bothersome, but it shouldn't be too much of a problem if you soak the tenderizer right after each usage.
Pros – Things I liked
Strong & well-made
Tenderizes any cut of meat
Good for beginners & professionals
minimal effort to use
Cons – Things I didn't like
Hard to clean
JY Cookment Meat Tenderizer Tool
Second Best Blade-Style Meat Tenderizer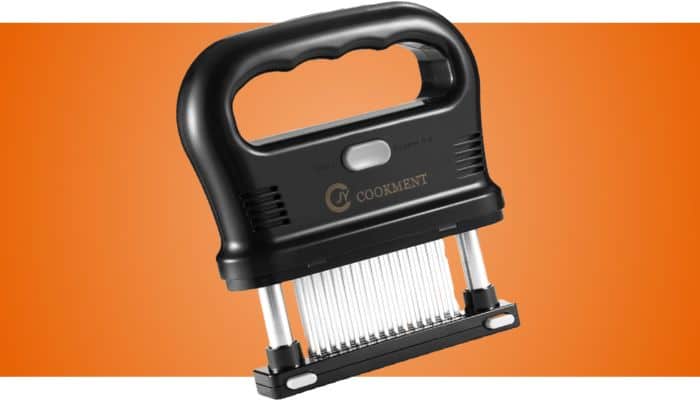 The Jaccard meat tenderizer is still the best and will always have a place in my kitchen but the JY Cookment makes the whole process of tenderizing meat an absolute joy.
The design of the JY Cookment meat tenderizer machine means I get more of a meaningful grip compared to the more traditional tool where there is a press down motion. This lets me penetrate the meat without having to get anywhere near it whereas normally I will be washing my hands constantly after coming into contact with raw meat.
The JY Cookment, like the Jaccard, has 48 stainless steel blades that come with a safety cover. This is a great feature that is lacking in some other meat tenderizer machines. There is also a 1-year money-back guarantee for any dissatisfied reasons.
JY Cookment's blade-style meat tenderizer pierces meat to make it more tender and to enhance the absorption of marinades and seasonings. This hefty implement is perfect for transforming even the toughest cuts into delectable morsels.
This meat tenderizer has three rows of twelve flat, angled blades and can tenderize around three inches of meat at once. The sharp blades can cut through tough meat without ripping it, and the spring-action system lets you push as far as you like. Finger indentations on the handle ensure a firm hold.
All of the blades and openings on this instrument can be safely cleaned in the dishwasher. Though somewhat cumbersome in size, its compact profile allows it to be stowed away in a cabinet or drawer with ease. The tenderizer's blades can be kept clean and protected with a transparent plastic cover.
Pros – Things I liked
Perfect for big slabs of meat
Extremely sharp blades
Comfortable handle
Easy to use
Cons – Things I didn't like
Can't be used to flatten meat
Weston Manual Meat Cuber Tenderizer
Best Meat Cuber Tenderizing Tool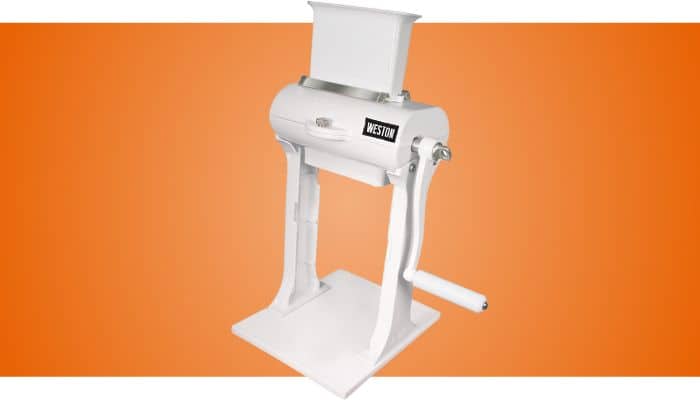 For large amounts of meat that need tenderizing you can't really go wrong with a meat cuber. It will take anything you throw at it and churn it out perfectly tenderized meat ready for you to slap on the grill.
The Weston meat Cuber is made from cast aluminum with stainless steel working parts. It works extremely well with tougher cuts of meat as well as meats like game and venison. There are options to buy a slicer with this meat cuber also so you can slice yourself some lovely jerky.
Without needing to use a mallet or pierce tough meat with a needle or blade tenderizer, the Weston Cuber is a highly effective instrument for tenderizing large pieces of meat. However, it is a cumbersome product that requires effort to assemble and maintain. When you crank the meat tenderizer's handle, it spins a set of 31 stainless steel blades inside.
Meat can be fed into the blades via the top feeder tray, and the tenderizing process is completed by turning the hand crank. The C-clamps that come with the tenderizer can be used to secure it to a counter or table for increased stability. Cooks may avoid cutting their fingers with the included stainless steel tongs, which are used to grip the meat as it emerges through the tenderizer.
Pros – Things I liked
Hand-crank function for tenderizing
Counter top mount
Stainless steel tongs for safety
Cons – Things I didn't like
Difficult to clean
Rösle Heavy Weight Meat Tenderizer
Best Round Tenderizing Pounder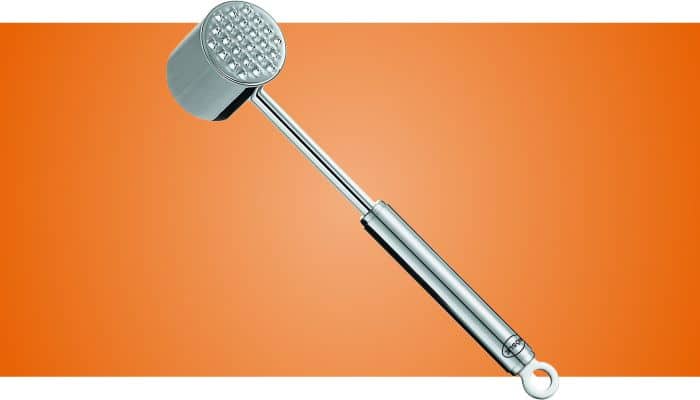 Another fantastic hammer, this one is ideally suited for use as a steak tenderizer or beef tenderizer. The hammer's points are formed like a pyramid, and the head is rounded; the total weight is 12.7 ounces. Due to its construction from stainless steel, the pounder is built to last.
Another great-feeling hammer, this one is for individuals who could use a bit more heft in their blows. You get the impression that this model can withstand significant abuse for many years because of its sturdy build. The loop at the end of the handle makes it convenient to stow away.
Even though it's nice to grasp, I think the grip could have been better. It's great when it works, but if you have something on your hand, like meat juices, it can be tricky to hold.
The Rösle brand was founded in Germany, and it quickly became renowned for its high quality and exquisite design. They have been using German technology to provide high-quality, versatile cooking tools for professionals and amateurs alike since 1888.
Both functionality and aesthetics are equally important to Rösle. They only utilize premium stainless steel, which results in goods that are both long-lasting and robust, with a gorgeous mirrored finish to boot.
Many users report that they need very little force to achieve the required results when using this Rösle tenderizer, which is a testament to the product's impressive power in the kitchen. This is a high-quality item that delivers as promised at all times, can be cleaned quickly and effectively, and lasts a long time.
If you're looking to spend a bit more on a product so you know will last, this is it.
Pros – Things I liked
Heavy-duty stainless steel design
Dishwasher safe
Has a hook for storage
Cons – Things I didn't like
Feels slippery if your hands are greasy
Norpro Meat Tenderizer
Best Long Spring Loaded Meat Tenderizer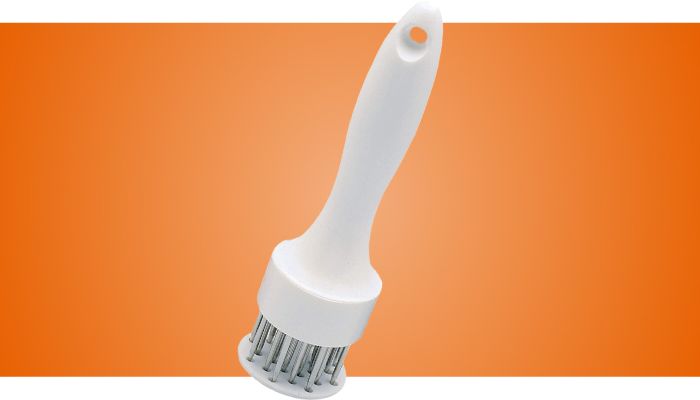 Here we have a meat tenderizer, similar to the ones already mentioned, but with a much more vertical look. Whether or not this stamp type is preferred to the others that we've seen is ultimately a matter of taste. The 24 prongs on this gadget are what do the work of tenderizing.
The model's sturdy spikes are well-suited to the task of tenderizing the flesh. The ergonomic shape of the grip and the tool's overall construction make it a joy to use. Although it must be washed by hand, cleaning it is not difficult.
Because of its vertical layout, the blades' total surface area is rather small. This tells you that you'll have to spend a bit longer tenderizing than you would with some of the other tenderizers I've considered.
Pros – Things I liked
Comfortable handle
Vertical design
Easy to use
Cons – Things I didn't like
Have to wash by hand
Amco Stainless Steel Meat Tenderizer
Best Meat Hammer for Versatility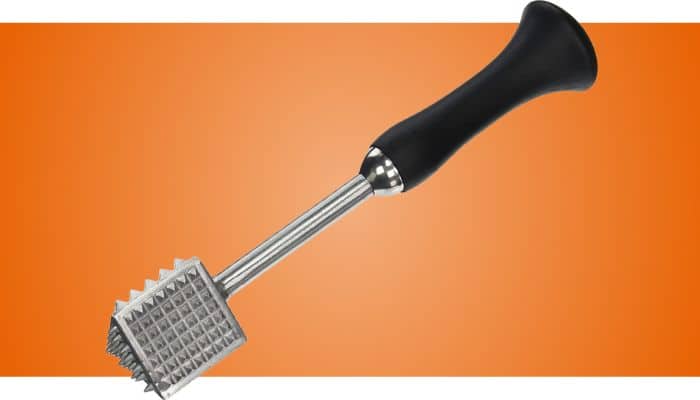 Anyone in the market for a meat tenderizer mallet with versatility should consider purchasing this one. Because it has four distinct surfaces, three of which are ideal for tenderizing a variety of meats, and the fourth, which is ideal for crushing, may be used for both. The rubberized handle on this tenderizer complements the stainless steel blade.
I adored this model because it can be tailored to a variety of meats and their individual needs. It's dishwasher-safe and has a nice feel all the way through your swing. The rubberized grip on the handle ensures that it won't slip out of your grasp.
This tenderizer has many wonderful features, however, the handle isn't one of them. While I did not experience any problems, a number of other users have reported that it has broken after heavy use.
Pros – Things I liked
Can be cleaned in the dishwasher
Versatility
Different sized spikes
Cons – Things I didn't like
Handle is easy to break
What Does Using a Meat Tenderizer Tool Do?
Tenderizing meat breaks down the muscle and the collagen present in it so that it produces gelatin which further adds moisture to the meat when cooking. This is achieved through various meat tenderizing tools such as meat hammers, meat pounders, meat cubers and meat tenderizing powders. Meat can also be tenderized using natural ingredients such as fruits which normally contain some sort of enzyme with papaya and pineapple being particularly popular.
What are the Benefits of Using a Meat Tenderizer Tool?
As alluded to in the intro, tenderizing your meat is cost-effective and can drastically reduce your expenditure by allowing you to choose leaner, tougher cuts of meat that do not possess the marbling that more expensive cuts have.
Depending on how you tenderize your meat, marinating becomes a more effective and less time-consuming process. Using a tenderizer with needles will allow you to punch holes into the meat which the marinade can easily permeate giving you a more flavorsome piece of meat.
Taste and texture – Improved flavor and tenderness are the two most compelling arguments for using a meat tenderizer. The meat's internal fibers will be loosened up, making it easier to chew without squeezing out all of its juices.
Cost-cutting – Prime slices of beef are among the most expensive options. To make a cheaper cut of meat taste much better, use a meat tenderizer. In this way, you can save money by not purchasing expensive beef.
Saving time – Time is saved compared to when you try tenderizing the meat by hand or with a low-quality tenderizer.
Marinating – Tenderizing the meat makes it more receptive to the marinade, thus this step is essential. This may cause the meat to become significantly more palatable.
Types of Meat Tenderizer Tools
Meat tenderizing tools broadly fit into three categories which, let's face it, are broadly all incredibly similar in design and function within their own category. The most recognizable of these tools is the meat hammer or as it's also known the meat mallet.
Meat Hammer – I think everyone remembers the old school wooden meat hammers that used to frequent our kitchens in childhood, mainly as they were a great weapon to use against annoying siblings. One bash over the head followed by the inevitable crying fit was all it took to experience the wrath of mom and dad, but it never stopped me.
Modern meat hammers can be found in a number of materials such as classic wood, metal and plastic and consist of a strong, sturdy grip and a head with two faces – one smooth and one textured.
The textured side has pyramid-like dimples on it which are used to break down connecting tissue but not so much so that the meat will go too soft. This is possible if you overwork the meat and will result in a mushy textured cut of meat when cooking it.
The opposite face on the hammer is flat and is used as a meat pounder. Using a meat pounder is beneficial when you require a nice uniform sized piece of meat that you know will cook evenly when introduced to the grill.
Meat Tenderizer Machine – OK, so there's no official name for these meat tenderizer tools but I generally get by with calling them meat tenderizer machines. These are the tenderizing gadgets that come with a lot of sharp needles so that you can puncture your way through lean, tough cuts of meat.
What these meat tenderizer machines do is sever the connecting tissues and long muscle fibers which in turn lead to a couple of things happening. Firstly, as the meat is now full of puncture holes, it will allow heat from the grill to permeate a lot quicker which reduces cooking time. Reducing cooking time aids your meat as you are able to save a lot of precious moisture within it that is normally lost when having to cook over a longer period.
Marinating also becomes a lot quicker and a lot more effective as the holes draw the marinade into the meat to provide uniform flavor instead of waiting for normal marinades to do their job by just sitting on top of the meat. I would estimate that marinating meat which you have used with a meat tenderizer machine will take around five minutes to see the same results as a normal three hour marinade.
Meat Cuber – Using a meat cuber is a very similar experience to that of using a pasta machine or a meat grinder. It has an opening, or a chute, at the top where meat is passed through and flattened and tenderized by manually turning a crank.
The term meat cuber comes around because of the indentations that are left on the meat after it has passed through the machine. Cube steak, which is a top sirloin or top round cut, is what you will more than likely be using when cooking chicken fried steak.
How to Pick the Best Meat Tenderizer
There are several distinct kinds of meat tenderizers on the market. If you don't want to throw away your money, make sure you pick the one that comes closest to meeting your needs. In this buying guide, I'll go over all the main factors you should consider, along with my rationales for why they're crucial. There shouldn't be many unanswered questions left, but if there are, our frequently asked questions will answer them or you can ask in the comments section.
Price
Given its more mechanical nature, it's not surprising that the Weston Manual Heavy Duty Tenderizer, at a little over $100, is the most expensive item on this list. Due to its effectiveness, many find it to be well worth the investment.
A high-quality handheld type, like the Jaccard Meat Tenderizer Tool, may be had for roughly $25.
Tenderizers of the mallet variety tend to be less expensive, as evidenced by the OXO Good Grips Double-Sided Meat Tenderizer's price of roughly $12.
Material
Meat tenderizers are designed to make tougher portions of meat easier to chew and more enjoyable to consume. So, stainless steel, aluminum, and robust plastic are the materials of choice for most meat tenderizers.
Aluminum
Aluminum appliances are a great option if portability and efficiency are equally important to you. But putting them in the dishwasher to clean them may not be the best choice.
To give you some background, hard-anodized aluminum is the superior kind of this material, offering a number of benefits above standard aluminum.
Stainless steel
Because of its inherent resistance to water, a stainless steel meat tenderizer is a great tool to have in the kitchen. Whether it's incorporated into a mallet, needle, or blade tenderizer, stainless steel is known for its durability and stands out as one of the best solutions for tenderizing meat.
Plastic
Plastic meat tenderizers aren't as widespread as their metal counterparts since they break too easily. Plastic, which is lightweight and can tenderize meat effectively, is used in certain low-priced alternatives. Some hard plastic mallets include steel cores to increase their longevity as a tenderizer.
Blades
Needles or blades on a meat tenderizer are another crucial component. Stainless steel blades are excellent because they can be kept sharp for a long time and are quite robust. Blades that aren't particularly strong tend to snap after repeated usage or when you try to cut anything extremely tough, like a bone. Not having sharp enough blades might cause them to get trapped in the flesh, necessitating manual removal.
The tenderizer's number of blades is another factor to think about. When tenderizing meat, more blades means less work for you. Smaller slices of meat can be easily torn apart by a high number of blades, therefore they aren't always the best option.
Durability
Given the abuse to which these meat tenderizers will be subjected, it is important that they are well constructed. The portable varieties often include a plastic shell and blades composed of stainless steel for longevity and sharpness.
Instead of using heavier materials like steel or iron, aluminum is commonly used for meat mallets and hammers. One-piece construction, like the KitchenAid Gourmet Meat Tenderizer, is preferable to multiple pieces when it comes to this type of product. It's smart to read reviews to get an idea of how long-lasting a product is.
Handle
The meat tenderizer's handle should be comfortable to hold. When tenderizing with a comfortable handle you will have maximum control. If you're going to be using a mallet, it's crucial to get a tenderizer with a handle that you can comfortably hold and is nonslip.
Meat tenderizers with needles and blades often have handles constructed right into the tenderizer itself. Just pull them up and push down on them to use them. When using a meat tenderizer hammer, the handle should extend horizontally from the mallet's head so that the mallet may be swung in an arc with your hand as the fulcrum.
You can tenderize meat by pounding it with a clenched fist using a mallet (called a pounder) that has a vertical grip. Other tenderizers operate more like a grinder, crushing the meat between two wheels as the user slowly cranks the device.
Design
There are a few things to think about when it comes to design. One is protection, particularly important for bladed versions. If you want one with blades, you should try to get one that has non-slip grips to prevent accidents. You should always use extreme caution when using cutting tools, especially if your hands are damp or sticky from food.
The tenderizer style is also a key component of the design. Mallets often have two faces, one smooth for pounding meat thin and the other griddled for making pockets for the marinade. Choose one that feels good in your hand, has just the right amount of weight to get the job done, but is light enough that you won't develop hand fatigue even when working on more substantial meat projects.
Remember that the more blades or needles a model has, the faster it tenderizes the meat, therefore a retractable blade or needle is a must for safety purposes. This is another task-specific example: using too many blades to cut a small piece of meat will result in the meat being torn apart. When shopping for a bladed or needled type, it's also crucial to make sure the blades are sturdy and razor-sharp. Meat can be torn apart by dull blades and needles. Locks and guards for the blades are also important, as they prevent cuts and nicks.
Surface Texture
Check the finish of the mallet you're planning to use to tenderize meat. One side of the protein has pyramidal or spike-shaped ridges, which are useful for ripping apart the protein's connective tissue and softening it. If you flip the meat tenderizer over, the opposite side will be flat and have more area, perfect for flattening thin cutlets, roulades, and other meat preparations that require a smaller meat thickness.
Safety
Use extreme caution while working with any culinary equipment intended to tenderize meat. Retractable blades, blade locks, and guards are just a few of the simple safety measures that can help prevent injury.
Retractable blades – Most needle and blade meat tenderizers have retractable blades, but manual versions are still available. In this way, when you release pressure on the tenderizer, the blades will automatically retract back into the device.
Blade locks – Needles and blades stay securely in place thanks to blade locking. They can be locked in the tenderizer to prevent them from being accidentally pushed out, or they can be locked in the out position for rapid tenderizing.
Guards – Guards are available for all kinds of meat tenderizers, and they are normally manufactured out of sturdy plastic and fit snugly over the blades or the pointed head of a mallet.
Weight
The weight of the meat tenderizer mallet is an important factor to consider. Select a product with a uniform weight distribution if you don't want sore hands after softening or flattening the meat. Your hands will thank you, and you'll be ready to start cooking in a matter of minutes. In addition, a lighter mallet tool will be far less of a strain on the user's wrists and shoulders than a heavy one.
Ease of use
The stamp-style tenderizer has gained popularity due to its simplicity of operation. Because they are spring-loaded, they perform admirably with very little effort. One area where they fall short is in the cleaning department because of how long it takes to clean.
Results from using mallets are dependent on the user's ability to exert a lot of force. This older, tried-and-true approach is still widely used. Although hand cranks need little in the way of actual muscle power, disassembling them for cleaning can be a time-consuming hassle.
Maintenance
The proper maintenance of a tenderizer, including washing, drying, and storing it, is often overlooked. Most meat tenderizers, even those with needles and blades, can be cleaned in the dishwasher. Make sure there are no food particles, such as microscopic bits of raw meat, stuck in the crevices of blades, needles, and pyramid-shaped tips before placing them in the dishwasher.
Meat tenderizers that aren't dishwasher safe should be washed by hand using a sturdy brush. Doing so shields your hands from potential injuries while also assisting in the removal of any stray morsels of food. Brushes made to match the specific dimensions and geometry of the included blades, needles, or points are included with some items.
Versatility
These tenderizers have multiple applications. To begin, many of the mallets are double-sided, making them useful for a variety of meat preparation tasks. The flat surfaces of some, like the KitchenAid Gourmet Meat Tenderizer, make them ideal for crushing spices.
The stamp-style models are particularly great for huge portions and let you use a stronger marinade on the meat. You may also find hand cracks like the Weston Manual Heavy Duty Tenderizer that can cut through thick slabs and thinner slices of meat without damaging them.
Top-rated Meat Tenderizer Brands
You can find a wide variety of meat tenderizers on the market, but I've narrowed it down to a few tried-and-true brands that consistently receive 5-star reviews from delighted customers.
OXO – OXO is an American company producing kitchen tools and gadgets with the goal of simplifying your life. OXO has won over customers with hundreds of unique and enjoyable products.
KitchenAid – In 1919, the KitchenAid company was established. KitchenAid has been a leader in the home appliance industry for decades, and as a result, they provide a wide selection of high-quality products for the kitchen.
Jaccard – The Jaccard brand, headquartered in New York City, is widely recognized as a provider of high-quality products for the food processing industry. They make a wide variety of high-quality meat tenderizers, both for home use and commercial use.
Weston – Weston is another well-known brand where you may find high-quality products to maintain the integrity of your food. When it comes to cooking, Weston has everything you could possibly need, including BBQ knives, blenders, ovens, meat bags, meat tenderizers, and much more.
How I Chose the Best Meat Tenderizers
It was required to investigate a wide range of meat tenderizers and any specific variants before settling on the best options. This assured me that I had a full overview of the available products within this category. Extensive investigation into specific items expanded my understanding and helped me pick the best meat tenderizers in their respective categories.
The selections were based on a number of criteria, including the type of meat tenderizer, the material each tenderizer was made from, the type and form of the handle, and whether or not the products featured any features that set them apart from similar products, such as a dishwasher-safe design.
Considering that repeatedly impacting slices of meat imposes significant physical pressure on these pieces of equipment, tenderizers that demonstrated a high degree of durability and reliability were deemed top selections.
Alternative Meat Tenderizer Tools
Meat Tenderizer Powder – Meat tenderizing powder allows you to omit the brute strength that is sometimes required with mechanical tenderization.
Using meat tenderizer powder involves a process called enzymatic tenderization. What this basically means is that the powder contains natural enzymes which break down muscle fiber and collagen the same way that mechanical tenderizers do. The natural enzymes are usually papain, which is found in papaya, and bromelain which is found in pineapple.
There are basically two options that I would consider when buying meat tenderizer powder – McCormicks or Adolphs meat tenderizer, both of which contain bromelain.
Adolphs meat tenderizer powder is the one that I would recommend most however, mainly down to the point of price. You get 44.5 ounces for under 20 bucks which is surely a bargain in anyone's eye.
McCormicks meat tenderizer powder can't live with that price point but in my opinion gives a slightly fresher, cleaner taste to the meat. It is only the slightest of difference though so it may have no bearing on your decision.
Whichever meat tenderizer powder you decide upon I thoroughly recommend just aiding the process by piercing your meat several times with a pointy knife or fork. This will help the tenderizer powder seep into the meat a little better and do its job more efficiently.
Acids – Introducing acids too your cuts of meat helps with the tenderizing process. Things like vinegar or citrus are great examples of acids that can be used to tenderize meat. However, timing is key – leaving your meat to tenderize too long when using acids may actually cause it to toughen. Strong acids shouldn't be left to marinade on your meat for longer than two hours.
Sharp knives – The process of actually thinly slicing your meat will make even the toughest piece seem luxuriously tender. Visit our page on the best bbq knives to see what we recommend.
Low and Slow – OK, so this goes against the whole theme of this article but the best way to get perfectly tender, succulent, juicy, flavorsome meat is to cook the meat low and slow. This breaks down all the muscle fibers over a period of hours under a low heat whilst surrounded by some kind of stock. Best done in a Dutch oven, this provides the perfect environment for your meat to tenderize fully whilst retaining, and adding, bags of moisture.
Frequently Asked Questions about Meat Tenderizers
After all that, there are additional inquiries connected to this matter. You should read it since it contains important information that you might otherwise miss.
What sets a meat tenderizer apart from a meat pounder?
Anything that can help separate the muscle fibers in a piece of meat and make it more soft is considered a meat tenderizer. Tools like the meat pounders (also called hammers or mallets) I evaluated are only one example. Some of the pounders I tried had a side designed specifically for tenderizing the meat, as shown by the rows of sharp pyramid-shaped teeth.
The flat side still works to tenderize the meat by squishing it, and they're ideal for flattening cutlets before shallow frying so that the entire item is cooked evenly. The meat can also be tenderized with blades or needles. These tools have spring-loaded blades or needles that pierce the meat to better distribute the marinade. Crank machine tenderizers feed the meat through a puncturing roller, whereas rolling tenderizers roll over it like a paint roller, puncturing it with sharp teeth.
So in short, a meat pounder is simply a sub-section of the meat tenderizing category.
Is buying a meat hammer worth it?
This question has an easy answer: yes! Buy one if you frequently prepare foods like chicken parmesan, tonkatsu, and schnitzel. Yes, if you frequently use a food processor to smash graham crackers or chop almonds, only to have the latter fly all over your kitchen. They are also useful for crushing many garlic cloves at once or breaking down the thick fibers of lemongrass. On the other hand, if you need to flatten something that isn't meat, you could definitely get away with using a rolling pin or even the bottom of a cast-iron skillet.
What is the best way to tenderize meat?
You can tenderize using a blade, needle, or mallet; the choice is yours. Tough muscle fibers are shattered by a mallet tenderizer's sharp teeth, which penetrate the meat with repeated blows of blunt force. Meat tenderizers, whether needle or blade, work by slicing into the meat and severing the tough fibers.
While needle and blade tenderizers work well with thicker portions of meat, they are not recommended for thinner pieces of meat since they may tear the meat instead of tenderizing it.
Are meat tenderizer tools dishwasher safe?
That's not always the case. The type of plastics used, as well as the substance of the handles, make a big difference in which ones are and aren't. Soaking your tool right after you're done using it is recommended. The product description and customer reviews are important places to go for assurance that a tenderizer is safe for use in the dishwasher. If you're still unsure whether or not your specific model can be cleaned in a dishwasher, don't hesitate to get in touch with the maker.
Final Thoughts
After reviewing several excellent choices, the Jaccard 48-Blade Meat Tenderizer stood out as my top pick for stamp-style tenderizers since it is also perfect for marinating meat. Together with its small size, the quality of its construction is rather remarkable.
The Weston Manual Heavy Duty Meat Cuber Tenderizer, with its entire aluminum body, is the best hand crank option available.
To save money you should go with a meat pounder, I've decided to go with the OXO Meat Tenderizer.
You may rest easy knowing that you're receiving a great meat tenderizer by choosing any one of the tenderizers I've reviewed, not just these three. Know your needs and get a tenderizer that fits them, as I have mentioned. As a result, you'll be able to enjoy meat with an unprecedented level of flavor.