Want a quick and convenient way to make tasty smash burgers, seared veggies, or breakfast pancakes? The best electric griddle can cook all of these and much, much more.
Best of all they're incredibly easy to use and take next to no time to clean up. We've analyzed the top models to bring you our shortlist of the very best of the best electric griddles on the market – here's how to choose and get griddling.
What is an Electric Griddle?
An electric griddle is a highly versatile piece of cooking equipment consisting of a large, flat cooktop that is evenly heated thanks to a concealed heating element. One of the most common machines in professional kitchens up and down the country, they allow you to cook mixed batches of food quickly and evenly.
Electric griddles can be used to cook just about anything you could use an iron skillet for. Some versions have raised ridges for sear marks on your meat and vegetables, while completely flat areas are the best way to cook eggs, pancakes, flatbreads, and fish.
Electric griddles are extremely popular given their convenience, ease of use, and rapidity.
A Quick Comparision of the Best Electric Griddles
Here's a quick summary of your options with more info on each grill in the best electric griddle section.
Best Electric Griddles
Find the best electric griddle for your needs right here in our top-rated electric griddle reviews. Covering all budgets and styles, you're sure to find your ideal model right here.
Best Multi-Function Electric Griddle
Cuisinart Griddler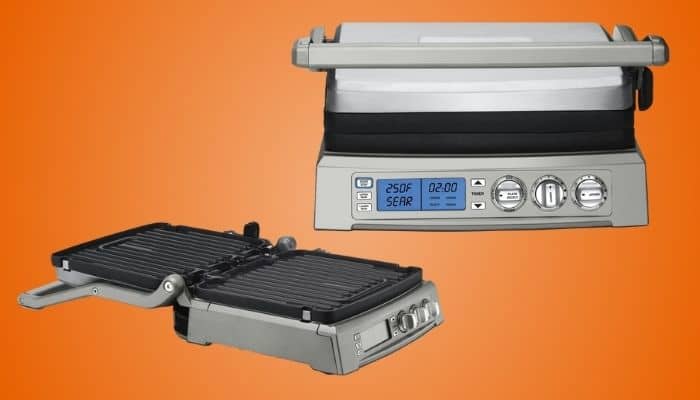 The Cuisinart Griddler is a great all-around choice if you are looking for an electric griddle that is capable of preparing various different types of snacks and meals.
Thanks to its powerful 1800W heating element, dual reversible cooking plates, and adjustable top cover with six presets, you can use it as a full griddle, a full grill, half griddle with half grill, a contact grill, to top melt, or as a panini press.
This 6-in-1 electric griddle boasts a large 240 square inch cooking area when open, so you'll have plenty of space for breakfast for the whole family, or take advantage of this model's useful Sear Function to sear your steaks at 500 degrees F for two minutes.
Controls are easy to use thanks to the electronic LCD display and 60-minute countdown timer, plus you get dual zone temperature control. All removable parts are dishwasher-safe, including the non-stick griddle plates, making for an extra easy cleanup.
On the downside, this model is a little on the heavy side at 16.8 pounds. However, thanks to its handsome brushed stainless steel housing and huge versatility, you'll probably be more than happy to leave it out on your countertop.
One issue remains for waffle lovers though – this unit is not compatible with any of Cuisinart's waffle plates.
Pros – Things we liked
1800W with 6 cooking options
240 sq inch cooking area (open)
60 minute countdown timer
Dishwasher-safe accessories
Sear Function – 500℉ for 2 minutes
Cons – Things we didn't like
Heavy – 16.8lbs
No waffle plates available for this model
Best Value Electric Griddle
VEVOR 14″ Electric Countertop Flat Top Griddle
If you are looking for a durable stainless steel griddle that is capable of cooking at high temperatures, the Vevor 14-Inch Countertop Griddle is a good value buy. Similar in many ways to professional-style griddles but without the high price tag, this electric griddle has a good 1500W heating element with a 210 square inch cooking area.
Thanks to its adjustable temperature range of 122 up to 572 degrees F, you can use this electric griddle for cooking a wide range of meals, from steaks and burgers to tortillas and pancakes. The high splash guards help to prevent splattering making it easier to wipe down your cooking area after use, while the grease tray is removable for an easy cleanup.
Unfortunately, this model does not have a very even heat distribution, however, you can place items that require lower cooking temperatures around the sides for a dual heat zone effect.
Just bear in mind that this model does not have a non-stick plate and as the cooking surface is cast iron, it will need regular oiling to prevent corrosion.
Pros – Things we liked
1500W heating power
210 sq inch cooking area
Adjustable temperature: 122-572℉
High splash guards
Removable grease tray
Cons – Things we didn't like
Poor heat distribution
Cast iron cook plate can be difficult to clean
Best Professional Griddle
Waring Commercial 14-Inch Electric Countertop Griddle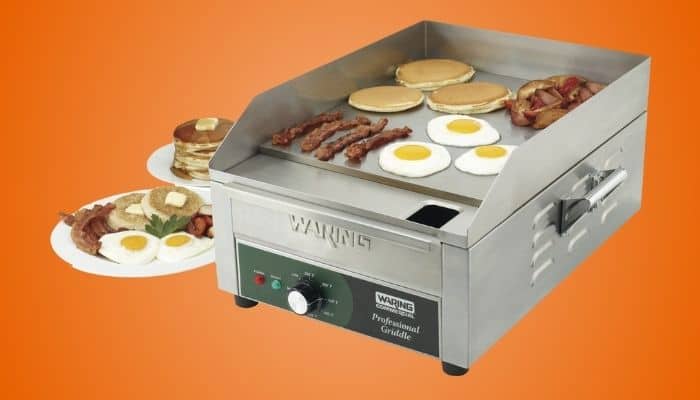 Waring's Commercial 14-Inch Electric Countertop Griddle is an excellent choice if you are looking for a professional quality griddle that you can use for hours at a time. Ideal for preparing food for a crowd, this electric griddle features a powerful 1800W heating element and a generous 223 square inches griddle surface.
Its highly durable stainless steel construction makes a good investment for anyone who is looking for a griddle for highly regular use. The adjustable thermostat reaches temperatures as high as 570 degrees F ideal for searing thick steaks and getting your burgers nicely browned. Extra tall splash guards keep splattering to a minimum, while the oversized 11-inch grease tray is fully removable.
This model is very heavy at 41.8 pounds, however, this is testament to its high quality construction and durability, plus it has heat-resistant handles to make it easier to move. It is rather slow to reach high temperatures, but once it has heated up fully, allow approximately 10 minutes, it can be used for hours – ideal for large get-togethers or day-long use.
Pros – Things we liked
1800W power
224 sq inch griddling area
Adjustable thermostat up to 570℉
11" removable grease tray
Tall splash guards
Cons – Things we didn't like
Very heavy 41.2lbs
Slow to heat up
Best Easy Clean Electric Griddle
Hamilton Beach 3-in-1 Electric Griddle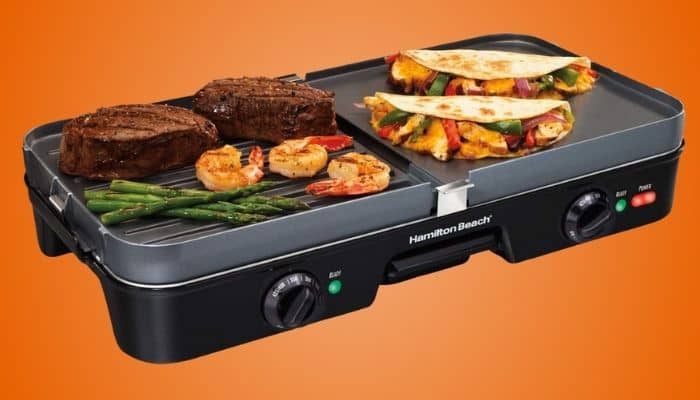 Inexpensive and very easy to clean, the Hamilton Beach 3-in-1 Electric Griddle is a top choice for occasional use. Thanks to its reversible plates you can use it as a griddle, grill, or half and half to cook a wide variety of dishes. As both the non-stick plates and grease are dishwasher-safe, cleanup is exceptionally easy.
With its 1400W heating element and 180 square inch cooking area, this electric griddle heats up quickly. Its non-stick coating is POFA-free and extremely durable, so you can enjoy cooking more delicate items such as eggs, pancakes, and fish time after time. Take advantage of the dual-zone temperature control to cook different types of food simultaneously, saving yourself time and effort.
Unfortunately, this model does not have a very effective grease management system. If you are intending on regularly using it to cook very greasy items, you may need to play about with the plates to ensure that the grease drains properly, otherwise, it may instead drip into the base, which can lead to smoking.
Also, the temperature indicators are the knobs are not very resilient and will eventually wear off with regular use.
Pros – Things we liked
1400W power
180sq inch dual-zone cooking area
Use as a griddle, grill, or half & half
Dishwasher-safe grids and drip tray
Durable non-stick, double-sided grids
Cons – Things we didn't like
Poor grease management system
Temperature indicators wear off knobs very quickly
Best Budget Electric Griddle
Presto Electric Griddle With Removable Handles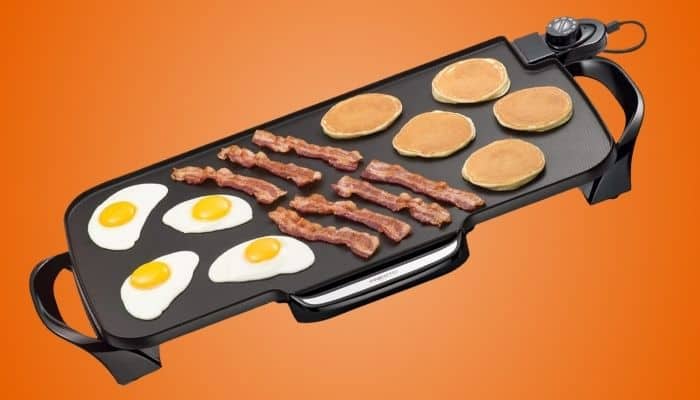 If you are looking for a basic electric griddle with a premium non-stick coating, you can't go wrong with our budget pick – the Presto Electric Griddle. Featuring a heavy-cast aluminum base complete with a 1500W heating element, this model is perfect for all your griddling needs and well worth the money.
Thanks to its large 231 square inch cooking area, you'll have plenty of room to cook multiple servings, while the fast heat up time makes it quick and easy to use. Cleaning is also easy, simply remove the electronic heat control unit and the entire griddle can be fully immersed for cleaning. What's more, as the non-stick coating is highly effective, you're left with hardly any residue.
While this budget-priced electric griddle is pretty long, with the latch-on handles detached, it has been designed to store in most standard kitchen cabinets. As it is made from aluminum, it's also lightweight for easy carrying and lifting. On the downside, the plastic grease tray is not very durable, but you can easily replace it with another recipient.
You may, however, find that the edge lip is a little shallow for cooking large quantities of food with a high fat content.
Pros – Things we liked
1500W power
Heavy-cast aluminum base
231 sq inch cooking area
Removable heat controller for easy cleaning
Stores in most standard kitchen cabinets
Cons – Things we didn't like
Plastic grease tray is not very durable
Edge lip could be taller
Best Extra Large Electric Griddle
ALD Kitchen Electric Half Flat and Half Grooved Griddle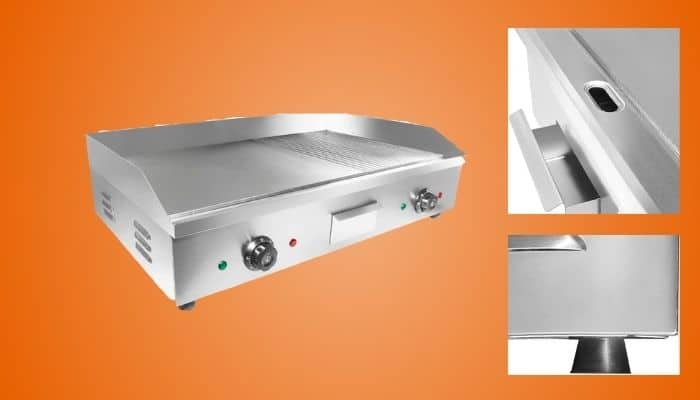 Need an extra-large, extra-powerful electric griddle? The GR8-22 Electric Griddle by ALD Kitchen is a highly robust, professional-quality griddle with an impressive 4400W heating element for an ultra fast heat up and extensive day-long usage. It benefits from a half flat and half grooved griddle surface so you can also enjoy your favorite meat and vegetables with sear lines.
Made from durable stainless steel, this heavy-duty electric griddle has a larger 522 square inch total cooking area – almost twice as large as standard models. You also benefit from dual cooking zones with two temperature control knobs for cooking different items simultaneously or keeping food warm while you cook. With its 122-572 degrees F temperature range, this electric griddle is suitable for cooking just about anything.
The tall splash guards and removable grease tray make for an easy cleanup. If you are considering choosing this model, note that this unit is not supplied with a plug and you'll need a dedicated 30Amp breaker due to its extra power requirements.
At 51.8lbs, this electric griddle is not designed to be regularly moved around, so consider your available space carefully.
Pros – Things we liked
4500W power
522 sq inch cooking area
Dual cooking zones
Thermostat range: 122-572℉
Tall splash guards
Cons – Things we didn't like
No plug
Very heavy – 51.8lbs
Why Trust Us
All of our reviews are compiled with a combination of expert input, years of hands-on testing of grilling products, curating the reviews of real-life buyers in a "wisdom of the crowd" system, and of course our own expertise. All the products listed are the ones we would buy if we were looking to purchase a new electric griddle.
Methodology Used to Pick the Best Electric Griddle
When testing the best electric griddle we looked at the following criteria. Price, the maximum temperature, temp control, surface area, fat drainage, how easy the griddle was to clean, non-stick coating, power, and a very important test for us, was the griddle good for cooking burgers.
Buyer's Guide to Buying the Best Electric Griddle
Choosing the best electric griddle is much easier when you focus on your needs and essential griddle features. Here's what you need to know to make the right choice.
Price
Electric griddles for home use are fairly inexpensive, with cheaper models starting at around $50. This type of unit generally has fewer features and is designed for occasional use.
If you are looking for a griddle for regular use, you may want to consider models priced between $100-$200 to ensure you get a more durable product with additional features such as a timer, grill plates, and a rapid heat up time.
Commercial-style griddles tend to cost over $200, although you can occasionally find small models a little cheaper. They are designed for extra durability and can make a good investment if you need a griddle for extensive use that is going to spend the best part of the entire day being switched on.
Max Temp & Temperature Control
You'll want to look out for a griddle with a good maximum temperature of at least 450 degrees F, ideally 500 degrees F, to better sear your steaks and burgers. For larger models, dual temperature control is really useful, allowing you to keep items warm or to cook other items at a lower temperature simultaneously.
Most units have traditional temperature dials, although some more modern residential versions have LCDs and button control panels with temperature indicators.
Griddle Cooking Area Size
Standard-sized electric griddles tend to have a cooking surface area of around 180-250 square inches.
This should be enough for your average family, although you may need to cook a few rounds for larger groups or if you are cooking several items per serving. Larger commercial models can have double or even larger cooking areas, but bear in mind more space requires more power.
Griddles with larger cooking areas tend to be more difficult to store, unless you opt for a folding electric griddle that you can use with two cooking plates when open. If you are considering a larger model, dual heat zones can be useful, otherwise, you may not be able to make use of all of the available space for cooking multiple food types at the same time.
Fat Drainage
For healthier food, easier cleanup, and a longer lasting griddle, a good fat drainage system is essential.
There should be a very slight slope to allow fat to drain into a drip tray, while still allowing you to cook liquid items such as pancakes or eggs without them draining away. An effective fat drainage system will reduce grease splatters around your machine and make your griddle plates easier to clean.
How Easy is it to Clean?
Thankfully, most electric griddles are very easy to clean down after use. If you are looking for a residential model, you could opt for a version with removable griddle plates that can simply go in your dishwasher.
Non-stick coatings make for an easy cleanup as there is less residue to remove, whereas cast iron cooking surface versions will need a good scraping, wiping, then coating with oil after each use.
Materials & Non-stick Coating
Most electric griddles are made with stainless steel as it is durable, strong, and easy to clean. Larger versions can, however, be fairly heavy. Aluminum is a popular choice for inexpensive flat electric griddles, being lightweight and fast to heat up.
Non-stick coating makes griddling pancakes, fish, and eggs, in particular, much easier. Otherwise, these delicate items can be a struggle to remove without tearing. Non-stick griddle plates also allow you to get away with using less oil for a healthier meal, plus they are easier to simply wipe clean.
Power
Electric griddles for home use tend to average around 1500W. This ensures a rapid heat up time and a high enough maximum temperature for cooking meat. Lower-rated models may have difficulty consistently holding higher temperatures for long periods, especially when loaded up with cold meat fresh from your refrigerator.
Higher powered commercial models are usually rated over 1800W. They tend to have a longer heat up time but can stay at temperature for hours of use. If you are looking for an electric griddle to cook with for extended periods or for a large number of people, choose a model with a high wattage that will have enough power for your needs.
Intended Use
What are you mostly going to be using your griddle for? Quick snacks? Breakfasts? Cooking meats? Melted sandwiches? Your intended use is probably going to be one of the most important factors to consider when choosing the best griddle.
If you are looking for a griddle for occasional use to make a wide range of dishes, you may be better off with a multi-functional folding electric griddle that can also be used as a grill, contact grill, or panini press.
Alternatively, if it's going to be mainly for serving up breakfast, a basic flat, non-stick electric griddle will be your best bet. For meats and vegetables with sear marks, look out for models with ridged sear lines.
Are Electric Griddles Good for Burgers?
While burgers tend to be synonymous with grilling and BBQs, actually, griddled burgers have been served up as standard in diners up and down the country for decades. Yes, we are talking about the classic smash burger and what better way to smash your burger than on an electric griddle.
Cooking, or smashing, your burger on your griddle is a faster way to a tasty burger. As more of your burger's surface is in direct contact with the heated surface of a griddle than with a grill, you get more browning and flavor. This is down to a chemical process called the Maillard Reaction.
At around 330-400 degrees F the heated surface in contact with your burger causes a chemical reaction similar to caramelization, transforming the amino acids present on the surface of your meat into tasty seared goodness. As your burger is in full contact with the cooking surface, all of the juiciness is locked in, giving you a crispy, flavorsome exterior and a juicy tender interior.
So, provided your electric griddle can hold a maximum temperature of over 400 degrees F, it's going to be an excellent way to cook burgers, plus electric griddles are hassle-free to use, unlike your average BBQ.
Top Electric Griddle Video
Final Thoughts
With so many models to choose from, make sure that you consider your needs and intended use before choosing your electric griddle.
If you are looking for a good multifunction electric griddle that you can also use as an indoor grill, panini press, and quick-cooking contact grill, as well as a griddle, you should definitely check out the Cuisinart Griddler. Easy to use, complete with a sear function and dishwasher-safe accessories, this model is sure to become your go-to kitchen appliance.
Alternatively, if you are looking for a great budget option for pancakes, smash burgers, and eggs, the Presto Griddle is an unbeatable choice for the money. This basic electric griddle has an excellent non-stick surface and makes a good all-around choice with its powerful 1500W heating element and 231 square inches of cooking space.