Looking for the best grill skewers to create delicious flavorsome meals on your grill? Whether you're into Teriyaki chicken skewers or grilled steak kabobs, we've reviewed the very best grill skewers on the market, so you can quickly find your ideal set and start getting creative.
What is a Grill Skewer?
Grill skewers are long, thin metal or wooden sticks that are used to hold items of food together over your grill.
A little like a smaller, non-motorized version of a rotisserie spit, skewers need to be regularly turned on your grill to ensure that your ingredients are cooked through. There are numerous grill skewer recipes around, from traditional kabobs to chicken fish and vegetable skewers, all with different marinades, flavors, and ingredients
A Quick Comparision of the Best Grill Skewers
Here's a quick summary of your options with more info on each set in the best grill skewers section.
Best Grill Skewers
Looking for the best grill skewers for your BBQ? We've reviewed eight of the very best, including different lengths, styles, and materials, so you're sure to find the best grill skewers for your recipe right here.
Best Grill Skewers With Food Pushers
FLAFSTER KITCHEN Skewers for Grilling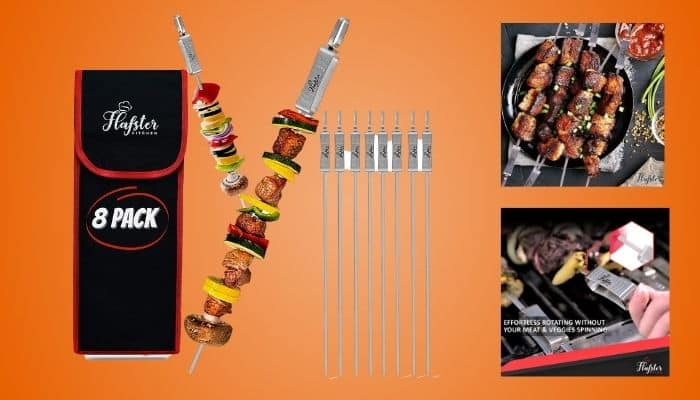 Dismissed as a gimmick by some, adored by others, if you are looking for a skewer set for your grill with food pushers, this eight-piece set by Flafster is definitely worth checking out. These grill skewers have a generous 16-inch length so you can fit on plenty of items to grill.
The flat blades help to prevent your food from spinning on the skewer to ensure evenly cooked kabobs all-around. The handles provide good finger support for handling when cool and the food pushers make getting off all of your tasty grilled food nice and easy without having to tug or getting your serviette all dirty.
This handy set comes complete with a storage bag to keep your skewers safe and organized when not in use. Although these skewers are made from high-quality 304-grade stainless steel and can go in your dishwasher, they do tend to discolor after a short period of use, although this does not have any impact upon their performance. On the downside, you may want to carefully check the inner edge of the handles, as some have unfinished sharp edges that may need smoothing off or you or your guests may risk a cut to your fingers.
Pros – Things we liked
16" long flat skewers
304 stainless steel
8 pack with storage bag
Finger support & food pusher
Dishwasher-safe
Cons – Things we didn't like
Discolor after short periods of use
Sharp edges inside handles
Best 17-Inch Grill Skewers
BearMoo Stainless Steel BBQ Barbecue Skewers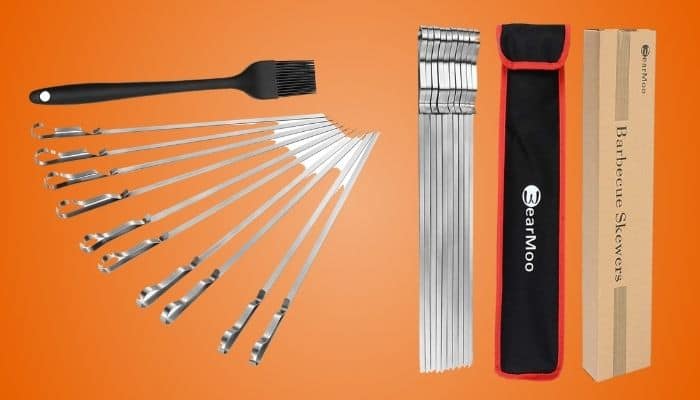 At 17 inches long, these stainless steel grill skewers by BearMoo can easily accommodate a whole serving per skewer.
The flat blade is very wide, preventing food from slipping and turning as you grill. Just be careful with the angled sharp tips as it can be a little tricky skewering certain hard foods due to the extra width and you don't want to end up skewering your finger.
This 10-piece set comes with a handy storage bag and a silicone brush to oil your kabobs. The waved handle sections are easier to grasp with grill gloves or togs than the traditional ring versions, for easier flipping.
While these 17-inch skewers are great for grilling in general, unfortunately they can be a little tricky to get completely clean, so be sure to give them a rinse and wipe over as soon as you have finished using them.
Given their high capacity and sturdy construction, this set is one of the best around for making large home-made kabobs.
Pros – Things we liked
17 inches in length
Flat blades with angled sharp tips
Waved handle sections
10-piece set
Includes bag and silicone brush
Cons – Things we didn't like
Difficult to get clean
Width makes skewering a little time consuming
Best Premium Grill Skewers
Goutime Stainless Steel Flat BBQ Barbecue Kebab Skewers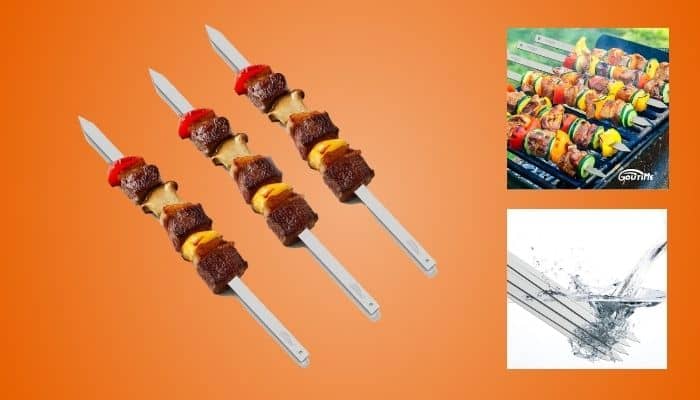 These premium grill skewers by Goutime are made from stainless steel and shaped to accommodate large cuts of meat or ground meat kabobs.
Ideal for cooking Brazilian dishes, shashlik, shish, or tandoor, amongst many others, with their impressive 27-inch length and one-inch width, these grill skewers are most definitely a cut above your average style skewer.
Made from heavy-duty stainless steel, these highly durable metal meat skewers come in sets of seven. A storage pouch is included, but its poor quality is not up to holding in these weighty skewers, so you are better off using the drilled holes for hanging storage.
As these are such large metal grill skewers, just make sure that your grill can actually accommodate them. For some recipes, you may also need to refrigerate your kabob before cooking, so make sure that they will also be able to fit inside your refrigerator.
If you enjoy cooking different cuisines with high quality tools, these grill skewers will definitely be your best choice, provided you can accommodate their extra-large size.
Pros – Things we liked
27 inches long
Flat one-inch wide blades
7-piece pack
Holes for hanging storage
Ideal for ground kabobs or large pieces of meat
Cons – Things we didn't like
Poor quality storage pouch
Maybe too long for smaller grills
Best Heavy-Duty Grill Skewers
Lanney Flat Metal BBQ Barbecue Skewer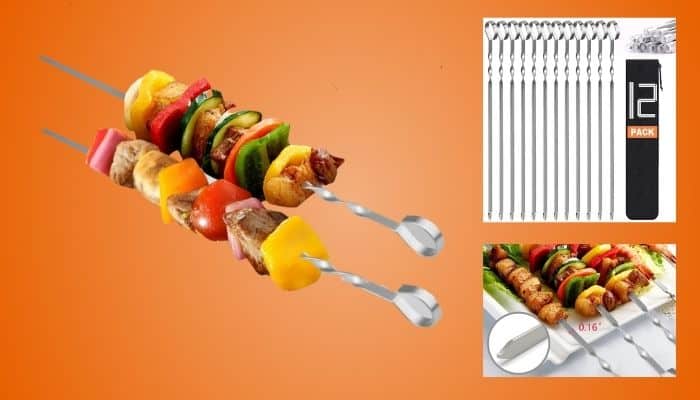 If you are looking to make grilled steak kabobs, you'll need a set of heavy-duty grill skewers, like this set of Flat Metal BBQ Skewers by Lanney. Made from food-grade stainless steel, the 12-piece skewer set comes complete with a handy storage bag to keep your skewers safe and organized when not in use.
Thanks to their angled tips and 0.16-inch wide blades, these 14-inch long skewers are a sturdy choice that you can load up without worrying about them bending or breaking. They are also dishwasher-safe for easy cleaning and stop food from spinning on your grill.
While these heavy-duty grill skewers are a good choice for large cuts of steak, they are less suitable for smaller items, such as shrimp, being so wide. So, you'll need to also invest in a second smaller set for other items.
While these reusable metal grill skewers are a good all-around choice with an easy to grasp ring handle, unfortunately, they are over packaged with a lot of waste plastic. That aside, they are your best choice for meat kabobs or grilling any bulky items on a skewer.
Pros – Things we liked
14" in length
12-piece pack
Food-grade stainless steel construction
Angled tips and 0.16" wide flat blades
Includes a handy storage bag
Cons – Things we didn't like
A lot of unnecessary packaging waste
Less suitable for shrimp and small items
Best Value Grill Skewers
Blue Donuts 24 Pack Kabob Skewers for Grilling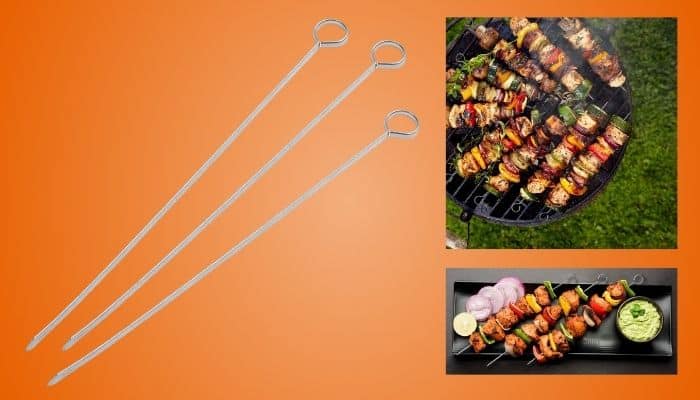 If you are looking for a good value set of metal skewers, for a family get-together or special occasion, this 24-piece set gets you more for your money than most others. Made from food-grade stainless steel, these kabob skewers for grilling are dishwasher-safe for easy cleaning.
Thanks to their 12-inch length you can fit quite a lot of food on each skewer, however, they are not very sturdy. This means that you won't be able to load them up with a lot of heavy items such as meat – they are much better suited to light vegetables.
While the ring top is a useful addition for easier handling and so you can easily hang them up when not in use, unfortunately, the handles are just too narrow for most adult's fingers. This also makes it tricky to turn them with your grill tongs using the handle area.
Nonetheless, they are still a good value buy and thanks to their flat tip design you get a minimal amount of food moving on your skewers for even cooking.
Pros – Things we liked
12" long
Flat tip to prevent food from moving
Ring top for hanging storage and easier handling
Food-grade stainless steel
Dishwasher-safe
Cons – Things we didn't like
Very narrow ring handle
Not very sturdy
Best Easy-To-Store Skewers
OXO Good Grips Stainless Steel Grilling Skewers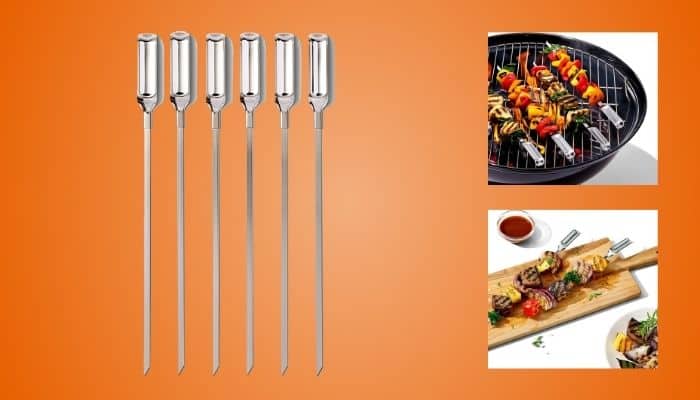 This set of Oxo Good Grips Stainless Steel Grilling Skewers will take up next to no space in your cabinets or drawers thanks to their innovative nesting design. Measuring 13.5 inches long, these strong stainless steel grilling skewers come in sets of six, which should be plenty for most families given their length.
Thanks to the wide handle, these skewers are really easy to grab hold of with your grilling tongs, both to flip and to serve. What's more, as they are flat, your food won't rotate as you turn, ensuring you get evenly browned kabobs. Dishwasher-safe, they are also very easy to clean up once dinner is over.
On the downside, these grilling skewers are a little tricky to load up. The point is sharp enough, but the wide flat shape makes it hard to get certain items right on the skewers without tearing.
While this is more of a slight niggle than an actual issue, unfortunately, these skewers are not the most attractive which may detract from your meal presentation.
Pros – Things we liked
13.5 inches long
6-pack of flat stainless steel grilling skewers
Wide handle for easy flipping with tongs
Nesting handles for space-saving storage
Dishwasher-safe
Cons – Things we didn't like
A little tricky to load
Not very attractive
Best Traditional-Style Bamboo Grill Skewers
HOPELF Natural Bamboo Skewers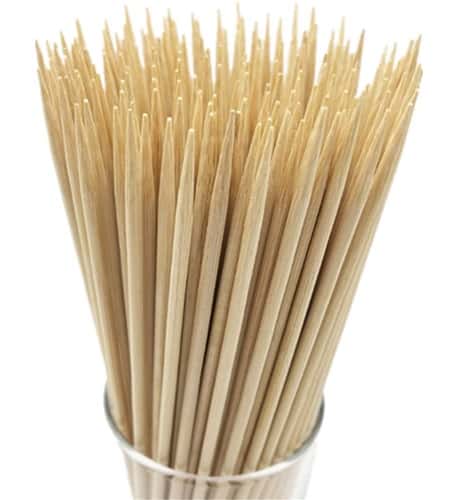 If you are looking for traditional-style, long bamboo skewers, this pack by Hopelf comes with 100 individual 12-inch long grill skewers.
Great value for money, thanks to their 0.16" diameter, these grill skewers are strong and sturdy, suitable for grilling heavy meats, as well as for multipurpose use in arts and craftwork.
Thanks to their all-natural bamboo construction, these grill skewers make a good sustainable choice. Load them up with meat, vegetables, or fish, you can also use them for grilling marshmallows and other sweet skewered desserts.
While these skewers are good sturdy models, unfortunately, due to their round construction, your ingredients risk slipping around, so it can be difficult to get an evenly grilled result all-around. Be careful when choosing skewers from the pack to grill with, as some still have a small amount of splintering despite the polishing process.
All in all, given their solid, sturdy construction and 12-inch length, these bamboo skewers are a good all-around choice provided you take care when choosing which ones you use for grilling.
Pros – Things we liked
12" long
Multipurpose skewers
0.16" diameter for extra strength
100-piece pack
Natural bamboo construction
Cons – Things we didn't like
Round design can lead to slipping
Occasional splintering
Best Grill Skewer For Small Appetizers
JapanBargain Bamboo Paddle Skewers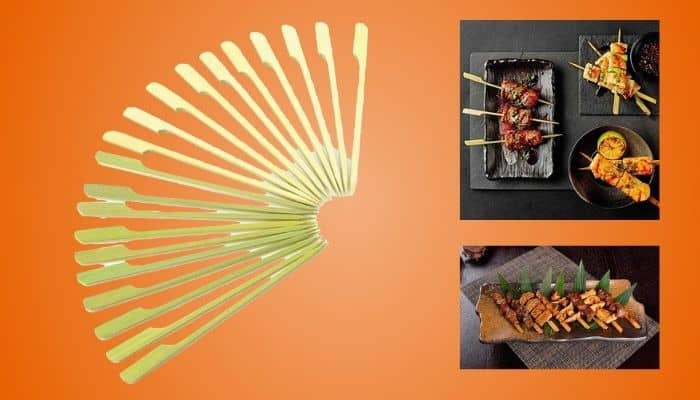 Ideal for yakitori or other small meat or vegetable appetizer dishes, these sturdy little skewers come in a large pack of 200. Made from natural, fast-growing bamboo, at seven inches long they are generously sized and come with a tapered handle for easy serving.
Thanks to their flat shape, you can easily turn these small skewers on your grill without your meat spinning for easy, evenly grilled skewered appetizers. The sharpened end makes them easy to load up with your favorite ingredients
Don't forget to thoroughly soak these mini skewers before use, otherwise, like all bamboo skewers, they'll risk charring on your grill. While these skewers are all-natural in construction, unfortunately, they are not reusable. However, they are by far a better alternative to plastic disposable skewers.
Sturdy, easy to handle, and good looking, these appetizer skewers also work great for nibbles with drinks, as well as being an easy way to smarten up your BBQ side dishes. All in all, a good value for money choice that you can use on a daily basis and for special occasions alike.
Pros – Things we liked
Made from natural bamboo
7" long
Tapered handle
200-piece pack
Flat for easy turning
Cons – Things we didn't like
Need soaking before use
Disposable
Why Trust Us
All of our reviews are compiled with a combination of expert input, years of hands-on testing of grilling products, curating the reviews of real-life buyers in a "wisdom of the crowd" system, and of course our own expertise. All the products listed are the ones we would buy if we were looking to purchase a new set of grill skewers.
Methodology Used to Pick the Best Grill Skewers
When testing the best set of grill skewers we looked at the following criteria. Price, were they flat or spiked, materials used, did they have a handle, the length of the skewers, the number of skewers in the pack, number of prongs, if they were nonstick, did they have a food pusher, and did they come with a rack or stand.
Buyer's Guide to Buying the Best Grill Skewers
You may think there's not much to bear in mind when picking up a new set of grill skewers. However, there are some subtle, and other quite important differences, that can really make an impact as to how well your grilling with skewers works out. Here's how to choose the very best grill skewers.
Price
Grill skewers are by and large inexpensive grill tools. However, like most things in life, if you are prepared to spend a little more for a higher quality item, you tend to get better functionality and a longer product lifespan.
Budget metal sets come in at around $10-15, whereas premium sets tend to cost $40 and over. Disposable bamboo skewers are cheaper, with several hundred on offer for around $10-$20.
First of all, consider how often you will be using your new grill skewers. Occasionally or do you regularly grill with skewers? If it's just to test out a couple of recipes, you may be better off getting a budget set, then upgrading to a better type of grill skewer once you've got the skewering bug.
If you are really into kabobs and use grill skewers frequently, we recommend spending more on a premium set, not only will they last longer, but you will find they are easier to use and you get better tasting food.
Flat or Spiked Skewers
Flat skewers are the best choice for ground meat kabobs, keeping your meat together.
Flat versions are also a better option for grilling in general, preventing your food from spinning around as you turn over your skewer, this will ensure that your food is evenly cooked on both sides, not burnt in parts and raw in others.
Spiked skewers are a good choice for easier skewering. You don't want to have to force your ingredients onto a blunt skewer. However, round skewers are generally a no-go as they tend to make your food spin around unevenly as you grill, which could lead to undercooked meats and even potential food poisoning.
Material
Metal or bamboo? While bamboo is a sustainable, biodegradable option, metal stands up better to the heat and won't splinter.
Your food will also cook better and faster on a hot metal blade than it will on a dampened bamboo skewer. However, don't rule out bamboo skewers completely, they can be a nice touch for your appetizers or for serving up yakitori the traditional way.
Stainless steel is the best material overall for your grill skewers, being able to stand up to the high heat, as well as being safe for your food, and corrosion-resistant. Stainless steel grill skewers can also be washed in your dishwasher, although you may prefer to remove them with your knives for hand drying.
Handle
Handles are of little to no use when it comes down to grill skewers. Traditional round handles can be handy when you are placing your ingredients in your skewer, however, when it comes down to grilling, wooden and plastic handles will burn or melt and metal handles soon become too hot to hold.
Best to save the extra space for more delicious grilled delicacies and use your tongs or grill gloves to turn over your skewers. If you've opted for flat skewers, as we've recommended, they are very easy to grasp with your tongs as they are without the need for a dedicated handle area.
Length
The longer your grill skewers, the more you can fit on them. Generally speaking, 17-inch models allow you to fit on a full adult serving. Some people prefer to opt for shorter finer versions for smaller items, such as shrimp, whereas skewered chicken, shashlik, and the like will require much longer skewers.
Ideally, as you try out new grill skewer recipes, you will update your equipment with differently sized skewers to ensure that you have a good selection to accommodate all of your needs.
Quantity in the Pack
More isn't always a good thing in terms of quality. Better to pay out the same price for a pack of six and find that they are great before ordering another set, rather than getting a pack of 20 rubbish ones and ending up relegating them all to the back of your drawer never to be used again.
While everyone likes to get good value for money, if it seems like your grill skewers are overly cheap, they most probably aren't of the best quality.
Intended Use
For grilling large quantities of skewered meats, you'll want to make sure you have sturdy, high-quality skewers that can take the extra weight. Appetizers are often best served on disposable bamboo skewers where your guests can help themselves. Otherwise, for all-round skewering, you can't go wrong with good-quality stainless steel grill skewers with a flat blade.
Gimmicks to Avoid
The best skewers are essentially flat metal blades with an angled, sharp prong. Unfortunately, there are plenty of gimmicks that manufacturers use to insist that their product is superior and warrants a higher price tag.
Here are some of the grill skewer gimmicks you'll really want to avoid.
Double Prongs
Now maybe double prongs have their place for grilling bulky vegetables, such as eggplant. However, they are definitely a no-go for your average kabob and if you ever need to use two prongs for larger items, you can always just use two individual skewers, right?
Some people swear that they are the best way to stop your food from rotating, however, if you invest in a set of skewers with a wide blade, you won't have this issue, nor the problem of dealing with space-hogging double pronged skewers.
After all, you all want to eat together at the same time, so why take up double the space needed on your grill when it simply isn't necessary?
Nonstick Coatings
Once your meat is cooked it will glide off your metal skewer. Non-stick coatings are not very durable, completely unnecessary here, and will eventually break down transferring bits of coating to your food.
Food Pushers
Use your grill tongs and remove your delicious freshly grilled ingredients from your skewer in next to no time. If you have guests to dinner who advocate the use of a food pusher, simply strip their skewer for them over their plate. Food pushers take up valuable skewer space and can't compete with your fingers or tongs.
Flexible Wire Skewer
Flexible wire skewers are perhaps the worst of the worst. Impossible to turn over without your food rotating, they don't really serve any function apart from keeping various items together on your grill.
Flexible wire skewers are at the worst unsafe, as you may not be able to fully cook your meat through using one, and at best just plain annoying as they are flexible and don't take kindly to being manipulated with grill tongs.
Extras – Grill Skewer Rack or Stands
There is, however, one item that can make grilling with skewers much easier – a grill skewer rack. These handy items feature two end stands with small slots into which you place your skewers.
Inexpensive and compatible with most skewers they allow you to keep your food close to your grill but reduce the risk of burning. Your food stays in place instead of spinning and as your skewers are raised off the grates it won't stick or burn.
Top Grill Skewers Video
Final Thoughts
While there are plenty of excellent grill skewers to choose from, there are also a large number of versions that prioritize gimmicks for overinflated prices, so make sure you stick to our top-rated grill skewer picks. Grilling with skewers is a great way to a tasty, easy meal, and we thoroughly recommend trying out some of the best grill skewer recipes.
If you are looking to skewer large joints of meat or to branch out and try out grilling other types of cuisine, you can't go wrong with our premium pick, the Stainless Steel Flat Barbecue Kebab Skewers by Goutime. At 27 inches long with a width of one inch, these substantial skewers can take on whatever you have lined up for them, while their flat blade prevents spinning and the pre-drilled holes allow for hanging storage.
Alternatively, if you are not into grilling big skewers and want to invite a few guests over for light bites and drinks, the Bamboo Paddle Skewers by JapanBargain make a great choice for yakitori and mini skewered shrimp, vegetables, and various grilled amuse-bouches.